I've never felt such an overwhelming sense of warmth and presence in people as I consistently found from community to community on this Kootenay Rockies road trip.
As Randy, the community manager at Sentinal Retreat in Kaslo said… 'There's enough room for everyone to be successful. Ones success becomes another's, it's a community and we work together.'
Randy and his wife upped and moved their life in Calgary (where they owned a huge corporate company looking after 250 employees) to Kaslo, possibly the calmest lakeside town with a total headcount of around 800 people.
They have never looked back and the quality of life they have here now, just like the rest of the Kootenay regions it seems, has had a profound effect on their mental health and wellness.
Scenes we visited during this road trip drew parallels for me to the lakefront bliss in Lake Annecy and to the slow-paced carefree living in Byron Bay but there's one huge unfathomable difference, there's no one but the locals in the Kootenay's. World-class destinations that you truly feel like you are discovering yourself.
The travel itinerary I'm about to share is the exact one I did in June 2019 and is also known as the established Hot Springs Circle route.
If you're planning a Kootenay Rockies road trip, you're about to be blown away. This is one of my favourite adventures to date.
Other blog posts and travel guides on my blog that you may enjoy:
*This blog post has been bought to life and is sponsored by Destination Canada who hosted us for the trip. We were sent out on an itinerary put together and supported by Destination British Columbia to document and share this region with you. All photos and opinions are completely my own.
Here's my 7-day itinerary through the Kootenay Rockies…
7 days, 7 overnight locations, 4 bears spotted, 6 hot springs soaked in and 1171 kilometres driven…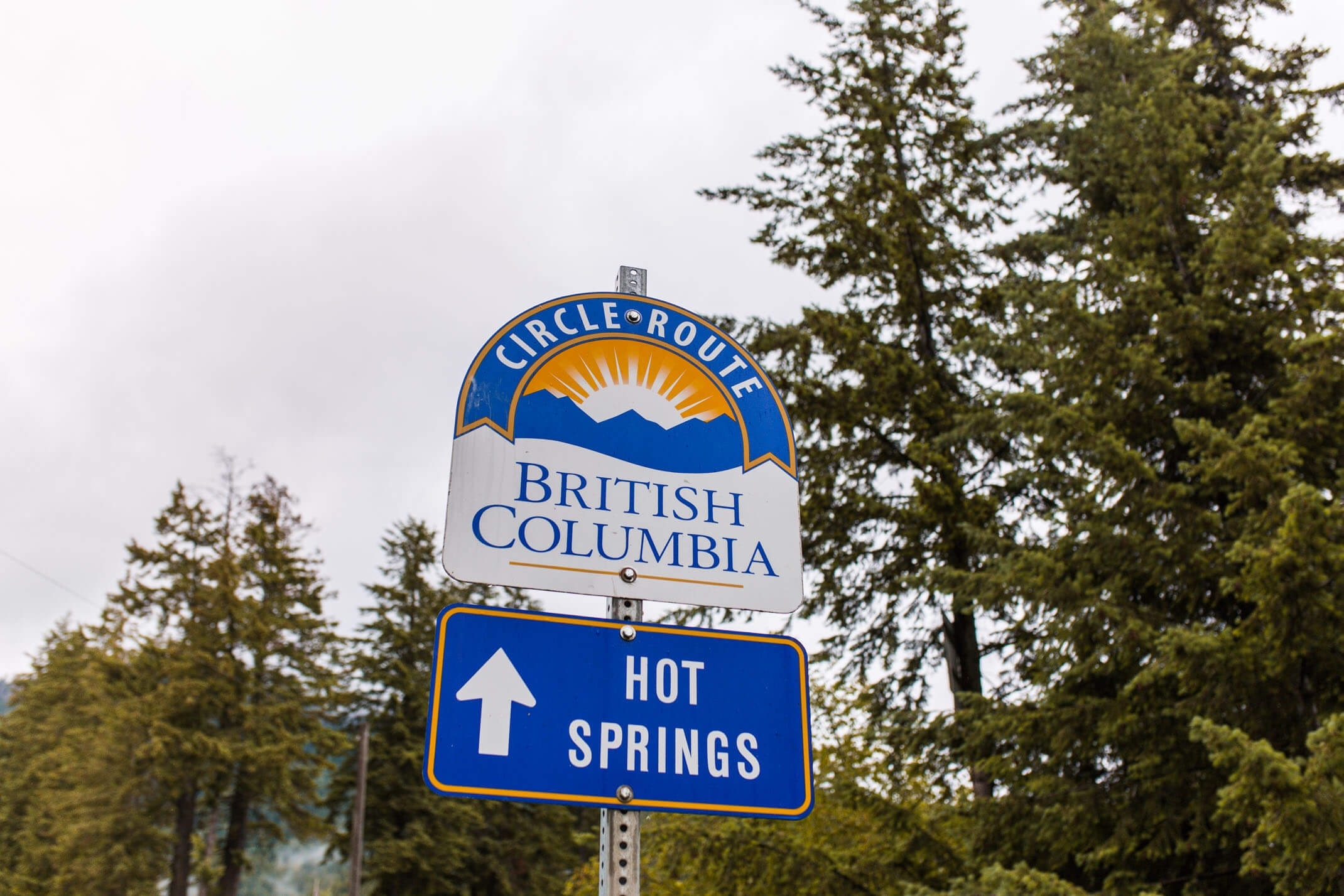 DAY 1
Though our road trip hotspots were all located within British Columbia BC, we used Alberta as a gateway by flying into Calgary (amazing connections worldwide) which is within close driving proximity of the Kootenay's – where you're heading. Check out flight options here.
So day 1 is all about getting yourself to Canada.
We took on the 3 hour drive straight off our international flight from London to the first destination on the itinerary, Radium Hot Springs. It was a lot considering the time difference so if you're driving alone or have jet lag to contend with – consider staying overnight in Calgary and starting the drive once you've rested.
Whether you arrive late on the first day or early morning the next, it's time to hit up Radium Hot Springs and kick off your series of natural hot spring soaks.
FYI Radium water consists of: Sulphate- 302 mg/l, Calcium- 135 mg/l, Bicarbonate- 100.8 mg/l, Silica- 31.8 mg/l, Magnesium- 31.6 mg/l
See more and book your tickets here.
P.s. We stayed overnight at the gorgeous BigHorn Meadows Resort. If you arrive in the dark, you can look forward to your morning coffee before the mountains on your balcony.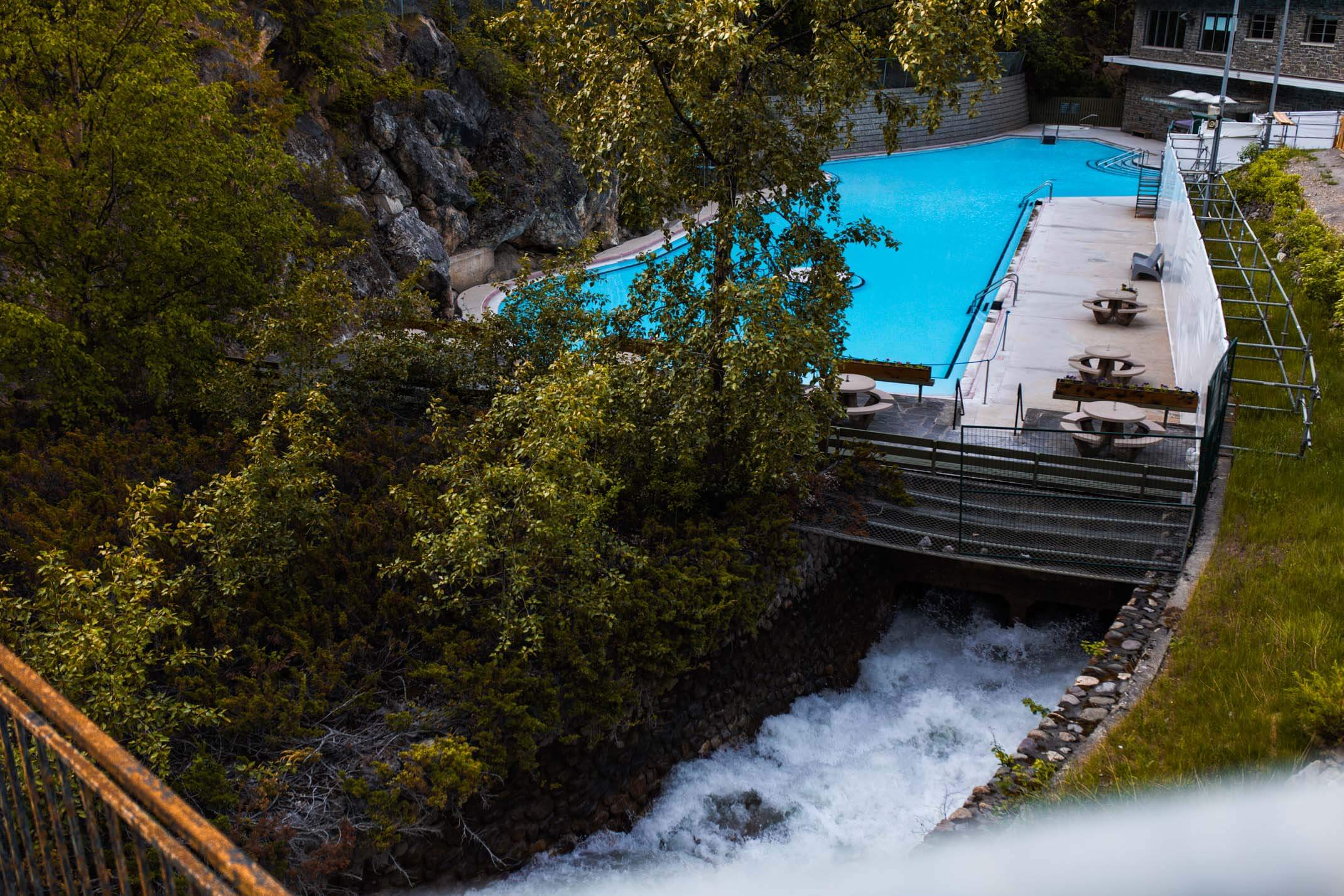 Day 2
On day two, with a little help from our old friend jet lag, we woke early to clear skies and the dusky pink sun rising over the Kootenay Rockies on one side and the Purcell range on the other. Before packing up and jumping in the car, we smelt the sweetness of the coffee roast in our kitchen and took half an hour on our balcony to take in the first of many mornings with a view.
This itinerary doesn't have you sat still for long so I hope you like exploring. Que, the first adventure of the road trip…
Kayaking down the Columbia River with Fairmont Hot Springs.
After stopping at Kicking Horse Cafe (the coffee is next level) for a morning pick me up we drove about half an hour to Fairmont Hot Springs where we were met by our tour guides and taken down to the river. For an hour we pretty much floated (because the tide was very high) with the current, admiring all of the water front properties and views of the mountains. It was here that the Kootenay's first struck me with utter tranquility.
After our kayak, we like to think we earnt the lunch that came our way back at the resort restaurant Bear's Paw Bar and Grill, if we did, we definitely didn't earn the cookie-the-size-of-our-face that we devoured afterwards before dipping into the second natural hot springs of the trip – Fairmont Hot Springs.
By early evening we were moving again and we drove an hour on to our next overnight location – to the gorgeous little town of Kimberley.
We checked into Trickle Creek Lodge at Kimberley Alpine Resort (an epic place to come ski come winter) and headed straight back into town to check it out.
Recommendations in Kimberley:
Drinks at The Shed
Dinner at Pedal and Tap
Coffee / pastries from the city bakery and tea room
Pick up some Wild Mountain chocolate (made locally)
Check out Marysville Falls (15 minute drive out)
Day 3
Rise and shine! If you're an early riser, head just behind Trickle Creek lodge and follow the pathway up beside the Gondola for sunrise. A perfect opportunity to get a serious sweat on!
Otherwise, wake at your convenience and if you haven't been to Marysville Falls yet, grab a coffee in town and head there before you continue on to the next destination of the Hot Springs Circle Route.
Today is a pretty heavy day behind the wheel as you head up to Nelson but fear not, there's plenty of opportunity to stop off, relax and admire the views.
Make sure you fill up with petrol! When you're heading out of Kimberley there's a whole foods type store attached to the petrol station where you can pick up epic road trip snacks. All the healthy goodies, if that's your jam.
Places to stop along the way:
Cranbrook (Breakfast / coffee at Soulfood i'd highly recommend)
Creston (Grab a beverage / snacks at Casey's Community house, public toilets here too)
Kootenay Lake (you drive beside it, plenty of EPIC photo opps)
Lockhart's beach (jump in the lake, i dare ya!)
After admiring a good stretch of lakeside drive by Kootenay Lake you'll arrive to Kootenay bay and will need to take the 35 minute FREE ferry across Kootenay Lake to Nelson, check ferry times here.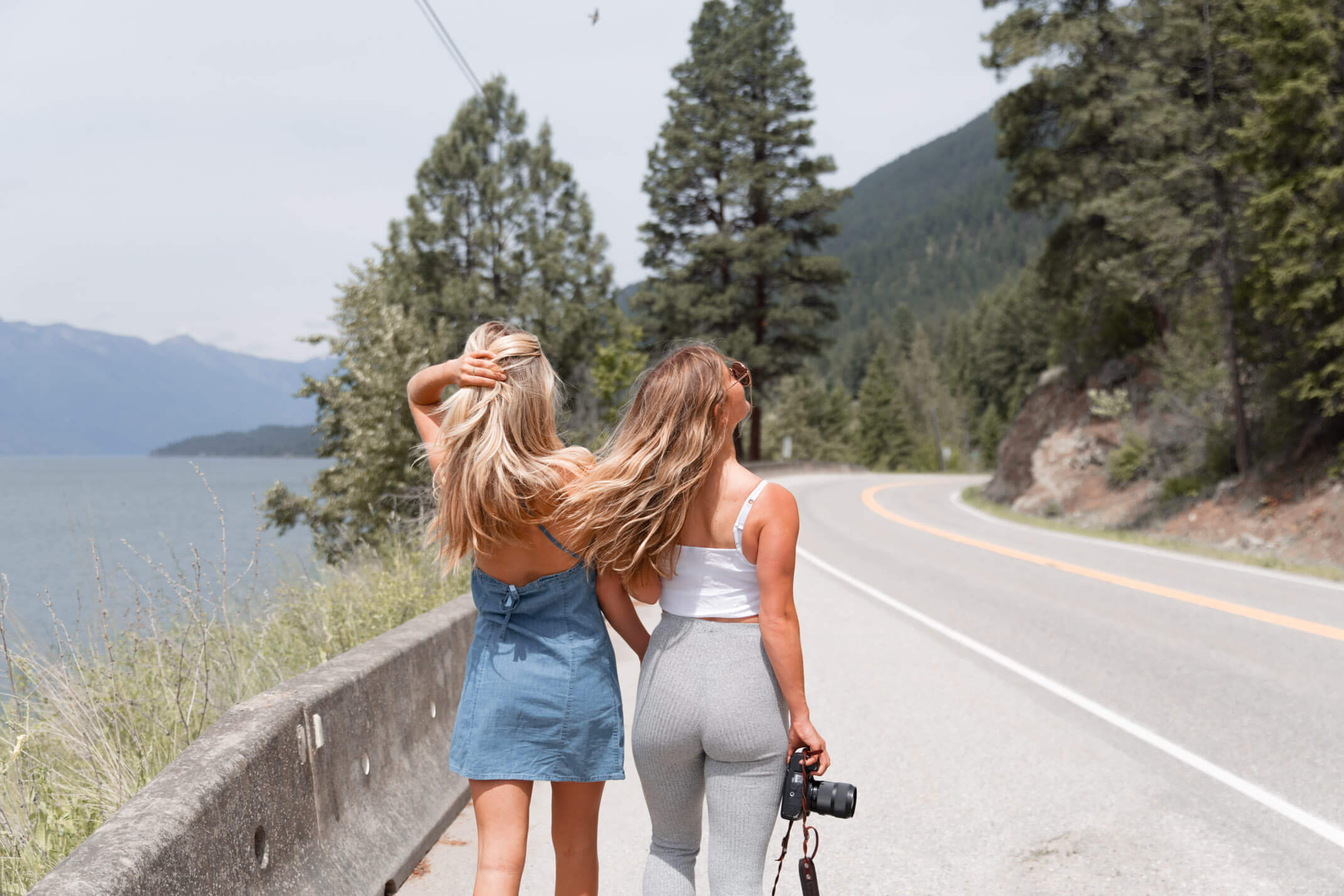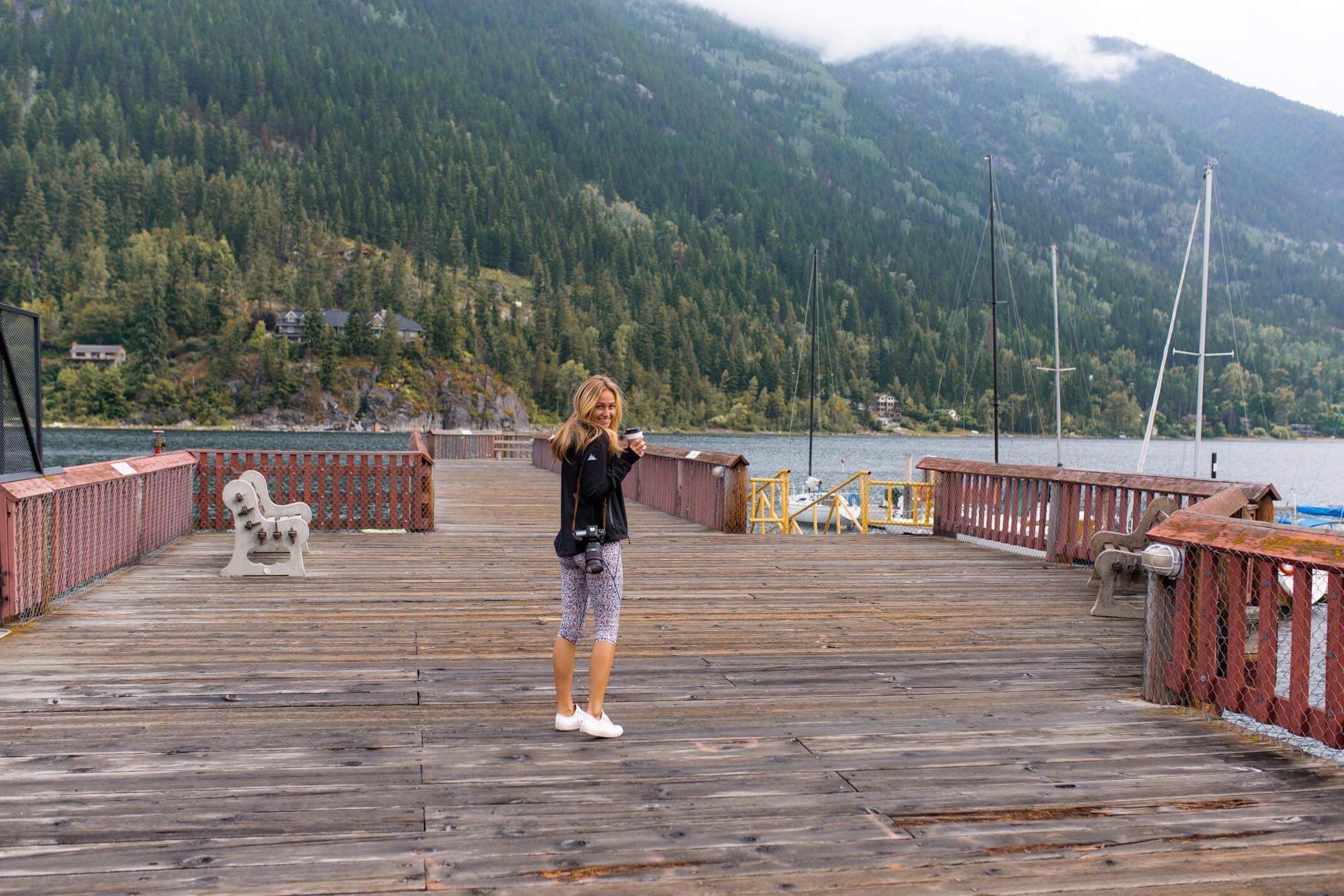 If you're anything like me, a day of driving will have you more than ready to retire to a sofa with a cold beverage… I got you!
We checked into The Hume Hotel, parked our car on site and did exactly that.
Nelson is one of the bigger towns that you'll visit on the Hot Springs Circle Route but even still, it's pretty small and you'll be totally fine parking up the car and making your way around on foot.
Evening suggestions in Nelson:
Beer tasting at Nelson brewing company (one of the 3 breweries in town)
Cantina Del Centro for amazing tacos, sexy vibes and fresh cocktails (Recommend the coconut margarita and the red wine beef and veggie taco!)
Day 4
If there's one thing I love about holidays it's those moments of freedom to wake as you wish, grab a coffee / juice and walk down to the water, whether that's to the ocean or to the lake. The space you get in these moments to look around you without rushing off to the next 'thing' are everything. Our morning in Nelson we took to the lake front with an Oh so Negro sweet soy milk coffee. It set us up perfectly for the day ahead.
Ready for another adventure?
I give you Kokanee Mountain Zipline. The chance to do not 1, not 2, not 4 but 6 epic ziplines across a canyon! I know sometimes Ziplines can be tame but this set will have you fuelled with adrenalin and will only set you back $99 CAD. See more and book here.
P.s. I noticed Hellman Canoe and Kayak on the drive here if you have time and fancy a water activity instead!
If you're truly here for the zen, pass on the latter and head straight for your next soak in the natural mineral waters of the Hot Spring Circle Route – Ainsworth Hot Springs.
There's a really cool cave here that you can swim through and feel the heat of the natural springs as it comes through, steaming up the cave like a steam room! (They have to pump cold water into all of the pool because the natural temperate is way too hot, don't worry they have it under control).
By the time we had completed the zip line adventures, soaked in the hot springs and enjoyed a salad overlooking the lake at Ainsworth (I told you it was adventure central) it was mid afternoon and time to head 20 minutes down the road to check into our accommodation in Kaslo.
Okay so Kaslo. I honestly don't even know where to start with this place. There's certainly not enough room in this blog post. This is the place I spoke of at the beginning of this guide. It has a very special presence in the air. There's a certain kind of magic that floats into your bones when you arrive and this was definitely somewhere I wish I had longer to enjoy. This is the place for booking onto a yoga retreat, some space from the city or, for booking their annual Jazz festival which is said to be one of the best festivals in the world.
Crazy considering how TINY the town is. I think you'd get to know the whole community within days. It reminds me of what I think Byron Bay would have been like before word caught on.
Be sure to check out:
Taqueria El Corazon (lady that owns it is Mexican so you know it's good)
Bluebelle Bistro (for great coffee and food)
We got the chance to rest our head in the absolute haven that is The Sentinel. I'd come back to the Kootenay's just to return here. The views through the big water facing windows in the lounge and bedrooms, the homemade food, the company and oh, that outdoor lake view hot tub. The Sentinel pride themselves on hosting transformative experiences. They are host to a number of retreats year round but are also open as a bnb, so you can come and stay for just the night as we did.
Book here. Get £25 off your first Airbnb stay here.
Day 5
We woke to the stillness of Kootenay Lake peering though our windows at The Sentinel for the 5.30am sunrise we allowed to be our alarm. By 7am we had made our way to the dining room come kitchen of the main house for the breakfast included in our stay. Everything about The Sentinel is cosy, comforting and warms your body and soul from the inside out. The breakfast porridge was no exception. Goji berries, cranberries, golden berries, steel cut oats, coconut, chia, raisins and turmeric all mixed together and simmered fresh. Warm at the table and ready to be devoured.
Okay so 2 days left of the itinerary and just like every other morning, once you've fuelled up, it's time to head out and on.
Todays first stop is Nakusp, an hour and a half drive from Kaslo. If you need an additional pick me up, stop at Bluebell Cafe in town for a coffee or cup of golden milk (turmeric latte).
Optional stop offs:
New Denver
Nakusp waterfront walk
Halfway hot springs / St. Leon Hot Springs
Ione Falls (a beautiful roadside waterfall between Nakusp and Halcyon, watch for it on your right as you're driving. It is located at the lone Rest Stop, approx. 21km away from the village of Nakusp.
Halcyon Hot Springs (hot springs resort and restaurant you can have lunch in overlooking the lake)
We proceeded to venture off road to find Halfway hot springs – a natural hot spring (like the others) in a more 'natural' environment. Halfway is about a 25 minute drive off of main road (it's sign posted) and will have you wind into the forest wondering if you've actually come the right way. When researching this place, we had been told that the road is dodgy and you shouldn't risk taking a rental car up there, unless it's a 4X4. However, we went ahead to check it out and found the road had recently been redone. It was a pretty smooth, easy drive.
Up at Halfway (once you've parked up and hiked the 10 minutes down) there are 3 different temperature springs and some fully natural springs in the river bed itself where you feel surges of the river water and the hot springs alternating around you. For those keen, there's a campsite there too to stay overnight!
Note: There are also changing rooms, toilets and picnic bench on site.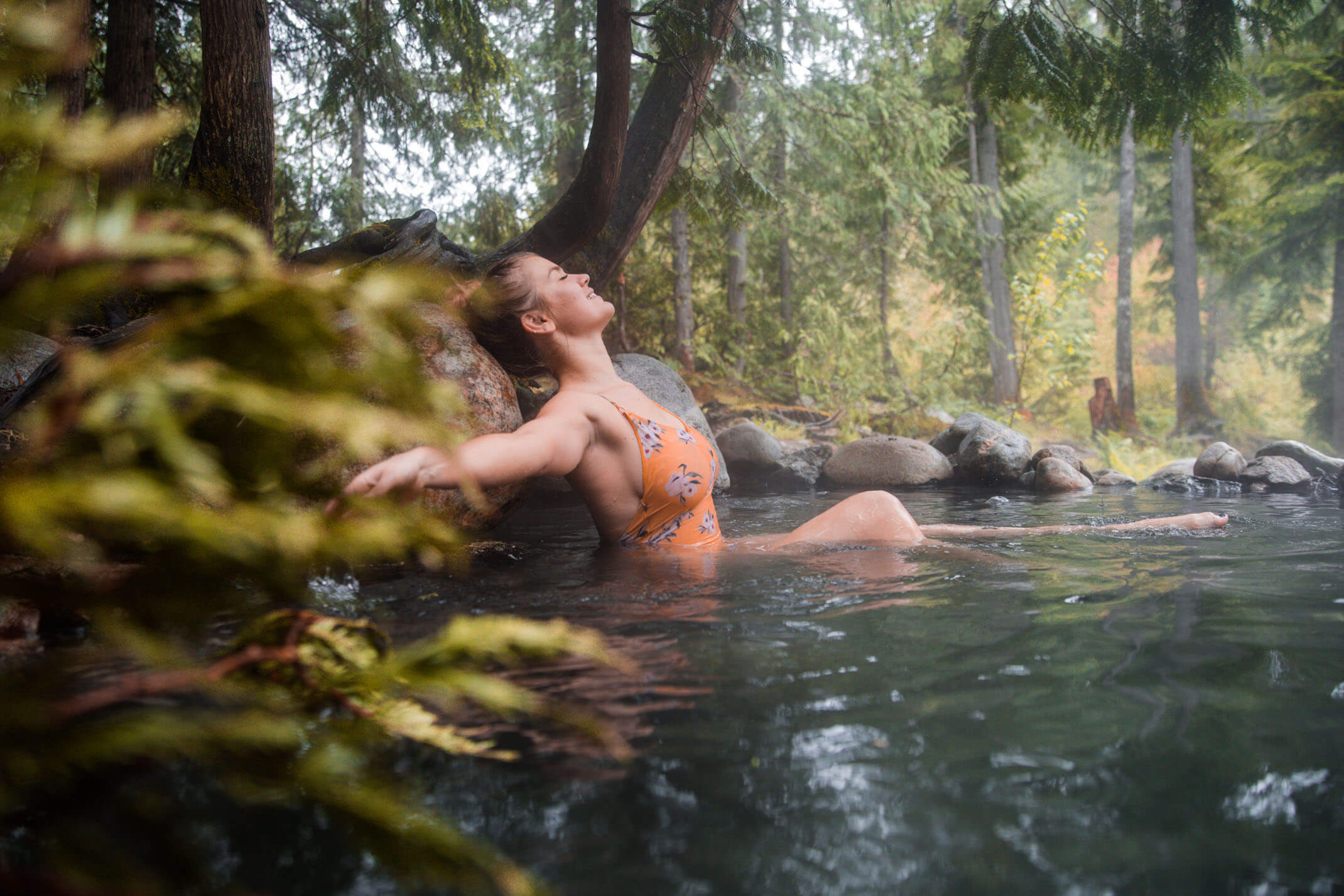 By afternoon, after another little ferry and 1.5 hour drive from Halcyon, we arrived to Revelstoke Mountain Resort where we checked in and dove straight into the apartment baths for a soak and a moment to relax and take it all in.
Revelstoke by winter is a haven for skiiers looking to push the boundaries and Revel in the stellar snowy terrains here. By summer, the stoke is just as real with some of the most famous alpine mountain biking trails in the world.
We were only passing through before heading to Golden the next day and so engaged in a little night time activity, perfectly timed with a big Basketball game for the Raptors.
Before tucking into some poutine and watching the game in Chubby Funsters, we popped over to a recently converted school where Jones distilling now operates, to try some of their gin. As you do.
Other events in the calendar / things to do in Revelstoke:
60 days of free music for the summer in Grizzly plaza from the end of June
Mount Revelstoke national park (drive to the summit for 360 views)
Lake Revelstoke paddling
Mountain biking trails / White water rafting / climbing
The Enchanted Forest
Farmers Market every saturday morning!
Dose Coffee (unreal coffee and brekkie!)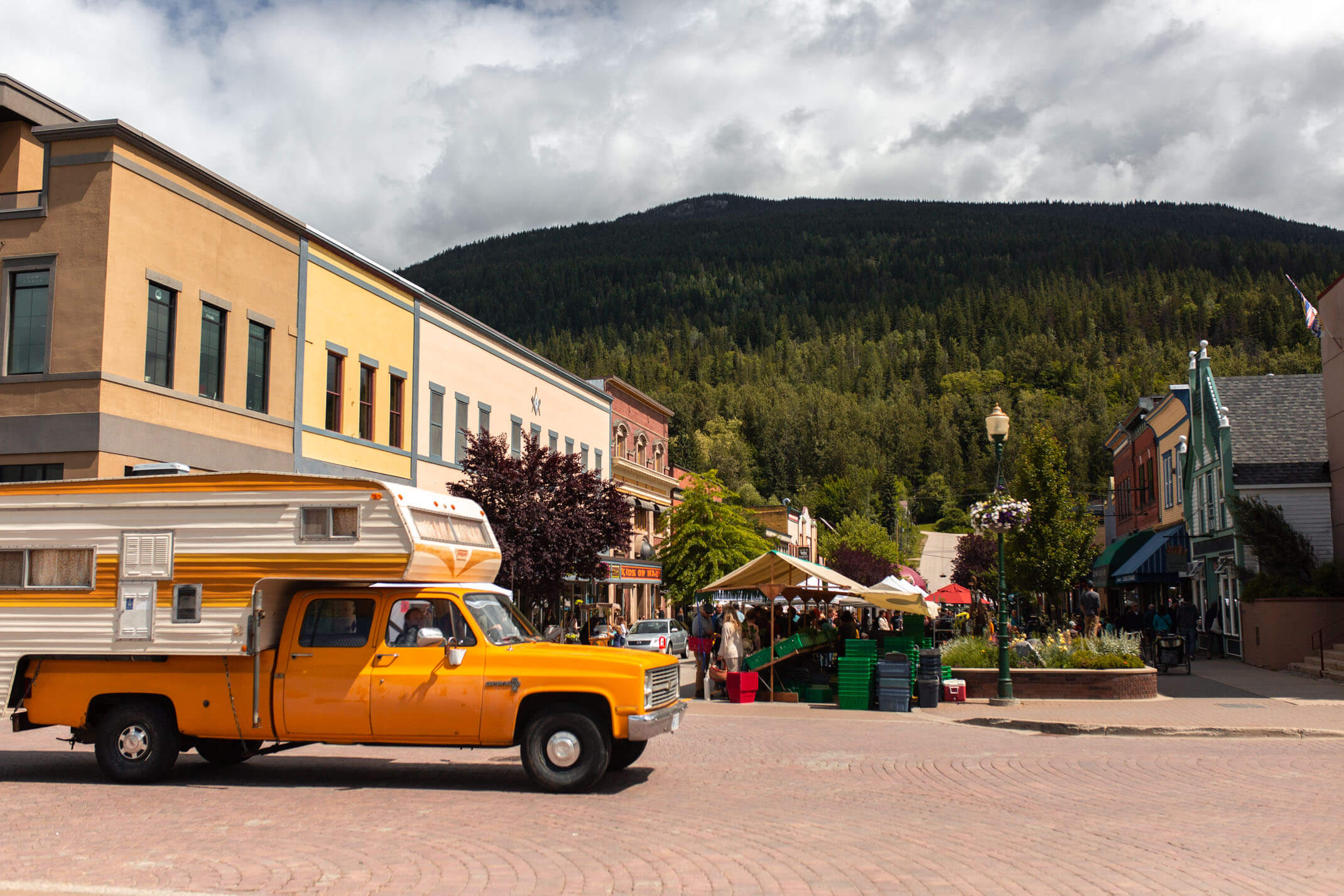 Day 6
I was so happy to have the morning to explore and enjoy Revelstoke – I just love small ski town vibes (there's around 3700 people here), bustling with outdoor adventurers grabbing their morning coffee and heading out into the mountains.
We had a leisurely wander down through the farmers market and shops (wishing our suitcases had even an ounce of extra room) before grabbing a delightful coffee from Dose for the road.
The next and final overnight destination on our itinerary was Golden, somewhere I'd actually been before on my road trip through the Rockies last year. See my 7 day itinerary through Jasper and Banff here.
P.s. This drive was absolutely stunning. You wind through Mount Revelstoke and Glacier national parks. Mountains everywhere. Worth a stop off at Giant Cedars Boardwalk.
Last stop!
Golden is a pretty small town with an industrial feel. There's one brewery (distillery opening opposite) called Whitetooth Brewing Co. and a handful of locally run, gorgeous little restaurants. We had lunch at The Island and dinner at Eleven22. Highly recommend both. The Island is right on the river with outdoor seating – perfect for food and a beverage on a sunny day. Eleven22 is a restaurant within a house layout with incredible chefs cooking up and array of fresh, seasonal dishes for you.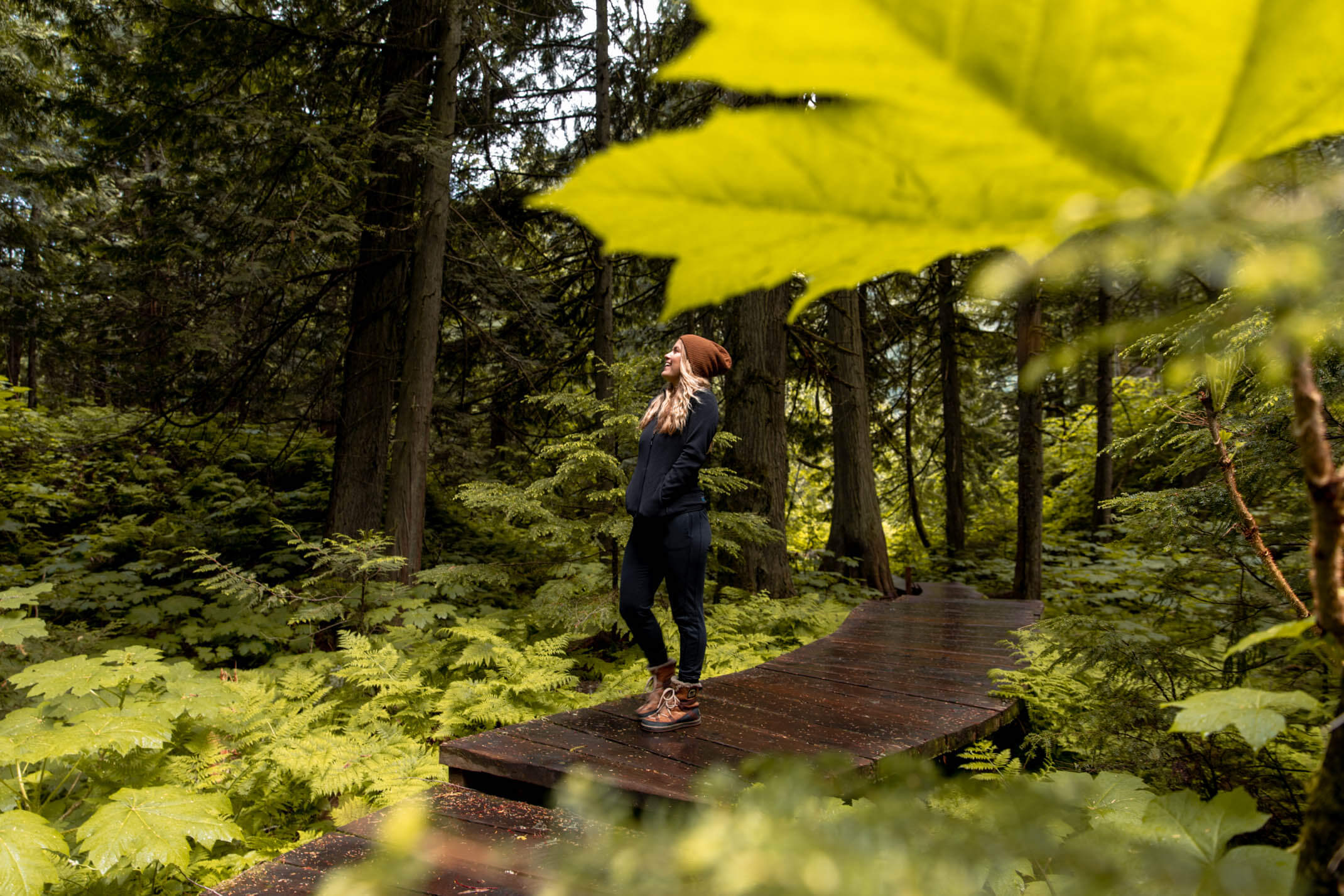 Day 7
Sadly, if like us, you're planning a 7 day adventure, we've come to the end and it's time to head back towards Alberta to catch your flight from Calgary.
You've officially completed the Hot Springs Circle Route!
As ever, you know i've sussed out the best spots to stop on your way back through to the airport:
You MUST stop at Emerald Lake. See more here.
Lunch at Communitea cafe in Canmore (another gorgeous town just after Banff)
Food at Ten Foot Henry's in Calgary if you're staying an extra night in Calgary!
Have You Been To British Columbia?
What were your favourite spots? I'd love to know!?
Love as always + happy adventuring,
Did you find this post helpful? I'd love you to share it for me.
I can't do this without you.
Pin and save this blog post for later…