So, I guess you could say, I've saved the best for last. That's if, like me, you love an adrenalin rush and live for moments that take your breath away… literally. This day was by no means short of these. It was time to explore the Columbian Icefield.
We began once more from Jasper, after another amazing night's sleep at The Crimson Hotel, and headed down Highway 93 (Icelands Parkway) to the Columbian Icefield, where Jasper National Park meets with the northern area of Banff National Park.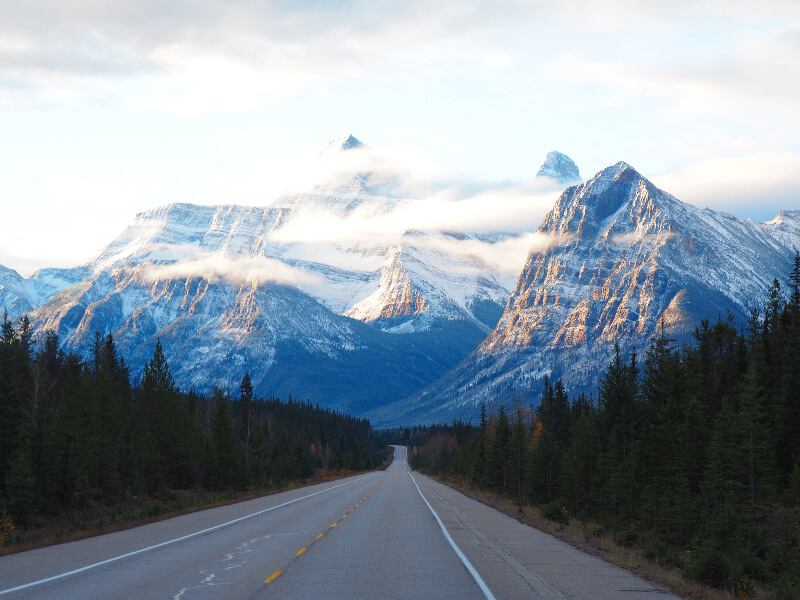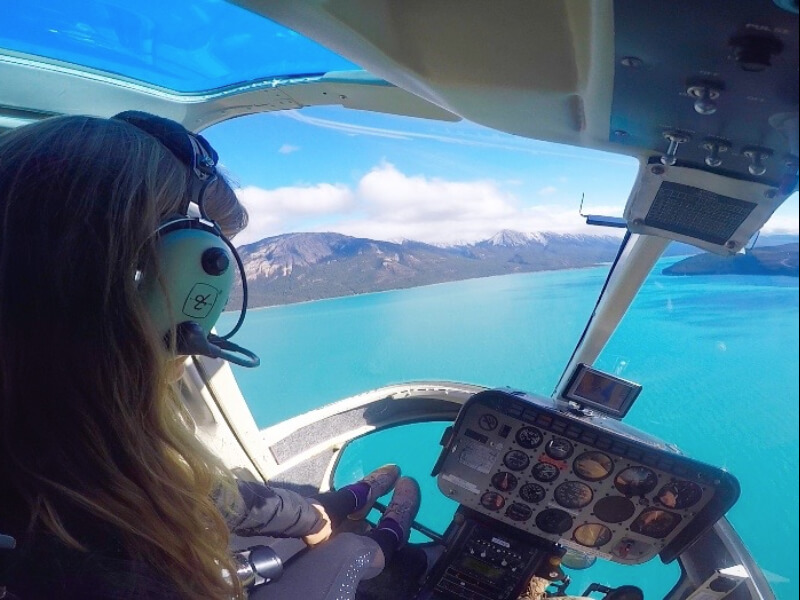 The Columbian Icefield region is home to 6 ice sheets, and we were here to explore the biggest one of them all, one of North America's biggest attractions…
The Athabasca Glacier.
First we headed nearby to the Glacier Skywalk, a walk suspended in the air from the cliff face, on which you can experience an intense walk over a 918ft drop where only a sheet of glass can save you.
So there I was, fearless and willing to walk first. I stepped out onto the Glacier Walk and instantly lost my footing nearly falling flat on my face (felt like nearly over the edge) due to some melted ice on the glass! I just about captured the moment on my GoPro – watch me slip below!
The staff work to keep the area dry but due to the snowfall, I was just unlucky! Be careful!
Despite scaring the life out of me, the snowfall was a blessing. The immaculate, glittering sheet of snow that has fallen through the night was making the landscape pretty surreal.
We arrived at the Columbian Icefield Centre where you can park your car, should you have one. (They also have an incredible hotel here, Glacier View Inn, with an INSANE wake up view over the glaciers!).
From here we embarked on the Brewster Ice Explorer where we ventured by coach for 5 minutes until the roads became icy and mountainous.
Here the monster snow vehicles, specially designed for extreme conditions, picked us up for the remaining 15 minute ride to the toe of the glacier. Along the way the driver shared a wealth of knowledge about the formation, facts and deterioration of Athabasca Glacier, before you hop off and soak up the atmosphere and view for yourself.
You are advised to not actually walk up onto the Glacier due to the risk of large ice pits being camouflaged by a thin layer of snow. As much as the adventurer in me likes to push boundaries, I figured my mum probably wanted me home alive.
For lunch we continued south down Highway 93 before switching to Highway 11 (David Thompson Highway) where we entered Banff National Park and arrived at McKenzies' Trail West.
Here we dined on the ranch in true cowboy fashion (they have stables here too for riding / horse hikes) before heading opposite to Icefield Heli Tours where we had our minds blown on a Helicopter tour over the most incredible coloured lakes, waterfalls and glaciers.
I have been lucky enough to experience a helicopter ride before, over Franz Joseph Glacier (New Zealand), but it was no less surreal than the first time.
You cannot comprehend the feeling of rising and falling between fluffy layers of cloud as you fly over emerald green lakes and between mountains that could be from another planet. It's exhilarating. For a minute you experience the freedom of a bird and, lost for words, you can't help but fall deeper in love with the beauty gracing our earth.
It was a hard high to come down from, but like a bunch of kids on Christmas eve, we grinned the whole way back to Edmonton.
What an end to a truly inspiring and heart warming trip.
Once again I have been reminded of just how much there is out there to explore and how little I've seen in comparison. My travel bug is stronger than ever and I already can't wait to experience more of this incredible country.
Canada, thank you endlessly for having me.
Have you been to Canada?
What were your favourite spots? I'd love to know!
Love as always + happy adventuring,
Did you find this post helpful? I'd love you to share it for me.
I can't do this without you.
Pin and save this blog post for later…