Embarking on this epic US Arizona road trip was my first taste of America (bar the time that, as a Mickey and Minnie obsessed 5 year old with my brother and parents, I visited Disney). This was the first time I was to uncover America as the outdoor adventurer and fully fledged adult that I am today and I was ever so excited to explore new lands and all the best places to visit in Arizona.
As we drove through Arizona, I got to see the likes of the bustling capital Phoenix, the quaint desert town of Scottsdale and, of course, Sedona. We then headed through the small town of Flagstaff towards Page. The views of the Antelope Canyons and Horseshoe Bend rivalled those of the famous Grand Canyon. Here, things took a turn, stopping us from heading to Las Vegas in Nevada… keep reading for a plot twist that changed how I drive forever!
I absolutely loved this Arizona road trip, and have since taken on USA road trips through California and to Burning Man. In Cali, I loved spending some extra time in San Francisco and really getting to know the area. And now that I've seen some of the National Parks in Arizona, I'd absolutely love to come and spend some more time in other USA National Parks.
Here's the ultimate Arizona road trip itinerary…
The adventure began when I flew into Phoenix, the largest connecting airport to London Heathrow, with two of my best friends. The whole trip was actually centred around a challenge they had set out to complete here in Arizona and I had just decided to hop on board (with the trip, not the challenge). The challenge was to run the 29miles (for 7 hours) from the north rim of the Canyon to the south.
Madness, I know. You can read more about their epic adventure here.
From the airport we continued on to Scottsdale where we stayed for 2 days with my friend's dad who lives there. Scottsdale is about a half hour taxi from the airport.
Scottsdale, Arizona
Just east of state capital Phoenix, Scottsdale is a desert land filled with painted houses that camouflage with the gorgeous landscape. Scottsdale isn't the most popular place to visit in Arizona just yet, I guess because it's not over developed with opportunity and activity, but I think that's what makes it unique. For the days we were there we relaxed by the pool, went on some beautiful sunrise walks (midday heat is a little too overwhelming to exercise in) and popped into Scottsdale quarter (which is beautiful) for some shopping, obviously.
Other recommendations in the area: Tom's Thumb Hiking
Sedona, Arizona
After a couple of days relaxing in Scottsdale, we began our 3-day Arizona road trip over to the Grand Canyon with a first stop in Sedona. My friend Em had been getting our taste buds seriously tingling for the whole 2-hour ride ready to indulge in apparently some of the best pancakes she's ever had at Coffee Pot restaurant, which we unfortunately found to be closed when we arrived in Sedona.
Instead we pulled up down the road at Wholefoods and tucked into a wholesome salad before continuing on to explore Cathedral Rock via the Upper Red Rock Loop Road.
I will never forget the feeling of driving through Sedona. The scale of the Red Rocks and the sheer contrast to any landscape I'd ever witness before was pure magic, and this is definitely a place to visit in Arizona you should put on your bucket list. I'd seen photos online but it definitely didn't compare to the sense of awe I felt when we drove through.
Other recommendations in the area: Devils Bridge Hike, Meteor Crator
By this point we were chasing the last of the daylight and had to choose between cocktails at Enchantment resort and a 2-hour hike to Devils Bridge. Due to the girls' challenge fast approaching and their need to rest up from any strenuous activity, we (wonderful) opted for cocktails and this mad view (see below).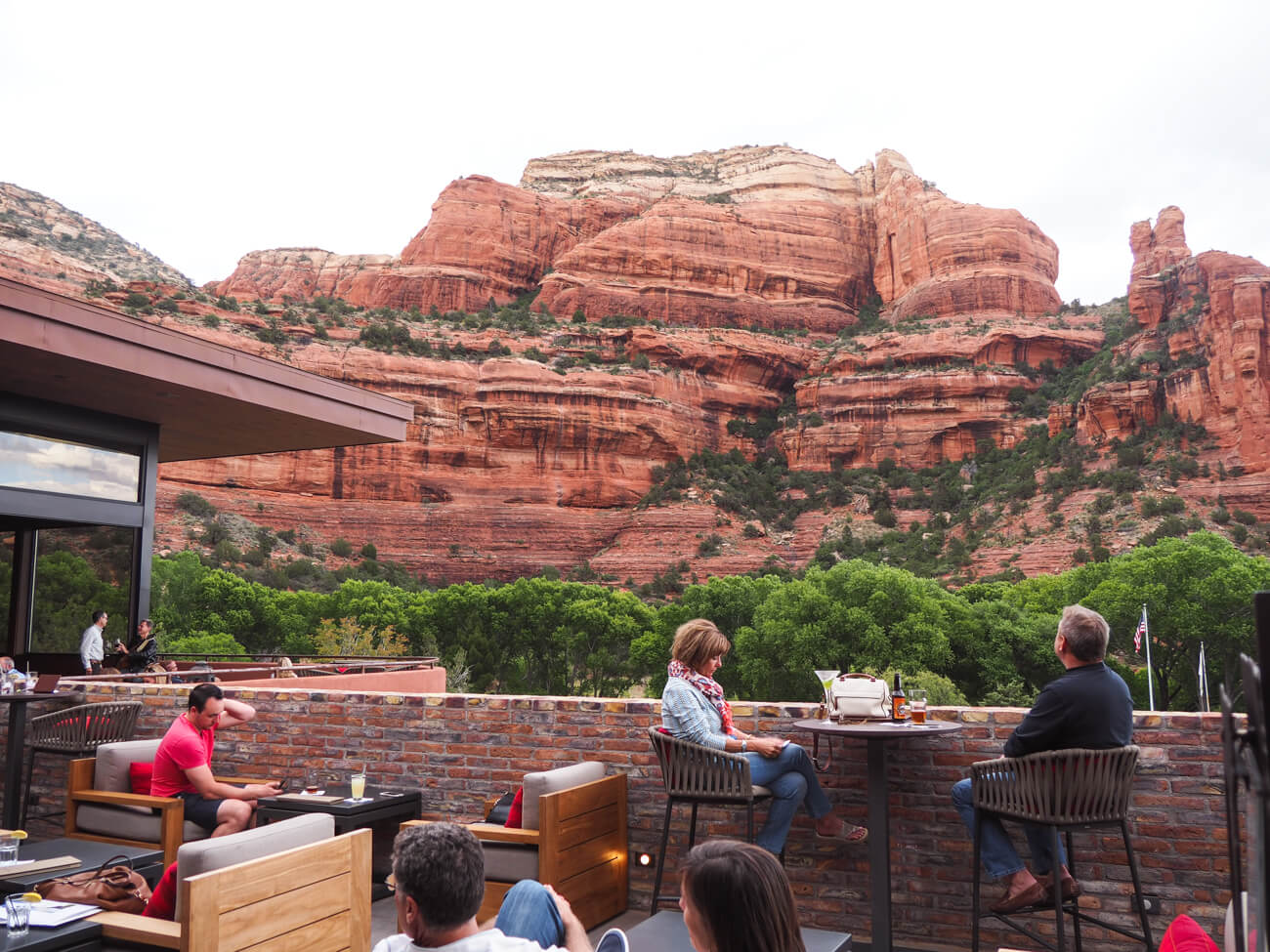 Flagstaff, Arizona
After watching the sunset over the red rocks at the Enchantment Resort we drove through the last glimmer of daylight through to Flagstaff where we had booked a motel to stay in for the night. We stayed at Greentree Inn Flagstaff which was pretty basic but very centrally located and we had a great nights sleep. A true American 'motel' experience with make your own waffles for breakfast in the morning. I think we paid £123 for one night which had two double beds within it.
Page, Arizona
Just when I thought the views couldn't get any better. They most definitely did.
From Flagstaff we drove through to Page where we hunted down the Antelope Canyons, one of the top places to visit in Arizona. Unfortunately our luck was out and it turned out to be on thousands of other peoples bucket lists as well as ours. The canyons are operated by tour companies that take you down in groups to avoid over crowding and to, well, manage the crowds.
BOOK IN ADVANCE!
We were told we could wait around to see if anyone dropped out of the fully booked tours but there was no guarantee of access and we could have been waiting for hours in the desert heat.
Disappointed to say the least, we cut our loses and headed on down to the next adventure on our Arizona road trip – the Horseshoe Bend.
Wow wow wow wow wow.
The Horseshoe Bend most definitely made up for it. I think this was one of my favourite places to visit in Arizona.
Other recommendations in the area: HavaiSupai Falls hike.
Watch my road trip come to life in the first part of my vlog here…
Marble Canyon, Arizona
After an incredible experience being totally blown away by the sheer depth and beauty of the canyons so far, we continued our Arizona road trip and drove on to our accommodation for the evening – Marble Canyon Lodge.
We had chosen to stay here because it was the closest available accommodation to the North Rim of the Grand Canyon where the girls were due to start their hike at 4am the following day.
Other recommendations in the area: Grand Canyon rafting, Kayak the Colorado, Cathedral Wash Trail.
The Grand Canyon, Arizona
At 2am I woke with the girls at Marble Canyon Lodge and we drove the 2 remaining hours to reach the North Rim trailhead.
After waving them off and saying a few prayers for their safety, I began my 6 hour drive around to meet them at the South Rim (the tourist side where most people head to view the canyon).
It was going to be a long day of driving and for the first half, very lonely. The North Rim area of the Grand Canyon is hardly developed at all, the majority of the roads may as well be dirt tracks and there are very very few inhabitants here.
I guess you could say this is where our Arizona road trip took a bit of a plot twist.
The plan was for me to stop off at the Antelope Canyon en route to the South Rim of the Grand Canyon, where I would then pick up the girls and together drive on to Vegas for 3 days to celebrate their success and party!
Unfortunately I had a car crash and plans were aborted.
You can read about what happened in this blog post, or watch the video below which explains what happened.
I was reaching distance from the Grand Canyon, one of the most popular places to visit in Arizona, but due to the circumstances, I never actually got to see it. I'm pretty gutted too that my actions had aborted our plan to see Vegas but in hindsight, I'm simple very lucky to be alive and I know one day I'll be back to see both.
Lesson learned: time to stop burning out and start taking care of myself!
Las Vegas, Nevada
Should you be heading to Vegas and want to add this epic destination to the end of your road trip (you gotta!), I did post a bucket list of all the things I was planning to do and see when I got there. After all, I'd done the research! Take a look at my 'Vegas Bucket List' here.
Have you been on an Arizona road trip?
What were your favourite places to visit in Arizona? I'd love to know!
Love as always + happy adventuring,
Did you find this post helpful? I'd love you to share it for me.
I can't do this without you.
Pin and save this blog post for later…