As Australia day approached, the girls and I were racking our brains for something fun and crazy to do to celebrate our love for Australia on this annual holiday down under. We already had plans to be in the Bay (what the locals in Byron call it) and had plans for drinks and dancing by evening (standard) but we wanted to spice it up a bit…
In one random conversation, somewhere along the line, someone suggested a skydive. Though I've done a few skydives over the years, I'd never done one in Australia and so I was instantly in favour of this suggestion.
There are a few awesome options for skydiving in Australia but one of the best is right here in the Bay. With views of the lighthouse, the stunning beaches and the hinterland, a skydive in Byron Bay makes for the dreamiest of views as you soar through the clouds and float your way back down to earth.
Where better to skydive than somewhere with the best views?
If you're looking for a dose of adrenalin or to tick that ultimate experience off of your bucket list, I'd highly recommend a skydive in Australia.
Here's your guide to skydiving in Australia…
What happens on the day?
Most skydives centres are just outside of towns and cities as they need the space for the planes to take off and land. For this reason, a transfer service is usually included in the cost of your skydive.
Once you've been picked up, you'll arrive at the skydive centre, fill out some forms and have the choice to add on a photo & video package to your payment. Then you'll wait for your name to be called…
Naturally, the thought of jumping out of a plane is a little daunting, right?
I think you'd be crazy if you didn't feel even a little bit nervous before jumping out of a plane at 15,000ft! But it's the kind of adrenalin that makes you feel alive. Skydiving quite literally throws you into a crazy new perspective. Should you take the plunge and take on this experience, you'll leave feeling inspired and incredibly empowered afterwards.
Facing a fear or finally getting around to a once in a lifetime experience like this is life changing.
When they call your name, you'll have a safety briefing and training. They'll teach you all of the positions that you need to adopt during the experience and run you through the stages of the jump, leaving you confident in how the adventure will unfold.
Next you'll meet your instructor who will fit your harness securely and probably share all the crazy places he's jumped around the world. You've got nothing to worry about in terms of the experience of the instructors. It requires a whole lotta jumps to be able to fly on your own, and then a whole lot more to be able to take someone on a tandem.
There's nothing technical that you'll need to do throughout the experience, so no responsibility is going to be left to you. You instructor will do all the hard work and you can sit back and relax (kind of!).
Going up…
For our jump in Byron Bay, 5 of us ascended to the sky in a mini plane with our instructors attached to us. We sat down in two rows on the floor of the plane (the plane is tiny), it's all very cosy (you wanna hope you've got a cute instructor, haha!). This is the part where you *might* get a little bit nervous as you go beyond the clouds, but the instructors are so relaxed and fun which certainly helps calm any nerves. Look out of the window and take in those views!
Once you've reached 15,000ft, the instructors will open the side door and you'll all start to shuffle towards the edge. It's skydive time! Goggles on, harnesses double checked and final fist pumps underway. Pair by pair you'll shuffle towards the door until you're sat on the edge of the plane. This is the bit most people dread but honestly, as a tandem jumper, you don't have to make the call to jump (the decision that would be hard on your own).
Coming down…
Once you've got your head back on the instructor's shoulder, they'll give you a countdown. 3, 2, 1… And you will drop out of the plane to start the 60 second free fall. Make sure you have your eyes open for this bit as the views are absolutely incredible. Your instructor will let you know when you can release your arms. They'll release the parachute after a minute of freefall, and you'll slowly glide down for around 6-7 minutes until you reach the landing point.
Usually in Byron Bay, you'll land on an airfield but for some weird and wonderful reason, that I cannot remember, we got to do a beach landing. It was absolutely stunning!
Be prepared for your adrenaline to be sky high after you've landed. Honestly, I've never felt an adrenaline rush like it.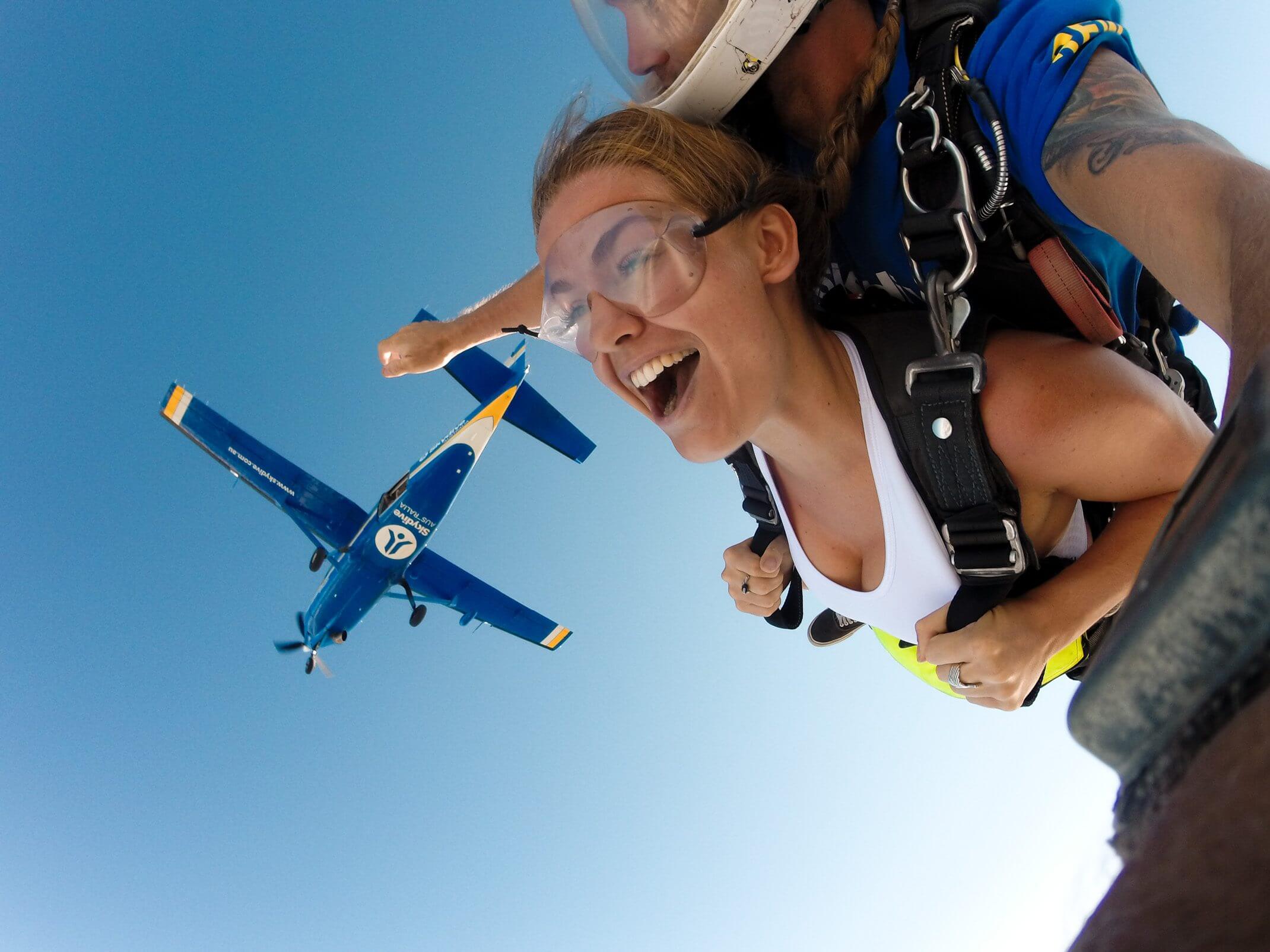 Where is the best place to skydive in Australia?
You can skydive in loads of spots all over Australia, but, with the help of RatPack Travel, I've put together a list of skydiving hotspots!
Byron Bay
This is where I did my skydive! Byron Bay is absolutely beautiful from the ground but even better from 15,000ft! You'll see Mount Warning, the hinterland and the beautiful crystal clear water and beaches. You'll do a loop around the cape and the lighthouse and if you do it between July & October you might even see whales on their migration! Check out my complete guide to Byron Bay here and my Byron Bay bucket list here.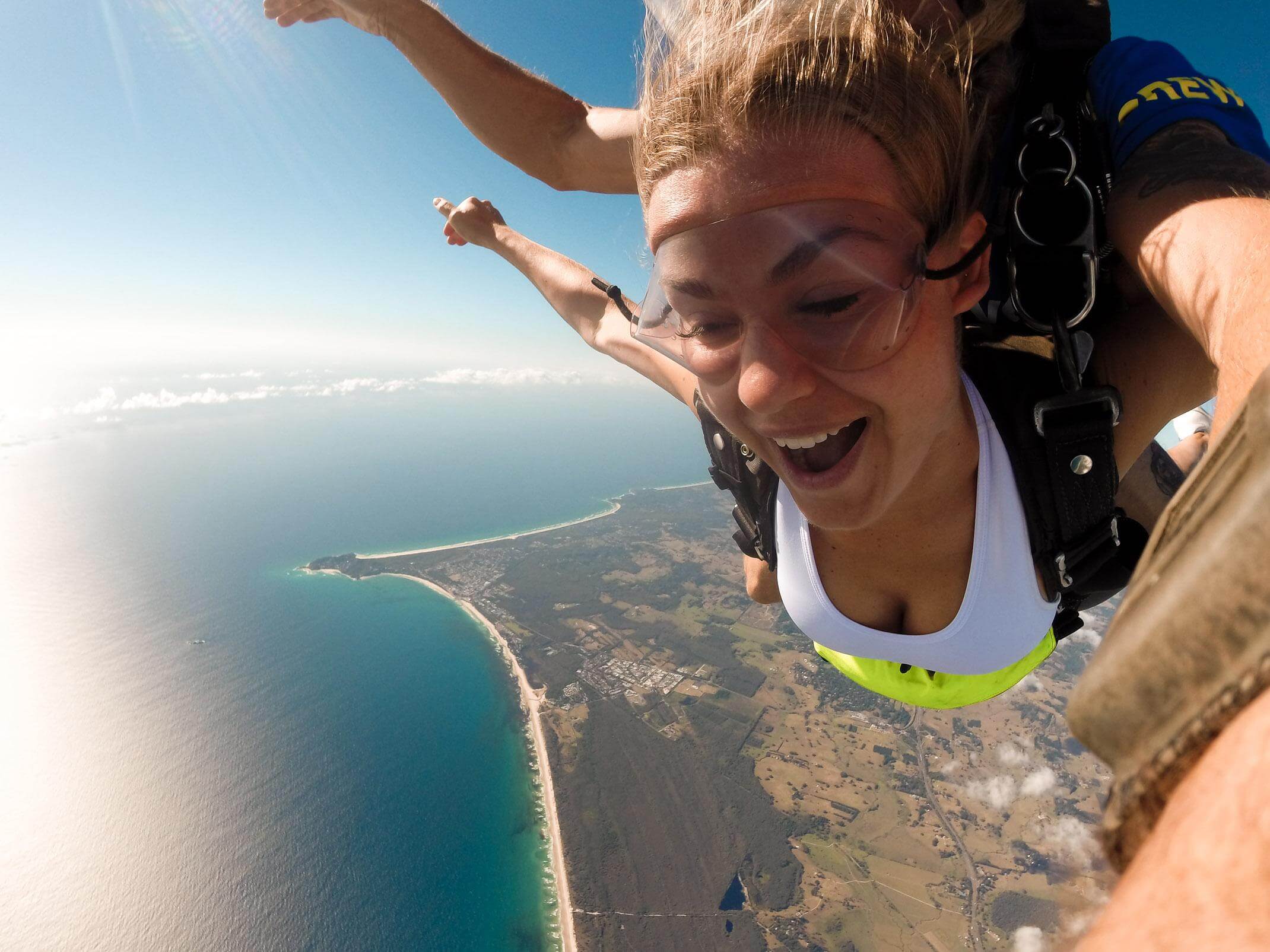 Mission Beach
At Mission Beach you actually get to land on the beach, which makes this spot one of the most popular skydive locations. Here you'll get amazing views of the rainforests and land right on the sand, right by the sea! It's worth noting that all of the other skydive locations, other than Noosa & Brisbane, will have you landing on airfields.
Brisbane
Enjoy the stunning views of Brisbane & North Stradbroke Island as you float and admire the city, the Gold Coast and Moreton Island from above, before landing directly onto Redcliffe beach – one of Australia's most awesome beach landing locations.
Cairns
Whilst you are visiting Cairns, you'll have the Great Barrier Reef on your list, right? Well, imagine seeing it from the sky as well! This incredible sight can be seen from space and you'll be able to see it from a bird's eye view. Not only will you see the reef but you'll also see the Daintree Rainforest.
Sydney Wollongong
Once you've explored Sydney on the ground, it's time to take the plunge and see it from above! Enjoy the views of Sydney itself, the Blue Mountains and the beautiful countryside that surrounds the area, before landing back at the airfield.
Noosa
Soak up the unreal views of Noosa, Fraser Island, Brisbane and Mount Coolum from above, before landing directly onto Coolum beach, one of Australia's most awesome beach landing locations.
Airlie Beach
Skydiving over the Whitsundays is an amazing experience. You'll be able to see some of the 74 Whitsunday Islands and the surrounding rainforest! Did you know that the Whitsundays are part of the Great Barrier Reef, too?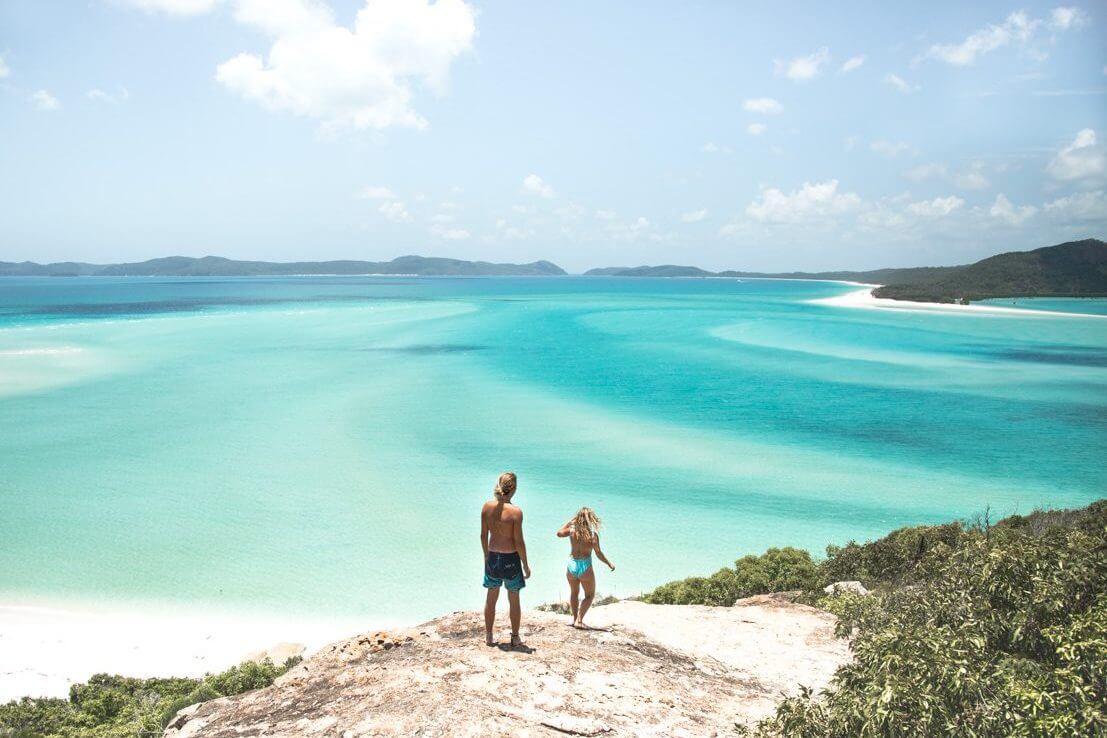 How much does a skydive in Australia cost?
You'll be pleased to know that through RatPack Travel, all of the locations are the same price! A tandem skydive is usually $319 plus $35 (the $35 is for the Australian Parachute Federation fee; every person must pay this fee on arrival). Also, if you book through Sammy at RatPack Travel, he can discount the jump using my discount code MOLLIE10 which gives you an amazing $50 off the online direct price – making it $269!
How do I get to my skydive location?
With RatPack, you will have your pick up and drop off included in the skydive price. It's useful to know where you're staying when you book, but if you don't, you can let them know at a later date and confirm a pick up location.
Should I book my skydive in advance?
It's best to pre-book so you get an early spot in the day. Earlier is better because if the wind picks up and there's a delay, it still shouldn't take up a full day! As soon as you know when and where you want to skydive chat to Sammy at RatPack and he'll help you look at all your options!
What happens if my skydive gets cancelled?
There's a small chance that your skydive may get cancelled due to high winds (safety first!). If this is the case, don't panic. You will be able to reschedule, or, when you book through RatPack Travel, you can get a 100% refund.
Can I capture the experience?
Yes! Well, the instructors can capture it for you (so don't turn up with your GoPro on your wrist because it's not allowed!). When you arrive at the skydive centre you can add on a picture and/or video package. Prices vary in each location, starting at $99 for just pictures and around $149 for picture and video. They'll let you know of all of the options and this is something you can decide on the day. Remember that you can use the MOLLIE10 code for 10% off photo and video packages!
What should I wear for my skydive?
Comfy clothes! Gym clothes and trainers work perfectly. Don't wear accessories as they can get caught on the harness, and if you have long hair, tie it up as it can become matted from the wind (and stop you from enjoying the view!). The centre provides all the specialist harnesses and equipment you need! Also, make sure your goggles are on tight. I didn't on my last jump and so they fell off. It's a little uncomfortable and distracting from the experience!