Byron Bay is one of the most magical places in the world.
It's without a doubt the hippie epicentre of Australia and it will only take you a walk down the main high street to surrender to the slower pace of living that thrives here. You'll leave Byron Bay questioning everything and you'll be doing all you can to extend your time here. Even though it's changed a lot since I first came 5 years ago, Byron Bay still holds the magic.
Read my Complete Guide To Byron Bay here which features all my favourite eateries, bars and top tips!
This is my 5th time returning to what locals name as 'The Bay' and just like every other year, I'm seeing it with new eyes and discovering even more adventure here than I knew before.
Not only will the town capture your heart but if you get change to hire a car or are travelling the coast by camper van, the hinterland will seal the deal.
If you're heading to the bay and you're wondering what on earth the best things to do are (aside from a night at Cheeky Monkeys, the nightly silent disco that operates out of a VW camper on main beach, and açai bowls) I've complied a list for you.
Here are my 20 fun things to do in Byron Bay…
1. Watch sunrise at Cape Byron Lighthouse
At sunrise, given it's a clear sky, here at the Cape Byron Lighthouse you'll witness the sun rising perfectly above the horizon. It's a 35-minute walk from town, a great little bit of exercise and you're guaranteed to be joined by others. It really is the dreamiest of locations to catch the first light of day.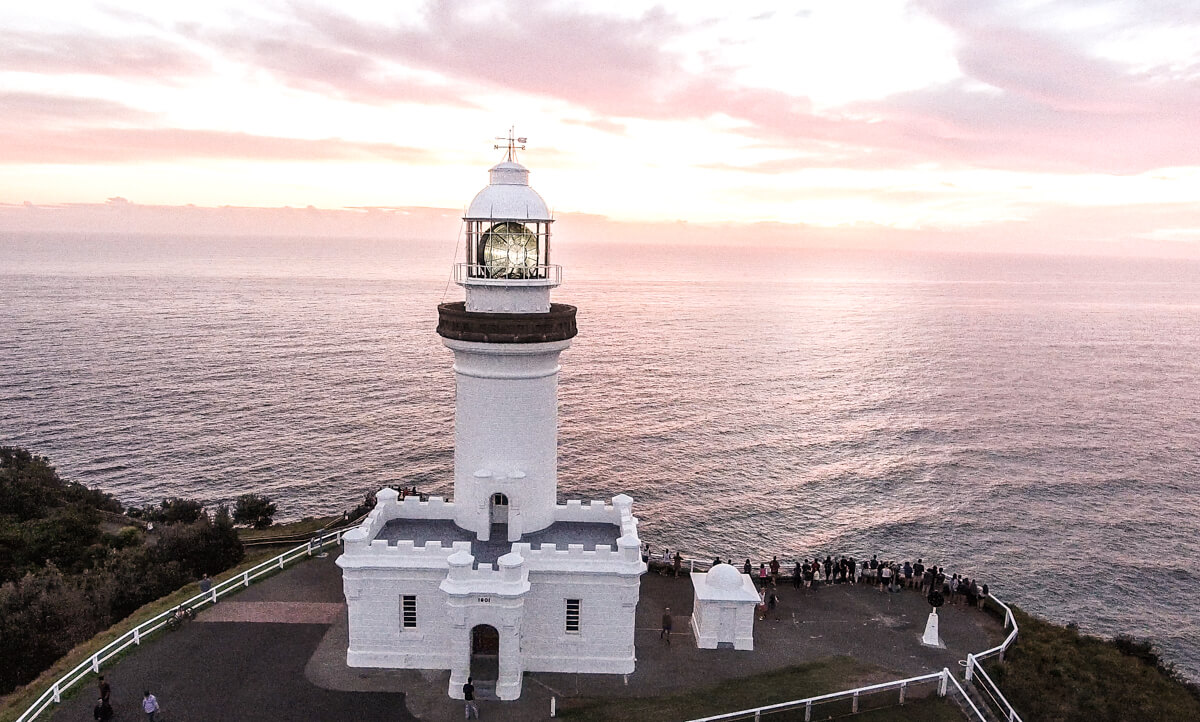 2. Take the coastal walk to the Lighthouse for sunset with an ocean dip at Wategos beach on the way
It's about an hour walk from town and boasts views across Byron and beyond. A really stunning way to bring in the sunset. Remember your camera and a water bottle! If it's sunny it can get really sweaty.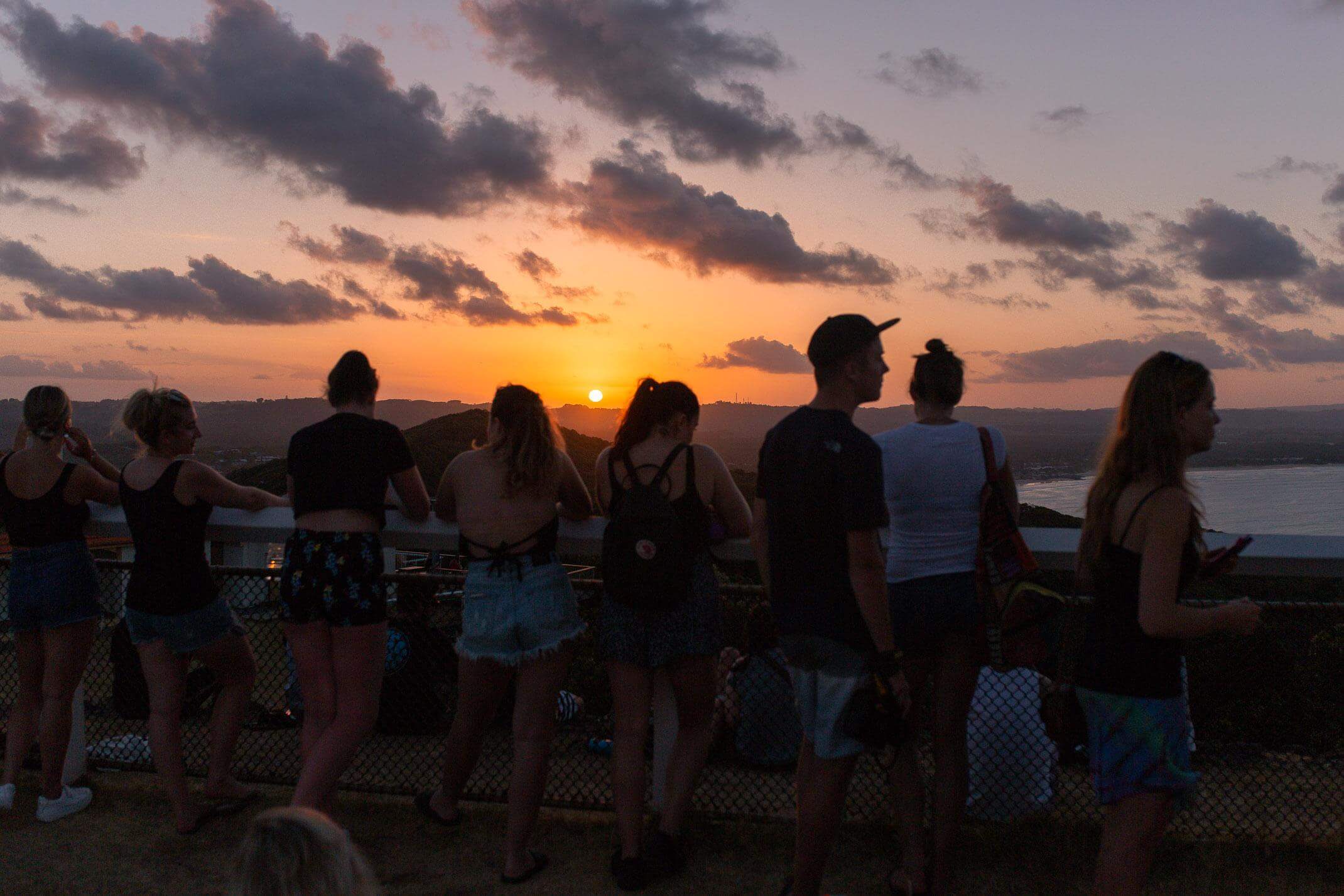 3. Grab food and listen to the street buskers / performers
The creativity and talent in Byron Bay is undeniable from the jewellery stores, clothing boutiques, graffiti and street fashion right through to the restaurant decor and the street performers. Honestly world class talent playing every day and night on the streets. Dedicate a night to it, grab some takeaway munch and soak it up.
I highly recommend Orgasmic falafel!
4. Head to the Beach hotel for Reggae night or a live gig!
Keep an eye on their gig schedule last year I caught Hollow Coves here – they were insane!!! Really awesome location right on main beach with an outdoor seating area.
5. Falls Festival
If you find yourself in Byron Bay or near at New Year – this is the festival to head to!
6. Head out on the water and Kayak with the dolphins
Dolphins and turtles are no strangers to the waters here in Byron Bay. Head out on one of the two Kayaking tours licensed in the bay and you'll get the opportunity to get an up close and personal experience with the magical creatures themselves. No sight of dolphins? You'll get another tour granted free of charge until you see them.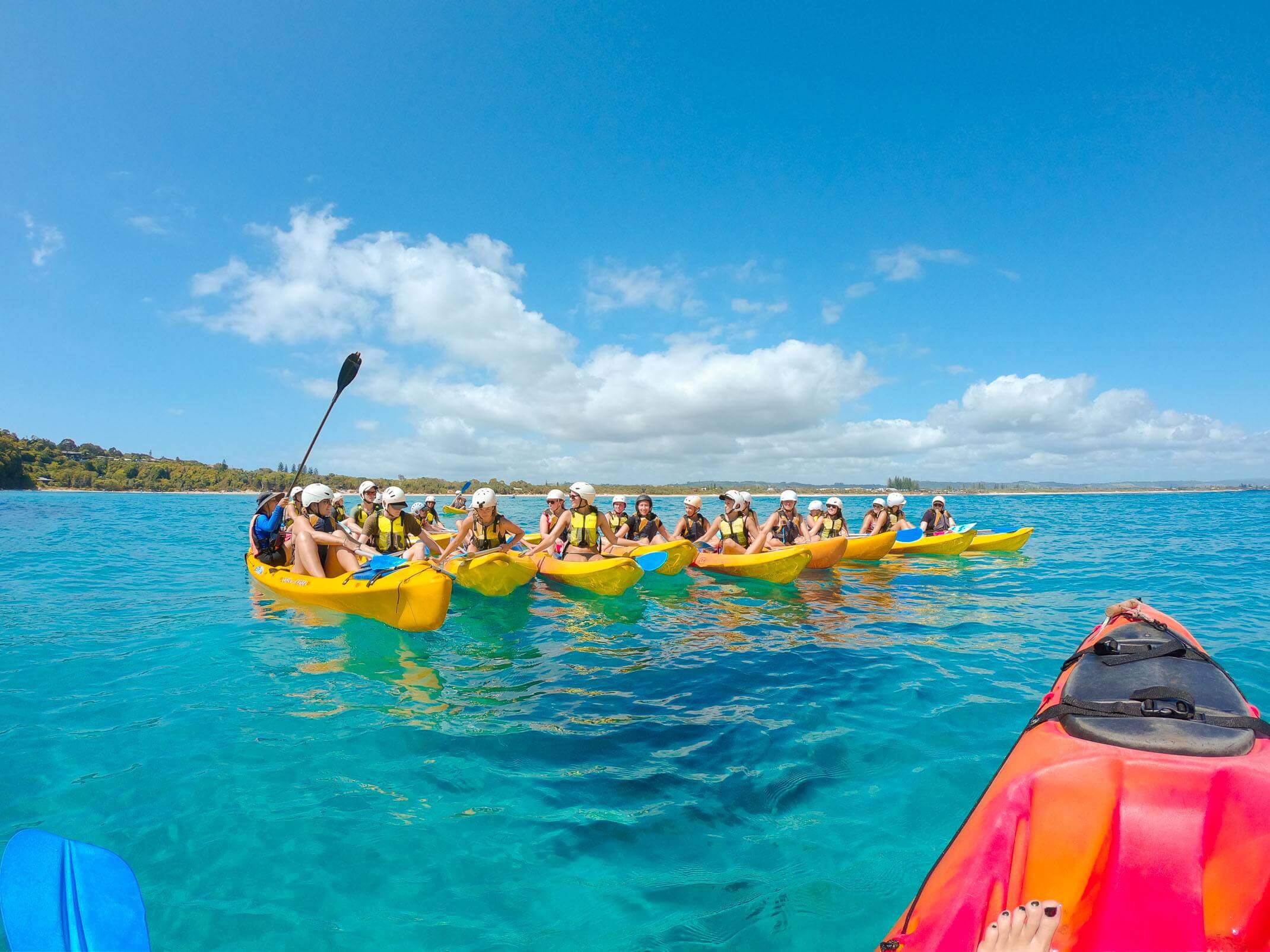 7. Take a surf lesson!
If you're going to do it anywhere, this surf town is it. I've not done it myself in Byron Bay but I've heard Black Dog surf school are the ones to go with!
8. Go Whale watching!
Whale Watching Byron Bay conduct tours every day during the whale watching season (June – October).
10. Go to a Yoga Class on the beach.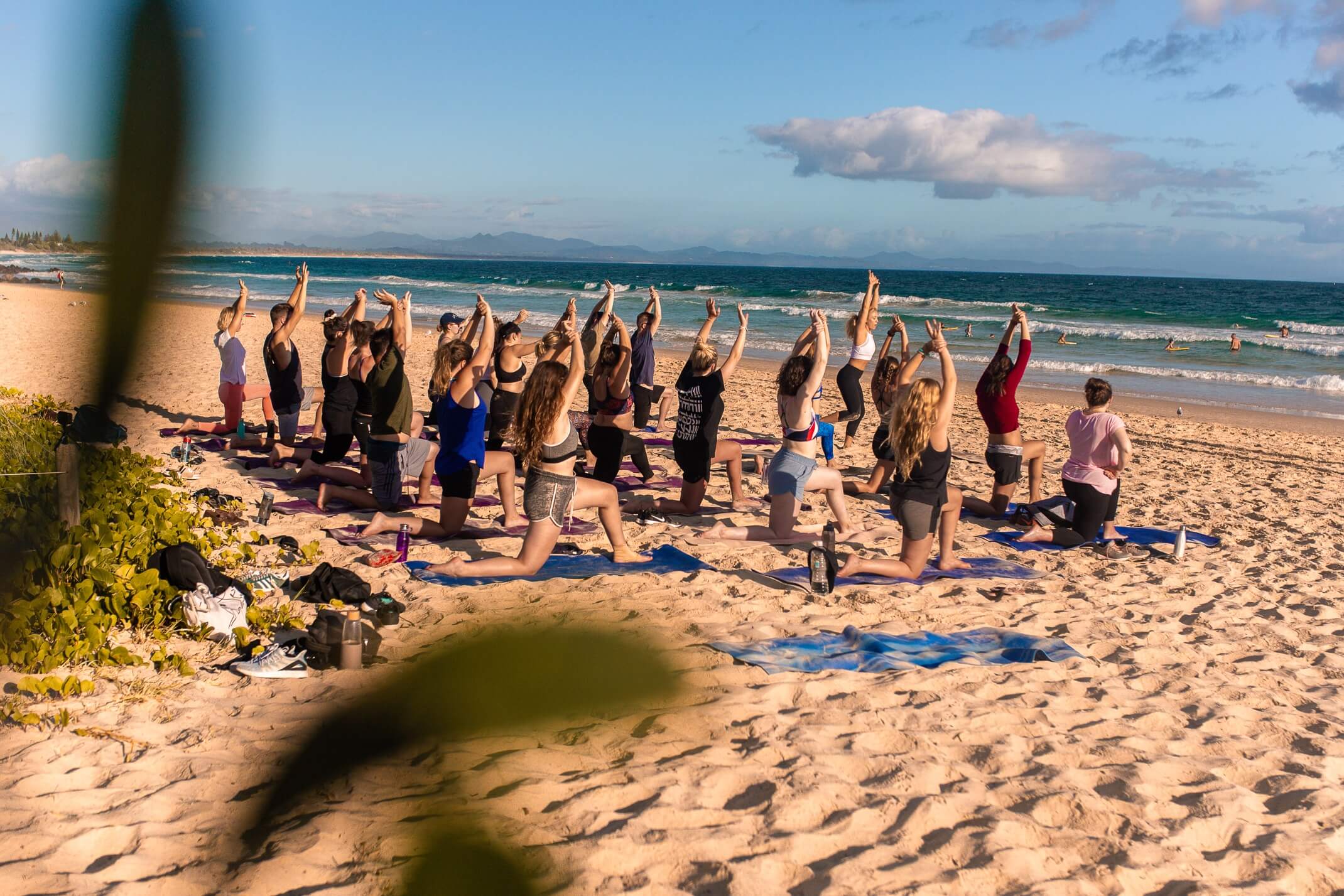 11. Head out to see the insane marine life at Julian Rocks
I've not actually done this yet but apparently it's amazing! Book yourself onto either a snorkelling tour or if you fancy a scuba dive – there's that option too.
12. Step out of your comfort zone with a Skydive.
13. Cook up a feast on one of the many free BBQs that line the beach.
Beers, BBQ and beaches. All the summer feels.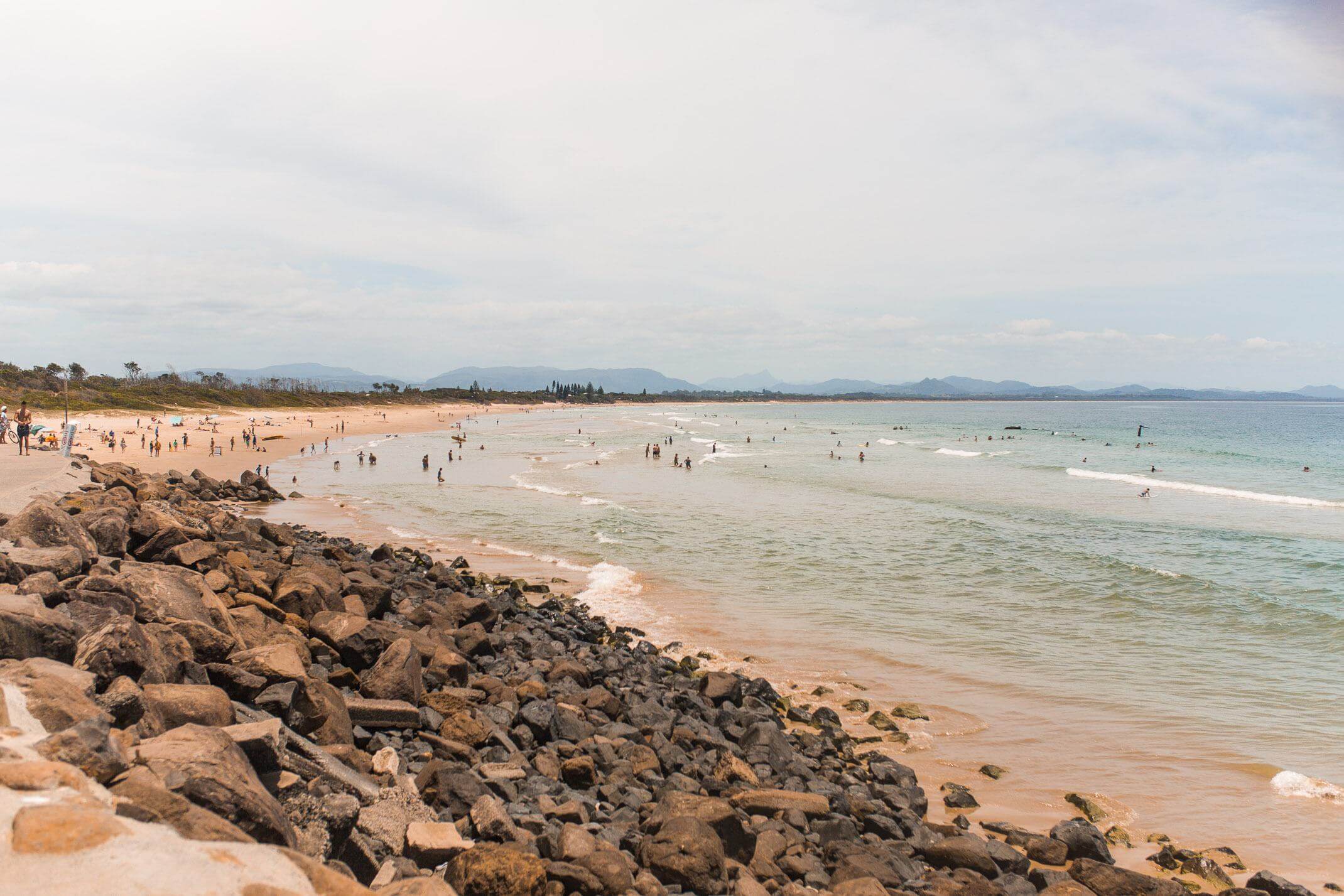 14. Swim in the sea or do some length at Fishheads pool at Main Beach
Entry to the swimming pool is $4.50 for an adult is an enclosed area right on the main beach car park where you can swim and lie in the shade for a few hours (or the whole day). Beach day awaits you after!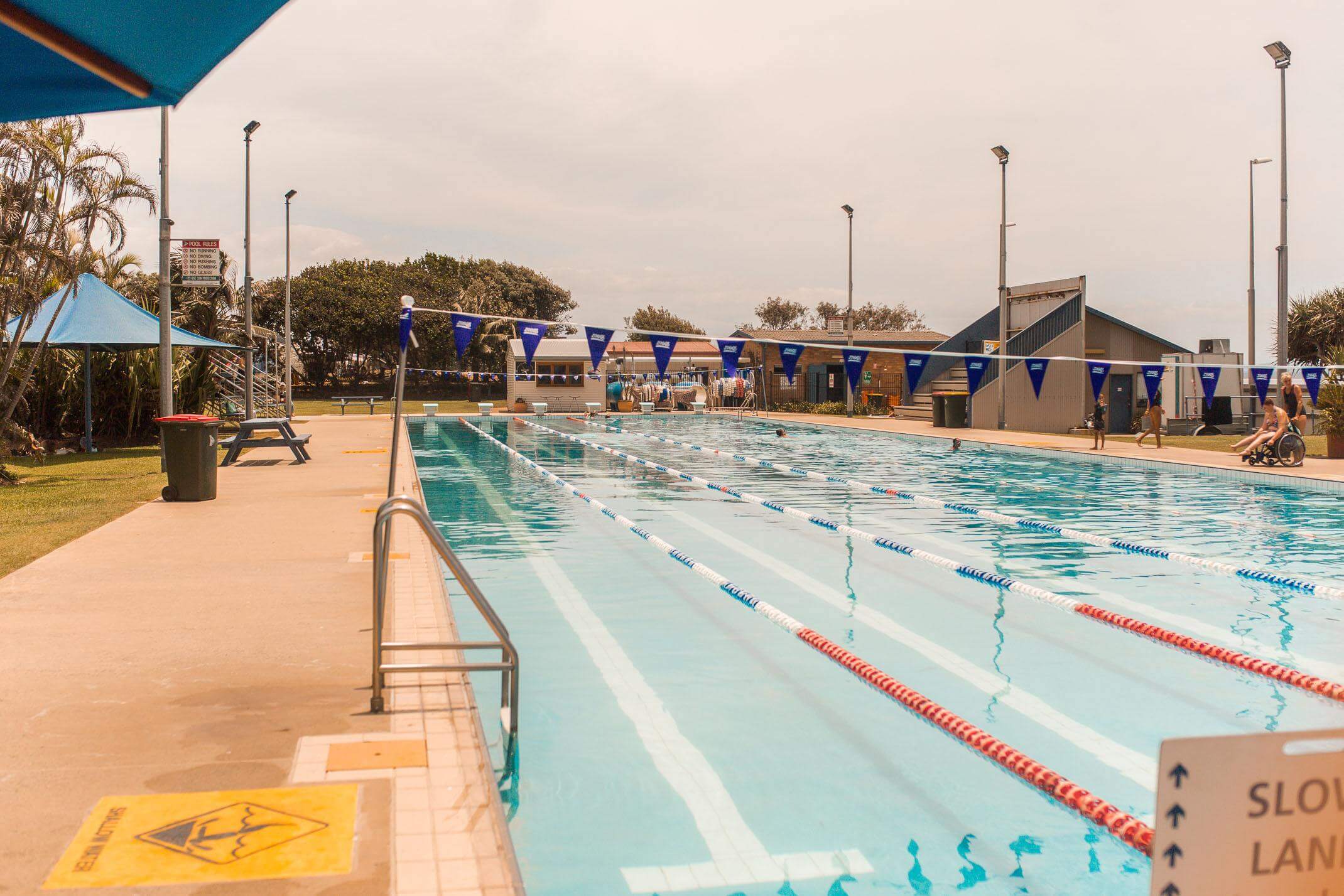 15. Head to main beach car park for sunset where you can dance the last light of the day away to the sounds of the drum circle.
If you have a car you should also consider…
16. Brunswick river
A beautiful and lesser known town a 20 minute drive north of Byron Bay is Brunswick where's theres a gorgeous river to jump in. Catch the tide right and the snorkelling is amazing. You can also rent a paddleboard / kayak on the river should you fancy the adventure. Gorgeous cafes and eateries walking distance. A really lovely day out from Byron, perfectly matched with a visit to Kiva spa.
17. Kiva spa
A gorgeous little spa filled with jacuzzis, a steam room, sauna, plunge pool and area for relaxation. For $25 you get unlimited cups of tea and a day pass to this little tropical outdoor haven.
18. Drive to Mount Warning at hike for sunrise
Literally one of the most epic hikes which takes you out into the Hinterland for views right across and over to the Lighthouse. Highly recommend this one. Epic workout too.
19. Hire a car for the day and head to Killen Falls and Lake Ainsworth.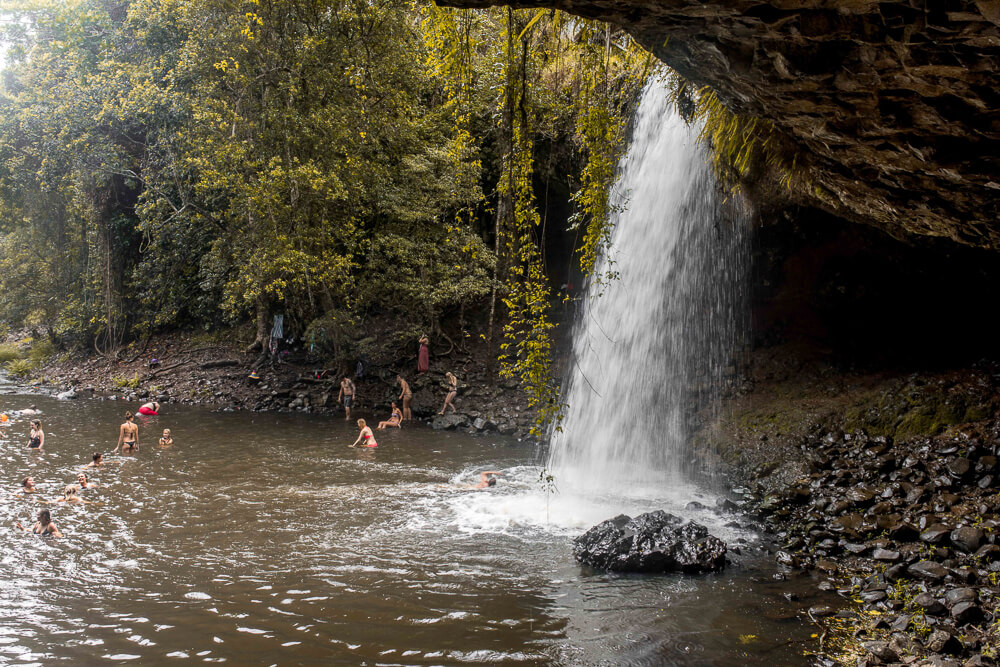 Have you been to Byron Bay?
What were your favourite things to do? I'd love to know!
Love as always + happy adventuring,
Did you find this post helpful? I'd love you to share it for me.
I can't do this without you.
Pin and save this blog post for later…