Last week, one of my friends got married in Protaras, Cyprus. I was invited out, not only attend, but to sing her down the aisle. For real. Eeeeek!
I've never actually sung at a wedding, let alone as someone walks the aisle, so, needless to say I was honoured, but slightly nervous.
The day went gorgeously, my set went down swimmingly (I think, anyway) & she looked absolutely stunning. The sun shone endlessly and we all embraced the outdoor dining and dance floor until the early hours, without even the thought of a jacket.
The wedding was at Capo Bay Hotel, in Protaras, a popular destination in the south east of Cyprus & of course we extended our stay beyond the wedding to explore and relax another gorgeous corner of the world.
Protaras boasts many gorgeous qualities that we all lust over in a holiday. With spine tingling temperatures all year round, and just a 4 hour flight from the UK, it's a great place to escape to as the winter sets in.
Here's my mini guide to Protaras, Cyprus…
Protaras has a gorgeous coast, lined with sandy beaches and wonderfully warm waters. Whilst we were here (mid September) it was 31 degrees C every day (apparently slightly hotter than other years), and the sea temperature was recorded most days at 27 degrees.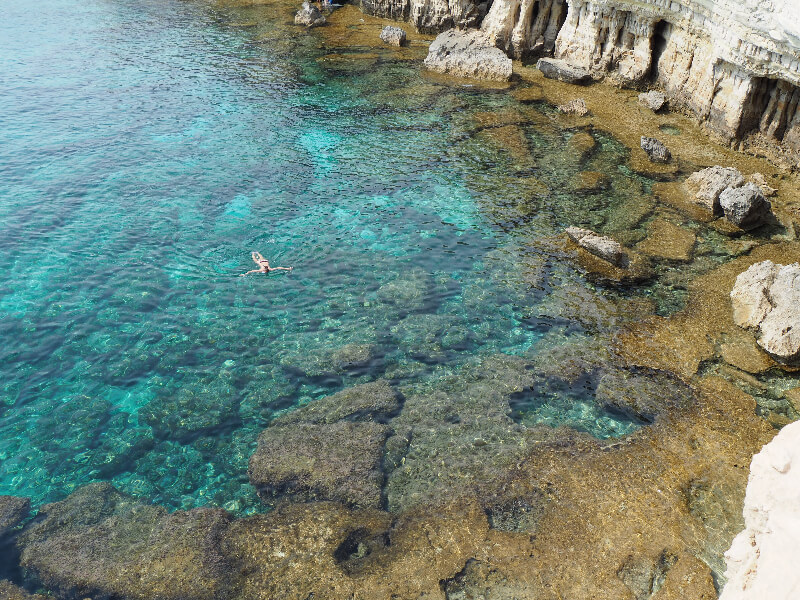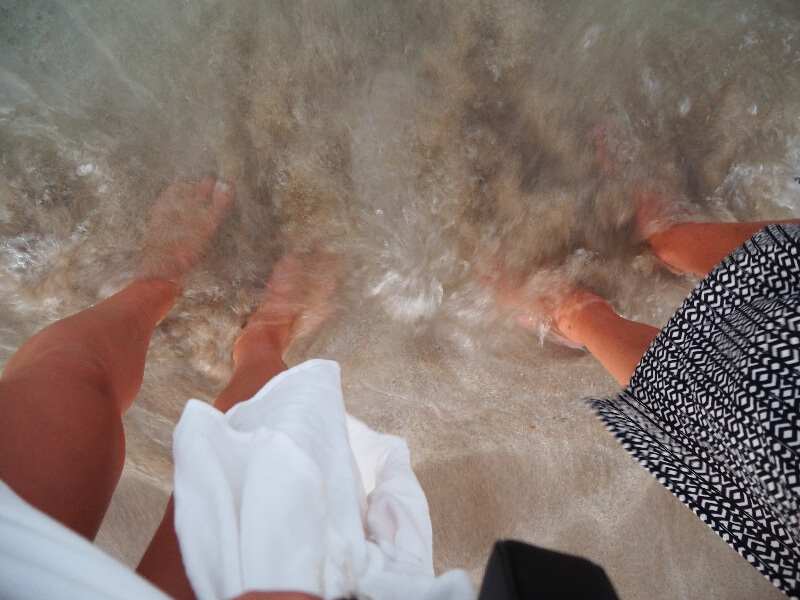 Honestly – dreamy!
The beaches are lines with sun beds and wooden huts, offering water sport options for all the family. Let's just say, if secluded and quiet beaches are your thing, Protaras may not be yours.
Where should you eat in Protaras?
The main hotels in Protaras line up along the beach and back onto the main Protaras strip which is filled with Greek-Cypriot restaurants, amongst all your favourite international cuisines.
My favourite place we dined in on the strip was 'Promises' which is just opposite the fountains in the centre of the strip and has a large balcony overlooking Fig Tree Bay (perfect for people watching).
Recommendation: The Swordfish & Tzatziki
Other restaurant recommendations:
Novela
Wan Chai
Doma
Patisserie Amelie
Kafkaros Taverna
Folio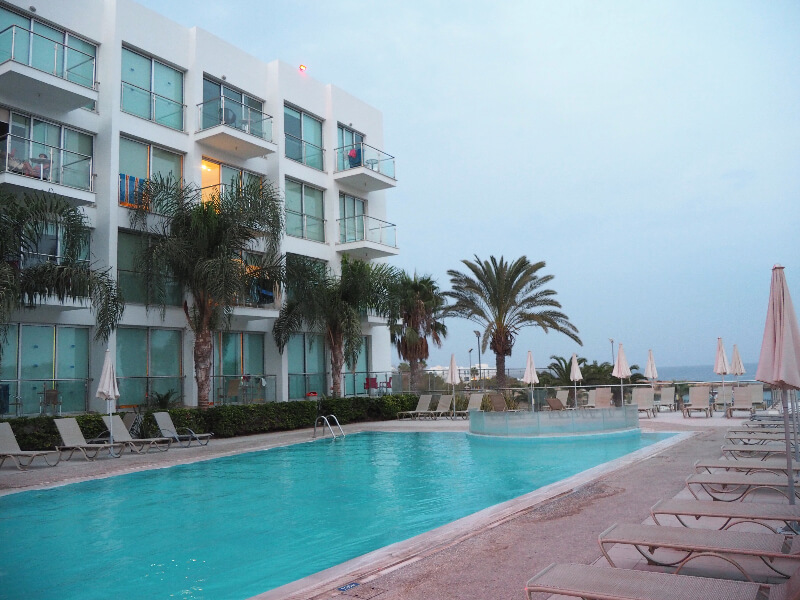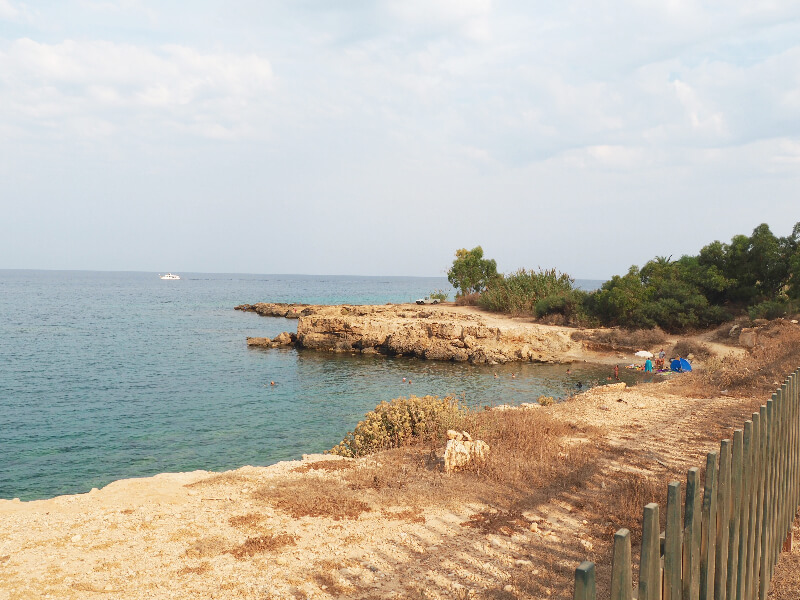 The reason I don't usually spend much time in the accommodation is because my favourite thing to do in a new country is EXPLORE.
Don't get me wrong, sometimes it's great to relax and simply sunbathe, but for me, if I'm in a new place, I get seriously itchy feet.
Luckily for me, Grandma fancied an adventure too!
The best things to do in Protaras, Cyprus…
Walk up to Profitis Elias
This is 20 mins from the centre of Protaras. Walk the whole way along the Protaras Strip (with the coastline on your right) and when you get to the end (after the McDonalds) turn right onto the main road and on the left you will see the church peeking above the buildings.
Follow it and you'll reach a path which you can ascend to this gorgeous church.
Hire a quad bike or buggy
Grandma and I hired one of these buggies (below) for our adventure. There are 3 or 4 car/quad/buggy hire companies on the Protaras strip and they all offer a very similar price. We paid 35 Euros for a day (including insurance) and then only had to pay an extra 10 euros to fill the tank up.
The buggy gave us the freedom to explore at our own pace, embrace the weather and venture to the caves. It was great for the distance we covered to Ayia Napa and the caves, but if your looking to travel further around the Island I would definitely recommend a quad, or in fact a car for safety – particularly at higher speeds!
Only a 15-minute bus ride from Protaras is the famous party town of Ayia Napa.
Personally, it didn't do much for me. I found it a ghost town by day filled with restaurants offering £3 fry ups next door to shops selling neon 'Ayia F******' Napa merchandise. Maybe I got the wrong end of the stick, but on first impressions it was clear to see why it's simply a popular tourist destination for hen do's, stag parties & young people.
Cyprus' main party town for sure. If a night out if your thing, and you're up for a crazy one – Napa has you covered.
Located just 10 minutes by buggy or bus from Protaras, Cape Greco was number one on my to see list & it was every bit as beautiful as I wanted it to be.
A group of gorgeous caves with the clearest of waters falling at their feet.
For those of you (like me) seeking an adrenaline rush, there's a popular spot where you'll see people cliff jumping into the warm blues & exploring inside the caves.
There is also a rocky way to climb down (and back up) should you prefer a more cautious option.
Go on a boat trip

Go scuba diving

Explore Konnos National Park

Try horseriding at Moonshine Ranch

Beaches to visit: Fig Tree Bay, Green Bay, Vryssi Bay, Kapparis Beach

Visit Agioi Saranta Cave Church
Even though the trip was short and sweet, Cyprus really was gorgeous to both drive around & stay in.
I got to spend some quality time with my Grandma, something I'll forever cherish, and I also escaped 5 days of the winter currently descending on the UK!
Hopefully, I'll be back one day to explore the other side of you Cyprus…
Have you been to Cyprus?
What were your favourite spots? I'd love to know!
Love as always + happy adventuring,
Did you find this post helpful? I'd love you to share it for me.
I can't do this without you.
Pin and save this blog post for later…