Although you wouldn't think so judging by the above photo hey?
After arriving at our gorgeous Travelopo villa late on the Saturday night to a mild temperature, we were slightly surprised to then wake up on Sunday to a view us English know too well… grey and drizzly skies.
For the beginning of May, this isn't unusual for Mallorca, for it still very much the beginning of the summer season, and apparently they kind of bypassed winter '15/'16 with a considerable amount of warm weather.
As our spirits brightened with the adventure of exploring somewhere new, so did the weather, and from noon we had a gorgeous summers day to play with.
5pm came around so very quickly and it was time to head to Rancho Grande in Son Serra de Marina (just south of Alcudia) to meet a friend who had kindly organised an afternoon and evening experience for myself and my parter in crime – Meg.
If im honest, when Nuala (my friend) suggested the horse riding activity – I initially judged it based on other tourist 'rides' I had done before.
You know how it is… A set of stables, a few horses, a couple of trek options through the local fields and, usually, an extortionate price to go with it.
As fun as getting on a horse still is for me, I have done a few rides on my travels now and more times than I can count, I have been frustrated by the mixed ability groups and lack of freedom to ride to your individual potential.
I guess what i'm saying is, horse riding is not something I go out to my way to seek or pay for anymore.
But the invitation to head down to Rancho Grande had me give it another whirl…
One of the amazing things I found about Rancho Grande Park is it's ability to cater for all generations and members of the family. Be it petting the animals, feeding the animals, riding the animals, dining / drinking at the bar alongside the animals or simply observing the animals, the staff at Rancho Grande are ready to tailor your experience to your own needs.
There was definitely a real community feel at RG. It was a lot bigger than I thought, meaning there was a subtle buzz of activity, and with it, the opportunity to be social. A selection of the animals do roam freely, so be prepared for a peacock to turn up at your table (looking gorgeous). It's definitely worth mentioning too that horses live freely here (no stables) and have been petted from an early age so are super human friendly.
With just the sound of the horses and the gentle breeze pressing against our ears – it was easy to see why the workers claimed these trails to be some of their favourites in the world… it was SO peaceful!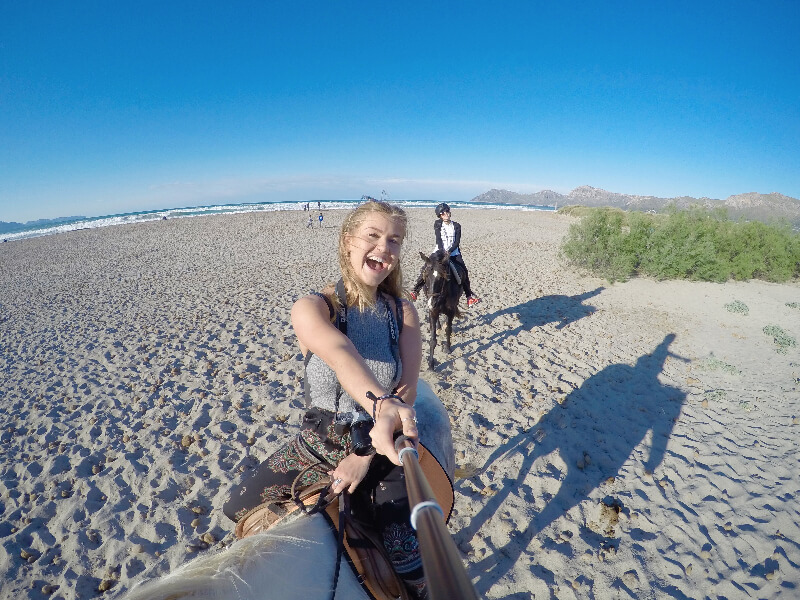 Following our ride we cracked open a glass of cider and got to know the cowboys and cowgirls running the ranch, with intervals of amusement as visitors took turns on the mechanical bull.
From there on we enjoyed a gorgeous 3 course BBQ which, again, outdid my expectations of a free for all / all you can eat / mass produced BBQ, all presented gorgeously.
Apparently the steaks here at RG are so popular, people come to the ranch just to dine at the restaurant!
Following dessert, everyone visiting the ranch had the option of a group line dancing lesson where we got our cowboy hats on and learnt the moves.
We absolutely LOVED this… particularly after a couple of glasses of Rioja!
And last but not least, our evening ended with a Spanish Horse Show where by two jockeys / riders led horses through dance routines and steps that had us leave our jaws on the floor.
How the horses learn to dance and moves to the beat is beyond me – its so magical and very beautiful to watch.
Beautiful not only the ability of the horses, but the relationships of the horses and the riders themselves.
All in all I am honeslty going to recommend you come here whether it be for a steak dinner, a beach / country ride or a few drinks. Rancho Grande totally exceeded my expectations and Meg and I had such a fun evening riding, dancing and devouring some gorgeous cuisine!
Thank you so much Rancho Grande for having us 🙂
See their full website here…