Finally! I'm so sorry it's taken me so long to get around to doing this post, I have only a busy schedule to excuse myself with.
As many of you will know, there are very few (if not zero) adventures that I go on where I don't pack my GoPro cameras. I have used the GoPro camera's from the very beginning of my career in travel and I feel they have had such a huge impact in my ability to share travel in the 'up close and personal' fashion that I do. There's nothing quite like the content from a GoPro.
Having a GoPro on hand allows me to capture not only incredible quality content but incredibly unique content. Due to the GoPros' compact design, I never have to think twice about whether I have room for it in my bag – something it trumps the DSLR over (good point to note if you are looking for an excuse to purchase one). There are obviously advantages and drawbacks to both types of camera. You won't often catch me without both in my backpack.
When did my love for GoPro begin?
I actually got my first ever GoPro in October 2014 when my brother gifted it to me for my birthday, just before I went backpacking in Australia and New Zealand. In 2015 I became one of the first members in the 'GoPro family', a selection of content creators from across the globe that effectively live and breathe the brand and are given exclusive access to events, new products and launches. GoPro supported Where's Mollie before it was even Where's Mollie, something I will never forget and one of the many reasons I continue to stay so loyal to the brand.
This post isn't sponsored at all by the way, if you follow me anywhere you'll know I'm just a GoPro fan girl.
Over the years I've been involved in some pretty exciting things and adventures with GoPro, noteably and more recently I was involved in the GoPro Karma launch video which you can watch here…
I tend to whip out my GoPro when i'm looking to shoot the up close and personal shots, the epic angles, the high level adventure activities and the scenes that only the GoPros wide angle lens can capture.
Which GoPro should you get?
I don't want to go into detailed comparisons here (I will save that for another post) but here's a link to the latest and best versions available:
We all know that GoPro's can capture incredible content and it's actually a pretty easy piece of technology to get your head around. Of course though, after spending time with one like I have, you develop tricks and techniques along the way which enable you to get better shots and frame them quicker.
You guys have been asking me for my GoPro shooting tips, go to angles and favourite accessories for a while and so in this post i'm sharing exactly that with you…
Note: I am very much a self taught photographer and videographer. I don't claim to know the best way to do things – this is just my way of doing things!
I would highly recommend checking out my friends epic photography / videography blog Abe Kislevitz if you're looking for more in depth reviews and show arounds on the GoPros. Legend.
My top tips for shooting with a GoPro…
What settings / mode do I shoot photos in?
If I don't already have an angle / photo in mind, it's time to be experimental. I will usually set the mode to time lapse with 0.5 second intervals and shoot away in different angles before reflecting on my favourite angle from the selection. There's bound to be one in there if you move it around enough. This setting is also where I find I captured my favourite / most unique shots as it's usually the photos I didn't plan to take or that caught me off guard that I like the most. Candid shots galore.
If I know the shot I want and just want to perfect it, i'll set the GoPro to burst, usually on 30/3, which will capture 30 photos in 3 seconds and will ensure there's one in there with no blinking and no error. I usually throw a couple of facial expressions in there so that I have a choice of moods. Hahaha! You asked my technique.
If I'm out with just my GoPro and not my DSLR, it might be that I need to get a landscape shot for my blog to capture a general scene. In this case I will use the single capture photo mode.
Settings? Honestly, the automatic settings are great. I use them a lot, though sometimes I do switch on ProTune to manually adjust them.
These are my go to photo settings with Protune on:
What settings / mode do I shoot videos in?
If I'm shooting for social and personal projects, theres no need to go any higher than 1080p. That is if you're just planning for social and laptop viewing which I assume most of you are? Keeping to 1080p means that your files sizes will stay smaller than for example 2.7K / 4K and you can edit easier and save more space on your hard drive. It also means if you have the GoPro Hero 6 that you can shoot up to 240fps (super slow motion) which will increase your file size yes, but is an awesome feature.
For content creation jobs I usually shoot in 1440 / 2.7K just as a back up incase the client wants to use it.
The other setting I use is the time lapse video setting. To create a time lapse you can either shoot photos in time lapse photo mode or you can shoot in this video setting. Shooting in this setting means that GoPro will automatically create the video time lapse for you for a seamless and easy viewing experience.
Again, the automatic settings are great, though sometimes I do switch on ProTune to manually adjust them.
These are my go to video settings with Protune on:
What accessories do I use the most?
I have pretty much all the GoPro accessories but there are certainly a handful that I use more so than others when i'm out adventuring.
Accessories that I haven't mentioned but are also great include: Wrist mount, chest mount, head mount.
– The 3-way / the shorty
My go to, must have accessory that my GoPro is pretty much always mounted to is the 3-way arm, though this year GoPro bought out an even more compact option – the shorty. I use either or when I want to get the selfie shot.
Shop the 3-way here / Shop the shorty here
Example shot using this accessory: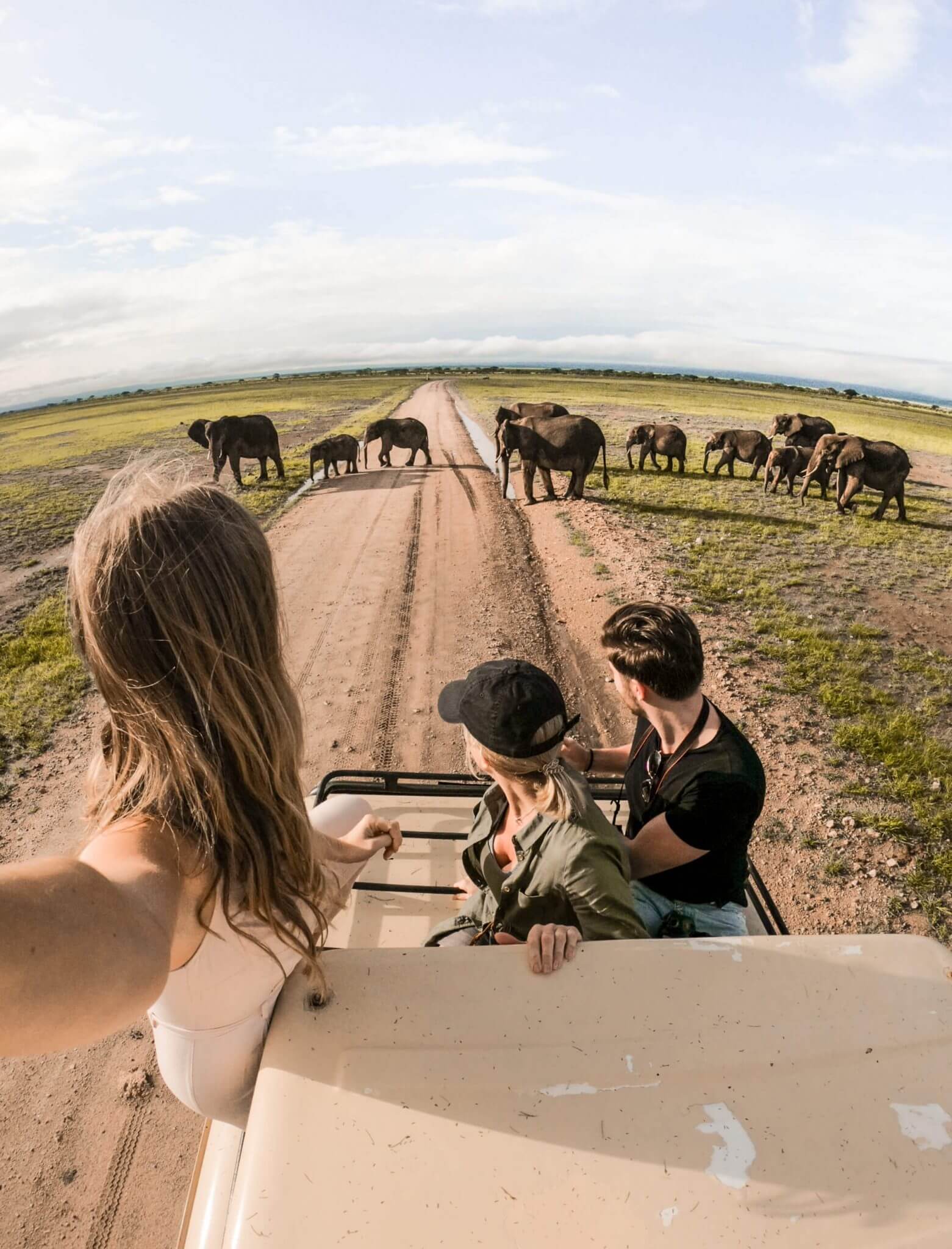 – The Jaws Clamp
When I don't have a photographer on hand and want to capture something different from the GoPro selfies, the Jaws clamp is definitely my favourite.
There's usually something around that you can attach it to (door frame, pole, tree, surface) and then I adjust the camera angle and shoot in time lapse.
Again this allows me to play around with the shot as the GoPro snaps away.
Example shot using this accessory:
– Bite mount
I mainly use the bite mount accessory for video purposes if my hands are otherwise occupied in an activity like skiing, climbing, or eating hahah! This is one for when you are hands on in an adventure but still want to get that shot.
Shop the GoPro bite mount here
– Surface mounts
I usually use surface mounts for road trips when I want to grab car shots but it's also great when you can't find anything to clamp the jaws clamp on to. The stickers create a secure grip (but still removable) on surfaces so I find great for when you want the camera to stay securely in one position.
Example shot using this accessory:
---
Have you got a GoPro?
Do you have any top tips that I missed? Any other GoPro posts you'd like me to do? Let me know in the comments below!
Thank YOU guys for reading <3
Love as always + happy adventuring,
Mollie x
If you enjoyed this post, please SHARE it for me!
I can't do this without you <3
Are you part of the Where's Mollie Global Travellers community? If not, why not!
Ever wondered what cameras I use on my travels? What websites I use to book my adventures? What essentials I always take with me?
Oh… and you can SIGN UP FOR MY EXCLUSIVE MAILING LIST HERE
Pin this for later…