Cornwall wouldn't be Cornwall if i didn't have to pack my wellies, my wooly hats and my jumpers.
The weather was perfectly cold and refreshing, so I popped on my wellies, my wooly hat and my jumper and we headed into St.Ives.
But FIRST.
If you drive through St.Ives and around the back of the village you will stumble upon Porthmeor Beach which hosts my FAVOURITE spot I've found in Cornwall so far.
It sits right on the beach, like literally ON the beach, boasting the most beautiful views through big glass bay windows.

Now, my favourite place to sit means walking through the cafe, past all the yummy homemade cakes and bakes, and out the doors the other end…
…into one of the little cubby holes 🙂
There are a few reasons why i love October: 1. Because it's my birthday month 🙂 + 2. Because the summer season is over and most people go back home and leave the Cornish towns and seasides.
Therefore I ALWAYS manage to get a cubby hole.
(I sound like a moaning old woman don't I.)
But anyway, i was happy, and we snuggled amongst the cushions under the heaters and chose from the menu…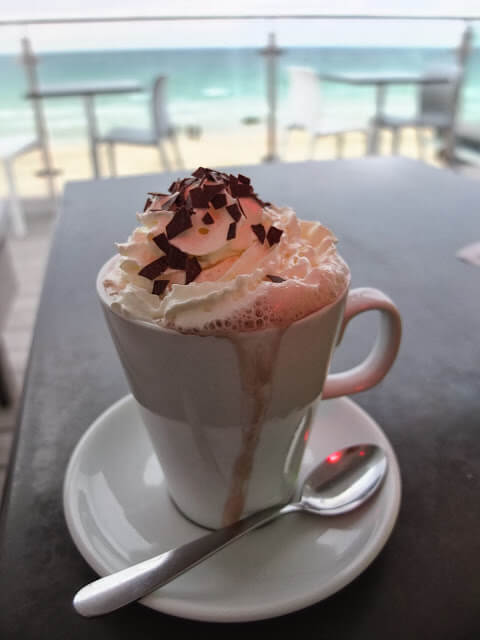 Hot Chocolate with Cream, Marshmallows and Chocolate + a bowl of homemade Tomato and Butterbean Soup with fresh bread 🙂
Incase you think we ate all this in one sitting… we didn't.
I love it so much here we came on two occasions 🙂
Freshly Squeezed Orange Juice + 2 Poached Eggs on wholemeal toast with a sausage and 2 has browns 🙂
+ a side order of a BEAUTIFUL VIEW.
To the cornish, the menu is slightly over priced, but for us Londoners it is very standard and affordable. 🙂 If you fancy a peek at the menu click here.
Anyway, whatever the price were to be, I would still come.
An amazingly yummy food selection with a beautiful view, fresh air, heaters and incase you think we were freezing – you are sheltered from the wind in these coves.
One of those perfect moments.
Incase you are with the g'parents, it's handy to know you could sneakily combine a yummy breakfast with a visit to
The Tate
(been there done that) or even taken them for a surf lesson??
We then drove back into St.Ives (literally takes 2 minutes if that), and headed for a drink in a little gem we had noticed the night before.
There were too many things we wanted to eat whilst we were down here and our stomachs were seriously protesting…
Cream Teas, Waffles + Crepes in the harbour in St.Ives, pub fish + chips, Cornish Pasty, Hot chocolates, Cornish ice cream. It was a great but maybe unrealistic plan for our last day.
One of the plans was to try a restaurant new into St.Ives (on the main waterfront) called The Rum & Crab Shack.
You know I love finding a hotspot in London, and this was literally like a piece of London, in Cornwall.
It had that very modern feeling, very vintage – with almost a Jack Wills inspired theme.
The menu was, as you can guess, mainly fishy and crabby, and I would have definitely gone for the Crab Burger should we have been hungry.
Instead we had a drink and looked over St.Ives in it's mid morning beauty, perfect for a spot of people watching. 🙂
I definitely want to come and try the food next time I'm back down!
After our drink we had a little wonder around the shops in St.Ives…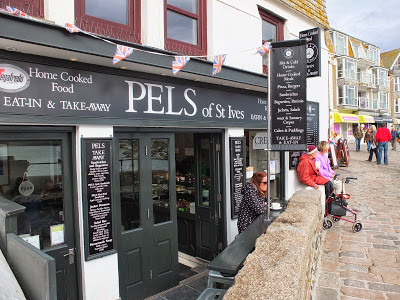 …picked up some goodies from the bakery as a 'thank you' gift to my uncle for having us to stay…
…and managed to get back in the car just before Cornwall does what it does best 🙂
But honestly, i wouldn't have Cornwall any other way.
That was it for our weekend away! We headed back to say goodbye to the clan, before continuing back to our lives awaiting us at home in London.
I always love a couple of days away, gives me time to clear my mind and refocus…
Mollie xoxo