The end of October is one of my favourite times of year: my birthday. This year, it wasn't just my birthday; it was my 21st.
Mum had been pestering me for months about what I wanted, but I just couldn't decide.
In the end I opted for one of the things I love the most: discovering somewhere new. An adventure.
At this time of year, Europe tends to cool down and you have to travel further afield for that spine tingling warmth we all long for. But travelling afar for a 3-day break would be tiring and probably not worth the cost, so we opted for Barcelona – whatever the weather.
As it happened – the weather was amazing! Shorts, t-shirts and cute little dresses all weekend. Bliss!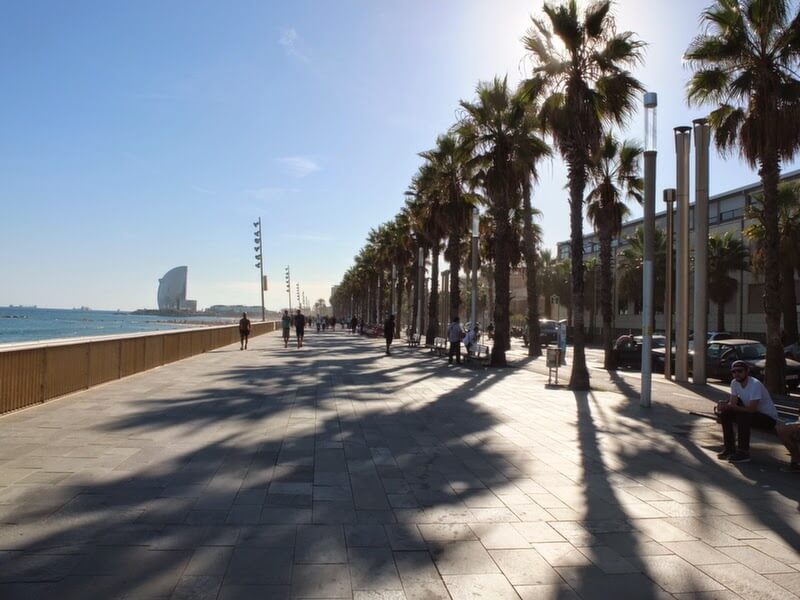 Four of us went: Me, Mum, and my two friends Shannon & Laura. We booked into Hotel Acta Atrium Palace for 2 nights and 3 full days.
I honestly couldn't recommend this hotel more. The staff were extremely pleasant & willing to help and assist with ALL our tourist queries. The rooms were modern, spacious and cleaned daily. There's an in house cafe / area for breakfast, and there is also a spa underneath the hotel.
The hotel is in the centre of everything. Walking distance from the square (10 min), Las Ramblas (15 min), the beach (20-25 min), the shops (5 min), the tube (5 min).
Oh and my favourite part? Our balcony over-looking the hustling and bustling streets of Barcelona…
You can check out the hotel website here. Or you can check them out on Trip Advisor here.
So, there was no time for sleeping. We were only here for 3 days so we begun exploring straight away.
First day we opted en foot and we headed down towards Las Ramblas…
Las Ramblas is a notorious a tourist hotspot. It is a stretch of 1.2km filled with shops, markets, flowers, outdoor restaurants and PEOPLE. Lots of them.
Now, I LOVE markets. I love the array of colours and smells and the weird and wonderful people floating about in them from all corners of the world.
So I slipped out of conversation and into sensual heaven.
Half way down Las Ramblas, when you spot Dunkin' Donuts on your right, you will come across this opening which is home to La Boqueria – the market of all markets.
Inside you are welcomed with a warm atmosphere and your sensual experience now reaches its peak. I had no idea where to look first!
This is where I must tell you about the fruit juices. The colours initially lure you into the juice stalls but then you are left with a mind boggling decision. From Coconut & kiwi to strawberry and pineapple, there was every possible fruity combination I could desire, and it left my indecisive self in a bit of a dilemma.
Our solution? Have one now come back for another later.
They are only 1 euro (1.50 euro on some stands) which is a bargain and they are so REFRESHING. Promise me if you go that you'll get one?
After a mooch about the market, we continued on down Las Ramblas (if you're a market lover, Saturday's the day every market is up and alive). When you reach the end of the Las Ramblas stretch you are met with The Columbus Monument, behind which is the port where you can gaze (and dream) at the yachts and boats docked up.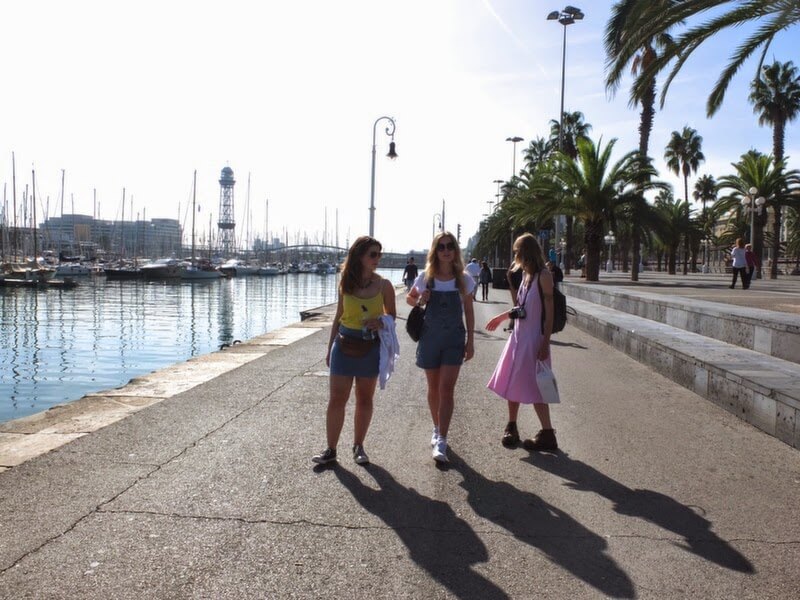 Of course, inbetween all this walking that we were doing, we NEEDED a pitstop.
The port is perfect for this, rows of pop up bars and restaurants await you and your euros…
Oh and a sugar rush. We were on holiday after all. Hot chocolate drizzled churros…
…and a double scoop ice-cream (Nutella and coconut). Cheeky.
Admittedly after all that I felt slightly, sugar-sick.
Something I thought was pretty cool about Barcelona was these street taps for filling up bottles with fresh water… perfect timing.
We kept meandering around the city, and finally we made it to the beach, took off our shoes and felt the sand between our toes.
Did I mention the weather ended up being 24-27 degrees for our whole trip?! Utterly perfect. Not a cloud in the sky (at the end of October!)
After dipping our toes in the sea and treating myself to a 5€ massage we headed back to our hotel via a different route through the back streets.
It's always down the side streets that you find the best food / drinks / company. Usually because they are the local hangouts serving everything traditional.
So we hopped into a little local pub for one last pit-stop on the way home.
Once we had showered, freshened up and enjoyed some fresh air on our hotel balconies we got a 5-min taxi back down to the beach for some dinner…
The beach is lined with many hotspots similar to this. The location was perfect, the atmosphere was lovely, even more so with the live musicians, and the mojitos were on point.
However I wouldn't rate the food very highly, it was pretty standard and definitely not cooked fresh (my chips were dry and solid). I guess this links back to the fact that its a tourist spot and our weakness for a beach location. But you live and you learn, hey.
The night ended by listening to some travelling musicians as they jammed on the roadside with a bottle of local beer. The kind of situation that never fails to bring a smile to my face.
Have you been to Barcelona?
What were your favourite spots? I'd love to know!
Love as always + happy adventuring,
Did you find this post helpful? I'd love you to share it for me.
I can't do this without you.
Pin and save this blog post for later…