Split is hands down one of my favourite places that i've been to.
Split has flourished among the remains of a lavish retirement palace built in AD295 by Roman Emperor Diocletian, and is a maze of utter beauty.
I think it was just a combination of all of the above.
I would honestly go back tomorrow.
Split would deliver for a solo traveller, a romantic getaway, a family holiday, a weekend break or as part of a European trip.
Let's see what you think…
Starting with the gorgeous Medieval architecture that mingles with contemporary elements to create a surreal movie like atmosphere bursting with character…
As lost as you may feel on your first day walking in Split, the abundance of narrow streets and arches couldn't possibly tire you.
Each walkway is more beautiful than the last, you'll be more lost on where to focus your eyeline.
Split is based right on the Riva (waterfront promenade) and it is here you'll find a bundle of touristy restaurants, ice cream parlours, souvenir shops, excursions being promoted and by evening – entertainment.
But it's by no means TOO touristy though… yet.
It's also here on the Riva you can hop on a Ferry to one of the gorgeous nearby islands – Brac, Vis & Hvar.
If you have a few days in Split to do more than walk around and eat, (satisfying enough) then there is plenty on offer:
1. Daily Markets
Located near the ferry wharf and bus terminal you can get everything from souvenirs to fresh produce.
2. Underground market in the cellar of Diocletian Palace
3. Cathedral and Bell Tower of Saint Domnius
The nucleus of Split and a popular place to eat, drink, dance and laugh in the evenings, this visually striking central piazza is well worth a visit.
Climb the bell tower for 15 Kuna ($2 euro) and witness breathtaking panoramic views over the city and Adriatic sea.
4. Take a photo in the narrowest street in the world (let me pass street)
5. Grgur Statue
Head through the once most important entrance to the city – the Golden Gate.
Through here you will reach the Peristyle of the Palace, where you can find Grgur Ninski (Gregory of Nin), a statue figure popular among tourists.
It is believed that by rubbing his toe you will be granted good luck and a return to split…
6. Cliff jumping & relaxing on the rocks
If you're on the riva facing the ocean, walk to the right and follow the sea front around past the marina and you'll find these rocks…
7. Bacvice Beach and waterfront
Splits' nearest and most convenient beach is located a 20 minute walk (1.2km) from the centre of split.
Here you can hire a lounger and parasol, snack in the beach front cafes and indulge in the clear warm waters.
Beware it get's pretty busy!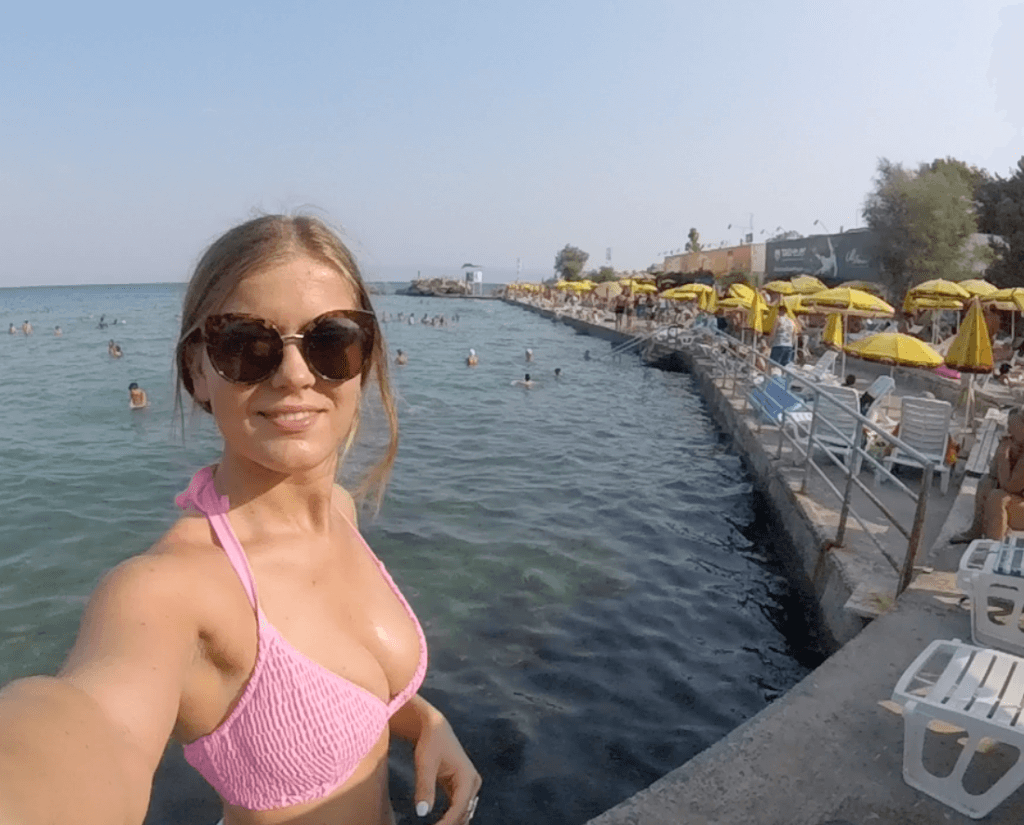 ↠
Obviously, on top of exploring with my GoPro, I ate my way around Split for the 4 days I was there.
The streets and walk ways are laden with cafes, coffee shops and local restaurants serving both Croatian and European delicacies.
I am sure i didn't even touch on the culinary delights on offer, but I sure gave it my best shot and here's my favourite finds…
P.s. How much do you want to sit on one of these bean bags with an iced coffee and watch the world go by?
Gorgeous isn't it.
↠
Luka Ice cream
Hands down one of the best ice creams i've ever had.
Home made and utterly indulgent.
1 scoop of belgian chocolate & 1 scoop of banana and caramel.
Worth every. single. calorie.
Fife
Amazing value restaurant (perfect for the budget traveller) but also great quality and atmosphere on the riva front.
Serves fresh fish, meats & traditional european / croatian dishes.
Kokolo Juice Bar
See location here
The perfect pit stop for a healthy refreshing breakfast.
Grab a juice, a smoothie or a breakfast bowl with fresh fruit and you'll be set for the day.
↠
Just when you think Split has given you all it has to offer and you've fallen completely in love, the sun begins to set and trust me, you fall a whole lot deeper.
Make sure you head to the water front one evening and sit on the Riva wall as you watch the sky transform into an array of pinks and oranges above the palm trees.
↠
Writing this post has reignited my love once again for Split & I know, I'll be back here.
If you'd like to see Split come to life you can see it at the beginning of this video I took:
If Split looks like something you'd fancy, perhaps team it up with:
– The Yacht Week (for you party goers)
– A Dalmation Coast RoadTrip (for you adventurers)
– A ferry trip to the nearby Islands of Hvar, Brac and Vis
– Dubrovnik (a little further south on the coast)
– Krka National Park
WATCH MY YACHT WEEK EXPERIENCE HERE:
LET'S GET SOCIAL!
Come and join me on Instagram – molliebylett
I'D LOVE YOU SHARE THIS POST USING THE BUTTONS BELOW…