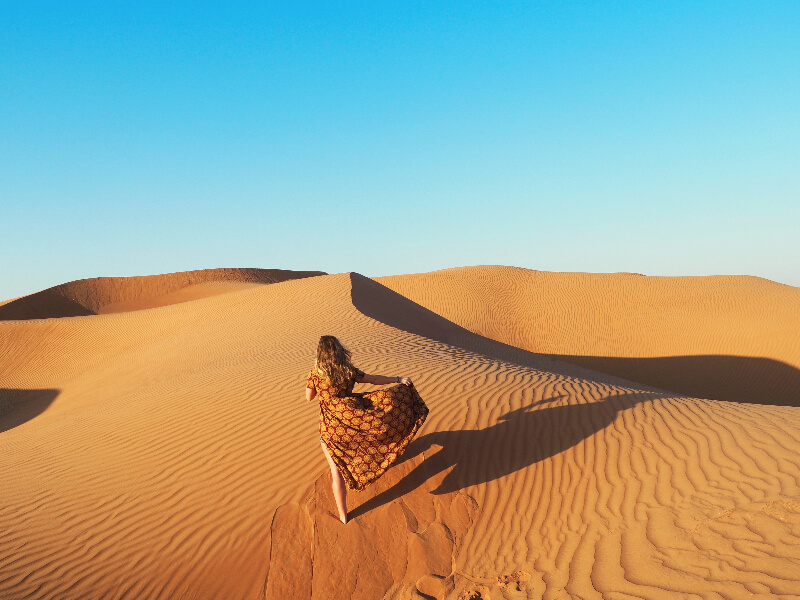 ↠
An introduction to Ras Al Khaimah…
Prior to stepping out of Ras Al Khaimah airport and beginning my first ever experience of the UAE – I had most certainly made the solid judgement that the UAE just wasn't my kinda thing.

I was thinking bland, dust filled landscapes, 5 star character-less 'show' hotels and an inescapable desert heat.
As we begun our 40 minute drive from RAK airport to our hotel,
The Waldorf Astoria
, I was yet to be proven wrong. Saying that, my memory was illuminated with nothing but moonlight.
I begun to question the chances of something wonderful appearing.
But, of course, it did.
Ras Al Khaimah, one of the 7 Emirates, is very much considered to be in early stages of development, a city that Shafiq (RAK Tourism Board) claims to 'compliment the likes of Dubai, but doesn't and never wishes to compete with'.
It is considered 'the rebel Emirate' boasting a generous amount of greenery and wildlife due to the rainfall & mountain existence, setting it well apart from the other Emirates.
Ras Al Khaimah continues to be very popular choice among the GCC residents offering a more laid back alternative escape to the, often crowded emirates of Dubai and Abu Dhabi.
Don't get me wrong though, if you've witnessed the plush greenery of England / New Zealand, the greenery I'm talking about here is still minimal.
Due to the lack of funding in comparison with the likes of Dubai, the growth in RAK is slower and more organic, with focus on investment. You'll go from 'completely built up and beautiful' to 'complete baroness' with the turn of a head.
To give you an idea…
If you're standing facing the gorgeous blue sea, the above photo is the view of the landscape to the right of the hotel, and the photo below is the view looking left of the hotel.
Crazy contrast hey?!
What can Ras Al Khaimah offer?
There's no doubt about it, RAK offers a very specific type of holiday.
A holiday in RAK is more about indulging in a 5-Star resort alongside a few spa treatments and maybe a mountain or desert excursion thrown in there too.
It's not the type of place (like for example Split, Croatia) that you'd turn up having just booked a B&B, and head out of the hotel to explore the town and find cute coffee shops and restaurants for dinner.
But that's the beauty of having so many countries in the world – there's something for everyone.
Being located just a 45 minute drive from Dubai International Airport, Ras Al Khaimah is the perfect stopover or option for an extended holiday.
Alongside RAK's world class resorts, it hosts 64km of gorgeous white sanded coastline with watersports galore, mountain adventure, red sandy deserts, golf courses and a heritage dating back over 5,000 years.
Weather
Ras Al Khaimah boasts year round sunshine and little rainfall, falling mainly in the Winter (November to March).
Between the 8 months of October and May, temperatures are cool, refreshing and pleasant around 15-25deg.
During May and October (summer months) temperatures soar up to mid 40's (degrees) and can become quite uncomfortable.
(Particularly for us Brits)
The best time to visit RAK is considered to be in the Winter or mid season months.
Once you've booked your hotel it is worth browsing the experiences RAK has to offer as there are some pretty unique ones for great add-ons to your trip.
Here are the best ones I heard about and came across during my time in RAK:
– Mountain fun at Challenging Adventure
Are you keen for adventure? Head out into the Mountains to this British founded camp where you can partake in activities such as:
– Rock climbing
– Abseiling
– Kayaking
– Canyoning
– Trekking
– Wilderness Survival
– Archery
-Raft Builing
– Camping / Glamping
We took to the rocks for and hour and a half of Rock Climbing which was physically challenging but a lot of fun and great for a group activity!
– Bassata Desert Camp experience
Located not too far in distance from RAK Interaction airport but out in the depths of the golden desert, Bassata Desert experience offers an Arabic escape for all the family. From Arabic barbecues, Belly dancers, henna tattoos, fire eaters and Tanoura dancers to quad biking through the dunes, camel riding and the option to camp overnight – there's plenty to choose from.
I would have absolutely LOVED to quad bike through the dunes but I didn't have the time on this trip unfortunately!
Another amazing thing to do is head out to the desert for sunset. Having been on my bucket list for several months before this trip I utilised my geographical location and headed out to the desert before everyone else to enjoy the cloudless sky and the sun melting behind the dunes… INCREDIBLE.
– The Rainforest Experience at Al Wadi Banyon Tree Spa
Developed and conceptualised by The Banyon Tree themselves, this unique hydrotherapy experience takes you through 16 state-of-the-art hydrothermal therapies and facilities targeting different parts of your body.
From Ice rooms and herbal steams to rainfall and fresh water jacuzzis this experience will leave you fully rejuvenated and totally relaxed.
Best bit? You don't have to stay at the resort to book in!
– National museum of Ras Al Khaimah
A visit to this stone walled museum in Old Town Rak (formally a fort which held residence to the RAK rulers until 1964) will get you up to speed on how and why RAK is the way it is today.
Whether you're looking for a traditional Arabic eating experience or something international, RAK's range of resorts together offer a vast range of cuisines.
Between us we shared a range of the chef's favourite dishes and all sat in a carpeted floor area surrounded by the most gorgeous wooden carved furnishings.
Traditional Arabic dishes, I found, tend to start with variations of houmous and vegetable 'dippers' and then go on to include a lot of different meats and fish with salad and rice sides.
I LOVED the Fatoush side dish, the Tabbouleh and the mashed date and banana pudding!
The Arabic dining I encountered was light and extremely tasty but very moreish (dangerous). Seal of approval from me!
As we visited RAK with guidance from the Tourist Board, so we were welcomed into restaurants hosted by other resorts – something any visitor can benefit from, but may not think to.
Recommendations:
– The Al Hamra Marina Yacht Club (as photographed below) is SO gorgeous. A 2 minute drive from our hotel The Waldorf Astoria, this indoor and outdoor accommodating dining experience reminded me a lot of Marbella in Spain. Classy, gorgeous food, exquisite cocktails and a gorgeous view over the marina.

Accommodation
Utter luxury from head to toe.
Seeing as a holiday in RAK is most likely going to be spent indulging in food and relaxation at your hotel, choosing the right hotel is an important part of your planning.
Here are some GORGEOUS hotels for you to consider:
– The Waldorf Astoria :: Read my experience here
– Banyan Tree Beach Resort / Al Wadi Desert Resort ::
– Hilton Resort and Spa :: See more here
Extra information:
– PLUG ADAPTORS:
UK plugs sockets are adopted
– Time Zone:
GMT +4hours
– It gets cold in the desert at night
Make sure you take a jumper / something to wrap yourself up in!
↠
THANK YOU FOR READING…
Have you guys been to the Middle East at all?!
What was your experience like?
LET'S GET SOCIAL!
Come and join me on Instagram – molliebylett
Snapchat – molliebylett
I'D LOVE FOR YOU TO SHARE THIS POST USING THE BUTTONS BELOW 🙂