Following my exceptional experience flying from the UK to Ras Al Khaimah with world class airline Qatar (
view post here
), we hopped in a 35 minute transfer from RAK international to another
mind blowing experience
which goes by the name of
The Waldorf Astoria – The Ras Al Khaimah edition
.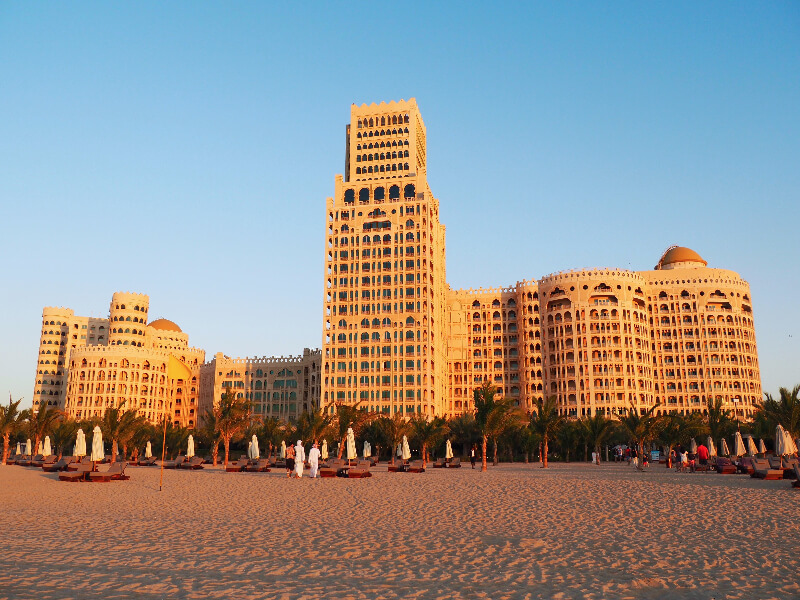 Ras Al Khaimah (RAK) is the northern-most emirate in the UAE and one who's identity isn't commonly known among, particularly, the european market.
(When I got the invite I never even knew RAK existed and i'm pretty sure you're probably say thinking the same thing?)
Que… Adventure time!
Ras Al Khaimah's finest offerings lie in it's gorgeous white beaches, 5 Star Spa hotels, it's captivating history, the presence of mountain adventure and all year round sunshine.
(We went beginning of February and it was 18-25 degrees – considered COLD and RAK's Winter)
RAK is a popular, more relaxed alternative to the likes of Dubai and Abu Dhabi, even amongst residents themselves.
From miles of undeveloped dusty plains en route from the airport, to an entrance that instantly engulfed me, we arrived at The Waldorf Astoria – the palace of dreams.
As you stagger out of your transfer, eyes transfixed to the overwhelming height and elegance of just the hotel entrance, you immediately realise that The Waldorf Astoria is not messing around.
Walk through the larger than life automatic glass doors and your eyes transfix next to the shiny marble floors that reflect the colours of the sea, sands and desert before straight onto another of The Waldorf's signature attributes – The Golden Clock.
The 3 metre high clock was designed and built by Smith of Derby, a family of clockmakers, who have created and designed some of the world's most recognised public clocks.
It took 8 months to build and used over 3 tonnes of metal, steel and champagne gold costing a shiny 1.5million AED.
And this is just a taster of the entrance. Are you starting to build a picture of just how grand this place is?
When you eventually manage to pick your jaw up off the the ground, the ever welcoming doormen will relieve you of your luggage and assist you to the check in desk.
The staff are an incredible testament to the 5 star accruement of the hotel and compliment your Waldorf Experience right from the moment your eyes initiate contact – a reflection of their thorough and selfless nature.
↠
THE WALDORF EXPERIENCE…
Be it a weekend escape, a week of luxury, a spa break, a family holiday or a golf weekend – The Waldorf provides the ultimate luxurious experience, completely tailored to your taste and preferences.
Something that The Waldorf boasts, and I later found applied to the Emirates as a whole, is the luxury of space.
Each of the 346 deluxe rooms extend over 56 square metres which, when you are used to compact London hotel rooms which lie at a similar price, will blow your mind.
Well it did mine.
Where I would normally be fumbling around and hopping over my oversized luggage as I emptied it across the room, I struggled to fill even a section – with some space still undiscovered by the end of my stay.
Where I would normally clamber – I cartwheeled.
Where I would usually gaze out of a window – I lounged on the balcony.
Where I would normally wait for the bathroom, I had to decide which sink to use and whether to bath or submit to the rainfall shower.
From the walk in wardrobes, daily sweet treats, morning paper delivery, the softest cotton lined dressing gowns, marbled tiles, intricately carved wooden furniture and doors to the shine polished floors – the attention to detail was like nothing I have personally experienced before.
A holiday within itself, a house infact. A room fit for a princess and character that yielded me to stay here forever.
So far I've only spoken of the hotel foyer and bedroom… a tiny proportion of the complex.
It's safe to say my experience of the Middle East so far was nothing less than extravagant.
The Waldorf Astoria boasts…
– 2 swimming pools
(One family, one adult only)
– a luxury gym
– Spa, tennis courts & golf course
– private sand beach
– in-house shops, jewellers & hair salon
– 10 dedicated bars lounges and restaurants within the complex,
– conference rooms
– shisha bar
– kids club
– 3 X helicopter pads (cause we all need one or 3 of those… right?)
– a library & business centre
– 24 hour room service
and last but not least 346 deluxe rooms and suites that reflect the palatial surroundings and offer the luxury of space and tranquility.
OH AND the best breakfast spread I have yet experienced.
I'm talking an omelette and egg bar, pancakes, waffles, cereals, smoothies, doughnuts, a million breads, fruits, superfoods, meats, cheeses, juices, arabic food, full english and even… NUTELLA MUFFINS.
THE DREAM.
Experience The Master Collection…
The Master Collection is a unique assortment of experiences unique to the Waldorf Astoria Ras Al Khaimah. If you're experience wasn't luxury enough already, take a peek at these optional extras:
– Bath Master
Guests can allow the Bath Master to draw their bath at the end of the day (or any time you should wish for a bath). Simply choose from the deluxe range if bath infusions and fragrances, that can be totally mood altering and enhancing for the ultimate sensory experience.
– Sleep Master
Guests can choose from the ultimate pillow menu be it organic pillows, heated pillows, buckwheat or feather pillows.
– Fragrance Master
The Waldorf understand that particular smells create special memories, moods and moments. Choose your ultimate absence and let the team prepare your room with only the finest of aromatherapy products to ensure the most enchanting of sleeps.
↠
The Waldorf Astoria screams luxury from every tiny detail of your holiday, delivering outstanding service before during and after your stay.
So, should you be looking to take the weight of your feet and really indulge in world class service…
You know what you gotta do!
Getting to The Waldorf Astoria from the UK:
Fly from the UK and connecting at Doha to arrive at RAK
International (Flights depart from London, Manchester, Edinburgh and as of April 2016, Birmingham too with one stop connecting at Doha)
– 35 minute Taxi from RAK International Airport to Waldorf Astoria
THANK YOU FOR READING…
Have you guys been to the Middle East at all?!
What was your experience like?
LET'S GET SOCIAL!
Come and join me on Instagram – molliebylett
Snapchat – molliebylett
I'D LOVE FOR YOU TO SHARE THIS POST USING THE BUTTONS BELOW 🙂