It's 2016.
We are the digital generation.
We (sadly) spend most of our time on phones, laptops, iPads and alike technology.
As a result things like newspapers, entertainment and communication have adapted and developed platforms online.
Are we agreed so far?
It has applied exactly the same to things like e.g. travel guides, travel magazines & fitness dvds.
Where I would have once gone out and bought a hard copy Lonely Planet travel guide, I now more frequently will browse online travel blogs instead.
THERE IS A SHIFT.
Travel Bloggers are the rise of online journalism and magazines.

Photo from My Trip to Ras Al Khaimah
I am writing this article because of uneducated comments I get or see displayed online about bloggers such as,
'blogging isn't a real job'
'bloggers don't deserve to get paid'
comments which, I can understand, but are also rather frustrating.
I am writing this article to educate you about the new industry of blogging, one that you had no reason to previously understand.
I like to compare blogging to Ice Skating.
How many of us have watched the skaters elegantly and effortlessly float and twirl across the dance floor and thought 'i could do that'.
(I certainly have)
Then the moment you get on the ice for yourself, you fall instantly on your bum before realising there is ALOT of hard work, training and persistence that clearly goes on behind the scenes.
It's not because they don't want to expose their hard work, or they are purposely trying to pretend it's easy. It's simply like any kind of art, we like to display the finished product.
Making something look easy, being creative and displaying it, is an art.
Just because it looks easy – it doesn't mean it is.
Following my newspaper exposure back in late 2015 I got an influx of emails questioning my job.
(You can see the articles here incase you missed them)
'Blogger gets paid to travel the world'
I WISH that was true… as much as you do!
Can we just recap on the purpose of newspapers.
It's a business.
Their purpose is to sell the paper.
Newspapers are the kings and queens of elaboration, exaggeration and so you should take EVERYTHING they say with a pinch of salt.
'Blogger gets paid to travel the world'
sounds ever so much more exciting than…
'Blogger learns how to capture creative content, grows an online community and brands now collaborate with her, meaning she can work and travel'
…doesn't it?
So it's easy to understand WHY they chose the first title, but don't let it consume you.
THE TRUTH
The content I work my BUTT of to create, at home AND whilst I'm travelling, has enabled me to collaborate with brands on digital marketing content.
TRAVEL BLOGGING AS A JOB…
– Create a website / platform to share + post on
– Create consistent + engaging content
– Capture and build an audience
– Collaborate with brands for an exchange of services e.g. They cover the trip expenses (usually quite high) and you create the agreed content in return
– Collaborate with brands on Digital Storytelling e.g. Curation of agreed Social updates/ Blog posts/ Videos for display to their and/your audience
– Sell / earn off content you create from the unpaid trips e.g. guides, photography, youtube, affiliate linking
↠
WHAT DO TRAVEL BLOGGERS ACTUALLY DO?
Let me give you an insight into what my life as a Travel Blogger actually entails, because some people seem to think we just throw a couple of photos up and write a summary at the end of the day…
3 TIMES EACH WEEK WEEK I AIM TO…
– Engage in an experience (e.g. travelling, restaurant review)
– Take the role of both a photographer and videographer and capture the experience fully
– Sort through footage and select from hours of video and a million photos (We always take WAY more content than what gets displayed online)
– Edit / crop / resize images
– Upload images and write up blog post
– Check post, add in any links, make it visually appealing
– Pick photos for use on each social platform
– Write, schedule and publish posts on each platform (Pinterest, Twitter, Snapchat, Facebook, Instagram)
– Reply to readers comments and engage online
ADDITIONALLY I CAN BE…
– Editing any video content
– Creating 15 second snapshot video experiences (content that i, personally, do)
– Publishing a Youtube Video (creating video thumbnail, blog post thumbnail)
– Writing, scheduling and publishing posts on each platform (Pinterest, Twitter, Snapchat, Facebook, Instagram)
– Replying to readers comments, suggestions and engage online
– Updating social media daily
– Putting together a pitch
– Putting together and designing a newsletter
WHEN I'M ON A PRESS TRIP…
The content above (sometimes more, sometimes less) is EXPECTED from you. Like, you have to deliver it.
Whilst I do get to go on some INCREDIBLE adventures, I am continuously curating content stories in my head and capturing them not just in photos but in video too. So it's by no means a holiday.
A lot of the time, curating this content does take me away from the moment and yes it can also be stressful (particularly if you are a perfectionist like myself).
When on a press trip, the brand / tourist board organising it will, rightly, jam pack your itinerary to the absolute brim.
This often means 7am rises and 11pm finishes, and that's before you have got to your computer to catch up on work, emails and social media!
So hello 2AM bedtimes and 7am rises…
I am usually KNACKERED after a press trip and go straight back into a full swing itinerary when I get back home.
Doing something as a hobby is completely different to doing it as a career.
You may not have a contract with the brand (even though a lot of the time you do), but the PR world is a small world and your reputation + hard work that you've built up are on the line if you don't deliver…. so you do.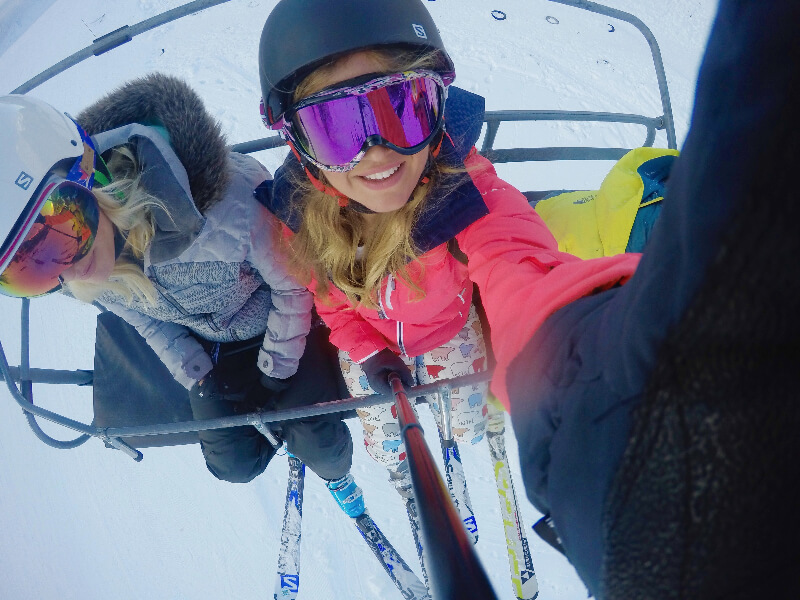 ADDITIONAL THINGS I DO…

PR – reaching out for potential collaborations / features / ways to push my content
– Emails – replying to questions / pitches / meetings
– Thinking and continuously brainstorming creative + innovative ideas to push my brand forward
– Online visuals – making sure everything looks good online, photos, headers
– Networking and attending social events
– Taking time out for meetings
– Web design – the layout and presentation of your content can be key to your success. Hiring or taking the time to design your blog can be the most frustrating, expensive and time consuming thing… EVER!
– When I entered the Travel world I also took time to write guest posts for thetravelhack.com to gain experience
– Tax returns and admin
For the first year and a half I was unsure of my niche + unsure of my branding. For this reason my audience wasn't growing as fast as i wanted it to and I wasn't progressing to partnering with brands.
Blogging was taking the time of a full time Job but I didn't get paid A PENNY for it.
To support myself financially, along side all of this, I set up a part time business doing Eyelash Extensions from home, which, even now provides me with some consistent reliable money.
HAVING YOUR OWN BLOG IS A FREELANCE CAREER, MONEY IS NOT GUARANTEED OR CONSISTENT.
On top of the above I have been pursuing a singing career which has involved:- studio time
– writing music
– gigging
– promoting all of that online
– embarking on a self organised schools tour
– rehearsing
– recording covers
– filming covers
– editing covers
etc.etc.
which, for some, is a career within itself.
As you can imagine, to get all of the above done, you have to be incredibly motivated, hard working, organised and persistent.
THERE IS NO GUARANTEE OF SUCCESS WITH BLOGGING, JUST LIKE ANY OTHER BUSINESS.
IT'S A RISK YOU HAVE TO BE WILLING TO TAKE.
In doing so, it sometimes means sacrificing:
– time with friends
– the understanding of those around you
– affording a mortgage or moving out as soon as some of your friends do
– weekends (working to support it)
– sleep
– emotional and financial stability
– the ability to relax on holiday / when you do something fun (always in journalist mode!)
Even though it is a LOT of work, I wouldn't change it for the world.
I am by no means feeling sorry for myself because when you love something, you do it anyway.
But it's just worth noting…
Blogging is a lifestyle, not a job.
You don't finish at 5 and switch off, infact, you never really switch off.
Having my years of hard work finally start to pay off and generate some money back to me after the thousands i have invested (technology, web design, commuting, free work, time) is such an amazing feeling.
So you can understand why it's frustrating when someone chucks out an uneducated opinion at you, hence why I wrote this article 🙂
Despite the success I have had so far, in my eyes, there still a lot of work to do.
The work is never done.
I hope you enjoyed this article…
Next time you hear someone say bloggers don't do anything…please link them to this article.
hehe!
Thank YOU guys for reading <3
Love as always + happy adventuring,
Mollie x
If you enjoyed this post, please SHARE it for me!
I can't do this without you <3