In desperate need of some working from home tips? Working from home in 2021 is now a reality for many people with the rise in online businesses, with the outbreak of Coronavirus and with the increase in demand for a flexible lifestyle. See my 19 ways to stay positive during COVID-19.
But as wonderful as it sounds, working from home can bring about some challenges.
Are you working from home and struggling to keep motivated? Are you working from home and not getting as much done as you want to? Or maybe you're starting a business and looking for some working from home tips to give yourself the best chance of success?
You're in the right place. In this blog post, I am going to share with you 20 working from home tips to increase productivity, motivation and happiness.
You can see all my wellbeing guides here.
Are you ready?
20 working from home tips for productivity…
1. Create a dedicated space.
Create the feeling of still 'going to work' and create a space in your home where it's optimised for working. If it's set to be a long term things, invest in a desk and buy a comfy chair that will have you excited to start work and comfortable for long periods of time.
2. Buy a laptop stand/keyboard/mouse
If you're working from a laptop, it's important to make sure your posture is correct, particularly when working for long hours to avoid neck and shoulder pain from hunching over.
You can buy these laptop stands to elevate your laptop to perfect eye level. Don't damage your body as it will only mean you'll need time off work and you'll be less able to do all the fun things at the weekend. I actually have a portable laptop stand which is super basic but folds up really small for travel and works perfectly at home too.
I also just purchased this Bluetooth keyboard and this Bluetooth mouse to go with my laptop stand so that my eye line is raised but my shoulders stay relaxing and my wrists aren't typing at an awkward angle (which will grate on you if you simply just raise the laptop on a stand). Game changer.
3. Organise your work space and keep it tidy.
Tidy environment = tidy mind. At the end of your work days, give your workspace a clean down. Remove any snack pots, lunch plates, water glasses and tea mugs and make it inviting for tomorrow's day at the office. Also arranging papers and files will make them easy to locate when you next need them.
4. Write a to-do list of tasks for the day.
Create a list filled with small jobs, medium jobs and larger jobs on. Start your day working from home with a couple of small, quick tasks to get you fired up and feeling productive, and then assign some bigger ones for the rest of the day. Be careful not to put too many things on your list! To-do lists are great to give you focus and a goal to work towards.
5. Sign up to Asana.
There are plenty of project management systems out there, but this is the one I use and I love it.
It's one big to-do list. One big organisation station.
You can date tasks, assign them to members of your team and even set goals. It's heaven for the organised angels of the world.
6. Write out a schedule for the day.
Writing out a schedule for the day will encourage a routine if you're working from home and will ensure that you aren't doing too much of one thing and burning out over it.
If I'm working from home it usually looks a little something like this:
Wake up and stretch out on my yoga mat.
Have a cup of coffee and write in my journal or read my book for half an hour.
Start work for 3/4 hours.
Have a lunch break with a healthy meal and a walk, coffee run to a local shop or workout class.
Work for 3 more hours.
Set a time to switch off technology.
Catch up with friends and social media.
Do something to relax before bed e.g. listen to a podcast, read, have a bath, or go for dinner with friends.
7. Make sure you're adding some self care exercises into your day.
Make sure your schedule isn't filled with business tasks. Ensure at least two of your daily routines are to encourage self love, care and growth.
8. Keep work out of the bedroom.
Don't let the inevitable stresses and pressures of work enter your bedroom. When you walk into your bedroom, let your mind associate it with relaxing and switching off. Don't blur those lines. Look after your mind and body and give it the rest it deserves.
If you live in a shared flat, this can be more difficult. Try and work in the living room or dining room if you have one. If not, dedicate one corner of your room to work and only work there. Do all your relaxing in another part of the room!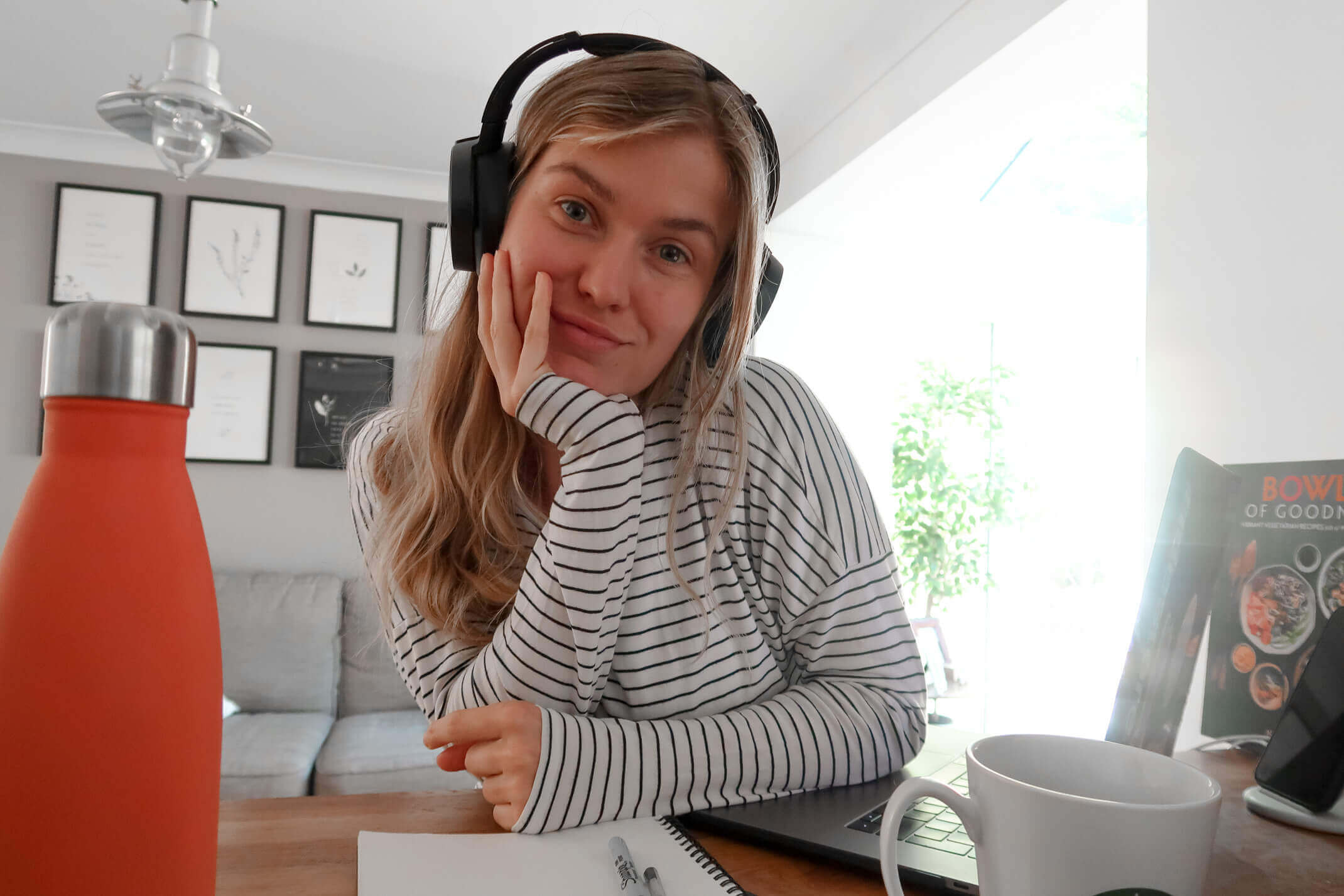 9. Have tea breaks.
Don't forget the tea breaks. A great excuse to stretch your legs and move your body every hour or so.
Tip: Add in some yummy biscuits.
10. Put your phone on silent or do not disturb.
If we see a notification from our bestie, of course we are going to want to see what they have to say. If we don't see the notification, we aren't distracted from work and we will see it later and respond later. No problem.
Separate those work and social hours for maximum productivity and uninterrupted concentration.
11. Finish work within two hours of bedtime.
It's so important to put boundaries in when you're working from home. Particularly if you're working on your own business, it can be very easy to over work and lose boundaries because it's 'your baby'. But getting a good sleep is essential to your brain and body functioning well, so working too many hours can be very counter productive. Make sure you're letting your body wind down and slow down before bed to ensure that when you get to sleep, it's good quality sleep.
12. Set an alarm.
Again, back to that structure. Give yourself a purpose to wake up. We all need purpose. I set mine for 7am to allow for self care in the morning before I start work.
13. Listen to the radio if you miss background office noise.
Have the radio playing in the background whilst you're working from home for a bit of company and a dash of human conversation.
14. Create a Spotify playlist of your favourite songs.
If you need upbeat bangers to get you working or soft chilled songs to keep you in your flow, create a playlist. Music has incredible effects on our energy and outputs in day-to-day life so create your own vibe and have it to hand.
15. Use video chat for meetings.
Keep an element of human interaction when working from home if you can. Working from home can feel a little isolated, so increasing human interaction where possible will help to alleviate those feelings.
16. Get yourself some noise cancelling headphones.
We aren't all lucky enough to live on our own or afford our own place. If that's you and you have friends or family members moving around you whilst you work, noise cancelling headphones are the one.
Don't let anyone distract your work flow, pump them tunes if you want to and don't get annoyed by family members chomping on their dinner next to you.
Shop my Sony noise cancelling headphones here. They are amazing!
17. Take phone calls outside.
Get outside for fresh air when you can. Phone calls are a great excuse for this. This encourages frequent movement too.
18. Try not to sit still for too long; take a dance break!
Particularly if you are 'making do' with office furniture and don't have system to properly support your posture or body, keep moving as much as you can.
Take a:
tea break
dance break
dog walk break
lunch break
19. Get 'ready' for work.
Physically get ready in the morning. It might just be a shower before the pjs return, it might be into an office outfit to motivate you or it might just be a face wash and skin care routine.
Whatever you do, try and avoid just rolling out of bed and onto your laptop for the day. Trust me, it gives you life to do even the littlest of things before you get going!
20. Think ahead for meals and snacks.
We all know how easy it is to get distracted by the fridge and crisp cupboards when working from home. If you know this is something you're guilty of and of using valuable work time doing, make it a morning or evening task to prepare meals and snacks that are ready and waiting for you at certain times of the day. Add your meal times into your schedule just like you would if you were in the office!
What are your working from home tips?
How do you stay productive? I'd love to know!
Love as always and happy adventuring,
Did you find this post helpful? I'd love you to share it for me.
I can't do this without you.
Pin and save this blog post for later…