Are you miles away from the person you love right now? Are you navigating a long distance relationship? Is the distance starting to take its toll? Do you need some new ideas and tips for long distance relationships and new ways to communicate your long-distance love?
There's only so many quotes you can read about distance making the heart grow fonder until you're like, okay but seriously 'I miss you; how do we make this work?'
Am I right?
Long distance relationships were hard before the pandemic struck but now it's long distance love with no certainty about the future. People are forced apart from the people they love (I feel you) and it SUCKS. There's nothing worse than being apart from the people you love by law, it's weird even saying that out loud. Sometimes long distance is a necessary and healthy choice for two people that are pursuing their dreams, their careers and their lifestyle but even then, you always have the plan to come back together. It's a choice. Right now times are tough, the choice has been taken away from us but love hasn't been.
There are so many things you can do to keep the spice in your long distance relationship, the magic in your conversation and the love in your hearts.
Check out 19 ways to stay positive during COVID-19 here.
In this post, I've put together loads of ideas for long distance relationships that need a little TLC. And all these ideas can be applied to any relationship, not just romantic ones, so if you're working on a long distance friendship or family relationship, this is for you too!
Other posts you might be interested in…
22 top tips for long distance relationships…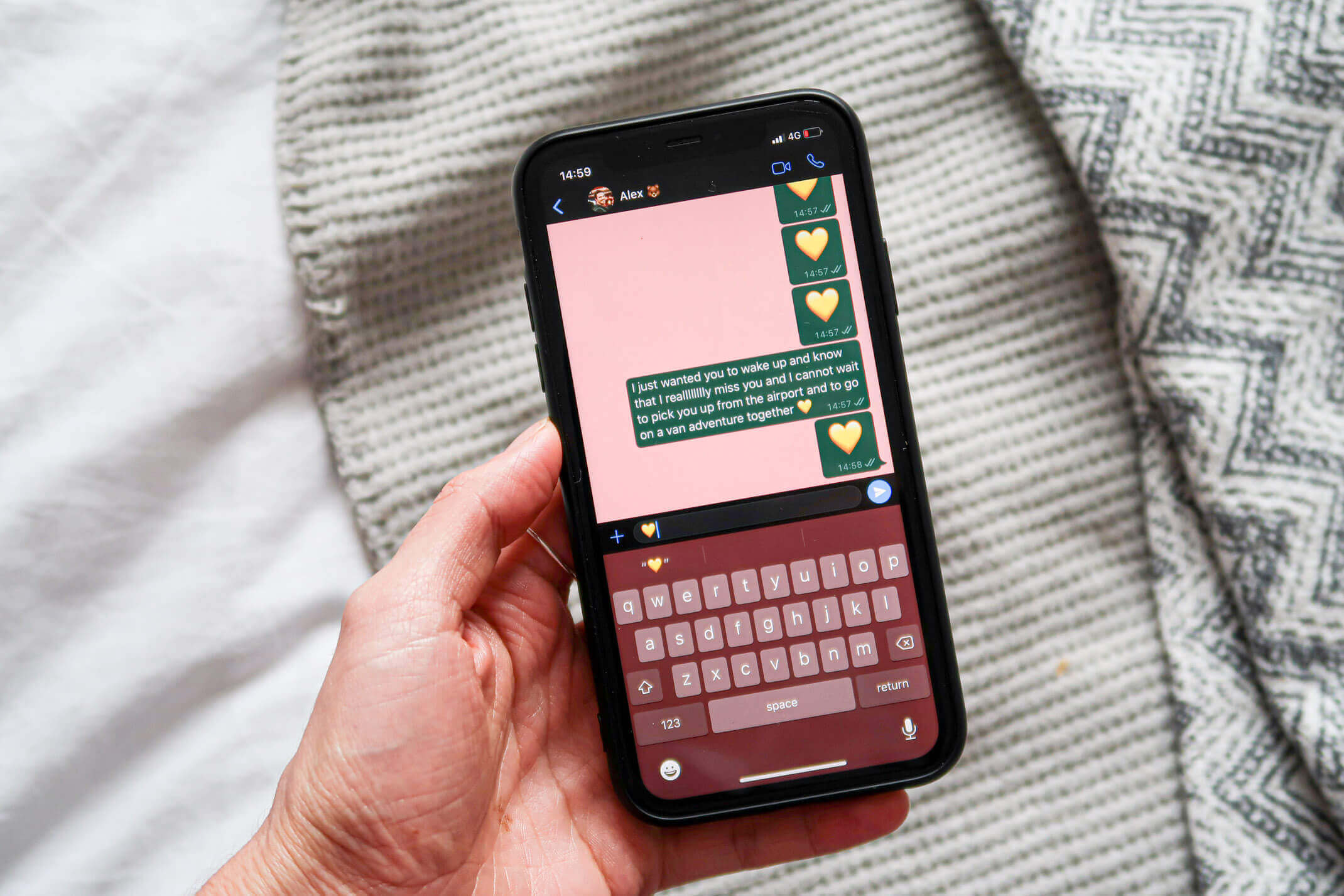 1. Video call each other regularly.
The obvious one and the way of communicating we are so lucky to have now with the advances we see in technology. So long as the two of you have an internet connection you can speak with real-time video, just as if you were together. So much feeling and emotion can get lost over text message but luckily with video calling, we can experience real-time interactions with our loved one in our long distance relationship. There are a fair few apps now for this including:
Whatsapp video
Facebook messenger video
Facetime (Apple device to Apple device)
Zoom (great for group calls)
Google hangouts
2. Work out a time for calling that works for you both.
Particularly if you're on different time zones, it can be hard to create a time that works for you both. Ask each other what time of the day works best and feels best and find a mutual time that works. Make sure the time you both choose is a time you can really give to each other and a time when you aren't multi-tasking. It's important to find extra ways to show your love when you're at a distance and understanding each other's routines and needs is essential.
3. Plan your next adventure or a dream trip together.
Whilst distance may stand between your physical connection, focus on the mental one. Focus on the dreams you both have together. If it's your mum, plan your next weekend getaway together. If it's your dog, research the next national park you're going to explore together. If it's your fiancé(e), brainstorm all the places you'd like to go on your honeymoon.
Or, for a bit of spontaneity, open up Google Maps, close your eyes, choose a location and plan an adventure there!
Add an element of creativity to this and draw a dream scene or adventure on a piece of paper that you want to experience together. Then video call and talk each other through your drawing.
Start a shared Google Doc together and create a combined bucket list of all the places you want to go when you get to be together again.
Go through my best friend bucket list and see how many adventures you can already tick off. Plan the ones that you still have to share together!
Check out these places to travel to with your Valentine and get planning for next year!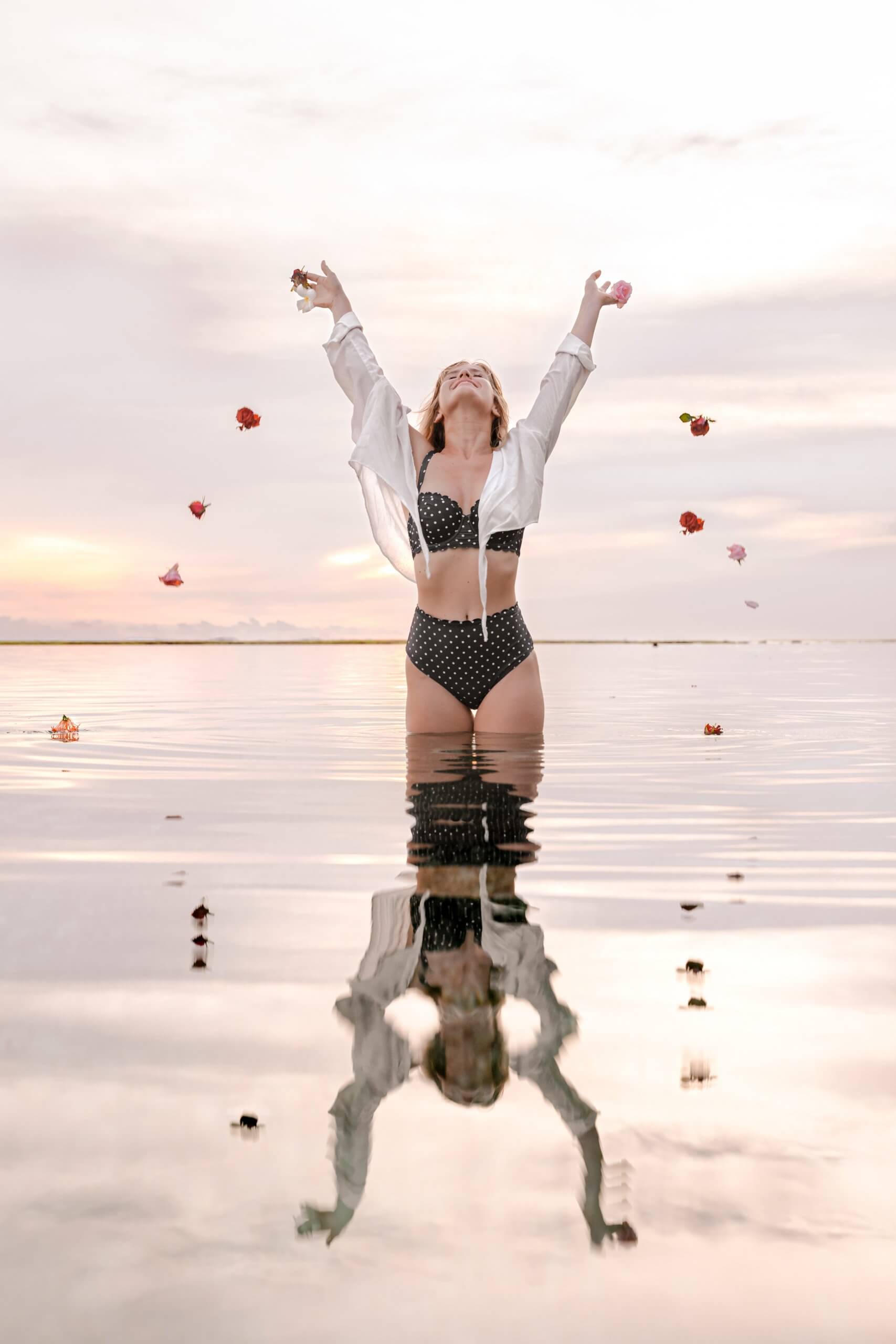 4. Leave messages for the other to wake up to.
In different time zones, when you don't have the opportunity to align your mornings and evenings, leave your lover messages to wake up to. There's nothing nicer than to start your day with an extra dose of love and to know a special someone has been thinking about you.
Also, don't underestimate the value of a voice note. If you're not quite at the letter writing stage, voice noting is definitely a step in the more wholesome direction. Hearing the voice of someone you care about can really make your day!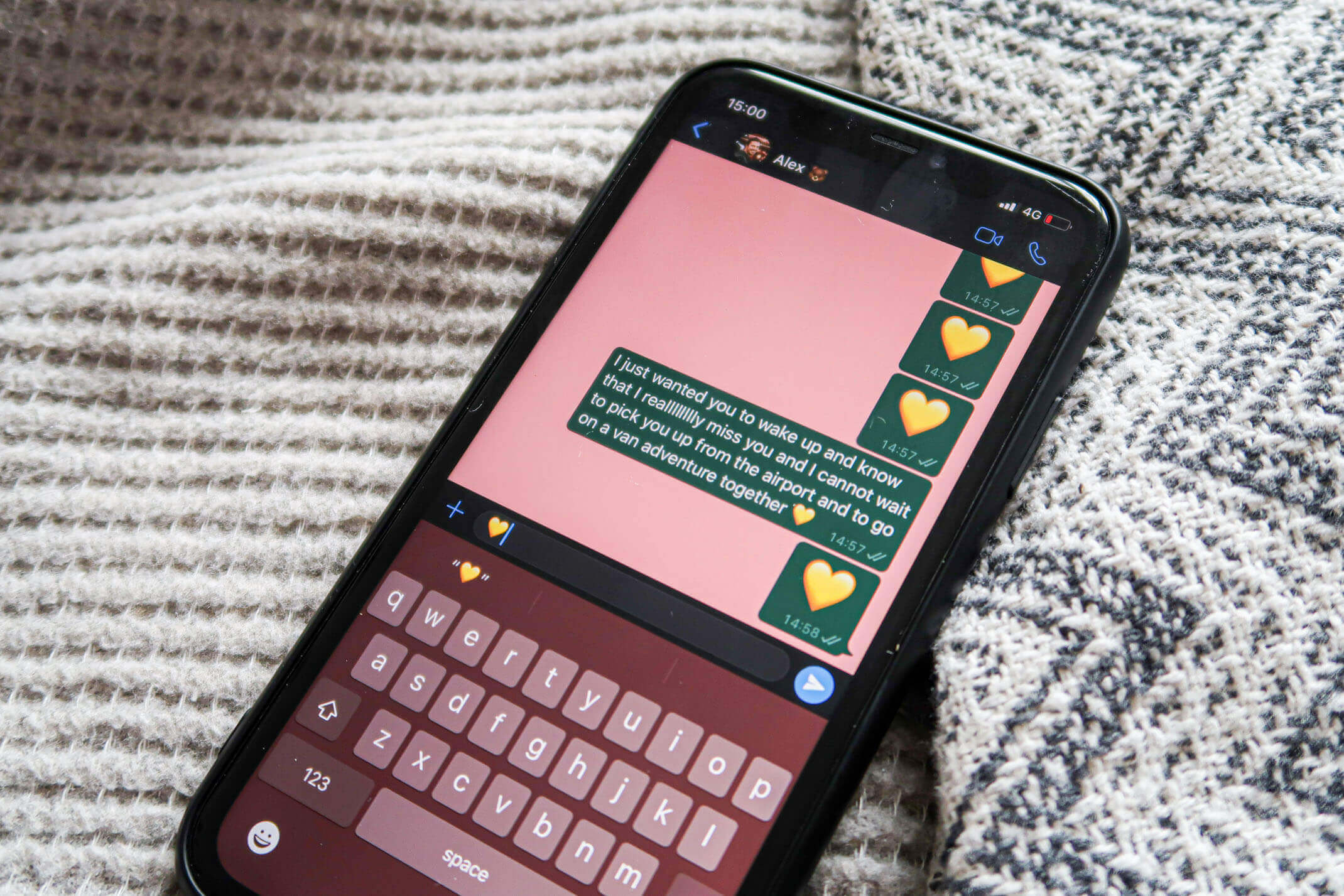 5. Get old school with letter writing.
I'm writing this post during the 2020 COVID-19 lockdown, a time when we face the unknown and have no idea how long we won't see loved ones for. Usually, we dismiss the old school idea of writing letters because instant forms of communication have taken over but now that you have the time to wait…
What could be more beautiful to receive than a handwritten letter from someone you love in your long distance relationship?
See how long it takes to arrive, anticipate the response letter.
Bring back the butterflies.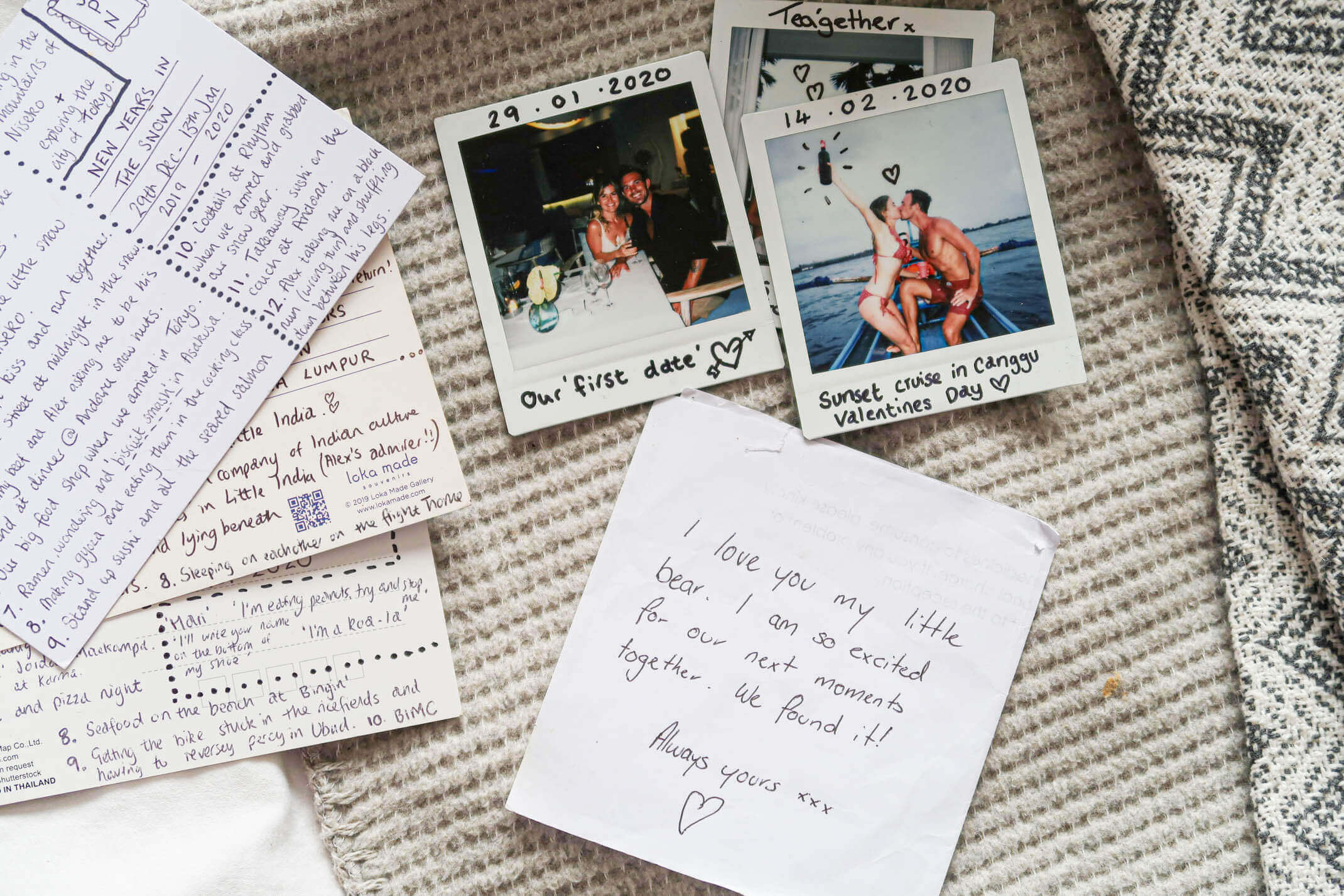 6. Have a life outside of your long distance relationship
Even though you really miss each other, it's important to not get to a place where you're both completely reliant on each other and talking all the time. Easier said than done I know.
It's important not to spend all your time on the phone to each other. It's important to continue to build and live a life of your own outside of your relationship so that you have something to talk about and passions to share with each other when you are connecting.
This goes for all relationships, long distance or not. Keep it healthy and keep your individual passions and identity… else it gets messy!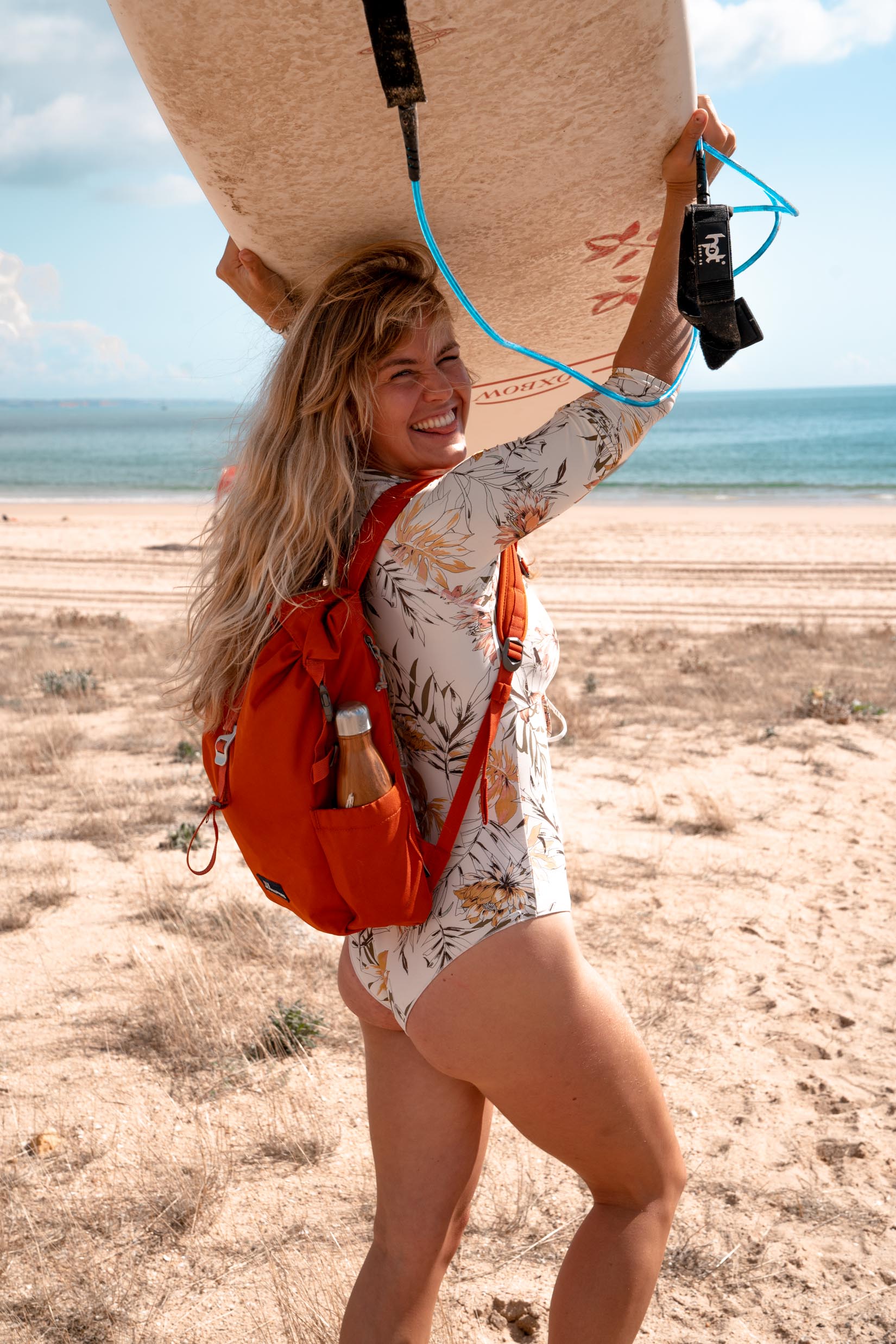 7. Play a game online together.
I reached out on Instagram and asked you guys for some recommendations for apps or games you can play with your loved one at a distance. Below are a few you mentioned. Leave me a comment if you have any other good ones! I'm ready to get game playing!
Scrabble GO
Happy Couple app
Words with friends
8 ball pool
Pictionary on Houseparty
deck.of.cards
Monopoly app
We're not really strangers
The Skin Deep conversation cards (they also have an interesting documentary about what connects couples!)
8. Make a Spotify playlist together.
Pop all your favourite songs from your adventures and memories together into a playlist. Relive your love through music. Whether it's listening on the phone together or alone to reminisce and feel the love, it's a beautiful way to remind yourself of the love you have experienced and the love still to come.
9. Send one picture a day with a memory you love.
This is something I love doing. Scroll through your camera roll, your Facebook or your hard drives (wherever you store your photos) and select a random picture or selfie that you love. Write a few lines about that day, how you were feeling and what it meant to you and share it with your loved one.
This is a lovely little routine to keep your love alive and your gratitude for each other rolling.
Long distance relationships aren't easy but ou have got this.
10. Send a surprise care package!
Find your loved one's address, write a note and send them a little package. It could be as small as their favourite chocolate or a t-shirt you saw them eyeing up. Let them know you're thinking of them and that you listen to them. When you can't share your love and appreciation physically, it's time to get creative!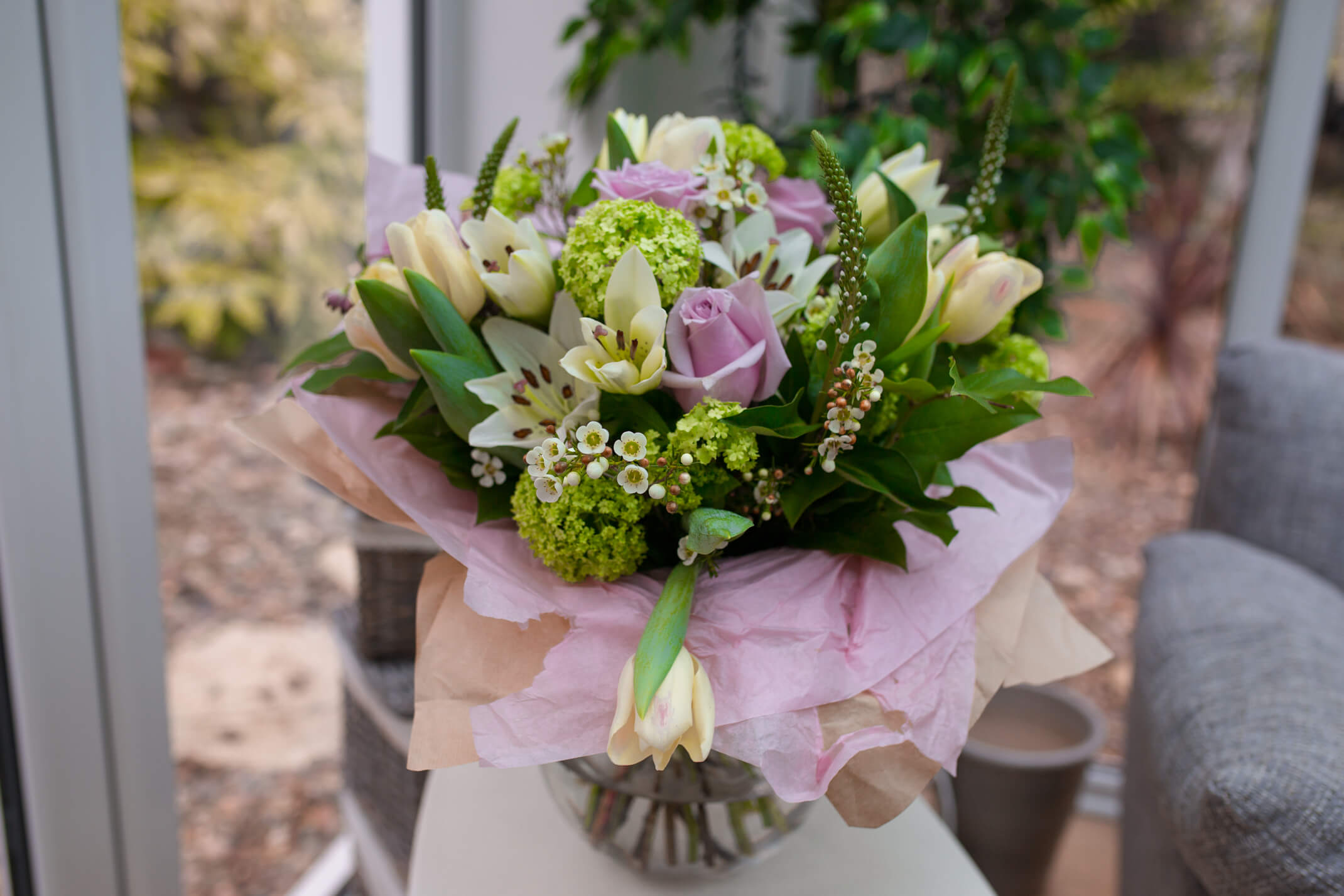 11. Get real honest and commit to understanding each other
Long distance relationships can make for a whole lot of emotional confusion, misunderstandings and challenges. There's no doubt about it and we all deal with them differently.
For one of you it might not feel good to speak every day on the phone, for the other that might be what they love. The best thing you can do is open up a really honest conversation with your loved one to establish how you're both feeling and what feels good for you.
Long distance relationships require a great deal of understanding, patience, love, honesty and reevaluation. There's not perfect way to navigate it, only the way that feels good for you both. Keep checking in with each other and you'll find your groove.
This is why video calling is a great tip for long distance relationships, as a lot of emotion and intention can get lost through a text message.
12. Talk about the difficult emotions you're facing; don't expect the other to read your mind.
Leading on from the last point, don't hide your emotions. This is how things can build up and become bigger issues than they perhaps need to be. If something is important to you and bothering you, trust that your significant other loves you and will understand your need to express it. If you are on the receiving end and your loved one is brave enough to express something to you, give them respect and love and understanding. Be a team. Act like a team. Trust your relationship.
Want to speak on the phone more? Say it.
Want to speak on the phone less? Say it.
Feeling worried about something? Express it.
Feeling really happy about something? Share it.
It's all about finding solutions and routines that suit you both.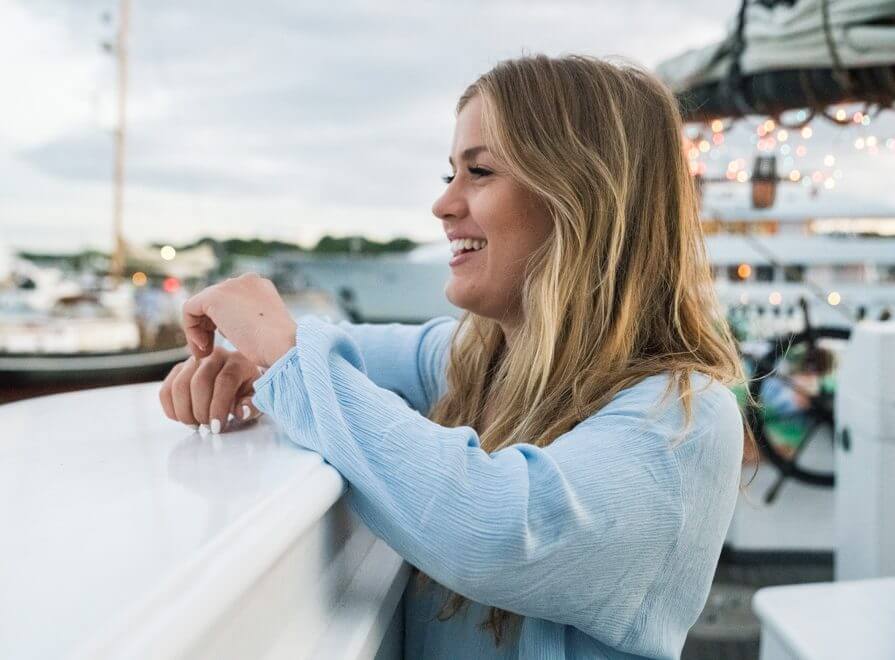 13. Have a video call date night.
Dedicate some special time to have a date night just like you would if you were together in person. Dress up in your date night outfit, make a cocktail and drink it together. Order the same takeaway and eat it on the phone together whilst you watch a film. Even better, order each other's takeaway dinner and make dinner a surprise!
14. Call during a 'normal' activity without pressure on particular conversation.
Sometimes you might not even have anything to say but you just need to feel the presence of someone you love. Much like people working from home organise video calls with the office team for small talk around their tasks, leave video call on and do a day-to-day activity with a less intense need for conversation.
Whatever you need and whatever makes you both feel good, arrange it!
15. See the time apart as an opportunity for individual growth.
Let's face it, if you're on this post you're probably really missing them and, given the opportunity, you'd jump straight into their arms.
That may not be an option right now, so why not turn this situation on it's head as a unique opportunity for growth? There are certain feelings and thoughts that are best dealt with alone. Really, learning to have your own back is one of the most beautiful challenges and lessons that life will throw at you.
Take this time to nail self-care. When two people individually have their shit together, they will come together in the most pure and sustainable light.
16.
Watch a film at the same time on Netflix party.
…or on Amazon! Sync up your movie night, watch the film and react together!
17. Choose a random recipe from Pinterest and have a bake off.
Choose something yummy, cook together on a video call and share the results! Eat it like you're on a date and grab a glass of wine!
If you've got a sweet tooth, check out these cookie recipes that you must try!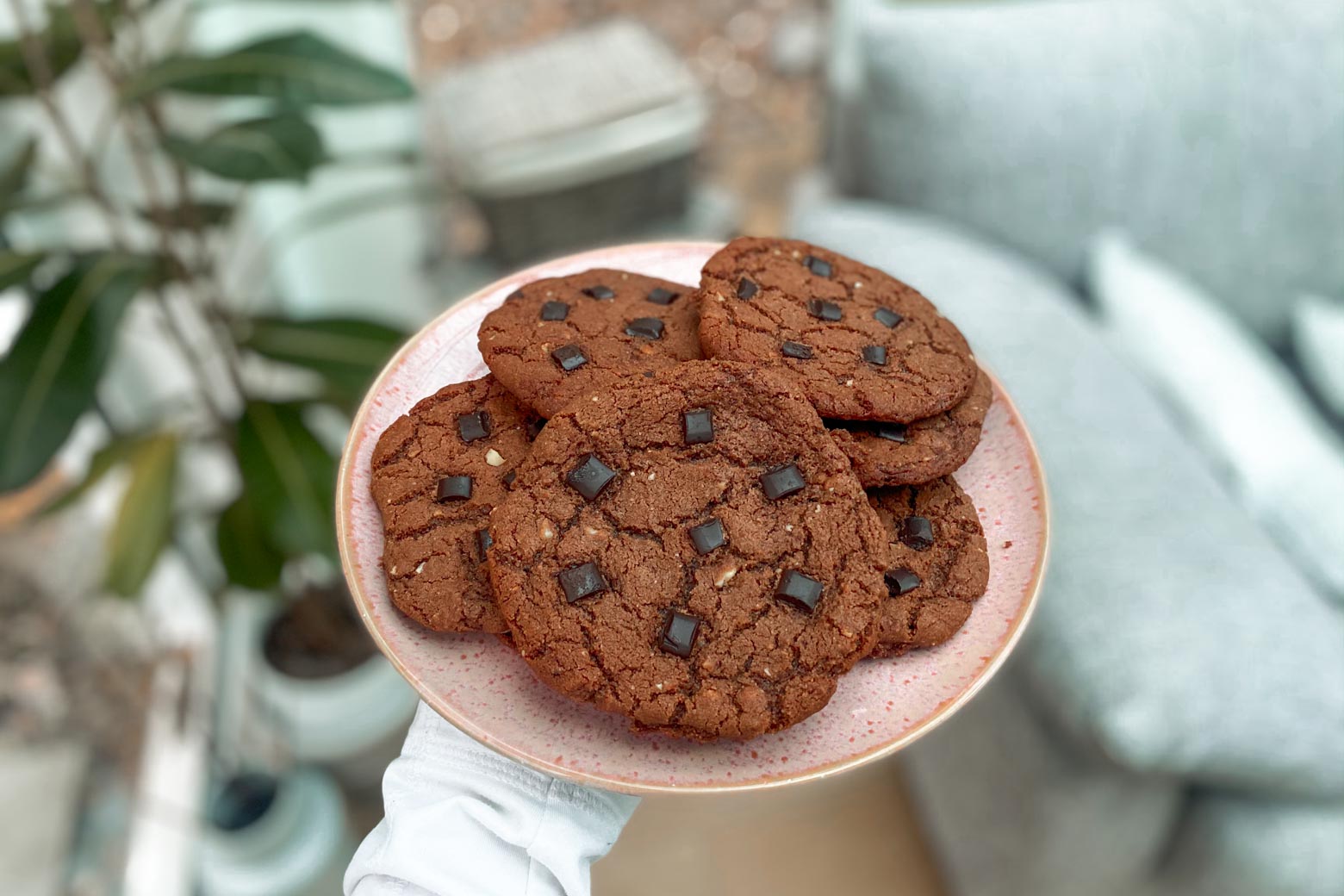 18. Create a scrapbook and reminisce on your love so far.
Take the time to cherish the memories you've already made whilst you wait to make some new ones.
My scrapbooks are my absolute favourite belonging that I own and they bring me so much joy. If ever I'm feeling a little sad, I grab a cup of tea, flick through the memories and within moments, my heart is filled with joy and nostalgia at the love and life I've been so lucky to experience. How to make your own scrapbook.
Scrapbooks are also a lovely gift idea if you're looking for a surprise present for your loved one. Check out more gift ideas here.
Once your long distance relationship is over, you can continue it!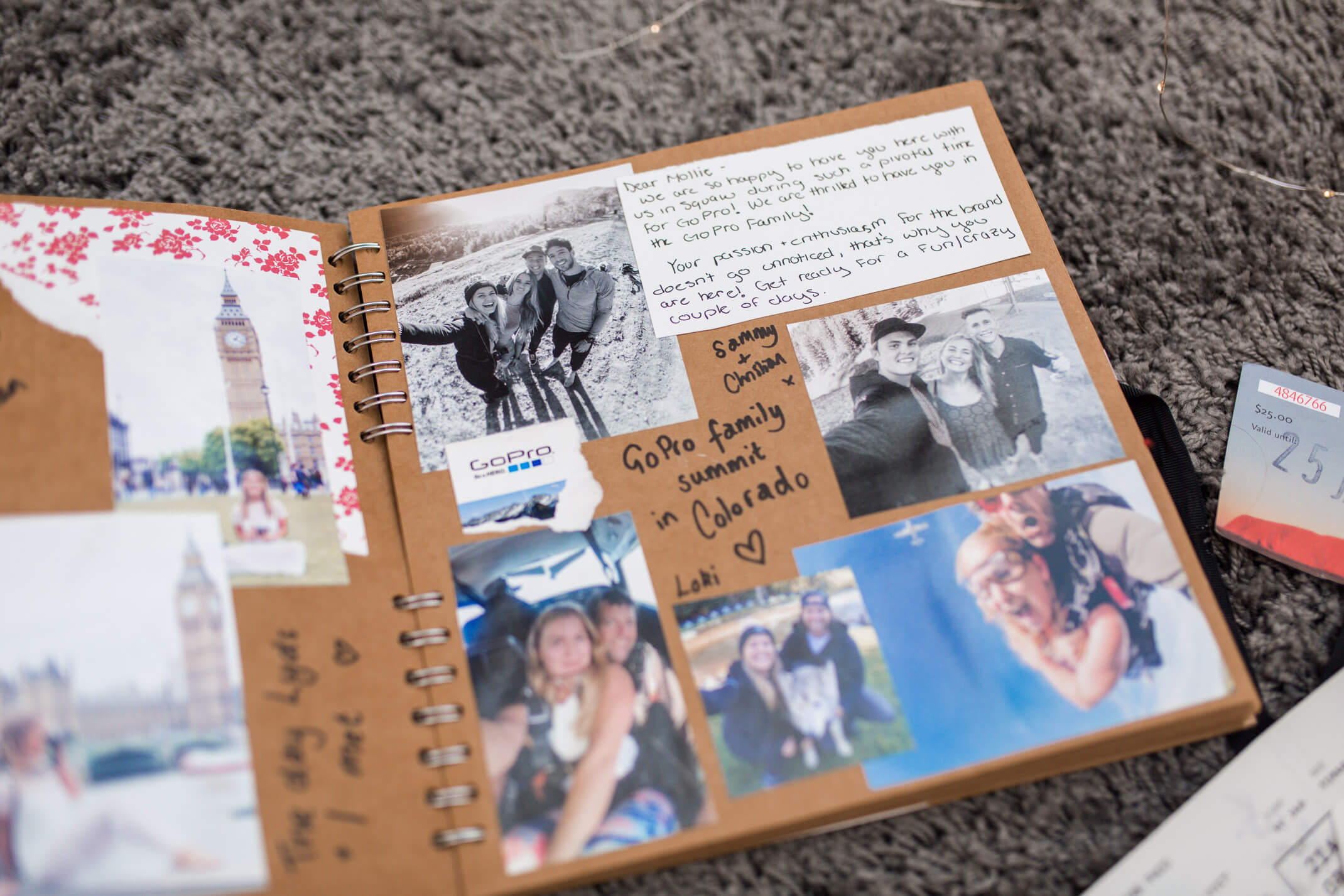 19. Take an online course or read a book together.
Seems simple but it's an educational way to grow individually and together! Choose a book to read together, chapter by chapter, and check in after each chapter in the book to share notes and discuss thoughts. You could also do this with modules on an online course.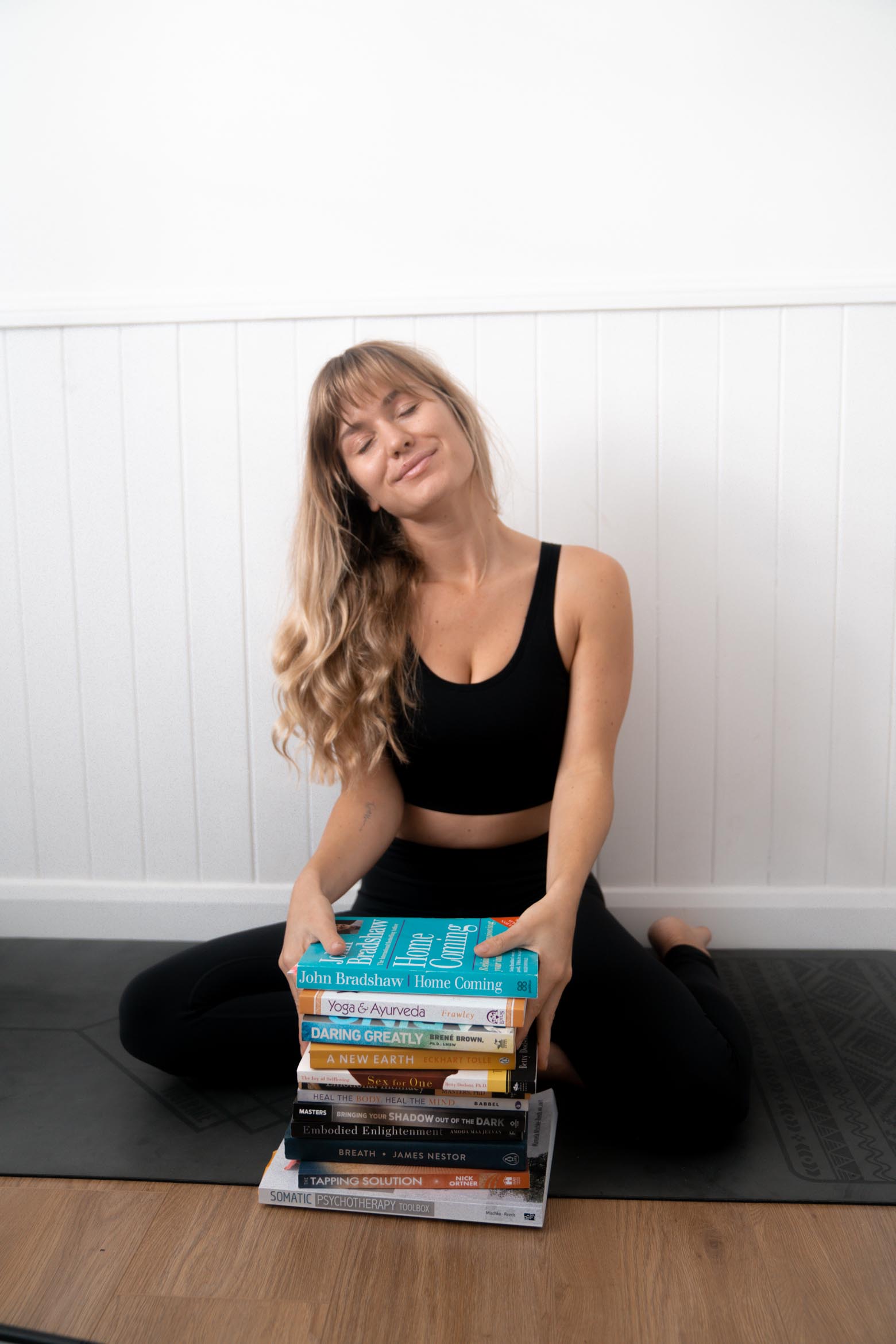 20. Do a workout online together.
If you can't get sweaty together in person, this could be the next best thing! Choose an online YouTube workout and do it together! You could also set each other workout challenges and get a bit competitive with it!
21. Send a cheeky photo.
If your long distance relationship is with your partner, continue your sexual relationship and chemistry from a distance and get excited to see each other again. Send a nude to them or a cheeky photo that leaves something to the imagination (if you feel comfortable doing so!) and spice things up a little.
But, photos aren't just for romantic relationships! Send daily wins on your family Whatsapp, share a nice sunset you saw, or send double chin selfies to your BFF.
Whatever you feel comfortable doing and whatever your jam is, do it. Do lots of it. Keep it fun and keep it you.
22. Share 5 things you're grateful for before you go to sleep.
I like to do this every morning and evening, either by sharing these thoughts with someone or writing in a journal. It's a nice way to fuel your mind with positivity and to fill your heart with gratitude. This is a great exercise too if you feel like your special person is a little low or if the distance is getting on top of you. Flip the switch and turn the negative thoughts (however justified) into positive ones. It could be 5 things you're grateful for in each other or 5 things you are grateful for in your life.
Are you doing a long distance relationship?
What tips for long distance relationships do you have? I'd love to know!
Love as always and happy adventuring,
Did you find this post helpful? I'd love you to share it for me.
I can't do this without you.
Pin and save this blog post for later…