Are you ready for the best cookie recipes on the internet? I've got you.
As the new year approached, I used my New Year journal prompts to reflect on the past year and to think about what I'd like to do more of in this coming year.
Up there with my 'things I'd like to do more of' was… baking.
There's something so therapeutic about baking, it takes your mind away from the chaos of day to day life and… you just cannot beat the smell of fresh bakes hey? Particularly freshly baked warm chocolate cookies!
Self-care and mindfulness are so important right now, particularly with the current pandemic. Doing things that keep you positive during the pandemic is essential. So whether that's cooking, baking, running, reading, yoga, meditation or something else – here's a reminder from me to you to do more of exactly that. See all of my wellbeing guides here.
Once I'd journaled the idea of baking more, I was set. I began researching the best cookie recipes and put a date in my diary to get creative in the kitchen. This was where you guys helped tremendously. When I asked 'what's your favourite cookie recipe' 'what is the best cookie recipe' on my Instagram Stories, there were a few obvious winners.
In this blog post, I've included all the popular cookie recipes that you recommended to me so that, if you want to bake, you have the best cookie recipes to hand!
I'd never baked cookies before this baking day though so I had no idea how the cookie recipes I'd found would turn out.
I came to the conclusion that I'd try two of the best cookie recipes I could find and hopefully, one batch would work out. It ended up being that both cookie recipes turned out swimmingly and I found myself surrounded by an excess of cookies.
A nice idea if you find yourself in a similar situation is to box a few up and deliver them with a note to your neighbours/best friends/family. Who doesn't love a cookie delivery? See my other ways to show the people you love that you love them here.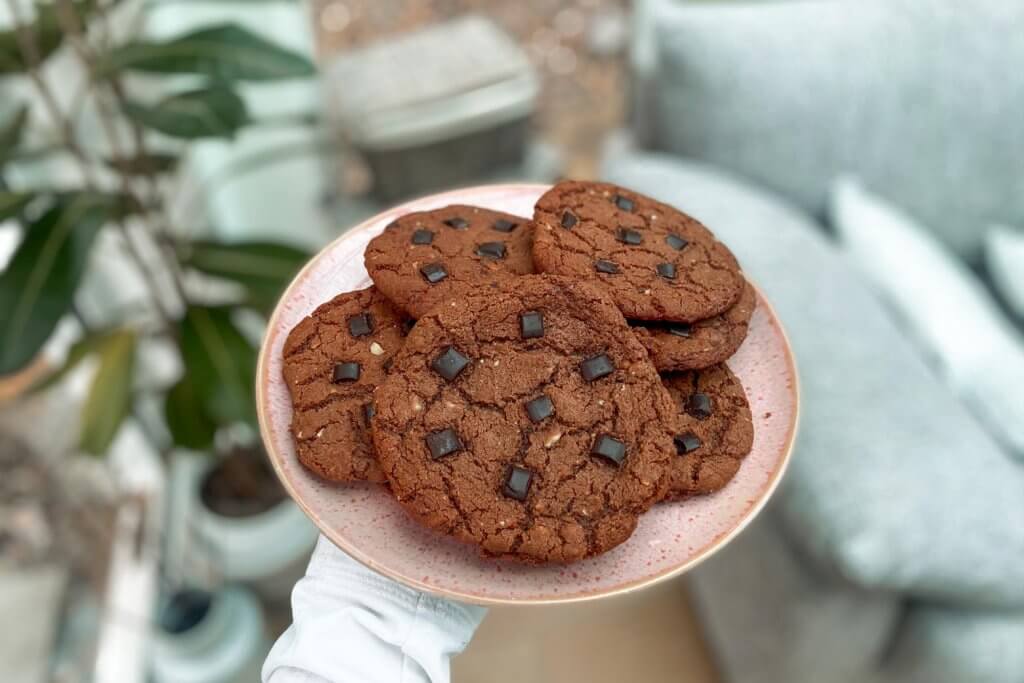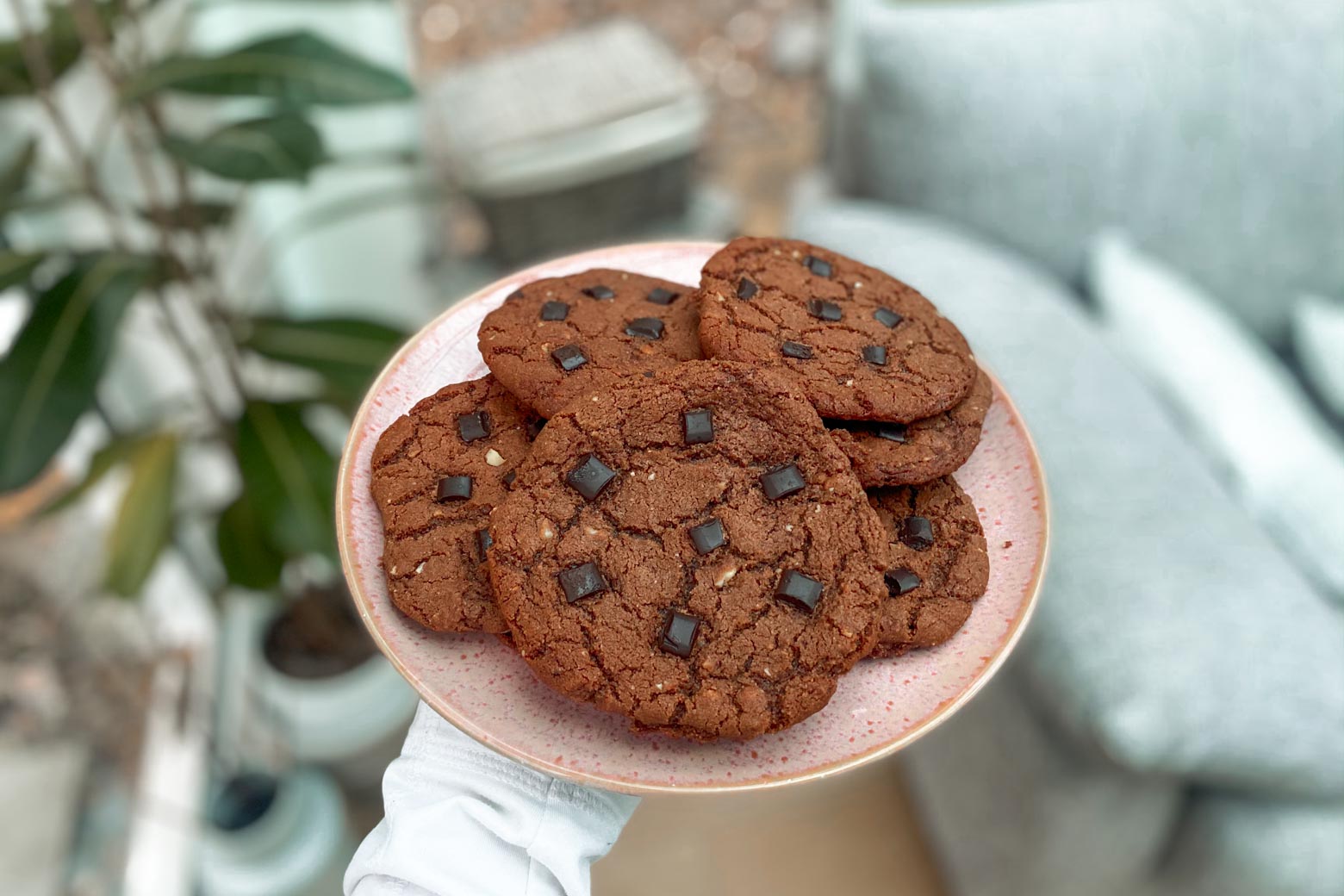 10 best cookie recipes on the internet for you to try
1. Pret's dark chocolate almond vegan cookie
Okay, so these were my top pick. They sound divine right? If I was to rename them according to the taste, I'd call them Salted Dark chocolate and almond vegan cookies. The addition of salt to this cookie recipe gives you the same tastebud tingle as salted caramel chocolate does when that salt hits! It's not strong though, just a perfect compliment. I adapted it ever so slightly, you can find the original recipe here.
Ingredients:
43g Caster sugar

112g Soft light brown sugar

4g Salt

40g ground almonds (i crushed them a little more)

50g dark chocolate chips

200g Plain flour

20g Cocoa powder

1/2 tsp Bicarbonate of soda

65g Coconut oil

72g Almond butter

100g Golden syrup

40g Water
Method
1. Preheat the oven to 180°C.
2. Pour the caster sugar, soft light brown sugar, almond pieces, salt and chocolate pieces into a large bowl. Sieve the cocoa, flour and bicarbonate of soda into the bowl too.
3. Mix the almond butter, oil, water and golden syrup together and add to the bowl.
4. Mix together with a wooden spoon and then bring the dough together using your hands.
5. Line a baking tray with greaseproof paper. Split your dough into 8 golf ball-sized balls and flatten slightly with the palm of your hand.
6. Bake for 8-10 minutes (This will vary depending on thickness – if the edges of cookie feel firm but the centre is still soft, it should be ready to take out).
7. Leave to cool for 15 minutes. Enjoy!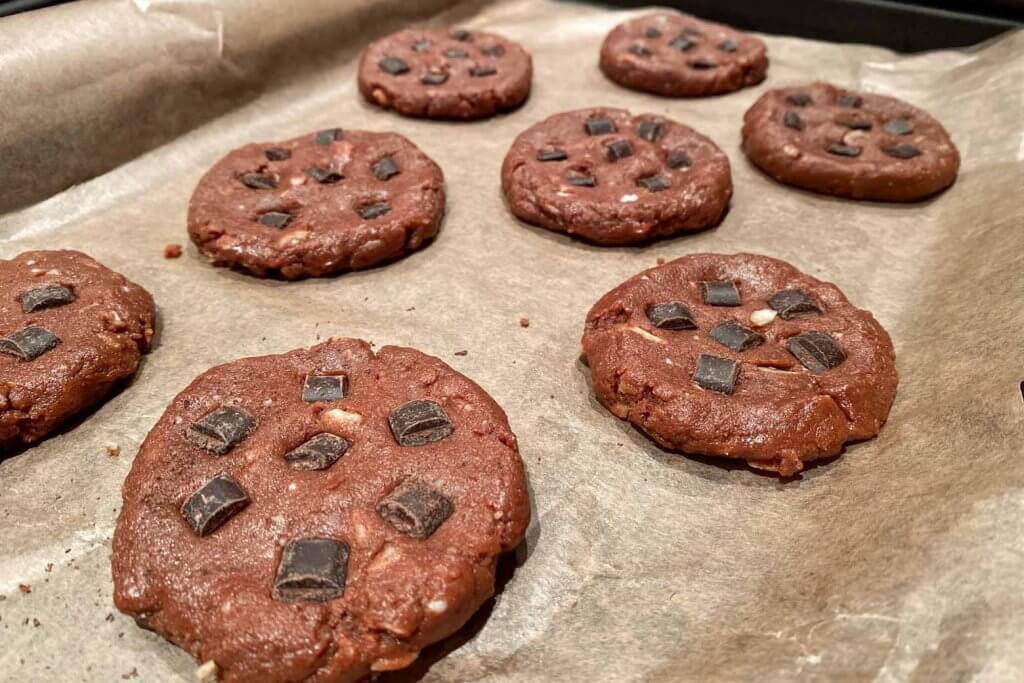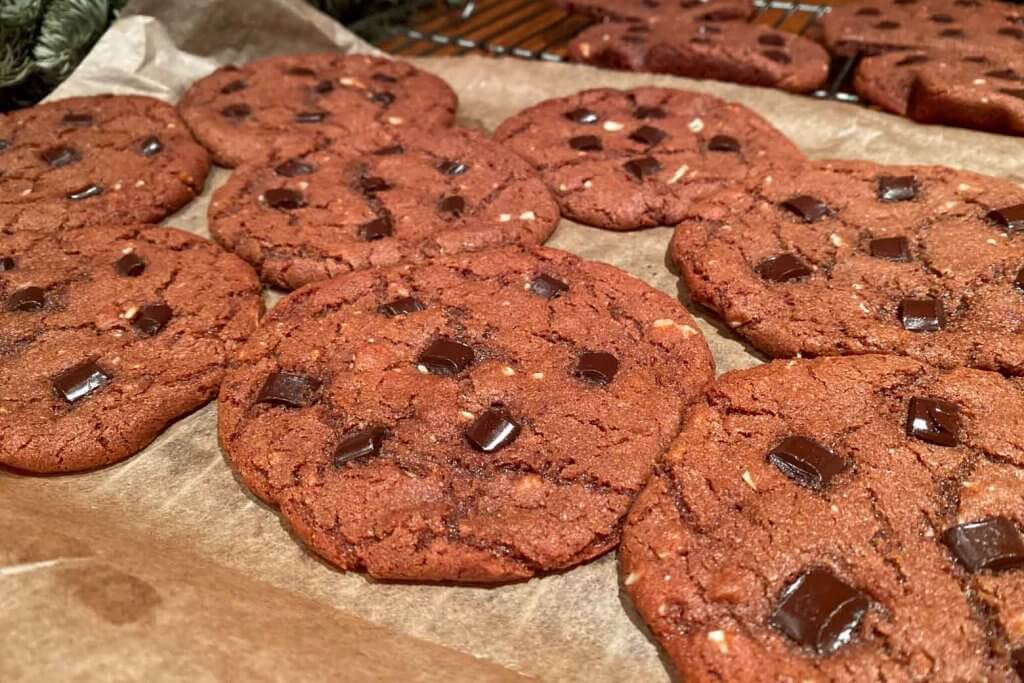 The Anna Edit cookie recipe was probably the most recommended cookie recipe from you guys.
Anna created this cookie recipe back in 2013 and it's one of the most viewed posts on her blog. Since she has created an adapted (with more chocolate) cookie recipe should you be looking for the ultimate indulgence?
I made Anna's Triple Choc Chip cookies as my second batch of cookies yesterday and I can confirm they are wonderful.
3. Tanya burrs triple chocolate cookies
Ingredients:
200g unsalted butter (room temperature, I like to use unsalted as I can add in my own salt then to taste)
300g caster sugar
1 large egg
275g self-raising flour
75g cocoa powder
a dash of milk (Optional)
1 large bar of white chocolate
1 large bar of milk chocolate
1 large bar of dark chocolate (Optional)
3 Daim bars (Optional)
Method for Tanya Burr's Triple Chocolate Cookies:
Preheat your oven to 200 degrees (c)/ 392 (f). Line 2/3 baking trays with baking paper.
Cream together the butter and sugar until light and fluffy ( It helps if the butter is at room temperature)
Once the mix is smooth, add in the egg and whisk it through.
Next, sift in the dry ingredients then mix till combined. If the mixture is looking a little dry then you can add in the dash of milk.
Break the chocolate bars and mix into the mixture – it may be easier to use a wooden spoon now instead of a whisk and they will get caught! (I like to use white, milk and Daim bars but you can use whatever chocolate you like really. The Diam bars add a crunchy texture)
Place the dough onto the baking trays, I like to make my cookies big as the chocolate chunks are quite big but make them whatever size you want!
4. Liz Miu Vegan Choc Chip Cookies
Another I'll be trying soon! This one uses chickpea flour, vegan butter and almond meal.
Try the Liz Miu Vegan (GF) chocolate chip cookie recipe here.
5. Cupcake Jemma's New York Choc Chip Cookies
Gosh, these look amazing. You can see why it was so hard for me to pick a recipe right?
I feel like these look the most indulgent. Thick, soft American style cookies!
6. The Food Medic's Vegan Choc Chip cookies
Now, I'm not saying this because Hazel is one of my besties but Hazel's recipes are the best.
If you haven't grabbed one of her cookbooks yet, I highly suggest you do.
I've made many of Hazel's recipes and though I haven't tried this exact one yet, I feel like I can already give you the seal of approval.
This cookie recipe uses spelt flour, oat flour and flaxseeds. Try Hazel's Vegan cookie recipe here.
7. Jane's Patisserie Gingerbread And White Chocolate Cookies
A cookie recipe with a Christmas twist. I'd never have thought to put ginger in cookies but they look and sound divine. Switch up your annual gingerbread baking day for these gingerbread cookies!
8. Nigella's Chocolate Chip Cookie recipe
Good old Nigella!
Couldn't leave this recipe out.
Ingredients:
150 grams soft unsalted butter
125 grams soft light brown sugar
100 grams caster sugar
2 teaspoons pure vanilla extract
1 egg (fridge-cold)
1 egg yolk (fridge-cold)
300 grams plain flour
½ teaspoon bicarbonate of soda
1 x 326 grams packet milk chocolate morsels or chips
Method
Preheat the oven to 170°C/150°C Fan/325°F. Line a baking sheet with baking parchment.
Melt the butter and let it cool a bit. Put the brown and white sugars into a bowl, pour the slightly cooled, melted butter over them and beat together.
Beat in the vanilla, the cold egg and cold egg yolk until your mixture is light and creamy.
Slowly mix in the flour and bicarb until just blended, then fold in the chocolate chips.
Scoop the cookie dough into an American quarter-cup measure or a 60ml/quarter cup round icecream scoop and drop onto the prepared baking sheet, plopping the cookies down about 8cm/3 inches apart. You will need to make these in 2 batches, keeping the bowl of cookie dough in the fridge between batches.
Bake for 15–17 minutes in the preheated oven, or until the edges are lightly toasted. Cool on the baking sheet for 5 minutes before transferring to wire racks.
9. Steph's Dark Choc and Cranberry Vegan Cookie Recipe
This one isn't available online but it's one of 25 sweet plant-based recipes in my girl Stephs Plant to Plate ebook. You can grab it for £9.99 here and get this cookie recipe along with 24 other delicious vegan treats.
What can you expect?
25 sweet plant-based recipes
Desserts, pies & tarts, cheesecakes, chocolate treats and cakes!
Basic ingredients that are easy to find in a supermarket
Step-by-step instructions
Photographs of every dish
10. BBC Good Food Peanut Butter Cookies
Have you got a winning cooking recipe to share?
Let us know in the comments!
Love as always and happy adventuring,


Did you find this post helpful? I'd love you to share it for me.
Pin and save this blog post for later…