It was only last week I actually experienced life on the road in a Vintage VW Camper myself, and I did so with my mum for four days, as we explored the beauty that Cornwall (here in the UK) has to offer.
Feel free to hop on over and see what we got up to here.
With endless comments on how gorgeous Lilly (our camper) was, and also on how much of a bucket list adventure a VW roadtrip is to you all, I thought i'd give you more of an insight in to what life is actually like in a Vintage VW Camper!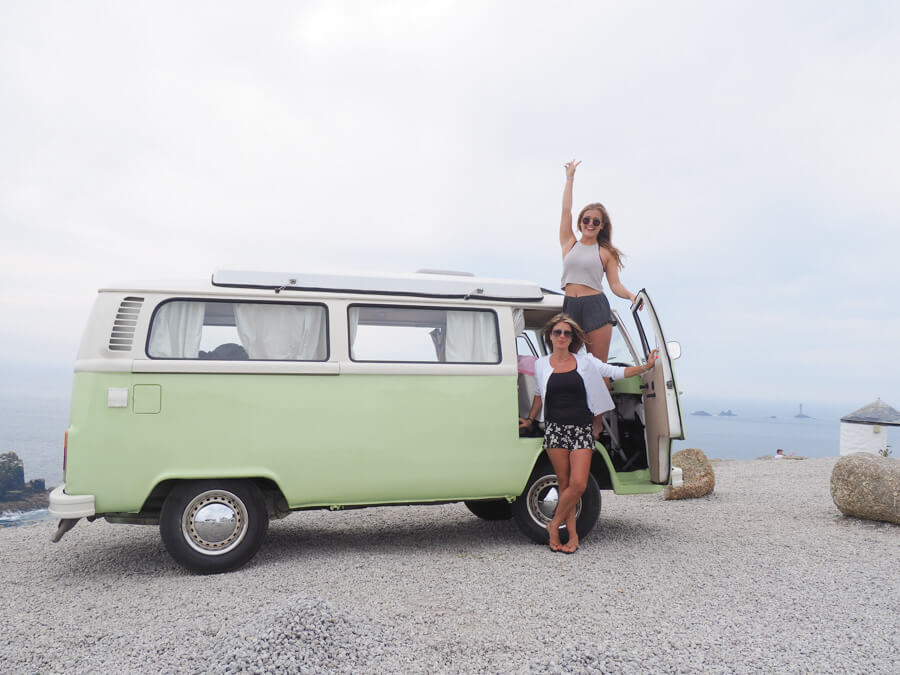 Details of Lilly, our Vintage VW Camper
We hired Lilly from The Cornwall Camper Company down in… you guessed it, Cornwall. TCCC are based just 2 minutes from St. Austell Train Station so if you were to hop on the train to pick up your camper – it's super easy OR you can obviously drive down.
Lilly is a revamped 1973 VW Camper which made her super unique and extremely fun to adventure in. But don't get me wrong, technology and mechanics (or whatever you car people call it) has advanced a LOT in the last 43 years and so she did come with some difficulties.
Down at TCCC Ben, one of the owners, gave us a little driving lesson to learn the differences and to work out exactly how to control Lilly before she was left in our hands. Don't worry though, within about 5-10 minutes you're totally used to the new old way of driving!
Within Lilly we were provided with pretty much everything we needed for our adventure barre: food, clothes, toiletries and cameras (obviously want one of those).
Our Lilly came equipt with:
A stove, water pump, refrigerator, pans, pots, a kettle, cutlery, utensils, a free bottle of gas, a fold out bed for two, a table, 2 deck chairs, a 2 man tent (just incase), sleeping bags, pillows, bed sheets, aux in cable and all the cables you need to hook up on the campsites.

The Best Things About Life In A Vintage VW Camper?
– Not having to get dressed up, or dressed at all for breakfast
– Being able to have a cup of tea in the car park by the beach without sourcing a coffee shop + queuing (or paying)
– The friendliness of other campers and social injection #campsitelife
– It's quite like backpacking in that, you have everything with you so you don't have to 'pack for the day' and worry about leaving anything behind
– The camper van is thinner than most cars these days – making for super easy parking in those 'left over' spaces!
– Waving at other VW's and giving the thumbs up as they pass you (it's like VW camper code and respect)
– VW Campers simply make for the best photos
– They have a super spacious driving area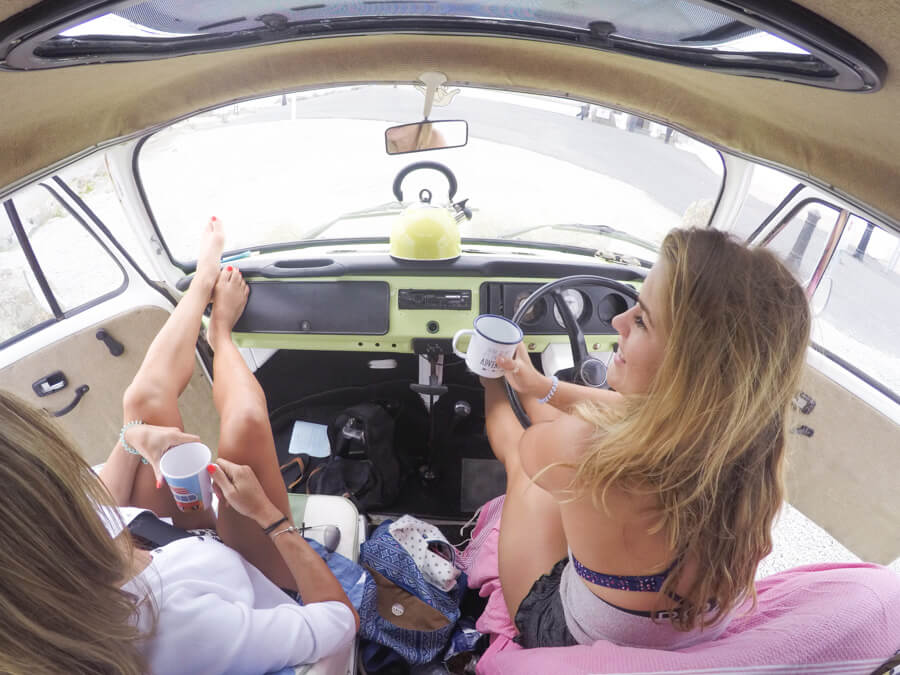 The Downsides To Life In A Vintage VW Camper?
– Remembering that the itinerary you planned isn't realistic because it takes a lot longer to get these babies around (slower speed and less capable of hills)
– There's no SAT NAV installed and mobile phone signal is poor (in Cornwall) so journey's can be SUPER long if you're relying, as we do these days, on technology (bring a physical map!)
– You can't keep up with other cars (saying that, people respect old VW's and we didn't get the frustrated beeps and remarks as we crawled up the Cornish hills that you would expect).
– The gear sticks are hard work (going from 3rd gear to 2nd was pretty much a no go in Lilly!) so driving requires a lot of concentration and can get a bit sweaty!
– Lilly had different keys for each of the doors. We only got the hang of which key was for which door by the end of our trip – no central locking!
Our Funniest Memory?
– Pretty much every time we went up a hill! Getting enough momentum to reach the top of the hill and not knowing whether you'll make it up the hill was entertaining every time. For us and for everyone around us!
Tips + Tricks when hiring a VW Camper?
– Bring a towels to lay across the driving seats.
Our trip landed on an English heatwave (you don't have to worry about this happening often) and it got pretty sweaty when driving. Bringing a towel, or similar, will save your flesh sticking to the seats (you know the feeling).
– Allow for additional time driving
Simply leave extra time to what time Google predicts the journey will take.
– Going uphill is hilarious
Just embrace it, laughing is the only way through (and capturing it on camera).
– Face the door to the sunrise when you pitch up
This will ensure you have the driest section of ground when you step out of the door and will avoid dirty feet or wet feet entering the van..
– Bring a mat/towel for the floor
When it's dewey in the morning (it sometimes cannot be avoided) lay this down in the kitchen area to avoid slipping / getting everything wet and dirty.
– Bring a Sat Nav or Map
You'll need it!
– Make sure you like the person you're going with
It gets pretty cosy sleeping in the back of the Camper!
– Bring your best dose of patience!
Whether it's the knob falling of the gear stick, the traffic piling up behind you or the inability to keep up with the BMW in front – these VW Campers are most certainly a patience test 😀
Still down for a VW Camper adventure?
YOU WON'T REGRET IT 🙂
Thank you for reading <3
If you liked this post… please SHARE it!
I can't do this without you guys <3
Love as always + happy adventuring
Mollie x