I have just got back from my second trip to Amsterdam, even though, I'll admit, I don't usually like to visit the same place twice. Why? I just feel like there are so many places in the world to explore and that I'd rather uncover somewhere new instead.
There aren't that many exceptions that sneak past this rule, but Amsterdam (alongside Australia and Bali) are most definitely a few places that do. And I'm so glad I did return to Amsterdam because I loved it EVEN more than the first time round.
Last time I experienced Amsterdam in an Airbnb as a super active tourist for 4 days, and this time I experienced Amsterdam as a backpacker in hostels for 4 days. Both experiences were amazing, but completely different from each other, proving that Amsterdam really can cater for a variety of people and interests.
One thing I did notice and love about both trips was the evident brunch culture.
The waking up, having a lazy morning, hopping on your bike for a wander along the canals and eyeing up somewhere cute on the waterfront before filling your tummy with goodness.
I can imagine that I have seriously only just scratched the surface with my Brunch discoveries in Amsterdam, however the ones I did come across were UNREAL, and all of them need to be added to your bucket list.
Here are the best places for brunch in Amsterdam…
1. Bakers and Roosters
I honestly cannot even explain how unbelievable the menu is here. It's one of those menus that excites you from the second you've set eyes on the first option. It's then a process of elimination before the waiter comes and you are forced to make a super spontaneous choice. They have everything from an extensive egg menu, milkshakes, coffees, cocktails, champagne and hangover essentials. The dishes are all inspired by the Kiwi and Brazilian guys who own this gem and the flavours and homeland dishes shine through the menu giving it a unique twist!
Must haves?
Milkshakes
Banana nut bread french toast
Matcha latte (acquired taste but I LOVE them)
Sweet (as) Corn Fritters
They have two locations in Amsterdam:
In the centre: Kadijksplein 16, 1018 AC Amsterdam
In De Pijp district: Eerste Jacob van Campenstraat 54, 1072 BH.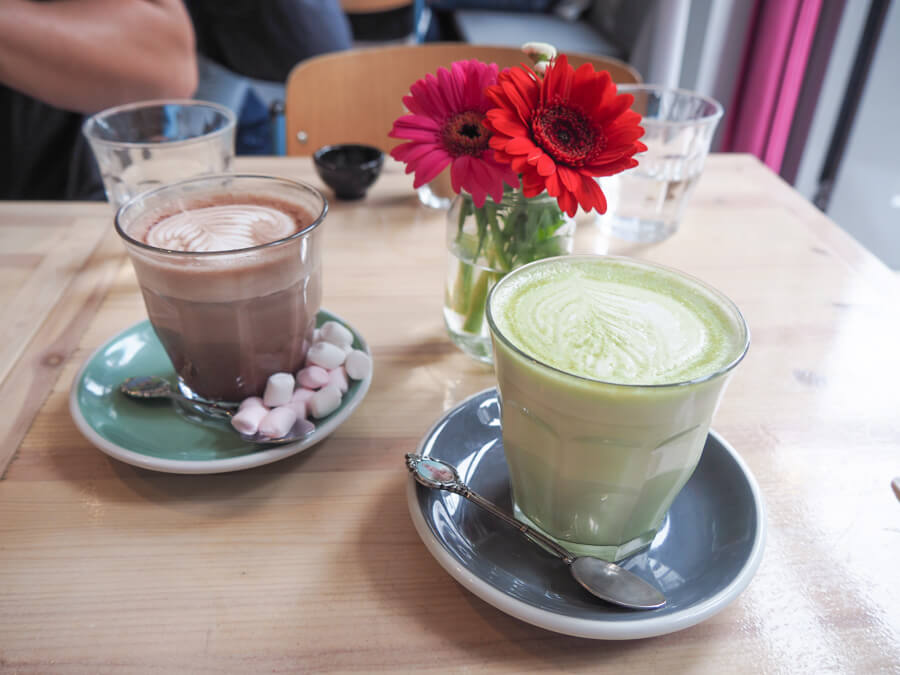 2. PLUK Amsterdam
At some point you'll probably find yourself browsing the vintage shops that 'The Nine Streets' (the famous boutique shopping district) has to offer, and this little beauty of a cafe is one of the many gorgeous eateries that line the streets.
PLUK is the kind of cafe that makes me smile from the moment I step in until the moment I leave. It is a spacious haven filled with natural light, displaying an array of travel and wanderlust inspired gifts alongside a menu of fresh and healthy food. The eating area is up on a little balcony and only has a small capacity, so if you want to sit down to dine, be prepared to wait for a table. Otherwise you can take away or just drop by and browse the kitchen, living and stationery bits.
Must haves?
The banana pancakes
The Summer Goats Cheese and Raspberry Salad
Chocolate Muffin
Find PLUK here: Reestraat 19, 1016 DM.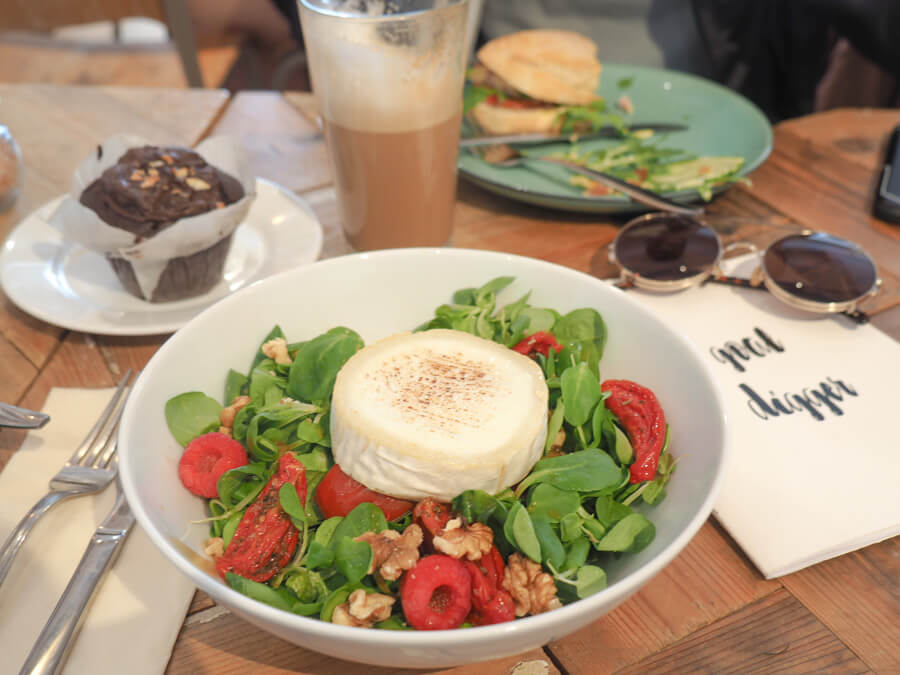 3. De FoodHallen
About a 20-minute cycle ride from the centre of Amsterdam, this indoor enclosure is the perfect place to head with your friends. Either side of the market are individual food sellers selling everything from Traditional Dutch food, to incredible burgers, sushi, falafel and waffles! Ideal when you all fancy eating something different but would still like to dine together, ideal when it's a rainy day and ideal for a bit of a social buzz! We went on a Monday morning and even then, there was a lovely atmosphere!
It's open 11am – 11.30pm every day and on a Friday and Saturday the opening hours are extended to 1am (yes, they serve alcohol and have bars in here too!).
Must haves?
The Bitterballen (as you can see in my photo below) from De BallenBar.
Find Foodhallen here: Bellamyplein 51, 1053 AT.
4. The Cold Pressed Juicery
If you're on the go and need a grab and go, the smoothies in here are the BOMB. They will cure your hangover and get the nutrients you need back in your system. They have healthy wraps, salads, breakfast pots and chocolate bars too. All the flavours but none of the guilt.
Must haves?
The Sh*t (that's the smoothie name and it is exactly that)
The raw chocolate bars
The green juices!
Where can you find The Cold Pressed Juicery? We went to Herengracht 245A, 1016 BH, but they have them all over! Just google them.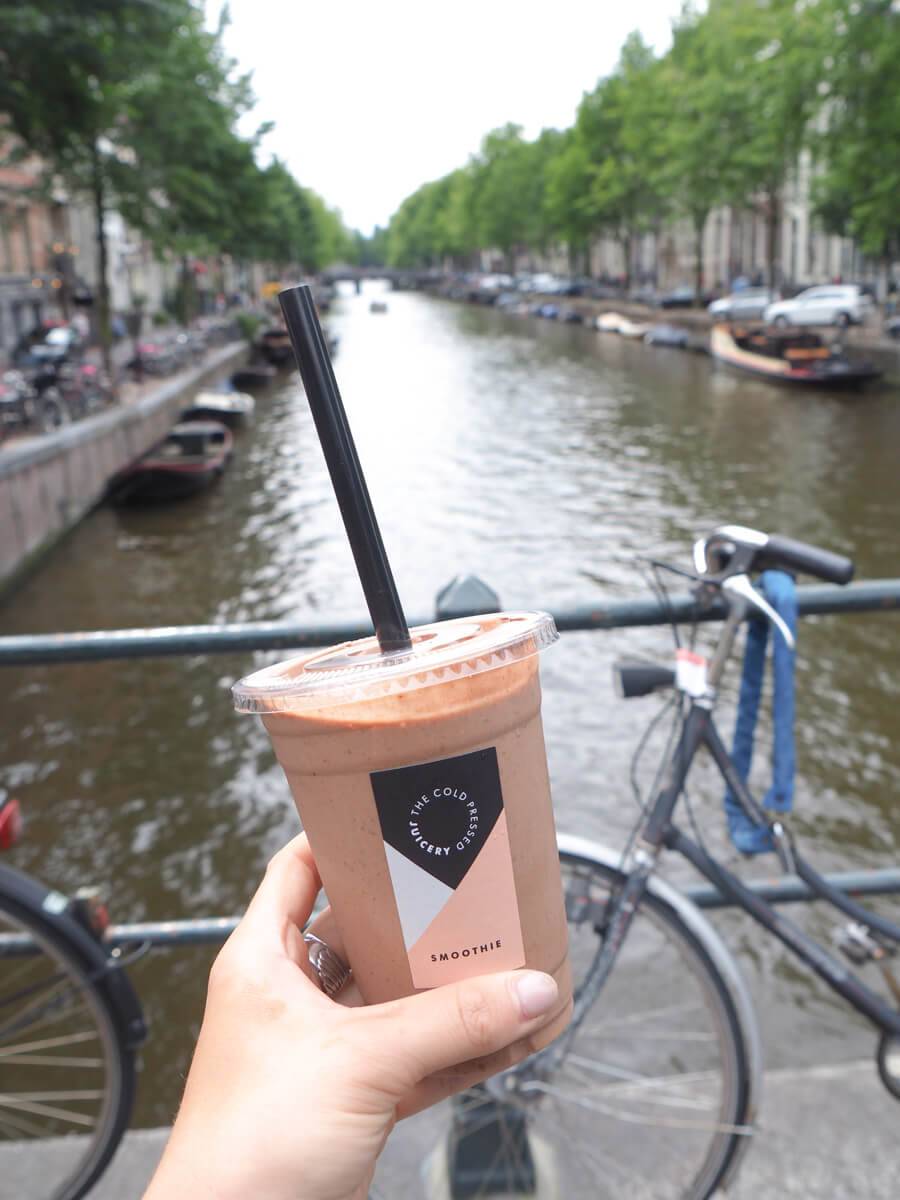 5. Pancakes! Amsterdam
Three of my favourite things (and apparently Amsterdam's favourites too because they are all over the menus here) all in one meal time… goat's cheese, pancakes and fresh mint tea!
Pancakes stands, shops and restaurants are all over the place in Amsterdam and it's a given that you have to have one if you leave. They come both sweet and savoury so you can add it into your itinerary at any time of the day!
We went for breakfast and it was simply wonderful.
Must haves?
Spinach, tomato + goat's cheese! I'd have this again, and again, and again!
Where to find Pancakes! Amsterdam: Berenstraat 38, 1016 GH.
There are also lots of brunch spots I'd like to try next time I go to Amsterdam. If you've been to any of these already, or if you go on your trip, let me know what they're like!
Brunch spots in Amsterdam you can't miss…
Zoku
Greenwoods
The Breakfast Club
Omelegg
Bakers & Roasters
Ree7
Libertine
Benji's
Stek
Brunchroom
Teds
Bar Spek
De Bakkerswinkel
The Cottage
Gartine
Bar Botanique
Betty Blue
Box Sociaal
For healthy food try…
Dignita
The Avocado Show
PLUK
The Cold Pressed Juicery
Beter & Leuk
Anne & Max
Dr Blend
Pllek
For pancakes try…
The Pancake Bakery
Madam Pancake
Mook Pancakes
Pancake!
Corner Bakery
For the best coffee try…
Drovers Dog
Little Collins
Scandinavian Embassy
CT Coffee & Coconuts
For comfort food try…
Staring at Jacob
The Breakfast Club
Omelegg
Box Sociaal
For something unusual try…
CT Coffee and Coconuts
Little Collins
G's Brunch Boat
Sea Palace
De FoodHallen
Louie Louie
The Yoghurt Barn
For something sweet try…
Bakhuys
Corner Bakery
Cottoncake
Rum Baba
Sugar & Spice
Gebroeders Niemeijer
For a boozy brunch try…
Little Collins
Staring at Jacob
Zoku
Conservatorium Brasserie
5&33 at art'otel Amsterdam
Bar Botanique
Box Sociaal
Have you been to Amsterdam?
Where did you go for brunch in Amsterdam? I'd love to know!
Love as always and happy adventuring,
Did you find this post helpful? I'd love you to share it for me.
I can't do this without you.
Pin and save this blog post for later…