A couple of weekends ago now I headed out to Menorca, the second Balaeric Island of my explorations after falling in love with the nearby island of Mallorca last year.
Menorca is the eastern most island of the archipelago that sits just east off the Spanish mainland.
It is the smallest of the four 'Balaeres' with Ibiza next in size and Mallorca the king.
Menorca is often overshadowed by the latter two islands well-known for their party hospitality, but, I've come to realise, Menorca stands firmly on its own two feet.
Here in Menorca you can expect a less saturated experience of tourism and can uncover the crystal clear waters and quaint villages in the company of just a few others. It's magic.
I spent 4 days on the island in mid May 2017 whilst attending a conference and whilst I only really got a taste of what there is to see in Menorca, it was a freakin' delicious taste. The few days I had here reminded me yet again that you don't need to travel far (from Europe) to get hold of those clear blues and insta-worty snaps.
For the duration of my stay in Menorca I stayed at Port Blue S'Algar, a quiet adult-only resort on the sea front with a lush outdoor pool and restaurant (that also serves great fresh mojitos). Check it out from above…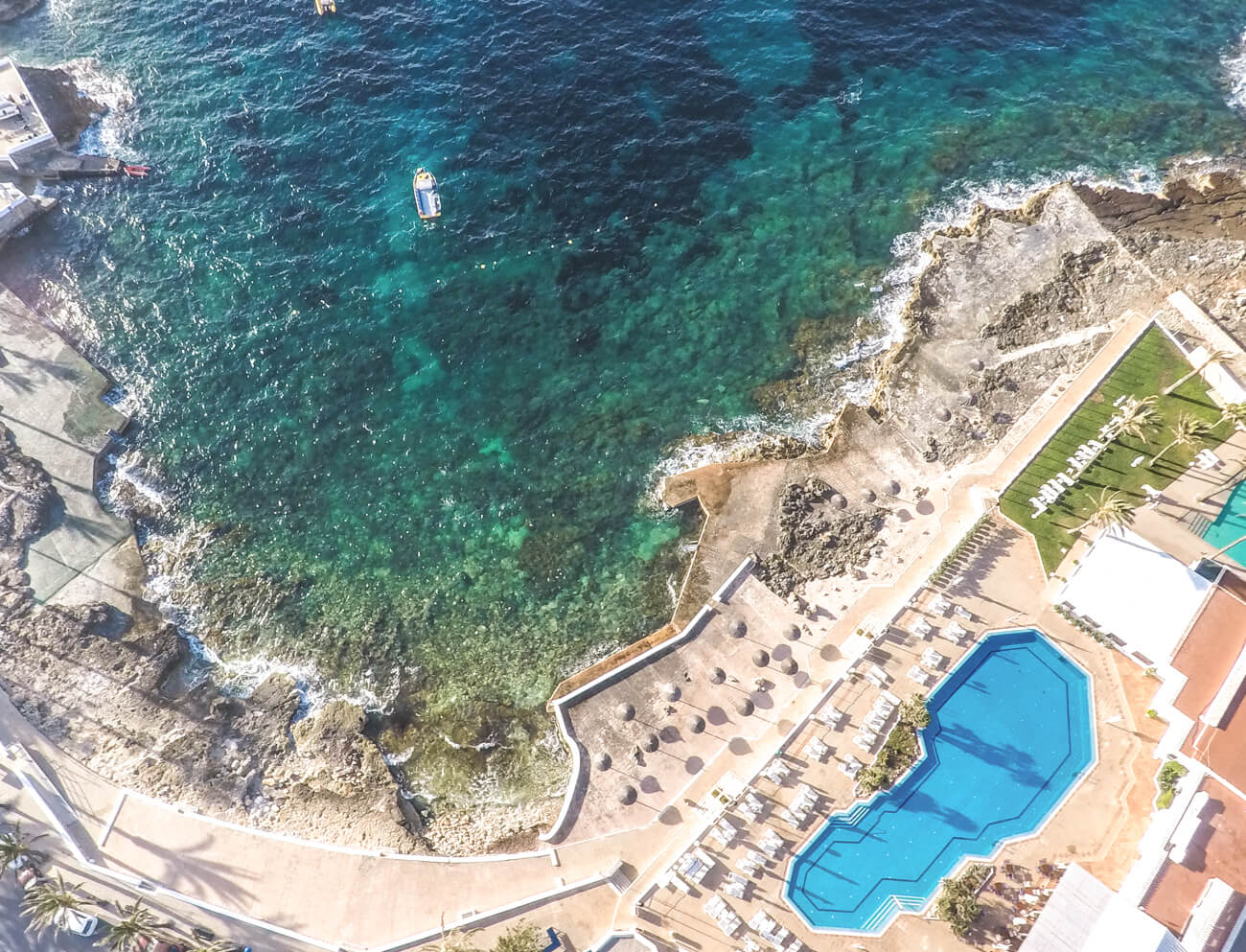 The hotel is in a quiet and pretty relaxed location on the south east coast of Menorca with the capital, Mahon, sitting just around the corner. Port S'Algar is just a 15-minute ride from the Airport making the journey from the UK a breeze and with no dreaded transfer time upon arrival in Menorca.
I split my time on the island between the capital Mahon, where the conference was, and the hotel. On the last day though, I opted for car hire and went to explore the other popular island hub of Ciutadella.
I fully fell for the charm of this cobbled town. My jaw dropped with every pastel coloured house, set of white shutters and gelato shop that I passed.
It's clear to see why Ciutadella is loved by so many.
On our way back to the hotel we stopped off for dinner at Can Bernat des Grau. If you're heading to the island, take note! Here we filled our tummies on the most outrageous spread of spanish delicacies. (You'd be missing a trick if you didn't order the beef cheek).
Another definite for your Menorcan bucket list is Cova d'en Xoroi.
Whilst my exploration of the island was unfortunately limited to the above, I am super keen to get back and explore more of Menorca so I'd love to hear your recommendations and favourite hang outs for next time. In the mean time…
Here's my Menorca bucket list:
Rent kayaks and explore the hidden coves
Have dinner on the floating terrace at restaurant Minerva in Mahon
Visit the Xoriguer Gin Distillery and try Menorcan gin (and yes, they even have chocolate gin!)
Watch the sunset with a cocktail in Cova d'En Xoroi, a cave bar.
Get back to nature at Menorca's Biosphere Reserve and hike around S'Albufera d'es Grau.
Try Caldereta – Menorca's famous lobster stew.
Try Mahon cheese.
Watch the sun go down at Punta Nati Lighthouse
For a less touristy sunset, try Cala Morell
Experience the mud baths at La Vall.
Take a trip to Binibequer in the south east of the island to escape the crowds and enjoy some peace and quiet.
Go for lunch inside the 300 year-old windmill, Moli d'es Raco, in Es Mercadal
Visit the islet of Lazereto
Hike to Monte Toro (Bull Mountain), Menorca's highest point, and take in the view.
Compare beaches on the north and south of the island to see which you like best. South beaches worth visiting: Macarella, Platges de Son Saura, Cala en Turqueta, Cala Mitjana. North beaches worth visiting: Cala Pregonda, Cap de Cavalleria.
Take on the hiking challenge of Cami de Cavalls, which takes you around the whole island.
Or, on a lazier day, hire a boat to go around the whole island!
Try the best seafood at Cafe Balear.
Go on a horse-riding excursion.
Combine your beach trip to Playa de la Tortuga or Cala Presili with a trip to the picturesque Favàritx Lighthouse
Experience the mud beach at Playa de Cavalleria and get some nutrients into your skin!
Go snorkelling with a sea-scooter. Find out more here.
Have you been to Menorca?
What were your favourite spots? I'd love to know!
Love as always + happy adventuring,
Did you find this post helpful? I'd love you to share it for me.
I can't do this without you.
Pin and save this blog post for later…