I spend a considerable amount of my time in airports, on planes and uncovering the hottest locations across the globe so when I'm home – I'm so down to just relax. In the past couple of years I've not prioritised any adventure in London really. Home time has been work time and this led to me associating fun with everywhere in the world, but my home town.
Then earlier this year, everything came to a complete head. You may remember from this blog post I shared.
In short, I didn't feel like I had a home but a home was all I was seeking.
I figured that home actually is the place and the people in which you invest the most time in.
And so, knowing that London is the perfect place for me and my career to be right now, I decided to give London a chance to be exactly that.
I have spent the last few months investing my time in London and making time for fun and adventure in between all of the work, meetings and deadlines I complete here. It feels amazing and so do I.
One of the things I set out to do this summer and beyond was to discover London and all the iconic landmarks and buildings we have here as a tourist.
I want to discover the beauty (and there's a lot of it) right on my doorstep.
I wanted to have more tourist days.
So, I called upon my favourite adventure bunny and best friend Lydia and together we jumped in our favourite adventure mobile, the Mazda MX-5 RF, to do exactly that…
Our open top car London route in order of landmark / location:
My Fulham apartment
Brompton
National History Museum
Harrods / Knightsbridge
Hyde Park Corner
Buckingham Palace
Trafalgar Square
Piccadilly Circus
Westminster and Big Ben
Southbank / London Eye
Waterloo
South of river through Battersea and across Chelsea bridge.
Other ideas for your London road trip:
picnic in Hyde Park
park up and go on the London Eye
rent some Boris Bikes and cycle through Battersea Park
drive across Tower Bridge
drive through Oxford Circus and past Selfridges (this would be great for the christmas lights!)
WATCH OUR OPEN TOP CAR ADVENTURE IN LONDON COME TO LIFE HERE…
Have you been on a London road trip?
What were your favourite spots? I'd love to know!
Love as always + happy adventuring,
Did you find this post helpful? I'd love you to share it for me.
I can't do this without you.
Pin and save this blog post for later…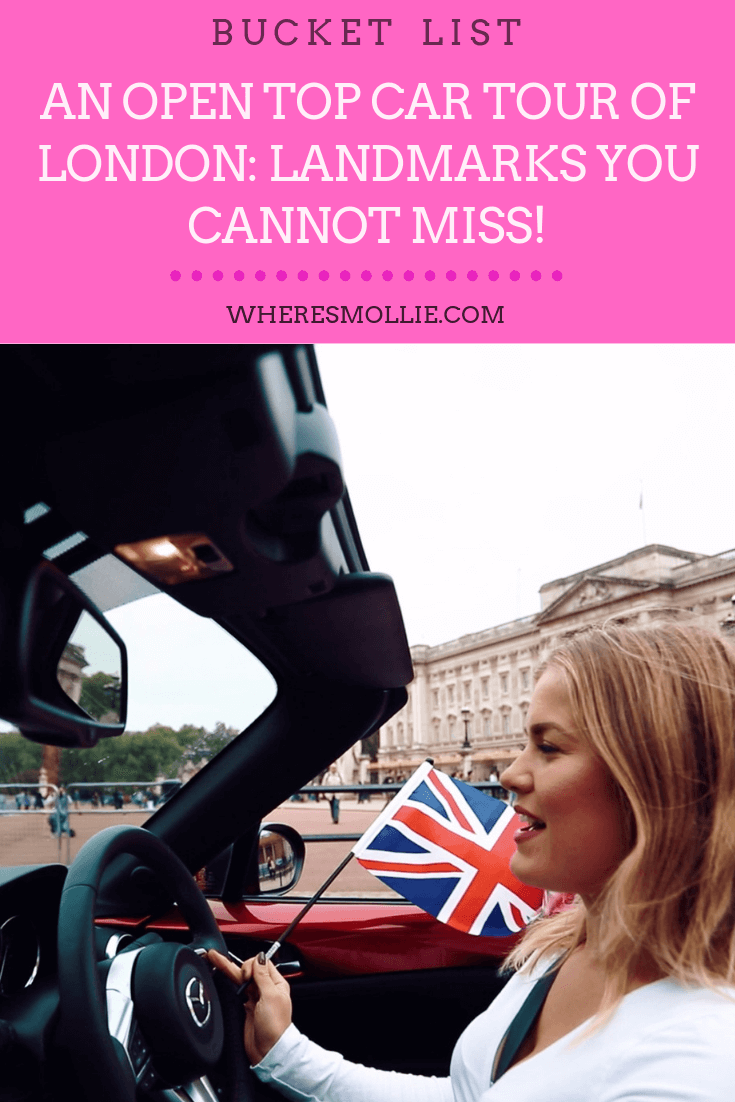 See the countryside adventure we took the Mazda MX-5 RF on here…
See my 'How to plan the perfect winter weekend in the English Countryside' blog post here.