After rising at 6.30am in my London home and driving two hours to Dover for an 8.45am check in at the ferry port, we drove on to the P&O ferry that was to deliver us to the French shore.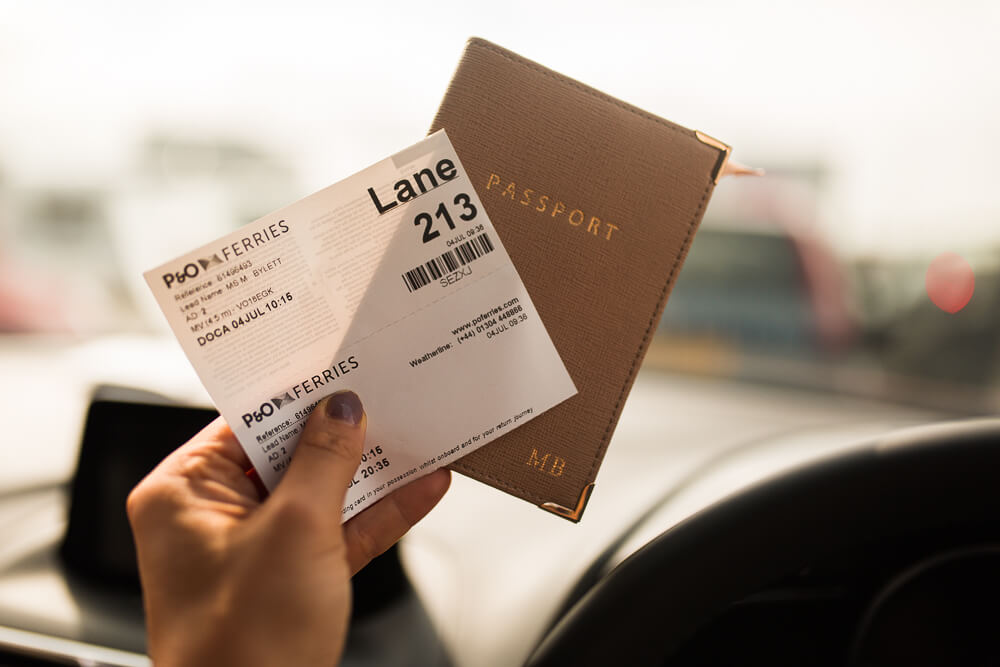 The ferry took about an hour and a half, in which time we had a cup of tea and our packed breakfasts from home. The ferry does serve food and drink but it's very much school canteen style dining.
When embarking the ferry we were actually given these European driving requirement cards that advised of of what's needed to meet the laws at which point we realised we didn't quite have everything on the list.
Conveniently the ferry shop had the extra GB plate and head light reflectors that we needed and so we paid over £11.99 and made our car legal for Europe.
Arriving in Calais was easy. We drove straight off of the ferry and exited onto one main road (A26) that pretty much ran the whole way down to Reims before changing to the A4 the A31 and the E23 to Belfort – our first destination of the road trip.
Budgeting tip: We passed through 2/3 toll roads on the way which added up to about €35. We also did our first petrol fill up here which was £52.66 / 60 euros.
So, Belfort. Why Belfort?
You guys know how insanely in love I am with both my Ultimate Ears speakers and with attending festivals. Something I may not have emphasised much in the past is how in love with Macklemore I am too.
You either get it or you don't but I GET IT. I have the biggest ever smile beaming from ear to ear whenever I listen to his music, watch his Instagram stories or watch him live (I saw his at Reading Festival a few years ago).
The passion bursts out of him from angles I didn't even know possible and it's infectious. He goes above and beyond when performing, there's not egotistical remarks or actions associated with his presence and he ensures everyone in that audience has a bloody good time.
If only he wasn't married.
So anyway sorry, tangent. Lyds and I were invited to begin our road trip with a day at Eurokeenness festival here in Belfort where Macklemore was set to perform…
To sandwich the day in our dancing shoes we checked in for two nights at Hotel Au Clair Bois just outside of Belfort. Our decision to come was quite last minute so there are definitely options closer and in the town itself but far and few between once we'd got around to booking.
Regardless, Hotel Au Clair Bois was only a 10 minute drive and our B&B was perfect – I'd definitely stay again.
We booked our double room on booking.com in a big family home that has 2/3 guest rooms total within it. It's a unique and cosy choice where you are really made to feel like it's home. We got to choose our breakfast time and each morning our breakfast of french cheeses, jams, yoghurts croissants and pain au chocolate were waiting alongside a pot of hot coffee and a selection of herbal teas.
There's something so magical about waking up in a new country and having a spread of yummy local foods to enjoy with a swig of hot tea. It's warms me from the inside.
We enjoyed our breakfasts in an extremely lounged manor overlooking the big green gardens and pool both mornings.
Les Eurockéennes was awesome, it was super cool to experience a popular French festival that wasn't overwhelmed with international guests. We actually didn't meet anyone else from England and we had some hilarious conversations with the French due to the language barrier. Get your best charades moves out if you head here and have French skills as poor as we do.
If you don't want stand out like a sore thumb, you should probably not wear matching red caps and tie your bin bag DIY raincoats together – both of which we did with confidence.
The heavens completely and utterly opened from about 10pm but there was no way we were leaving before Macklemore's 1am set so we embraced the rain and danced in it.
Macklemore was worth every second of the rain we waded through and collected in our shoes.
Top Tips For Les Eurockéennes:
– They do the cup return policy where you can get a euro for every cup you return
– The queue to get to the parking at Aerodrome of Chaux from the town took us around an hour. From there you get a free shuttle to the festival which takes around 10 minutes. There are huge queues for both, they move quickly but if there's a particular act you want to see, make sure you leave WELL more than enough time.
After jumping in the shower at 4am to wash off our coating of mud from the festival, our heads hit the pillow and we woke at 11am for the next leg of our journey.
It was time to head south to the Swiss part of our road trip.
Prior to this road trip I'd flown a handful of times into Geneva to access the French alps but never explored it. I'd spent a couple of days in Zurich but never explored the Swiss alps.
I had no idea what to expect and I never expected what I was about to witness…
Have You Been To Belfort?
What were your favourite spots? I'd love to know!?
Love as always + happy adventuring,
Did you find this post helpful? I'd love you to share it for me.
I can't do this without you.
Pin and save this blog post for later…