It's literally the craziest feeling when these WMGT adventures actually come around.
I spend months prior to them, day in day out, brainstorming, planning, dreaming and hustling to bring the event ideas to life. For my own sanity, I now have the wonderful assistance of Monika behind the scenes, but still the planning stage is crazy and accommodating for 70 guests like I did on this one is challenging!
But every single time the atmosphere and the bonds formed at these events blows my mind and adventure #6 this last weekend in Shropshire was no different.
See the photos and itineraries from the 5 WMGT adventures prior, here.
When it comes to the English winter, it's pretty bleak. We get daylight between the hours of 9 – 3.30pm, there's not a huge deal of sunshine to play with and the waters are way to cold to even dip your toe in.
One thing we do do well though, better than anywhere else in the world may I add, is Christmas.
And so with that in mind, I set out to find a big cosy home for us to reside in for a weekend of festivities, festivities and more festivities. One glance at YHA Wilderhope Manor, a stunning Grade I listed Elizabethan manor in the heart of the Shropshire countryside, and I was sold…
So on Friday 30th December, 70 of us arrived from the WMGT family (join us on Facebook!) arrived to adventure #6 to enjoy all the countryside air, mince pies, mulled wine, hot chocolate and christmas jumpers we could dream of. Oh and don't forget the Christmas tunes, I made sure we weren't short of those.
I arrived at the WMGT Christmas event solo. I was really nervous at the idea of walking into a room with 70 strangers and not knowing what to do/say. But I can honestly say that from the second I walked through the doors of that incredible Manor House, I felt completely welcomed by every single person there. Everyone immediately wanted to get to know each other and we all chatted as though we were old friends catching up. I felt at home straight away.
Oh the magic that happens when we come together and put our phones away for a while.
WMGT Shropshire (The Christmas Getaway)
Here's what happened…
The credits for photography in this blog post go to Lydia Collins Photography.
We started off with baking some fresh gingerbread and filling the entire property with the smell of Christmas as the guests arrived over the course of the evening…
By 8pm most of the guests had arrived and we tucked into our first group dinner together in the main dining hall (a bit like something from Harry Potter)…
Post Friday dinner, the WMGT squad was complete and I gave an official welcome to everybody. The log fire smoke got in my eyes and I definitely 'cried' my way through the always awkward register LOL, but once that was out of the way we got down to decorating the Christmas trees, devouring the gingerbread we had made and guests were left to mingle.
The friendships began…
I have never been anywhere where I've met more likeminded people than WMGT. The whole experience from start to finish is amazing and Mollie always makes sure you're having the best time possible! I truly have made friends for life and we're already planning our next trip! If you want to see the world and go on an adventure, book onto a WMGT Trip, you definitely won't regret it!
DAY 2
We woke at 7.30am and rolled down for breakfast at our Manor House.
By 8.30am, the 70 strong group of WMGT'ers was split into two and the first group headed to The Edge Activity Centre to begin their 3 activities (they were then split into 3 further groups).
Whilst group 1 took on the outdoor activity, group 2 walked into the local village where their annual Christmas Fayre was taking place. Think a gorgeous little country high street filled with mulled wine, hog roasts, christmas stalls, morris dancers, street performers, crepe vans and christmas carols.
By 1pm the groups switched round giving everyone a chance to try everything.
The activities I chose were:
Segways
Nightline (everyone is blindfolded and you have to make your way around an obstacle course together, identifying items for points as you go)
Archery
I had never done this before. I didn't know anyone before going, but what an amazing experience it was. Mollie covered every base. The adventure gave me the buzz of travelling that I had missed. You make so many friends and the activities are all designed to help people get to know each other. I can't wait for the next one.
At 4.30pm the full WMGT squad headed into the local village (which is Much Wenlock by the way) for the Christmas procession and carol singing.
The entire village was in the square and the atmosphere of the singing between the christmas trees and twinkly lights was more than enough to keep us warm as we sung an array of Christmas songs and carols with the live choir.
Oh it wouldn't be Christmas without a Christmas film would it?
Upon arrival back to our Manor House we all freshened up, tucked into dinner together, cosied up in our Christmas pyjamas and headed down to 'the snug' with all our blankets and pillows ready to watch Elf on the projector screen.
Of course, all the mulled wine, hot chocolates, sweets and popcorn were provided…
A weekend full of some hilarious moments, lots of festive cheer and plenty of incredible outdoor activities! Thoroughly well organised! If you're thinking of going on a future WMGT adventure….DO IT! Don't even question it! I'll certainly be going on another one!
DAY 3
Our third and final day together began with another 7.30am start and 8.30am departure to drive 15 minutes over to Carding Mill Valley.
We walked together for about 2 hours past the Lightspout Waterfall and beyond, making a loop back to the National Trust car park (Carding Mill Valley, Church Stretton, Shropshire SY6 6JG).
Fresh air and a brisk morning walk… The only way to prepare for a big Christmas lunch.
Dear guests…
You must bring Christmas jumpers.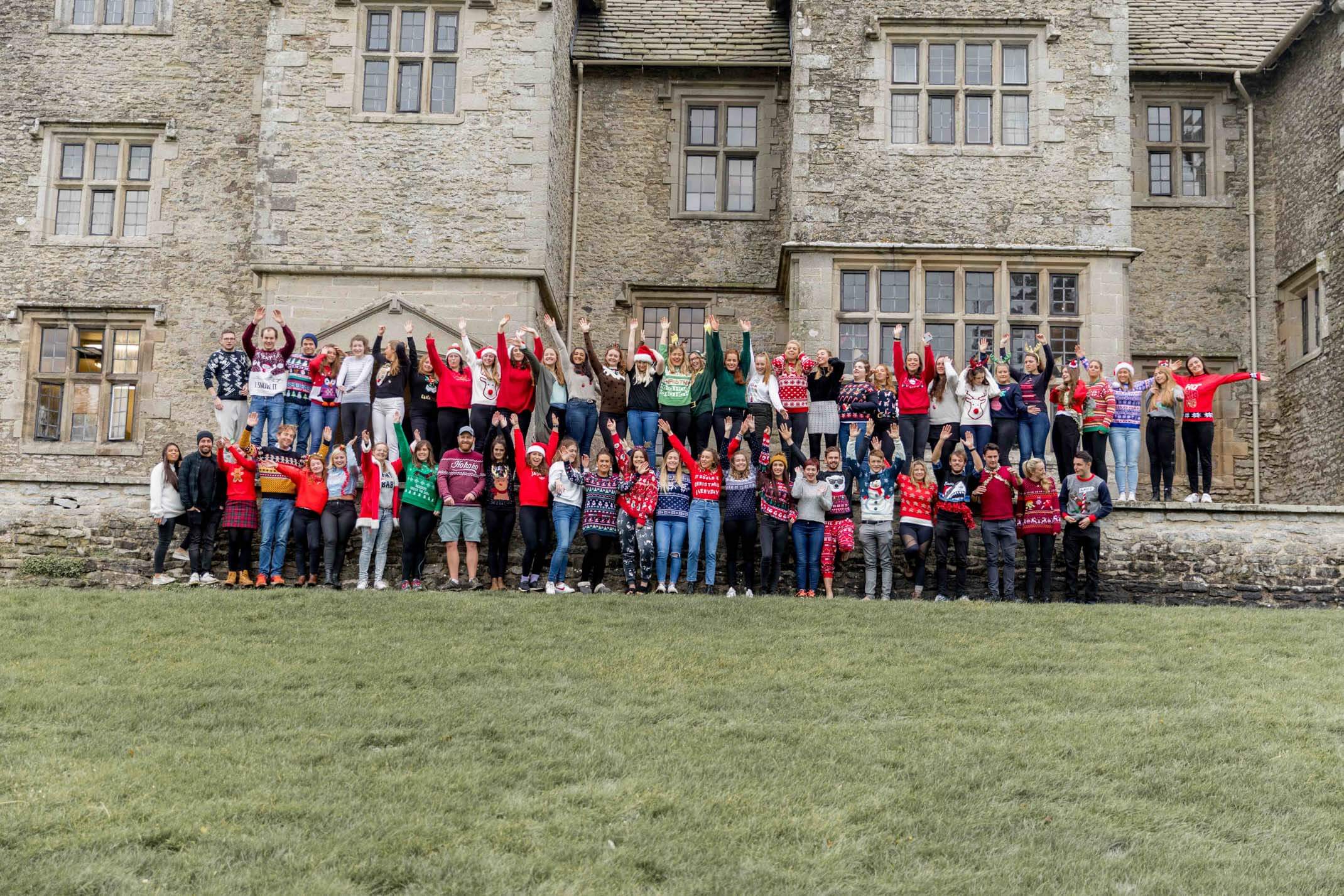 By 3pm our tummies were full with Christmas dinner, our hearts full with Christmas joy and it was time to start saying our goodbyes…
Yet again, the weekend had felt like it has run away in a flash and we were already reminiscing, wishing we could have extended the itinerary another few days to enjoy some more festive magic.
I've said it before but i'll say it again… The love and support you guys show each other is just beyond me.
There is no such thing as solo travel once you've stepped into these events and together, we are so so strong.
If you were here at this event, thank you so much for being part of what was an incredibly magical bunch of humans.
WMGT fam, I am so excited to see where we go from here.
Stay tuned, 2019 adventures are being brainstormed this week.
The biggest thing I've come away from this experience with is the confidence to go travelling on my own. It's always something I've wanted to do but I've been frightened that I'd never actually do it because I'd be too nervous to go alone. However this weekend has given me the courage to start planning my solo adventure, and go after my dreams on my own. Because it doesn't matter where I go, I know I'll make new friends along the way. Thank you for giving me this confidence Mollie. I couldn't have asked for anything more.
Have you been to a WMGT event before?
What were your thoughts? I'd love to know!
Love as always + happy adventuring,
Did you find this post helpful? I'd love you to share it for me.
I can't do this without you.
Pin and save this blog post for later…