As we walked to dinner last night, our last night on board Celebrity Edge, I honestly thought i'd seen it all. But best believe it, this is officially the ship that keeps on giving.
We'd had our routined Elderflower martini in the martini bar with a side of live saxophone to warm us up and, in search of a good place to watch the sun set gloriously beyond the horizon, we wandered t'ward the back of the boat.
It was a little windy on top deck and so the sunset bar and sky garden on deck 15 were quickly (but sadly) ruled out, more on those later. Knowing we had a dinner reservation on deck 5 shortly after sunset we figured we'd head down and find somewhere close. As we stepped out of the elevator we were met with a dark entrance – the enclosed walkway to the back of the boat on deck 5. As if Celebrity Edge had anything else to prove, this walkway, enclosed and filled with all the black glittered tiles, mirrors and golden tree like structures, was like stepping into another dimension.
*que boomerang*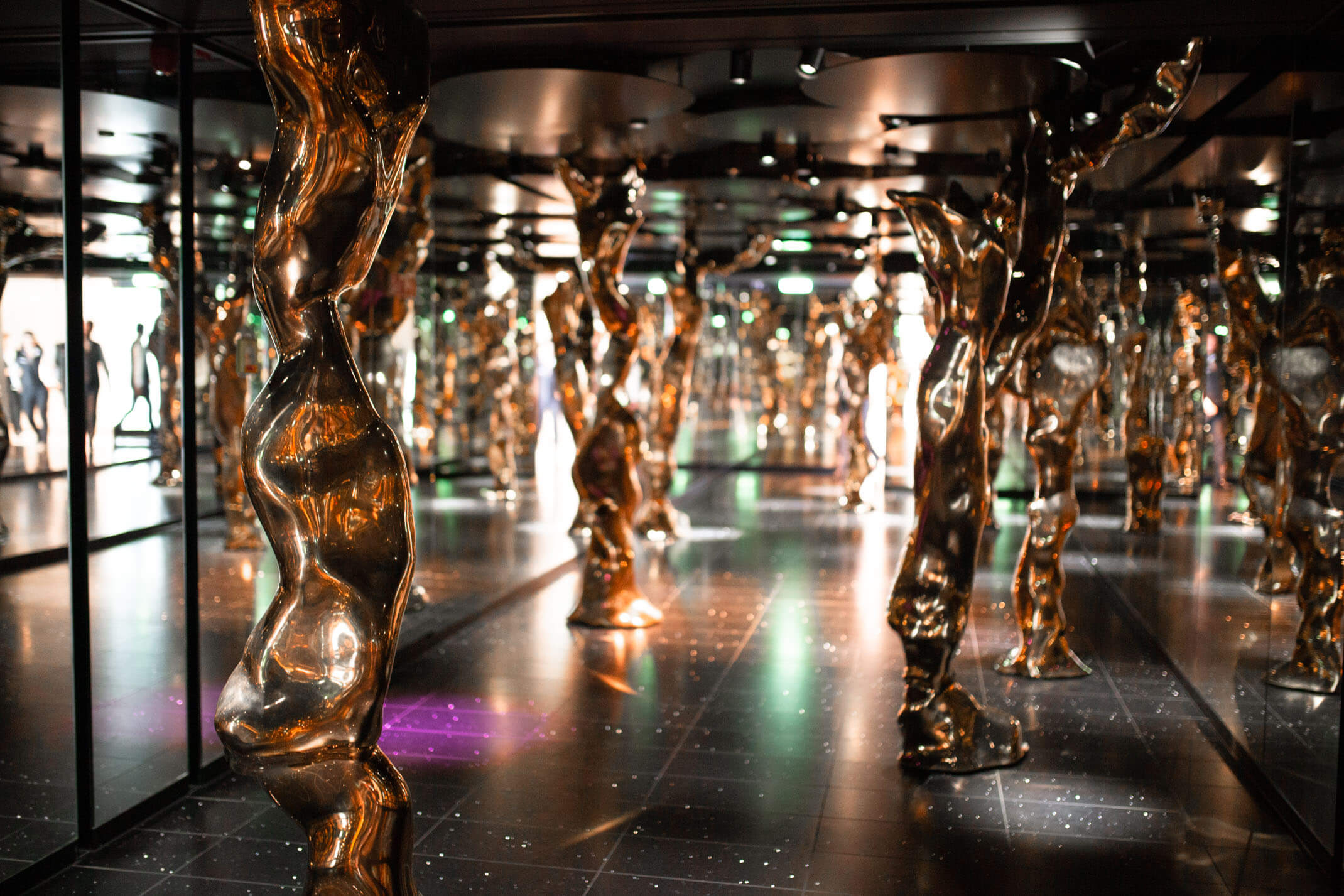 With childlike grins on our faces we skipped and swirled through the walkway and exited to find our restaurant for the evening BLUE, and the entrance to EDEN – the ships' three deck combined botanical bar, theatre and restaurant.
We'd heard about EDEN but had been so preoccupied with everything else on this maze of a ship, we'd not yet been down. We brushed against the countless palms, botanicals and leaves that line the design of EDEN as we made our way to the bar, ordered some botanical-gin-olive oil-pea infused cocktail and walked up the raised platform hugging the very back of the ship to overlook the bar and the sunset. All whilst dancers performed between the tables with a gentle but wild, forest-child like grace.
Honestly. Everywhere I looked on this ship, I was shaking my head with disbelief in the evident attention to every kind of detail.
Oh and did I mention, this bar turned into a silent disco after dark.
My Grandma and I had to test it out, of course.
Introducing Celebrity Edge…
Without a doubt, this is the ship thats cruising straight to the top and redefining luxury travel at sea. On Monday, I got the chance to jump on board and experience the magic for 48-hours to celebrate the arrival of the ship in Europe for it's maiden season as part of a media launch.
I've never seen anything like it.
Finished in November 2018, Celebrity Edge was largely designed by the powerhouse that is Kelly Hoppen MBE and has a capacity for 3,908 guests, Celebrity Edge boasts the most innovative features and wonderfully blends luxury, quality and a playful personality all into one.
Celebrity Edge would certainly be a choice for those with a taste for finer environments. The advanced technology weaved into the design makes this ship stand tall above any other i've been on. I mean, for example: you can control the temperature and lighting mood of your cabin on a touch screen pad in your room or via the app. Most doors are automatic on the ship and bathrooms (both private and communal) come equipped with sensored taps, soap and hand towels. Whilst washing your hands there's even projectors that display a moving floral sequence into the basins.
I'm serious.
*This post is sponsored by Celebrity Cruises but of course, every photo and opinion is 100% my own.
What makes Celebrity Edge SO great?
1. The contemporary design
To name just a few features…
The tulip style hot tubs on top deck
The sky garden lounge and cocktail area on top deck
The huge glass windows
The immaculate and v. stylish toilets
The magic carpet (floating bar / restaurant)
2. There's a spin studio and they hold meditation classes on board!
If you're into wellness and you don't intend for your holiday to be purely lie in's and sun loungers, Celebrity Edge has revolutionised the wellness experience on this ship. There's a full timetable of classes available for you to reserve on the app or in the fitness centre including: meditation, barre, spin, boxing TRX.
3. The spa is better than any 5* spa i've been in…
There are infused steam rooms, waterfall therapy, a crystalarium (energy healing) room, hammam, hanging relax pods, sauna and the latest technology in all the spa rooms. There are water beds, teeth whitening services, acupuncture, a surgeon, a Kerastase salon and a nail bar. Whatever you're thinking, they've got it covered.
4. You can sit amongst the foliage and sculptures in the Sky Garden with a cocktail and live music…
I mean, that's if you have nothing better to do…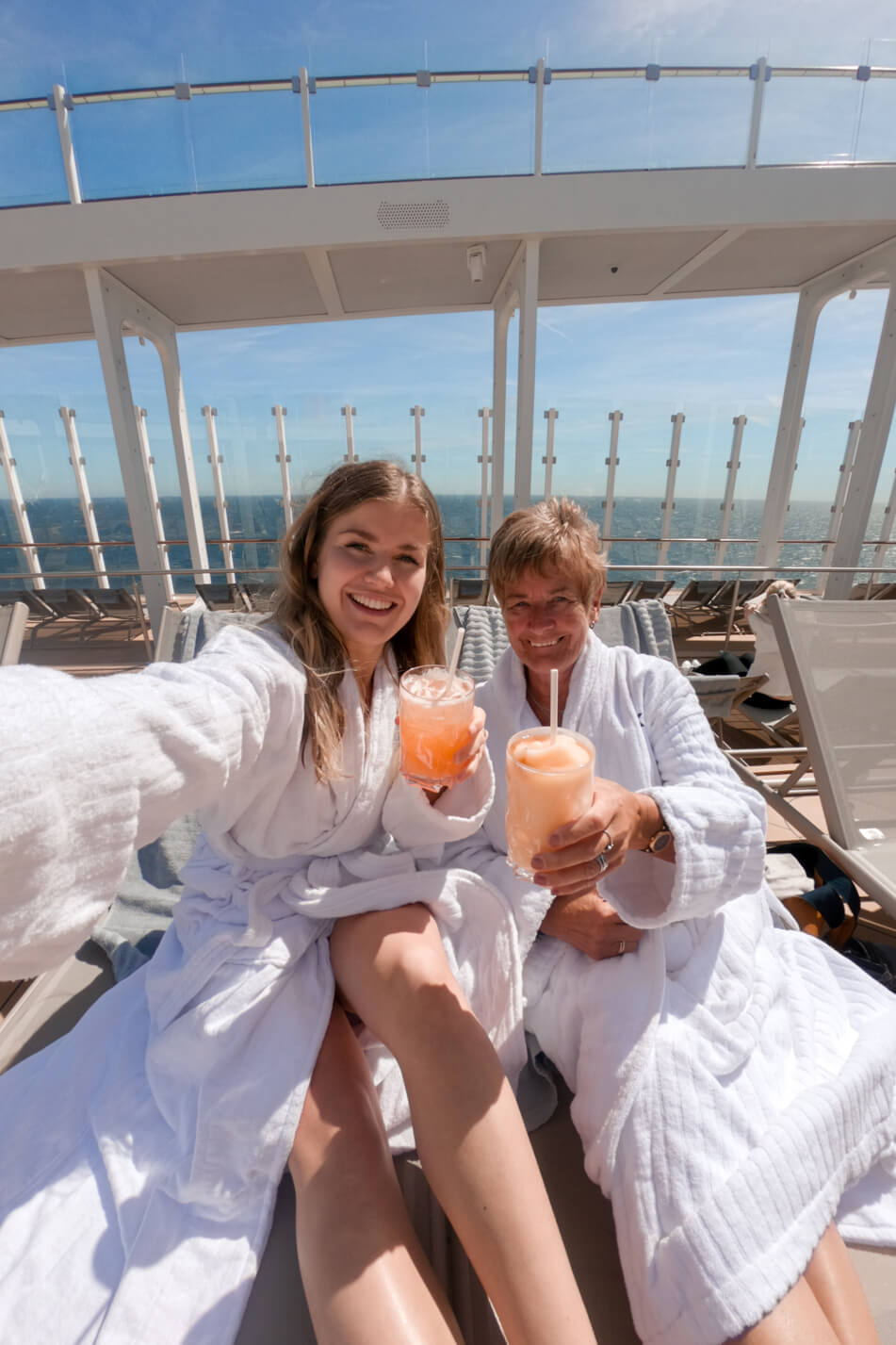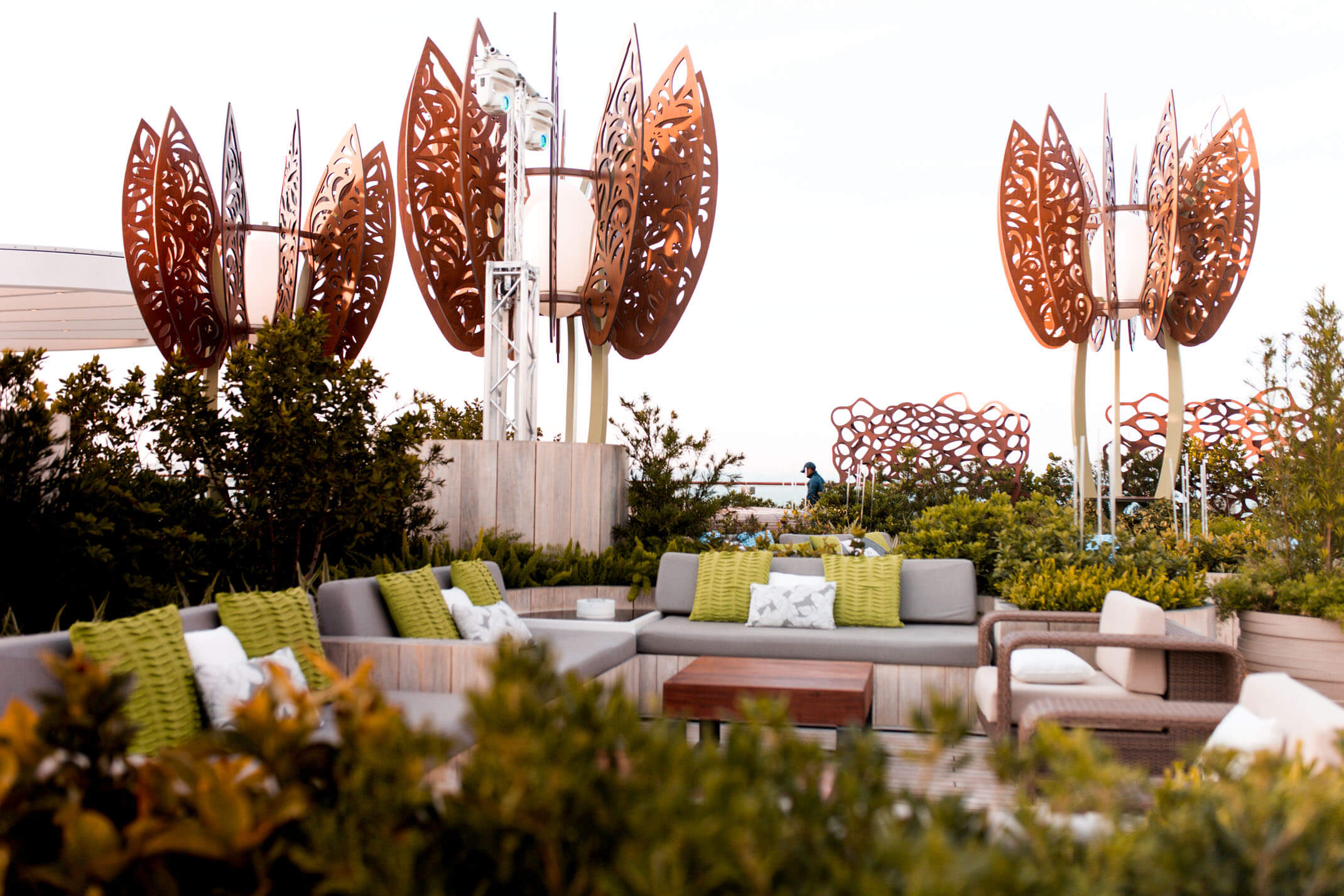 6. The buffet standard.
As fresh and as large as they come. Fresh croissants being rolled and baked by morning, a chocolate fondue to follow your lunch and freshly baked scones for afternoon tea. Just a ridiculous amount of choice and all the cuisines you'd crave: Indian, American, English, Mediterranean. Not full? There's a grill on the sundeck, there's an ice cream build counter and then there's the speciality restaurants.
I hate to think of the waste that could come from a buffet this size but they have nailed high quality food for the thousands and if my appetite was anything to go by…
7. Celebrity Edge is ready for generation almond milk, raw date and almond bars and fresh ginger juices.
I was so happy to find the solarium cafe (by the spa) where you can grab freshly squeeze kale, ginger, carrot and chia juice / smoothie combinations! They also have lots of little healthy, light dishes and treats that will make your millennial taste buds tingle. Oh and they have both soy and almond milk for coffee on board. Happy days.
8. The app answers all your questions and opens your room door for you!
The Celebrity Cruises app functionality and ease of use seriously stood out to me. There's a full schedule of entertainment and events so that you don't miss any fun, there's an interactive ship layout so you don't get lost, there's a page to tell you whats open if you're 'hungry now' and there's a low down on everything from the shops on board, the weather and your account balance. Oh and did I mention you can control the temperature of your room and open your cabin door via the app.
9. There's 4 different shower options – just incase you want to switch the waterfall for the below-shoulder jets or the pour out.
We were in the stateroom with a balcony so, by all means, not the most luxurious room the boat offers but you'd think it was with this shower (amongst other features). All the options for your refresh, all the lavender and peppermint lotions and potions and space too. So much space in the bathrooms.
10. There's mood lighting for the room.
Set the tone for your room when you wake up / when you're watching a movie / when you're winding down. Via a button on the touch pad, the mood is instant and gives you all the feels.
11. There are so many tiny and wonderful touches in the cabins…
The lavender and peppermint lotions and potions (beaut shampoos and conditioner included)
Super subtle lighting during the night that illuminates the path to the toilet
A full balcony but with an electric window (top half) that leaves exposure to fresh air optional
Separators in the drawers for his'n'hers belongings to go side by side (no fighting over which drawers are whos)
Spa robes
12. All the live music you could dream of.
Where there's cocktails to enjoy, there's live music too. From saxophonists in the sky garden and acoustic singers by the pool to live jazz music and awesome bands in the martini bar, the atmosphere is alive. You'll be getting your glad rags on and into the communal areas of the ship the moment the sun slips from sight.
13. A theatre that's better than half the West End set ups.
I actually only popped in to see the set up and just like the rest of Celebrity Edge, it seems no expense was spared. Revolving stages, live orchestra, extensively detailed costumes and flying performers. The seats were of course very comfy, the capacity was impressive and the performers… wow.
I know it seems like i'm saying wow to everything but seriously. Wow.
14. An indoor pool and spa!
For the days the weather turns wet or windy and lounging on deck is a little ambitious, Celebrity Edge hosts a stunning indoor solarium with a dome shaped roof allowing all the sunlight to come through but with shelter. There's a jacuzzi, pool and the spa just behind incase you fancy dipping out for a massage.
15. EDEN – the botanical bar and sunset spot come silent disco!
A silent disco, on a ship, looking out over the ocean.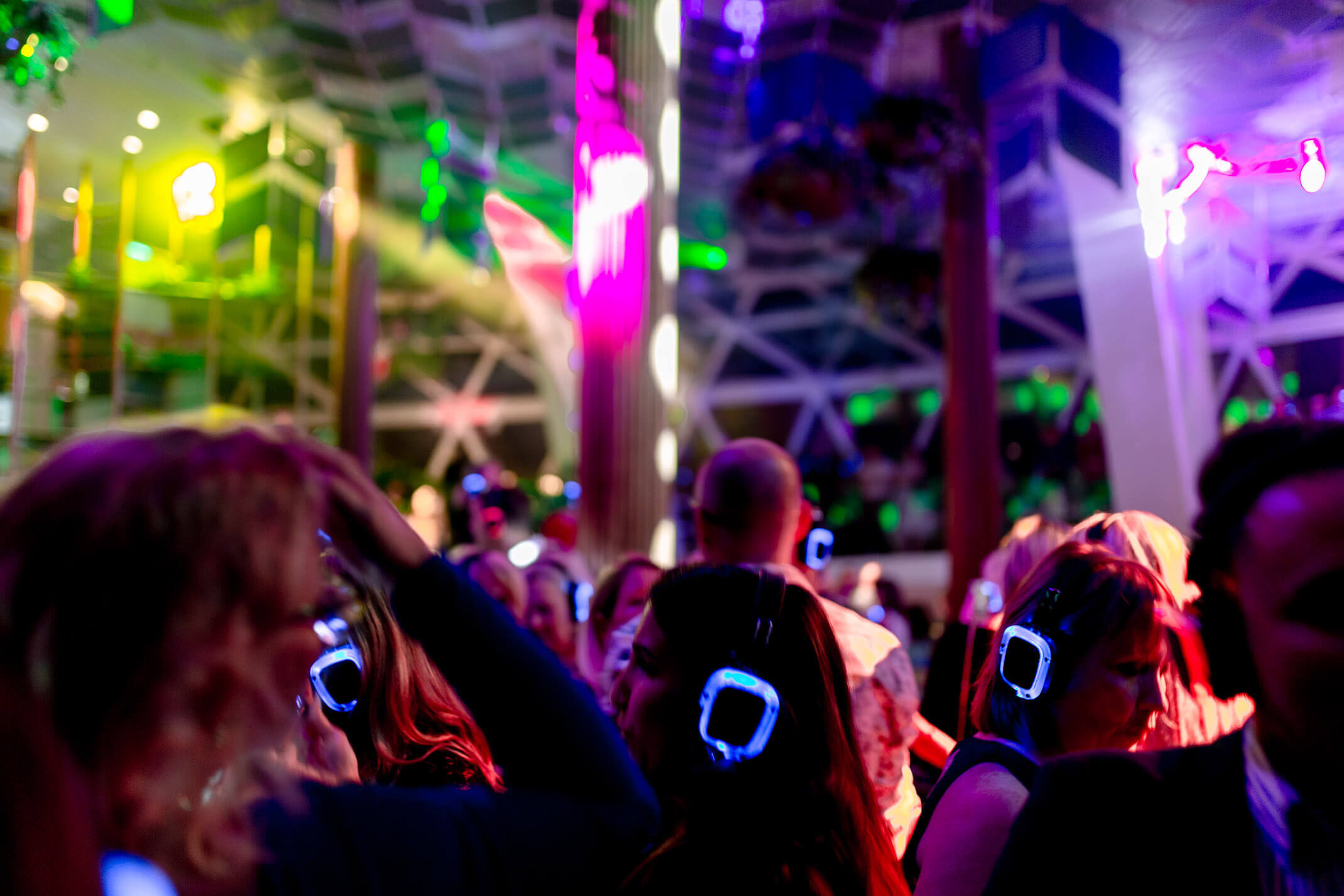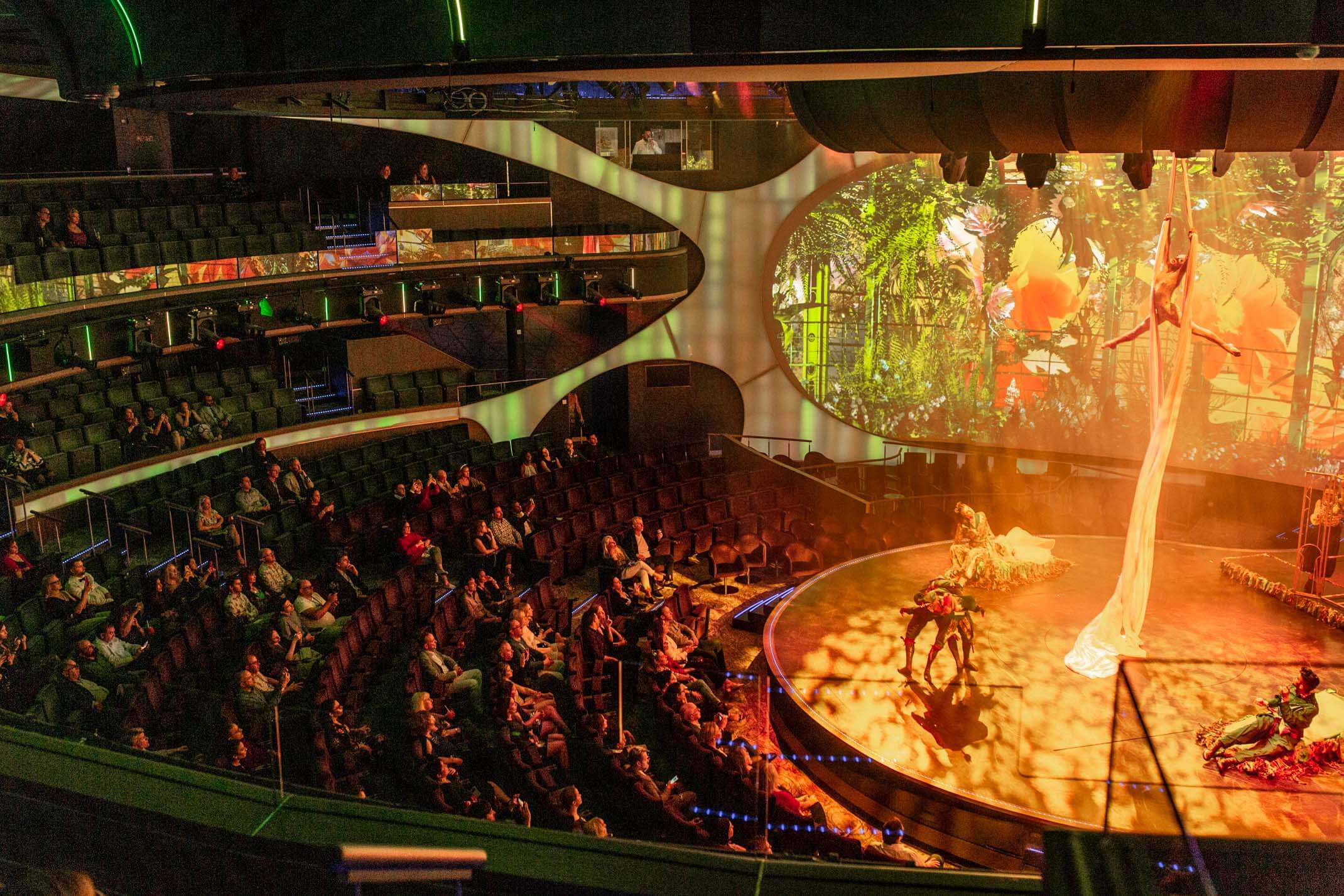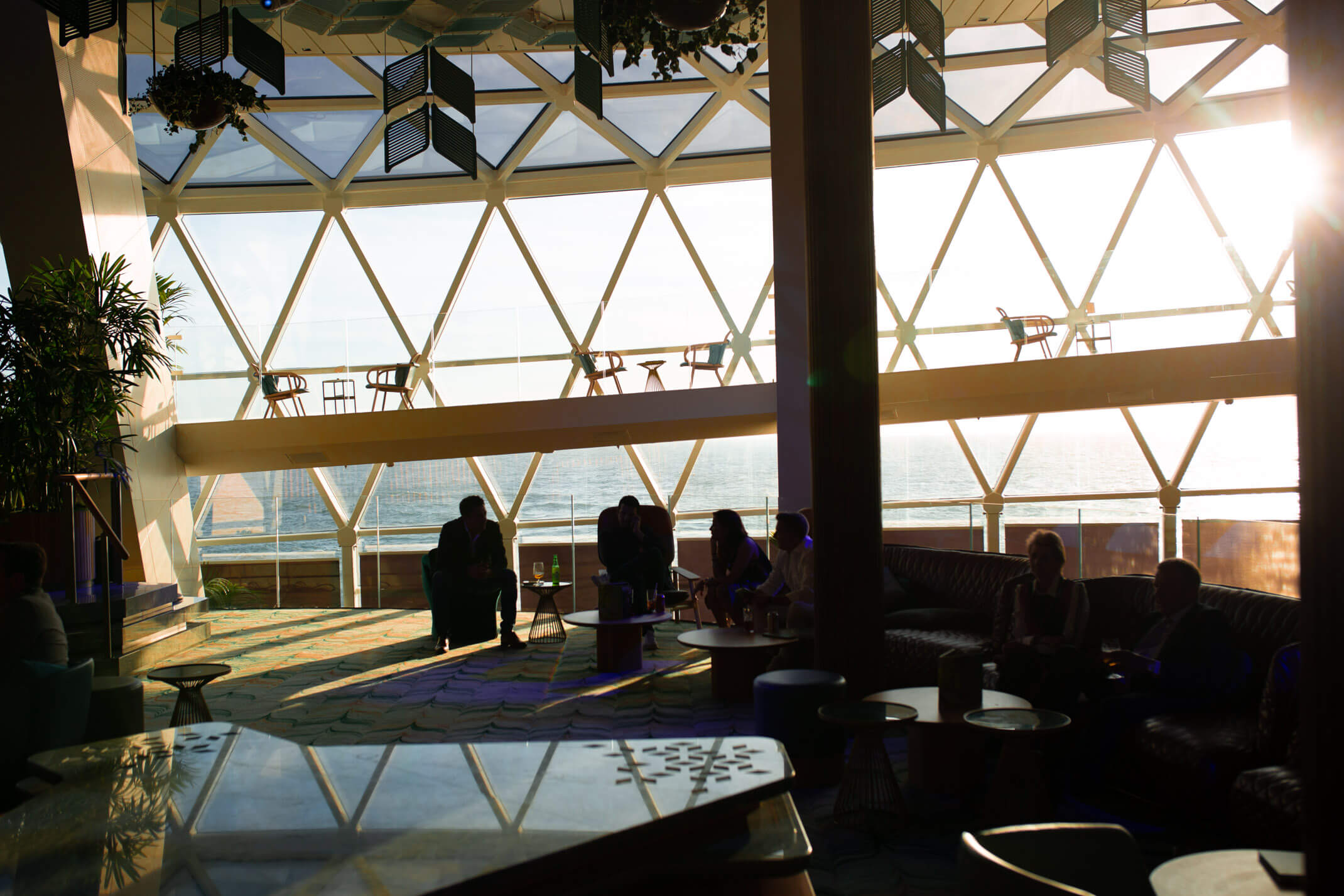 My thoughts on Celebrity Edge…
Celebrity Cruises really have set the bar high with Celebrity Edge. I'm not sure how another ship is going to compare.
We didn't actually port anywhere / get off the ship during the media launch so I can only imagine the additional excitement of European stop offs to the itinerary. See the Celebrity Edge destination choice here.
Unlike many ships out there, there's more than enough to keep you entertained on board and time inside your cabin, I can guarantee will be minimal, if you're a social butterfly anyway.
I'm always slightly hesitant when boarding cruises, particularly if I feel the company pays no respect to the environment but Celebrity Cruises have eliminated both plastic straws and plastic bottles for guests, alongside installing recycling bins all over board and paper cups where water dispensers are found. It was really refreshing to see.
In terms of rooms, our balcony stateroom was absolutely gorgeous. See below. The only feedback I have would be to add little kettle in the room (us Brits can't go long without a cuppa) and to remove / enlarge the box that tidies the electronics as this was the only place to plug in a UK plug and the tidy box didn't have room for my charger.
(My friend was in a higher grade room and the butler had one for them, but we had no access to any lol.)
As you can probably tell by the way i've gone on on social and on this post, I had an epic time with my Grandma on this cruise and I absolutely wouldn't hesitate to recommend it. In fact I'd encourage you to experience it, at least once…
P.s. The 9-night western mediterranean cruise looks SO GOOD.
Visit the Celebrity Cruises website here.
See more information specifically about the Celebrity Edge ship and book your adventure here.
Have You Been on a cruise?
Which ship did you sail on? I'd love to know!?
Love as always + happy adventuring,
Did you find this post helpful? I'd love you to share it for me.
I can't do this without you.
Pin and save this blog post for later…