What do YOU think of when you think of Belfast? I know for one, my response to this question was blank prior to my recent visit. Totally blank. I had no idea what to expect from Belfast.
And you know what they say about low expectations? You are always pleasantly surprised!
A City Guide to Belfast, Northern Ireland
I knew it was on that little island… like lies beside us, Wales and Scotland, but I wasn't even clued up on the extent of the Republic of Ireland / Northern Ireland split. (Sorry if that offends you, I usually live in a happy little bubble of oblivion).Now, having spent just 3 days exploring the city, I can confidently tell you Belfast is a fab contender for your next weekend getaway… Particularly if, like me, you love food and drink!
But first, a few facts about Belfast:
Where? Northern Ireland, UK
Closest Airport? Belfast city airport
Flight time from London?

1 hour approx.

Airlines that fly?

British Airways, RyanAir, Aer Lingus

Currency?

£ GBP

Did you know? Belfast is the birthplace of the famous ship The Titanic.
2016 is THE year for food and drink in Northern Ireland, and as a celebration of the incredible produce and outlets they have, I was invited by the NI Tourist Board to attend the New Year Banquet where we would dine on some of their delicacies.
Northern Ireland has an incredible tasting resume, most popularly known for their: Eel, Bacon, Bushmills Whiskey, Shortcross Gin, Venison and Comber potatoes to name a few. Alongside this banquet, during my 3 days in the city, we got the chance to dine at and dig out some of Belfasts finest offerings in terms of food, drink, traditional gems and activities.
So, should you find yourself in Belfast, here is what i found and can recommend for your trip:

Where to drink
Owned and preserved by the National Trust, this beauty of a spot has been enjoyed by travellers since 1885. Filled with cosy snugs, stained glass and an eclectic range of real ales and gins, Crown Saloon is a statement of Belfast and it's history.
View website here

Get ready to be greeted by the locals and whisked away into a real taste of Irish culture. Choose from the vast selection of Whiskeys and enjoy the live music as you gaze at the extensive amount of memorabilia and original artefacts lining the pub walls from Belfast's historical past. A real gem.
Located in the centre of the Cathedral Quarter, The Merchant Hotel was the renovated product of the old Ulster Bank. Quirky, elegant and extemely cosy, it is considered one of the best hotels in the world for cocktails.
You should see the BOOK of cocktail offerings…
Mon – Sat: 10.30am – 1am Sunday: 12pm – 9pm View website here
– The Spaniard Bar
– Ritas Cocktail Bar
– China Whites (bar / club)
– John Hewitt Bar
Owned by The Belfast Unemployed Resource Centre, the proceeds of this bar goes to helping the unemployed.
Aside from a great cause, this pub boasts an array of beers, cosy fires, traditional Irish live music and a lunch menu!
View website here
Where to eat
Don't even get me started. We ate like kings and I can tell you now, Belfast has reason to be proud.
OX


Overlooking the River Lagan, this Michelin Star Restaurant offers a gorgeous seasonally adjusted menu, each flavour perfectly complimenting the next. We ate from the lunch menu which had us 3 courses for £20! Top-quality food and service at a ridiculously reasonable price. View website here
TIP: If you plan to visit at the weekend, book ahead. It gets busy busy!
Bar and Grill, James St. South


Renowned for their charcoal-grilled steaks, this chilled come fancy dine out spot was another winner in my eyes. View website here. I had the most beautiful beetroot, caramelised onion and goats cheese risotto…
The perfect location for a spot of brunch / lunch after exploring Queen's quarter or the Botanical Gardens. The food was exquisite, as was the chic interior and faultless service.
I'm not usually a big fan of bread, but the bread in Ireland, particularly at Deanes was warm soft and deliciously moreish. There really is something about Irish breads that takes it onto a whole new level.
Wolf and Devour Food Truck
Although this wasn't on our radar until very last minute – i absolutely LOVED the food we picked up from the van. Wolf and Devour only begun trading the week we stopped by and yet the food is some of the best street food i've tasted. Show them your support and hop on down for a diverse, fresh and very tasty menu!
Located next to the big bluefish by the River Lagan. Opening times: 12-3pm (at the moment) Best way to keep up with these guys: @wolfanddevour (Twitter / Instagram)
BooJum Mexican Restaurant, Lisburn Road (Apparently amazing!)

Slims Healthy Kitchen, Lisburn Rd
Get your boost of vitamins with a detox or breakfast smoothie if you're on the go, otherwise dine in on their healthy ass menu.
St Georges Market

Meat Locker (A top quality meat fix)
The best things to do in Belfast
See website here Head out on a fantastic tour of Belfast with the lovely Caroline Wilson, who will share her expertise and take you to the best spots in town. Grab your friends and taste and tour the dishes and drinks that make Northern Ireland so proud to host. Book here
…with a Blue Badge Guide (highest quality and level of knowledge). We had the pleasure of being introduced around the city by Billy. This is a great way to get your bearings of the city and should you have a keen interest in History… prepare your brains to be blown away by Billy's knowledge! View website here
Walk up Cave Hill for a view over Belfast
This 4.5mile trail will take you from Belfast Castle to the peak where you can enjoy views over the city.
View more on Walk NI here. TIP: If it's cold, wear gripping shoes!
Titanic Belfast / SS Nomadic
Join in on the worlds largest Titanic visitor experience. Housed in an iconic 6 floor building, this museum will take you from start to finish on a full Titanic encounter.
City Sightseeing Hop on Hop off Tour

Street Art Tour
There is a lot of street art in Belfast, and some very talented people. You won't have to venture far before you come across some. The two installations below are located in Commercial Court and were a couple of my favourites…
A trip to Belfast isn't complete with a visit to the City Hall.
Sunset is a beautiful time to head down as the city turns to twilight and the lights illuminate the gorgeous architecture. You can also head down for a guided tour inside the City Hall. View website and more info here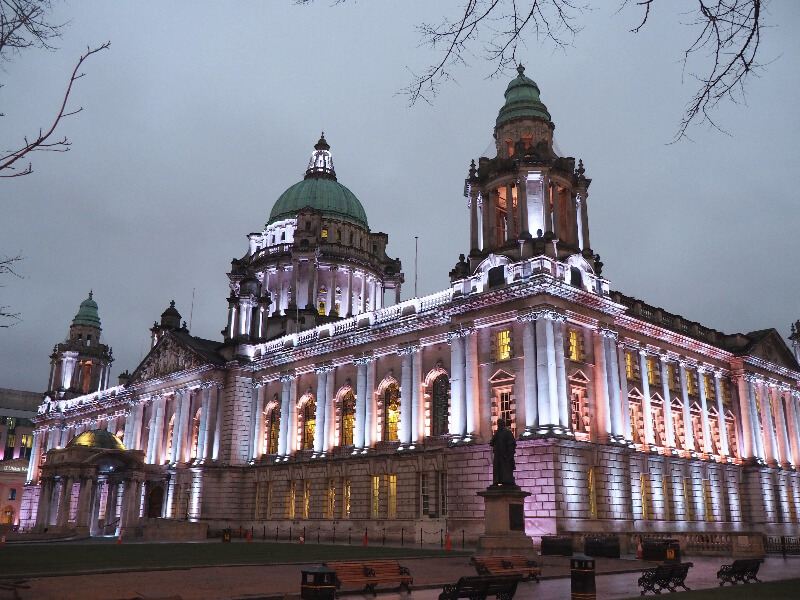 Considered the Chelsea of Belfast, you can walk down this road and find everything from healthy cafes, coffee shops, designer clothing and amazing restaurants.
Explore the Cathedral Quarter (cathedral court)

Visit and explore the Botanical Gardens

Watch some live traditional music

Dirty Onions or Robinsons

St. Georges Market
Arguably one of the best indoor markets in the UK, this market is home to some of the finest, freshest produce. Open: Friday – Sun– Public Art Hunt. Belfast has a lot of public art dotted all over the city including Rise (photographed below), the biggest of Belfast's art, symbolising the rising of the sun and new hope for Belfast's future.

Shopping in Victoria Square
Extend your Northern Ireland trip beyond Belfast:
Harry's Shack on the beach, Port Stewart – view website here

Bubble Domes, Finn Lough

Book onto a spa retreat

Road trip up to Giant's Causeway

Mourne Mountain range

The Gobbins new walking trail