Weekend adventures are my favourite way to break up routine and to insert a huge dose of freedom. It only takes a couple of days away from what you know to reset your mind and refuel your soul. After all, we don't always have the money or the holiday left to go further afield so weekend adventures are how one must roll sometimes.
If you're based in Europe like I am, then you've seriously hit the gold mine on weekend adventure opportunities, right? Let's make the most of it.
Grab yourself some cheap flights this summer, pack your carry on case and go lose yourself in another culture for a few days.
What? Just a carry on? How on earth do you get everything into a carry on?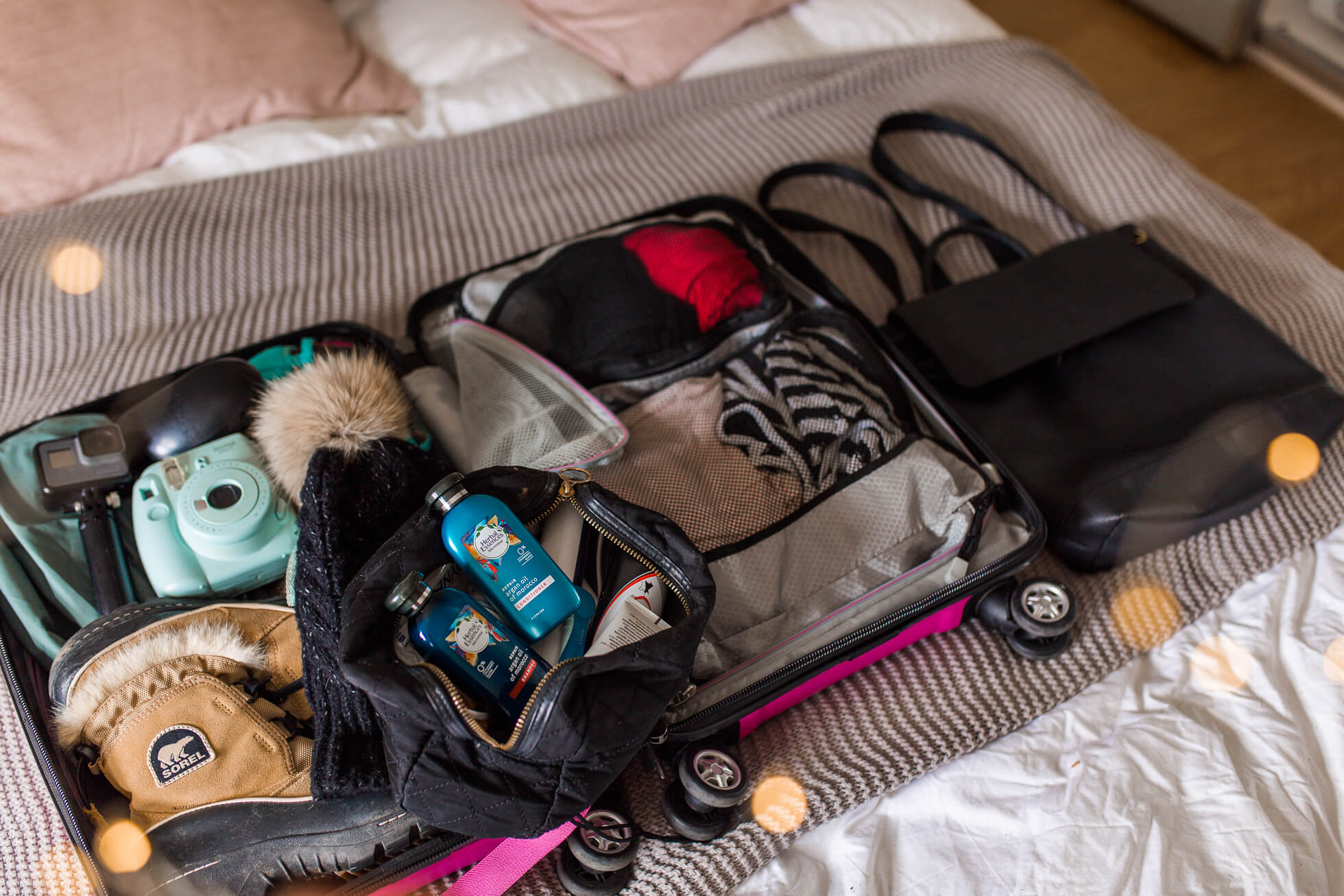 Admittedly, packing for a weekend in Europe (when the weather could change at any point) can be a bit of a challenge. There's no point just packing a carry on if you then go and spend the money you've saved (by not checking hold luggage) on purchasing what you haven't had room for when you get there.
They key to packing into just a carry on for a city break in Europe comes down to packing just the essentials, packing efficiently and taking multi purpose items. If you do the latter, it is indeed possible.
This blog post is a collaboration with Herbal Essences in line with the release of their new travel size minis which are SO perfect for the weekend getaways, for festivals or even to take to the gym.
Herbal Essences have gone ahead and released the dreamy little bottles in the two best selling scents – Coconut Milk and Argan Oil of Morocco, both of which are available to buy now (as of April 2018).
Both of these collections are great for an adventurous getaway because of their hydrating and restoring qualities (plus they have a gorgeous vanilla touch to them). Rain or shine – Herbal Essences have got your hair covered and because of the new sized bottles, I now no longer have to travel without my favourite hair products.
Shop the new travel minis here
I honestly have been waiting for these to come out for so long. Smaller bottles mean I can save weight on longer trips (by not lugging the big bottles around) and the 100ml bottles will now pass through security in a carry on too. Woohoo!!
So here it is, my guide to packing a carry on for a weekend city break in Europe:
Tips for packing the minimal amount without forgetting anything…
1. Shoes
Shoes can take up a lot of room so you want to take minimal pairs as possible. The main thing is that you have a pair of comfy shoes to explore in. I pretty much always go for a pair of my trusty Sorel boots. I can walk all day long in them without getting blisters, I can hike in them, they are waterproof and they are also easy on the eye! If you don't have comfy boots, take a pair of trainers. If you're planning on a lot of hiking, take walking boots. On top of that I usually take a pair of flip flops if it's due to be sunny or a pair of casual, slightly smarter shoes / sandals incase I go out for more sophisticated drinks.
2. Top half
The key to preparing for all weathers on the top half is layering, particularly if the weather is looking unreliable. I usually take a couple of vests (can sleep in one of these), a thermal long sleeve layer incase it gets chilly, a jumper and a coat with a waterproof layering. If the weather looks mild let that coat be thin, if it looks chilly – take a puffy one! That covers me for daytime and then for the evenings I'll take a couple of nice tops / blouses.
3. Bottom half
One pair of jeans, one pair of leggings (I usually travel in these) and a pair of activewear leggings for any activities / hikes you go on.
Take a few pairs of socks and undies!
4. Toilettries (remember to pass security – under 100ml)
Toothbrush (fully charged) and mini toothpaste
Face wash and moisturiser (with SPF to double up as suncream)
Lip balm
Small selection of basic make up
Deodorant
Small hair brush
Mini Shampoo and Conditioner
If you're anything like me – I like to have quality hair and skin products when I travel but of course with carry on they must be under 100ml to pass through security.
My essential hair care Herbal Essences now have their travel minis so they are straight in my carry on to make sure my hair is fresh, nourished and fragrant no matter where I'm travelling through.

5. Other
If you know how small a carry on is, you'll realise that once you have the above in there's not much room for anything else. Though if you're like me, you'll cut down on the above and make room for a few other bits. Here's what else I pop in mine:
A portable speaker
A portable phone charger
A GoPro and charger
A small dirty washing bag (hardly takes up room)
Mini dry shampoo
Travel adaptor (hotel receptions usually have spares if you're struggling for room)
Small bag for essentials when travelling and exploring e.g. passport, purse, lip balm (you can usually get away with this on top of your carry on)
Tips on saving space and getting it all into your carry on:
1. Your travel outfit is key
Wear the things that take up the most space / are heaviest when you are travelling. For example wear your winter coats, boots and layers! This will save maximum room in your carry on.
2. Roll everything!
Tightly roll your clothing and bits. This company way of packing with ensure you fit as much in as possible and also means you stretch the fabrics and avoid major creasing in your clothes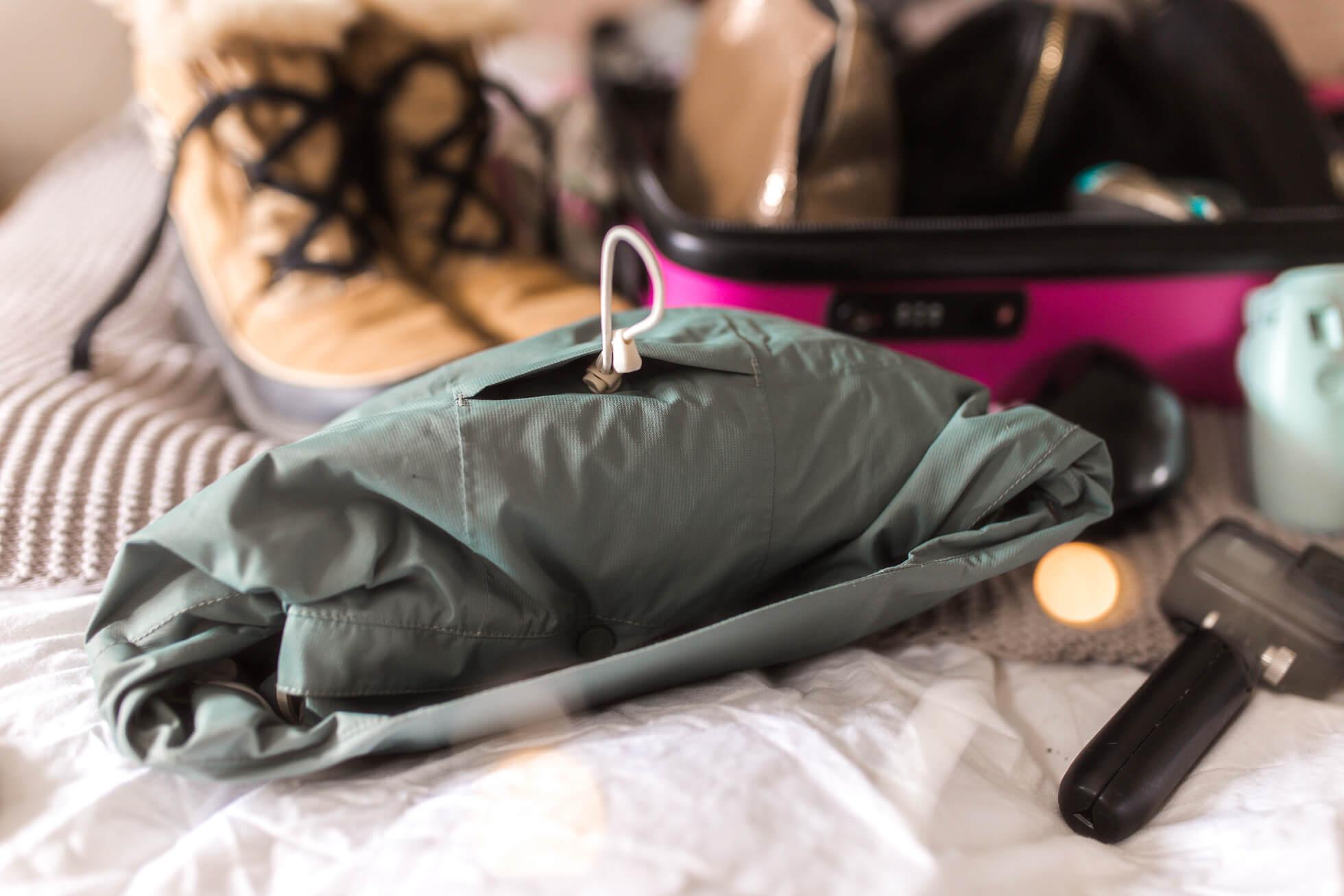 3. Packing cubes
I started using them about 6 months ago and now never travel without them. I use them to separate tops from bottoms and gym wear from underwear. An awesome way to keep your case organised and save everything falling out when you open it.
4. Travel towels
If you're staying in a hotel you won't need one but if you're staying in a hostel or camping you may want to get a microfibre travel towel. They don't take up much room at all, are WAY smaller than normal towels, can double up as a beach towel and will save you renting one when you get there. That being said, for a couple of pound rental, if you're tight on room – leave the towel behind!
Shop the Herbal Essences mini travel collections here
What are your travel essentials? Do you have any travel hacks to save room in your suitcases?
Thank you for reading <3
Love as always + happy adventuring,
Mollie x
If you enjoyed this post, please SHARE it for me!
I can't do this without you <3
Are you part of the Where's Mollie Global Travellers community? If not, why not!
Ever wondered what cameras I use on my travels? What websites I use to book my adventures? What essentials I always take with me?
Oh… and you can SIGN UP FOR MY EXCLUSIVE MAILING LIST HERE
Pin this for later…