If you're planning an adventure and you're considering Croatia, you're on to something.
Located in Southeast Europe and sharing borders with Slovenia, Hungary, Serbia, Bosnia and Herzegovina and Montenegro, Croatia is the perfect destination and stop off on a European road trip. In this blog post, I'm going to take you through an incredible 8-day itinerary which covers some of the best and most beautiful places in Croatia.
Whether it's the stunning National Parks, ocean time, city vibes or island hopping you're after, Croatia delivers above and beyond in more ways than one. I first visited Croatia with The Yacht Week back in 2015 and have since been back to island-hop the Dalmatian islands, road trip and in 2018 I bought a group of Global Travellers on a 4-day adventure from Split to Hvar and finishing up in Dubrovnik.
It's safe to say I love it here and I think you will too…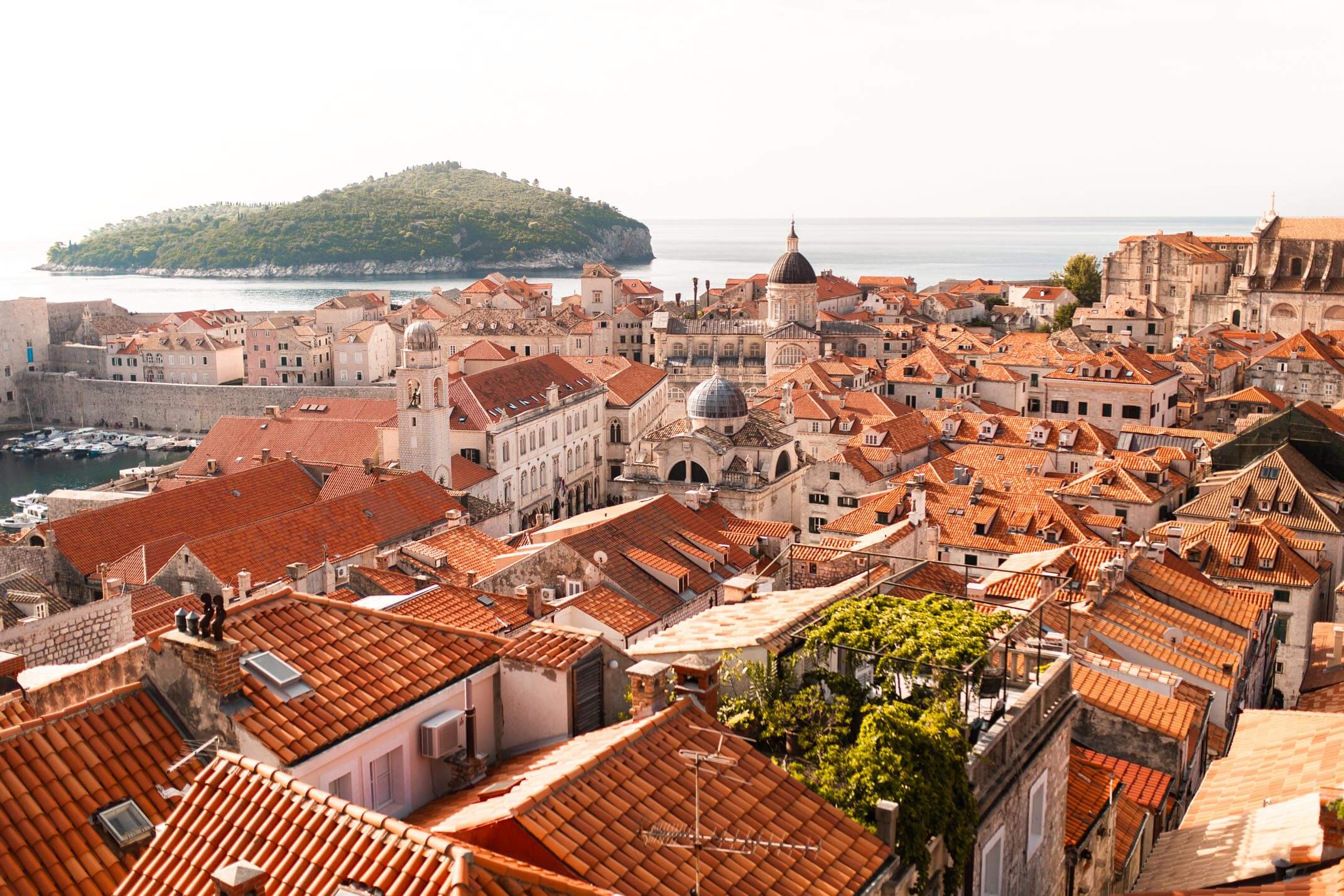 Croatia is without a doubt one of the best places to visit in Europe. The waters here in Croatia are seriously the definition of 'crystal clear' and are quite potentially some of the most welcoming I've ever witnessed. Calm, turquoise, warm in the summer months, and waiting for you to explore
Add in the gorgeous summer climate here in Croatia between April and October and it makes for the perfect island-hopping, aquatic, summer adventure. Sailing in Croatia is a popular holiday choice these days and it's not hard to see why. It's also no wonder it made it to the best things to do in Europe list!
See my top tips for travelling in Europe here.
If you're looking for something a little less touristy but with the same stunning landscapes, check out my guides to Albania here. They will blow your mind!
An ultimate 8-day itinerary for Croatia: Split, Hvar & Dubrovnik
Options for arriving in Croatia:
To arrive in Split or Dubrovnik…that is the question! From London when I've looked, flights are of similar prices, both airports are as international as the other, and you can get the bus or train into both cities too…
I'm going to start my suggested itinerary in Split as this is where I began all three of my Croatian adventures. However, if your heart is set on doing Dubrovnik first then feel free to follow the itinerary backwards!
Day 1
Arrive into Split! You can fly into Split from many international airports across Europe – check your flights here. Once you've arrived at the airport, there is an airport > city bus for 30 kuna per person, or , a taxi or Uber will set you back 250-300 kuna. It is also possible to arrive by bus or train if you are travelling through Europe on a budget – check connections here.
Once you've arrived, settle in and check into your accommodation. There are plenty of hostels, hotels, apartments and AirBnbs for you to choose from. We stayed in this Airbnb before the WMGT trip, and then Hostel Split Backpackers 1 and Hostel Split Backpackers 2 with the Global Travellers. (Get £25 off your first Airbnb stay here).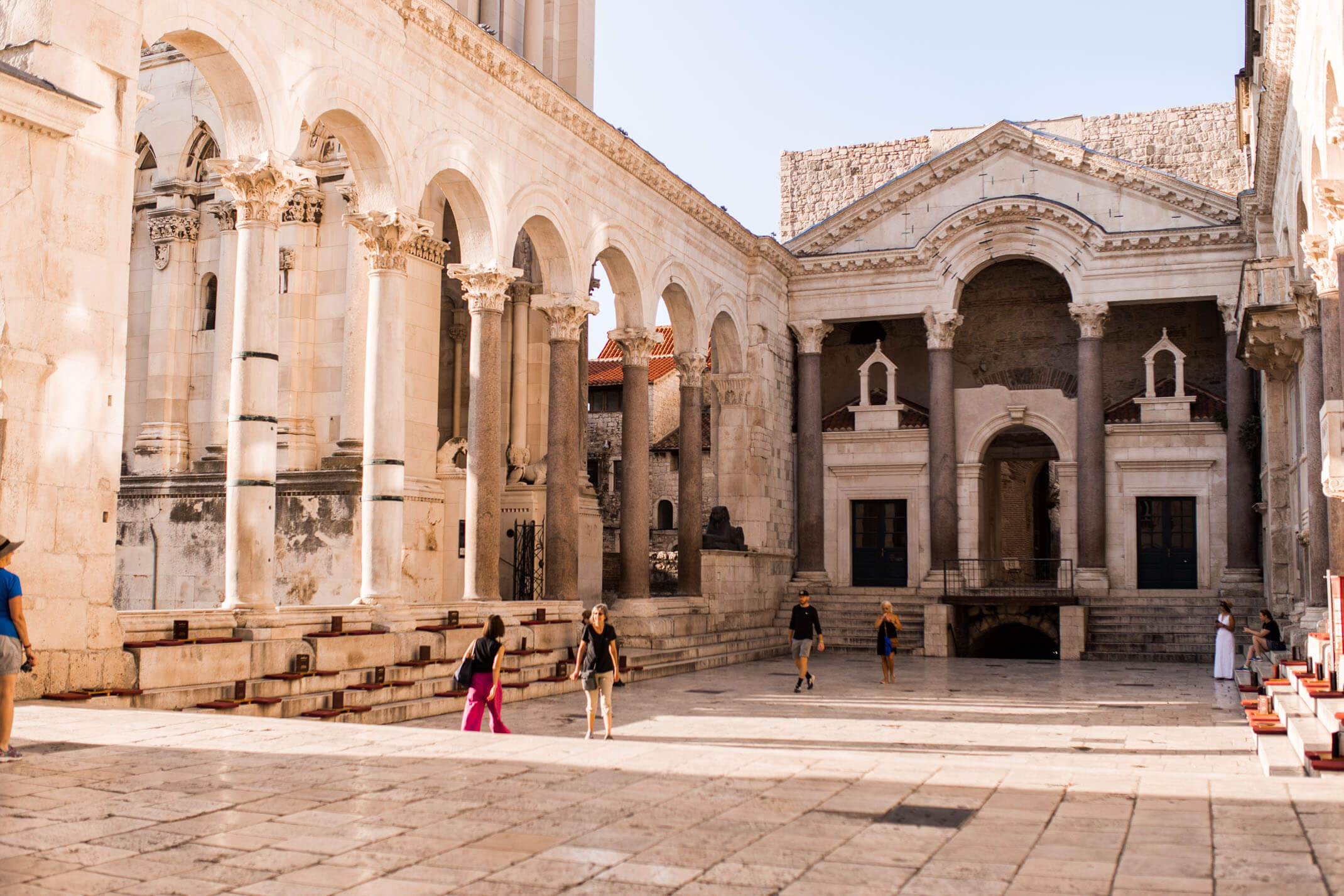 Spend the afternoon exploring the gorgeous back streets of the Old Town with an ice-cream from Luka's, climb the Bell Tower (20 kuna) and explore the Underground Market. Then grab a burrito from Vege Fast Food and head to the Riva to watch the sun go down.
Once darkness has set in, head back to the Old Town to catch the live music in the square by the bell tower where people dance under the stars with cocktails from the local restaurants.
Day 2
Have an early(ish!) start and, after a breakfast acai bowl from Maka Maka, hike up to Marjan Park (you could do this at sunrise if you're feeling keen, but I'd recommend setting off by 9/10am so that you beat the heat). It takes around one hour to hike gently up to the top (but you can definitely do it quicker if you want). Enjoy the 360 degree lookout point and then head back down.
Before lunch, head to the beach to cool down! Allllll of the beaches in Split are lovely and the waters are so crystal clear that you won't be disappointed. If you fancy a bit of an adrenalin rush, head to these rocks and jump off into the ocean.
Grab some lunch in the Old Town – Maka Maka have great Poke bowls! – and explore the daily markets along the Riva. In town, grab coffee from D16 (and a chia pot if you fancy pudding!). If you aren't too tired, you could try out Stand-Up Paddle Boarding for the afternoon, or head back to the beach or stay in the Old Town for some more chilled vibes. For dinner, try out some traditional Croatian cuisine (Fife was great) and then enjoy a cocktail in the Old Town.
For more information about Split, check out my guide here.
If you fancy a day out of Split exploring, or you want to add a day to this part of your trip…
Rent a car for the day and go to the magical Krka National Park and Waterfalls or famous Plitvice Lakes.
Book onto a day trip to Zagreb or Bosnia & Herzegovinia to explore new pastures
Walk slightly further north (further round from the rocks I mentioned earlier) for some more magical beach days
Do a full day hike from the city (there are lots you can take the bus to the start of)
Day 3
Choose an island! I've chosen Hvar for this itinerary, but the world is your oyster; Vis, Brac, Korcula and Mijet are also beautiful!
At your leisure, after a cheeky acai breakfast, head over to Hvar (or your island of choice!). Kapetan Luka and Jadrolinjia run ferries fairly frequently but the times vary (depending on how often it stops) so see if you can get on a faster ferry (unless you love ferries!). Kapetan Luka has a ferry at 7:40 if you're an early bird, or at 10:00 if you want a bit of a lie in (90 kuna per person). There's also a ferry at 16:30 if you want more time in Split!
Spend the afternoon settling in to your new accommodation. There are plenty of hostels, hotels, apartments and AirBnbs to stay in in Hvar: we stayed in The White Rabbit as it was central. (Get £25 off your first Airbnb stay here).
Explore the Old Town at your leisure (Kava 37 have great coffee!). At sunset, head up to the fortress for beautiful views (and go in and explore if you love a good castle!) and then head back down to the Old Town for dinner. Fig Cafe, Lola, Asian Food Spice and Hanibal all come recommended.
Tonight is party night! Start with cocktails over dinner and a few drinks in your accommodation while you freshen up, and then head out! Aloha have a great G&T selection and Kiva is for the hard-core party animals (very busy!) but be sure to try a helmet shot if you do go! To continue the party into the late hours, get a water taxi from the water front over to Carpe Diem. Best enjoyed in the peak of summer when the party life is booming, this party island will not disappoint.
200 kuna entry includes your water taxi over – don't let the driver charge you extra! The water taxis back run all night for when it's time to rest your head.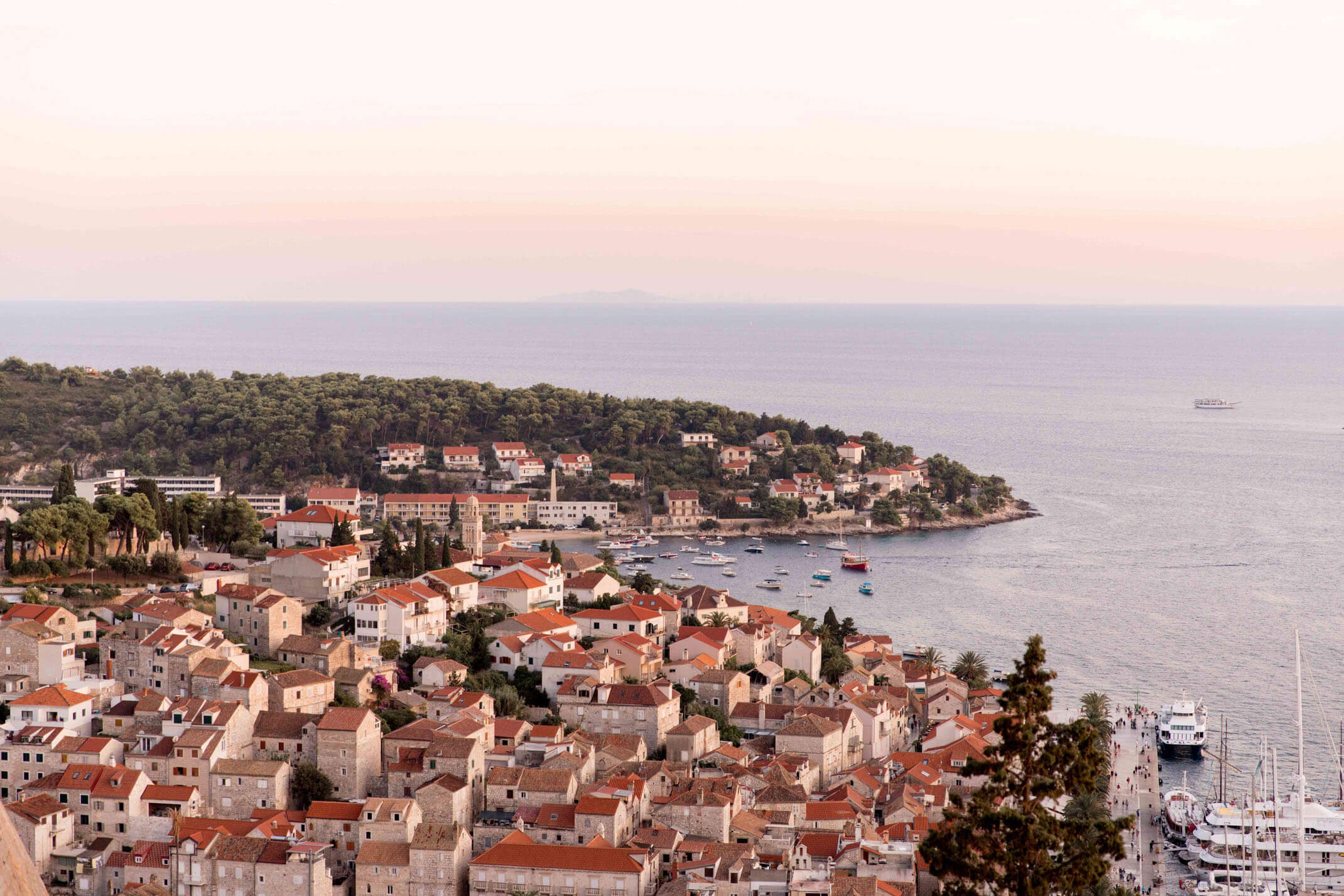 Day 4
You might be feeling a little fragile if you did party last night, but nothing stops us when we are on holiday!
There are plenty of things to fill your day in Hvar. Grab a coffee from Kava 37 to start your day off and an acai bowl or smoothie from Vita Health Bar. After that…
Rent a boat for the day and explore the wonders of Hvar, the Blues Caves, the Pakleni Islands, and the Red Rocks, whilst stopping for swimming, snorkelling, cliff jumping and some lunch at Moli Onte (this is what we did and it was epic #boatday). Pop Nikola (Explore Hvar) a message on +385 91 725 2478 to arrange your trip / boat!
Rent bikes or cars for the day and road trip around the beautiful coast, taking in the sea views, or head further inland to the stunning hillier areas or another town/village.
Get the ferry over to another island for the day (Vis, Brac, Korcula…) – they're all so beautiful, it would be a shame not to see them too!
Do a full day hike through the villages to see the hidden side of Hvar, perhaps more traditional and less touristy than the centre
(You could also add a cheeky day into your itinerary and do two or all of these things!)
If you do want to just chill and soak up the sun, head to a beach with your book and read, nap and swim to your heart's content.
Head back into town for dinner (at a restaurant you didn't choose last night, or at the same one (if it was that good! – I might have done this…) and then either enjoy some quiet drinks in the town or head back for a well-deserved early night.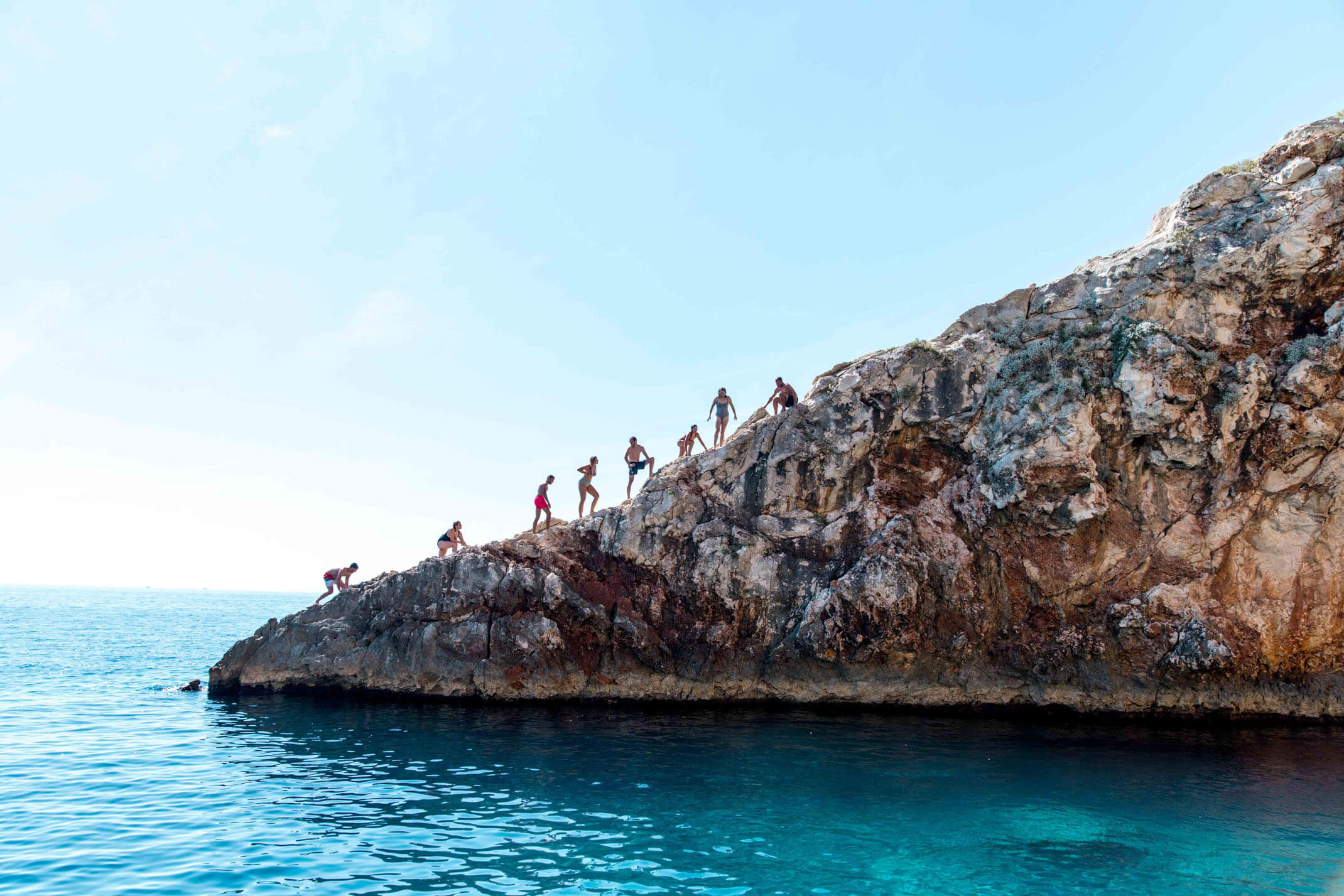 Day 5
Time to head over to the gorgeous city of Dubrovnik.
Again, Jadrolinija and Kapetan Luka run regular ferries. We got on the 8.50am ferry and it took just over three hours costing 210kuna per person. (This gives you the afternoon in Dubrovnik). If you want a later ferry to have a lazy morning in Hvar, go for it!
Check in and settle into your new accommodation. There are plenty of hostels, hotels, apartments and AirBnbs to stay in in Hvar: we stayed in Hostel Amnesia and Hostel Angelina for the WMGT trip as they were central, and I stayed in this beautiful Airbnb overlooking the Old Town and Lokrum Island after the group trip. (Get £25 off your first Airbnb stay here).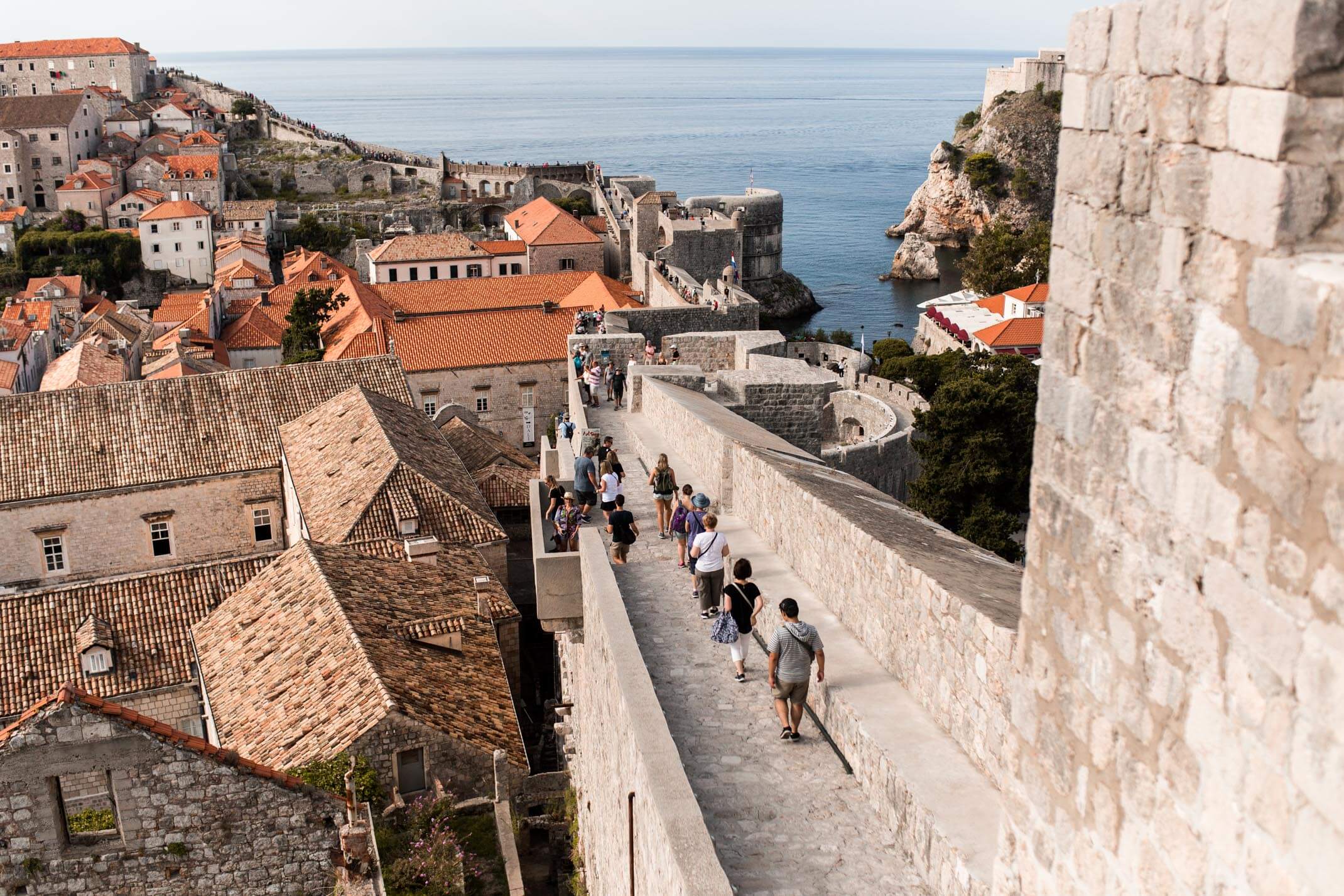 Spend the late afternoon or evening sea kayaking, There are a few companies that run tours from Pile Bay and will take you out to explore caves, coves and the famous Lokrum island.
We watched the sunset from our kayaks and it was stunning! It was amazing to see the city from another perspective and also learn about the area from locals. Enjoy some snacks and drinks after your aquatic adventure, freshen up in your accommodation, and head out for dinner and drinks in the Old Town. Chihuahua Cantina Mexicana do some great Mexican dishes and it's well worth a visit!
See my complete guide to exploring Dubrovnik here.
Day 6
Today is the day that the centre of Dubrovnik's Old Town will capture your heart (if it hasn't already done so!). For this one I'm going to suggest a quick snack at your accommodation and then brunch later, after exploring the city walls. Get there for 8am when they open (150 kuna entrance). The walls get busy really quickly and the views are best appreciated when there are quite so many people around! It takes about 90 mins to walk around (at a gentle pace while taking photos). Next grab a well-deserved coffee and breakfast.
While in town, I'd recommend exploring the little shops and markets and picking up some lavender goodies. Relaxation heaven!
Head to Buza beach for the afternoon for a gentle swim and a drink, or if you have energy to burn, jump off the rocks there.
Hike, take the cable car or grab an Uber to the top of Srd Hill for a glorious sunset dinner at Panorama restaurant, allowing you the time to see this beautiful city in all its glory. If you're lucky, you might see fireworks!
Day 7
After breakfast in the Old Town (Cafe Festival was fab), head to Lokrum Island. Famous for cliff jumping and bunny rabbits, it's a great place to chill out for the day and lie by the water and the perfect way to end your holiday. It's only a 20 minute ferry from the port (150 kuna return), there are no cars, and it's super peaceful. Take a picnic and spend the day here exploring, swimming, cliff jumping and perhaps napping at your leisure. Grab dinner in the Old Town in the evening, perhaps at Snogu Wok Bar just outside the city walls followed by a Pepino's ice cream for pudding, and then some cocktails or an Elderflower G&T at Cele Wine Bar.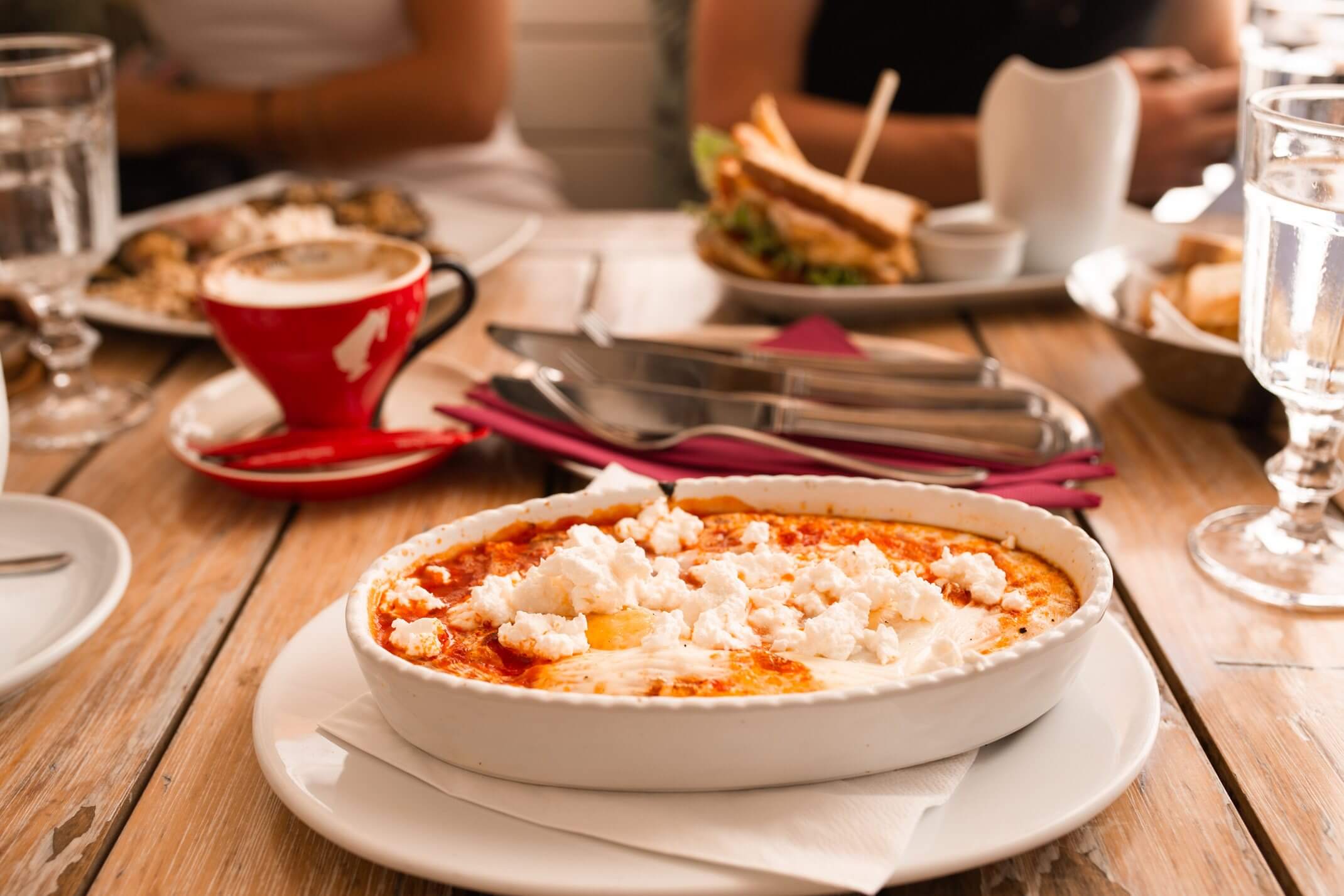 Day 8
Your final day… or not if you've extended this itinerary!
If you're an early riser, head up to Srd Hill or Park Orsula for a beautiful sunrise (both of these places are equally beautiful at sunset for night owls!). Head to your favourite breakfast place in town one last time, before heading home.
You can fly into many international airports from Dubrovnik (and internally from other cities in Croatia) – check your flights here.
Getting to the airport: there are two companies that provide an airport bus service:
Both buses go to the airport, starting at the Main Bus Station in Gruz and stopping through the Old Town (near the cable car and near Pile Gate). Both companies allow you to book online or buy tickets on the day. Discovery have a consistent timetable, whereas Atlas publish their timetable one or two days in advance, as they correlate it to the flight arrivals and departures on that day. Arrive early: the buses fill up quickly, and you don't want to miss your flight!
There are also private shuttles, and a taxi or Uber will cost you 250-300 kuna.
It is also possible to leave by bus or train if you are travelling through Europe on a budget – check connections here. Catch bus 1a, 1b or 3 from the Old Town to the Port or Bus Station (bus tickets are 12 kuna bought in advance from a kiosk, or 15 kuna from the driver). Ferries are also a transport option.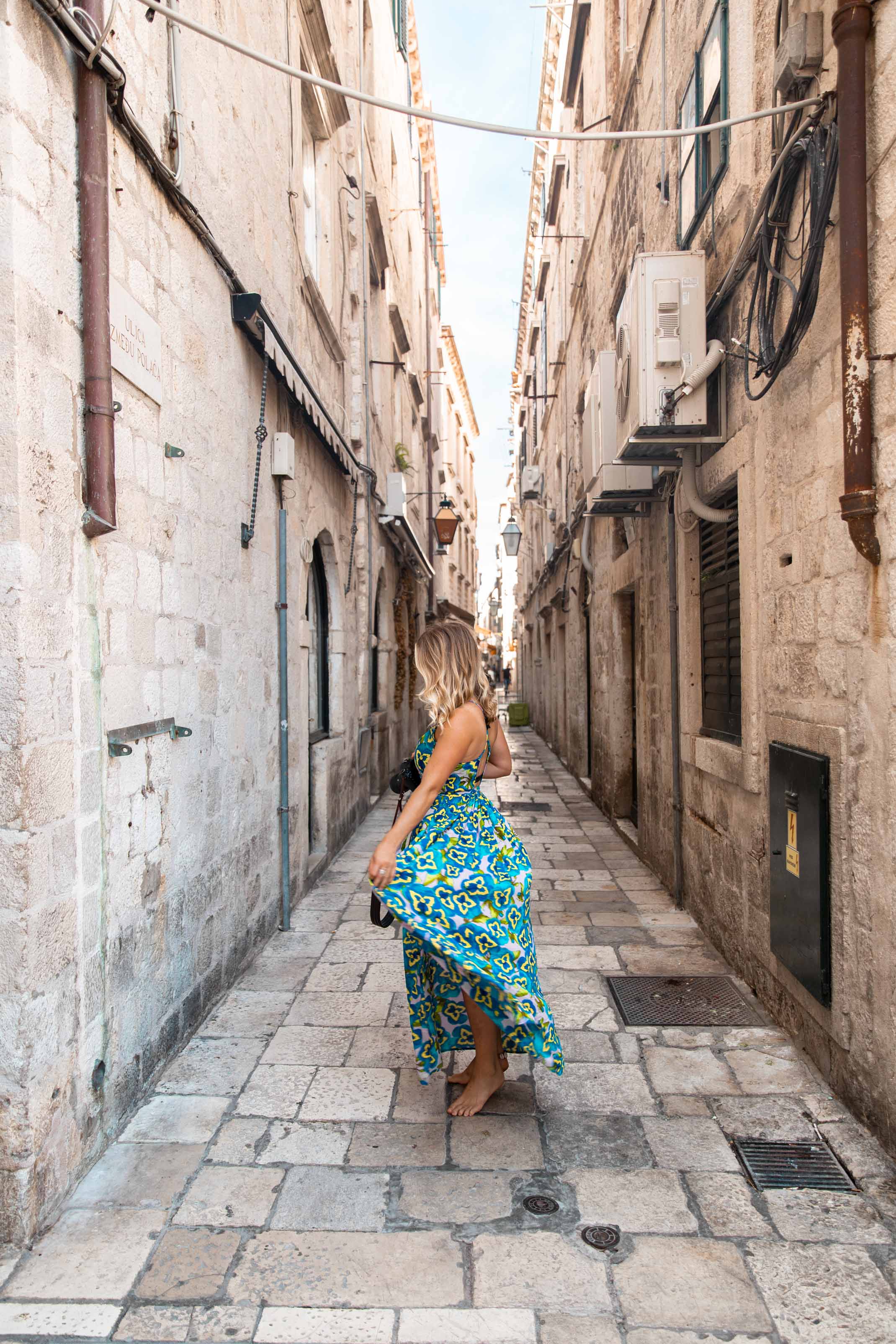 Check out my complete guide to Dubrovnik for more info. If you aren't ready to say goodbye to Dubrovnik yet, or want some alternatives for your trip…
Relive your favourite TV show and do a Game of Thrones tour
Hire a boat and explore the crystal blue waters at your own pace
Jump in the ocean at one of the many beaches around the city, or explore it further by doing a full day hike
Head to the beautiful Montenegro for the day to explore somewhere new
And if you want to extend your trip eveeeeen further, check out Zadar and Zagreb too – two more beautiful Croatian cities. Be sure to tell me what you think; they're on my list of places to explore!
Have you been to Croatia?
What were your favourite places? I'd love to know!
Love as always + happy adventuring,
Did you find this post helpful? I'd love you to share it for me.
I can't do this without you.
Pin and save this blog post for later…