Split is the second largest city in Croatia, and lies on the eastern side of the Adriatic Sea. Starting out as a Greek colony in 2 or 3 BC means the city has so much history to offer, as it's been an important settlement throughout Greek and Roman history, the Middle Ages, World Wars I and II, and more, right through to Croatia's independence in 1991.
I've been to Split on two occasions before but this time it was to kick off the WMGT Croatia trip: my first adventure with WMGT abroad in Europe. Split was the first of three destinations included in the itinerary and the place the 30 guests assembled.
How to get to Split:
You can fly into Split from many international airports across Europe – check your flights here. Once you've arrived at the airport, there is an airport > city bus for 30 kuna per person, or if you're in a group, arrive at a funky time, or want the quick and easy option, a taxi or Uber will set you back 250-300 kuna.
It is also possible to arrive by bus or train if you are travelling through Europe on a budget – check connections here.
Where to stay in Split:
Split has a variety of hostel, hotel and apartment options on offer for you to choose from – check all your options here on booking.com or on Airbnb. (Get £25 off your first Airbnb stay here).
With WMGT we stayed in Hostel Split Backpackers 1 and Hostel Split Backpackers 2 (there were so many of us!). It was clean and the staff were friendly, and the hostels are in a great location – just what we needed for our trip!
Before the WMGT adventure, I stayed in this beautiful Airbnb…
Things to do in Split:
– Hike Marjan Park – a relaxed hike which took an hour each way, and perfect for views overlooking the Old Town and Harbour.
– Walk around to from the seafront to the right, and jump off the rocks into the sea – perfect if you need a little adrenaline rush!
– Enjoy a picnic with friends on the front of the pier at sunset.
– Watch the sunrise and grab an acai bowl at Maka Maka on the waterfront – my favourite acai bowl in the city.
– Climb the Bell Tower of Saint Domnius for views across the whole city (20 kuna), and explore the cathedral while you're there.
– Head to the Bell Tower at 8/9pm in the evening for live music and dance the night away under the stars.
– Explore the Old Town: be sure to look up at the beautiful architecture. You could even do a walking tour so you see everything and get an overview of the history.
– Browse the daily markets. Located near the ferry wharf and the bus terminal, these sell everything from cute souvenirs (including Croatia's famous lavender products!) to fresh produce.
– Stand up paddle boarding: perfect for seeing the city from a different perspective while being active at the same time (about 300 kuna per person for a 4 hour tour).
– Explore the Underground Market in the cellar of Diocletian Palace for more souvenirs to take home with you reminding you of your trip.
– Head to Bavice Beach to relax for a little while by the water and under the sun (it can get busy here in the height of summer, though).
Where to eat and drink in Split:
– Maka Maka – for Poke Bowls and Acai bowls, smoothies and juices to die for (they have two locations in the city, both are great!)
– Vege Fast Food – for some insane vegan burritos and tortillas
– Makrovega or Marta's Veggie Infusion – for some vegan wok meals
– D16 – for a gorgeous chia pot or an amazing coffee
– Luka Ice Cream – for the best ice cream in Split, worth every calorie!
– Bobis – a bakery for lovely cakes and pastries
– Fife – for great value food (European, traditional, Croatian and seafood) with a great atmosphere
– Kokolo Juice Bar – another spot for a healthy breakfast bowl, juice or smoothie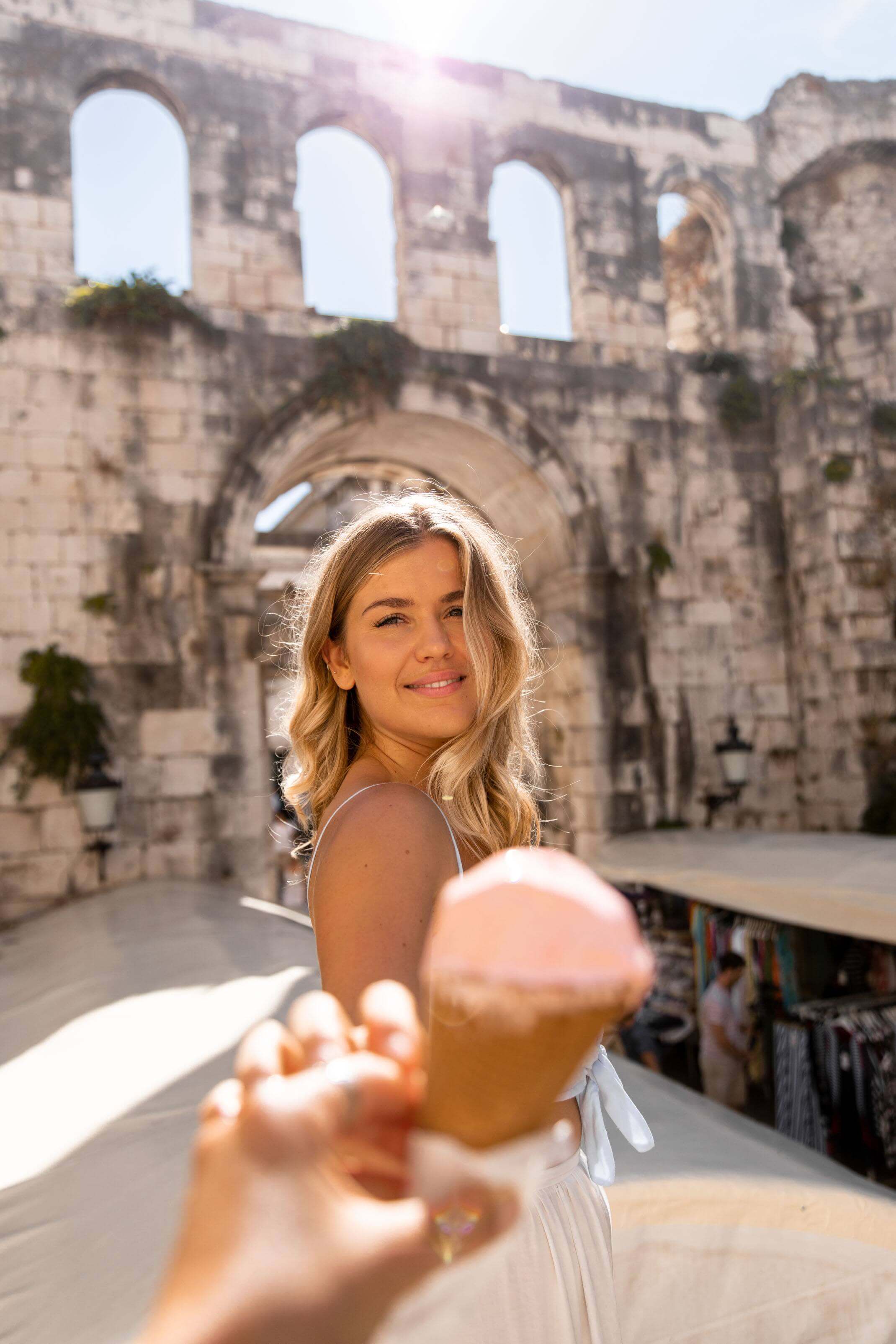 Trips from Split:
– Get a ferry from the port over to a nearby island: Hvar, Korticula and Brac are all close.
We did Brac: The ferry to Supetar (with Jadrolinija, 66 kuna return) took 50 minutes. We hired 50cc scooters from M&B Skeip, which cost 210 kuna for 6 hours and explored the island at our leisure.
Ferries to Hvar take one-two hours and are run throughout the day by Kapetan Luka (Krilo) and Jadrolinija, costing upwards of 40 kuna each way.
– Hire a car and head to Krka Waterfalls National Park or Plitvice Lakes National Park
– Book onto the Yacht Week
Have you been to Split?
What were your favourite hotspots? I'd love to know!
Love as always + happy adventuring,
Did you find this post helpful? I'd love you to share it for me.
I can't do this without you.
Pin and save this blog post for later…