If you're wanting to spend a summer weekend in Rome, this Rome guide is for you.
I touched down in Rome for just under 36 hours as part of a 4-day Italian adventure. Rome was a city I'd heard so much about (particularly as a romantic getaway destination) but this was the first time I'd actually had the chance to explore. There are so many fun things to do in Rome and places to visit in Rome that it can be hard to know where to start…
Let me first just say that visually, Rome is one of the most unique cities I've ever set my eyes upon.
Romantic. Timeless. Historic.
Just a few words that I would use to describe this city, Italy's capital. With a population of over 2 million people, Rome is known for its raw beauty, evident history, its infinite charm and of course, the famous Italian cuisine. All the pizza and pasta you could dream of. Get your loose-fitting clothes at the ready, you're in for a feast! Here are my top tips for travelling in Europe.
Renowned as the birthplace of gelato and 'cacio e pepe' (a delicious cheese and pepper pasta dish) and the home to the Colosseum, the eternal city of Rome offers so much for a weekend adventure. Though my visit was a fleeting one, I fell in love with the exquisite Roman architecture that caught my eye around every corner I walked. It's not the cheapest place in Europe to visit, but it's worth the money. It's also vastly different from the South of Italy, for example, Sicily (even different from bigger cities there such as Palermo), proving that there is so much adventure to be had all in one country.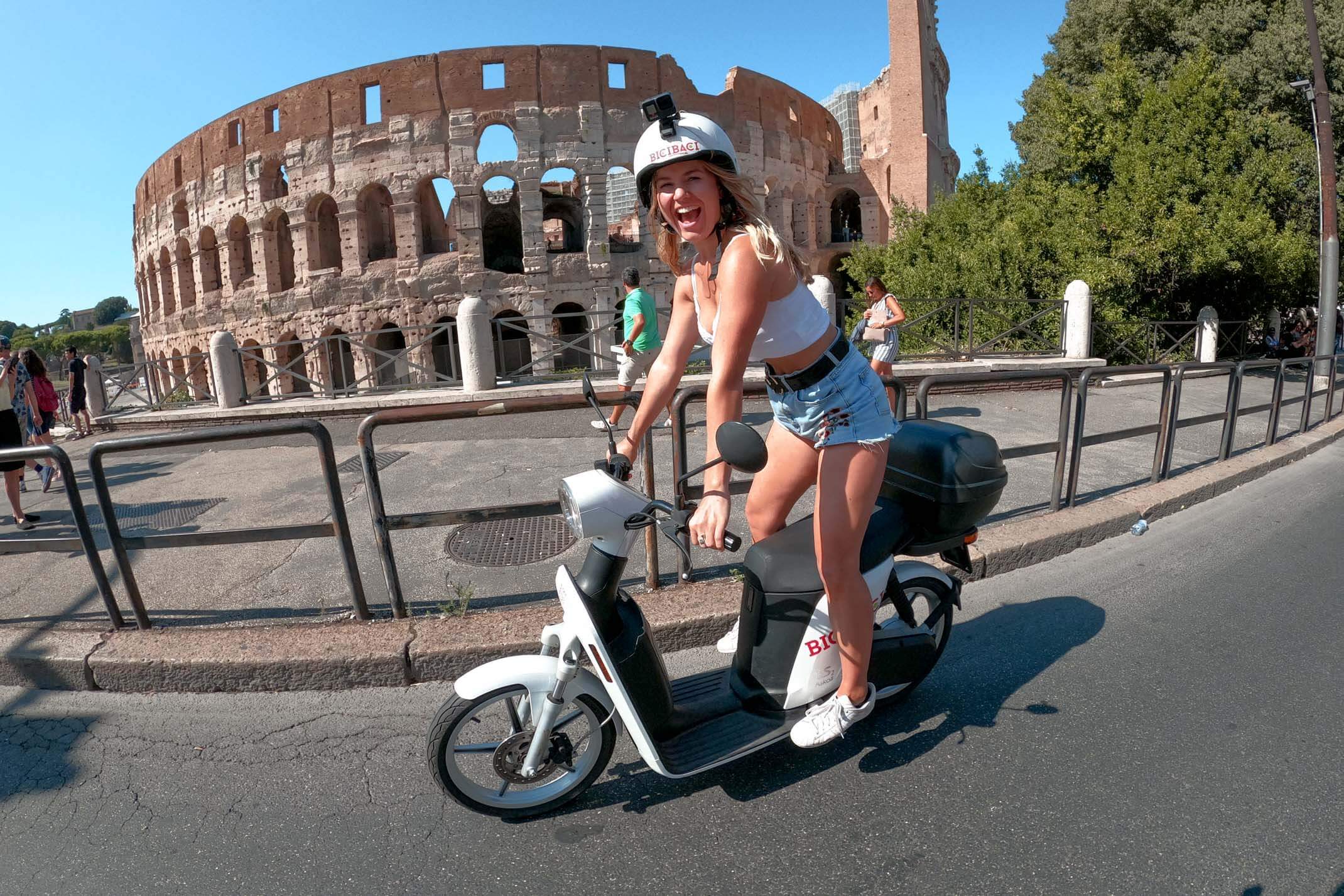 Other blog posts you might be interested in…
Notepads at the ready…Based on what I did, what you guys recommended to me on Instagram and what I didn't have time (but wanted) to do…
Here's my guide to visiting Rome during summer…
How to get to Rome:
Rome's main international airport, Fiumicinio airport, is accessible from London on a direct flight with a duration of less than 2.5 hours. The airport is located 32km outside Rome and has a direct metro link straight into the city.
Another option includes flying to Ciampino airport, a smaller and less known airport located 15km from the city centre.
Book your EasyJet flights here or check flights on SkyScanner here.
If you're looking to arrive by train the main city train station is Roma Termini Station.
How to get to Rome city centre from the airport:
From Fiumicino airport you have a few options:
Frequently running every 15 minutes, the dedicated airport train, Leonardo Express Airport train takes 30 minutes to reach the city centre stopping at Termini station. It is the fastest mode of transport but the most expensive paying €14 for a one way ticket
For €9 round trip, the Terravision bus takes you to Termini station in 55 minutes. Taking the more scenic route, this cheaper option will definitely save you money.
Catch a slower, but cheaper regional train from the airport to the city centre for

€8.

Take the COTRAL public bus (approx 1 hour,

€4).

Take a taxi, private shuttle or an Uber for

€50-60.

Rent a car from the airport.
From Ciampino airport, you also have a few options:
For €8 round trip, the Sitbus takes you to Via Marsala (near Termini station) in 45 minutes.
For a €6 one-way ticket, the Terravision bus takes you to Termini station in 40 minutes. (Note: it's cheaper to book online than buy your tickets in person!).
One of the cheapest options is Atral, a €1.20 shuttle bus which takes you to Via Marsala (near Termini station) in 45 minutes. However, the buses aren't frequent.
Catch a local bus to the town of Ciampino (€1.20) and then a train to Roma Termini (€1.50).
Take a taxi, private shuttle or an Uber for

€30-50.

Rent a car from the airport.
Is Rome expensive? How much will I spend in Rome?
Rome is one of the most popular cities to visit in Europe, and for good reason. During summer they draws in the tourists who all gather to revel in its beauty. This can mean that around the popular locations, restaurants and bars can be pretty pricey.
Some people would say Rome is overpriced, but with a little research and preparation, you can easily find the cheaper options while exploring Rome. You've just got to do a little research and dig a little deeper into the side streets. Basically like any other popular city, if you're on a budget, avoid the busy tourist traps when it comes to eating and drinking.
For example, eating within eye distance of the Colosseum expect to pay €15 + on a simple dish. Whereas, walking 5-10 minutes you will find hidden gems like La Pace del Cervello, a beautiful candle lit restaurant with a much cheaper menu and €3.50 glasses of wine.
Example spending in Rome:
€14 Airport Train into city
£139 for one night at Royal with views of the Colosseum (epic)
£75 return flights from London
€10 for an Aperol Spritz over looking the Colosseum
What's the best way to get around Rome?
There are plenty of options for getting around Rome. From big red buses to Vespas, you will not be stuck trying to figure out the best ways to getting around Rome.
Options:
Bus: Rome has over 350 different bus lines and due to the limitations of the Metro, the bus service offers the most and is your best option for getting around Rome.
Metro:

Running from 5:30am to 11:30 PM and like the underground, the Metro system is one of the fastest and most reliable ways of getting around Rome. The Metro Line contains 3 different underground lines (A, B and C line). It's not a huge network but it does stop at the major attractions throughout the city.

Hire a moped! I hired an electric one for the day from Bici Baci for just €39 (€300 deposit)
Hop on Hop off buses: With onboard audio guides, the big red bus is a fun way to see the city.
You can check out the prices for single, 24 or 72 hour ticket passes here.
Note: You are trusted to buy a ticket for public transport. A single ticket is €1.50 and is valid for 100 minutes, allowing you to switch bus or metro lines if there is no direct service. It is your responsibility to stamp your ticket before your journey or else you could face a hefty fine!
Where to eat and drink in Rome:
In Rome you are spoilt for choice when it comes to food. On every corner there was some form of cafe or gelato shop. Word of advice: wear your comfiest pair of trousers that leave that extra bit of room for dinner!
Here's some of my favourite spots and some I'd heard about but didn't get the chance to experience.
Doucento Gradi, a famous sandwich shop that prides itself on using the freshest ingredients while spending a little.
Romolo nel Giardino, a charming little restaurant located in the heart of Trastevere. Have a true Italian pizza experience! This district is full of authentic and local bars for some after dinner drinks.
Taverna del Seminario. Located just 5 minutes from the Pantheon this restaurant is the perfect spot after a long day of exploring. I was pretty shocked to see 4 courses for €15.
Royal House rooftop, a great rooftop bar for drinks looking over the Colosseum. This was our hotel too!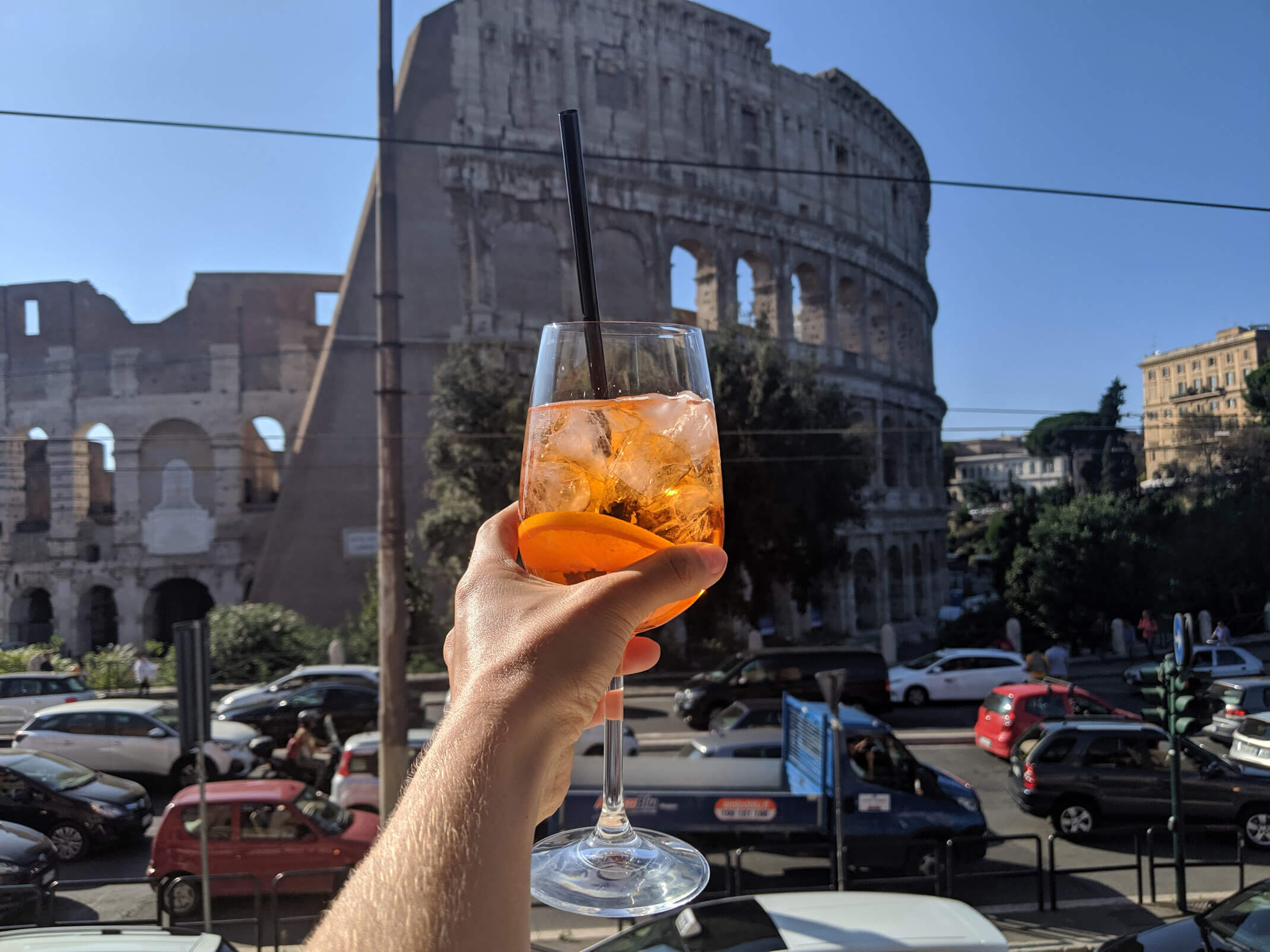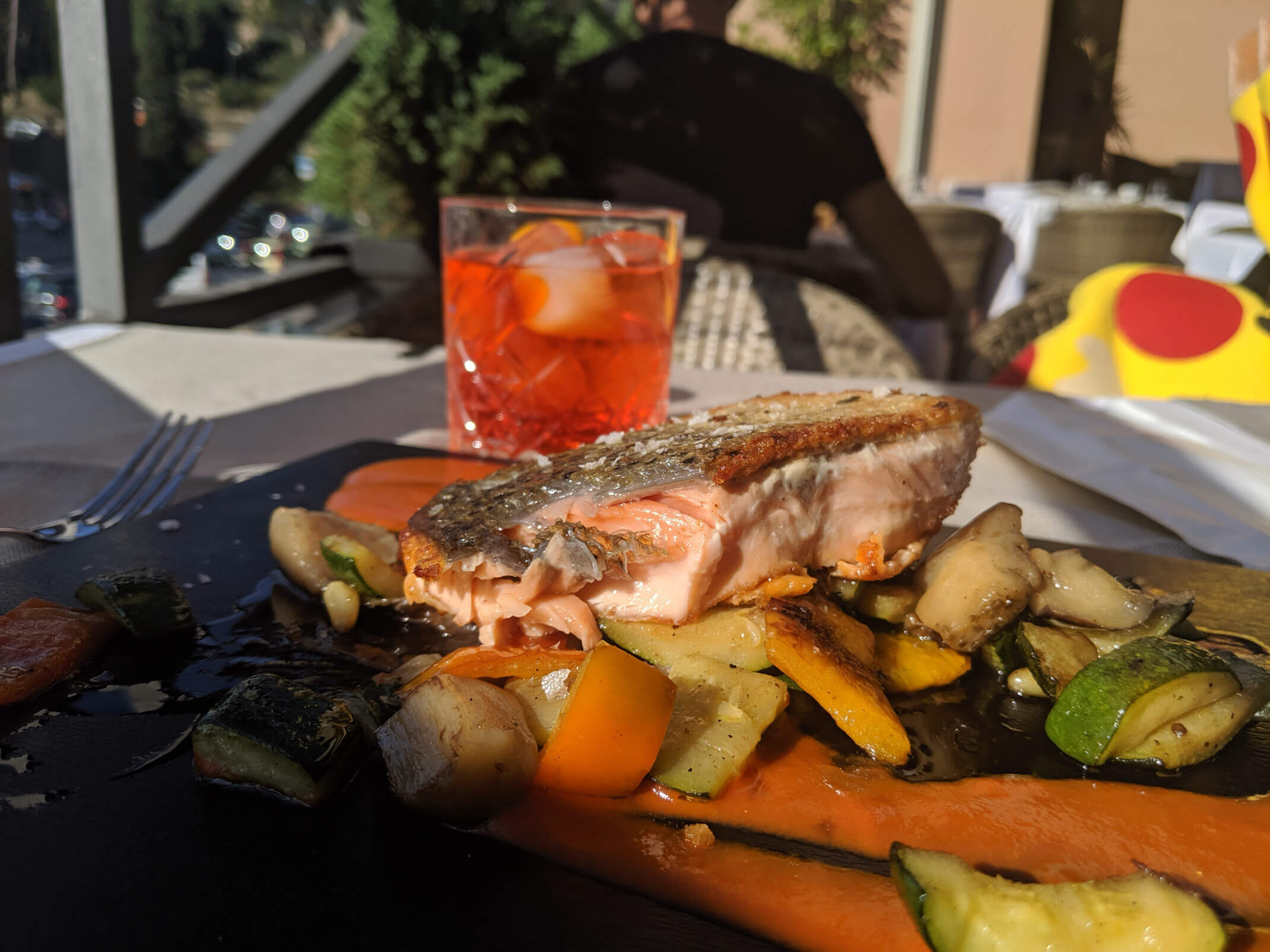 The best things to do in Rome…
1. Take a guided tour of the Colosseum.
I can guarantee you that the most popular thing to do in Rome, the thing that's at the top of everyone's Rome bucket list, the absolute must-do place to visit in Rome is the… Colosseum! Book a guided tour of Rome's most famous monument. If you are a student or European between the ages of 18 and 25 the ticket price is only €7.50.
2. Discover the underground Catacomb tombs.
Dive into the underground world and take a guided tour of the ancient Roman Catacombs. Don't forget to book your reservation here.
3. Hire an electric Scooter from Bici Baci.
The shop is just a 10-minute walk from the Colosseum. There's so much to do and see in Rome and grabbing scooters is such a fun and efficient way to fit it all in. I hired an electric scooter (with helmet) for just €39 for the day (€300 deposit). There are so many things to do and places to visit in Rome, and while it's a fairly walkable city, having the scooter makes everything that much quicker!
4. Take a cooking class with kitchen of Mamma.
Bring some traditional Italian secrets back home to your kitchen by taking part in an authentic Italian cooking class at the "Kitchen of Mamma".
5. Explore Rome with a free bike tour.
Free bike tours Rome has so many FREE tours to offer. From a morning tour to a night time tour, it is the perfect way to see the city and save some money for gelato, giving you another thing to do in Rome!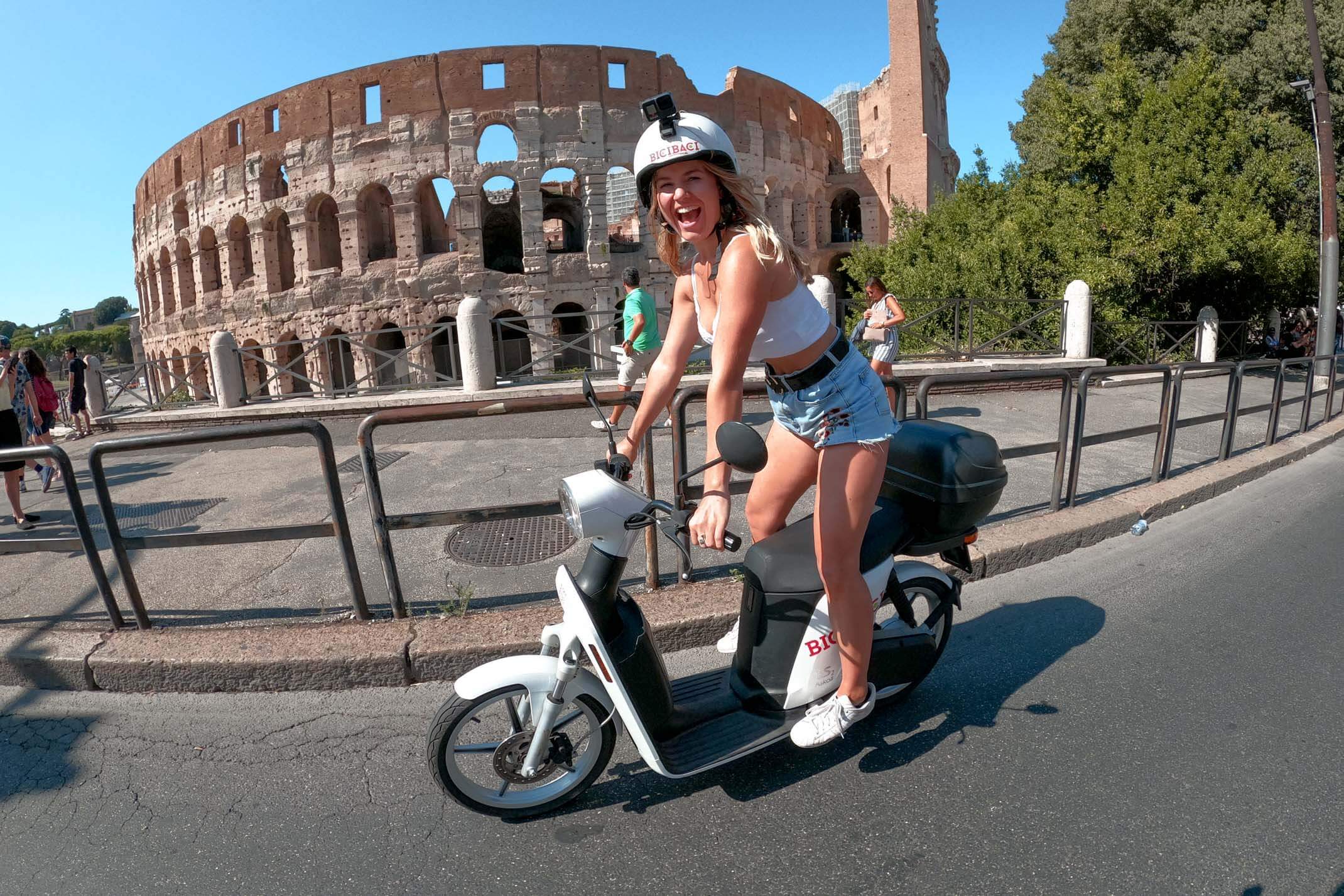 6. Grab some gelato at the oldest ice cream parlour in Rome.
Discovered in 1900, Giolitti paved the way to traditional Italian Gelato by opening up Romes very first ice cream parlours. With two locations in Rome you'll never be stuck for some delicious desert.
7. Make your own pizza at Amore.
Just steps away from the Trevi Fountain, learn to cook your own pizza with only the freshest Italian ingredients in the heart of Rome. I absolutely love local cooking classes when I go away, so you should definitely put this near the top of your Rome bucket list.
8. Indulge in Roman history at the Baths of Caracalla.
There are many historical things to do in Rome beyond the Colosseum. Hire an audio guide and step back in time as you explore some of the best preserved ancient ruins in Rome. Check out some events and exhibitions that take place at the Baths of Caracalla.
9. Throw a coin into the Trevi Fountain and make a wish.
Get up early and avoid the crowds by visiting the Trevi Fountain at 6am. Over €3,000 is emptied from the Trevi Fountain every night so you can imagine how busy it can get! Visiting the Trevi Fountain is one of the most popular things to do in Rome. It is early but it is so worth it when you see it in all its glory. Don't forget to pack some coins and have your wish ready.
10. Treat yourself to a wine and food tour.
Choose your experience then dine, taste and learn with Wine Tasting Rome. A foodie's dream.
11. Check out the art and graffiti at Ostiense.
Visiting Ostiense is one of the most underrated things to do in Rome. It's the perfect spot to grab some pictures!
12. Visit the oldest church in Europe.
The Pantheon is by far one of the most exquisite locations in the heart of the city and one of the best places to visit in Rome. Filled with untouched history, the Pantheon has to be on the top of your Rome bucket list.
13. Experience the best panoramic views of Rome.
Villa Borghese is a hidden gem that offers one of the best panoramic views of Rome, the Eternal city.
14. Visit the smallest country in the world, Vatican City.
Vatican City is home to the Pope and is an independent city-state that covers just over 100 acres, making it one-eighth the size of New York's Central Park. Dress appropriately to visit Vatican City, as a minimum covering knees and shoulders but aiming for long sleeves and trousers or a maxi skirt.
15.
Stroll through the Orange Gardens at sunset.
Walk through the picturesque alleys of Aventine Hill and take in all the breathtaking views of the Italian's capital.