If you're looking to spend a weekend in Berlin, this Berlin city guide is what you'll need for the best adventure! There are so many fun things to do in Berlin and it can be hard to pack them all into a weekend… but here's how we did it.
Having obsessively listened to the 'This is Ziggy Alberts' playlist on Spotify for weeks on end, my flatmate and I decided to search for some last minute tickets to see him play live. Realising we'd missed his London date by about a week we continued to search his remaining tour dates in Europe. Our eye contact at 10pm on this random Tuesday evening was a mutual 'let's have an adventure' agreement. We considered a few locations whilst aligning them with the cheapest flights available… a weekend in Berlin was decided.
Berlin was a city neither of us had been to before. We'd heard of Brandenburg Gate, the Berlin Wall, Reichstag, Checkpoint Charlie, and more, but had never explored. So a very spontaneous late-night booking had us arrive in the capital of Germany, in the centre of an incredible amount of poignant WW2 history just 3 weeks later. We spent £45 on return flights each, €25 concert tickets and we had 48 hours to explore the best that Berlin has to offer. 2 days in Berlin and so many fun things to do in Berlin… game on!
If you're heading to Berlin and wondering what the best things to do in Berlin are or how to spend 48 hours in Berlin, this is the post for you. We had an incredible weekend in Berlin and this is what we got up to…
Other blog posts you might be interested in…
A 48-hour guide to Berlin…
How do you get to Berlin?
Berlin is great for a quick adventure from anywhere in the world, whether you want a weekend in Berlin, 2 days in Berlin, 3 days in Berlin or longer, as it has two international airports: Berlin-Schönefeld Airport (SXF) in the south east of Berlin and its subsidiary, BFG Berlin-Tegel (TXL), north-west of the city centre.
We flew out of London Gatwick at 8am on the Wednesday and returned by 8pm on the Thursday, securing ourselves a solid (cheap) weekend in Berlin.
Flight time: 1 hour 25 minutes
Landing location: Berlin Schönefeld Airport
How do you get from Berlin airport to the city centre?
Berlin-Schönefeld Airport to the city centre:
Train: The station is a 2 minute walk from arrivals and links to city centre. You can buy your ticket from the tourism office in arrivals (we bought a day transport pass for €7.70) or you can buy at the station.
Uber (download the app)
Taxi (about €30)
Berlin-Tegel Airport to the city centre:
JetExpress bus from the airport terminal (20-30 mins)
Uber (download the app)
Taxi (about €30)
You can see all the hotspots I went to on my weekend in Berlin, heard about and have mentioned in this post, on the map below. It will help give you an idea of where all the best things to do in Berlin are in relation to each other…
Where should you stay in Berlin?
We stayed in an apartment at St.Christophers Inn located in the heart of Berlin. We didn't fancy a dorm set up for this weekend in Berlin, but equally didn't need or want a fancy hotel so this apartment was the perfect solution. With an apartment you get the social advantages that come with a hostel and the travellers it attracts but the privacy of your own space and facilities. See photos below.
Our accommodation was located in Mitte – the city's most central district. A great place to be based for 2 days in Berlin if you're exploring the nightlife, central tourism spots and want all the best restaurants within walking distance.
Other districts I'd recommend if you're looking for lively and vibrant location: Mehringdamm, Kreuzberg.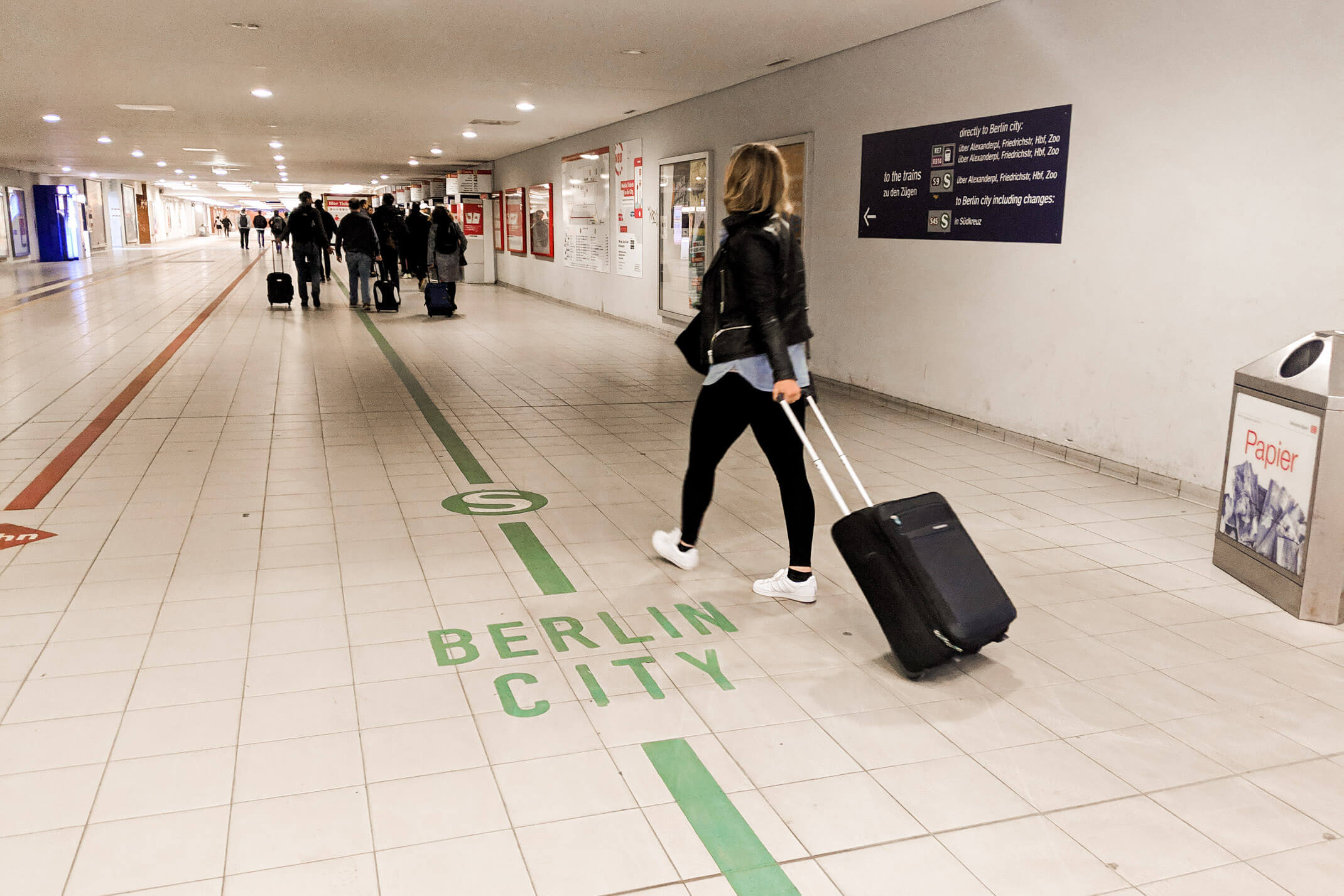 What are the best things to do in Berlin?
1. Head to the famous TV tower at sunset.
The Berlin TV Tower is one of the most prominent landmarks in Berlin and the tallest building in Germany. One of the best things to do in Berlin is to go up to the viewing platform for stunning views across the city at golden hour, and then have dinner in the revolving restaurant. Book your tickets here.
2. Check the events and gigs on at the Lido.
Such a cool, small and intimate venue. This is where we saw Ziggy play and they have lots more gigs if you're into music and heading to Berlin for a weekend. Visit the website here.
3. Head out on a self drive Trabi Safari tour of the city in these epic vehicles!
See Berlin from a unique perspective as you drive around the city in East Berlin's most famous car. After a quick lesson on how to drive these cars, you'll be guided around the city and see all the famous landmarks in Berlin including the Berlin Wall, Brandenburg Gate, the East Side Gallery, Checkpoint Charlie and more. It's one of the most unique and fun things to do in Berlin, and they run 365 das a year, so it's one of many great things to do in Berlin in winter.
4. Checkpoint Charlie.
Located on the corner of Friedrichstraße and Zimmerstraße, it is a reminder of the former border crossing, the Cold War and the partition of Berlin. It's one of the best things to do on a weekend in Berlin.
Checkpoint Charlie was Berlin's most famous crossing point between the previously communist East Berlin and the American-controlled sector of democratic West Berlin. In 1961 the Berlin Wall was constructed to stop the flow of East Germans fleeing, and checkpoints were also built along the wall, with guards instructed to shoot anyone who tried to cross from East to West.
The Americans also decided to build their own checkpoints on the wall, Checkpoints A (Alpha), B (Bravo), and C (Charlie). The guards at these checkpoints were to warn anyone who crossed that they were entering into non-democratic East Berlin.
Checkpoint Charlie is most famous because it was the only crossing for diplomatic personnel, American military and non-German visitors. One of the best things to do in Berlin is to visit this checkpoint, set up as it was at the time, have a photo with a soldier and then learn more about this time in history at the Checkpoint Charlie Museum.
5. Kreuzberg
Lots of hip cafes and trendy places to eat! Once West Berlin's poorest area, Kreuzberg is now an up-and-coming multicultural creative hub. It now boasts museums and galleries, some of the city's coolest cafés and restaurants and a wealth of adventure. Here you can try local Turkish food (there is a large Turkish community here), walk along the the banks of the Landwehrkanal, try some of Berlin's best third-wave coffee, and more. It's one of the best places to visit in Berlin and almost feels like its own microcosm. It's a great base if you only have 2 or 3 days in Berlin.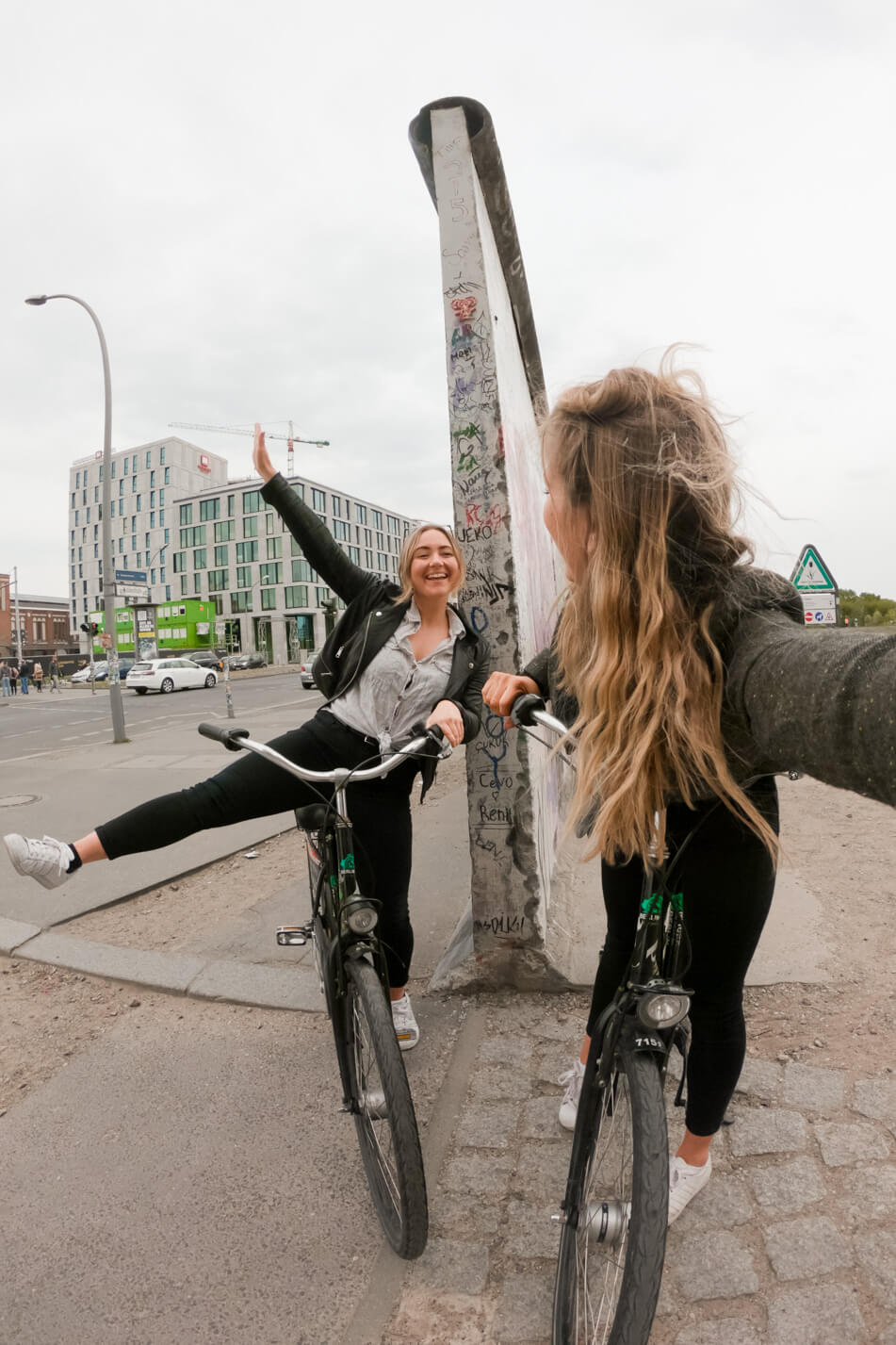 6. Rent a bike and cycle around the city.
Berlin is completely bike friendly with cycle lanes on the main roads and is also very flat, making for the perfect cycling adventure. We rented bikes from our hostel for €12 which gave us 24 hour access. There are lots of bike shops around! One of the best things to do in Berlin for a weekend is to get a bike for a few hours or even a day and see all the main landmarks in Berlin on two wheels!
7. East Side Gallery
The main hub for the Berlin Wall, there's cafes on the river too!
The Berlin Wall divided Berlin into two throughout the Cold War, and fell in 1989. Today, only remnants of the concrete wall remains, and there are lots of places in Berlin to see the Berlin Wall. The best place to see it is the East Side Gallery, one of the best places to visit in Berlin, which is the longest stretch of the Berlin Wall left. It runs for 1.3 kilometres along the River Spree and was decorated by over 100 artists in 1990, making it the largest open air gallery in the world.
Other places in Berlin to see remains of the Berlin Wall include Potsdamer Platz, the Topography of Terror, Old St Hedwig Cemetery, Bösebrücke (where the first crossing opened), Checkpoint Charlie, the Berlin Wall Memorial, Gutspark Groß Glienicke (which also has a popular lake for swimming), Mauerpar, the Invalid Cemetery and the Schlesischer Busch watch tower.
8. Liquidrom
This spa is just a lovely few hours or a day escape from the city. You can pay for a couple of hours or for a full day. We went for the shortest, 2-hour slot (which is perfect for a weekend in Berlin where you're running short on time) and enjoyed the array of saunas, infused steam rooms, plunge pools and outdoor pools. There's even a Liquidrom pool which is a salt pool with low light, in which you float and can listen to electronic music underwater. It's so relaxing and reasonably priced. There are loungers and a bar serving healthy drinks and food too. See more here.
9. Bear Pit karaoke on Sundays!
One of the top places to visit in Berlin, especially on a Sunday, is Mauerpark. Each week the locals gather to enjoy the fresh air, explore the flea markets, enjoy the live music and even join in with some BearPit karaoke! The energy here is incredible.
10. Berliner Unterwelten (Underground tours of Berlin)
One of the most unique things to do in Berlin is to see the city from a new perspective: the underworld. Discover Berlin's hidden secrets as you explore tunnel systems, bunkers and more with a local guide. From the Bunkers at Gesundbrunnen to the escape tunnel between East and West Berlin, the Berliner Unterwelten tours are dedicated to showing you the hidden parts of Berlin.
Find out more about the Berlin Underworld tours here.
11. Walking tour of Berlin
If you're looking for free things to do in Berlin, a walking tour should be the top of your list. (Ok, so you're expected to make a donation at the end of a free walking tour so it's not completely free, but still, it's one of the cheap things to do in Berlin!). There's no better way to learn about a city and see all the hotspots than with a local guide. Make sure you see the likes of Brandenburg Gate, the Berlin Wall , East Side Gallery, Victory column, TV Tower, Berlin Cathedral, churches and more!
After you've done a walking tour of Berlin's city centre and Old Town and you've seen all of Berlin's main landmarks, there are specialist tours you can do, such as the street art walking tour in Mitte.
Berlin top tip: While their tours aren't free, I've heard that the best walking tours of Berlin are delivered by Insider Tour.
12. Visit the famous Brandenburg gate.
Brandenburg Gate is perhaps one of the most famous landmarks in Berlin, and on everyone's must-see in Berlin list, even if you're only spending a weekend in Berlin. Once a symbol of a divided city, it is now a national symbol of peace and unity. People would climb to an observation platform to get a glimpse of the world on the "other side" until the fall of Berlin in 1989. It is now New Berlin's symbol of unity.
Looking for more of the best things to do in Berlin? Check out my Berlin bucket list here!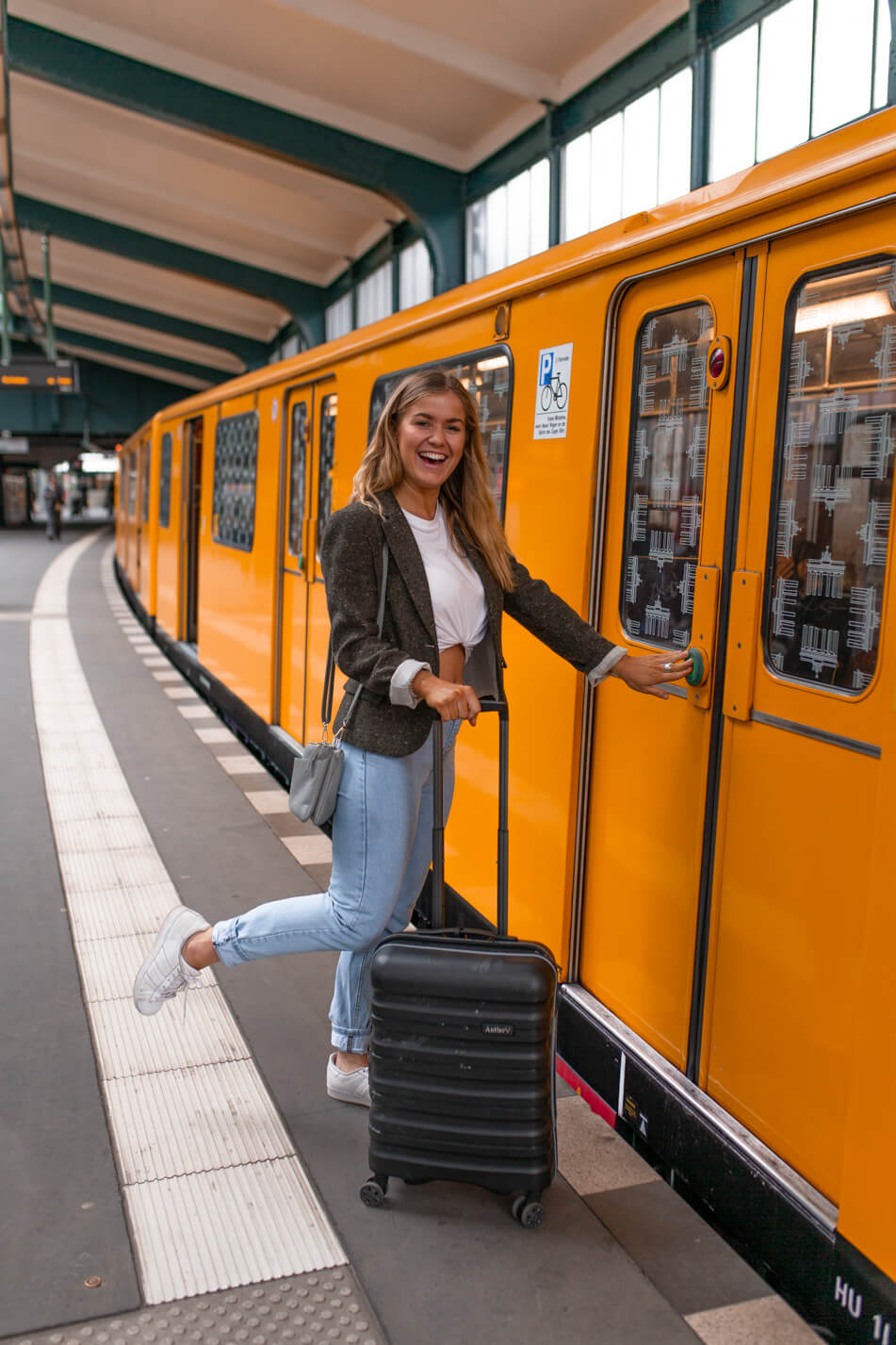 Where are the best places to eat in Berlin?
Places I went and LOVED:
– Burgermister
I never eat burgers but this was UNREAL. Get some cheesy chips on the side.
– Mustafa's Kebab
Tourist central and always a queue but I can confirm it's amazing.
– 1990 Vegan Living
Delicious food, cheap yummy cocktails, lovely outdoor seating.
– Curry 36
Fab for a famous Curry Wurst, the 'must' German sausage with a spicy tomato sauce on.
– Soho House Berlin
For a healthy brunch with all the avocado and smoothies your heart desires.
Other's I'd heard about that you should check out:
Burger Vision
Umami (apparently the sweet potato curry is worth travelling to Berlin for alone)
Peter Pane
Amsterdam Junk Food
TRANSIT in Mitte
Hackescher Markt
Zero fur brot for cinnamon swirls
Monsieur vuong
Burrito dolores
Com viet
Pasternak (breakfast)
House of Wonder
Where are the best places for drinks in Berlin?
We actually just pre drunk some prosecco before watching Ziggy and this was our only night in Berlin, but here are a few places to check out if you fancy a night out on the town in the German capital:
Monkey Bar (overlooking the zoo)
KLO (quirky toilet themed bar)
Watergate
Mein haus am see
Have you spent a weekend in Berlin?
What are the best things to do in Berlin? I'd love to know!
Love as always + happy adventuring,
Did you find this post helpful? I'd love you to share it for me.
I can't do this without you.
Pin and save this blog post for later…