I first went to the gorgeous Spanish city of Barcelona to celebrate my 21st birthday, and I immediately understood why so many people fall in love with this stunning city.
The architecture, the people, the food, the wine, the beaches, the green spaces… It's a city that offers adventure and activity in abundance. The best thing? You don't need a car to explore, you can enjoy the wealth of activities and cuisines on foot making it a fabulous short, city break option in Europe.
Since my 21st birthday, I've been back to Barcelona twice and so now I figured it was about time I put together a Barcelona travel guide to help you start planning your trip.
A little about Barcelona… Barcelona is the capital of Spain and the second-largest city (after Madrid). It's located in the north east, and it's also the largest city of the autonomous community of Catalonia (meaning that here the locals speak Spanish and Catalan). Barcelona is well connected with an international airport, ferry port, train station (with trains that go across Europe) and easy motorway access, making Barcelona the perfect starting point for a road trip in Spain.
Other blog posts and travel guides that you may enjoy: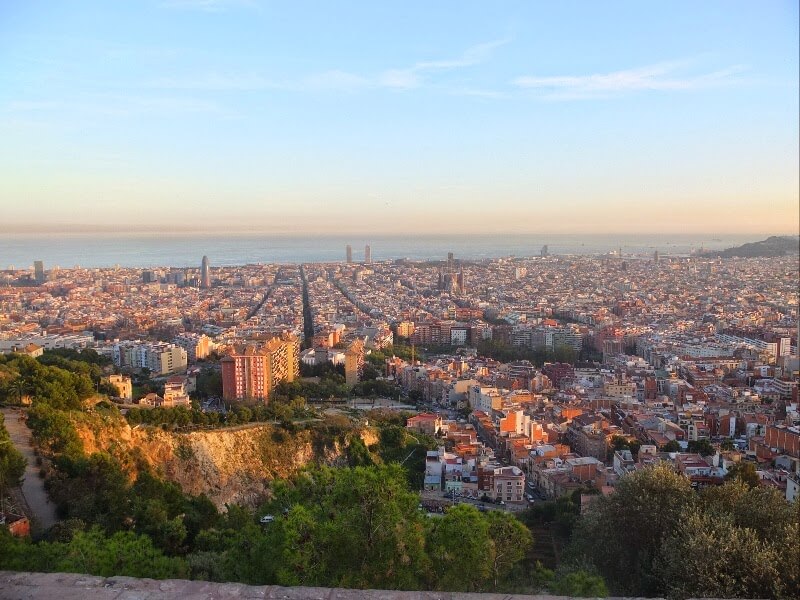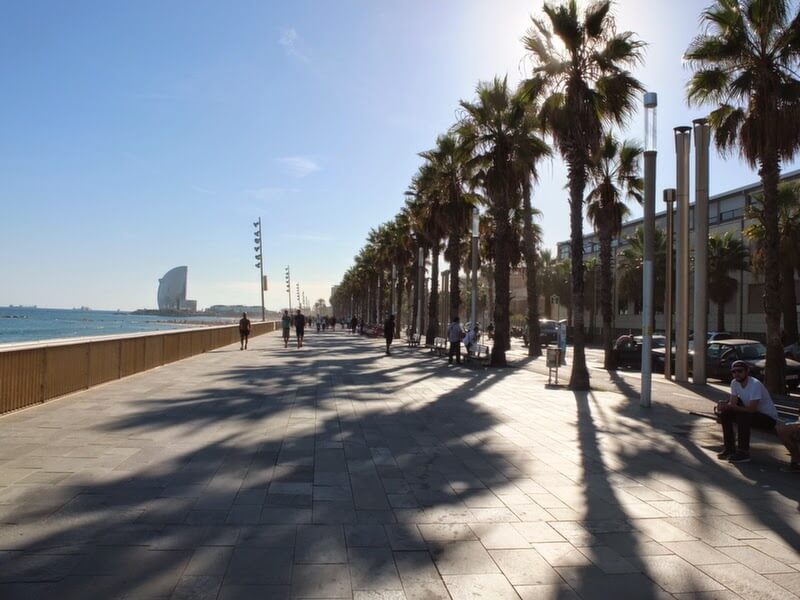 My guide to exploring Barcelona, Spain…
Where is Barcelona?
Barcelona is on the east coast of Spain in the region of Catalonia. It's the second-largest city in Spain.
How do you get to Barcelona?
By plane
Barcelona has a huge international airport located just 16km outside the city, with links to main cities across Europe. Get the best flight deals on skyscanner.net here.
From the airport, you have the choice of metro, bus, train, shuttle, or taxi. Find out more here.
By bus
Barcelona Nord bus station has the most national and international bus connections. But, you can also get the bus to and from other stations in the city. Check out tickets from FlixBus, the largest bus network in Europe, here.
By train
Barcelona has great national and international train links. Get your train tickets in advance to save money on thetrainline.com or get yourself an interrail pass and do a trip around Europe!
How do you get around Barcelona?
I personally chose to walk most places. I love seeing places on the ground, it helps me stay active, and it's cheap!
If not, Barcelona have a great public transport system. They have a bus and metro system, and you have the choice between single tickets, time tickets, hop on hop off tickets, or visitor day(s) tickets. You can find out more here.
Alternatively, if you are in a rush to see all the landmarks in one day (like I was), try a hop-on hop-off bus. They can be a little pricey (30€ for 1 day, 40€ for 2 days), but it's a great way to see everything quickly. There are three bus routes around the city depending on what you want to see, and you get a free coupon booklet full of attraction discounts, so it might be worth looking into if you were going to spend a bit of money on those anyway. Find out more and get your tickets here.
We also found taxis were reasonably priced if you need to get back to your hotel at night, or don't want to walk around.
Things to do in Barcelona…
Marvel at La Sagrada Familia. At the top of everyone's list, it's not one to miss! Get your tickets here.
Explore the trendy El Born neighbourhood.
Watch a football game at Camp Nou. Or, you could do a stadium tour! Get tickets here.
Do an open top bus tour to see all the sights.Get tickets here.
Explore Las Ramblas.
Head to the market at La Boqueria and get a fresh juice for 1€.
Watch the sunset at 'The Bunker' for a full view across the city. (Address: C/ Marià Lavèrnia, 08032).
Watch the dancing fountains at Montjuïc.
Eat all of the churros, tapas and paella!
Kick back and relax on the beach at La Barceloneta.
Hike Tibibado for a panoramic view across the city.
Wander around Park Güell. Get tickets here.
Walk around Carrer de les Aigues for green space off the beaten tourist track.
Chill out in Parc de la Ciutadella.
Visit Mercat de Santa Caterina. Eat everything.
Look in awe at all of Gaudi's architecture: Among the many buildings he designed, Casa Batlló, Casa Mila, and Casa Vicens are highlights (as well as Park Guell!).
Visit the Picasso museum. Get tickets here.
Watch live music at El Palau de la Musica Catalana. Get tickets here.
Enjoy a rooftop concert at Casa Batllo. Get tickets here.
Watch a flamenco recital at Palacio del Flamenco. Get tickets here.
Enjoy the 'green lungs of Barcelona' at Collserola National Park. It's the largest metropolitan park in the world and full of hiking trails and nature to explore!
Take a day trip to Montserrat and get active!
Hire a board and go surfing! It's more of a winter activity here in Barcelona but if you're lucky like we were with the surf you could be in for a summer day in the waves.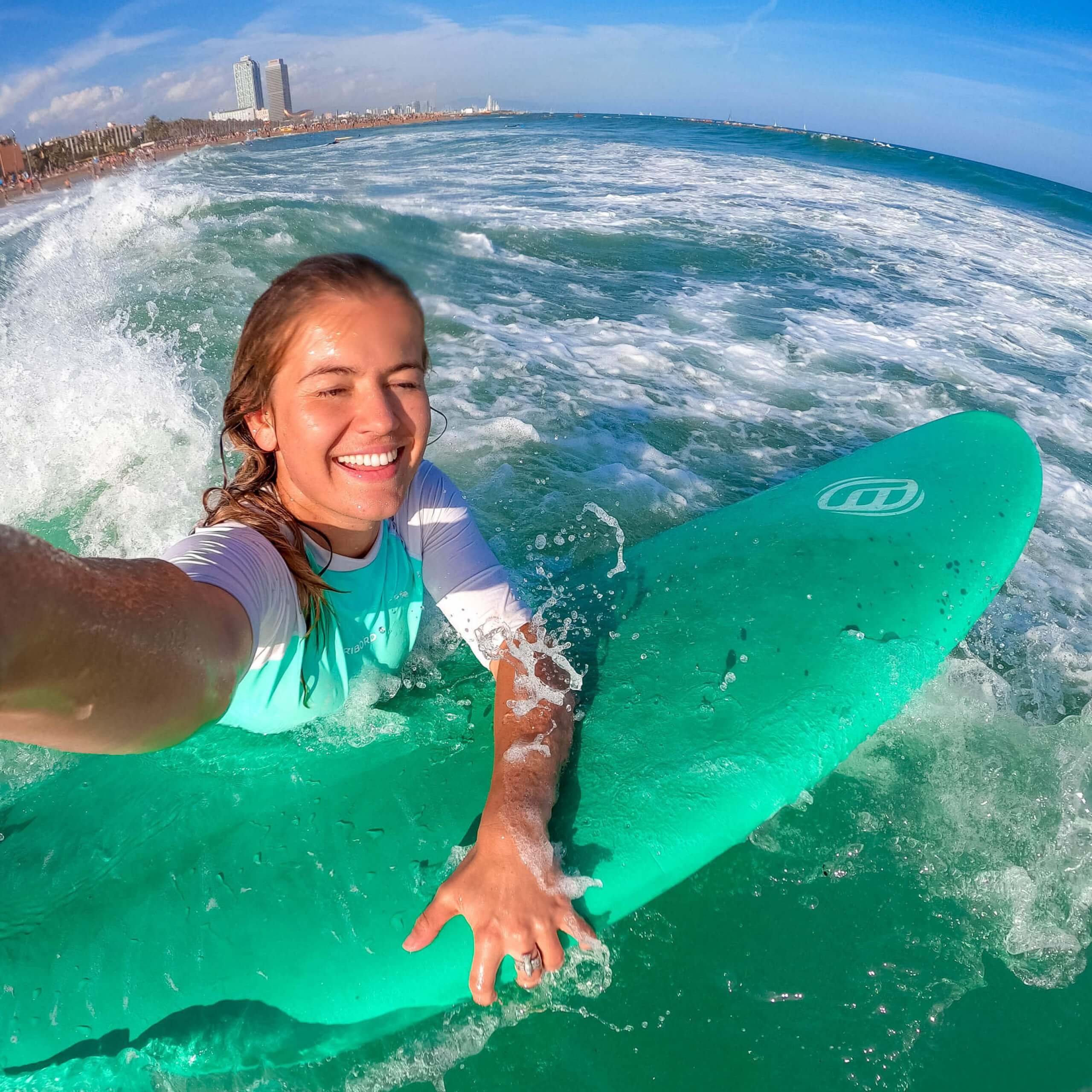 Recommended eateries in Barcelona…
For breakfast or brunch…
Can Dende
EatMyTrip
Brunch & Cake
For a health kick…
Flax and Kale
Fitbox Acai bowls
Surfhouse food and sangria!
Honest Greens
Vegan Bowls
Krudite
For tapas…
Tosca Barcelona
Elsa y Fred (they also do a great Sunday brunch!)
El Tropezon
La Esquinica
Cerveceria Catalana
Casa Pagès
La Llavor dels Orígens
Bar Tomás
Cafetí
For dinner…
Messi Pizza
Milk Bar & Bistro (they also do great brunch and cocktails)
La Paradeta (heard the seafood here is amazing!)
For dessert…
Chök The Chocolate Kitchen
The region of Gracia is also renowned for being a foodie haven!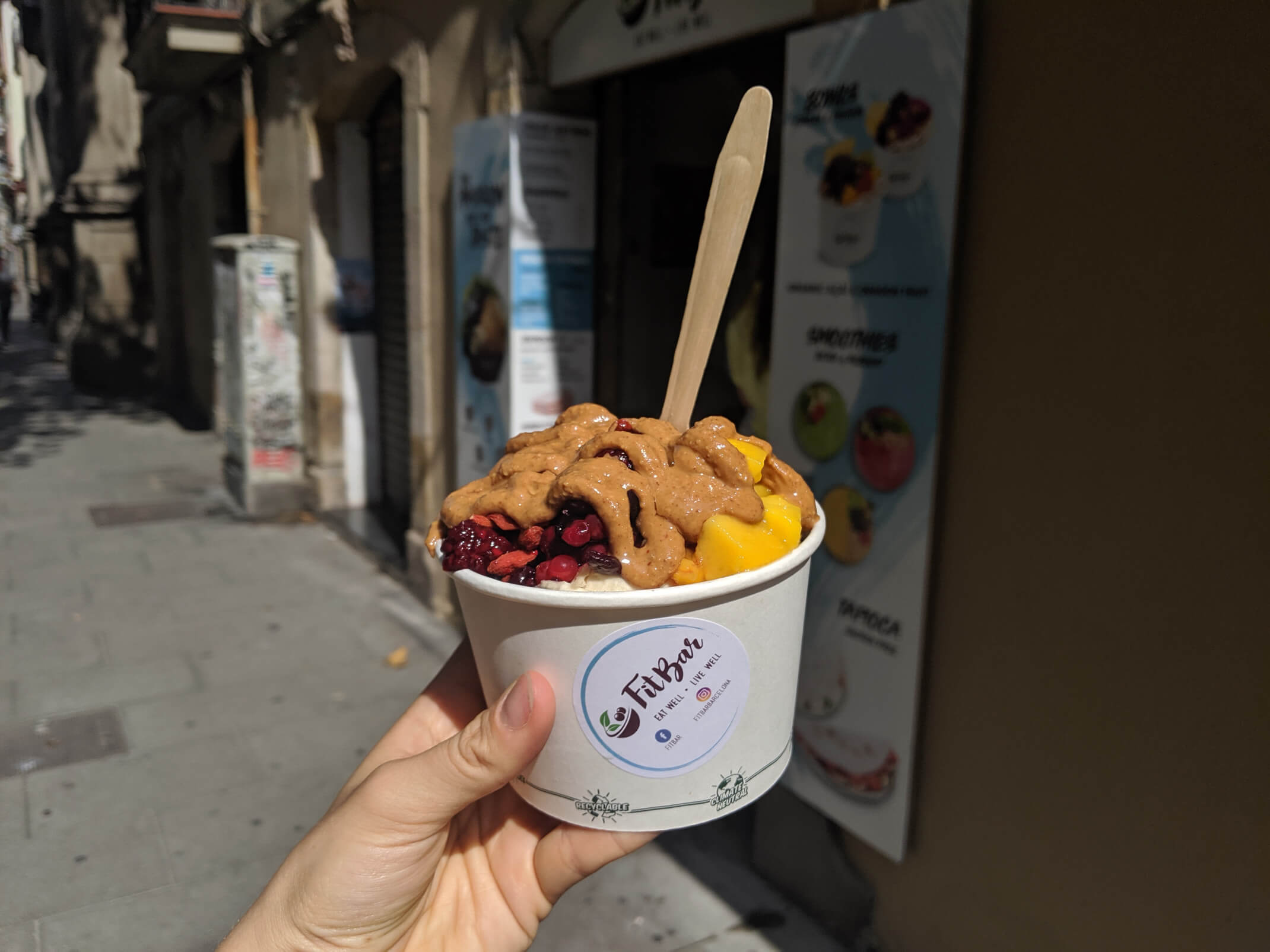 Recommended bars in Barcelona…
Tandem cocktail bar
Boadas cocteleria
Old Fashioned Gin & Tonic bar
Sor Rita
Antic Teatre
Marsella
33/45
Bar Leo
L'Ascensor
La Vinya del Senyor
Milano Cocktail-Bar
El Xampanyet
Sala Apolo
Morro Fi
Passeig del Born also has loads of trendy bars running along it for you to try!
And to dance the night away in a discoteca…
Razzmatazz
Marula Café
Macarena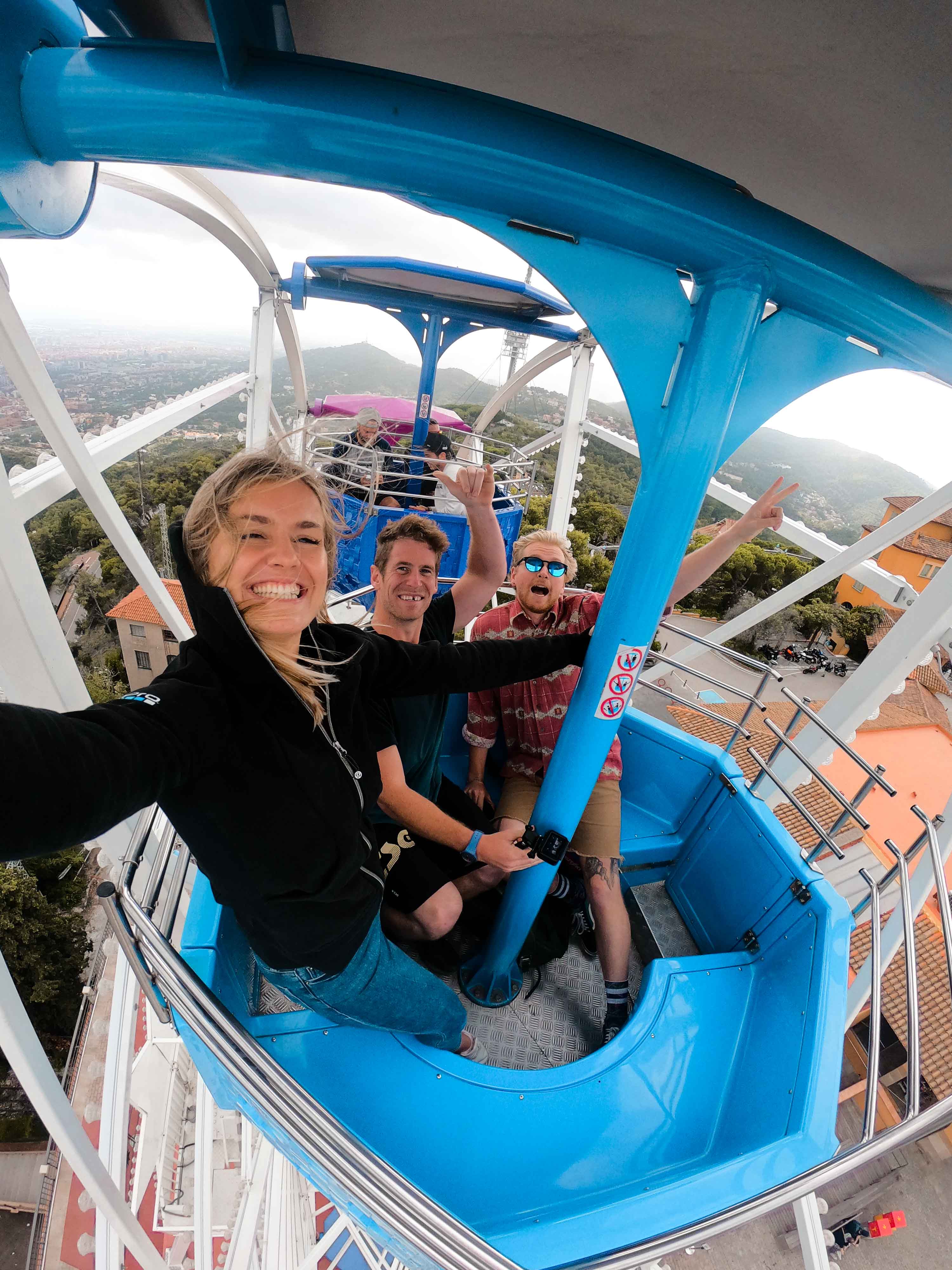 Day trips and road trips from Barcelona…
For the beach…
Tossa de Mar
Premia de Mar
Sitges
Cala Fonda
Platja Fonda
Sa Tuna
Aiguablava
Tamariu
Callela de Palafrugell
Sant Pol de Mar
For the cityscape…
For the wine…
For the culture…
Ruins of Empuries, L'Escala
Girona
Tarragona
Begur
Figueres
Pals
Vic
Besalú
For nature…
Montserrat (great for hiking!)
Delta de l'Ebre
La Molina (skiing in the Pyrenees!)
Vall de Núria
For the adrenaline rush…