Say 'hello!' to Gran Canaria, one of Spain's Canary Islands sat just off northwestern Africa.
I had always thought you needed to hop on a 6+ hour flight from the UK to hunt down a dose of Vitamin D come October, but I was wrong. I had no idea the weather was so wonderful year-round on this gorgeous volcanic paradise! Notably so in the south of Gran Canaria where they receive close to no rain throughout the year. If you're looking to escape the UK winter and find some winter sun, a weekend in Gran Canaria is a great shout.
In this blog post I will share the best things to do see and eat in Gran Canaria to help you plan your trip on the island.
My guide to a weekend in Gran Canaria…
Gran Canaria is one of the 7 larger islands that make up the archipelago we know as The Canary Islands. The Canaries lie in the Atlantic just 62 miles west of Morocco and all have volcanic origins making them visually, very very unique.
Though the islands lie just off the coast of Africa they actually belong to Spain, so get your Spanish lingo at the ready!
Getting to Gran Canaria…
To get to Gran Canaria, I took a 4 hour flight from London Gatwick to Las Palmas de Gran Canaria (LPA) which is the main airport on the island. I had a super pleasant flight with TUI for £175 return and the 25 minute transfer to Puerto de Mogán, where I stayed, was easy.
My time on this gorgeous canary island was hosted by Gran Canaria Blue holidays who own a few resorts here. During my stay I rested my head at Hotel Cordial Mogán Playa but hopped around to check out their other properties, which gave me the chance to get a real feel for the different locations on offer.
And so now, I can present to you a few different hotels in the south (where the sun really shines) and also some of the best things to do during your stay in Gran Canaria…
Where should you stay in Gran Canaria?
Hotel Cordial Mogán Playa
There was certainly more a traditionally Spanish feel to this hotel as opposed to a brand spanking new western design which was a welcome change from my usual choices. There was a very family orientated, all inclusive vibe here with all the restaurants, bars, pools, spa and gym facilities on site, meaning you really don't need to move far and can kick back and totally relax during your stay.
Should you get restless, the hotel has tennis courts and also sits right on an archaeological trail which you can walk on for free as a guest (general public admission €5) whilst admiring unrivaled views over Puerto de Mogán. The hotel spa is gorgeously designed with modern facilities. If you opt for a treatment I would highly recommend the Balinese massage! The islands volcanic terrain towers one side of the hotel making for some pretty surreal views, as does the grand entrance to the hotel which has a cool microclimate and is filled with palms and beautiful green plants. It is here in this large open hotel lobby that you can enjoy a cocktail and listen to some live entertainment before you head to dinner.
My favourite thing about the hotel? You're a stones throw from the Venice of Gran Canaria (Puerto de Mogán) which is filled with beautiful floral streets and cafes that will have you tempted to pitch up for an afternoon of sangria.
Do it, you're on holiday!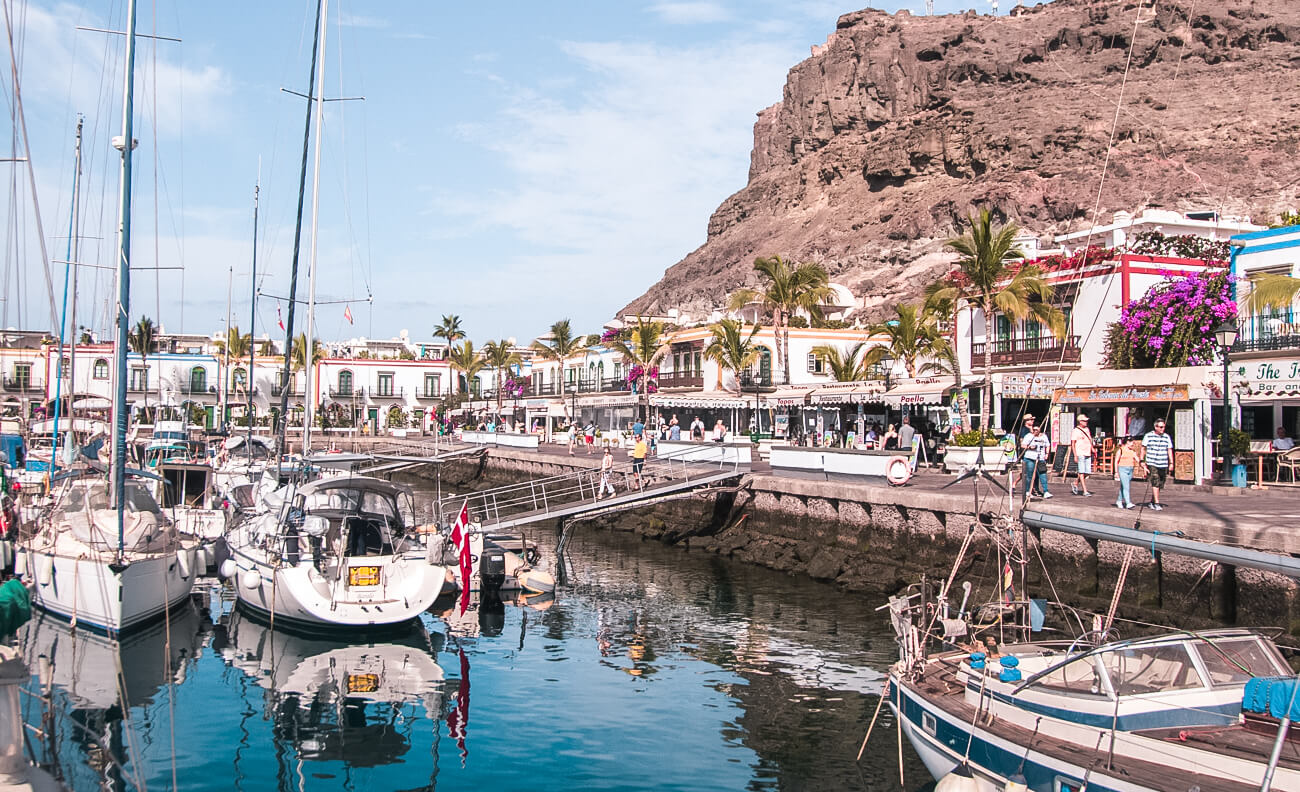 Gloria Palace Amadores Thalasso Hotel
This hotel is sandwiched between the beaches of Puerto Rico and Playa del Amadores and boasts the best ocean views on the island from a hotel. Here at the Gloria you've got everything from a nude sunbathing area and Thallasso spa, to outdoor snack bars, kids entertainment and infinity pools. Something this hotel boasted a lot of was space. It feel very open and the restaurant view was beyond dreamy. Most people here are again, booked onto the all inclusive package.
Whether you choose this hotel as your place of rest or not, anyone is welcome to book and enjoy a 'Glory day' for just €50 which includes access to the ocean view spa, a buffet lunch and access to the hotels facilities for the day.
Marina Suites
If you're looking for the malibu beach house vibe then look no further. The interior design and consistent ocean concept that ran throughout the property experience was beyond stunning. Even the staff uniform coordinated with the colour scheme, I loved the attention to detail. The choices of white shutter room dividers, hanging lights, reclaimed wood details and blue and white striped patterns were dreamy. Marina Suites hosts an infinity pool and reading area besides the ocean, an adult only sun area with jacuzzis and an open beach house serving smoothies, fresh fish dishes and cocktails all day long.
This property certainly felt more exclusive than the others but still offers a warm welcome to families.
The general feeling I got from Gran Canaria was very family and resort orientated, making it a great place to forget about the big outdoor adventures and really invest in some 'you' time.
Saying that, there are a few awesome things I did venture out for that I'd recommend…
Things to do in Gran Canaria…
A day at sea…
It was really awesome to get an ocean perspective of Gran Canaria to see exactly the way this volcanic masterpiece has developed into the wonderful tourist destination it is. Our tour departed at 10.20 returning at 3pm and included: an open bar, snacks, a buffet lunch, the option for warm water swims and to add some water sports into your adventure. Book here.
Las Palmas Cathedral
Take a walk around Vegueta's neighbourhood before exploring and admiring Las Palmas Cathedral. This Cathedral was the first church ever built in the Canaries, with work starting around 1500 (but not completed until almost 4 centuries later!) so is considered the most important monument of the Canaries' architecture.
Bandama Caldera
Grab your walking shoes and take on a hike up to the Bandama Natural Monument. This volcanic crater reaches 569m above sea level at the highest point on its rim, Pico de Bandama, and is about 1,000m wide and 200m deep. The perfect touch of active adventures in between your beach days!
Maspalomas Dunes…
Need I say more. There's a lovely hotel on the dune front called Hotel Riu Palace that you could check out for accommodation or just for a coffee and lunch after exploring the dunes.
Las Canteras Beach
A famous spot to snorkel on Gran Canaria! Get your swimmers on…
Time didn't allow for me to do these things, but there are also…
Submarine adventures

Camel riding

Horse riding
All in all, I had a gorgeous few days of sunshine here in Gran Canaria along with the perfect opportunity to relax before the busy months leading up to Christmas.
I will definitely have Gran Canaria on the back burner when I next need to escape the depths of a U.K. winter!
Have you been to Gran Canaria?
What were your favourite spots? I'd love to know!
Love as always + happy adventuring,
Did you find this post helpful? I'd love you to share it for me.
I can't do this without you.
Pin and save this blog post for later…