Barcelona is, without a doubt, one of the best city breaks in Europe that I have been on.
Barcelona is a city within Spain and is located in the northeast of the country, on the coast. Barcelona as a travel destination offers so much for every kind of traveller. From afternoon strolls through the colourful Las Ramblas and admiring Gaudi's impeccable design of La Sagrada Familia, to diving into some fine Spanish cuisine and enjoying a sangria filled afternoon at the beach – you're going to love it here.
If you're planning a trip to Barcelona, wondering what the best things to do in Barcelona are or wondering what free things there are to do in Barcelona… this is the post for you.
I'm going to take you through the Barcelonas must-see's along with my favourite adventures and hidden gems so that you can plan an epic adventure to this Spanish speaking wonderland.
Other Europe blog posts that may help you plan your trip:
A few Barcelona facts for you…
Where is Barcelona?
Barcelona is the capital of Catalonia, Madrid being the capital of Spain. Barcelona is located in the northeast of the country, and it's also the largest city of the autonomous community of Catalonia (meaning that here the locals speak Spanish and Catalan). Barcelona is well connected with an international airport, ferry port, train station (with trains that go across Europe) and easy motorway access, making Barcelona the perfect starting point for a road trip in Spain. See my Europe road trip bucket list here.
When is the best time to visit Barcelona?
Barcelona is Spain's most visited city, so whenever you decide to go, expect it to be busy. The best time to visit Barcelona is said to be April to July. The weather is good enough to enjoy the multiple outdoor attractions, beaches and festivals that Barcelona has to offer, without the heat and ridiculous crowds of August.
Having said that, I've only been to Barcelona in October and both times the weather was glorious (good enough for swimming and surfing!), the sun was shining, and the crowds were far fewer than they would be in peak season. I imagine that Barcelona in March is similar to what it would be in September and October (all three months are part of Barcelona's shoulder season). Barcelona is a great place to get some October sun.
If you're only looking to go sightseeing and you're happy to risk the weather (some days it might be 20°C, other it might be 5°C and you'll want a coat and an umbrella), then Barcelona in winter is great for you if you're travelling on a budget, if you want to travel somewhere for Christmas or New Year, if you want to avoid the crowds in low season, and you're not bothered about getting in the sea.
Where to stay in Barcelona…
It depends on what you're looking for in Barcelona. The best things to do in Barcelona are spread all across the city so there's no one best place to stay. Barri Gòtic, Eixample, Poble Sec and El Born are some of the most popular places to stay in Barcelona, since they are about 20 minutes away from most of the landmarks and attractions. Poblenou is considered the best areas to stay in in Barcelona for more lively nightlife, and both here and Barceloneta are good for those of you who want to hit the beach.
Blog posts you might find useful include…


25 best things to do in Barcelona...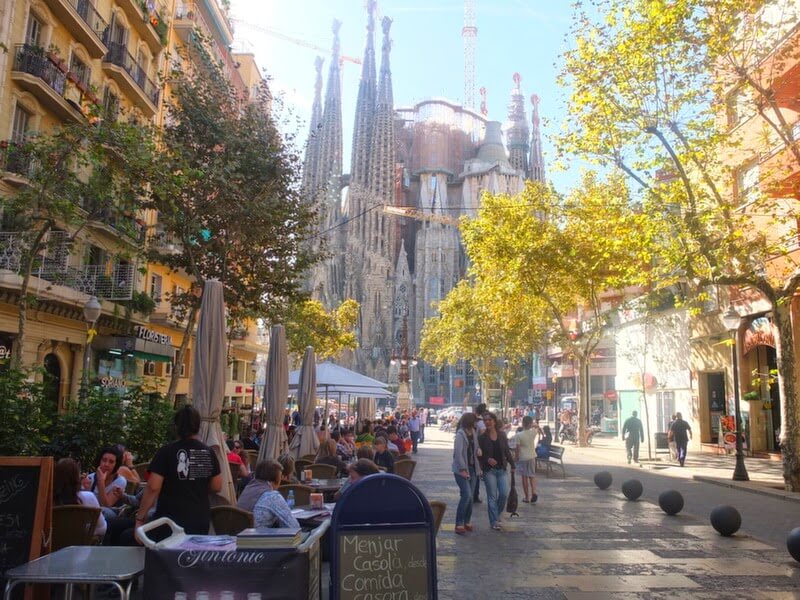 1. Marvel at La Sagrada Familia.
You cannot go to Barcelona and not see La Sagrada Familia. This is easily the most popular thing to do in Barcelona.
Designed by Gaudi, this is the world's largest unfinished church. The end date remains a mystery, and with building work being delayed by the coronavirus pandemic, those of you wondering 'when will La Sagrada Familia be finished' are likely to be waiting until at least 2027/8 for this work of art to be complete. Book your tickets in advance (it gets busy fast and you can't often get tickets on the day) and I'd recommend opting for an audio guide if you can.
2. Watch a football game at Camp Nou.
This is on every football fan's Barcelona bucket list! Camp Nou is Europe's largest football stadium, and at almost 100,000 seats, it really is huge. Seats are all held by season ticket holders who 'release' their tickets if they can't go, usually 48-72 hours before a game.
There are usually a fair amount of tickets available for lower league games, and don't forget, you can go on a Camp Nou stadium tour too! Get your FC Barcelona tickets here.
3.

Explore La Rambla, Barcelona's most famous street.
Barcelona's most famous street, La Rambla, is completely pedestrianised and runs for almost a mile between Plaça Cataluyna and Port Vell. Lined with people selling everything from flowers to gelato, it's a great place for a stroll through the hustle and bustle in the city.
Fun fact: Is it La Rambla or Las Ramblas? The answer is both! This part of Barcelona originally consisted of five mini ramblas, but now they are grouped together and called 'La Rambla'.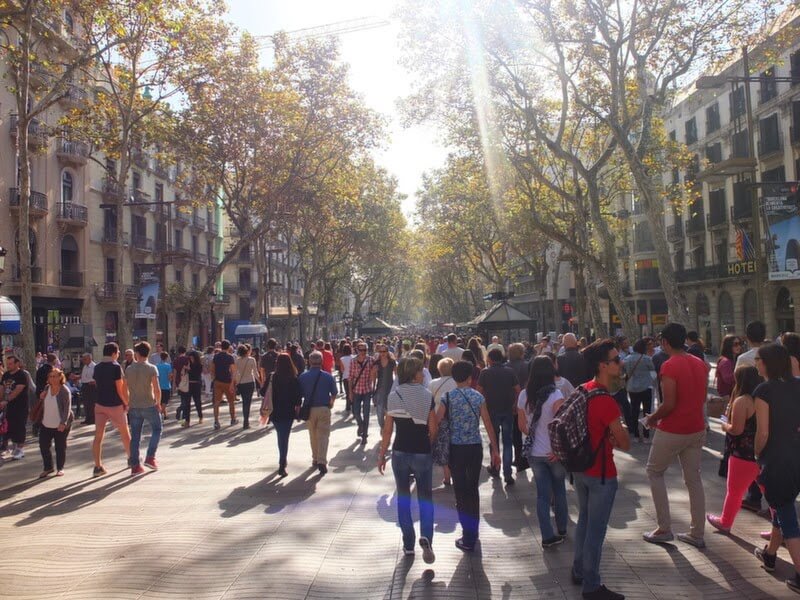 4. Head to the market at La Boqueria and get a fresh juice for 1€.
La Boqueria, on La Rambla, is Barcelona's oldest market, having started life in 1217. It's nothing like it used to be, of course, but one of the best things to do in Barcelona is to explore the stalls, buy a fresh juice, try the local food, and check out any souvenirs. The deeper you go into the market, which has over 200 stalls, the more stimulated your senses get: the smells, the colours, the tastes, the textures and the sounds…!
5. Explore the trendy El Born neighbourhood or the historical gothic quarter, Barri Gòtic.

There are so many beautiful areas in Barcelona for you to explore, so spending a day wandering round and exploring should definitely be near the top of your list of things to do in Barcelona. Luckily it's quite a compact and walkable city! If you're wondering what to do in El Born, try learning about the modern music culture at Palau de la Musica Catalana, visiting the Santa María del Mar church, taking in the art at the Picasso Museum, or tasting all the local food at Mercat Santa Caterina. In terms of what to do in Barri Gotic or things to see in the Gothic Quarter, you've got Barcelona Cathedral, Plaça del Pi and Plaça Reial near La Rambla, and lots of cute backstreets to wander around. A walking tour through both neighbourhoods could be a great thing to add to your Barcelona bucket list!
6. Watch the sunset at 'The Bunker' for a full view across the city.
This was probably the highlight of my trip to Barcelona when I went for my 21st birthday. The Bunkers del Carmel sit on top ofof Turó de la Rovira hill, meaning you have an amazing panorama across the city and you can see everything from Sagrada Familia right to the W hotel on the coast. The bunkers themselves date back to the Spanish Civil War and there is now a small museum where you can learn about this.
The view is most beautiful in the hour before sunset, when the sky turns from blue to orange. Expect crowds as this area will come alive at this time (with locals and tourists alike). For a similarly beautiful view but fewer people, if you can bear the early start, go at sunrise – the 360 view makes this the perfect place to witness the sun going up and down.
How to get to Bunkers del Carmel or how to visit Bunkers del Carmel: The Bunkers Del Carmel are on Turó de la Rovira hill in the El Carmel district. The address for the Barcelona bunkers is C/ Marià Lavèrnia, 08032. It's about a 20-minute walk from Park Guell, or you can drive, or get the bus or metro.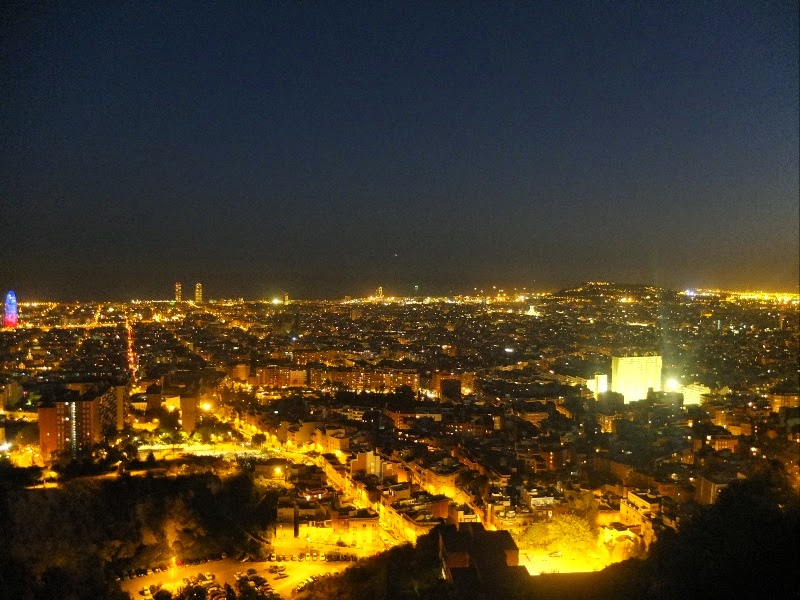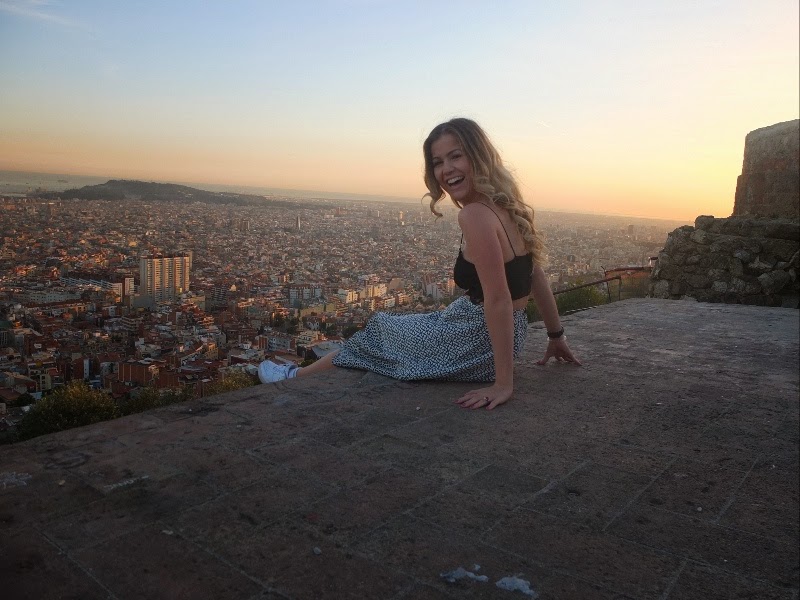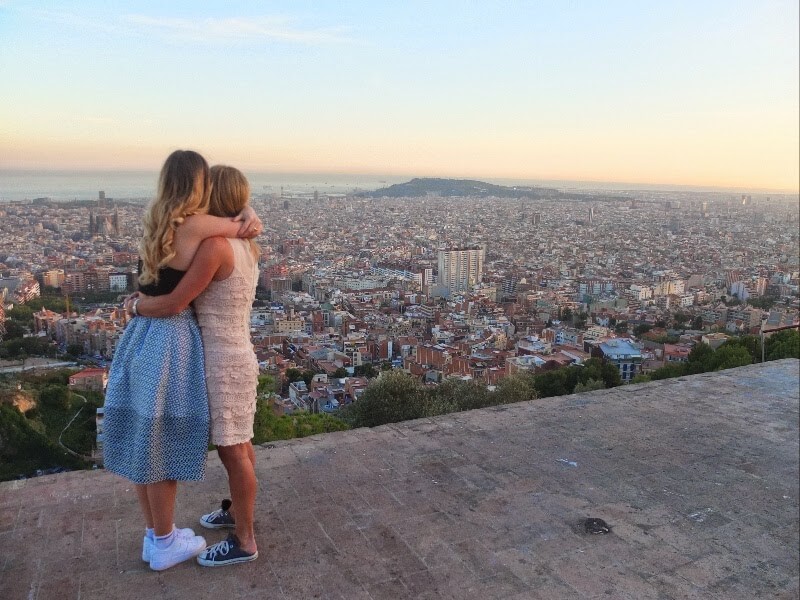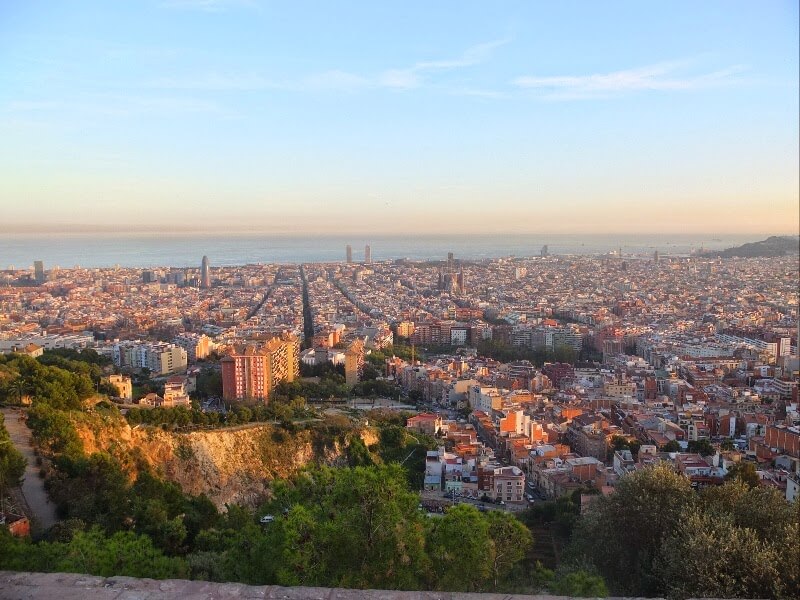 7. Watch the dancing fountains at Montjuïc.
Granted, when I saw these I had just spent sunset at the Bunkers, so I was a little underwhelmed… but many tourists flock to Montjuïc to witness the magical dancing fountains every evening. At around 8pm from Thursday to Sunday the fountains light up in an array of colours and dance to the music. While you're there, there are a selection of food and drinks vans to keep your tummy happy! Just be prepared for big crowds… it was beautiful, but busy. Other things to see in Montjuïc include the 1992 Olympic site and plenty of panoramic views of Barcelona and the surrounding area.
8. Visit the Catedral de Barcelona.
The gothic architecture sets La Catedral back from other churches and religious buildings in Barcelona. It's an absolutely stunning building and I think it's a shame that it is often missed off people's Barcelona bucket lists because they chose La Sagrada Familia instead. For a view across the city you can pay to go up the cathedral tower and take in the view from above.
9. Kick back and relax on the beach at La Barceloneta.
Within the local fishing district is one of Barcelona's oldest and most treasured beaches. Kick back and relax on the sand, soak up the sun, swim in the sea, and have immediate access to local seafood and tapas… this neighbourhood in Barcelona has it all! This is why Barcelona really has something for everyone, because you can have a city break and a beach holiday all in one.
10. Hike Tibibado for a panoramic view across the city.
Tibibado is yet another great place in Barcelona for panoramic views across the city! Tibidabo is the highest mountain in the Collserola mountain range and offers clear views across the city and all the way to Montserrat. Whether you want to simply hike and enjoy the view from the Torre de Conserolla, see the bronze stature of Jesus at the Temple Expiatori del Sagrat Cor, or release your inner child at the Tibibado Parque d'Atraccions, visiting this area is one of the top things to do in Barcelona.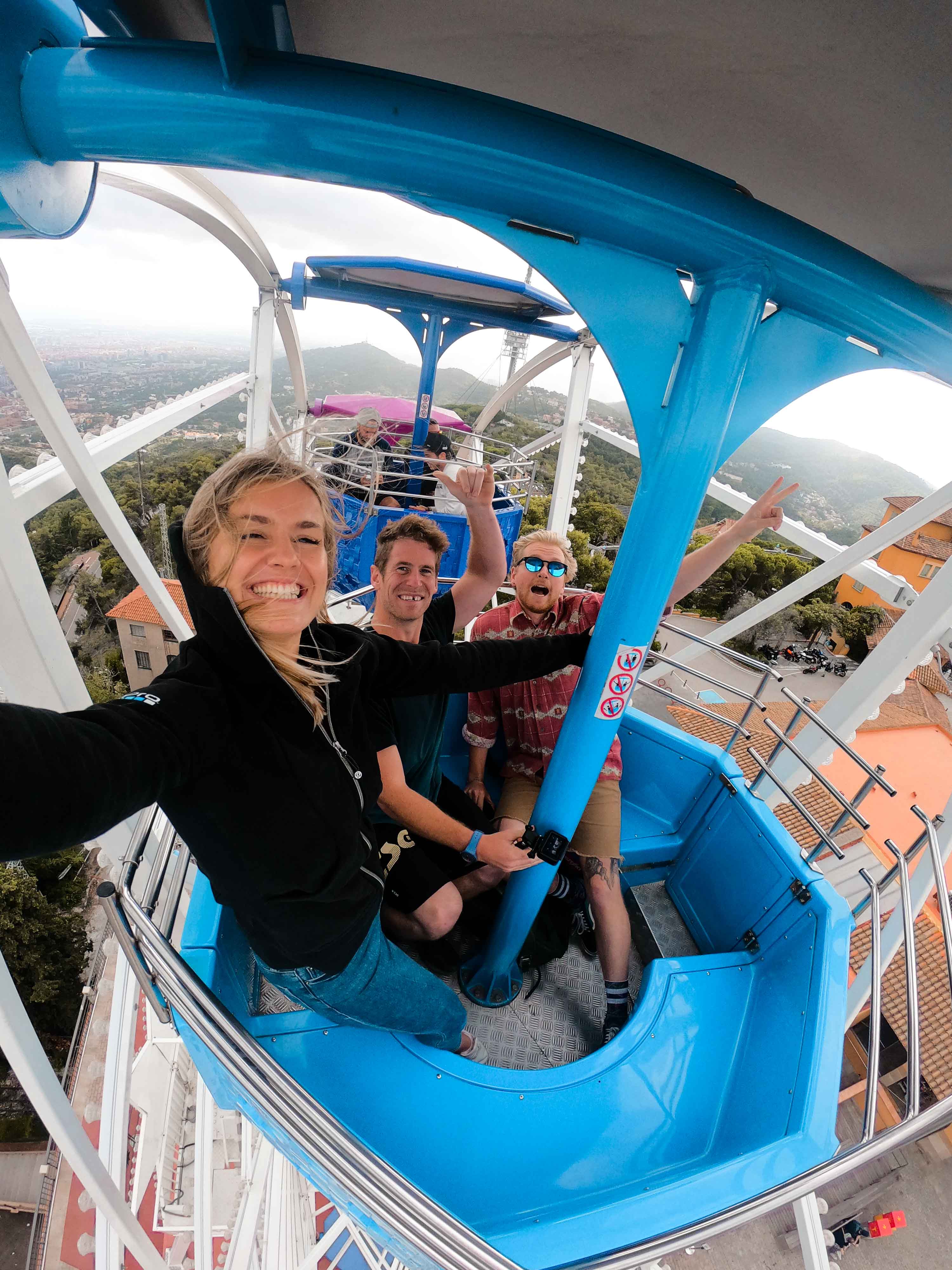 11. Wander around Park Güell.

This is probably the place in Barcelona that you've seen on the postcards (other than La Sagrada Familia!). It's got that mosaic lizard, the colourful spiral towers… Gaudi and Guell's creation is so beautiful and unique, it's almost make-believe. You can explore part of Park Guell for free, but for the best bits you need to buy a ticket.
12. Watch live music at El Palau de la Musica Catalana.
Before you even start listening to the music, take a look at the building itself. It's absolutely stunning. The auditorium, covered in roses, chandeliers, and stained glass, is said to be even prettier than La Sagrada Familia… well, I guess you'll have to try both of these top things to do in Barcelona and let me know which you prefer! You could do a daylight tour of El Palau de la Musica Catalana to appreciate the architecture and design, and then visit again at might when the auditorium fills up with music. Get your tickets here.
13. Chill out in Parc de la Ciutadella.
Barcelona's city park, Park de la Ciutadella, is huge. It's home to a zoo, the regional parliament, and plenty of green space for relaxing, walking and cycling. There are plenty of things to see in Parc de la Ciutadella, including the Cascada Monumental (a golden waterfall), the boating lake, the intricate Castell dels Tres Dragons, the cast iron Umbracle (palm house) and Hivernacle (winter garden). It's the perfect place to escape city life for a few hours.
14. Try the local food at Mercat de Santa Caterina or Palo Market Fest.

La Boqueria is a great market in Barcelona, but it can be a bit of a tourist trap. One of the best things to do in Barcelona is to experience life as a local and get off the beaten tourist path for a while. Two of the best markets in Barcelona are Mercat de Santa Caterina and Palo Market Fest.
Mercat de Santa Caterina is an absolute must-do in Barcelona for any foodies. The multicoloured roof means you won't miss it. You could easily spend a whole day meandering around the stalls and trying the local gastronomy. You could even have tapas as you watch market life happen right before your eyes!
Palo Market Fest has lots of food trucks for you to try more of the local delicacies and gourmet food, but that's not all. This street market also features local designers, creative workshops, live music, and unique stalls selling everything from handmade jewellery to plants. It's a great place to pick up a souvenir in Barcelona!
15. Be amazed at all of Gaudi's architecture in Barcelona.
Gaudi didn't only design La Sagrada Familia and parts of Park Guell. In fact, his art is scattered all across the city of Barcelona. Among the many buildings he designed, there are three Gaudi buildings you must see in Barcelona.
Casa Batlló is famous for the dragon on the roof (make sure you spot it!), and the stained glass design of the building makes it appear different shades of blue and green as the sunlight hits it. You can also enjoy rooftop concerts at Casa Batllo!
Casa Mila features an elaborate Gaudi style interior, and now hosts a cultural centre with art exhibitions and performances.
Casa Vicens was the first house he designed, featuring pink walls, flying birds, intricate floral designs and his famous ironwork.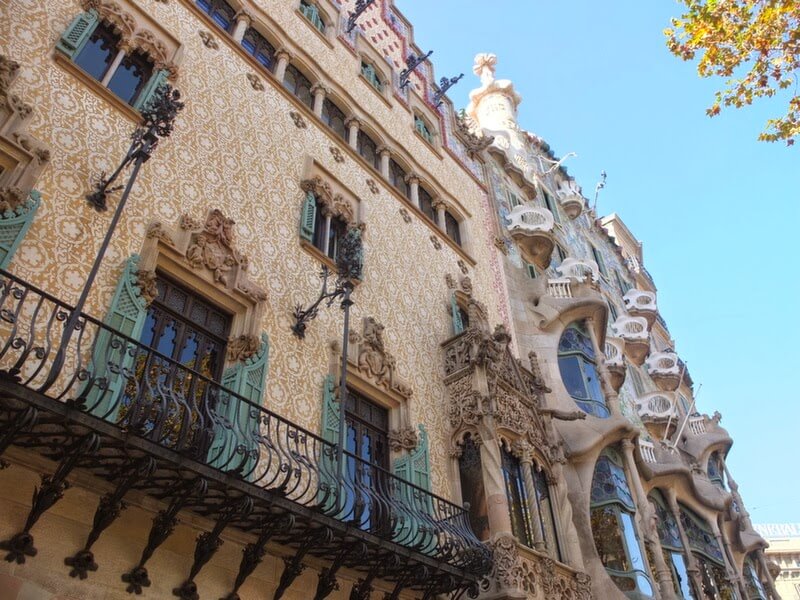 16. Visit the Picasso museum.
While you can't see Picasso's most famous works of art at the Picasso Museum in Barcelona (Guernica is in Madrid and The Weeping Woman is in London's Tate Modern), here you can see the history of how Picasso developed from an early artist into a Cubist pioneer. The setting of the museum is stunning and so a trip to the Picasso Museum can take you the best part of a day and is well worth putting on your Barcelona bucket list! Book tickets here.
17. Witness love in an art form at the "The world begins with every kiss" mural.
This mural, near La Catedral, was only supposed to be temporary, but it has such a positive reaction that it was never removed. The world begins with every kiss was unveiled to commemorate the 300th anniversary of Catalonia Day, remembering Catalan lives lost in the War of Spanish Succession. The mural is poignant and emotive, made up of 4,000 tiles with photos printed on them in such a way that it shows two people kissing, showing affection, empathy and liberty.
18. Enjoy the 'green lungs of Barcelona' at Collserola National Park.
Collserola National Park is the largest metropolitan park in the world and full of walking trails and nature to explore! With over 8,000 hectates of green space to explore, it's a popular escape from the hustle and bustle of city life for both tourists and locals.
The best known walking trail in the National Park is the Carretera de les Aigues. It's a 10km trail and perfect for both walking and cycling. The easiest way to the Carretera de les Aigues from Barcelona is with the Funicular de Vallvidrera.
19. Take a day trip to Montserrat and get active!
The Montserrat National Park is one of the best day trips from Spain and offers unrivalled views across Catalonia. Montserrat is about 1.5 hours on the train from Barcelona on the R5 train. As well as the Montserrat mountain peaks and hiking trails, on your day trip you'll see the Montserrat Monastery and the Black Madonna. Take the Saint Joan funicular up into the mountains and decide which of the trails to follow!
20. Hire a board and go surfing!
It's more of a winter activity here in Barcelona but if you're lucky like we were with the surf you could be in for a summer day in the waves. The best places to go surfing in Barcelona include La Barceloneta, Sant Sebastià, El Prat, Garraf, The Cemetery, Masnou, Montgat & Río Besòs.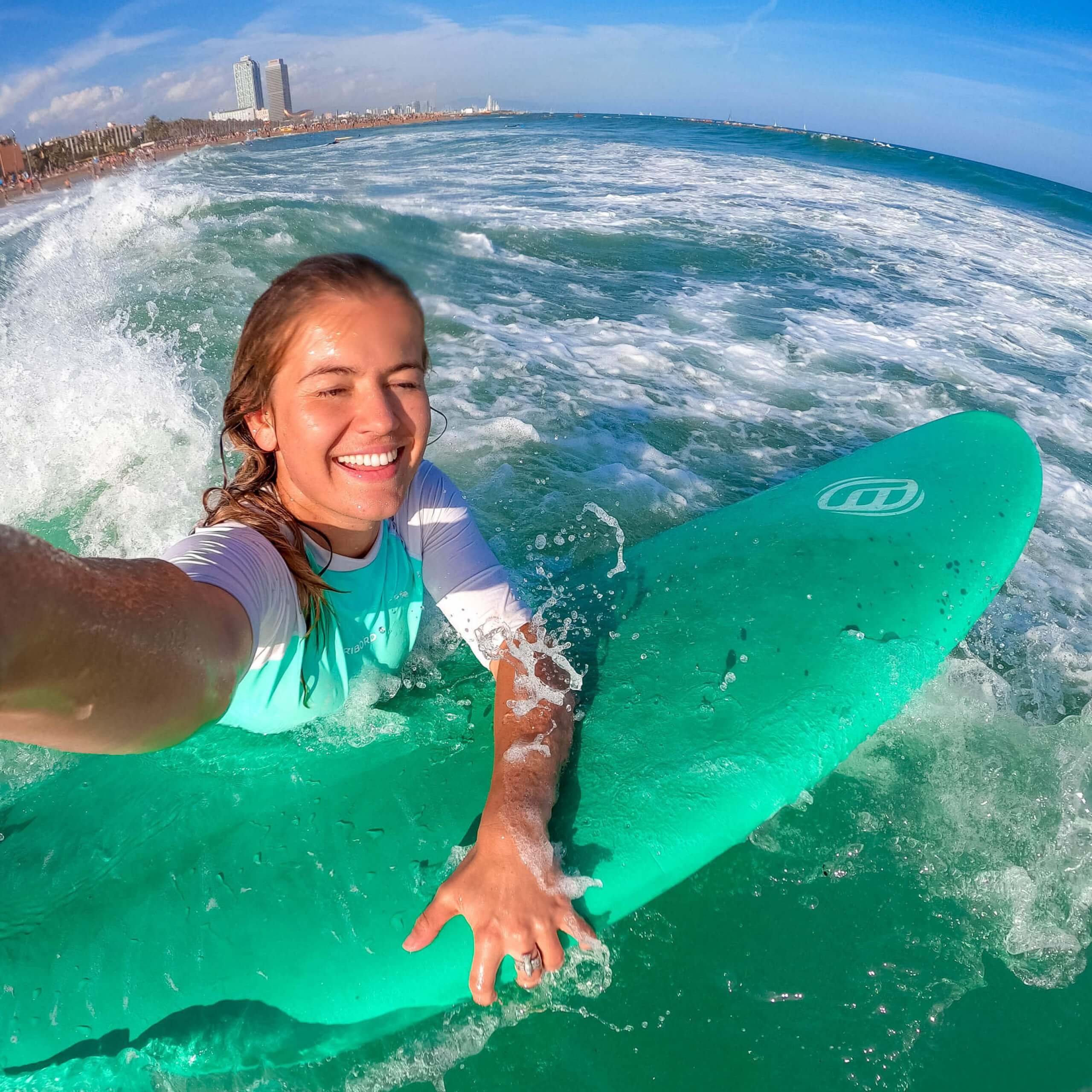 21. Eat all of the churros, tapas and paella!
Spanish food is great and one of the best things to do in Barcelona is to eat it… a lot of it! For the best paella in Barcelona, try La Barraca, La Mar Salada, Can Solé, Ca la Nuri or 7 Portes. You'll find the best tapas on Blai Street. And as far as churros are concerned, try a food van anywhere in the city!
Top tip from my trip to Barcelona: avoid the tourist traps on main roads! We ended up eating some very average paella in a touristy area, but some of the best tapas I've ever eaten after wandering down a couple of side streets and getting away from the crowds.
22. Get lost in the Parc del Laberint d'Horta.
Barcelona is famous for its art and the artists that lived there; well, this garden is a work of art in and of itself. Barcelona's oldest park is a labyrinth which aims to recreate the Greek myth of Theseus defeating the Minotaur to fall in love with Ariadne. At the centre of this maze (if you make it that far; it's harder than it looks) you won't find the Minotaur, but a statue of cupid!
23. Dance the night away at a music festival in Barcelona.
Crowds from all over the world come to Barcelona for the music festivals in spring and summer, each one offering something different to its audience. Some of the best music festivals in Barcelona include:
Sónar Barcelona: electronic/experimental music
Primavera Sound Barcelona or BAM (Barcelona Acció Musical): supporting indepedent artists
Cruïlla de Cultures Barcelona: multiculturalism & music
International Jazz Festival of Barcelona
De Cajón! Flamenco Festival Barcelona
Grec Festival Barcelona: theatre, dance, music & circus!
24. Enjoy the wine culture at Can Calopa.
Can Calopa de Dalt, nestled in the Parc de Collserola, is Barcelona's only winery with vineyards. During your tour you will stroll among the vines, learn about the production of organic wine, and taste some of the wine too! They've also created a space called La Vinoteca de Can Calopa, which also provides employment for people with disabilities or who are at risk of social exclusion. Find out more on the website here.
25. Visit the locals' favourite church in Barcelona, Santa Maria del Mar.
Santa Maria del Mar is a favourite church among locals, both for its stunning gothic architecture and the stories and history behind it. In 1428 it was severely damaged by the Catalonia earthquake, and then in 1936 it was set on fire and burned for 11 days during the Spanish Civil War. If you look closely, you can still see the scorch marks on the roof.


What are the best things to do in Barcelona?
What's on your Barcelona bucket list? Anything you'd add?
Love as always and happy adventuring,


Did you find this post helpful? I'd love you to share it for me.
Pin and save this blog post for later…