For the best weekend escape in Europe, look no further! As you may well know, should you have seen my guide to Brussels, I spent 2 days exploring Belgium's capital and finding the best things to do in Brussels and one (very long) day exploring the nearby city of Bruges and Ghent. Check out my day trip here.
My time in Brussels was limited but I did my very best to explore and do much as I could fit in.
Of course this involved a lot of eating, naturally, and my god the chocolate and waffles totally blew my mind. I have quite the sweet tooth and am easily pleased by a bar of Dairy Milk, but the chocolate in Belgium is seriously on another level. It's amazing enough that I found myself eating it alongside breakfast lunch and dinner… without even feeling sick haha!
I couldn't get enough of the food and drink on offer here in Belgium and so, alongside a couple of 'must-dos', I thought I'd share some of my favourite spots with you…
Here are the best things to do in Brussels, Belgium…
1. Delirium Beer Bar
Certainly not a hidden hotspot, but popular for all the right reasons, Delirium is located a 2-minute walk from Grand Place (the famous square in Brussels) and stocks over 2000 beer types. Here travellers from all over the world congregate and bring the place to life over a glass of their choice.
As a solo traveller it was nice to have somewhere that was lively and friendly where you could experience one of Belgium's finest offerings.
I personally don't really like beer, but I knew I couldn't leave without trying one, so I browsed the extensive list in hope of finding something magical. I mithered between the 'Cookie' and 'Peach' Beers before deciding on the 'Coconut beer' which added a perfect touch of sweetness and was gorgeously served up in a coconut. Yes, for real they do cookie flavoured beer!
2. Waffles from Maison Dandoy
Recommended to me by a lovely reader on Instagram, I headed a few steps away from Grand Place into this heavenly scented, family run shop. The smell of waffles is a familiar sensory experience in Brussels, but close 4 walls around the kitchen and you can't help but beam with happiness with every drawn breath.
Maison Dandoy create everything themselves and offer an array of sweet treats alongside a tea room upstairs should you want to make an occasion out of it.
On offer are the Leige Waffles (denser in texture and coated with caramelised sugar) and the Brussels waffle (lighter and crispier dusted with icing sugar). I went for the Leige Waffle with belgian chocolate sauce and strawberries. 10/10. It was unreal. Even better when enjoyed sat in the sun overlooking Grand place!
Where to find: Rue Charles Buls 14

3. Savoury waffle from Peck47
Oh my gosh. I can't believe I nearly missed out on this place. Recommended to me by the same (wonderful) reader that recommended Maison Dandoy this centrally located cafe is just gorgeous in every aspect of the word.
First I was captured by the day dreamy window seats scattered with cushions, second by the big quote that instantly bought a smile to my face. Next by the incredibly friendly and accommodating staff that worked in the small restaurant and then last but CERTAINLY not least – the food.
I asked for half a portion of the Peck's Special because I wasn't really hungry but INSISTED on trying it. A layer of waffle topped with perfectly crisp bacon, goats cheese and poached egg. A killer combo that was devoured in minutes. They, too, serve amazing soups, coffees, juices, and sweet treats. You must visit.
4. Browse and buy some incredible Belgian chocolate.
My favourite discovery was Le Comptoir de Matilde. I picked up a couple of bags of assorted chocolate squares… and neither of them made it home. (Sorry, Mum.) The perfect place to try some chocolate or pick up some souvenirs.
Where to find: 17 Rue au beurre, Boterstraat.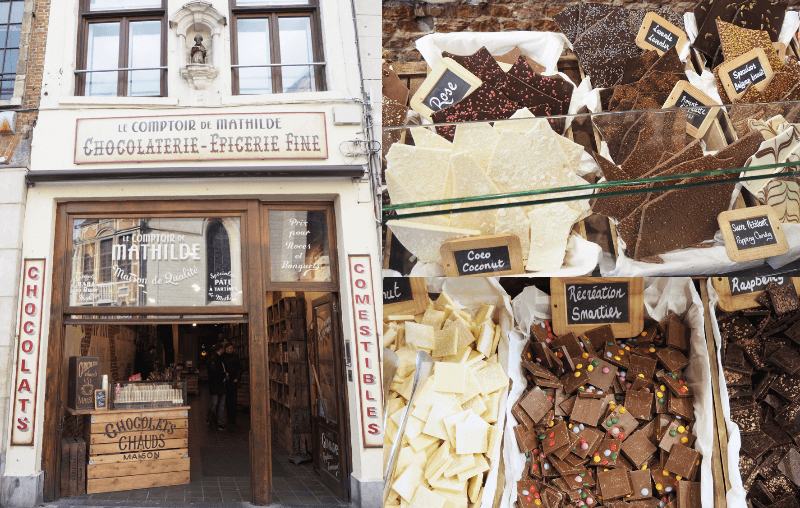 5. Take a photo in Grand Place
Pretty self explanatory really.
Take a photo and document your visit to this iconic square.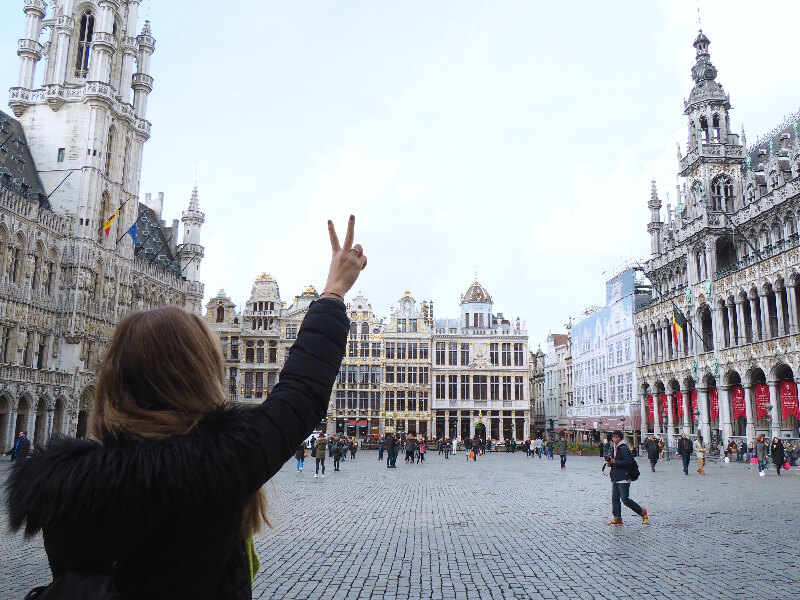 6. The Atomium
The unmistakeable symbol of Brussels and the most popular tourist attraction in the city, travel 25 minutes by tram (Line 6 in direction of Roi Baudouin) from the city centre and arrive at Heizel a 3 minute walk from the iconic structure.
You can ascend to the top for 360 views over Brussels for just €16. Once you've taken in the views you can climb through the balls and read all about their construction and relevance to the city. See website here.

7. Mussels from Chez Leon
Located in the heart of all the restaurants besides Grand Place, this hotspot serves up the most gorgeous selection of Mussel dishes.
The ambience in Chez Leon made me feel at home straight away (so nice seeing as I was travelling solo!), and the waiters were SO friendly and eagerly attentive. I begun with some garlic scallops and followed with some garlic and herb mussels, frites and a glass of house red. My meal was ridiculously tasty, although it was a good job I was travelling alone due to the slight garlic overload! Ha! #perksofsolotravel. See other reasons I think solo travel is good for you here.
I, of course, couldn't dine without a hint of chocolate and so finished with the Belgian chocolate mousse which was a solid 10/10 too.
Honestly, I know I've said it before, but the food is seriously awesome here. Chez Leon is the perfect central spot for lunch or dinner if you want to indulge in some traditional cuisine…
Where to find: 18 rue des Bouchers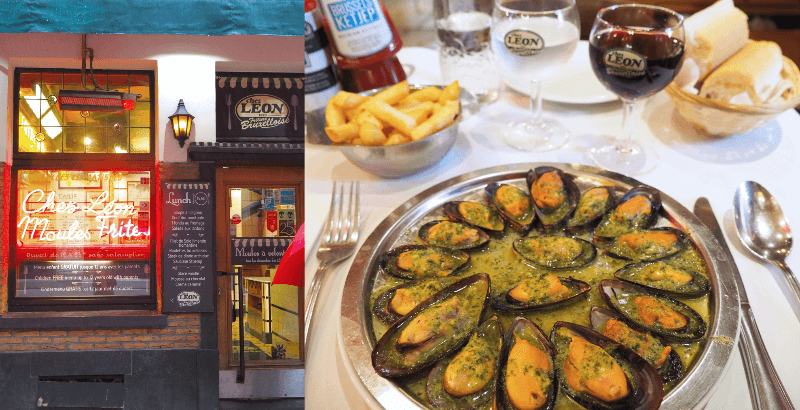 Have you been to Brussels?
What were your favourite things to do in Brussels? I'd love to know!
Love as always and happy adventuring,
Did you find this post helpful? I'd love you to share it for me.
I can't do this without you.
Pin and save this blog post for later…