Staying in a hostel for the first time can be daunting if you don't know what to expect, but trust me, it's the best experience ever! From making new friends to saving a load of money as part of your adventure, I think staying in hostels is one of the best things about backpacking.
When I first started travelling, I'd always stay in hostels, preferring them to hotels, despite the comfort and privacy of a hotel room! The way I see it, if you're really exploring, you don't spend enough time in a luxury hotel to justify the cost. Making new friends when I'm travelling is way more important to me than having the comfiest bed, and I've made some really good friends in hostels all over the world: Sydney, Byron Bay, Amsterdam, Hanoi, Taupo, Queenstown, London and more!
But, since the hostel experience is different from staying in an AirBnb, I've written a beginner's guide to hostels to answer any questions you have. From the unwritten rules to things you didn't know to expect, this post will cover everything you need to know about staying in hostels. From getting up early without annoying your roommates, to choosing the best hostel for you, I've got you covered!
A beginner's guide to hostels: what to really expect during your first time in a hostel…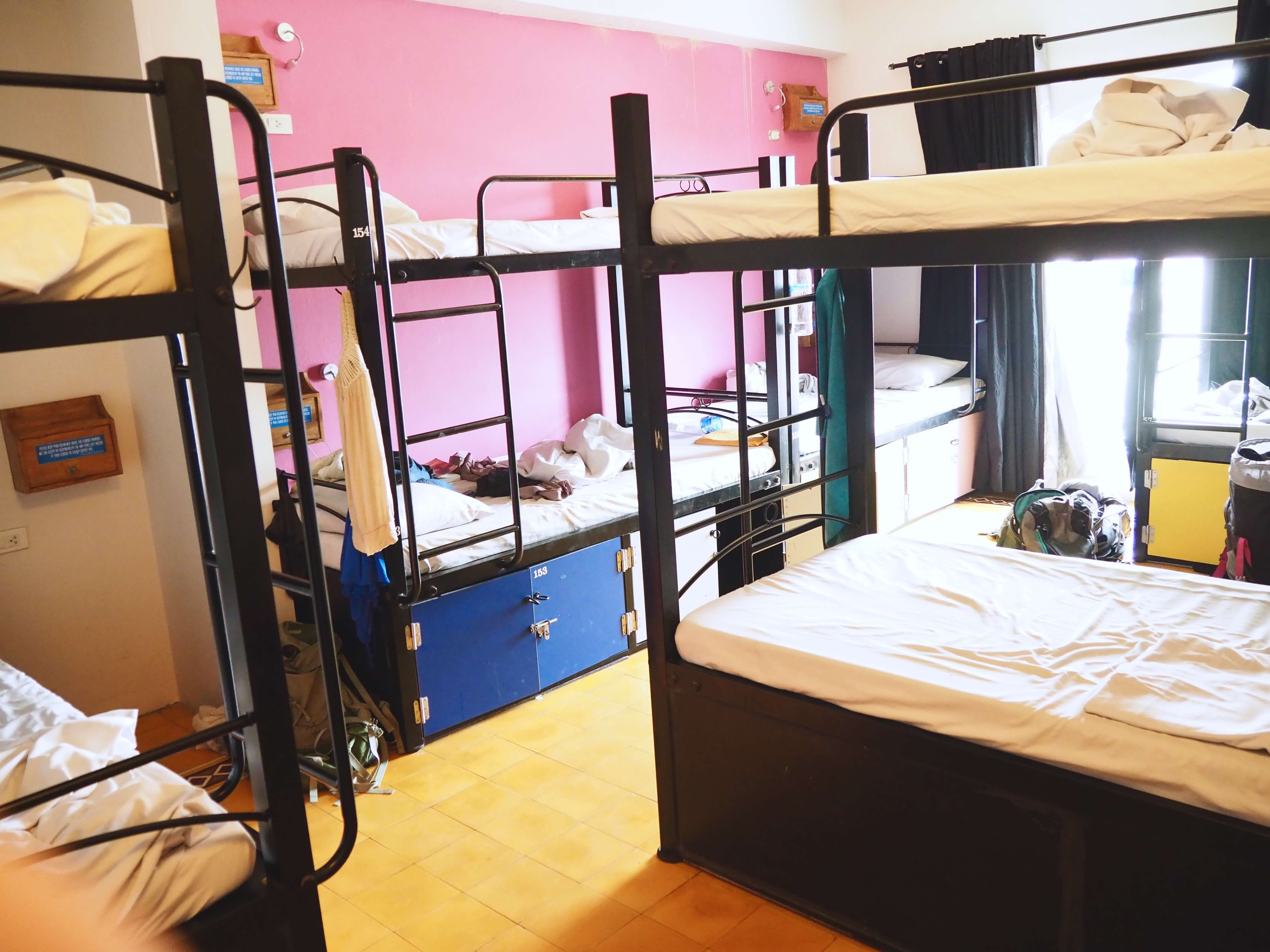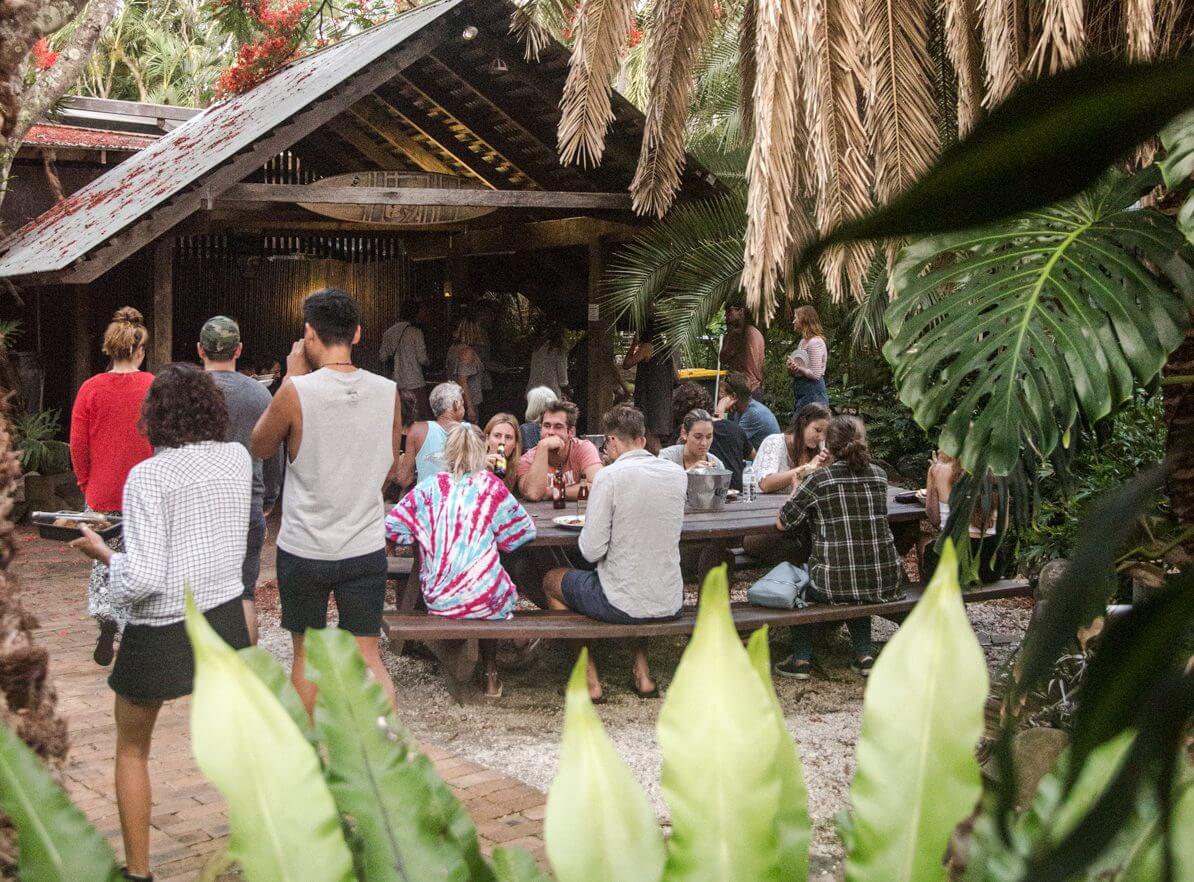 First time in a hostel FAQs:
Why are hostels the best?
I love staying in hostels for so many reasons! They're budget-friendly, solo traveller friendly, and often in great locations so you're ready to start exploring.
Are hostels expensive?
No, hostels are usually much cheaper than other accommodation. Ok, you don't have the privacy of a luxury hotel room but you often get added extras in the hostel experience such as events, a cheap bar and/or restaurant, free breakfast, and the opportunity to make loads of friends!
Are hostels safe?
I've never felt unsafe in a hostel. I'm sure that there are occasions where this might happen, so you should always be wary, but on the whole, hostels are very safe. There are usually lockers in the room for your valuables, and friendly staff on reception to help you if you need anything.
Are hostels and hotels the same?
No. Both give you a bed to sleep in, but hotels have a lot more privacy than hostel dorm rooms, and usually a much higher price. If you want the hostel experience but you want some privacy, you can usually pay more to get a private hostel room. See why I prefer hostels to hotels here.
Hostels vs AirBnb…
Don't get me wrong, I love AirBnb. If you want the privacy and more of a home experience, go for AirBnb. If you don't mind sharing and you want to make friends, stay in a hostel. Get £25 off your first AirBnb stay here.
What does hostel life teach you?
Hostel life teaches you to be resourceful, sociable and patient! You're accountable for yourself and your budget, so you become independent (emotionally and financially), but you get to share that experience with people in your dorm. You'll also meet people along the way that you don't vibe with, or you'll come across some challenges that frustrate you, and that's where the patience comes in! It's also a really cheap way to see the world!
Hostel essentials: what to bring…
Staying in a hostel for the first time brings many challenges, packing being one of them! Here are my hostel essentials…
How to book your hostel…
Hostelworld, Hostel Bookers, Hostelling International, booking.com and YHA (Youth Hostels Association, in the UK) all have an array of hostels and deals all over the world for you to choose from. These websites will be able to give you information about breakfast, laundry, WiFi, lockers and more, as well as show reviews from other travellers so you know what it's really like there.
Before you book your hostel check…
Location (Is it near a train station/bus station/airport? Near the city centre? Near something you really want to see/do?)
Price (Make sure it's in your budget! Check if anything is included in the price, e.g. breakfast).
Type of hostel (party vs chilled)
Facilities (kitchen, laundry, WiFi, lockers, 24/7 reception, late check in, bar)
Reviews (see what other guests have to say about their experience there!)
First time in a hostel: 30 top tips…
CHOOSING AND BOOKING HOSTELS
1. Single gender dorms vs mixed dorms: it's personal preference.
Personally I think mixed dorms are more fun, more relaxed, and more dynamic. And it's not any less safe than staying in a female dorm! Ultimately though, choose what makes you comfortable.
2. Larger dorms have more opportunities for friendships.
Due to the number of people in the dorm, there's guaranteed to be someone who wants to go on a night out or a day trip or for food with you, or someone that you'll gel with! Smaller dorms can be groups of friends with one spare bed, so bear that in mind if you want to make friends with like minded solo travellers. However if you want some chill time in a quieter space, smaller dorms might be for you!
3. Book in advance at peak times.
If you're going for an event, like the Full Moon party in Thailand, peak backpacking times in Australia or NYE in Sydney, then definitely book in advance. These places get busy and booked up quickly! When I first visited Byron Bay I turned up wanting to be spontaneous and there was no accommodation… luckily I met Sammy from RatPack Travel who had a friend with a campervan I could stay in, but I didn't think the story would end that well!
If you book way in advance, confirm your booking 48 hours before so that the hostel remember you've booked.
Being spontaeneous has its place: somewhere with a lot of options, especially if you've done your research and you know that there will be lots of offline options and bargains to be had! Just be aware that if it's busy, just turning up might not work so well.
4. Tell the hostel if you're going to arrive late.
If you know you're going to arrive late at night, let the hostel know so that they don't sell the bed to someone else if they think you aren't going to turn up. Have your ID ready to check in, and payment if you haven't paid already.
5. Say hi to your new roommates!
Even if you just smile and say hello because you're busy, a friendly introduction goes a long way, especially if you are going to want to hang out with these people later in your stay! It's quite off-putting if you go into a dorm room and no one notices you walk in, and so you don't want to be that person. A new person in your dorm might be quite nervous about backpacking or staying in a hostel, so be open and friendly, make eye contact and smile, and you'll be well on your way to making a new friend.
6. Everyone has a preference on top bunk vs bottom bunk.
Top bunk pros: People won't just come and sit on your bed for a chat, so they won't touch stuff on the bed.
Bottom bunk: No ladder, no wobbling!
MAKING FRIENDS IN HOSTELS…
7. Invite people to group activities.
Sometimes you need a bit of personal space, but if you feel like some company or don't mind people tagging along, invite your roomies along. Feeling welcomed can make or break a stay in a hostel, so be nice!
If you end up making friends with your roommates, you could go on to keep travelling together! Also, things like getting up early or missing an alarm are less likely to annoy friends than they are strangers.
8.
Hostel common areas and organised events are a great way to meet people outside your dorm.
Drinks at the hostel bar, organised pub crawls or day trips… you name it, hostels organise it. There are also always people in the kitchen, bar and common areas. Get involved and make some new friends!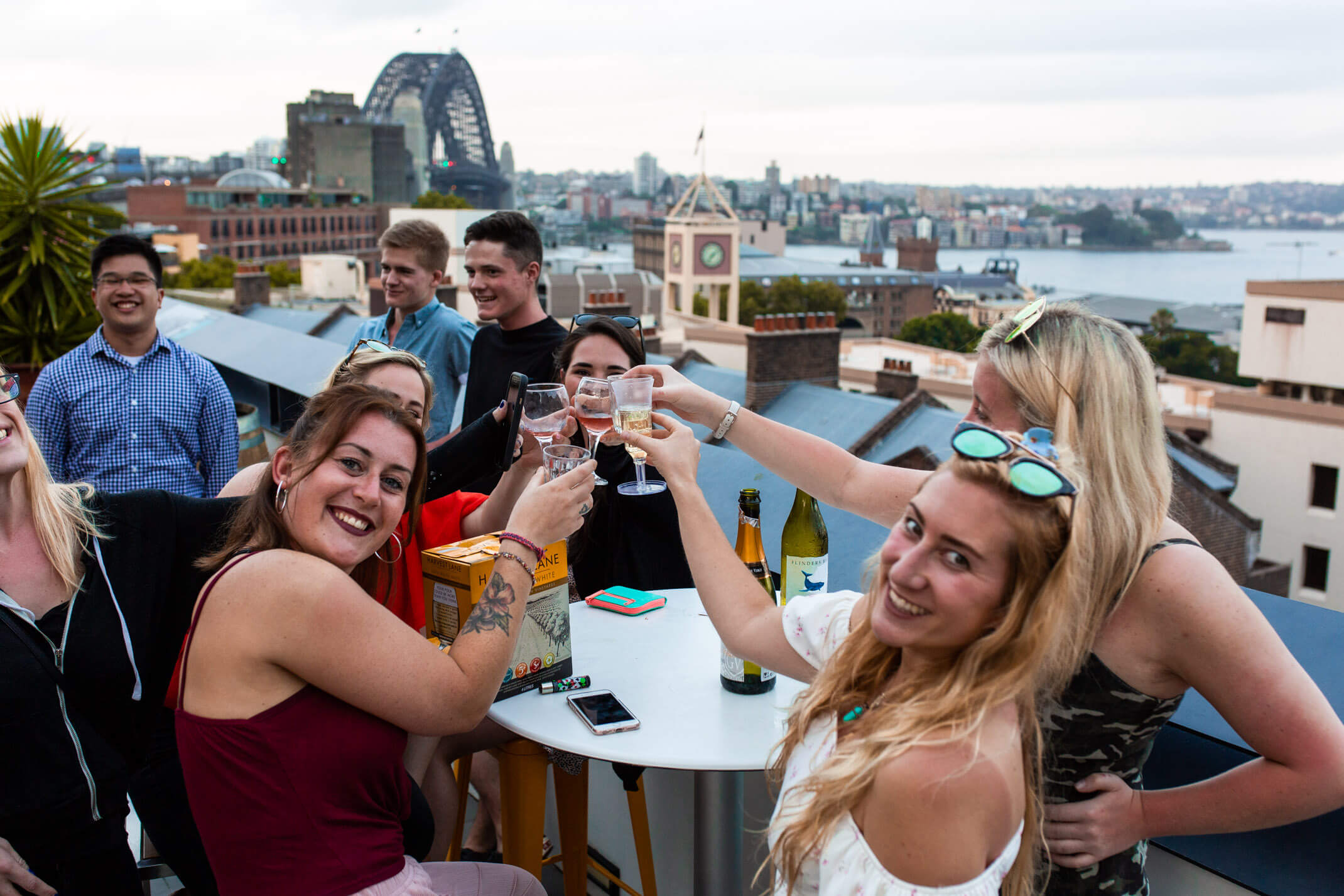 9. Keep your shower time to a minimum.
Most bathrooms are shared between several guests, so do what you need to do, but as quickly as you can. I've shared one bathroom in a 32-bed dorm before, so you need to be speedy! Don't forget to take your toiletries out the bathroom if you're sharing it, rather than leaving them in the shower like you would at home.
10. Bring flip flops for the shower.
The bathrooms are shared and so you don't know what's on the ground! Buy my favourite flip flops here.
11. Keep the hostel kitchen clean.
There is no maid to clean up after you! Leave the kitchen as you would like to enter it.
The hostel kitchen is a great place to make friends, because everyone's got to eat!
12. Hostel pillows and sheets aren't always great.
Some hostels allow you to take your own sheets if you prefer. If not, you may want to use your travel neck pillow or a jumper to prop up your pillow a little, and a pashmina as a replacement/extra blanket!
13. Some hostels charge for towels.
Not all, but some hostels charge to rent towels. I always take a microfibre towel travelling with me to save money on these costs!
Also, if you forget your toiletries and you need them urgently, they're often on sale at reception. If not, pop to a local supermarket for bigger bottles and lower prices!
14. Buying a local SIM may be cheaper than paying for hostel WiFi.
Most hostels nowadays have free WiFi, but that's always worth checking!
15. Have coins for the coffee and vending machines.
Great for a cheeky midnight snack or morning pick me up!
16. Having a proper, free breakfast will save you money on food during the day.
Don't over do it or you'll get a sore tummy and not save any food for anyone else, but taking advantage of the free breakfast will definitely reduce your food budget. Shopping in supermarkets and cooking in the hostel kitchen will also help you save money!
17. Bring a padlock and use the lockers!
Are hostel dorms safe? Yes, but remember you've only just met the people you're sharing a room with! Hostels nearly always have lockers so make the most of these for your valuables and any other belongings you can fit. Take a padlock with you, because if not you'll have to pay to rent one. Lockers are definitely something to look for when you're choosing which hostel to stay in. I always lock things away when I'm sleeping and when I'm not in the room, especially my passport, phone, money, and expensive technology (computer and cameras!).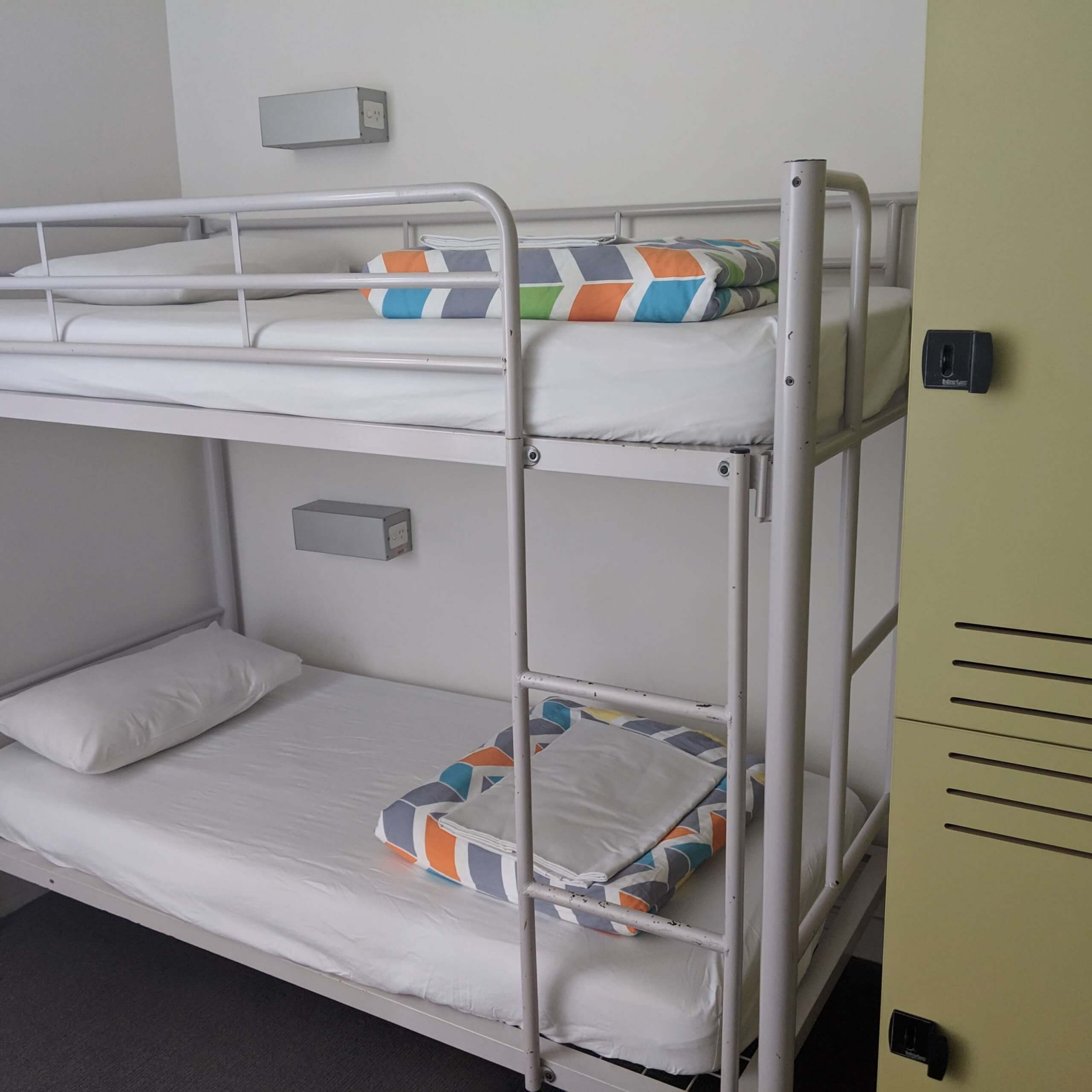 MORNINGS IN HOSTEL DORMS…
18. Set an alarm in the morning in hostels, but turn it off straight away!
You've got to wake up for an activity, trip or flight, but you don't want to disturb other people in your dorm. It's a bit of a dilemma, but ultimately, if you've got to get up, you've got to get up. Just be aware of others around you. Some people will have had a late night, or just want a lie in, and they won't want to wake up with you. As soon as your alarm goes off, wake up and turn it off. Don't let it ring ten times or keep putting it on snooze! Make sure it's actually turned off before you leave the dorm to shower, because otherwise it'll wake people up once you're in there. Once you're up, get ready and out of the room as quickly as you can and leave your roomies to sleep.
19. Don't turn the main light on in the morning in hostels.
If you need to get up early, turn the reading light on by your bed or your phone torch and leave the main light off so the others in your hostel dorm can sleep.
20.
If you have an early start, get your stuff together the night before.
Don't wake your hostel roommates up too early by rustling through your bags. If you're leaving early, pack your bags the night before and only leave out what you need for the morning. You can also do this if you're going on an early day trip or if you're an early bird in general!
21.
Take an eyemask and earplugs.
They'll save you from anyone who does need to turn on the light in the morning, or anyone who gets back late from a night out or misses their alarm in the morning! Shop mine here.
22. If you're coming back late, be quiet!
Not everyone wants to wake up if you come back a bit drunk. Before you leave for your night out, get your pyjamas and toothbrush ready and accessible. When you get back, be as quiet as possible and don't turn on the main light.
23.
Don't have sex in the dorm! (at any time of day!)
Is it ok to have sex in a hostel? It happens, a lot. Alcohol, new friends, good vibes… it's inevitable. I personally wouldn't when people are in the room! If you walk into a dorm and someone is having sex, cough or let them know that you're there, as they might think they're the only people in the room at that time. If you're trying to sleep while people are getting it on, cough or ruffle your sheets to let them know that you can hear, and if they still don't stop, turn over with your earphones in. The only time that might not block it out is if the happy couple are sharing a bunk with you… rock rock rock… then you've just gotta ride it out!
MUTUAL RESPECT IN HOSTELS
24.

Make calls in the hostel common room.

A lot of hostel WiFi doesn't reach the dorm rooms anyway, and you don't want to disturb your hostel roommates with your personal business like calling mum or catching up with a friend, so take calls in the common room. Most common rooms are open 24/7 so they're a great place to go at night if you need to make a call to a different time zone or if you can't sleep!
25. Spray aerosols and sprays outside or in the bathroom.
Bug sprays, deodorants, perfumes, sun cream, hairspray… lots of people are allergic to or sensitive to the fumes that come out of sprays and aerosols, so it's good practice to spray these in the bathroom, or even better, outside.
26. Get to know your roommates before you walk around in your underwear.
If you're feeling comfortable and so are they, then walking around in your underwear in a hostel is probably not going to be a big deal. Everyone's got to get ready somehow, after all. However if you or one of the other guests might not feel comfortable in this situation, then it's better to change in the bathroom.
27. Don't get naked in the dorm room.
No one needs to get to know you that well in a dorm situation! Similarly, bring PJs, even if you usually sleep naked at home.
28. Check with your roommates before you sit on their bed for a chat.
Most people don't mind, but some really don't like it! Don't touch anyone else's stuff without permission, especially if you're drunk and therefore a bit careless!
29. Be mindful and respect others.
A general rule that goes without saying. Everyone is on different time frames and wants different things out of their trip. If you treat others like you want to be treated, it'll be hard to go wrong!
Some people might be jet-lagged or not feeling well, some might just want an afternoon nap… if people need to sleep in the day, respect that and keep noise to a minimum. You don't have to be completely silent, but be mindful and think about how you'd feel in their position. Think about how quiet you'll want that dorm room in the afternoon when you're hungover if you come in really drunk the night before… Mutual respect!
Most people will be easy-going but some people might be nervous, tired or a bit stressed. Respect the differences and learn to compromise and you'll have the best time!
30. Embrace the challenge!
Staying in a hostel is not as easy or as comfortable as a hotel, but what doesn't kill you makes you stronger! It's all part of the fun and the growth. Happy travelling!
Watch me talk about some of the top tips in this hostel guide with Christianne from Backpacking Bananas here…
Popular backpacking destinations…
If you're staying in hostels while you're backpacking and you can't decide where to go, click the destination buttons below to get inspired!
Have you stayed in hostels before?
What are your top tips for staying in a hostel for the first time? I'd love to know!
Love as always and happy adventuring,
Did you find this post helpful? I'd love you to share it for me.
I can't do this without you.
Pin and save this blog post for later…