If you're looking to experience the fun atmosphere at Flying Pig Downtown Hostel, Amsterdam, this is the post for you. I'm going to run through all the best things about staying at Flying Pig, what's included in your stay, and, as I'm honest, the downsides too.
My review of Flying Pig Downtown Hostel, Amsterdam…
I love Flying Pig Downtown Hostel, from the bottom of my heart. I actually do.
It was an instant love affair. As my friend and I walked through the front doors of The Flying Pig upon arrival in Amsterdam, we got our room key and perched at the communal bar that sits just next to the reception desk.
Within 5, actually not even that, 2 minutes we had got chatting to the people beside us and were doing the fanta bomb shots together that were, later in the weekend, made evident to be the 'house shot'.
With still a little bit of work to finish off on my laptop, I left it at 1 shot whilst I hooked onto the Flying Pig Hostel free WiFi (yes, they have internet for you) and I got my business done.
Once finished, all we had to do was enjoy the rest of the evening weekend…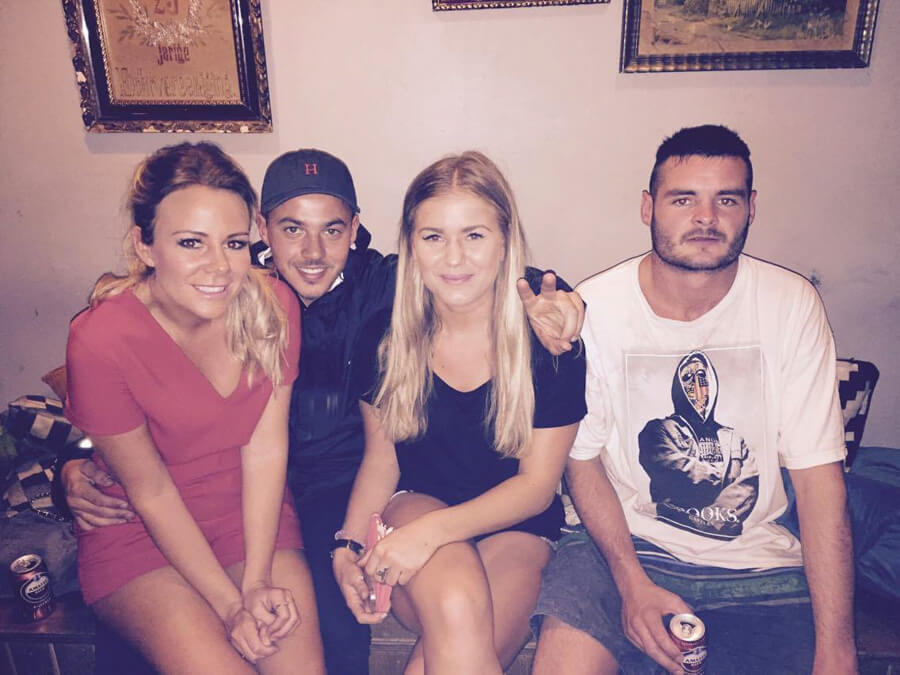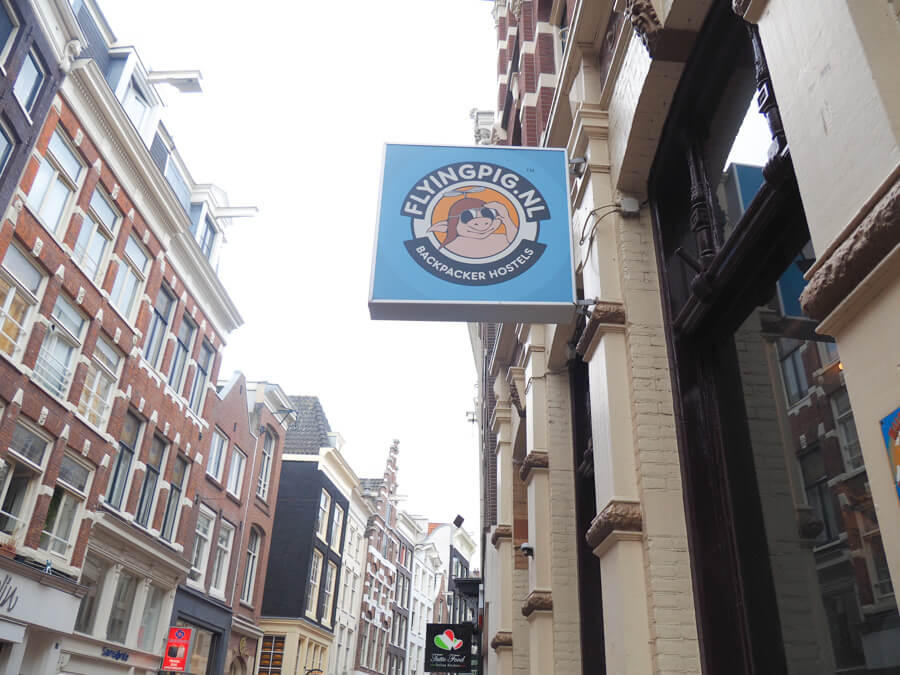 Where is Flying Pig Downtown Hostel?
There are two Flying Pig Hostels in Amsterdam city centre: Downtown, right in the hustle and bustle and just a 3 minute walk from central station (where I stayed), and Uptown, next to Leidseplein, overlooking the one and only Vondelpark.
They also have a Flying Pig Hostel on the beach in Noordwijk, just outside of the city.
I can only speak from my experience at Flying Pig Downtown Hostel, though I have heard wonderful things about Uptown too.
Why did I love Flying Pig Downtown Hostel so much?
Walking into Flying Pig Downtown Hostel was like coming home. Everyone there, the staff, the guests and even the hostel cat, quickly became like family. On the first night we thought we'd try venturing out to another bar and explore but we were back again and missing the vibes within an hour!
There is SUCH a nice vibe in the hostel. People drink and party, but it's not crazy manic and loud. It's just right.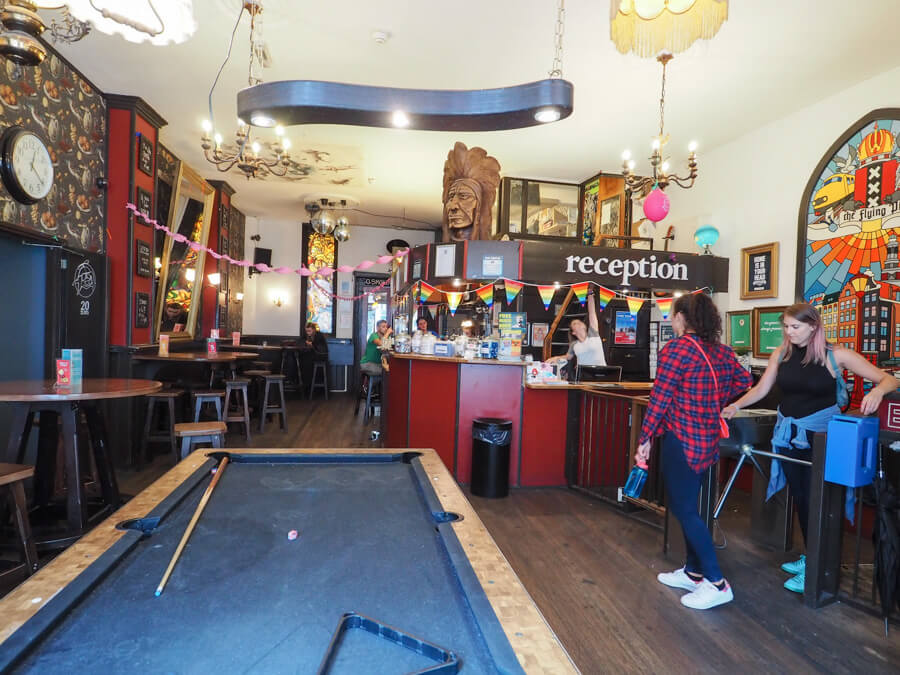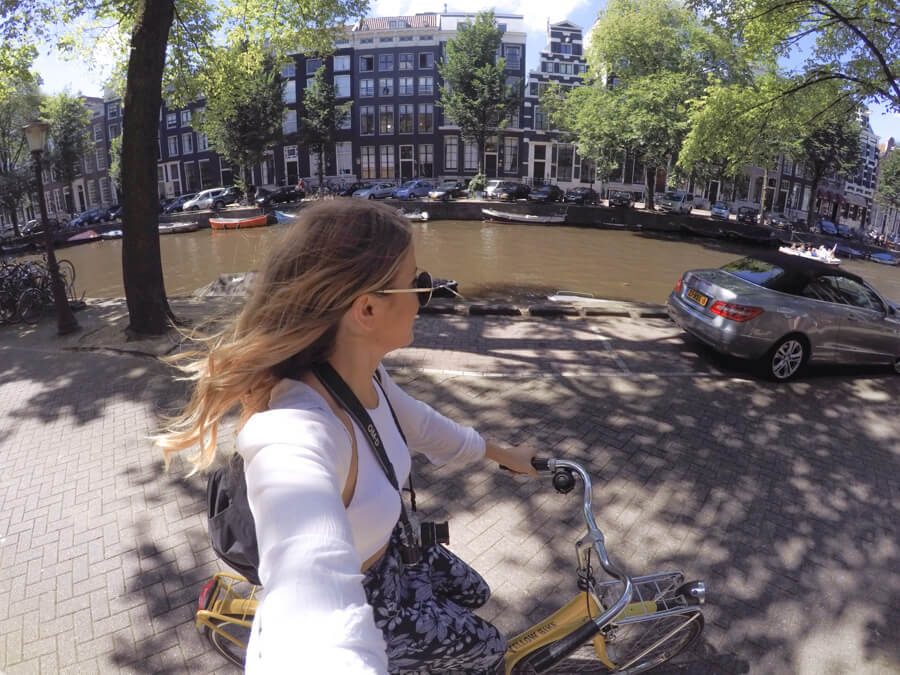 The best bits about Flying Pig Downtown Hostel?
It's small and cosy, so there's no sitting on your own in the corner. Everyone gets involved.
Perfect for solo travellers (not too intimidating and super friendly)
The bar staff are travellers alike and get in on the fun! (They aren't party poopers)
You literally only have to crawl out of the front door to find bars, shops, food and tourist attractions. Minimal exercise involved; wonderful information for you hardcore party-goers!
Downsides to Flying Pig Downtown Hostel?
If they can't squeeze you in to stay (it was fully booked when we were there)… you know you're missing out! Book up in advance!
It's not a public bar or place to come, so if you meet friends out and about you can't come back and drink or smoke at the hostel.
You can't stay forever!
We went in the summer and we stayed in a 4 bed dorm which got SO hot. I don't know if it was the placement of the dorm we were in, but I woke up a few times sweating. There is no air con in the hostels to keep the costs of the dorm down, but apparently there are fans you can get in your room. This may have helped!
What's included in your stay at Flying Pig Downtown Hostel?
So you have your bed which, if you are in a dorm comes with a reading light, bed linen, locker blah blah (all that you would normally get in a hostel).
Then there's the free WiFi, the free buffet breakfast (8-10.30am) and the free use of the kitchen to cook your own food in.
The bar area has themed nights and DJs which you, of course, get access to. There's also a smoking room ('happy area'), a pool table, seating area and sofas.
If you stay at Uptown, the inclusions vary slightly. For example they have free skate hire as they are next to Vondelpark.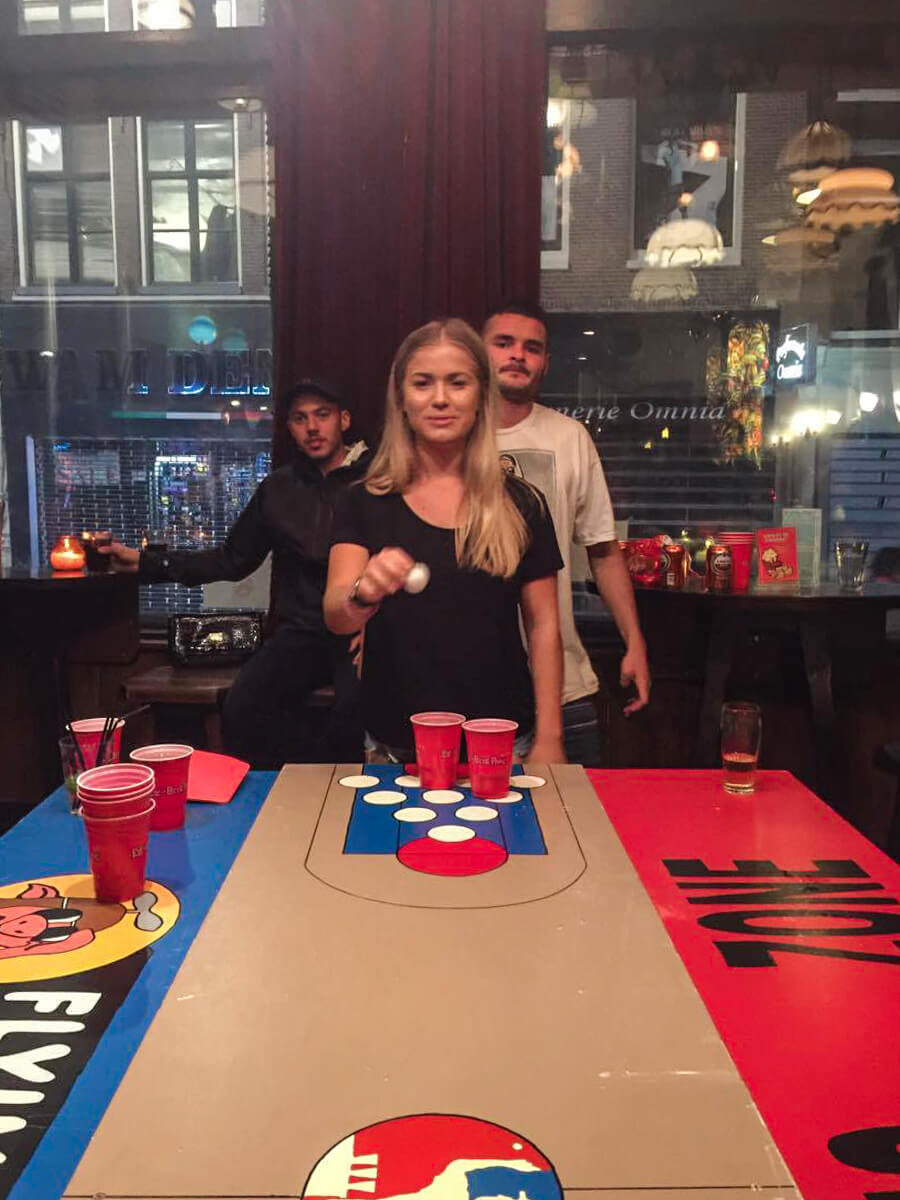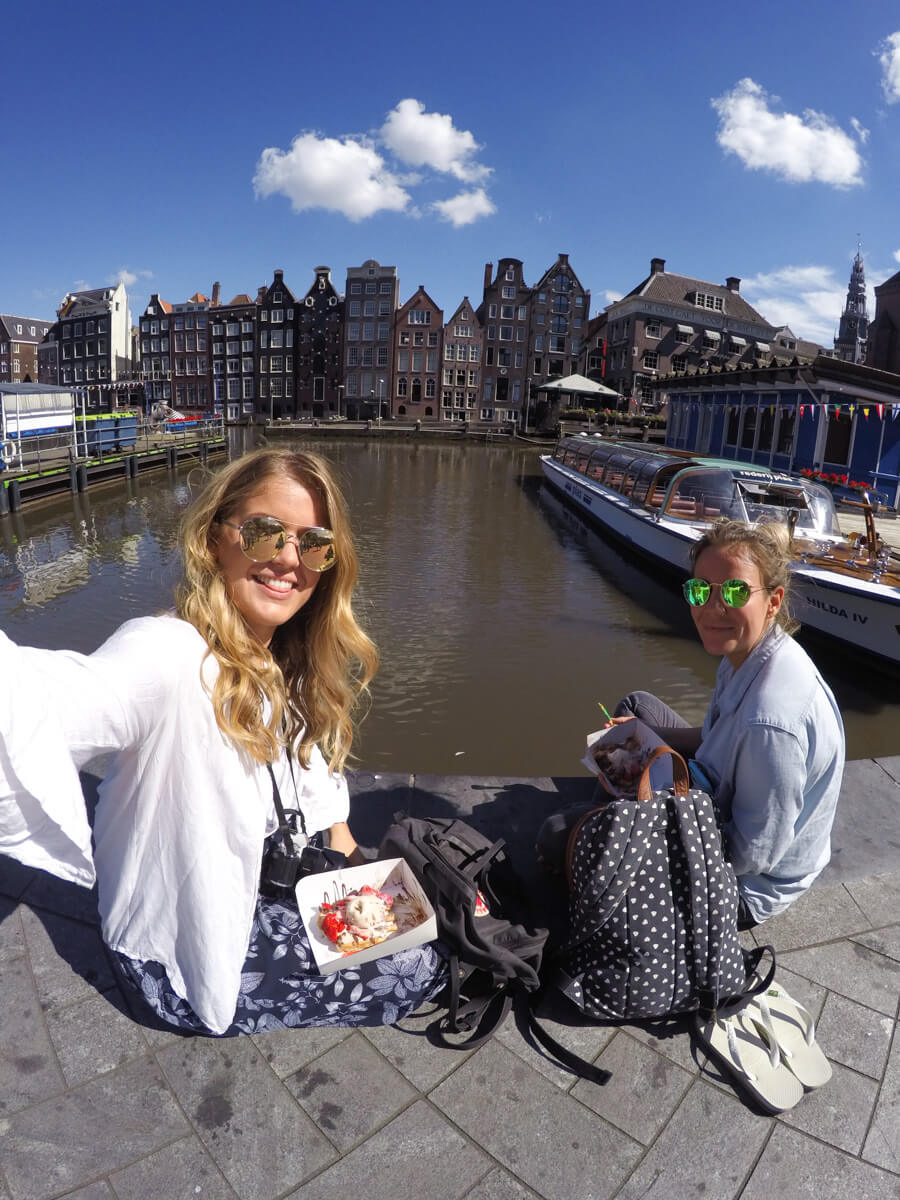 How much is it to stay at Flying Pig Downtown Hostel and what rooms options are there?
At the Flying Pig they have everything from 4-bed dorms and Double Bunked Dorms to 32-bed dorms and Private rooms. It depends how much privacy you're after and how much you're willing to pay.
Prices fluctuate depending on whether you're looking to book in the week, at the weekend, during peak season or during off peak season.
They tend to range from €16.90 – €51.90, but for a better idea head to their website here and pop your proposed dates into the 'Book a bed' box on the top left of the screen.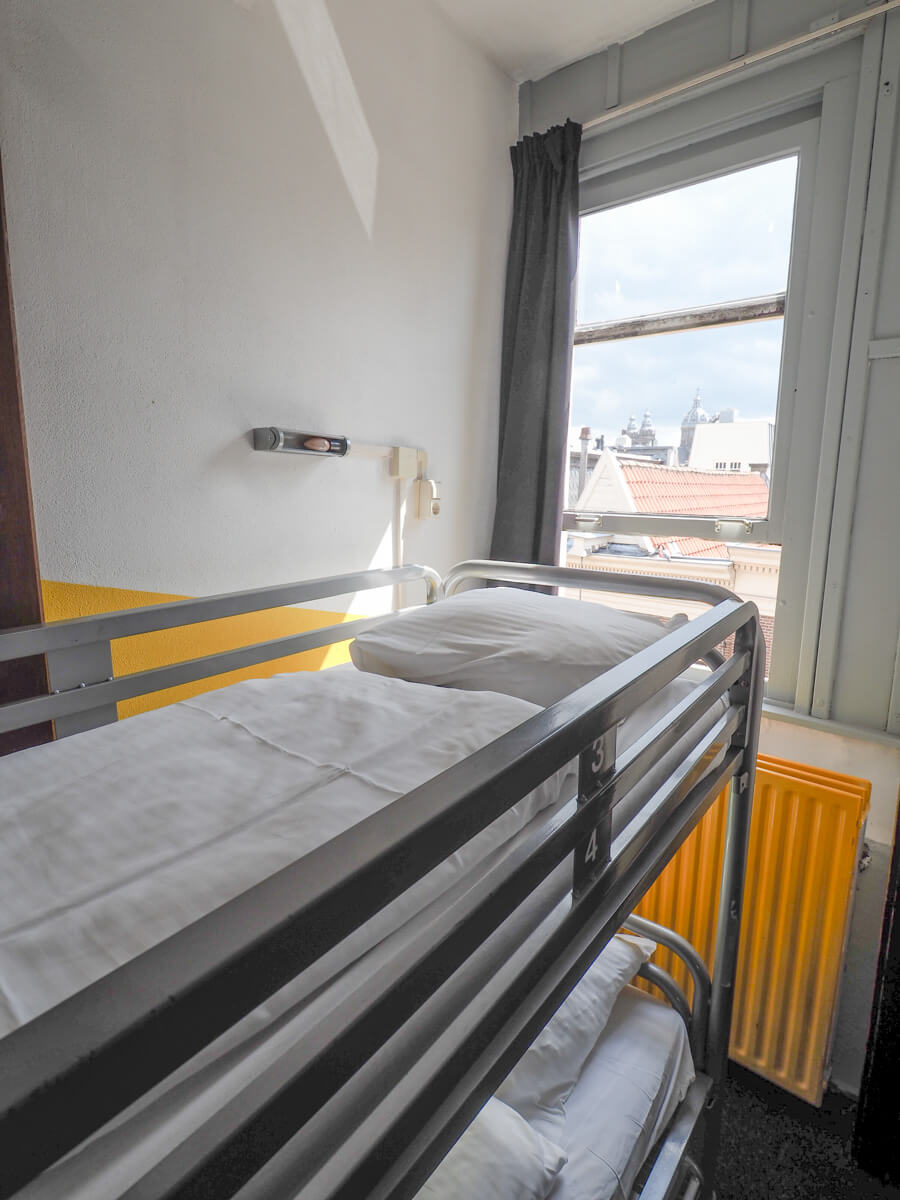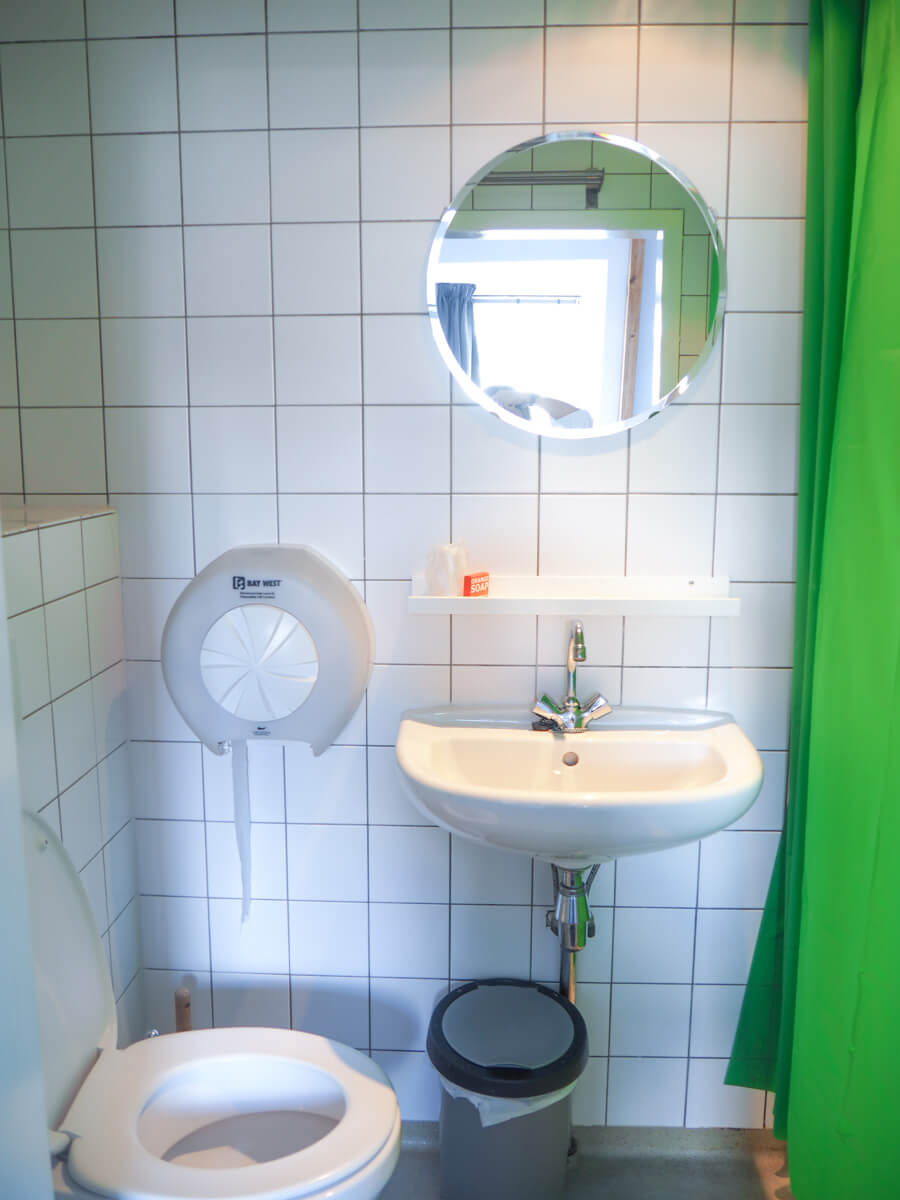 How do you book into Flying Pig Hostels?
Work out the dates you want to go…
Head over to their website…
Select your desired hostel location (Uptown, Downtown or Beach)…
Input the information into the 'Book a bed' box – and request your stay!
As soon as you know dates, request them or call up! It's gets pretty busy and you don't want to miss out!
Tips for your stay at Flying Pig Downtown Hostel…
If you opt for a dorm, bring your own lock to secure your locker (otherwise they €3.50 to purchase from reception)
Bring a towel (I take this microfibre one travelling with me as it's super compact), otherwise you can put a deposit down for one and borrow one from reception.
Use your Key card for 25% off at Belushis (they do great food and it's a public bar linked to Flying Pigs).
Check in is at 3pm, check out is at 10.30am.
If you're embarking on a working travel adventure and are looking to work at the hotel, check out the information and application process here.
BOOK IN ADVANCE TO AVOID DISAPPOINTMENT (particularly during peak times (June-August)).
Have you been to Amsterdam?
Where did you stay when you were there? I'd love to know!
Love as always and happy adventuring,
Did you find this post helpful? I'd love you to share it for me.
I can't do this without you.
Pin and save this blog post for later…