Dubrovnik is without a doubt one of the best places to visit in Croatia, and a city break here is even a strong contender for one of the best places things to do in Europe. It's also one of the cheapest places to visit in Europe, meaning that despite all the fun things to do in Dubrovnik and beautiful places to visit in Dubrovnik and the surrounding area, you can spend a weekend here without breaking the bank!
Dubrovnik is a city on the Adriatic Sea in southern Croatia, and it's one of the most popular holiday and tourist destinations in Europe. Famous for its stunning old town (which is a UNESCO world heritage site), crystal clear water, and as a Game of Thrones filming location, it' no wonder than so many people want to visit Dubrovnik in 2021.
Exploring the Old Town and joining a Game of Thrones tour are just some of the best things to do in Dubrovnik, but there are so many more! From sea kayaking around Lokrum Island to hiking Mount Srd or enjoying a day at Banje Beach, in this blog post I'm going to share the best things to do in Dubrovnik and the best places to visit in Dubrovnik. All of these should be added to your Croatia bucket list!
If you're the type of traveller that seeks stunning architecture, dramatic sea views, and plenty of adventure, these things to do in Dubrovnik are going to be right up your street. And the weather here certainly helps! The weather in Dubrovnik is very Mediterranean, with hot, dry summers and mild, wet winters. The weather is best for exploring in the summer season (May-October), but you have have a great time in Dubrovnik in winter too!
In terms of how to get to Dubrovnik, there is an international airport which you can fly into, and then take a shuttle bus service into the city centre. You can also get to Dubrovnik by ferry if you're coming from other places or islands in Croatia, such as Split and Hvar.
In this Dubrovnik travel guide I am going to share with you the best things to do in Dubrovnik, the best places to visit in Dubrovnik, and my favourite adventures so far. Get your pen and paper ready to create the ultimate Dubrovnik bucket list!
Looking for a more comprehensive guide to planning your trip to Dubrovnik in 2021? Check out my complete guide to Dubrovnik here.


The best things to do in Dubrovnik, Croatia...
1. Explore Dubrovnik's city walls.
One of the top things to do in Dubrovnik is to explore the city walls that surround the Old Town. Built between the 12th and 17th century, the defensive walls are 1940m long with 6 fortresses (Lovrijenac, Revelin, Minčeta, Bokar, St John and St Lucas). Walking the full length of the Dubrovnik city walls and taking in the views across the Old Town, coastline and Lokrum Island is a must-do thing when visiting Dubrovnik.
Tickets to enter the walls are 200 kn per person. You can walk around independently, or book onto a city walls tour for an additional cost. My advice would be to go as soon as the walls open (8am in summer, 9am in winter) to avoid the crowds, as it can be very busy here!
While walking the city walls, don't miss checking out the view from the round tower called Fort Minceta, the highest point in the city!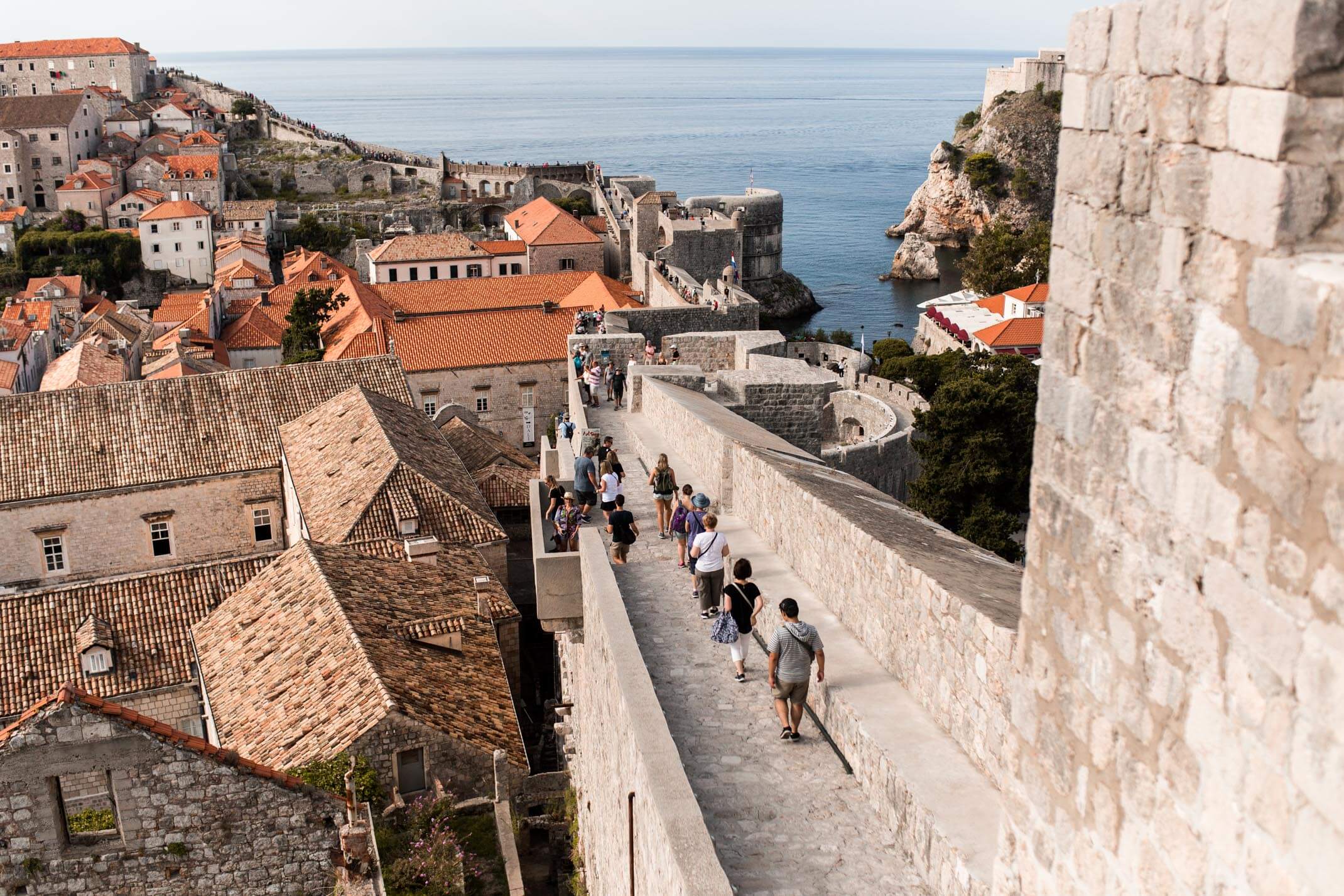 2. Take the ferry to Lokrum Island.
One of the best places to visit in Dubrovnik is the famous Lokrum Island. Just a 10-minute ferry ride from Dubrovnik (200 kn per person round trip, including the entry fee to the nature reserve), this lush, green island is a great thing to do in Dubrovnik if you want to escape the hustle and bustle of the Old Town. Lokrum Island is entirely uninhabited and it is also a nature reserve, so it is a great place for walking in Dubrovnik. Spots you can't miss on the island include the Botanical Gardens, the monastery, the 'Dead Sea' (a salt lake in the middle of the island), Charlotte's Well and Fort Royal.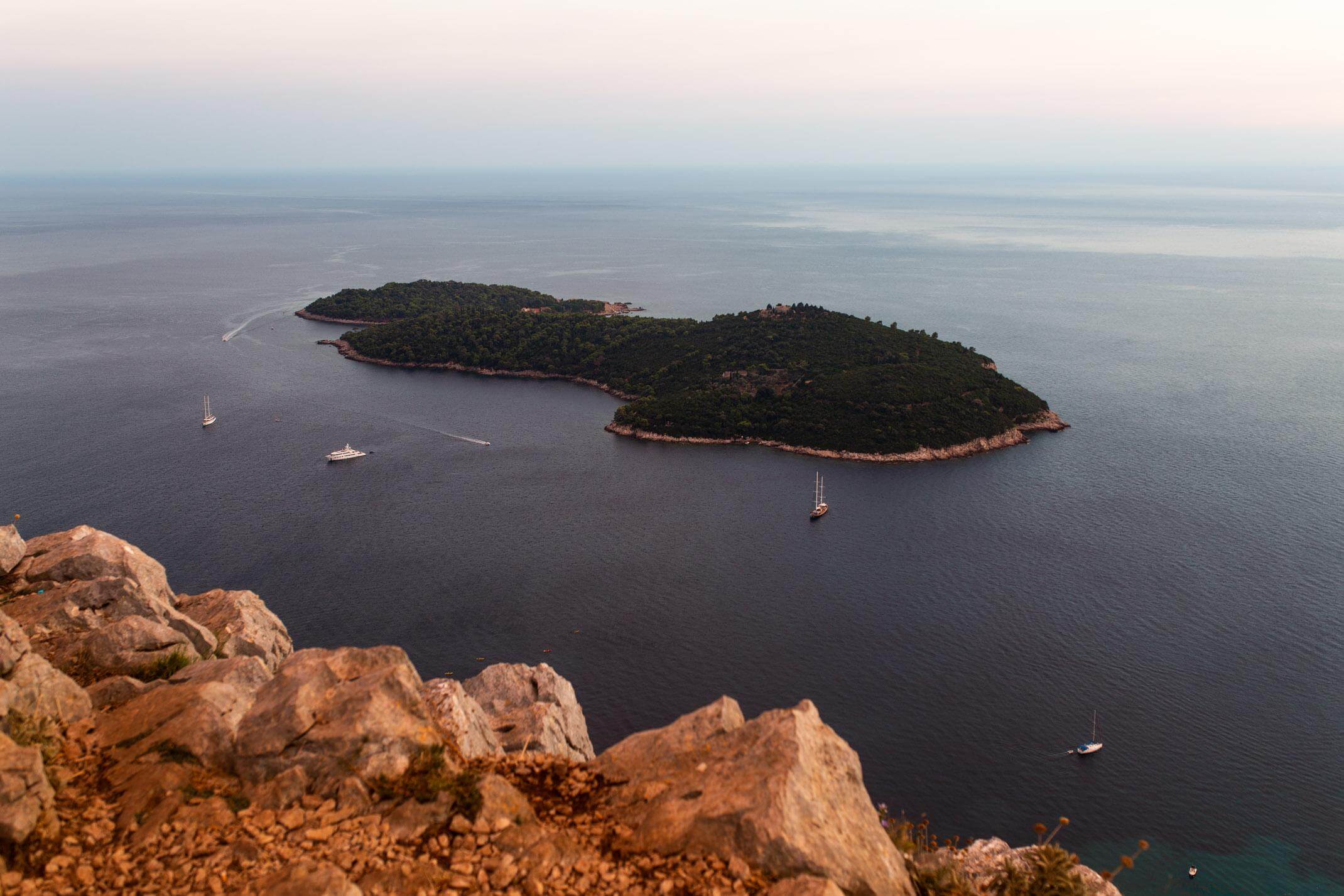 3. Go sea kayaking in Dubrovnik.
For an alternative perspective of this famous Croatian city, one of the best things to do in Dubrovnik is to go kayaking around Dubrovnik's city walls and Lokrum Island. Stop off for a dip in the water and a snorkel… you won't want to miss the opportunity to jump into the crystal clear waters that Croatia has to offer. We booked our sunset kayaking tour in Dubrovnik through Adventure Dalmatia.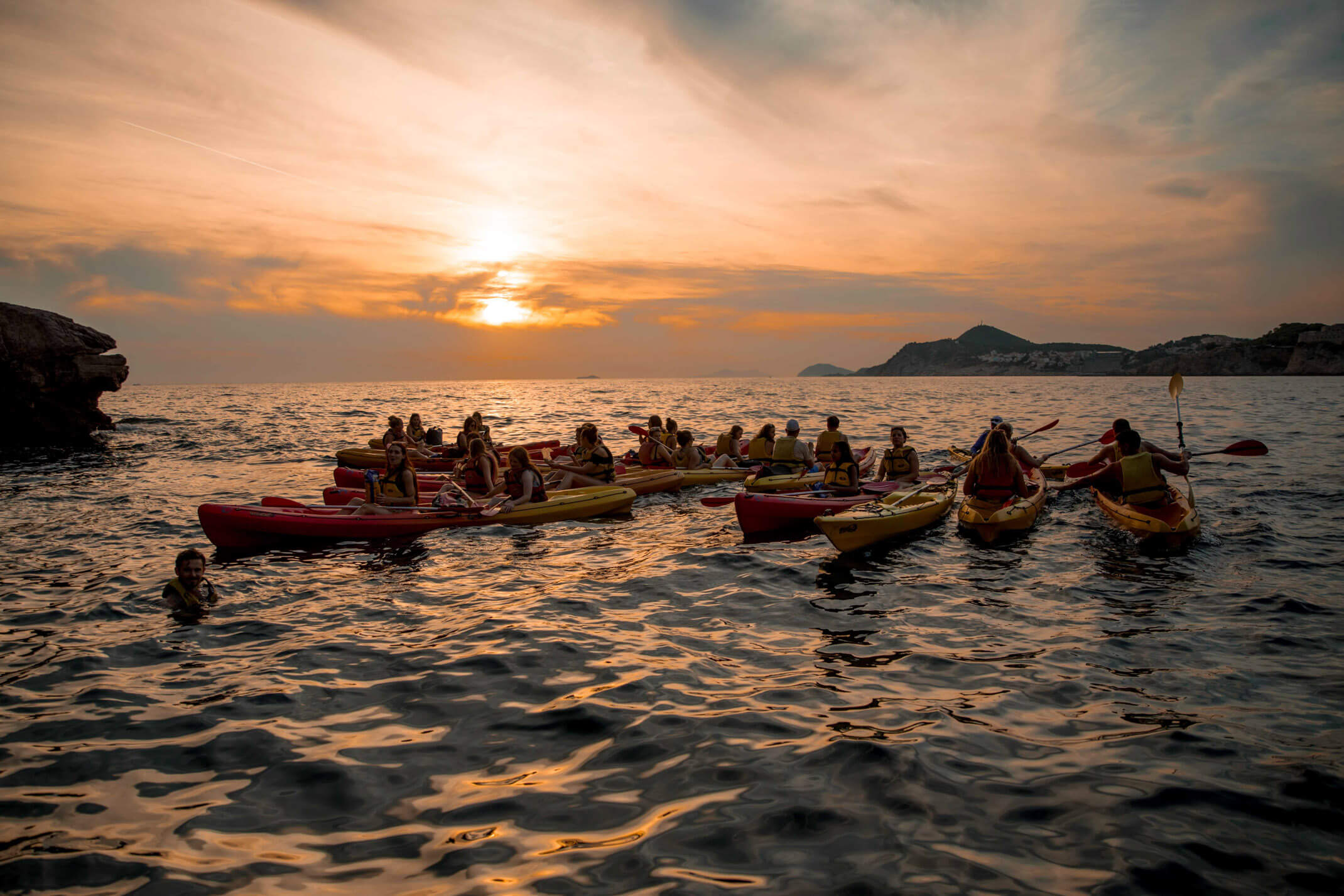 4. Admire the views from Srd Hill at sunset or sunrise.
One of the best places to visit in Dubrovnik for views across the whole city is Mount Srd, or Srd Hill. The hike up is wonderful, although a bit scrambly (look for the steps under the cable car, and then the trail that continues after the steps). Some of the best views from Srd Hill are actually from the hike up/down, rather than from the top!
Alternatively, if you don't fancy a hike, there is a cable car that goes up and down. The ride is a few minutes, and the round trip is 170 kn or one-way is 90 kn. In the height of summer, the cable car runs from 9:00-23:00 (but starts later/finishes earlier at other times of year).
At the top of Srd Hill there is the Panorama Restaurant, where you can enjoy dinner over sunset if you time your trip right! One of the best things to do in Dubrovnik is to watch the stunning sunset from Srd Hill, and I've heard the same about sunrise too!
If you're looking for unique things to do in Dubrovnik, why not do a buggy safari on Srd Hill? Get driven along the coastal road up to the top of Srd Hill, before going off road to see more unique locations in Dubrovnik. Prices start at 450 kn, and you can buy tickets here.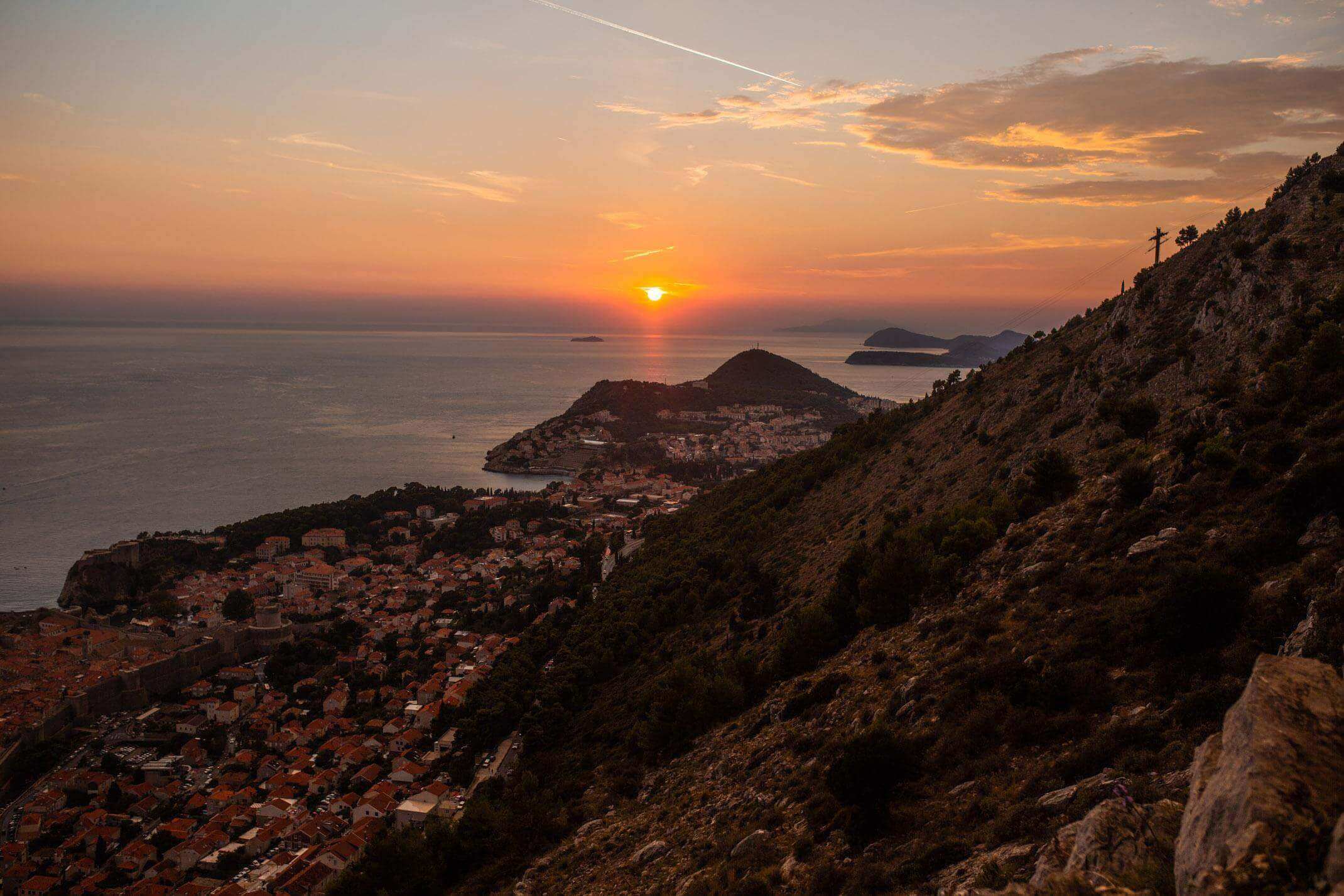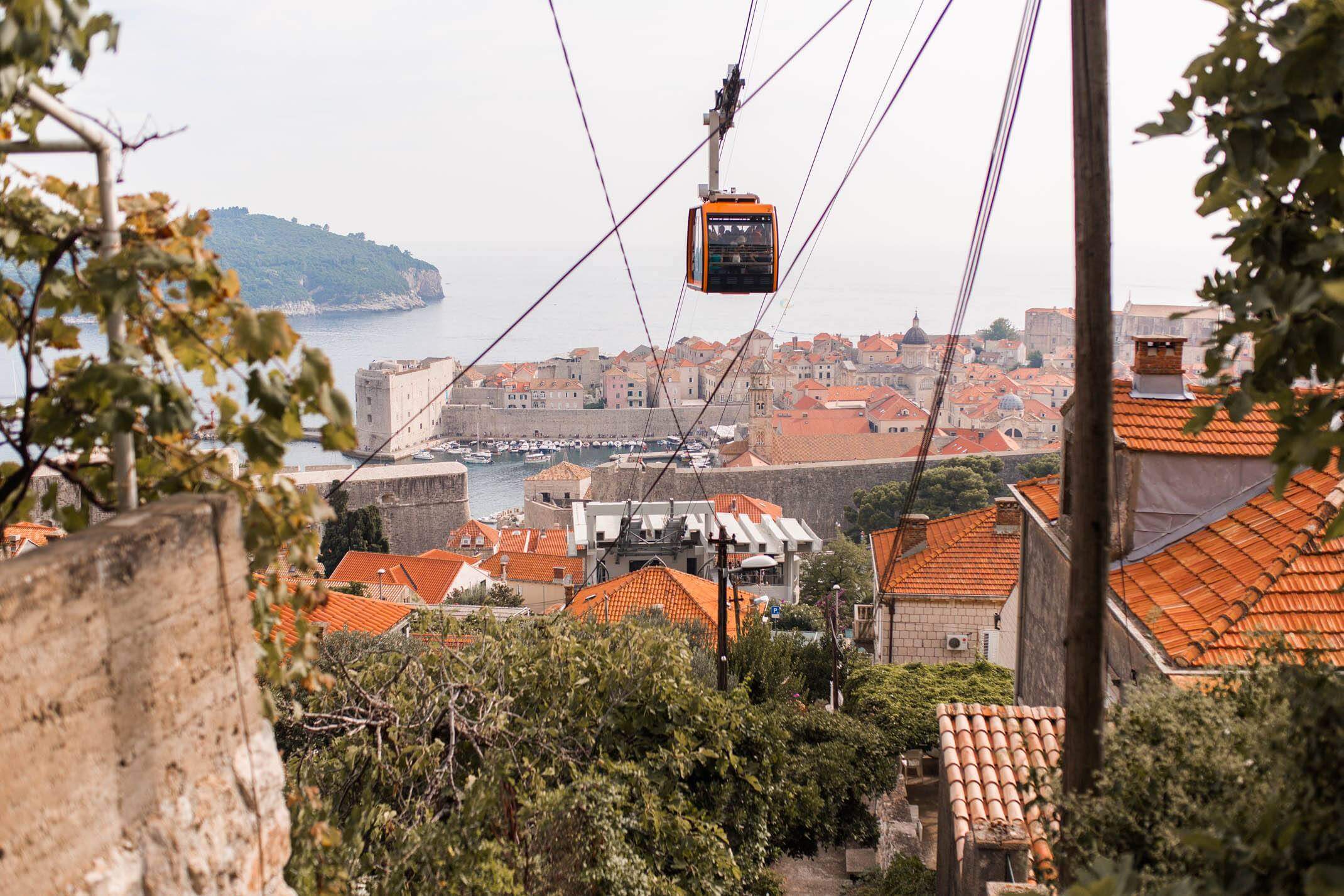 5. Wander the streets of Dubrovnik's Old Town.
Dubrovnik's Old Town is a UNESCO World Heritage site and one of the best things to do in Dubrovnik is to spend some time meandering in and out of the streets, stopping in independent shops and cafes, and admiring the architecture. Stradun is the main street in the Old Town so you will see lots of people here. Make sure you don't miss seeing the Sponza Palace, the cathedral, Rector's Palace, Roland's column and the Franciscan Monastery, which are some of the best places to visit in Dubrovnik.
Another good thing to do in the Old Town is to drink from and/or fill up your reusable water bottle from Onofrio's Fountain! Find out more about sustainable travel here.
6. Take part in a Game of Thrones tour in Dubrovnik.
One of the most popular things to do in Dubrovnik for Game Of Thrones fans is to visit the filming locations. Maybe you won't see any dragons or whitewalkers as you are exploring this beautiful city, but you can use your imagination to see yourself in and amongst the action. Some of the most famous Game of Thrones filming locations in Dubrovnik include:
The city itself (King's Landing)
Minceta Tower (House of the Undying)
Pile (Blackwater Bay)
Fort Lovrijenac (Red Keep)
Jesuits Staircase (Steps of the Great Sept of Baelor in King's Landing)
Trsteno Arboretum (Palace Gardens of King's Landing)
7. Spend a day hiking or cycling in Mljet National Park.
One of the best day trips from Dubrovnik is a trip to Mljet island to visit Mljet National Park. The national park includes the western part of the island, Veliko Jezero, Malo Jezero (Small Lake and Great Lake), Soline Bay and a sea belt 500m wide from the most prominent cape of Mljet covering an area of 54 square km. Some of the best places to visit in Mjlet National Park are Great Lake with the Isle of St. Mary (one of the most popular attractions in the park), Small Lake and the villages of Goveđari, Polače and Pomena.
It's an absolutely gorgeous island, and the catamaran from Dubrovnik is about 1h 40 from Dubrovnik and 70kn each way. Entrance fees to the National Park are 125 kn. The ticket includes access to two saltwater lakes and the boat ride to the Benedictine monastery on the Isle of St. Mary, on the Great Lake. The tickets can be bought in offices in the villages of Pomena and Polače.
8. Enjoy an outdoor performance at Fort Lovrijenac.
Fort Lovrijenac is one of the largest fortresses and theatres in Dubrovnik. One of the best things to do in Dubrovnik is to visit the fort, climbing the stairs by Pile beach, and explore and learn about Croatian history.
In summer, there are also performances here as part of the Dubrovnik Summer Festival. Events are held at Fort Lovrijenac theatre (as well as all over Dubrovnik), giving you lots of unique things to do in Dubrovnik is summer! Imagine watching Hamlet from the Fort with a sea view, or unravelling the story of Little Red Riding Hood on Lokrum Island?! Check out the programme here.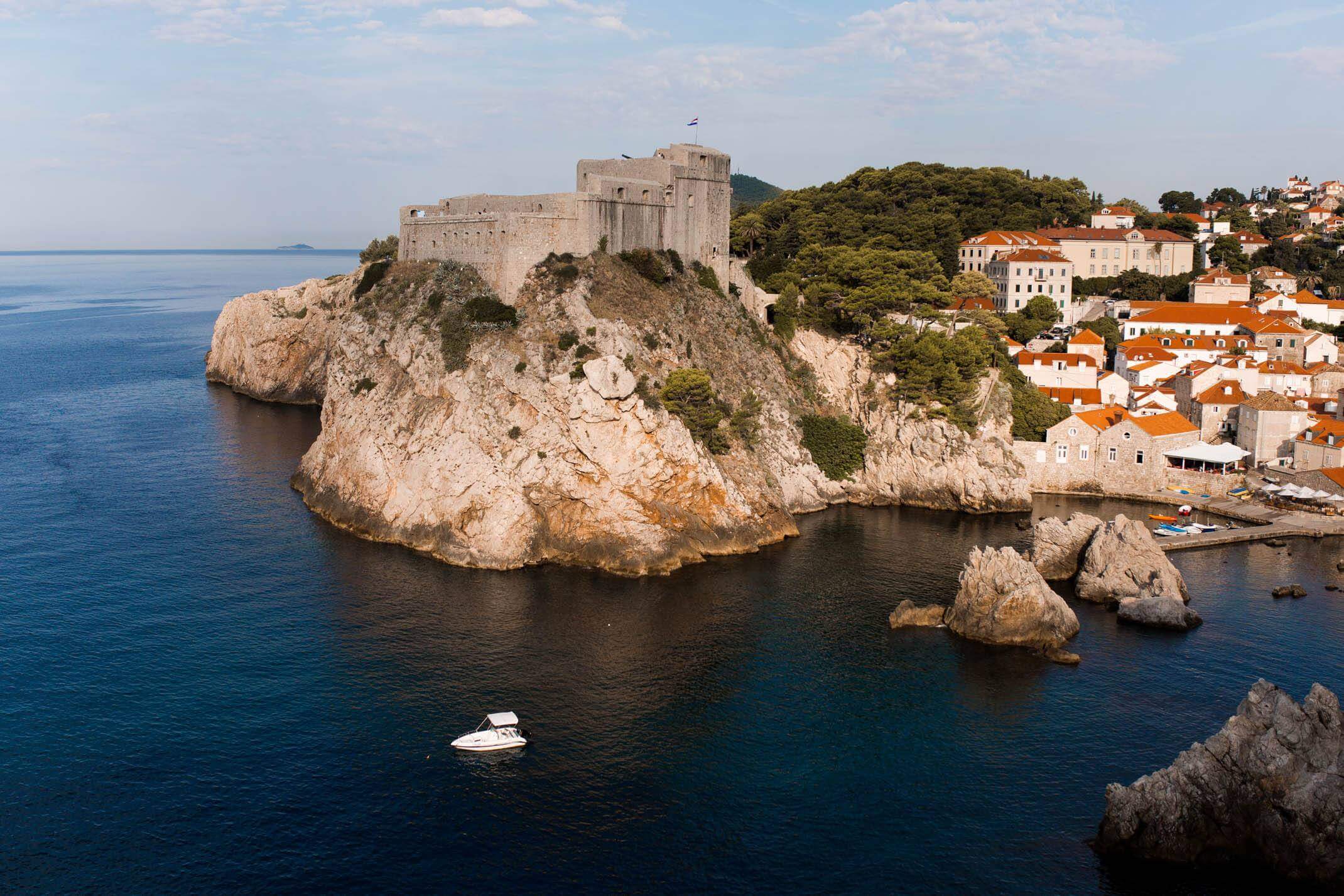 9. Watch the sun go down with a cocktail at Buza Bar.
Buza and Buza II are cliff bars hidden under the Dubrovnik city walls. These are some of the best places in Dubrovnik to watch the sunset, or if you're there earlier, to enjoy a cold afternoon drink. Before you have too many cocktails, try cliff jumping from the rocks at the bar and take in the ocean views. Going to Buza at sunset is one of the most popular things to do in Dubrovnik, so try and get there early so you ensure you get a table!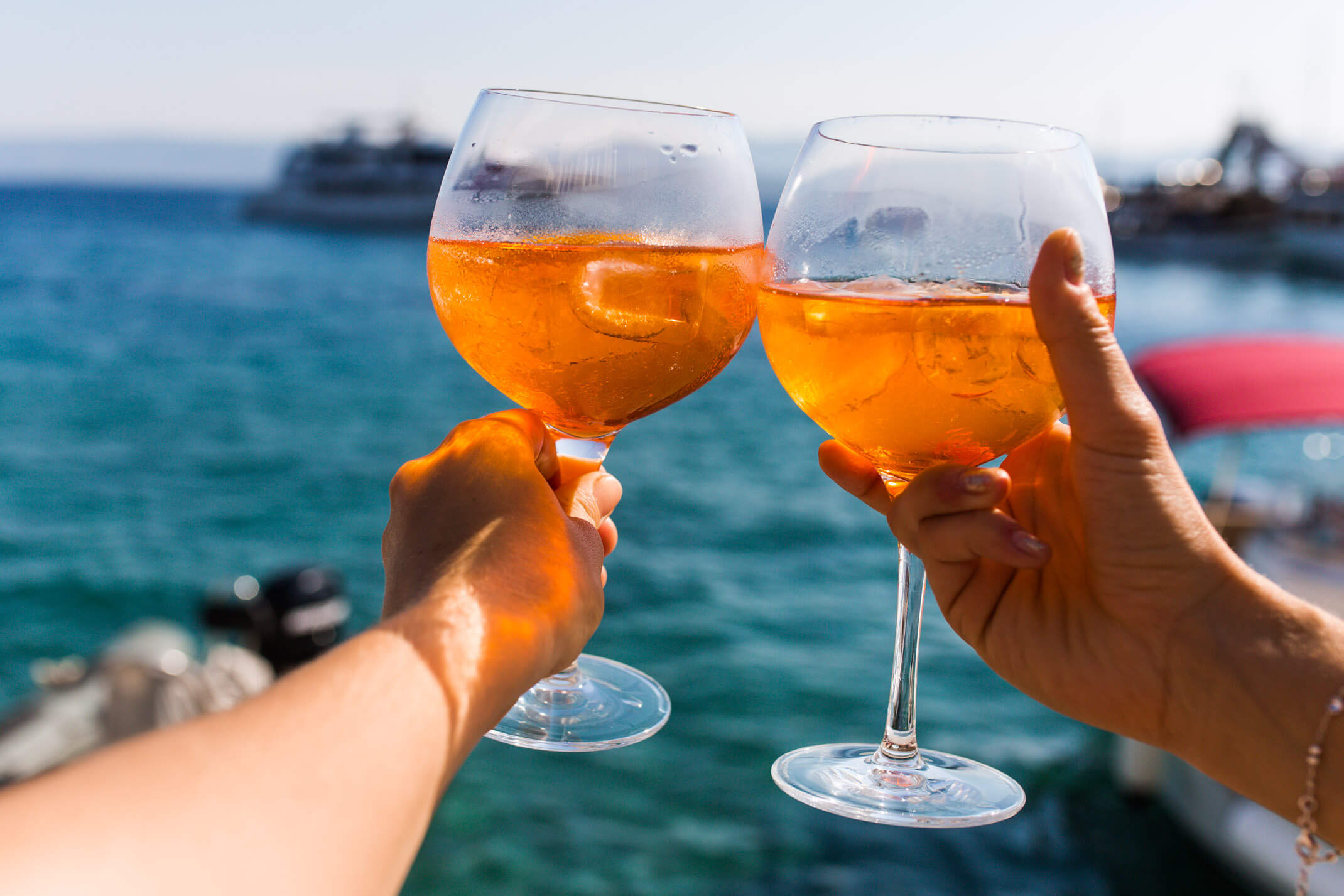 10. Hit the beach in Dubrovnik.
The crystal clear waters in Croatia are absolutely wonderful for swimming, snorkelling and scuba diving in… and even rock/cliff jumping!
All the beaches in the country are beautiful, and there are even beaches close to the city of Dubrovnik. If you're looking for places to visit in Dubrovnik and you want a bit of chill time, kick back and relax on the beach. Some of the best beaches in Dubrovnik include:
Banje Beach (close to the centre and great views of the city walls)

Copacabana Beach (family friendly)

Sveti Jakov (hidden gem, popular with locals)
Grab your swim suit and dive in!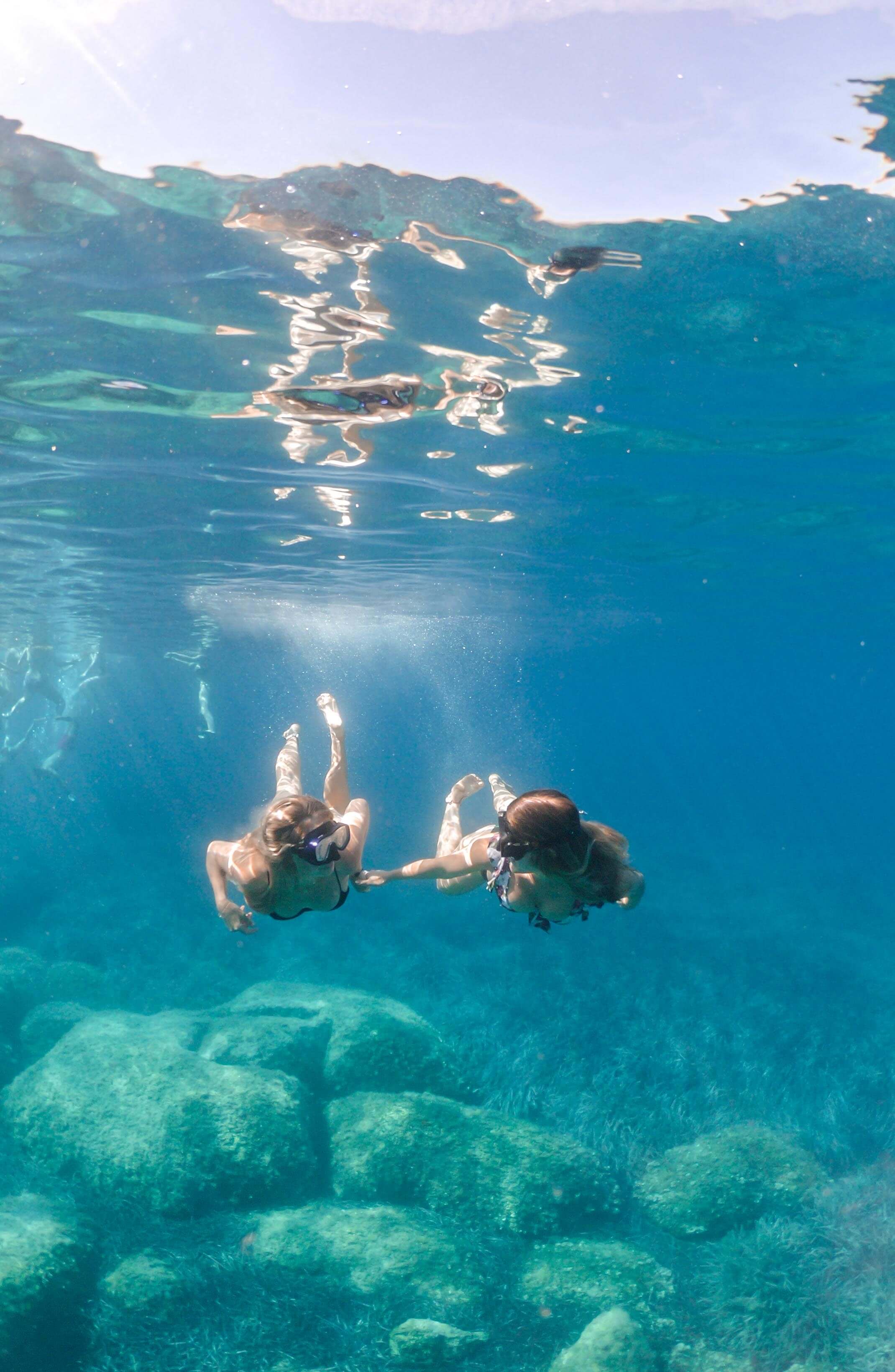 11. Enjoy coffee in Dubrovnik at Cogito Coffee.
If you're looking for some of the best coffee in Dubrovnik (or matcha!) or one of the best cafes in Dubrovnik, you have to check out Cogito Coffee. They have two locations in Dubrovnik (Old Town and Ploce Gate), and pride themselves on being speciality coffee roasters. We visited the cafe in the Old Town, where you can enjoy your coffee in a quiet part of town and say hello to the local cats, who hand around that part of the city!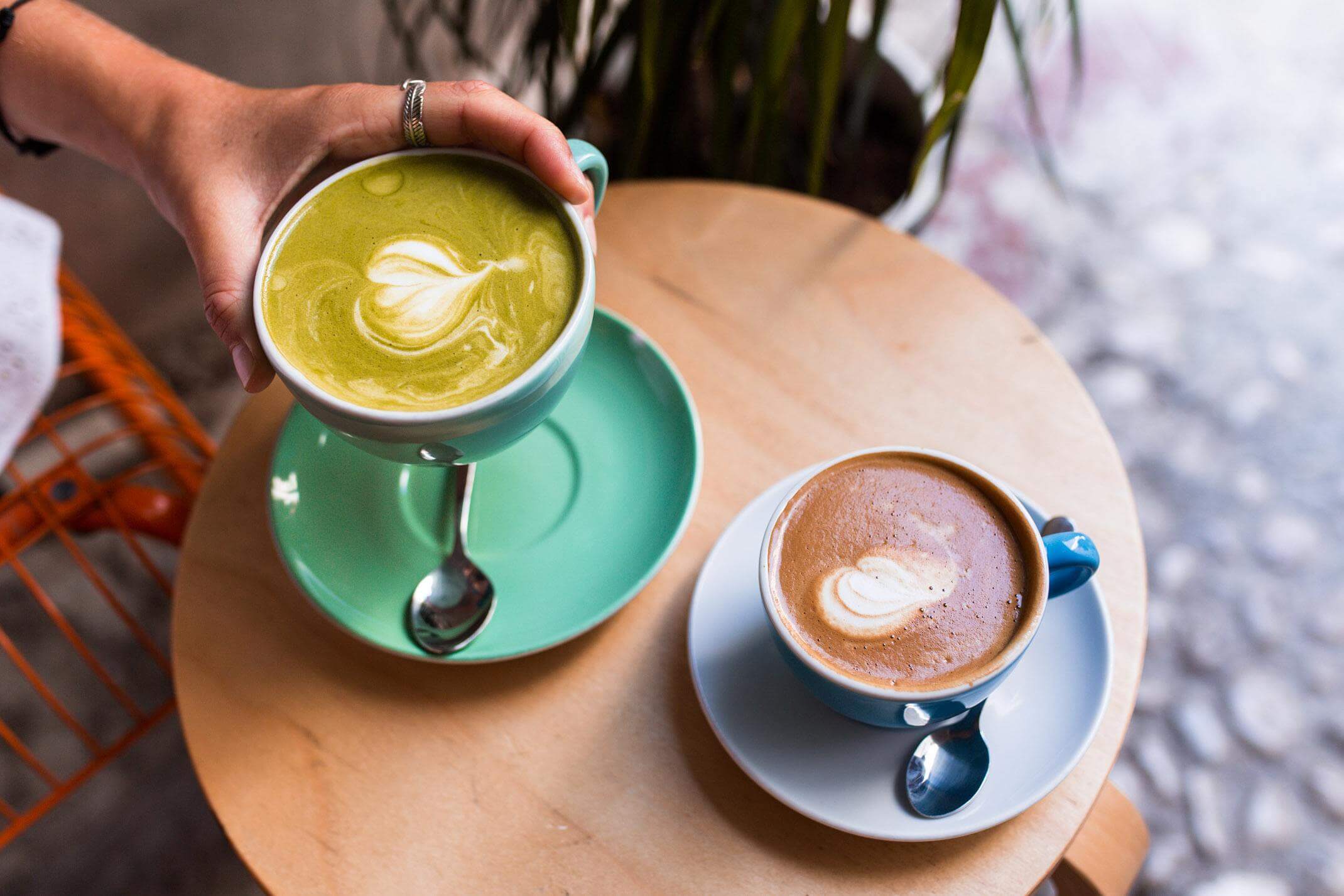 12. Try some Croatian wine and go wine tasting in Dubrovnik.
Croatia isn't somewhere that I immediately think of when it comes to famous wine, but when I was there, the homemade, local wine was pretty good!
One of the best things to do in Dubrovnik in the evening is to hit up one of Dubrovnik's many wine bars and try the Croatian wine for yourself. Dingač is said to be Croatia's best red wine, so definitely try a glass of that!
There is also the Dubrovnik FestiWine which usually takes place in April each year, if you're looking for fun, unique things to do in Dubrovnik.
13. Buy some Croatian lavender souvenirs in Dubrovnik.
Croatia is famous for it's lavender, and the oils, bath salts and pillows will not disappoint; you'll find lavender goodies sold all over Croatia. One of the best things to do in Dubrovnik is to explore the local markets, take in the calming smell of all the lavender products and then pick up a few bits to take home with you.
Lavender is really important in terms of its medicinal and wellness properties. Explore wellness further on my blog here.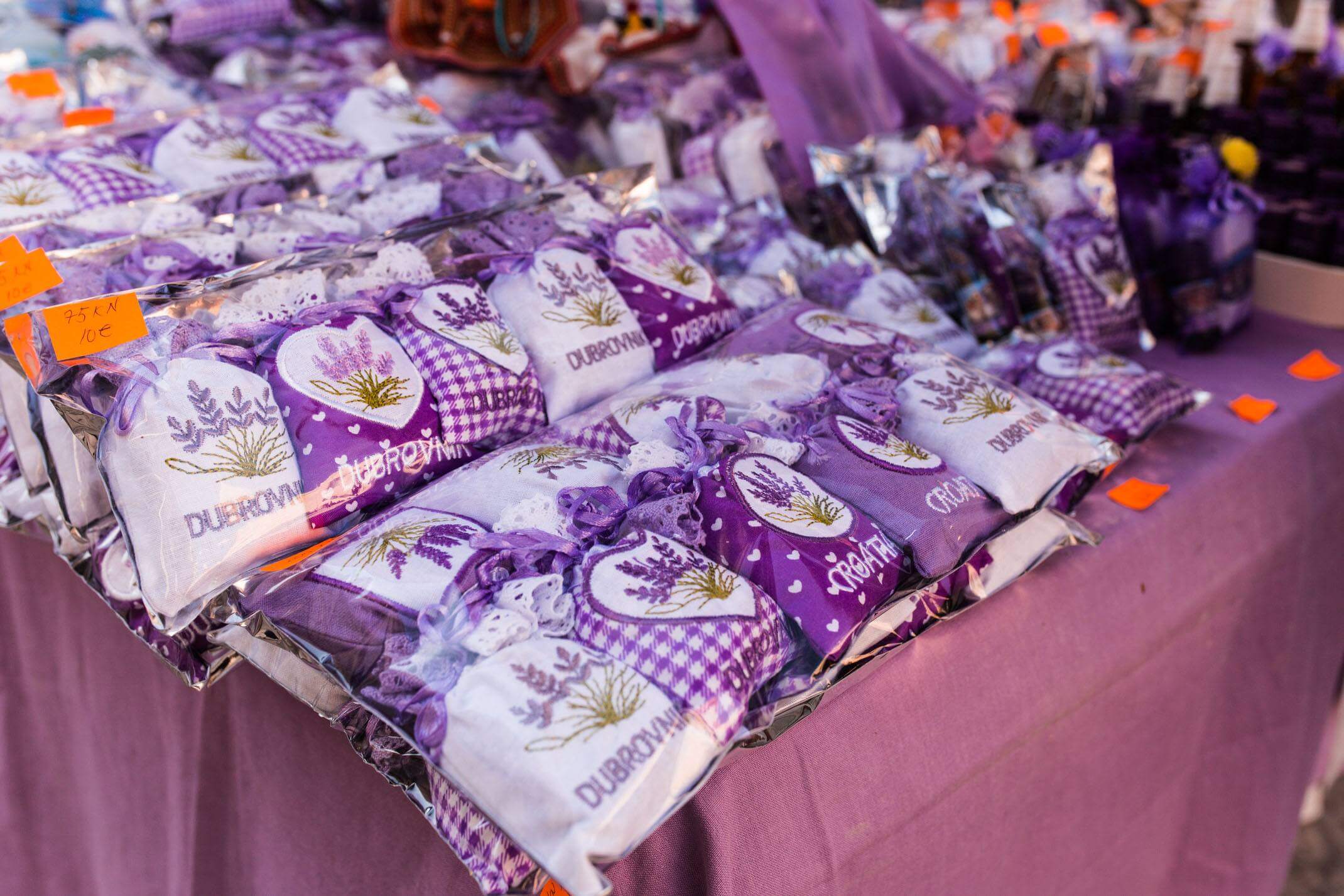 14. Take a day trip from Dubrovnik to another island or another country!
Dubrovnik is surrounded by wonderful places to go on day trips. Whether you want to go on a day trip to other islands or to another country that borders Croatia, there are lots of places to go on day trips from Dubrovnik.
Some of the best places for a day trip from Dubrovnik include:
Lokrum Island
Mjlet National Park
Cavtat (a mountain/port town)
Bay of Kotor (Europe's most southern fjord) or the medieval beach town of Budva, Montenegro
Korcula
Mostar, Bosnia-Herzegovina
Elafiti Islands
Kravice Waterfalls
Split (check out my guide to Split here)


What are your favourite things to do in Dubrovnik?
Where are your favourite places to visit in Dubrovnik? Anything you'd add?
Love as always and happy adventuring,


Did you find this post helpful? I'd love you to share it for me.
Pin and save this blog post for later…