What's so good about living in Dubai? Where is Dubai? Why do so many people consider moving to Dubai? Which languages are spoken in Dubai? What's working in Dubai really like? These were just a handful of questions I asked before moving to Dubai 3 years ago. With living in Dubai becoming more and more popular, I'm sure you're also asking the same questions.
Dubai is the busiest and (in my opinion!) the most exciting city in the United Arab Emirates (UAE). The country is split up into 7 emirates: Abu Dhabi, Dubai, Sharjah, Ajman, Umm Al Quwain, Fujairah and Ras Al Khaimah. The UAE was founded on December 2nd 1971, which is only 50 years ago! Compared to how life was before, the emirates and cities within them are more built up, there are lots of luxurious buildings and tall skyscrapers, the roads are much better, and the populations are larger; up until the 70s, Dubai and many other cities within the emirates were essentially desert.
Dubai is the most populated city in the UAE, but it is smaller than other major cities around the world (for example, Dubai's population is just under 4 million, whereas Tokyo's is just under 30 million, and London's is just over 10 million!). Tourists and people living in Dubai are attracted to the luxurious lifestyle, beautiful beaches, tropical climate, a high level of safety, huge skyscrapers and most importantly, job opportunities. It's so popular with people who have decided to try living in the UAE, that almost 90% of the population are not emiratis and instead is made up of over 200 nationalities.
Arabic is the official language of the UAE, however, given the ethnically diverse population, English is the most commonly spoken language in Dubai.
In this blog post, I will explain everything you need to know about moving to Dubai, working in Dubai and living in Dubai. Moving here is pretty straightforward, however, there are certain things you should know before doing so. From sorting your visa for moving to Dubai, to looking for jobs and accommodation, thinking about the weather in Dubai, as well as organising healthcare, transport, bank accounts, and my top tips for living in Dubai!
Other blog posts you may be interested in…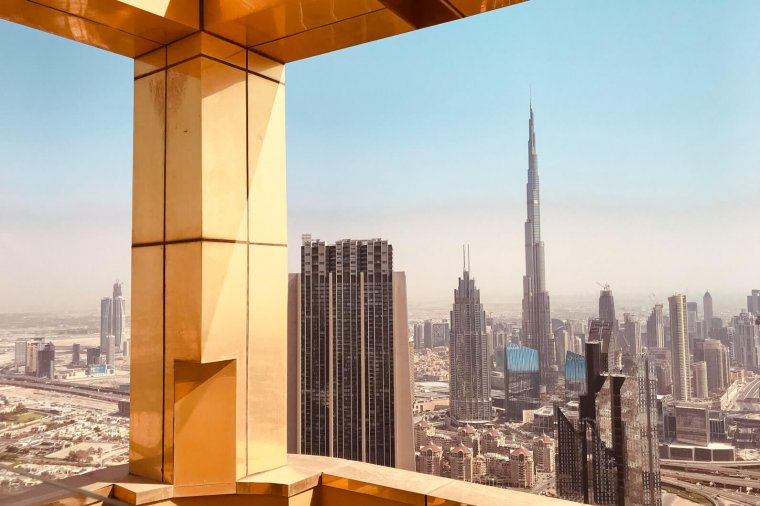 A guide to moving to Dubai: my top tips for living in Dubai!
I moved to Dubai in September 2018. I applied for a swim coaching job online and by the following week, I was living with my manager in her Dubai Marina apartment. It all happened so fast. Just like the city itself, everything is very fast paced. I'm a planner and organiser so to pack up, leave England and start living in Dubai like that made my head spin. But thankfully moving to Dubai and working in Dubai has turned out to be the greatest decision of my life.


Finding accommodation in Dubai...
Most UAE residents rent apartments and villas, which can vary in cost, but some are very affordable. A one-bedroom apartment can vary from 30,000-100,000AED per year (£6,000-£20,000). Non-UAE nationals can buy property here, however it tends to be the ex-pats with the megabucks that do so!
Top tip: To find accommodation in Dubai, www.propertyfinder.ae and www.dubizzle.com are the most popular and reliable.
One of the cheaper options is to rent a room in a shared villa or apartment, which is what I did after settling into my new job.
As I mentioned above, I initially stayed at my manager's apartment for a few weeks until I found a permanent place to live. This helped me find my feet and gave me the time to settle in while I started working in Dubai. Moving to a country that I'd never been to was overwhelming enough without having to worry about finding accommodation. I can't speak for all the companies here, but this is something I was provided with. If you're thinking of moving to Dubai, this might be something to talk about in a job interview.
After leaving my manager's apartment, I moved into a huge villa that had 14 bedrooms! I paid a monthly rent of 4,000AED (£800), which included having my own huge room and access to a swimming pool. This was such a great way to meet people from all over the world. At one point we had over 12 nationalities under one roof.
At the start of my second year living in Dubai, I moved into an apartment with 3 of my friends. It's incredible – I now feel very settled here. It's cheaper than the shared villa and we have a huge balcony that overlooks the beach, Palm Jumeirah and Burj Al Arab. Plus it's only a 10-minute drive to the Marina and 15-minute drive to Downtown. We certainly won't be moving from here any time soon!


If you're wondering, "What's the weather in the UAE like?" or, "What's the weather in Dubai like?", let me tell you. To put it simply, there are two seasons: hot and hotter! The UAE is in the Middle East, bordering Oman and Saudi Arabia. These countries are known for their stifling hot weather during the summer months. I remember arriving in Dubai on September 5th and the temperature was already 44 degrees at 10am!
The tourist peak season is from October to April as the weather averages in the low 30s/ high 20s, with clear blue skies and zero to little rain. Some night temperatures in January and February can drop down to single figures and it can get super cold, so bring a jumper! We are in the desert after all.
The month to avoid is August. The humidity and temperature combine to reach a 'feel factor' of 50 degrees every day, or higher. One August day in 2020, the 'feels like' temperature recorded 60 degrees. It was unbearable. During the summer, the only way to survive is by having air conditioning, and everywhere in Dubai has it. Many of the residents use their annual leave during July and August to escape the heat, rather than working in Dubai at the hottest time of the year.


Flights to and from Dubai...
It's pretty standard that your employer will provide you with return flights to your home country once a year, but it's another thing worth checking if you're thinking about moving to Dubai. My manager paid for my initial flight to fly Emirates from London Heathrow. The flight time averages 6 hours 45 minutes from the UK to the UAE.
If you're flying from the UK to Dubai, there are many daily flights from many UK airports including Heathrow, Gatwick, Manchester, Birmingham, Newcastle, Edinburgh and Glasgow. The direct link between the two countries is straightforward and super accessible. Dubai is a central hub to many other countries, including Australia, USA, Japan and South Africa. DXB Airport is also super fancy – it has everything you could possibly need, and a great introduction to what the rest of the city has to offer.


Visas for moving to Dubai...
For UK passport holders, you can obtain a free 30-day tourist visa on arrival. Your passport will need to be valid for at least 6 months and you should have a return or onward flight booked.
If you're thinking about working in Dubai and employed by a company in the UAE, they must sponsor you to get a residence visa, and you shouldn't work without it. This can be a long process – I waited 7 months for mine! Most of the residence visas last for 2 years and then you will have to redo the process. A medical exam is also a requirement for obtaining a visa.
Now I bet you're wondering how I was allowed to stay in the country for 7 months without having a residence visa. For those first few months, I had to make trips to the Oman border, to stamp out and stamp back into the country for a small fee (there's a fee for the visa run if you organise it through a company, as well as the exit fee from the UAE and the entry fee into Oman). This might seem a little shady, however it happens frequently here. For UK British passport holders, after the first 30 days in the country, there's a 10 day grace period to renew the tourist visa. If you don't renew your visa, you will have to pay a 200AED (£40) fine on the 11th day, and then 100AED (£20) everyday after that. I used www.gotoursdubai.com for the Oman visa runs and they did the job.


The currency in the UAE is dirhams. The exchange rate averages around 5 dirhams to 1 British pound sterling, which is great for exchanging money made here and taking it back to the UK. I use UAE Exchange or Al Ansari to convert dirhams to pounds as it's more cost-effective than transferring online. An added bonus is that the UAE is tax-free, so working in Dubai is a great opportunity to save money.


For my first year after moving to Dubai, I hired a car from Shift which is one of the most used rental services. At the start of second year, I bought a brand new car on a 5-year finance, which works out cheaper than renting. When, and if I ever, move from the UAE, I will sell my car.
Taxis are cheap in Dubai compared to other major city prices, plus, they're everywhere! You can either flag one down or order one from the RTA app. There isn't an underground train system here… yet! However, there's a Metro which runs the length of the city. Some of the stops include DXB airport, Dubai Mall and Marina. They are currently building an express train which will connect Dubai to Abu Dhabi in 15 minutes, which normally takes over an hour by car!
Just a heads up about driving in Dubai – I absolutely hated it at first. The roads are busy and people drive fast! The main highway is called Sheikh Zayed Road which runs through the city and alongside the Metro. This is the main route that connects Dubai and Abu Dhabi. It's rare to have a 6/7/8 lane highway running through the middle of the city. It works for convenience, however, it doesn't work for being a masked racing circuit. It certainly takes some getting used to. On the other hand, the roads are easy to navigate as the main highways run the length of the city and the smaller highways start at the coast and head inland – grid-like. The fun part about driving in Dubai is spotting all the fancy cars on the road. You can't go very far without seeing a Lambo or G-Wag!


Bank Accounts & Emirates ID
To open a bank account in the UAE, you must provide a salary certificate from your employer. A valid residence visa, passport and Emirates ID must also be shown. An Emirates ID is an ID card that you obtain once the visa has been approved. This takes around 7 days to be processed. The ID cards are used for various services around the country, including jumping the passport immigration queue at all UAE airports – bonus!
The main banks in the UAE are Emirates NBD, National Bank of Abu Dhabi and Dubai Islamic Bank. They all have online banking apps, and you can pay for pretty much anything on your card. To be honest, most people pay for everything on their card; even paying for parking is done on the RTA app.


Rules for living in Dubai...
Public affection in Dubai
Couples, married or not, should avoid PDA. Hand holding between married couples is tolerated but any other public displays of affection, including kissing and hugging, are banned. Any person that is caught can be fined or imprisoned.
Drinking alcohol in Dubai
You can drink alcohol in Dubai, but there are rules to follow. Non-Muslims can drink in licensed areas including, bars, clubs and hotel restaurants. While you don't need an alcohol license to consume alcohol now, you need one to purchase and possess it. To enjoy alcohol in the comfort of your own home, you must obtain an alcohol license which costs 270dhs and can be bought from any African-Eastern or MMI store. Also anyone caught drink-driving, even the smallest trace, can be imprisoned or even worse, deported. If you do get drunk in public, then make sure you do not make a scene or act inappropriately.
Posting on social media in Dubai
If you're living in Dubai and active on social media, make sure you read these rules. The UAE has 'social media laws' and breaching these can result in jail time. You must respect the privacy of others (you can't share any personal/confidential details of other people), you can't take or post photos of strangers without permission (especially emirati women, road accidents, police officers etc.), and you can't post anything that offends Islamic values and morals.
Drugs laws in the UAE are very strict. Just don't do it – there are hefty jail sentences for anyone who breaks the drug laws. In terms of prescription medication, you can check what is and isn't allowed into the UAE here.
Having children outside of marriage
Getting pregnant outside of marriage can put you in a difficult situation if you are living in Dubai. It may be difficult to legally register the birth of the child and even to get health insurance.
If you're moving to Dubai with children and you aren't married (this is not an issue for tourists), you should consider getting married before you go – it'll make getting visas easier too.
With the UAE being a Muslim and conservative country, it is imperative that you must also dress conservatively. Especially within the malls, restaurants and government buildings. You shouldn't wear anything too short or see-through. At the beaches, water parks and pools, swimming attire is allowed. As long as you're covered up when you leave these places, you will be fine.
The UAE offers luxury and greatness from every aspect, far better than most places in the world. If you want to try working in Dubai and can abide by the rules here, then trust me, you will have the time of your life!


One final important point! Make sure you are covered. If you are working in Dubai and have a visa, then your employer should provide you with all-important health insurance.
The hospitals here look like hotels and have some of the best doctors in the world. There is a 'free' hospital called Rashid Hospital, which is where I recommend for any medical emergencies if you don't have health insurance.


Now onto the good part!
As I mentioned above, Dubai is a city that oozes luxury and charm. From brunches on the beach to sipping cocktails at the top of the tallest building in the world, or from dune bashing in the desert to zooming down the longest zipline in the world, it's all here. Everything is new and clean and fancy. Life feels very extravagant here! It can be easy to get caught up in it all, so find people that you can trust and that have their feet firmly on the ground.
No matter how hard you try, you will get attached. Also, remember that many people will come and go. It's a city that's evolving – you will evolve too.
Top tip for living in Dubai: plugs
If you're travelling from the UK, then there's no need to worry about adapters - the UAE also uses plug type G.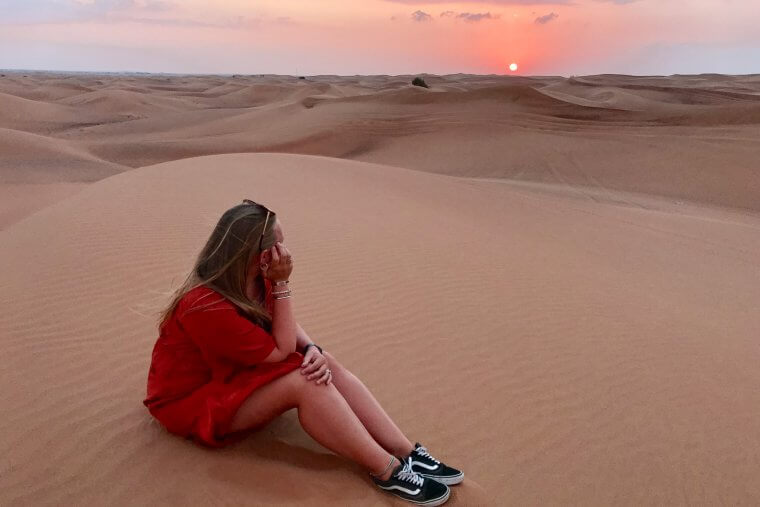 Hopefully this post covered many of your questions about moving to Dubai, living in Dubai and working in Dubai!


Do you have any other tips for moving to Dubai or living in Dubai?
Where are your favourite things to do in Dubai ? Anything you'd add?
Love as always and happy adventuring…


Did you find this post helpful? I'd love you to share it for me.
Pin and save this blog post for later…