In March this year, after exploring the southern regions of Finland last summer, the Finnish tourism board invited me back to discover the depths of the winter in the northern region of Karelia.
One quick Google search after the email landed in my inbox, and the flights were booked: white wonderlands, gorgeous pink sunsets and huskies… Count. Me. In.
Apologies for anyone who has noticed that it's taken me a little while to actually put these videos and posts together but there was absolutely no way I was leaving this content to dust on my hard drive, so here we are.
Editing these photos and the vlog (featured below!) has brought all the magic back.
This winter adventure through Finland was the absolute adventure of a lifetime and a corner of the world I think you are going to, like me, absolutely fall in love with.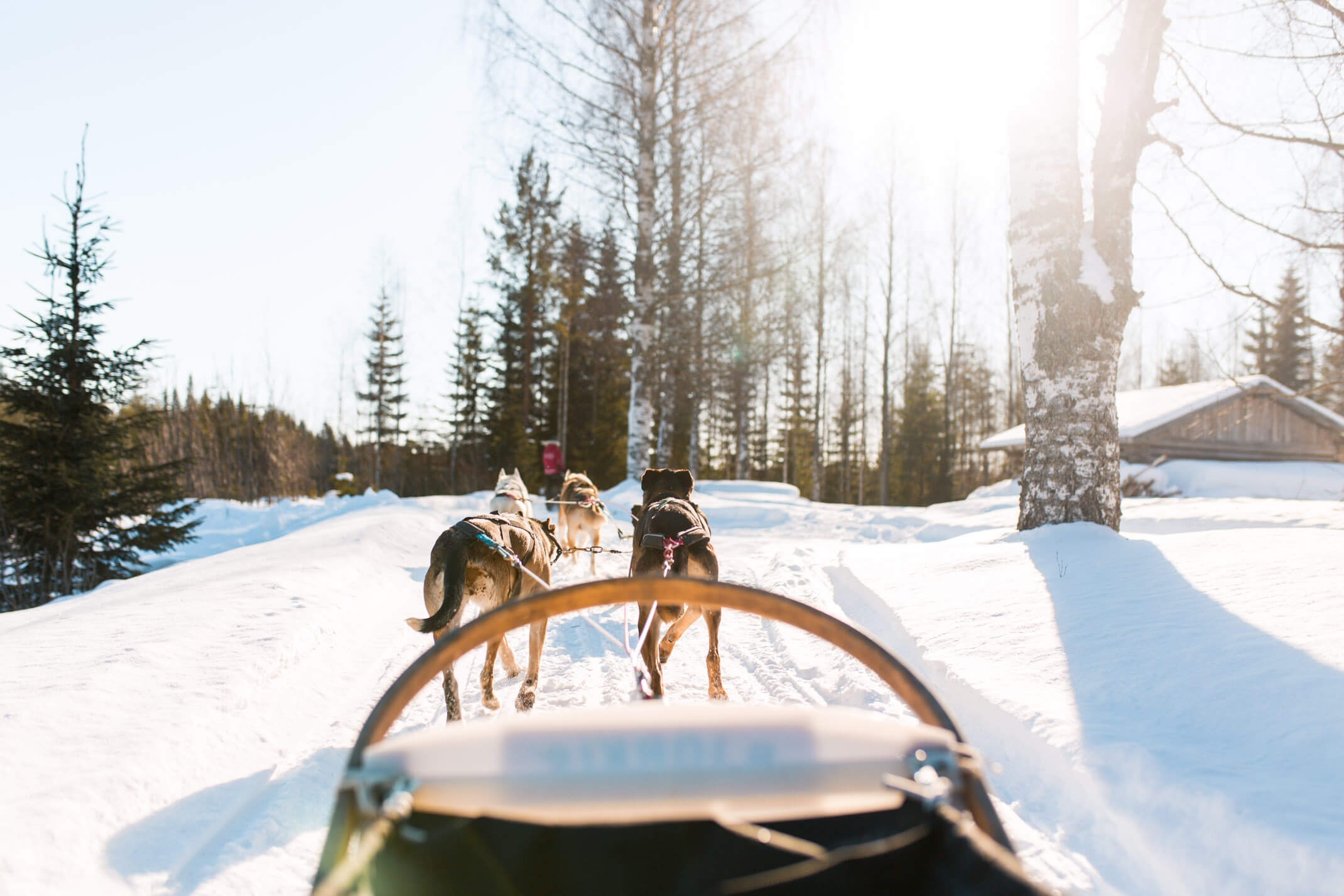 A little about winter in Finland…
So winter in Finland gets a little bit chilly, to say the least!!!! It starts in November / December and ends between March and May. Temperatures range from 0 to -30°C, and during this season there is almost always snow in the North and in the East (the South is more likely to only have snow from December to March). However, that is no reason to stay inside, or to not visit at all! The winter is a lot drier here than in Southern Europe where is is damper, so in a way it doesn't feel dreadful… at least not if you're dressed properly!
North Karelia is lucky enough to have its snow/ski season from October to May… more than half the year!! January is said to be the coldest month and the region will experience sub-zero temperatures for the whole of the winter. But as I said, this should not stop you seeing the beauty in this area of the world at this time of year.
Day 1
Our first day saw us land into Joensuu airport early evening. Joensuu is a small airport with several flights a day to Helsinki. You can fly to Helsinki from all over the world, so your best bet is to fly into Helsinki and then hop over to Joensuu (check flight connections here).
You can get the train if you want a cheaper journey (it takes about 4.5 hours) – check train times here.
We rented a car and drove to the Original Sokos Hotel Vaakuna, our accommodation for the night. The hotel was extremely pleasant but pretty basic. Nevertheless it was right in the centre of town and we were just here to rest up ready for the adventures ahead. We arrived in the early evening, and during the winter there are only 6-10 hours of sunlight a day, so it was pretty dark by the time we arrived, even if it wasn't late. Joensuu is a lively student city and so there's a fair bit going on, lots of restaurants and bars too.
As ever after a long day of travelling, we dropped our bags in our room and were immediately ready for food. We took the 5 minute stroll to dinner at 'Local Bistro' after which we became very aware of how important our thermals were going to be! The cosy warm interior of the Bistro was a very welcome addition to our food. Here at Local Bistro they are known for adding a modern twist to traditional Karelian cuisine, and serve everything from typical Finnish a la carte dishes to street food. It was here that we met a 'berry' important part of our trip (get it?) – the lingonberry! We fell in love with these over the course of our trip and ate them pretty much every day in some form (they're particularly great on top of porridge!).
We headed straight for bed as we were verrryy tired and not all of our luggae had arrived. But, if you fancy something to do on your Karelian trip, head for a sauna and swimming session at the Winter Swimming Centre Joensuu Polar Bears.
Day 2
We started the day off right with an amazing breakfast of rye porridge (a Finnish special and our new favourite go to every morning) with berries and yoghurt on top. Yum!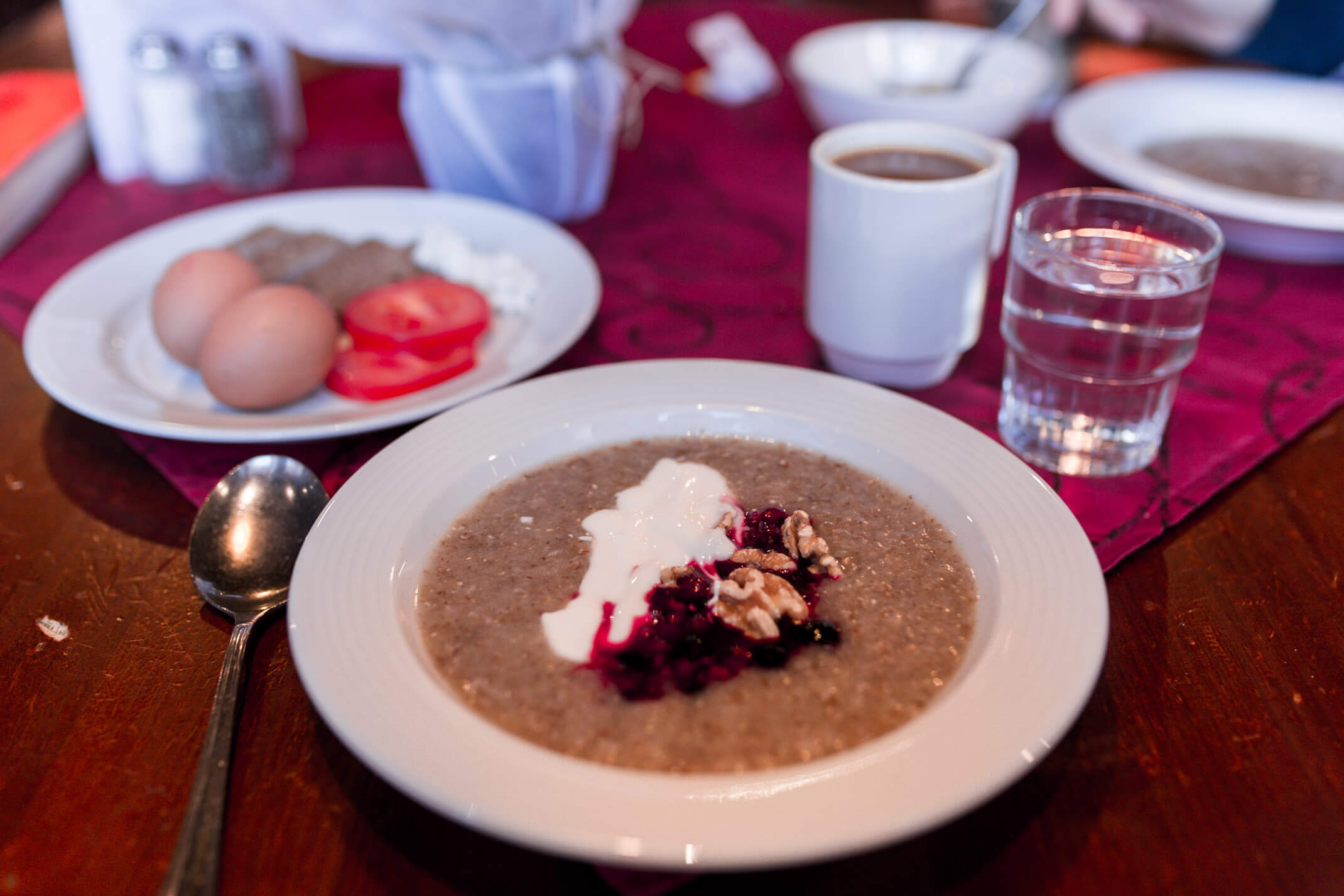 We then drove to ABC gas station in Kontiolahti to meet the guys from Karu Survival, who organised a fabulous programme for us. Karu Survival helps its clients experience nature at its best, following the principles of sustainable development, and without damaging the environment.
We arrived at the husky farm to meet the dogs, have a tour, and go through the safety procedures at Juha's house in the beautiful Finnish countryside.
It wasn't long before we drove a little further out, where we begun the once in a lifetime adventure I never thought I'd actually ever get to experience…
Though I kitted myself out with the best thermals I own, Karu Survival provided us with additional fur lines gloves, hats and thermal jumpsuits which was most certainly needed. We wouldn't have wanted to do it without them. Honestly, my snow boots are usually super thermal and get me through any cold weather but this weather was next level. Add in the wind as you pick up speed with the huskies and it certainly feels colder than it is.
Saying that, its dry weather so -25℃ is a lot more bearable than you think, or than what I thought anyway. Finland was my first experience of such weather.
We both took turns to steer the husky sledge, with the other sat in the sledge. Steering was a lot harder than we thought, particularly navigating around corners. The hour provided a welcome full body workout with quite the rush of adrenaline and the odd face plant in the snow!
After an absolutely paw-fect morning, we drove to Lake Höytiäinen where they had a hut on the lake with an open fire and the incredible chef from Karu Survival hosted and cooked up a vegetarian feast for us. We enjoyed a soup and Finnish flat bread to start followed by absolutely stunning, earthy lentil and grain bowl and finished with a berry pudding in the warmth of the hut. So snuggly!
Something I love about Finland are these wooden huts dotted in forests and by lakes. Most are for the public but some are privately owned. They allow you mid or post hike to cosy up and cook on an open fire providing a welcome shelter from the weather outside.
At 2pm we left and drove to Nurmes. The Nurmes region is situated in the north part of the province of North Karelia, and is full of truly unspoiled surroundings, pure crystal-clear water and clean air. The Bomba House and Karelian Holiday Resort, along with the Spa Bomba with its bubbling pools and baths, offer relaxation and invigoration whenever you feel the need.
When we arrived, we checked into our next bed for the night: Break Sokos Hotel Bomba. Bomba is a unique resort on the shore of Lake Pielinen. Break Sokos Hotel Bomba was renovated in most parts during 2016-2017 and the totally renewed Spa Bomba must be experienced by yourself (but I'll help you out with a few cheeky snaps). As we checked in, the sun was setting through the forest trees. Trees are so beautiful in Finland, especially in the snow.
We spent the evening at the Spa Bomba (it would have been rude not to!) and it was I N C R E D I B L E. It was amazing to sit and relax while overlooking the lake at sunset. Bliss. You can go for the day or evening, or stay overnight at the hotel too. (It's €23 for a day ticket and €15 for a day ticket if you are a hotel guest). Either way, make sure you go!
We finished off the day with dinner at the hotel restaurant Trattoria Pielinen.
To find out what happened next on our trip check out…
I can't wait for you to see what we got up to!
Watch our adventures come to life in this video…
Have you been to Finland?
What were your favourite spots? I'd love to know!
Love as always + happy adventuring,
Did you find this post helpful? I'd love you to share it for me.
I can't do this without you.
Pin and save this blog post for later…