In this blog post, I am going to take you through our 8-day itinerary in Kenya to help you plan your Kenya Safari (or at least make it a little easier to plan).
A Kenya safari really is a once in a lifetime trip to go on and so, for my mum's 50th birthday celebration, my brother and I took on the task of arranging a surprise eight day itinerary for Mum's biggest bucket list check.
We chose Kenya as the destination for our safari adventure and let me tell you, it did not disappoint.
A Kenya Safari: Five days, three national parks, one epic safari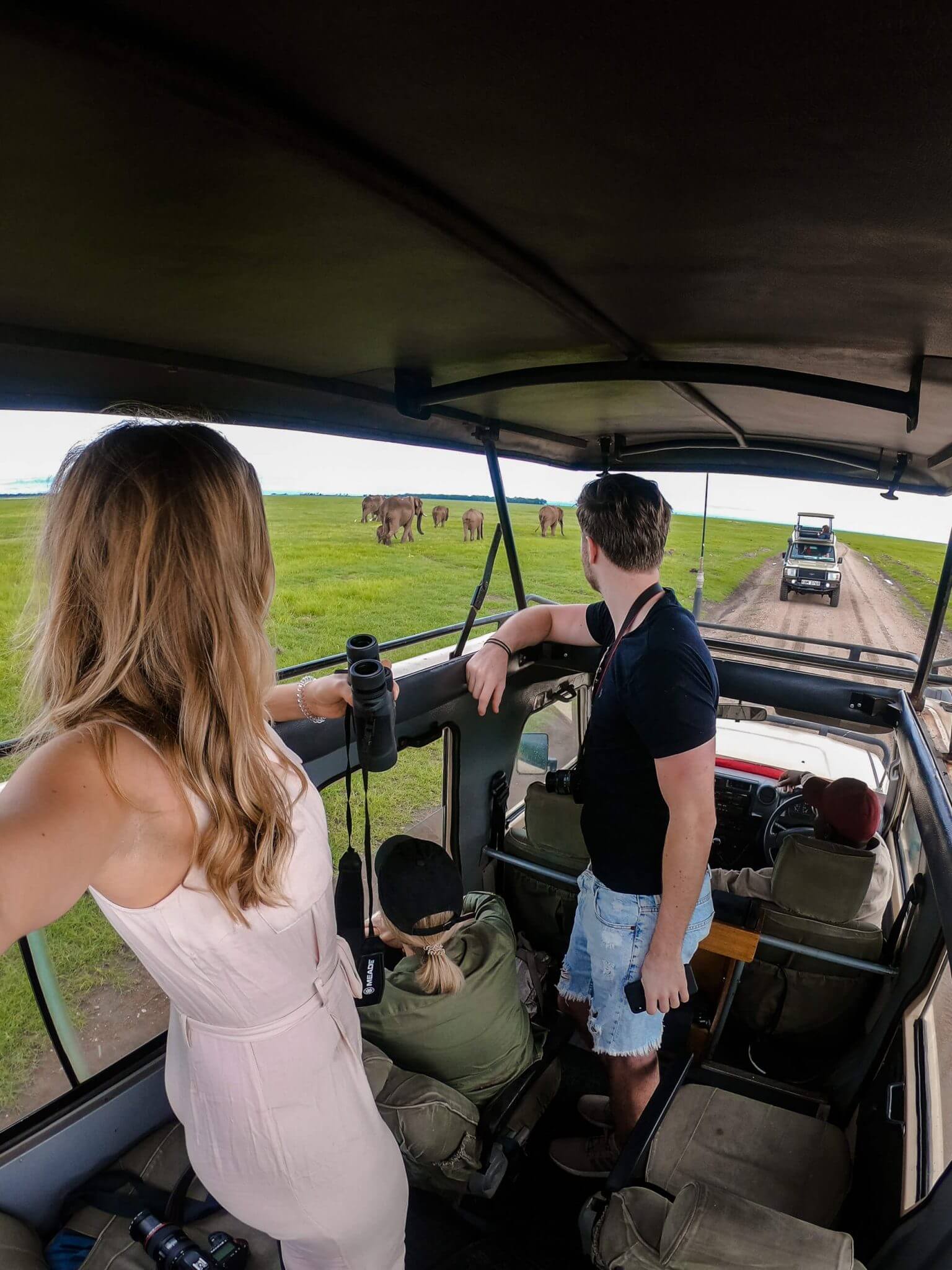 Three national parks, four days, 682 km, one family safari.
The safari we embarked on was certainly not a 'budget adventure'. But all the costs (aside from the accommodation, which we could have swapped for something more basic) were necessary to get the insane experience we had. I'll talk more about that later in the post.
As always I've plotted our route on a Google Map for you so that you can see exactly where we stayed, what we did and the roads we took…
Our Kenya safari itinerary…
Day One
Touchdown in Kenya had us land in Nairobi with British Airways at 10pm. If you've read my top tips and preparations for travelling in Kenya you'll know that it's strongly advised to not drive at night for safety reasons. For this reason (and because the first park was a few hours drive away) we booked into the Sheraton Hotel by the airport for a peaceful night's sleep.
Days Two And Three
On the morning of day two we woke at the Sheraton Hotel and met our driver Ishmael who came with our wagon for the week! It actually seated 7 people so it was super spacious for the three of us to cruise around in. Once we'd done our hellos we began observing the change of scenery as we drove through the urban city life down to the plains of Amboseli National Park. As mentioned previously, during the week prior to our arrival Kenya had had masses of rain so the drive was pretty muddy and many roads were still flooded. We stayed in Amboseli National Park for two nights at Ol Tukai Lodge.
Fun facts about Amboseli National Park:
– 300 km²
– $60 USD entry per adult per day (24hr pass)
– With clear skies you get insane views of Africa's highest peak – Mt. Kilimanjaro
– One of the best places in Africa to spot elephants and have up close encounters!
– Chance to visit and experience life of local Maasai communities
– Ol Tukai lodge looks out over the game reserve, so you can lie by the pool and spot elephants and hippos from your lounger! Insane!
Exciting encounters we had here…
ALL the elephants and giraffes, a few lion spottings and a crazy amount of hippos! Don't want to take the limelight away from all the other animals but of course these were the animals we dreamt of seeing!
Amboseli National Park Photo Gallery…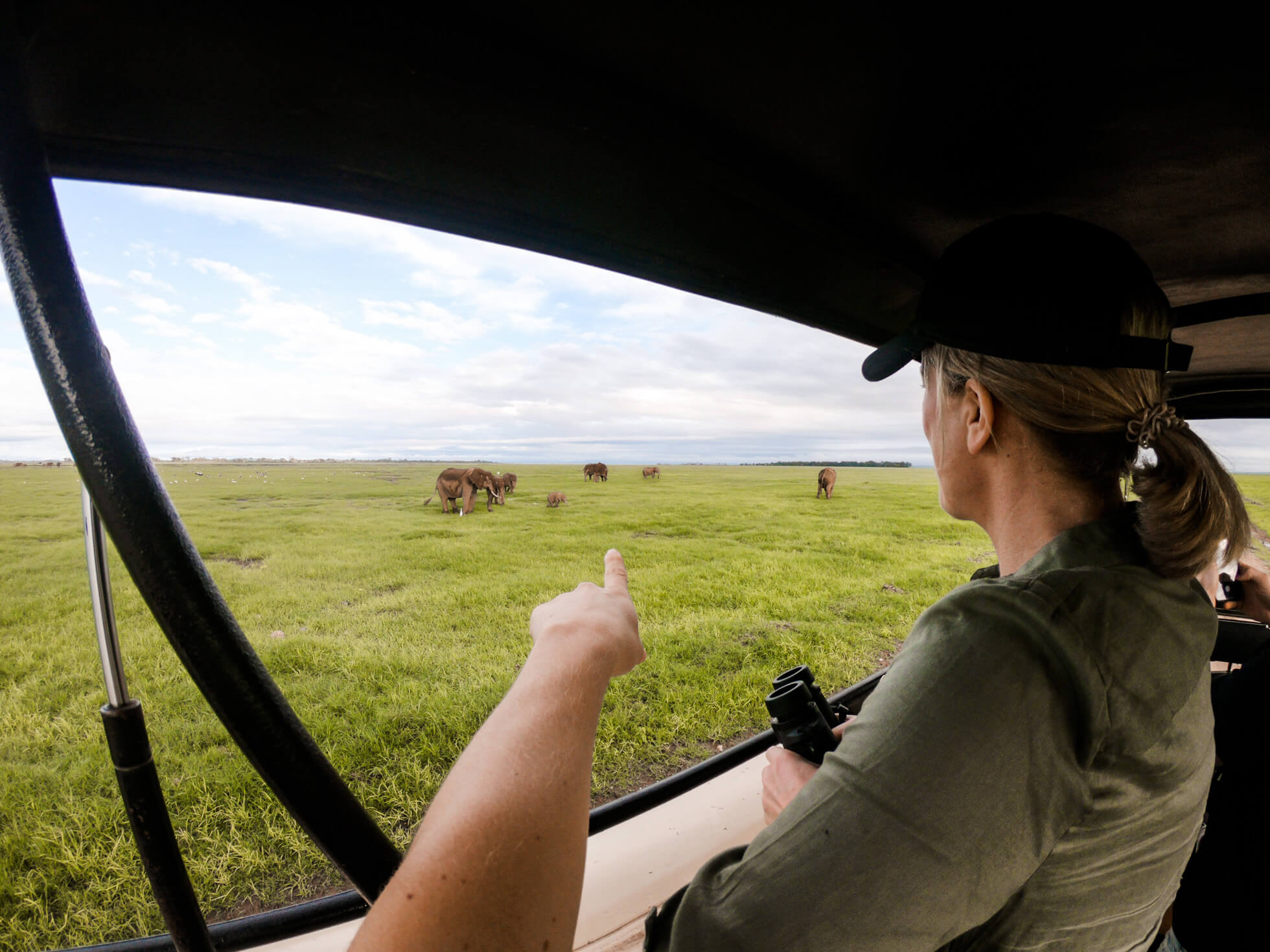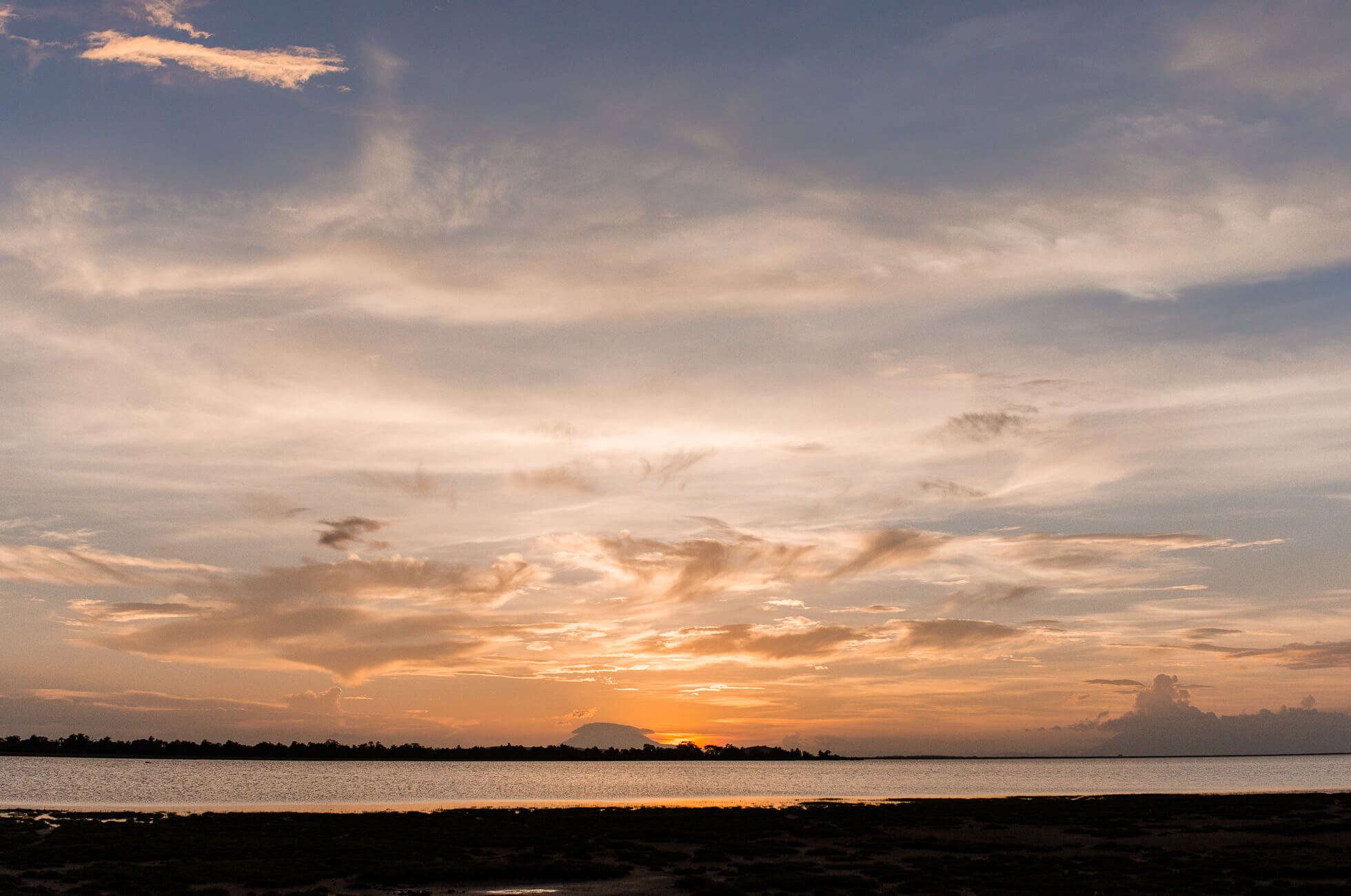 Day Four
After a final morning game drive in Amboseli, Ishmael drove us 112km across Kenya to Tsavo West (another National Park) where we checked into Kilaguni Serena Safari Lodge. Holy scha-molies, the view when you walk into this place. The whole dining and bar area looks over a man-made watering hole where the animals come to drink and play. You'll find it hard not to sit there all day and gaze. If you bag yourself a room with a balcony over the watering hole – you'll find it hard to sleep.
A serious 'instagram goals' location.
Fun facts about Tsavo West National Park:
– Size 7,065 km²
– $52 USD entry per adult per day (24hr pass)
– Tsavo National Park was split into two because of the railway that runs from Mombasa to middle of Kenya. As a whole, Tsavo is the largest national park in Kenya (when combined with Tsavo East, it's over 20,000 km²!)
– Tsavo West has a pretty mountainous terrain and had the best safari landscape of the trip in my opinion!
Exciting encounters…
We spotted so many leopard prints but just missed the cats themselves. We saw lots of zebra and giraffes here and even saw the elephants come to the watering hole at breakfast!
Tsavo West National Park Photo Gallery…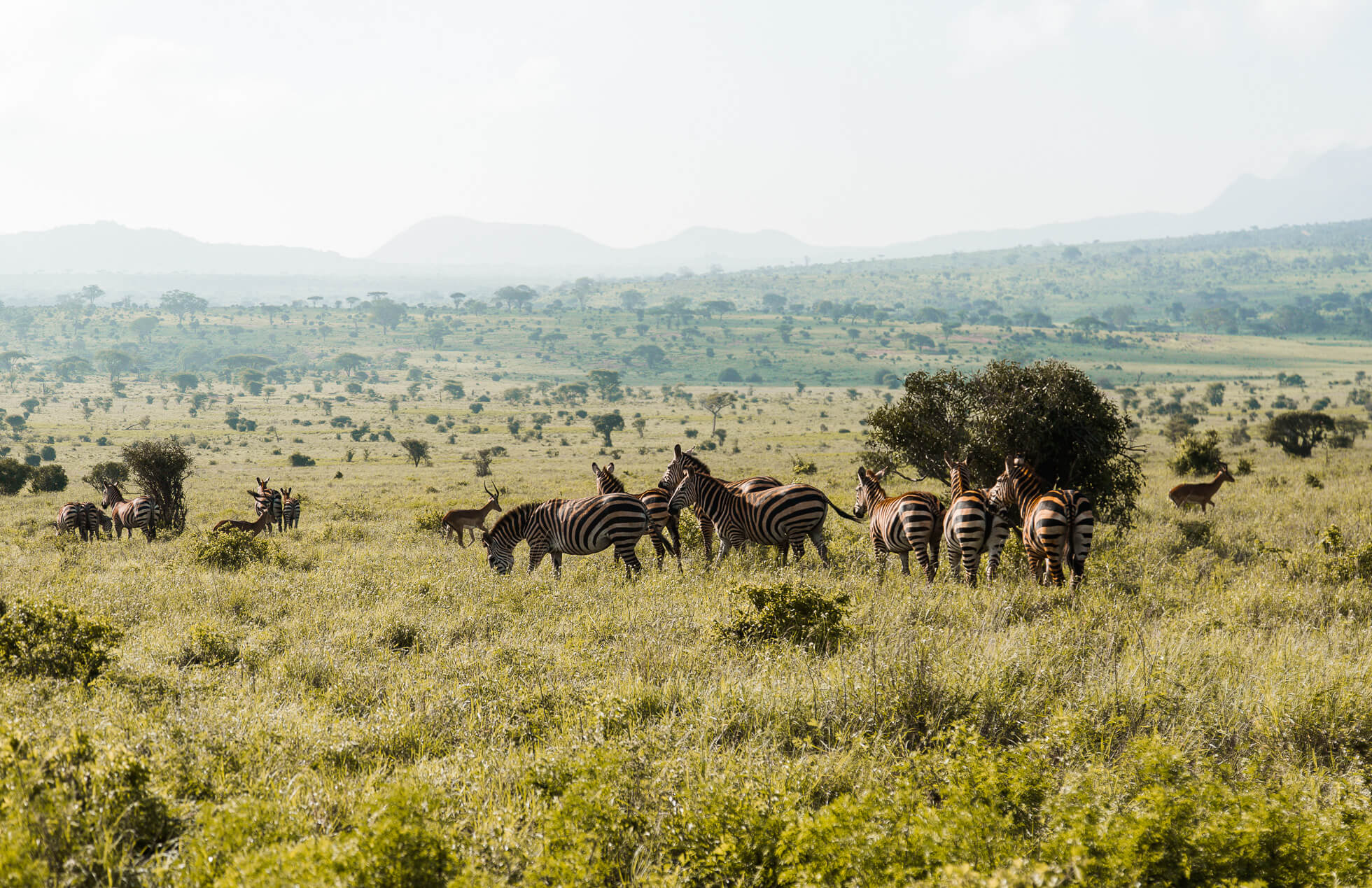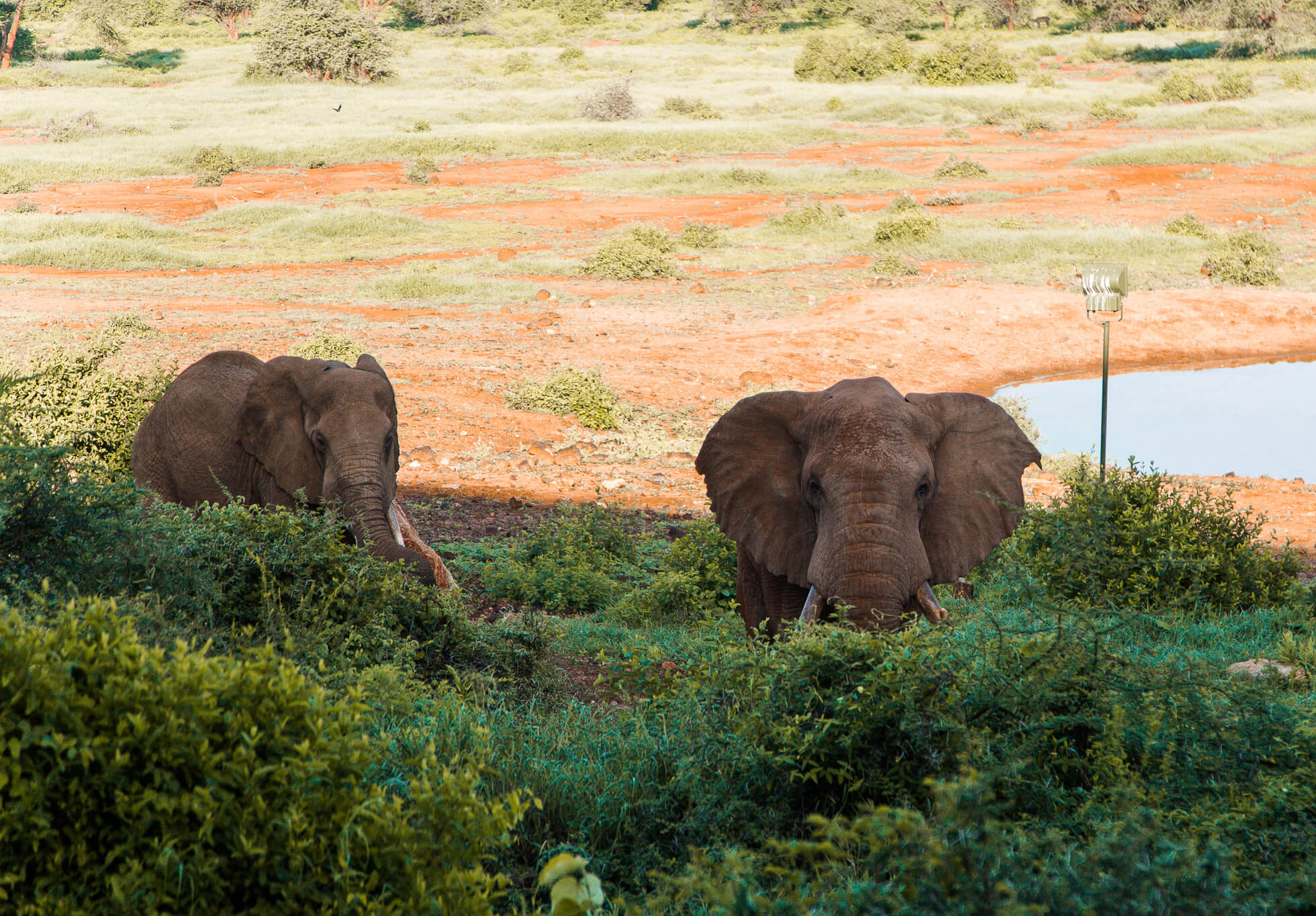 Day Five
Our last night on safari was spent at a lodge on Lions' Hill, which has its name for a reason. Right in view from the dining area is a hill of rocks and lions are no stranger here. Unfortunately we weren't there long enough to spot them, but it's a stunning location regardless. There's an infinity pool and views over the plains as far as the horizon.
Fun facts about Tsavo East National Park:
– Size: 13,747 km2
– $52 USD entry per adult per day (24hr pass)
– Tsavo National Park was split into two because of the railway that runs from Mombasa to central Kenya. As a whole, Tsavo is the largest national park in Kenya sitting at over 20,000 km2.
– The terrain here is pretty flat when you compare it to Tsavo West.
Exciting encounters we had here…
Cheetahs, lions and red elephants (the mud water they wash in turns them a stunning colour!)
Tsavo East National Park Photo Gallery…
After a short but extremely exciting morning safari (see above) we drove on to Watamu for some post safari beach days…
I had no idea the beaches in Kenya were so beautiful! The best I've been to.
Watch my Kenya safari come to life here…
Have you been on safari?
Where did you go? I'd love to know!
Love as always + happy adventuring,
Did you find this post helpful? I'd love you to share it for me.
I can't do this without you.
Pin and save this blog post for later…