Safari on a budget… what?! Is that even possible?! I'm here to tell you that it definitely is at Addo National Park in South Africa.
A once in a life time African safari is a bucket list item for every single one of us wanderlusters, right?
Personally, going on a safari was one bucket list item I didn't think I'd be crossing off for a long time. Why? I guess I've always associated Safaris as being a high end luxury holiday, one that is going to cost a fortune. Thank you SA, for proving me wrong not once, but twice…
I got the chance to go on safari way before I ever dreamed I would.
I was shown how you can go on safari on a budget.
How much do you think a sundowner safari game drive costs? It includes a guide, refreshments and alcoholic beverages of your choice?
£150? £100? £70?
565 rand. £26.50. No, that is not a typo. 3 months on Netflix, or a nice meal out at a UK high street restaurant.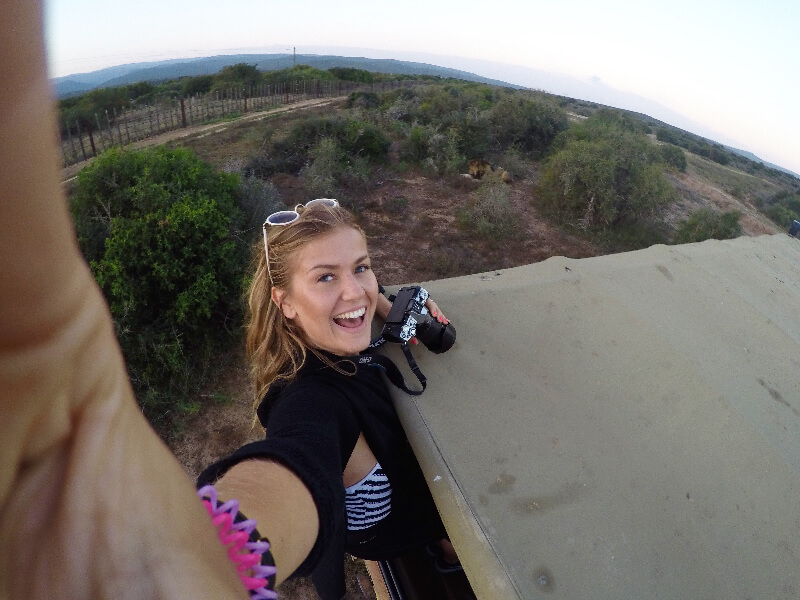 Note: I was told off for sticking my head out of the jeep. Do not do this if you go on safari, as this is how you get attacked by lions.
Here's how to plan a safari on a budget in South Africa…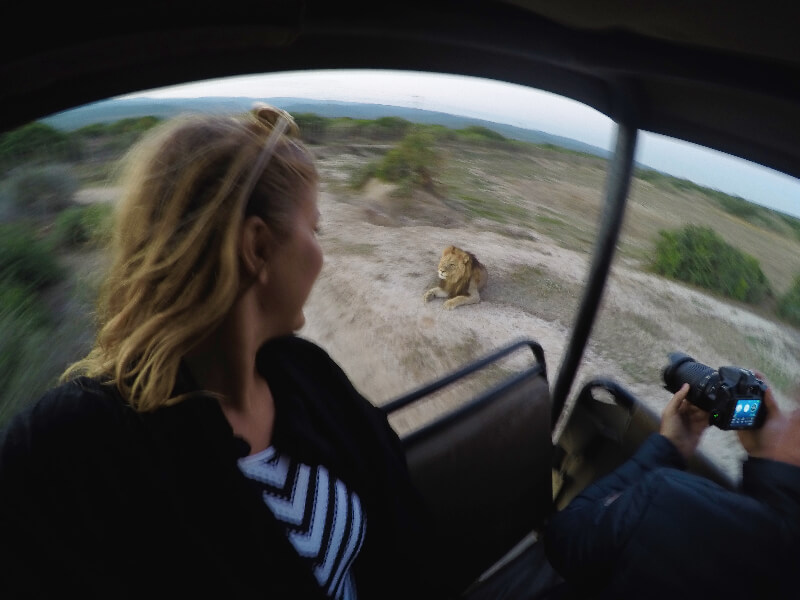 The sundowner guided game drive at Addo Elephant National Park:
Departure time: 18:00 in summer/16:00 in winter
Duration: 2 hours
Booking required? Yes
Includes: Guided tour, snacks and drinks
Price (May 2020): 565 Rand (£26.50)
To book: Tel: +27 (0)42 233 8619 / Fax: + 27 (0)86 5325363 / Email:

[email protected]

.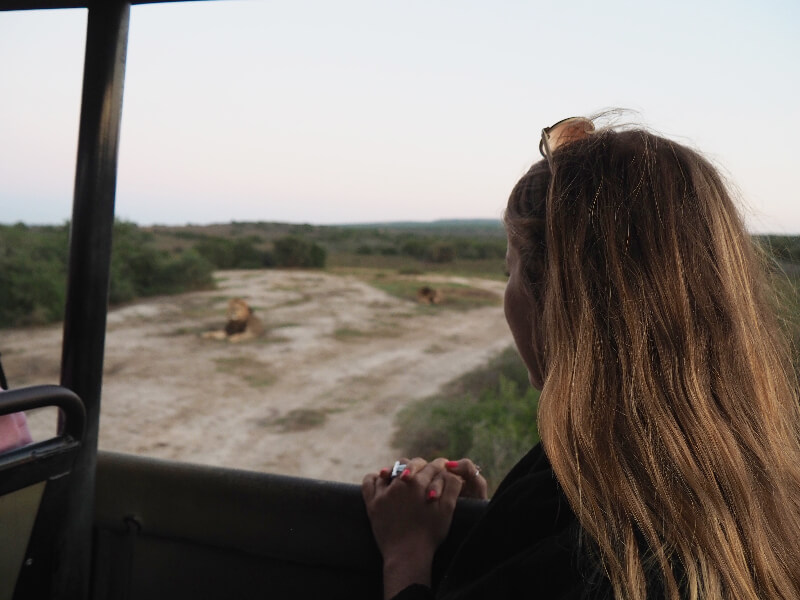 On our sunset drive we saw an abundance of antelope and pigs and got to pitch up next to the most stunning two lions as they woke from their nap, cleaned themselves and lay hazily on the terrain. Unfortunately I lost a few of my photos due to the damage to my hard drive in my desert crash in Arizona, but there's still some cracking ones here…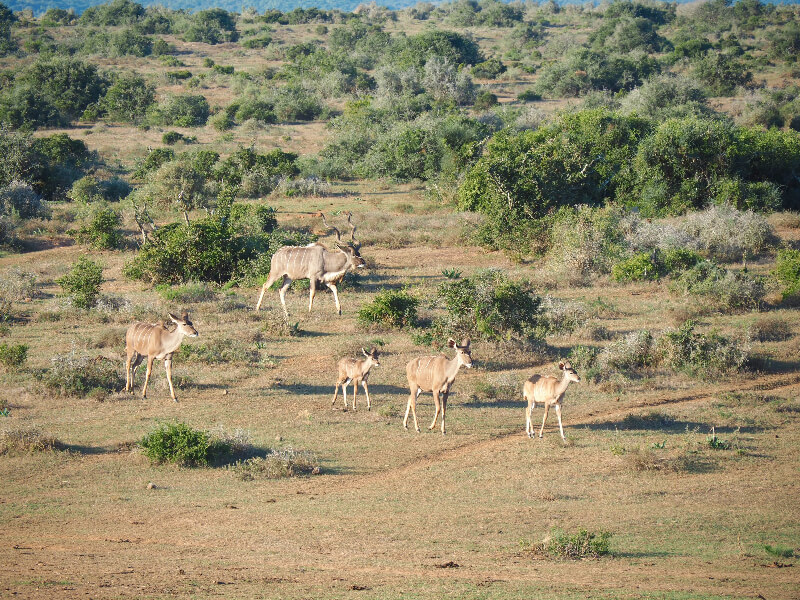 After an hour and a half of on and off road spotting, your driver will pull up (somewhere safe and away from the lions). A pre-chosen beverage of your choice will be ready and waiting in the cool box alongside a selection of nibbles to feast on as you watch the sun disappear beneath the horizon.
My game drive experience was one I will remember for a long time and was of my ultimate highlights from this visit to South Africa.
Now… what are you waiting for? The memories are there waiting to be made, and they have your name written all over them.
About the park…
Now the fifth largest National Park in South Africa, Addo Elephant National Park covers over 444,700 acres. At the park, you can…
Go on hiking and nature walks.
Take on 4X4 rides through the park.
Go horse-riding.
Go bird-watching.
Take part in water activities.
Go on self-guided safari drives. See more information here on the website.
The animals at Addo National Park…
The original elephant section of the park was proclaimed in 1931, when only eleven elephants remained in the area. Today this finely-tuned ecosystem is sanctuary to over 600 elephant, lion, buffalo, black rhino, spotted hyena, leopard, a variety of antelope and zebra species, as well as the unique Addo flightless dung beetle, found almost exclusively in Addo. The park can exclusively claim to be the only national park in the world to conserve the "big 7": the big 5 as well as the southern right whale and great white shark off the Algoa Bay coast.
The animals that inhabit the terrains at Addo National Park roam wild and free. The rangers here only interfere with the animal is if there is a problem inflected by humans. So nothing is done to prevent the deterioration of animals through old age, animal fighting or natural illness… they simply let human nature take its own course.
Observing the incredible diversity of animals in their natural habitat brings an array of unique sightings. A week before we were at the park, a female elephant had died of an illness near the watering hole. Safari goers got to witness the incredible sighting of lions and hyenas that came to feed on the elephant carcass. Even as we drove round the park our guide pointed to dried out elephant bones lying around. Like I said, they don't interfere with the environment. The size of these bones is an incredible sighting in itself and that's before you've seen any animals…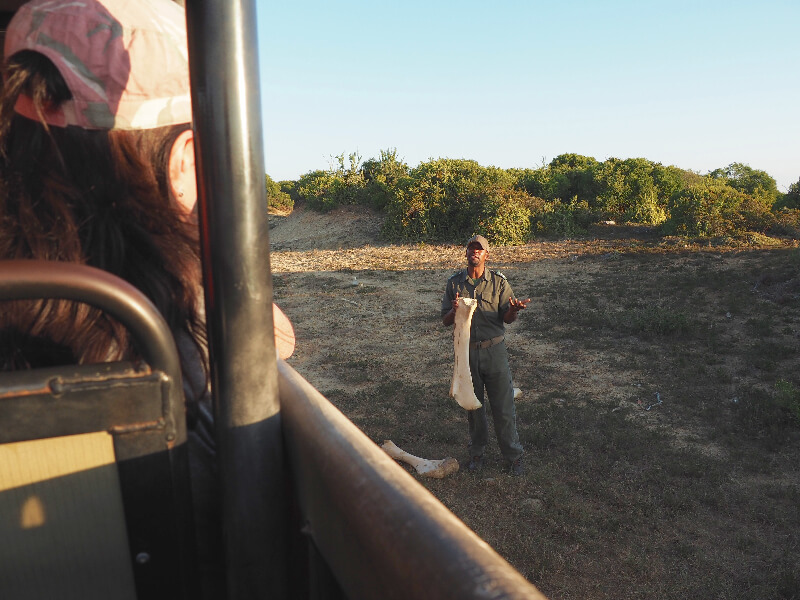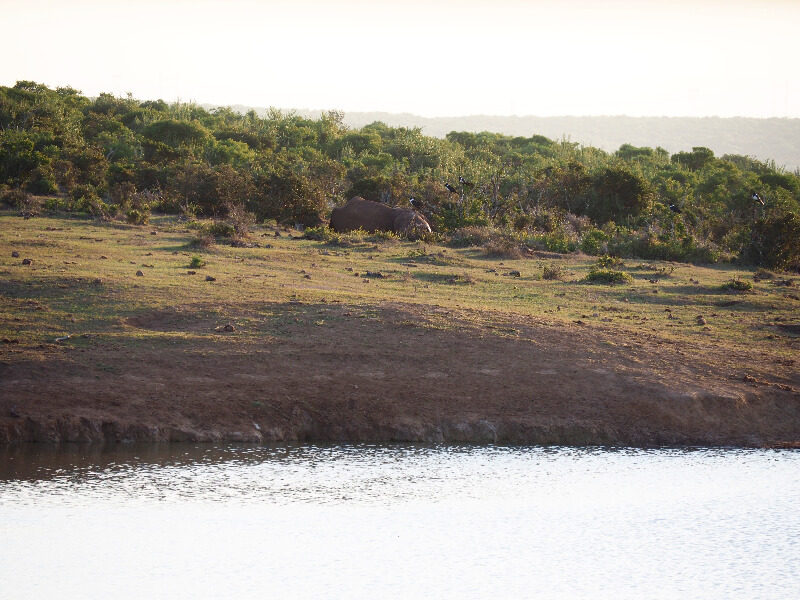 One small disadvantage to a game drive here at Addo, which is not a complaint but a result of the natural habitat you are blessed with is that you cannot be guaranteed animal sightings, particularly not on the 2-hour sunset game drive.
The vast expanse of the park means the animals could be anywhere and 2 hours isn't anywhere near enough to cover the grounds of the park. Of course, the driver may have an inclination of where the animals are and he will do his very best to show you as much as possible, but nothing's guaranteed.
Tips and tricks for making the most of your budget safari adventure…
Time the drives right if you want to see a particular animal.
If you want to see elephants for example, they tend to wander the park when the sunshine is out as they love the warmth. So if elephants are something you are set on seeing, game driving at midday is apparently your best bet.
Do a couple of drives at different times in the day to see different animals.
I also headed out into the park with our guide at 6am for a sunrise drive (which unfortunately had poor visibility, but meant I got to see the zebras!)
Book an overnight stay camping or in one of the lodges or cottages Addo National Park have on offer so that you can do two consecutive days in the reserve and increase your sightings! See the accommodation options here.
The reception and lodges at Addo Elephant National park are in their own isolated enclosure (so you don't have to worry about hyenas knocking down your door). I stayed in one of the cottages which was gorgeous, I only wish I had had more time to enjoy it!
The guides and staff here are amazing and will assist you in making your plans, be it a self-guided safari, a group game drive or simply an over night stay.
Watch my budget safari come to life in this video…