Sometimes you just cannot beat a cocktail with your best friends. And London is a pretty special place for it!
Spend as long as you like soaking up the landmarks, wandering around markets, eating good food and the rest that London has to offer but, at the end of the day you'll need to sit down and relax. Que, cocktails.
Though it doesn't always have to be a day out. Heading to a rooftop bar or cocktail location is the perfect treat yo'self after a long day at work or for date night.
Whatever the occasion, I've got you covered.
Here are 25 places you should drink cocktails in London…
1. Murder Inc., Fitzrovia
Take a step back in time with this 1940s/50s crime-themed cocktail bar!
2. Top of the Pop @ Poptata, Tooting
Creative cocktails at prices that won't burn a hole in your pocket!
3. The Shouk @ Farmer J, King William Street
Vegan cocktails and kombucha on tap. Did someone say tahini martini?
4. Chapel Down Gin Works, Kings Cross
London's very own gin distillery overlooking Regent's Canal!
5. Barrio, Shoreditch
As well as the classics, enjoy creative cocktails such as the Gingerbread Colada at budget-friendly prices.
6. Bar Elba, Waterloo
With happy hour until 6pm daily (and 9-11pm Sunday to Thursday), enjoy a reasonably priced cocktail in this rooftop bar.
7. Bar Story, Peckham
I really like the sound of the Bar Story Bonfire: gin, kiwi, mint and elderflower. Especially when I found out it's two for £7, every day between 6-7pm…
9. Little Nan's, various locations
Enjoy cocktails in teapots in these 1980s British cocktail bars!
10. The Mayor of Scaredy Cat Town, Spitalfields
Head to The Breakfast Club on Artillery Lane and inform a member of staff that you are "here to see the Mayor". They will then direct you to the normal-seeming SMEG fridge, which you'll walk through to enter the candlelit speakeasy.
11. The Last Tuesday Society, Hackney
Known as 'the World's Most Curious Cocktail Bar', this is a cocktail bar hidden within a museum! Featuring unusual objects and unique spirits from all over the world, this isn't one to miss.
12. Bussey rooftop bar, Peckham
Two-for-one cocktails, daily, 5-7pm. So that means two cocktails for less than £10 and rooftop views – bargain!
13. Clarendon Cocktail Cellar, Pimlico
Serving everything from a spritz to a sbagliato, this bar has a four hour deal on Italian aperitivo cocktails with unlimited nibbles. Buon appetito!
14. Three Eight Four, Brixton
With cool, smokey cocktails and drinks in pewter tankards, this is a great place to head when it's getting late into your evening and you want a change of scenery.
15, Seven at Brixton, Brixton
Three eight four's sister, expect experiments here such as cocktails with Earl Grey!
17. The Alchemist, various locations
Famous for their chemical concoctions, this is a cocktail bar everyone should experience!
18. Tonight Josephine, various locations
Pink, neon, glitter, and totally instagrammable, grab your friends and spend an evening putting the world to rights!
19. Banquet of Hoshena, Westfield
Make the most of this London pop up and take yourself on an interactive dining experience, paired with some fantastic cocktails.
20. Tequila Mockingbird, various locations
Tequila Mockingbird is a great place to get some unique cocktails across London. From princess cocktails to dressed up cognac, there's something for everyone.
21. Otra Vista Social Club @ Dans le Noir, Farringdon
Most people have heard of the restaurant where you eat in pitch black. But did you know there's a silent bar upstairs, with great cocktails, a silent disco, and you can learn the basics of British Sign Language from the hearing impaired guides, so that you can order and communicate in silence.
22. Knowhere Special, Kentish Town
Despite the name, Knowhere Special is actually very special. Behind a curtain you'll find a bar that could be a cosy, casual living room, former jail cells turned to booths, and a fantastic cocktail list.
23. BYOC, Camden
Here things work a little differently. You bring your own bottle of spirit, and with an entry fee of £25, the mixologists will make you tailored cocktails with your chosen bottle all night!
24. Evans & Peel Detective Agency, Earl's Court
Another speakeasy venue: you have to make an appointment to see the detective. The cocktails are worth the paperwork!
25. Mr Fogg's bars & taverns, various locations
Quirky and unique, and each themed around Phileas Fogg and his adventures around the world, Mr Fogg's bars and taverns aren't one to miss.
I actually went to the recently opened Mrs.Fogg's (Mr.Fogg's better half) in Broadgate Circle. I went on a Tuesday and there was such a vibe as people came in from their city jobs. The location is elegant, fun and so tastefully designed. There's opportunity to walk in and have a casual drink in the Dockside drinkery or upgrade for date night in the Rangoon Steamer – an elegant steamship serving exquisite cocktails. We did this and selected some of the starters to share too. It was delightful – I highly recommend!
Tip: Downstairs in the engine room they often have live music!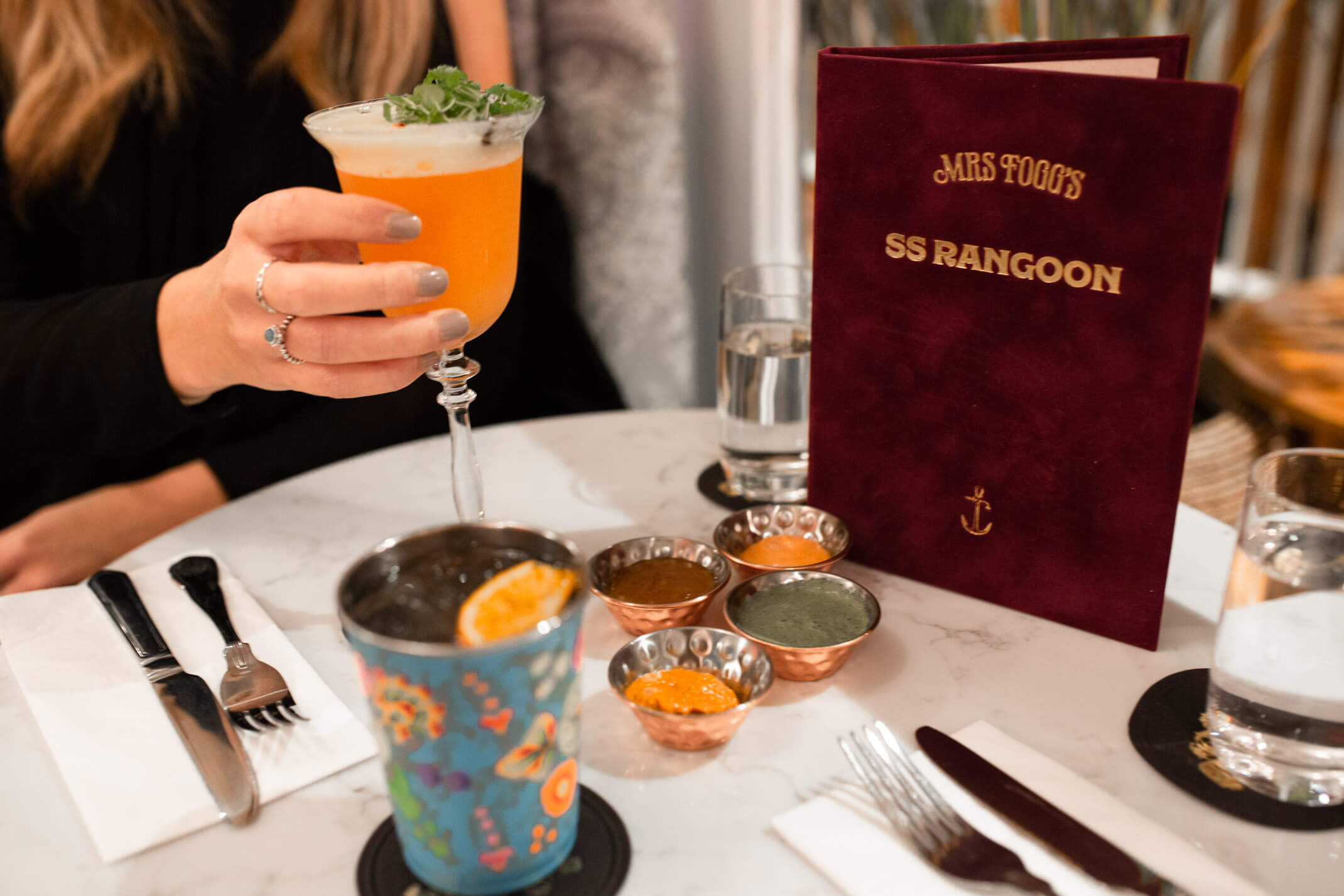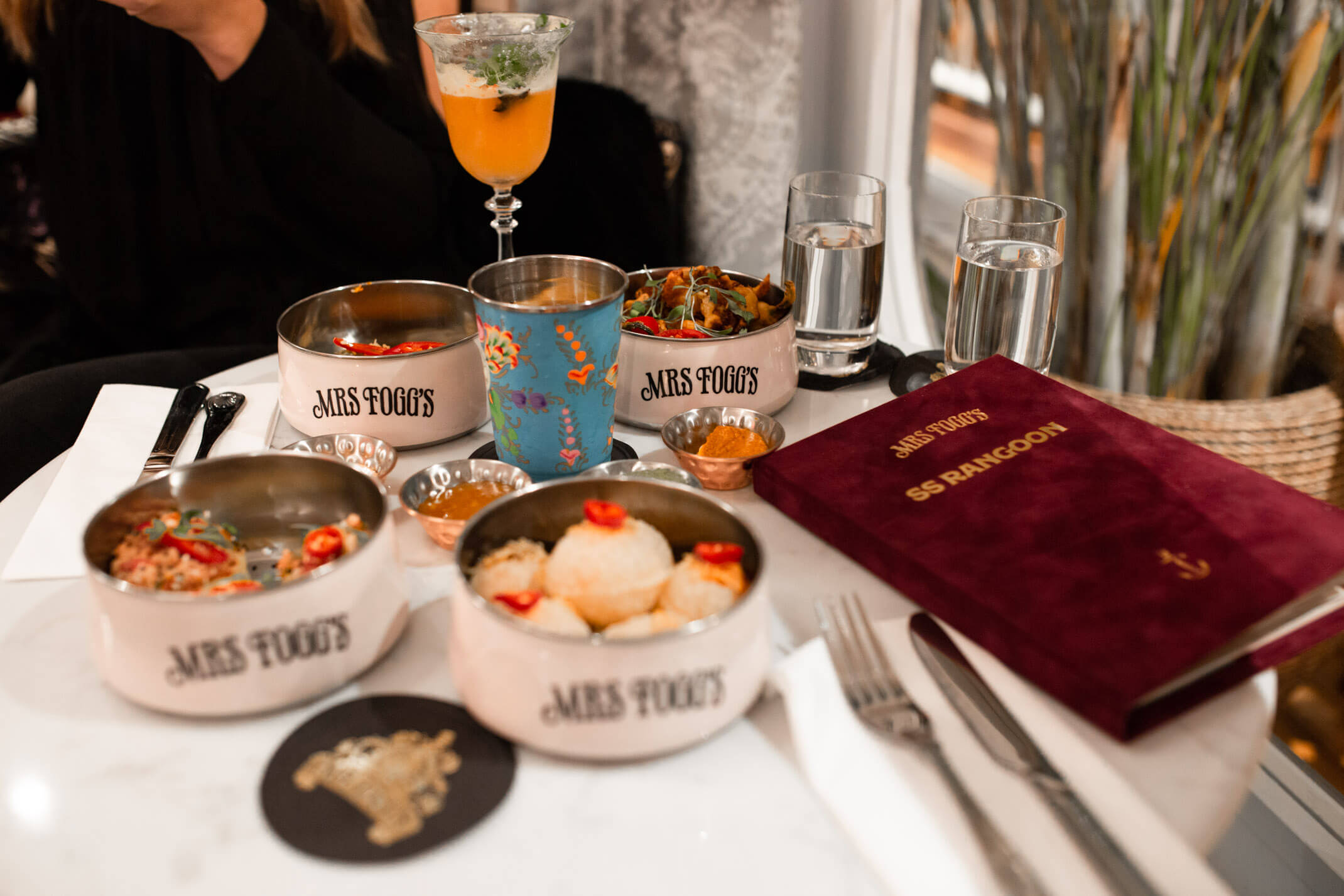 Have you been for cocktails in London?
Where did you go? I'd love to know!
Love as always + happy adventuring,
Did you find this post helpful? I'd love you to share it for me.
I can't do this without you.
Pin and save this blog post for later…