Having been a rather frequent flyer over the past couple of years pursuing my career as a travel blogger and content creator – I feel pretty confident that there's not much I miss from my carry on when I travel now.
When packing my carry on I like to be prepared for everything. I like to be comfortable, I like to be productive if i need to work and I like to nourish my body as much as possible before during and after the flight.
Whilst I know that flying has serious environmental impacts, there are definitely ways to reduce any further impact and I always continue to execute those. For example I always travel with a keep cup and reusable water bottle to remove the use of single plastic to hydrate and enjoy coffee / tea in transit. It's insane how many plastic cups I avoid in one flight alone with these. Bonus: you save so much money too. So many places even offer a discount when you provide a reusable carrier.
What carry on do I use?
There are very few occasions where i'm not travelling with cameras / tech equipment and for that reason my carry on space is usually most occupied with batteries, cameras, laptop etc.
I've been travelling with the Wandrd prvke bag for a couple of years now and I would highly recommend it if you're carrying tech work gear too. There are so many pockets and access points for quick grabs of your camera / passport / laptop / water bottle. It's clever design means you aren't unpacking and repacking whenever you need something / pass through security in the airport. It's an organisers (my) dream.
What's in my carry on?
Passport

Purse (ID, bank cards, international cards)
Health and beauty:
Little bag with: hand sanitiser, toothbrush, toothpaste, micellar water and cotton pad to freshen up, lip balm, hand cream, emergency tampon.
Hair brush and hair band
Ibroprufen tablets
Pack of tissues
Black out silk eye mask
Compression socks
Any medication you might need to carry
Techy bits:
Phone

Phone cable
Laptop
Laptop charger
Portable power pack
International plug (particularly for international layovers with different outlets)
Hard drive (use velcro stick on strips to stick hard drive to back of laptop)
Headphones (sound cancelling to wipe out any baby screams!)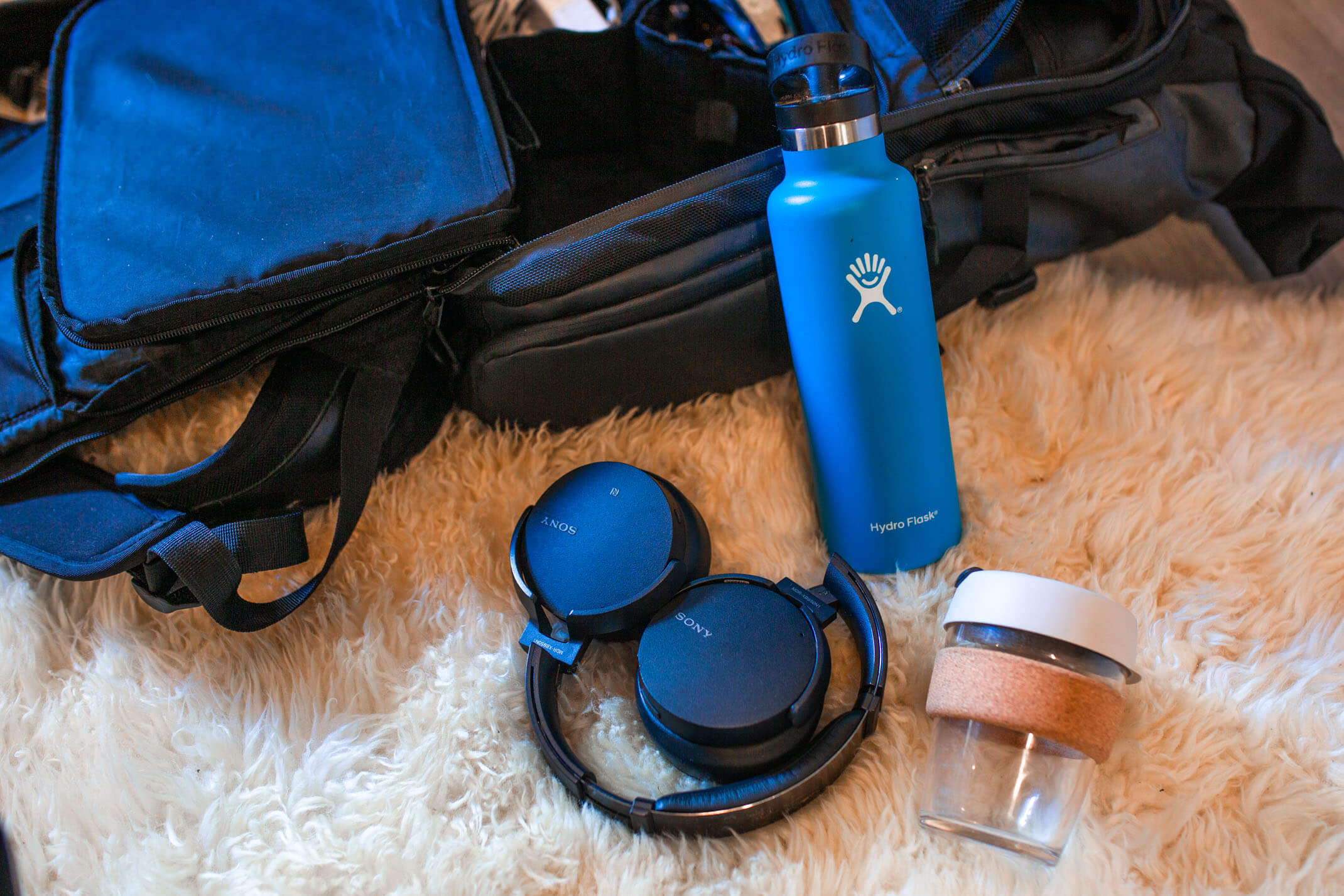 Food and drink:
Reuseable water bottle (carry through security empty, fill up after)

Keep cup

Tea bags

Healthy snacks if you want to avoid plane food
Other bits and bobs:
Notepad / book

Pen (immigration forms or doodling)
Long sleeve comfy top for when the cold air kicks in
Jumper to double up as a pillow / extra comfort (saves space in luggage too)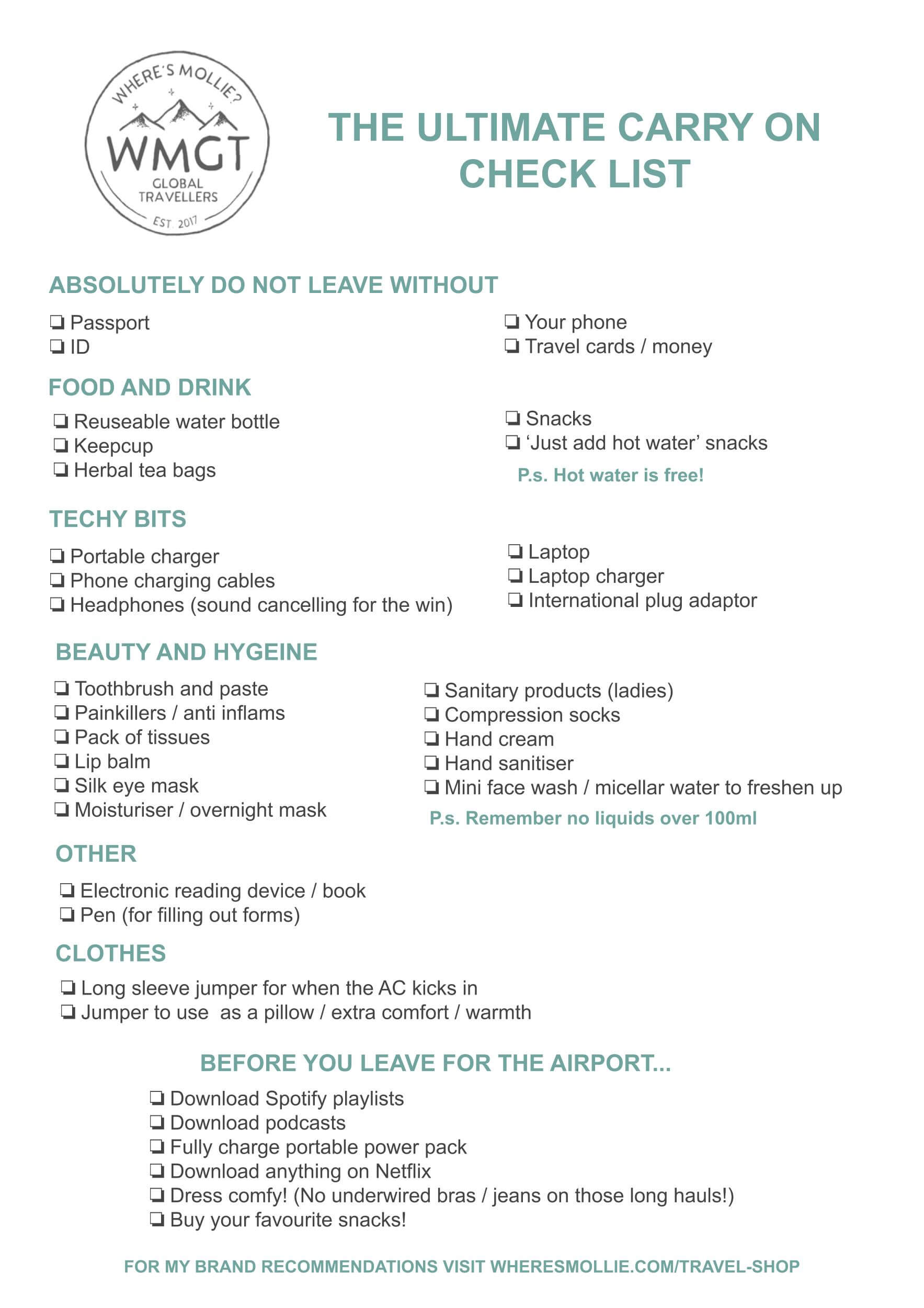 Preparing for your flight:
As well as making sure you've packed everything for your flight there are also a few things you should do prior to leaving for the airport so that you don't get up in the air and think DAMMIT.
Things to do before you leave for the airport:
Download all the spotify playlists you want to listen to

Download any podcasts

Download anything on Netflix (airport WIFI can be pants, be prepared!)

Charge your phone / laptop incase there arent plugs on the plane

Charge your power bank fully

Girls, dress comfy, avoid underwired bras. Sports bra / crop / no bra for the win.

Buy your favourite snacks
I think that's it. I think that's everything I take with me when I travel. I'm currently writing this on a flight from London to San Francisco to Burning Man so only this morning did I pack in preparation for this 11 hour flight to the USA.
Let me know if there's anything you can't travel without – each to their own. For example I've never got on with those neck pillow things but some people swear by them!
Leave a comment below and let me know your must haves…
What are your plane essentials?
I'd love to know!?
Love as always + happy adventuring,
Did you find this post helpful? I'd love you to share it for me.
I can't do this without you.
Pin and save this blog post for later…