Heading on an Ireland adventure and want to know the best things to do in Dublin? You're in the right place and in this blog post I'm going to run you through the places you must see when in Dublin.
Everything you've heard about Ireland is true… except for the leprechauns. I hate to break it to you, but it's just a charming little myth. But, everything else about Ireland? Simply stunning.
Every Irish person will argue as to what are the must-see and do's of Ireland… and they'll have plenty of backup examples to support them. From the Ring of Kerry to the Giant's Causeway, there's so much to see and do on the Emerald Isle, but if you've only got a few days, Dublin is a great place to head for a quick city break.
Dublin is one of the most vibrant and liveliest cities I have ever experienced. From its friendly Irish charm and strong rebellious history to the breathtaking landscape and majestic mountains, it has something for every kind of traveller.
I was lucky enough to experience my capital and see a new and adventurous side of Dublin that I've never got to experience before on a press trip with Stena Line, Fáilte Ireland and Tourism Ireland. Let's just say they did an epic job with the itinerary.
Ireland has always punched above its weight when it came to Irish literature and music, but this week I wanted to dive right into its fast-paced food culture and outdoor adventure…
So, céad míle fáilte to Dublin. (Something you will hear a lot on your Irish travels.. a phrase meaning; a hundred thousand welcomes)
Other travel guides we think you will love:
The 14 best things to do in Dublin, Ireland
1. Experience the chill of Kilmainham Jail and learn about Ireland's past.
As you see more of Ireland you'll begin to learn that the Irish are passionate about their past and love to share the knowledge they have of it. Ireland has a small population of 4.8 million but this has not stopped them from having a dominant political force in history. During Ireland's fight for independence under British rule, many Irish rebellion leaders were detained and even executed in Kilmainham Jail. This restored jail is now symbolic, representing the tragedy and endless sacrifice that Ireland endured over the years.
The guided tour allows you to step back into Irish history as you look at the timeline representing the lives of the political prisoners that represented Ireland at the time. Make sure you pre-book your online tickets online (click here). Prices range from €3-€7, totally worth it if you ask me!
2. Fall in love with Ireland's cuisine on a Dublin food tour.
Dublin has come leaps and bounds and is cooking up a storm in the food scene. In 1847, now known as the "Black 47", Ireland experienced the great famine, in which millions lost their lives. The country was in tatters and at the lowest point when it came to food. Since then Ireland has started to rebelieve in its food with fantastic dairy opportunities, fresh produce, and wholesome cooking recipes.
Experience some of Dublin's hidden food gems on a cultural walking tour with Fab Food trail tours. Tickets are €60 for a 2.5 hours food tour. To book, click here.
3. Introduce yourself to the wild deer at Phoenix Park.
One of the best things about Phoenix Park (besides that it's Europe's largest urban walled park and it's free) is that it homes its very own wild deer. You can enjoy a walk through the park, set up a little picnic or even visit one of the oldest zoos in the world, Dublin zoo. If you visit around Christmas time they have a light show in the zoo which is just magical.
4. Jump on the DART and take in the scenery in County Wicklow.
If you're looking to escape Dublin city for a day or two then County Wicklow has to be on the top of your list. With its coastal beaches, national parks, epic food scene and so much more, Wicklow is by far one of my favorite places to escape to. Places to visit include…
– Glendalough: Nicknamed the "Valley of two lakes", Glendalough provides rich scenery, hiking routes, wildlife and plenty of heritage sites to visit. Just pay for parking and your entry is free.
– Powerscourt Gardens: Okay, this one blew me away. You could spend hours waltzing through the gardens admiring the hard work and beauty that took decades to create. It was recently voted no.3 in the world's top 10 gardens. It's open all year round and entry prices are €10.50 for adults and €8.50 for students. After your trip to the gardens drive 20 minutes to see the famous Powerscourt waterfall. Find out more and book tickets for the gardens here.
– Johnnie Fox's Pub: After a long day exploring Wicklow, cuddle up beside the fire in one of my favourite pubs in Ireland, Johnnie Foxes! It's a traditional Irish pub that is the "highest pub in Ireland" (situated on top of the Dubin mountains) and has daily traditional music with hearty Irish food to warm your belly and your soul right up.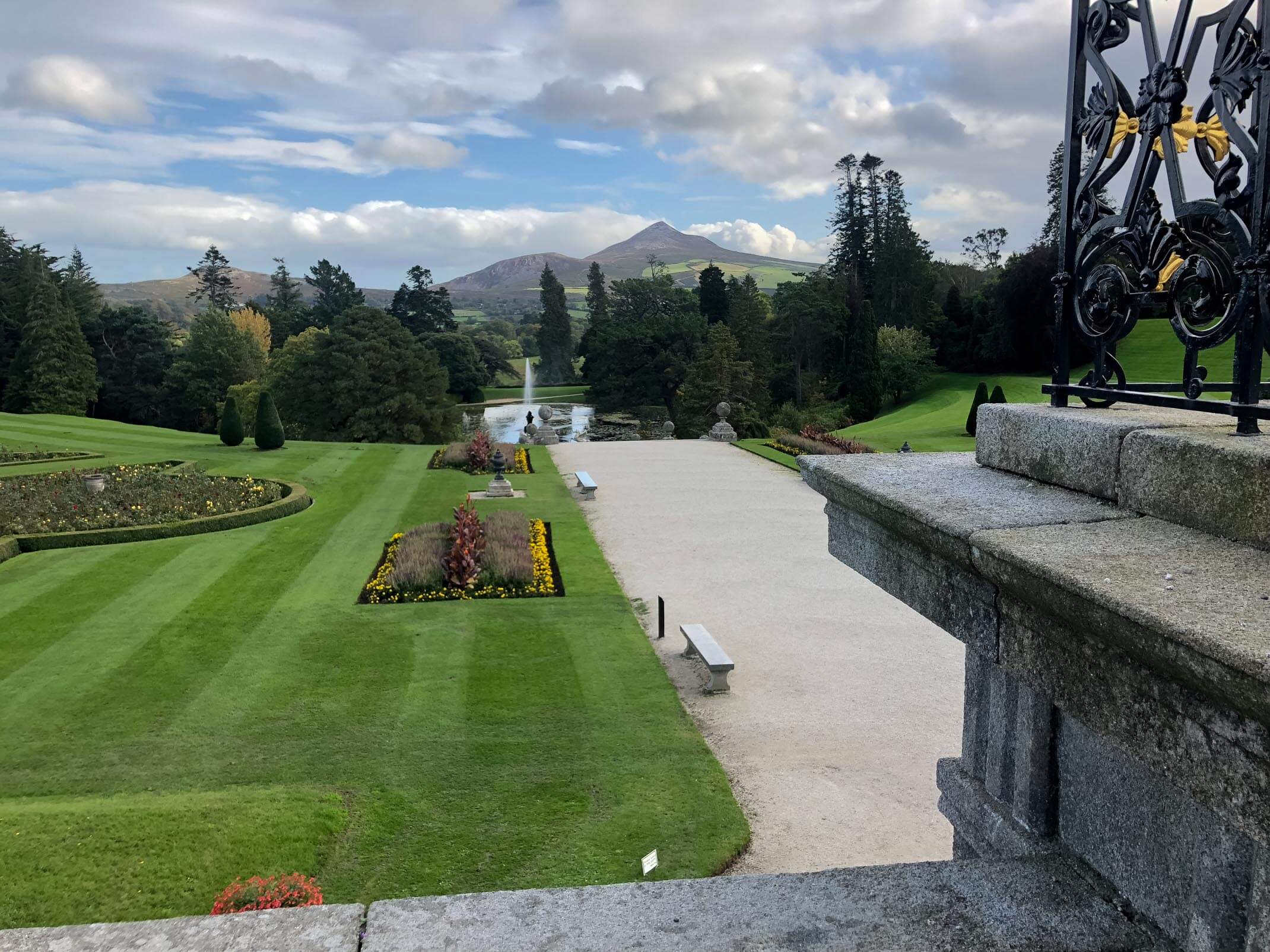 5. Watch a game of hurling or Gaelic football at Croke Park stadium.
Hurling has taken the nation by storm and is Ireland's pride and joy. It is deemed as the fastest ground sport in the world, so get your jerseys on and get stuck into a game at Ireland's largest stadium, Croke Park. Whenever I get a chance to catch a game of hurling, I jump on the opportunity. The Irish are extremely passionate about the two national sports so make sure you book your tickets in advance. To book tickets, click here.
If there are no games on during your stay then take a tour of Croke Park and learn about the history of the GAA.
6. Visit the book of Kells in the famous Trinity College
Ireland's Trinity College sits right in the heart of Dublin and holds Ireland's greatest treasure and the most famous medieval manuscript in the world, The Book of Kells. Get tickets to walk through Trinity and see this manuscript here. Make sure you get there early because the queues can go right around the green.
7. Learn to cook some old Irish traditional recipes at Ballyknocken Cookery school.
Walk through the school's herb garden, pick the produce that you will use that day and spend time talking to Catherine Fulvio (the owner and famous Irish chef) learning all her tips and tricks to utilize Irish cooking methods with a new and modern twist. This farmhouse cookery school is located in the Wicklow mountains and was a highlight during my 3 days spent venturing around Dublin.
We learned to bake homemade Irish soda bread, a beef and guinness stew and, my personal favourite, Baileys torte for dessert. (I was nearly rolled out after our 3 course dinner).
Tickets can be a little expensive at €160 but totally worth it if you love to cook and learn about new foods. There's even a farmhouse B&B on site for you to cosy into after your day of cooking. For tickets and more information, click here.
8. Spend a night at the famous Dublin comedy club, "The Laughter Lounge".
It's known around the world as one of the best comedy clubs, and you mustn't leave Dublin without 'having the craic' (having a laugh) with some mates. You can check out some of the upcoming acts here.
9. Complete the "12 pubs of Christmas".
Okay, just imagine. Christmas lights, your favourite festive songs and then a very long list of pubs that you have to squeeze in during one night. Instead of the famous 12 days of Christmas, the Irish switched out "days" for "pubs" and created what may as well be their very own national holiday. If you see a slightly intoxicated Santa Claus waltzing around the streets of Dublin….you now know why. Join in and celebrate Christmas the Irish way. Check out possible routes here.
If you want to leave the Santa hats at home, then join in on a musical pub crawl with this here.
10. Attend a gig at Whelan's.
This little venue has hosted some of the most famous acts including The Arctic Monkeys and Damien Rice. You never know who you might spot spending the evening in Whelan's. Tickets usually range between €12.50 and €20 and upcoming artists love the support, so pop in and enjoy some new Irish artists. For tickets, click here.
11. Visit Fat Bike Adventure for some outdoor fun.
Soak up the incredible scenery on Ireland's East coast on electric bikes. Fat Bike Adventure will bring your through beaches, bogs, forests, mountains and snow. Yes… even snow. Once you've finished your tour you can spend the evening learning how to axe throw before settling into a teepee tent. HOW COOL.
You can choose between a half-day tour or full-day tour starting at €65
12. Taste some of Ireland's best whiskey on a distillery tour.
At one point Dublin was the world's top supplier for Whiskey, until 1875 due to the Great Whiskey Fire of Dublin. It wiped out many distilleries and damaged the whiskey scene for years. But, things have changed in the last few decades. Using the finest ingredients and freshest water, Dublin has now begun to rebelieve in the whiskey industry and has started to perfect some of the finest whiskey tasting experiences.
I'd recommend a day at Roe & Co whiskey tasting (€25) experience and Powerscourt Distillery (€20).
I was never one to order whiskey, but it is definitely a fun way to explore and learn about the different types of whiskey produced in Ireland.
13. Walk through Grafton Street and listen to the buskers.
Some pretty epic names have sung their way from Grafton Street to our radios. You might recognize names like The Strypes, Allie Sherlock (she was invited onto the Ellen Show after a video of her singing on Grafton Street went viral), Hozier and Kodaline, who have all made an appearance on this famous street.
14. Visit the Guinness Storehouse.
You can't come to Ireland and not try a pint of the black stuff. The Storehouse is a great tourist destination and it's something that everyone should do at least once. The tickets range from €18.50 to €25 and that includes a pint of Guinness over looking a panoramic view of Dublin once you reach the top. For more info, click here.
15. Enjoy traditional music in an authentic Irish pub.
So, here's the thing. Everyone knows Temple Bar. It is the one of the most famous places in Dublin, but it comes with a risk! If you're looking to meet authentic Irish locals then avoid Temple Bar at all costs. The majority of people strolling through Temple Bar are tourists who want to experience some traditional Irish music and get a bit boozy. It is nice to walk through the cobbled street at least once… but only stay if you're willing to spend €7 on a pint.
For something more authentic and a lot cheaper, some of my favourite places to enjoy traditional music include Kehoe's, The Celt and Grogan's Bar. They all offer a charming and authentic environment but for half the price.
Have you explored Dublin?
What were your favourite spots? I'd love to know!
Love as always + happy adventuring,
Did you find this post helpful? I'd love you to share it for me.
I can't do this without you.
Pin and save this blog post for later…