Iceland is the bucket list of all bucket list destinations. A trip to Iceland is one of the most surreal adventures you will ever go on and is most definitely a once in a lifetime adventure.
My 5-day road trip around Iceland is still one of my favourite adventures to date.
I actually got to enjoy Iceland as a holiday, I got to enjoy a slow-paced van life adventure around this island and it was just insane. Iceland is full of extraordinarily beautiful landscapes and stunning volcanic terrain. It feels like the closest thing to life on another planet. Iceland can be an expensive place to visit but it's honestly worth every single penny and of course there are ways to save money in Iceland.
If you're looking for things to do in Iceland or places to visit in Iceland, or wondering what to see and do in Iceland, I promise you that you're in for an absolute treat.
Whether you want to wake and watch the sunrise as you sit on volcanic sands, trek across glaciers, or soak up the benefits of a natural hot spring, there are so many awesome things to do in Iceland (in winter and in summer!). From things to do on Iceland's south coast to things to do in Iceland's golden circle, and even some cheap things to do in Iceland, this blog post will fill your Iceland bucket list with ideas and inspiration for planning your trip.
See more of my top tips when planning your next adventure here.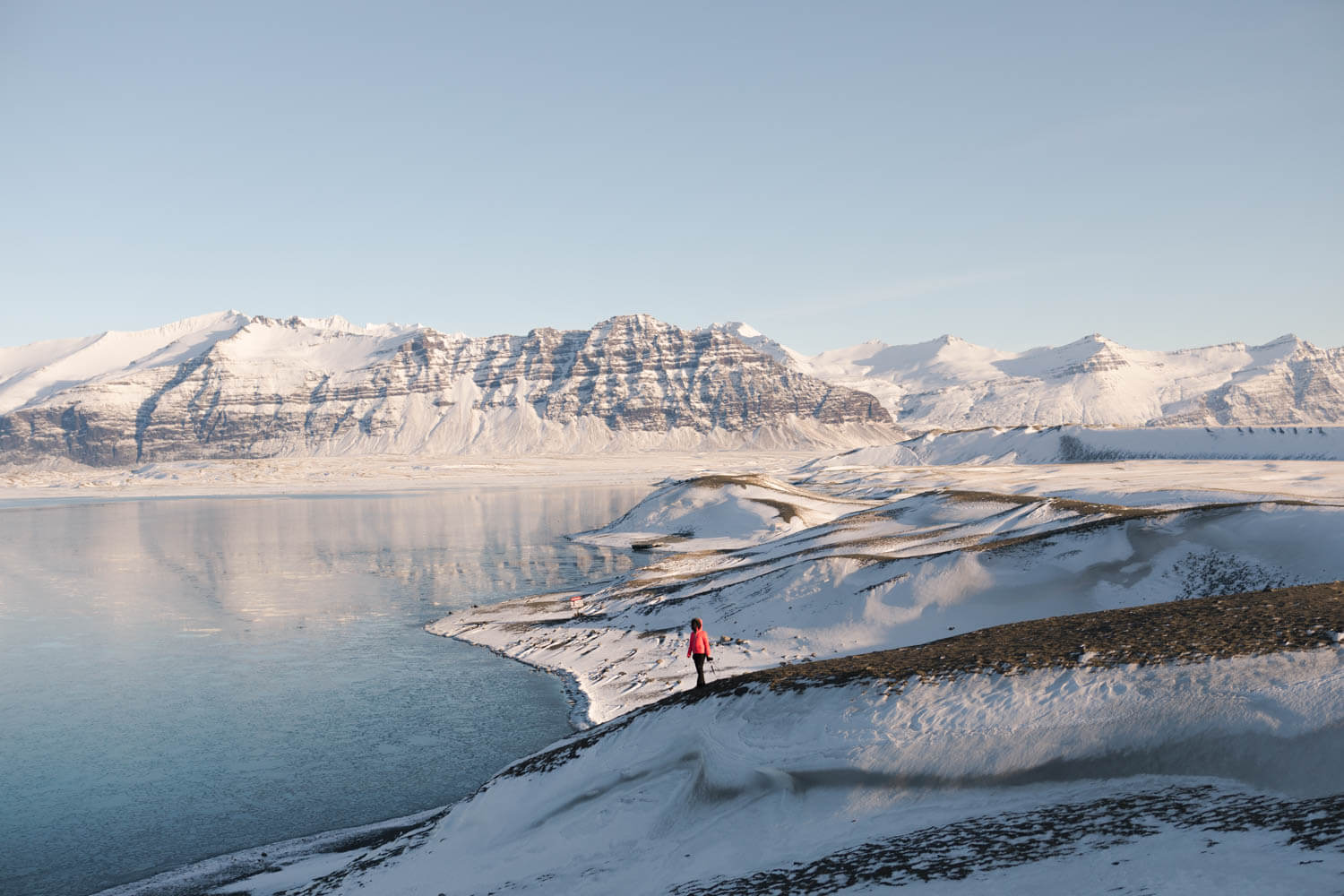 A few fun facts for you…
Where is Iceland?
Iceland is an island, a European country, located midway between North America and mainland Europe.
What's the capital of Iceland?
Reykjavík is the capital of Iceland and it's the northernmost capital in the world!
When to visit Iceland…
Longer days, warmer temperatures, whale watching and beautiful hiking routes make Iceland in summer (May-September) very popular, although for the Northern Lights, it's best to go in September/October or February/March. November-January really lacks daylight, and on the flipside, in Iceland in July there is the midnight sun (little to no dark hours!) which can take time for your body to adjust to.
Where to stay in Iceland…
Reykjavík and Akureyri, the capital of the north, are the biggest settlements in Iceland with the best range of accommodation. Outside of these areas the settlements are a lot smaller and therefore the range of accommodation is more limited. It's definitely best to try and plan your travel times and accommodation in advance! In summer you can camp at campsites which makes finding accommodation easier, but is maybe not one of the best things to do in Iceland in winter!
Blog posts you might find useful include…


23 best things to do in Iceland...
There are loads of things to do in Reykjavík, including visiting Hallgrímskirkja Church, engaging in the Icelandic bathing culture at a local swimming pool, admiring the brightly coloured buildings, street art, and city pond, getting a bargain at the flea market, immersing yourself in art and culture, exploring the food scene and night life, and marvelling at view of the city from Perlan on Öskjuhlíð hill. Reykjavík is also a really good base for whale watching tours, a trip to the Blue Lagoon, or a starting point for the infamous Golden Circle.
2. Drive the Golden Circle.
Driving the Golden Circle is one of the top things to do in Iceland and with the amount of landmarks you can see when you take this route, it's easy to see why. The three most popular attractions on the Golden Circle route are the Gullfoss Waterfall, Geysir Geothermal Area, and Þingvellir (Thingvellir) National Park, and these can be done in a day trip. If you are self-driving though, I fully recommend spending longer on this route, stopping off in more places, and really enjoying the 'life on another planet' that Iceland has to offer.
3. Relax in the Blue Lagoon.
The Blue Lagoon is Iceland's most visited attraction and one of the top things to do in Iceland. Located just 15 minutes from Keflavík Airport and 30 minutes from Reykjavík, it makes for the perfect start or finish of your Icelandic adventure. The Blue Lagoon is a (man-made) geothermic pool, and the water is approximately 39°C all year round… pure bliss! The milky-blue water and silica mud have amazing benefits for your skin, and the lagoon is surrounded by volcanic terrain and stunning landscapes. If you're there in winter, it's also a great place to catch the Northern Lights and the sunrise too!
An alternative to the Blue Lagoon is the Fontana hot springs, where you can use the geothermic power to bake rye bread in the ground!
4. Go kayaking on Jökulsárlón Glacier Lagoon.
A chillier lagoon experience compared to the Blue Lagoon, but Jökulsárlón Glacier Lagoon is one of the top places to visit in Iceland and what better way to see it than from the water! Jökulsárlón is full of icebergs made of ice that is over 1,000 years old. As the glacier lagoon increases in size and the glacier itself retreats, the effects of global warming are becoming more and more visible. Explore the lagoon on a kayaking or boat tour, or simply admire it from the shore. It's unique colour comes from the combination of sea and fresh water, and you frequently see seals dipping in and out of the water here.
Not far from Jökulsárlón is Diamond Beach, where the icebergs wash up on the black, volcanic sand and create a unique landscape.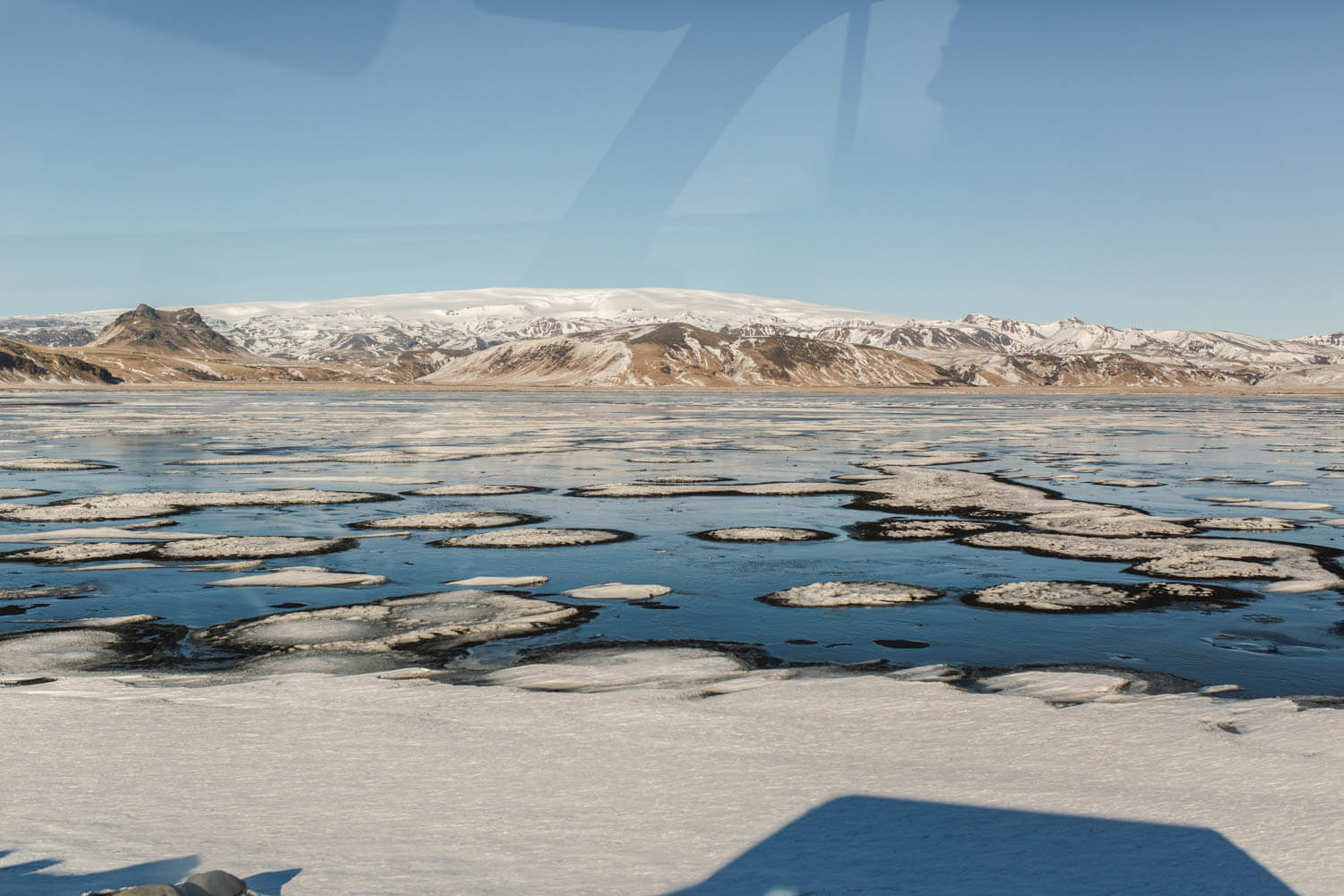 5. Try the local Icelandic cuisine.
Icelandic cuisine is not that famous or popular off the island, but it's pretty good! Make sure you eat lots of skyr (local yoghurt), saltfiskur (salted fish) and svið (boiled sheep's head!) while you're there. And stock up on chia seeds too, as they are particularly cheap here!
Whale watching is one of the best things to do in Iceland and essential for every trip. The unique combination of warm and cold water, abundant summer daylight and shallower waters in the fjords make Iceland the perfect breeding ground for fish and krill and therefore the perfect hunting ground for whales! Tours depart from Reykjavík and other places in Iceland year round, but the best time to guarantee seeing the whales is April-September. You're most likely to see the Minke whale, but may also see humpbacks whales in Iceland, blue whales, dolphins, porpoises, orcas and basking sharks, and maybe belugas and narwhals (in the north!).
The puffin is Iceland's unofficial national bird and many whale watching tours in Iceland now include puffin spotting on the offshore islands too and coastal cliffs!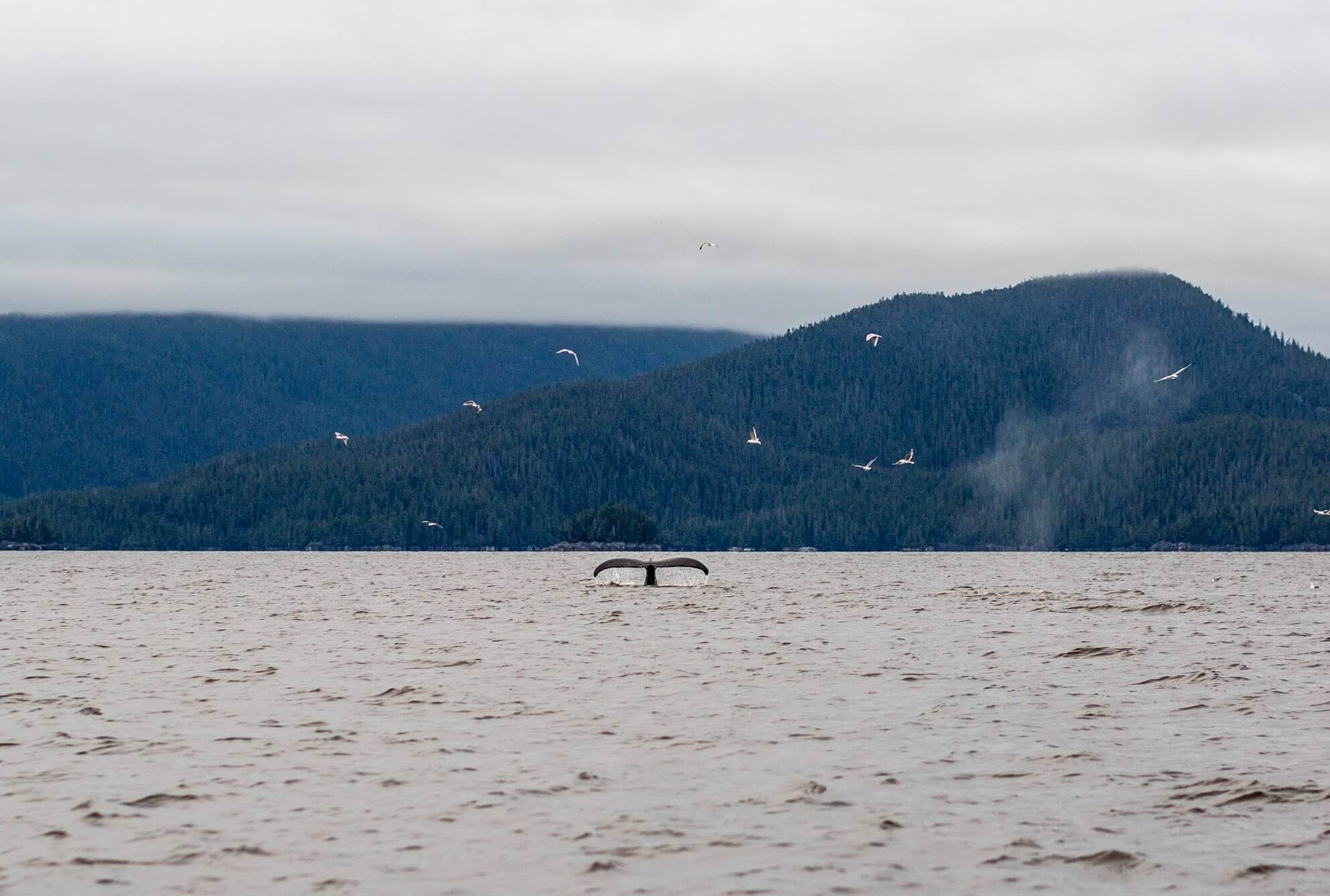 7. Explore the Westfjords peninsula.
The Westfjords peninsula is the westernmost part of Iceland. It's completely off the beaten track, unspoiled, and far from the crowds of tourists that other areas in Iceland attract. I'd recommend hiring a car to see the incredible beauty in this region so that you can go at your own pace around this mountainous area, exploring all the fjords. As well as visiting the fishing town of Ísafjörður, the capital of the area, make sure you add seeing the Hornstrandir nature reserve (home to the Arctic Fox), Dynjandi waterfall, Rauðasandur beach (with beautiful pink sand) and Látrabjarg cliff, full of puffins in the summer, to your list of things to do in Iceland. The Westfjords peninsula is also home to the northernmost glacier in Iceland, Drangajökull, the pretty bay of Arnarfjörður, the mountain Bolafjall and the puffin island of Flatey.
8. Watch some beautiful sunrises and sunsets.
Iceland hosts some of the most beautiful sunrises and sunsets in the world, with the skies showing off an array of pastel pinks, oranges and purples most days. My favourite sunset spots on my trip to Iceland were Vik, Dyrhólaey and Reynisfjara beach.
9. Watch the Northern Lights.
Seeing the Northern Lights, or the Aurora Borealis, is really a 'once in a lifetime' adventure for many of us. Iceland is one of the best places to see the Northern Lights because of it's dark skies and lack of light pollution. The best time to see the Northern Lights in Iceland is in winter. Make sure you download the Aurora forecast app on your phone before you go, and then when you get the notification to say they're likely to show tonight, get yourself as far away from any light sources as you can and watch the stars dance.
Looking for more useful travel apps? Check out this blog post.
10. Hire a camper and take your time exploring this beautiful country!
A campervan is the perfect way to explore Iceland, especially the 1332km Ring Road and the Golden Circle. However there's so much more to do and see outside of these top attractions that many tours and packages don't offer, so having a campervan in Iceland gives you the freedom to go off the beaten track and see whatever you want. Note that in Iceland you must stay in designated campsites, so be sure to plan your route and check which ones are open.
11. Visit the natural hot springs.
Icelandic people love a steamy soak and swim, and where better than in the middle of nature. Hot springs are naturally heated with geothermic power, meaning you can go for an outside swim all year round, no problem! The water is usually at least 38°C. Some of the best natural hot springs in Iceland are:
Hrunalaug
Reykjadalur Steam Valley
Gamla Laugin
Hveravellir
12. Go chasing waterfalls.
Iceland is home to many stunning waterfalls made from crystal clear glacial water cascading dramatic basalt rocks. Visiting some (or many) of the waterfalls in Iceland should be near the top of your list of things to do in Iceland. The energy, clarity and tranquility you'll experience being near the running water is like nothing else. Some of the best waterfalls in Iceland include:
Seljalandsfoss (you can walk behind this waterfall!)
Gullfoss
Kirkjufellsfoss
Goðafoss
Skógafoss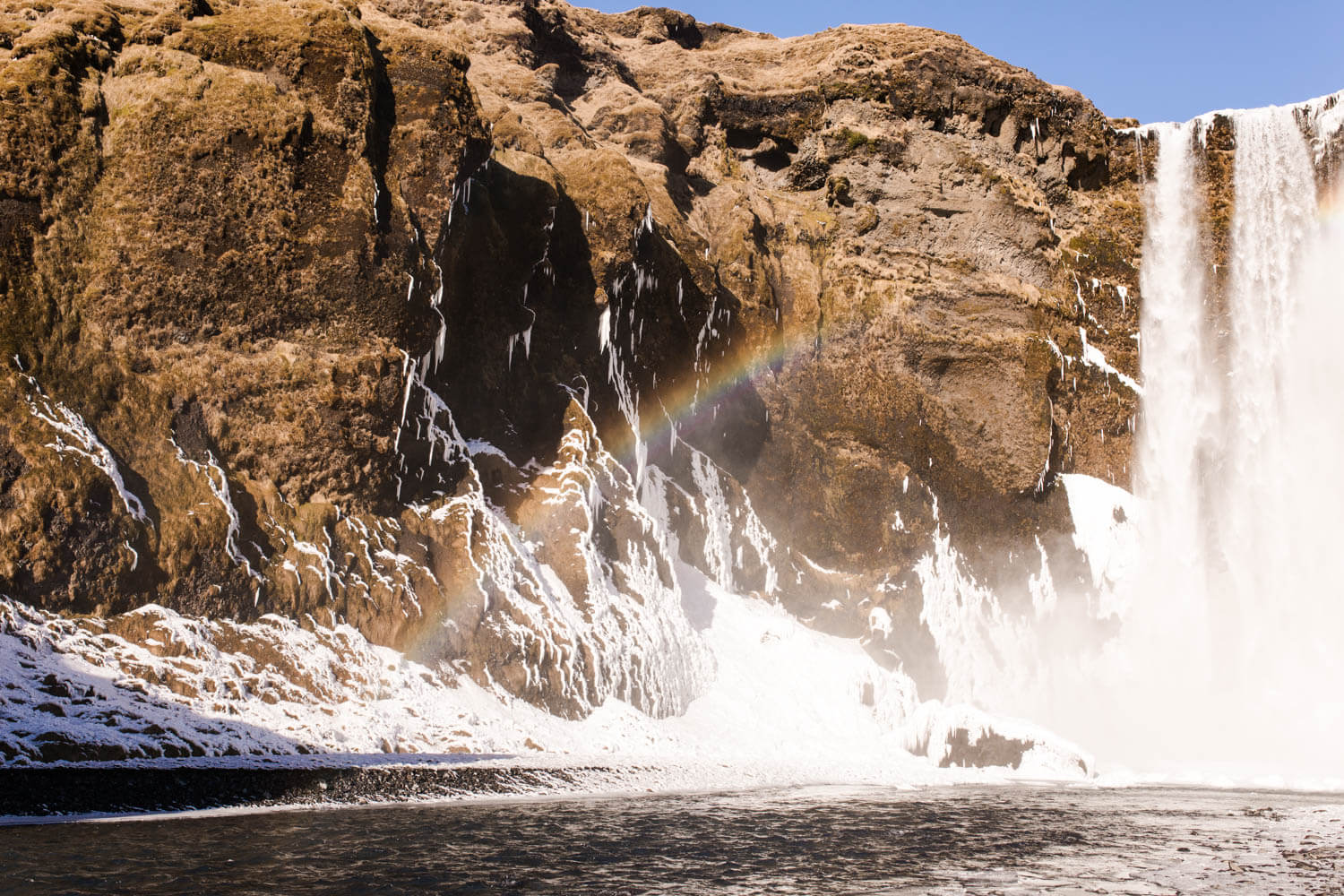 13. Visit Fjaðrárgljúfur Canyon.
Fjaðrárgljúfur Canyon is west of Kirkjubæjarklaustur village. The canyon is 2km long and 100m deep! The canyon is snake-like, weaving in and out, and home to waterfalls, rivers and more. A lot of the canyon area is closed off during the peak summer months for nature protection, so be sure to check before you make your way there.
14. Make friends with the Icelandic horses.
The Icelandic horses have been around sincethe Vikings brought them to Iceland. Even thought they are very small and pony-sized, they are actually horses! Whether you choose to stop and say hello to a wild horse at the side of the road, or head to a stables for a horse riding experience, seeing the horses is one of the top things to do in Iceland.
15. See the Strokkur geyser erupt.
Strokkur is a fountain-type geyser in the Geysir geothermic area (part of the Golden Circle route). Waiting for an eruption might sound like risky business (in terms of time spent waiting), but Strokkur erupts every 5-10 minutes, so you're basically guaranteed a performance!
16. Visit a black sand volcanic beach.
Black sand beaches are common in volcanic areas and Iceland is no except. The most famous black sand beach in Iceland is Reynisfjara beach, with its tall basalt structures that sit on the shoreline. Other black sand beaches in Iceland include Diamond beach, Djúpalónssandur, Stokksnes, Dyrholaey​ and Sólheimasandur (where the abandoned plane is).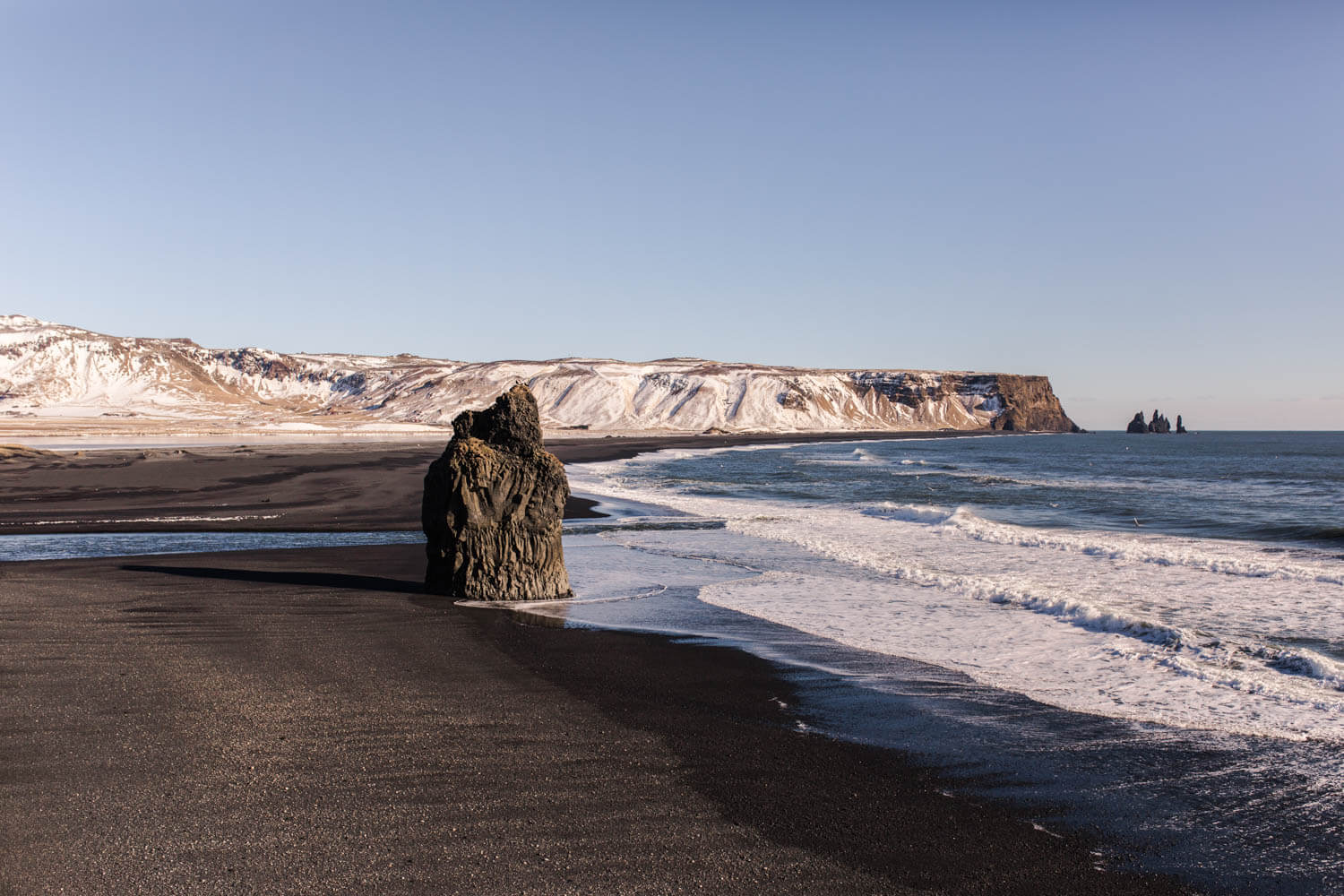 17. Explore the area around Lake Mývatn.
Mývatn is a beautiful lake with many small islands in the north of Iceland, the fourth largest lake in the country. The area surrounding Mývatn is full of geothermic activity, and it's very close to the Krafla caldera, home to the Víti volcano, the name of which translates to 'hell'. While you're in the area, don't miss the Skútustaðagígar pseudo-craters, the geothermally active Námaskarð Pass, and Dimmuborgir, or "Dark Fortress," an area of strange, beautiful volcanic rock formations.
18. Take a tour of a unique ice cave.
Although it's much more common to visit Iceland in the summer, one of the best things to do in Iceland in winter is to visit one of the ice caves. The ice caves are completely at the hands of nature and are different year or year (and conditions may affect your visit too), making these trips completely unique for each visitor. The Crystal or Anaconda ice cave (Breiðamerkurjökull Cave) is the biggest ice cave in Vatnajökull National Park, characterised by its bright blue and transparent interior. Other ice caves in Iceland worth visiting include Katla, Langjökull and Skaftafell.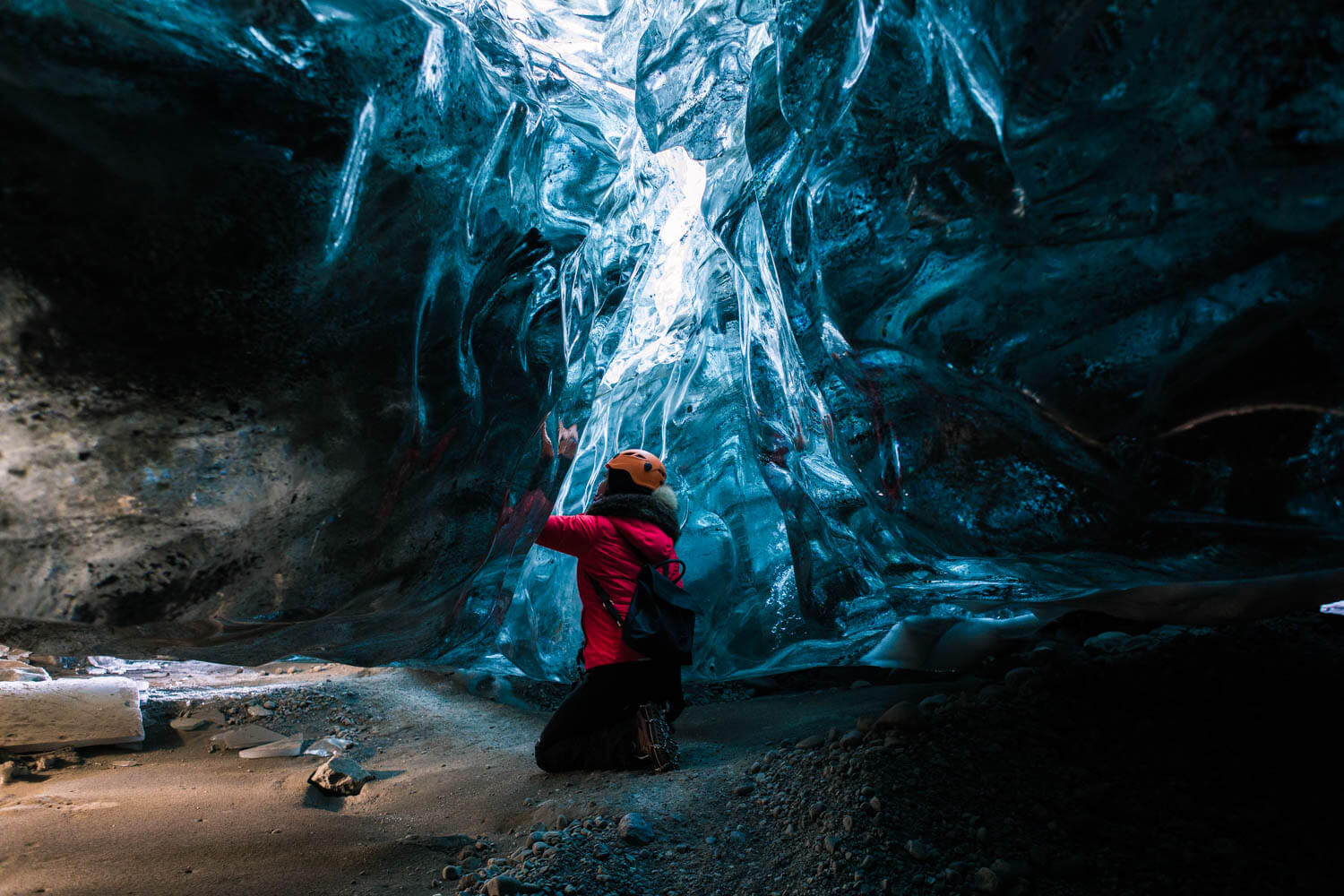 19. Visit Vestrahorn mountain in Stokksnes.
The Vestrahorn/Stokksness area is about ten minutes away from Höfn on the Ring Road. It is a photographer's dream with the dramatic landscape the mountain creates in the area, as well as the volcanic terrain and the local wildlife. Just imagine (or look on Pinterest) at what it is like during the Northern Lights…!
20. Hike the perimeter of Kerið crater lake.
Kerið crater lake is a 3,000 year old volcanic crater lake in southern Iceland, and it's part of the golden circle route. The water is an amazing aquamarine colour! You pay to hike down and then you can walk around the lake and even take a dip in the warm waters.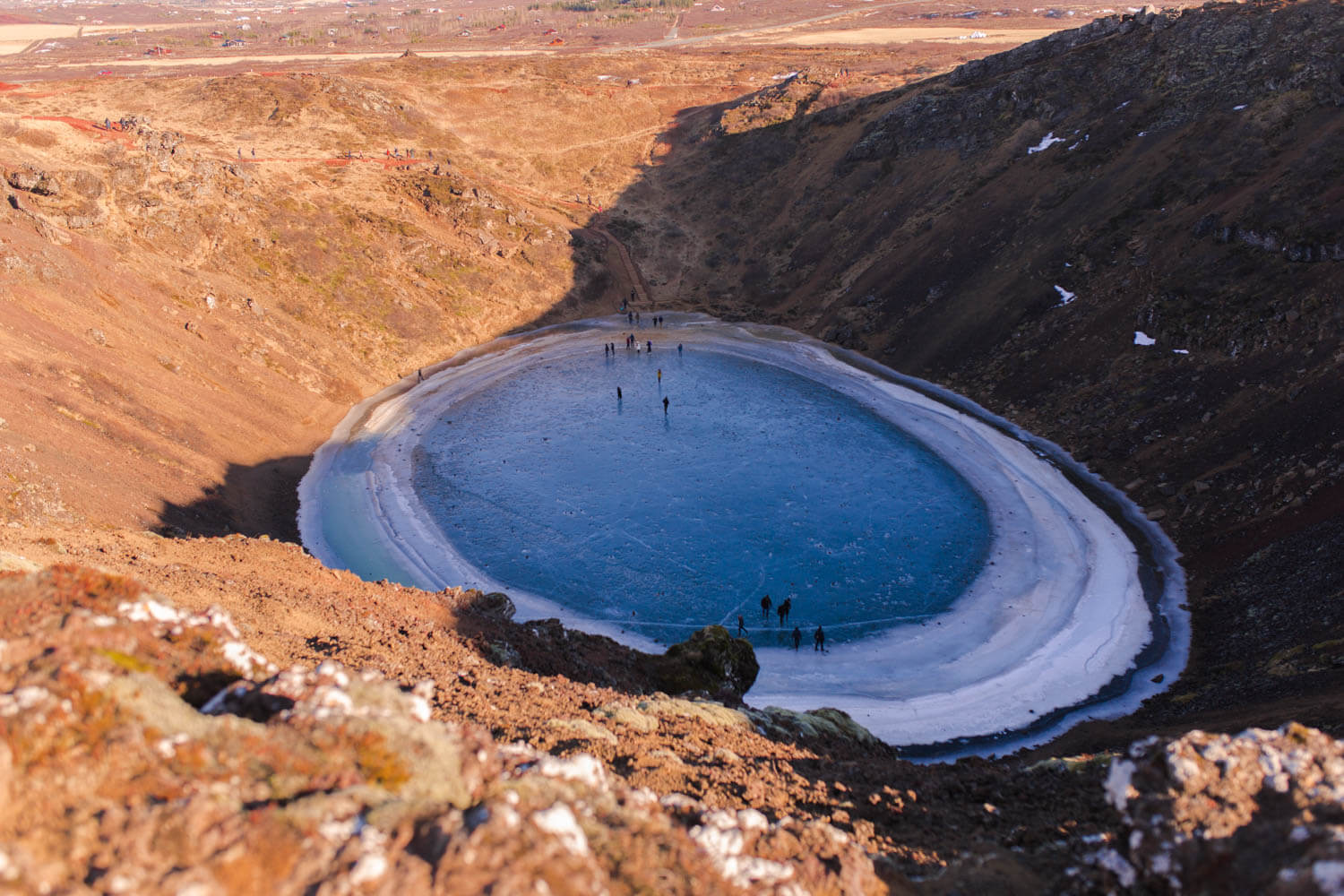 21. Pick yourself up an Icelandic woolen jumper to take home!
These thick woolen sweaters are said to last a very long time. They are super cosy, breathable and showerproof, being made from the thick, bristly Icelandic wool known as lópa.
22. Go on a glacier active adventure in Vatnajökull National Park.
Vatnajökull is one of three national parks in Iceland and home to Europe's largest glacier. As well as kayaking on the Glacier Lagoon and visiting the ice caves, there are plenty of other adventures to be had on many of the glaciers in Iceland! What about a glacier 4×4 tour, glacier ice climbing on or glacier walks and snowmobiling on Vatnajökull glacier?! You can even take a hovercraft across the glacier lagoon or go mountaineering and climb Iceland's highest peak, Hvannadalshnúkur. This mountain is part of the Öræfajökull mountain chain in Iceland and is connected to Vatnajökull.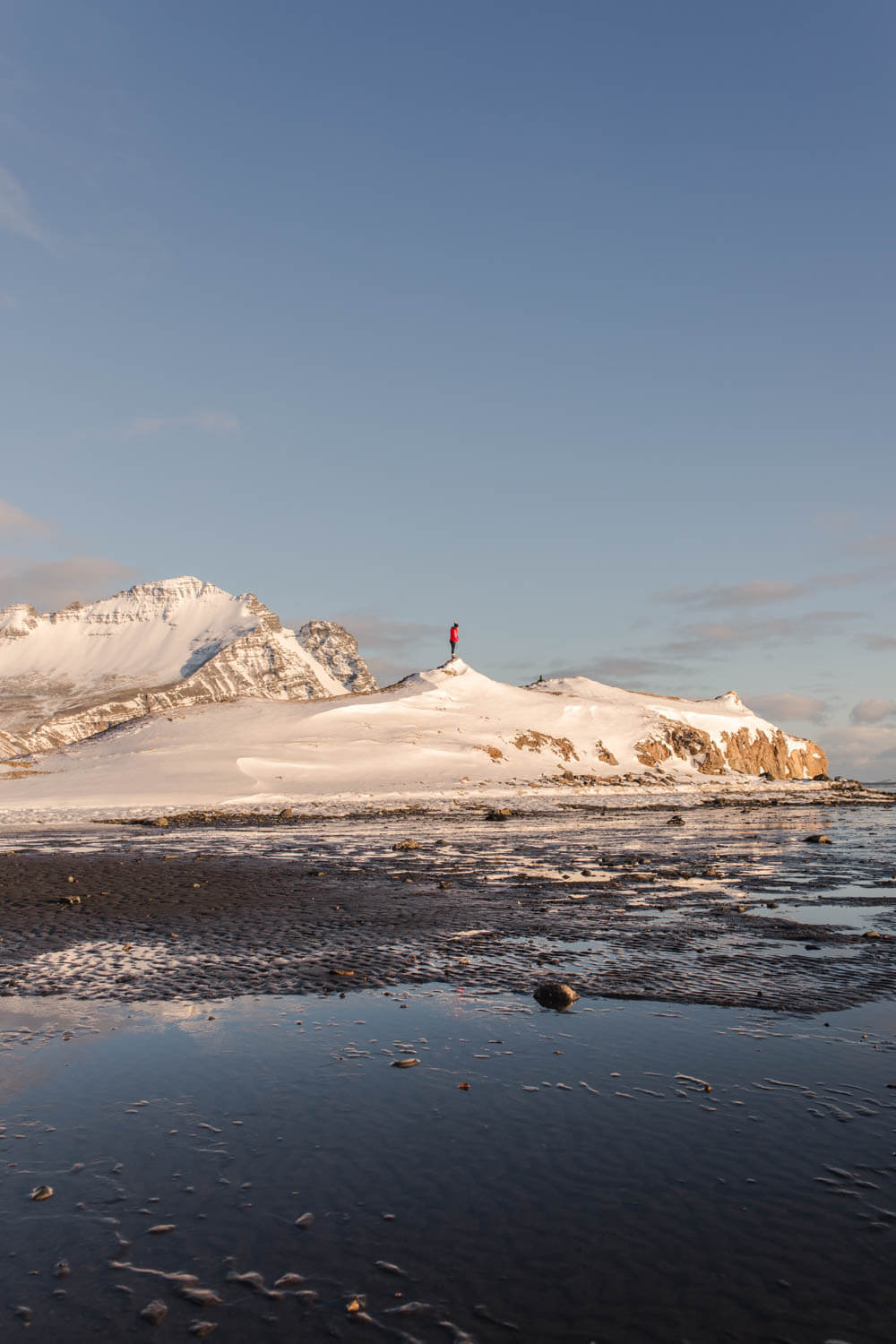 23. Experience the midnight sun.
At the height of summer in Iceland, the sun never fully sets. You are blessed with a sky full of pinks, reds, purples and oranges and then very soon afterwards the sun comes up again. From May-July Iceland experiences 24 hours of daylight a day (peaking at the summer solstice on the 21st June). Although it'll take your body a little getting used to, the extra daylight gives you loads more time to explore this beautiful country.
See how to improve your travel photography in this blog post.
Watch my 5-day Iceland road trip come to life here...


What are your favourite things to do in Iceland?
What's on your Iceland bucket list? Anything you'd add?
Love as always and happy adventuring,


Did you find this post helpful? I'd love you to share it for me.
Pin and save this blog post for later…