Apparently you don't need to take Richard Branson's rocket into outer space to experience life on another planet. First, Burning Man, and now this Iceland road trip?
Every time I think I've surely seen it all, the earth takes my breath away all over again…
My adventure this time involved road tripping around Iceland in a Happy Campers van with three of my friends who ventured over this way from Vancouver, Canada.
Our Iceland road trip adventure now officially goes down as one of my favourite adventures ever. Why?
Not only because of its otherworldly landscapes or its insane volcanic terrain but because it wasn't a 'work trip' for me. I had the freedom to enjoy Iceland as I desired. I wasn't distracted by the deliverables of a campaign, by the storyline of a video or by a requirement to post online at certain times of the day.
Of course, I got my camera out (it's pretty impossible not to here), but it was on my terms.
We woke to the sunrise peeping through the curtains in the van. We brewed coffee on our camp stove with glaciers surrounding us. In the evenings we drank wine and played cards. We soaked in hot springs until we were hungry for lunch. We snapped photo after photo of each other as the sky went from shades of pink and purple to hot orange as we lost the sun to the horizon. And we snuggled up in sleeping bags next to each other for warmth, already eager to wake for more adventure.
If that isn't happiness, I don't know what is.
Even though it wasn't work, I love creating travel guides. So, I've put together this guide to planning a road trip in Iceland based on not only what I did, but also the treasures I heard about along the way.
Other travel guides I think you might enjoy: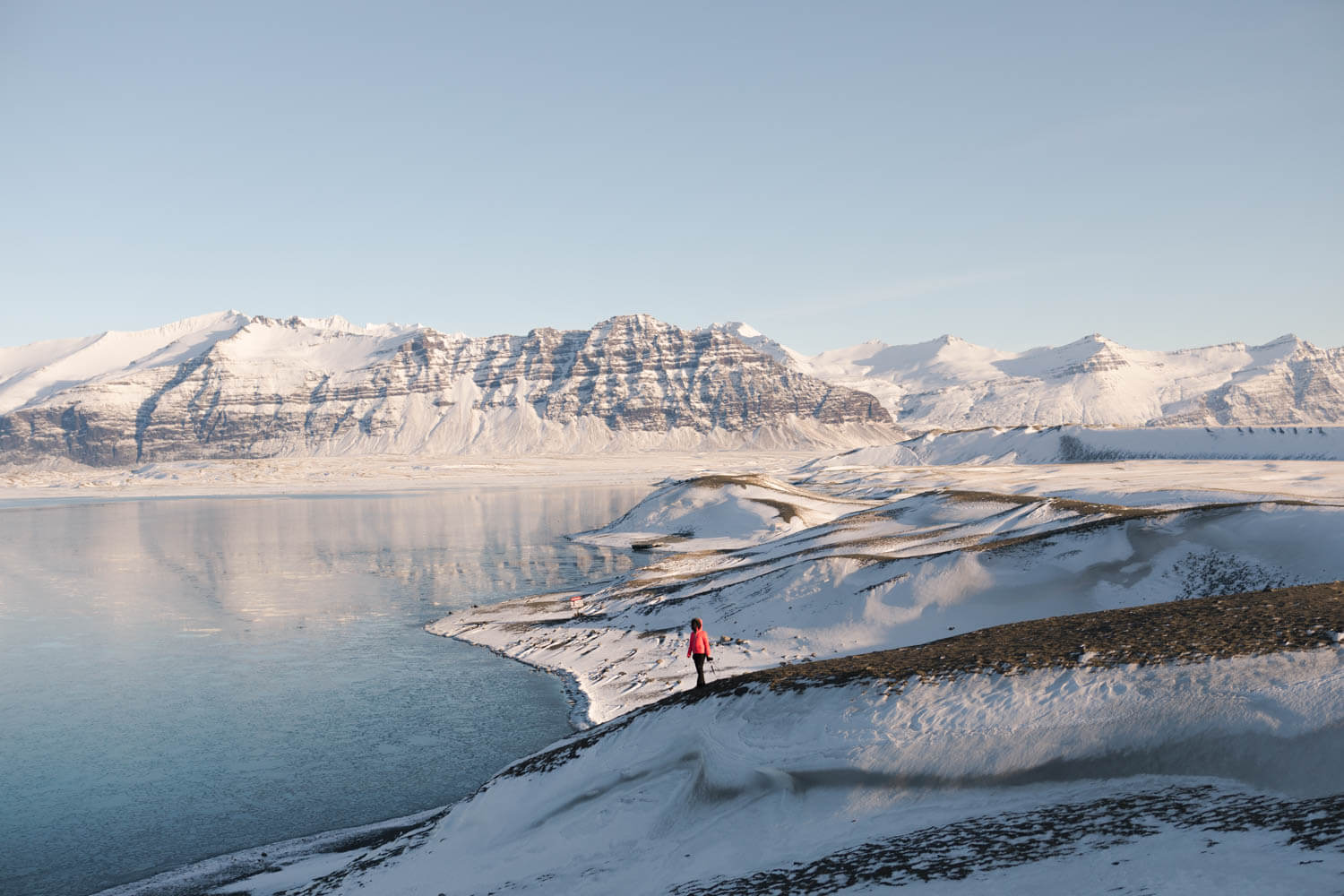 How to plan your Iceland road trip plus our 5-day itinerary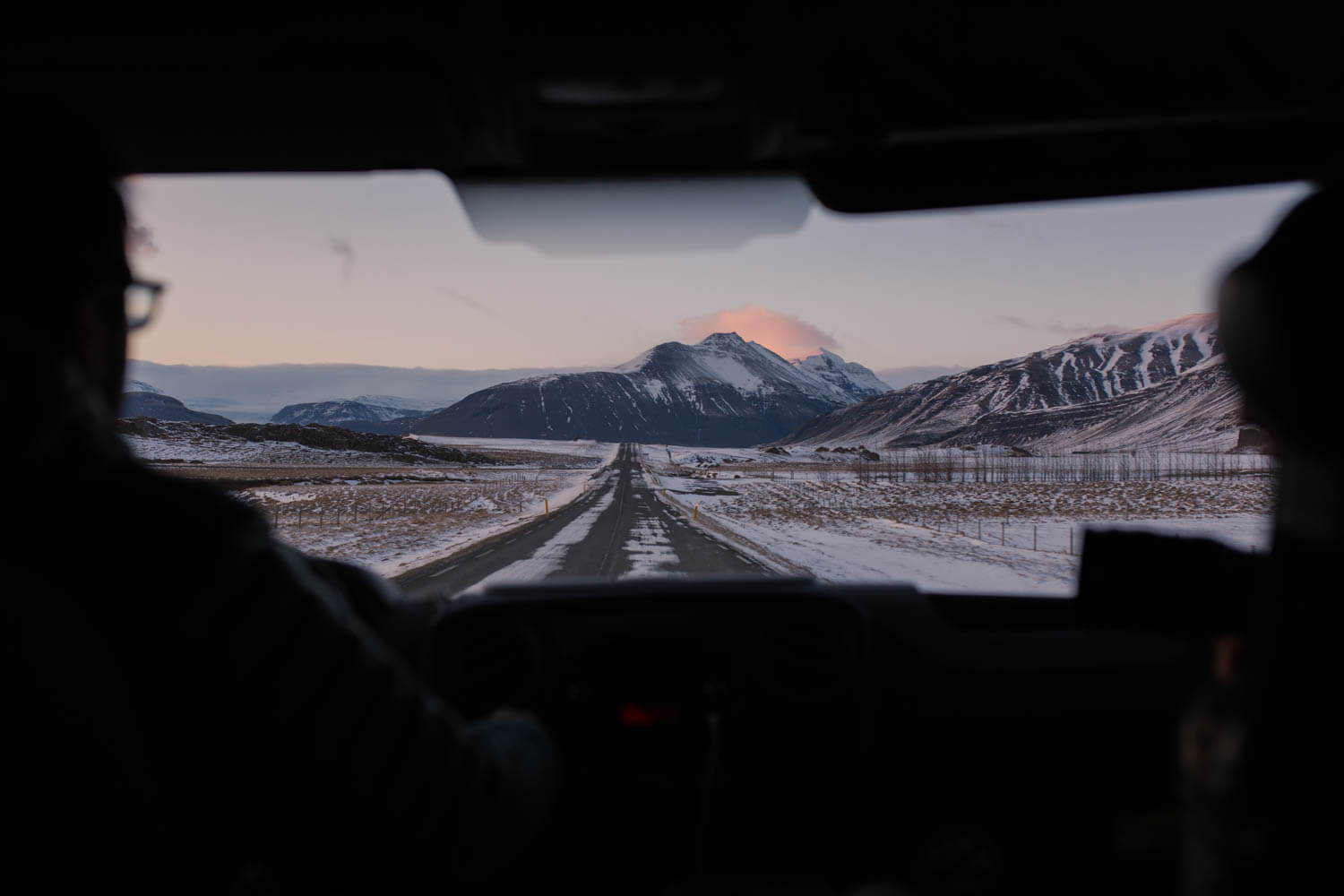 Where is Iceland?
Iceland is a nordic island located in the North Atlantic that shares the same time zone as the UK (it's located slightly north-west of the UK on the map) and is home to some of the most unique landscapes in the world. Iceland's capital, Reykjavik, sits on the south west of the island and is where the majority of the population reside.
Why should Iceland be your next destination?
Iceland has been shaped by multiple forces gifted from nature nature which have, together, created one of the most unique destinations in the world.
Not only will you not go 5 minutes without spotting a roadside waterfall, glacier, mountain range or cliff edge but you have the opportunity to dig deeper into the fascinating geographic history of this island through one of the many museums.
Hiring a car or van…
First of all you need a road trip vehicle. We hired our camper from Happy Campers!
Whilst our camper was certainly not discreet (bright yellow, in case you missed it) it made sure we never lost it in a parking lot and actually made for a good colour pop when getting that shot.
No, seriously, I was really impressed with our camper. It comfortably slept four, it had heating, we were able to stand up in it, we cooked in it and it also had amazing WiFi. Of course you don't need it, but for those long drives it meant I could catch up on e-mails and stream those hot Spotify playlists. It also meant we could Google our route and check shop opening and closing times along the way.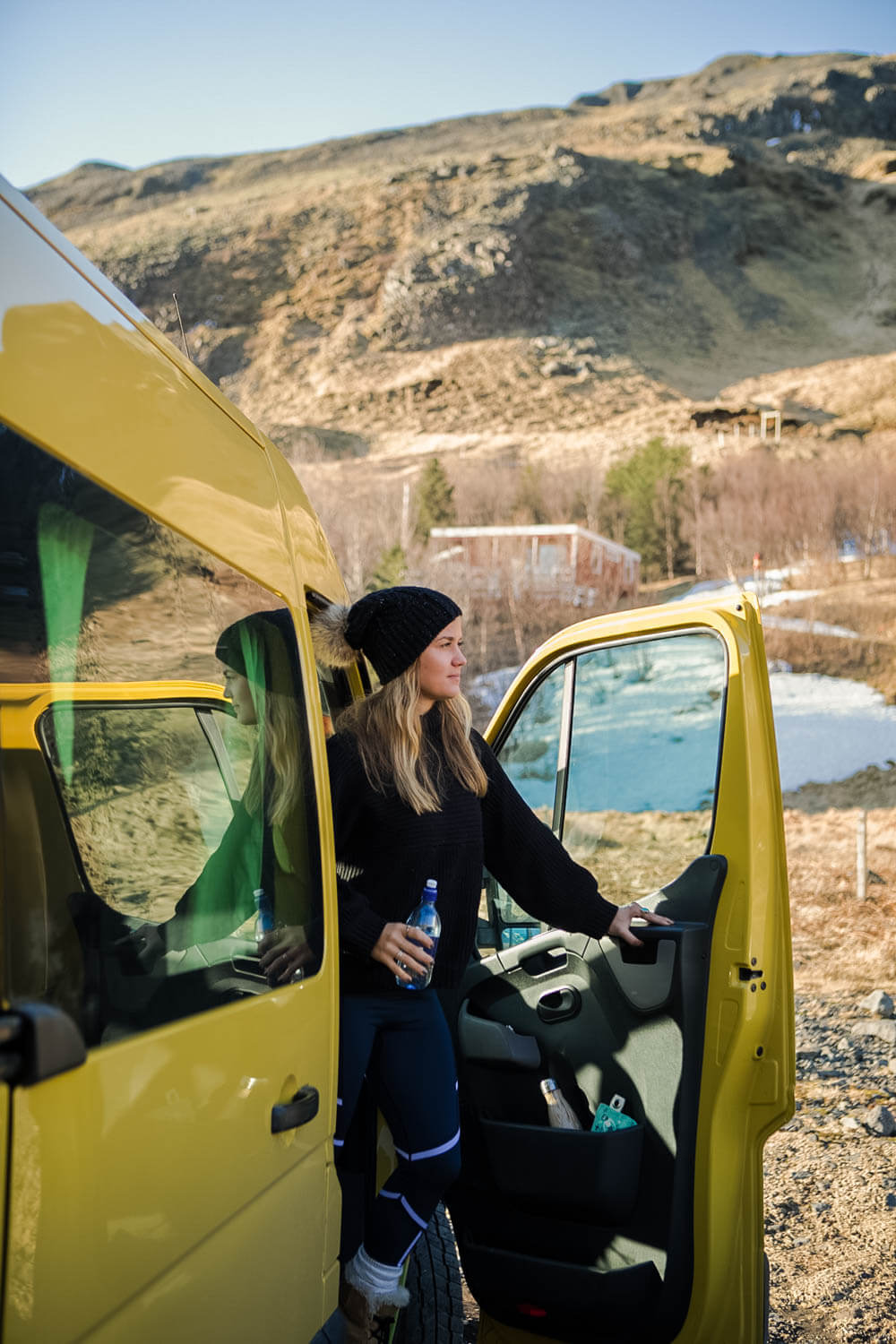 How do you get to Iceland?
The main airport in Iceland is Keflavík (KEF) in Reykjavík, located on the south west of the island. Reykjavík is a small city and the only urban area we experienced during our whole trip.
Reykjavík is a great place for you to pick up any extra layers you need, to fill up the fridge in your camper and of course, pick up your camper.
See my top tips and packing list for embracing a road trip here in this blog post.
Step out of Reykjavík and you step onto Mars…
Planning your Iceland road trip route…
Most of the tours and routes you'll hear that people take in Iceland centre around 'The Golden Circle'. The Golden Circle is a loop of around 300km from Reykjavik up the east coast of the island and covers most of the hot spots that I'm sure are already on your bucket list.
The abandoned plane? Glacier lagoon? Blue lagoon? Reynisfjara beach? Skogafoss waterfall?
Yes, they're all along it.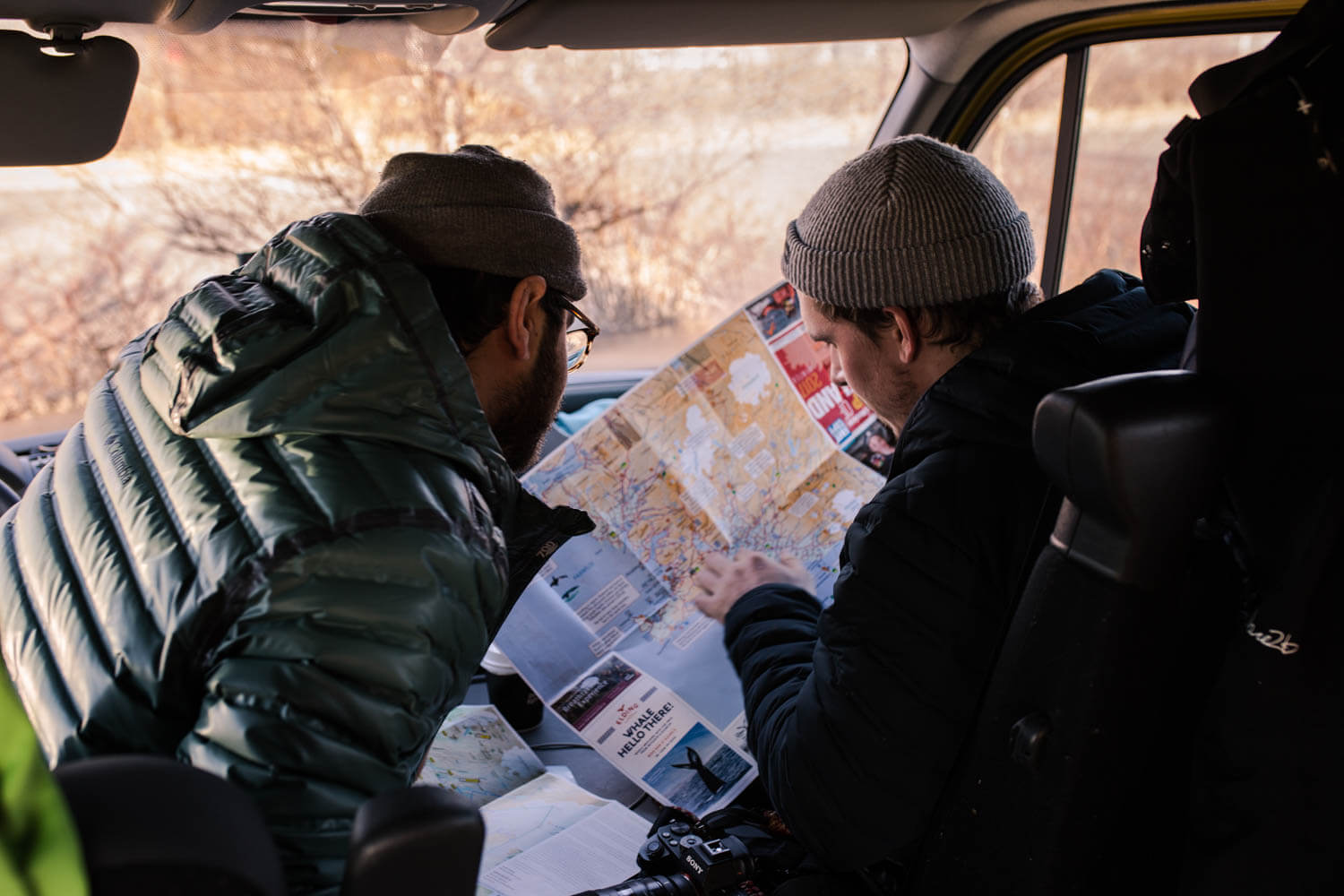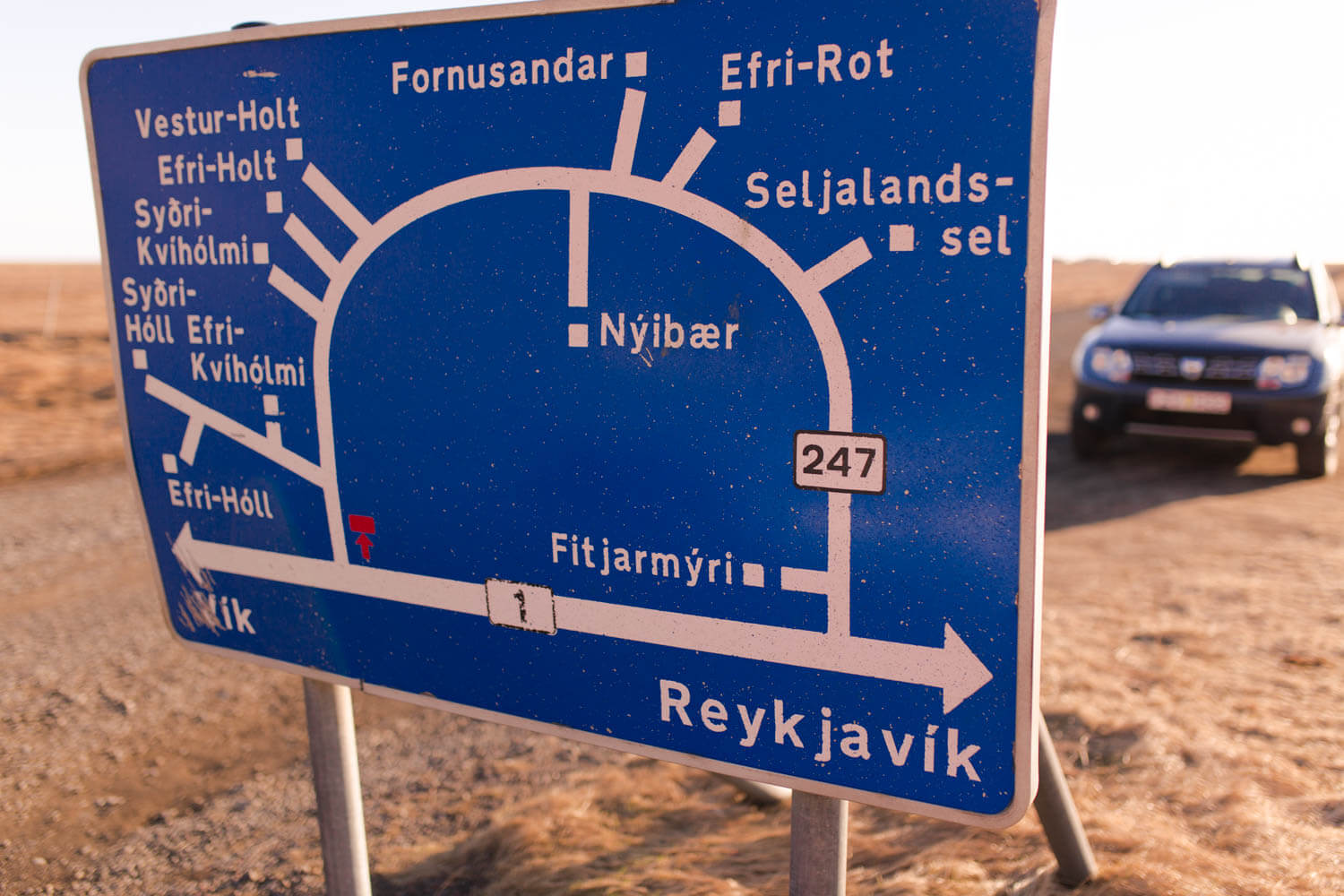 Most people drive up to Hofn before turning round and heading south again. With this navigation it's pretty sweet because you don't need to worry about seeing everything on the way up or about missing things. If a waterfall happens to be super busy when you turn up, you can always come back en route back to Reykjavík. Super chill!
I absolutely loved how open the roads felt in Iceland. I loved that once you'd left Reykjavík and until you returned, there were close to no traffic lights in sight. In fact, don't remember seeing any housing estates or villages and the properties I did see were spaced out.
It was an unusual but refreshing sight.
It took me a day or so to work out what was so different here in Iceland, apart from the towering mountains, glaciers and waterfalls at the side of the road, but then it clicked. There are hardly any trees at all gracing the landscape.
To witness hundreds of miles of landscape in a light that seemed untouched by humans was purely magical.
Navigating your way along the Golden Circle route is pretty straight forward; there's one main road to follow and then optional signposted roads that veer off for your choice of adventure. To be honest, you don't even need to go crazy on planning an exact route, the route allows you to cruise in a completely carefree fashion.
Unless, of course, you're super pushed for time and have a heavy bucket list (usually me).
There are of course other routes to take, but I can't talk from experience. My friends arrived a few days before me and explored the Snæfellsnes peninsula which they said was incredibly windy, but stunning.
Finding campsites… Where can you park?
There are over 170 equipped and registered campsites in Iceland for you to park up and rest in, all often with 360 panoramics of the insanely beautiful country. With conservation always at the top of Iceland's agenda, it is highly recommended that you use these designated campsites to preserve the landscape for years to come.
See more about the campsites and rules here.
Iceland truly is the road trip destination of absolute dreams and I wouldn't hesitate at all about returning.
How to plan your Iceland road trip plus our 5-day itinerary…
Day 1 of our Iceland road trip itinerary
On day one of our road trip I landed at Keflavik airport at 11pm, so we simply parked up near the lighthouse, played a game of Monopoly Deal and snuggled up for the night.
Day 2
The following morning we filled up with petrol at the Shell garage in Hveragerði, which sits on a little complex of shops. We used the bathrooms inside the mall to freshen up (haha gypsy life) and then grabbed some coffees from Almar Bakeri next door to go with our camp stove breakfast of eggs.
Note: Four americanos cost us £14.50
This location is also a great place to do your food shop. They have a big selection of fresh vegetables, tins, meats and vegetarian options!
I spent £25 and got stuff to keep me going for four days, a considerable amount cheaper than eating out.
Note: Chia seeds are really cheap here, and the famous Icelandic Skyr yogurt is really good!
Check out my budgeting guide and top tips for visiting Iceland here.
Next up, we drove on and hopped out at this incredibly striking volcanic crator lake in Grimsness…
Kerið Crator
Entry to walk around and down was 400ISK.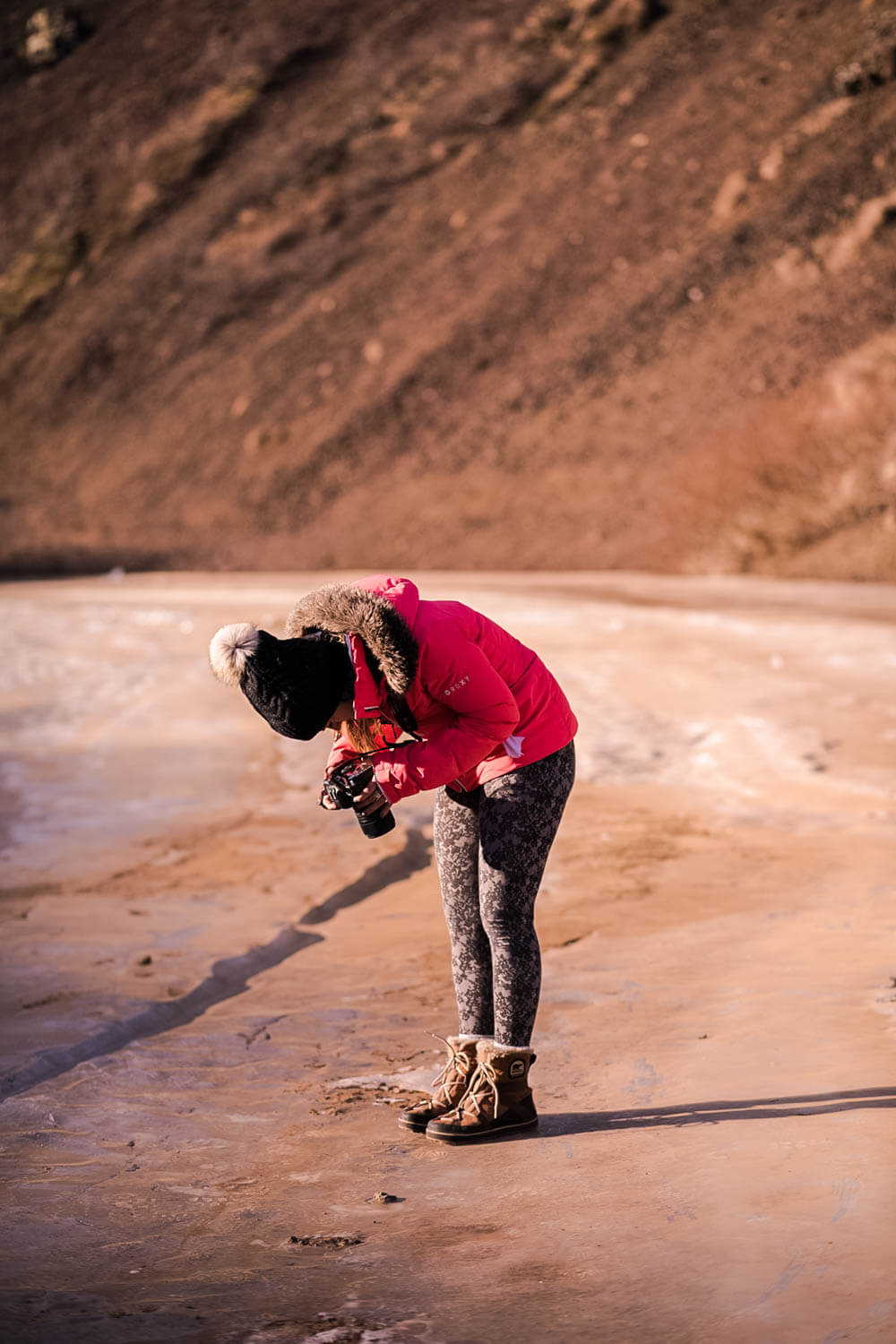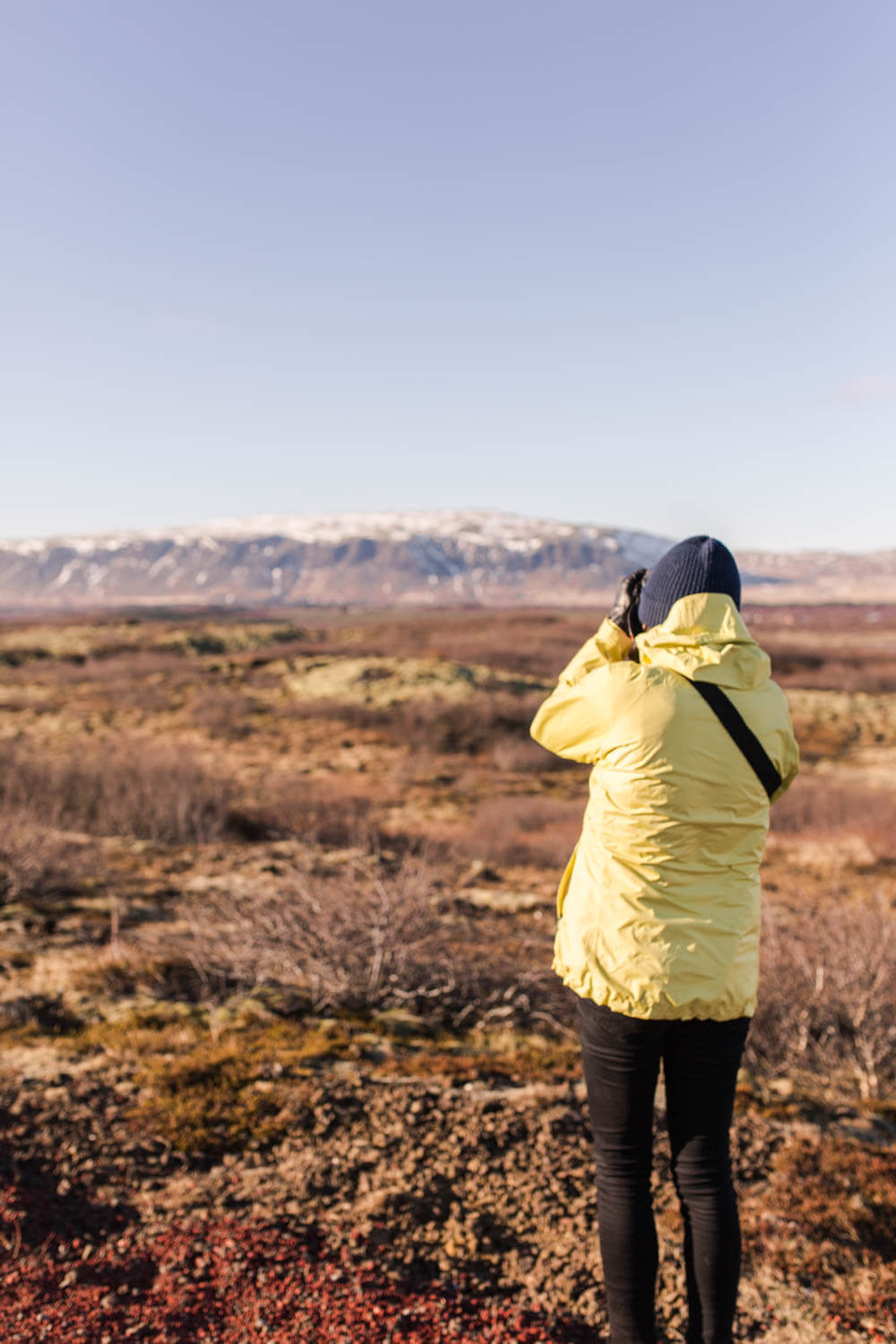 Post-lunch views at Seljalandsfoss Waterfall…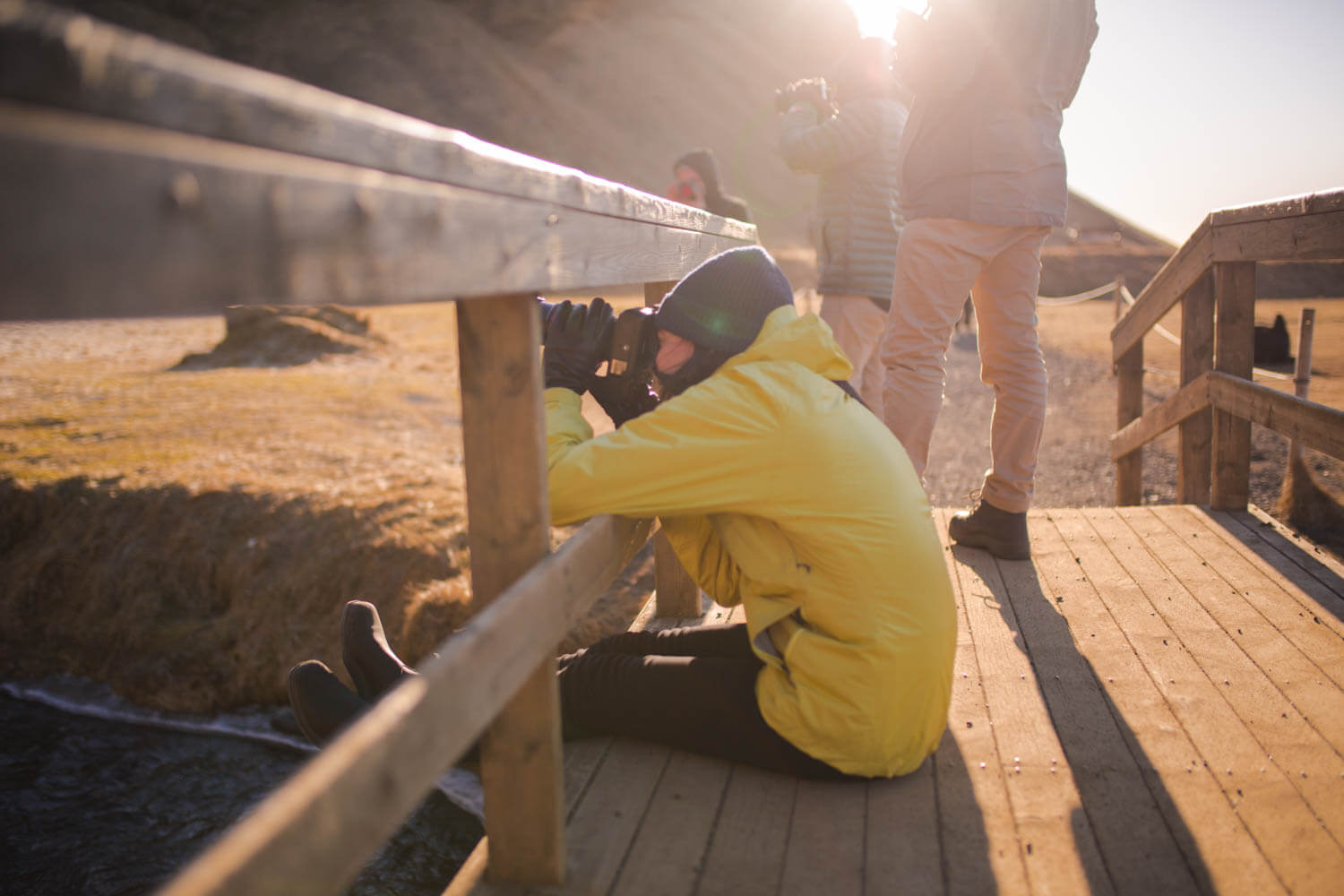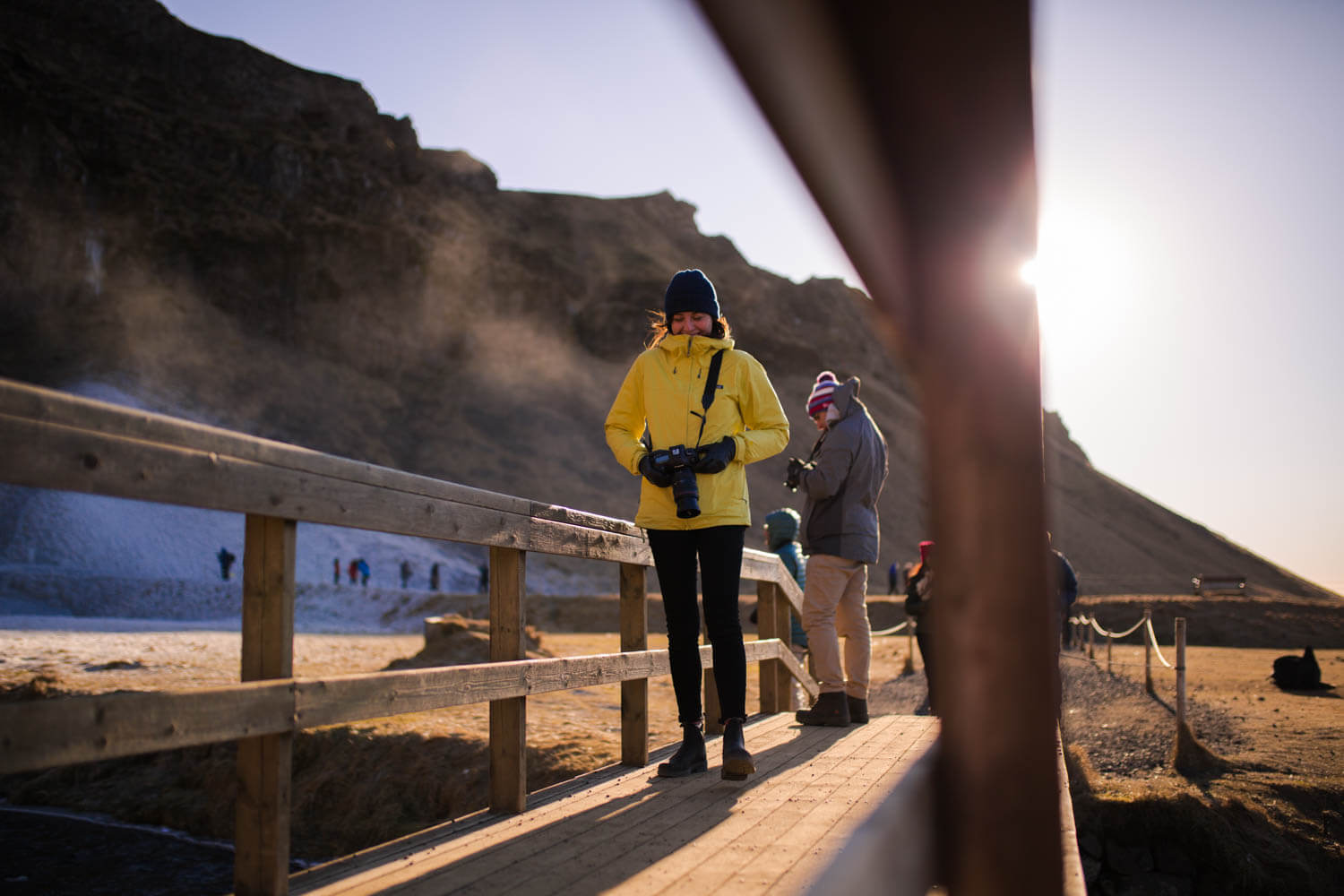 Afternoon cruising and pink sunsets at Reynisfjara beach…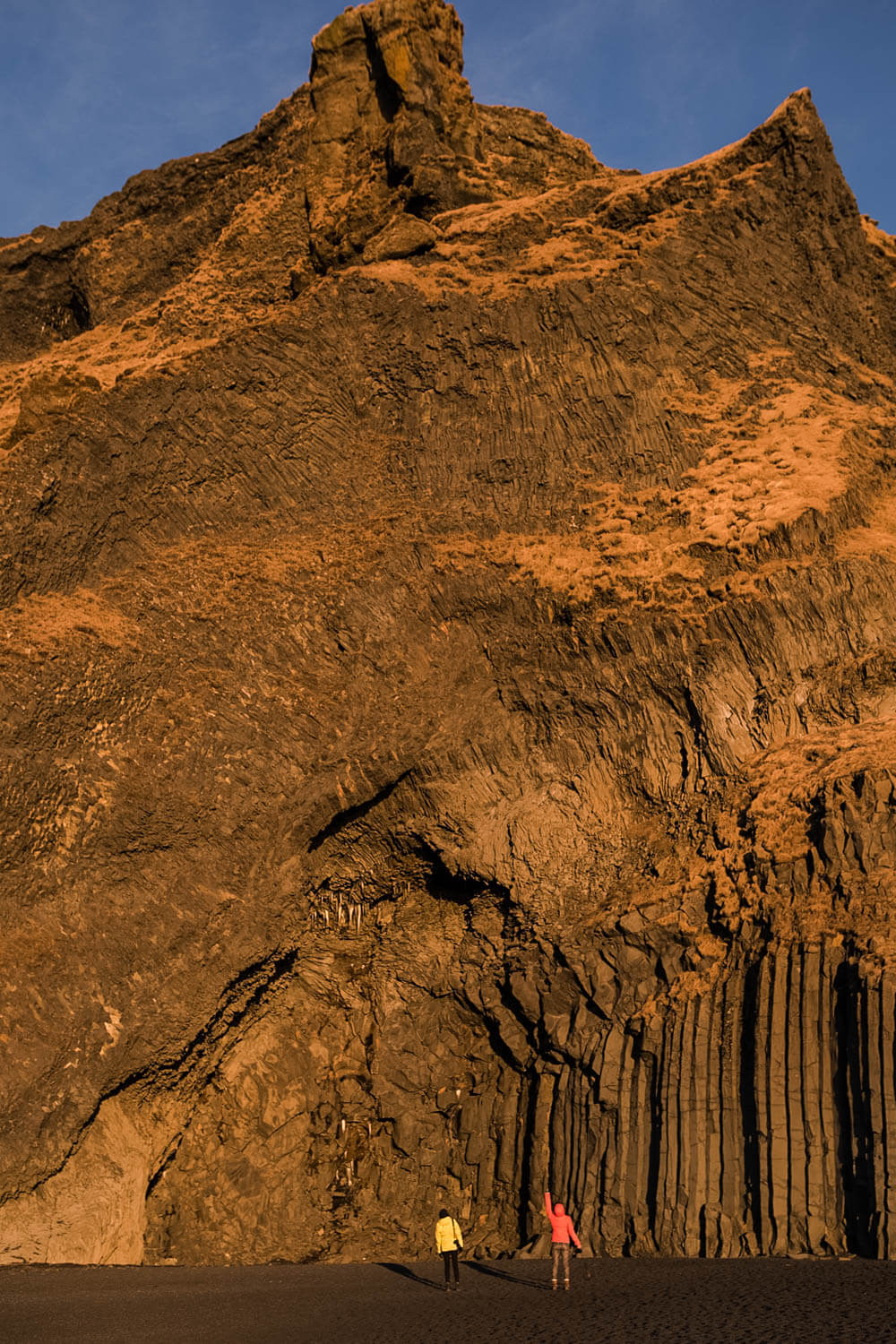 Day 3
This morning we woke at 6 am for a pretty special Ice Cave tour. We set off from the Glacier Lagoon car park, the meeting point for all the 4X4 guided tours that will take you over the glaciers and icy terrain.
The 4X4 tours here are a huge tourist attraction in the winter. Over 14 tour companies send groups out over the delicate, ever-changing landscape.
Most tours start around 8/9 am and continue throughout the day, each lasting around 2 hours and always with an experienced guide. The landscape is changing rapidly and only with the knowledge and training these guys evidently have of the area would you be able to safely navigate through it.
Siggi runs daytime tours but also runs private tours before the competing operators begin their schedule which allows you to experience and shoot the caves with no one else there. Perfect for the avid photographer (like us) and a magical sunrise adventure.
The caves are completely in the hands of nature. What you see will completely depend on the weather and when you go.
Unfortunately when we visited, the biggest cave (Crystal Ice Cave) was filled with water so we went to Anaconda caves instead. Again in the hands of nature, Ice Caves don't last forever. The famous Black Diamond cave collapsed back in July 2017. Don't fear though. The advantage of having experienced tour guides on hand means they will know alternative caves and new discoveries for you to explore.
Siggi, our tour guide was an absolute LEG-END. I would not hesitate for one moment in recommending him to show you around. Visit his website here.
If you decide to head out on one of the tours (you'd be silly not to) you'll get dropped back off at the car park where you started. Be sure to hang around and marvel at the Glacier Lagoon (which is sadly vanishing by the minute) and the Diamond black sand beach.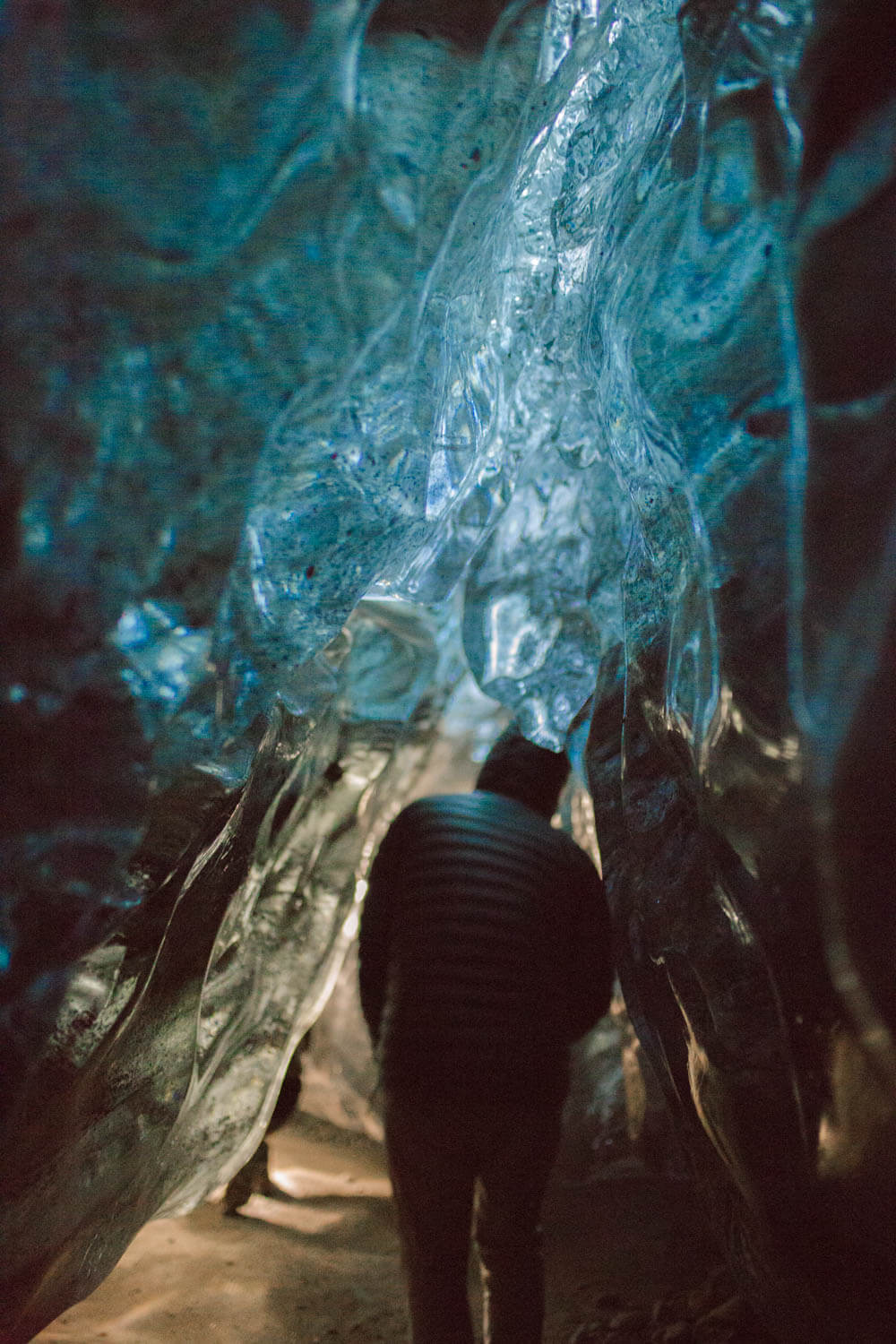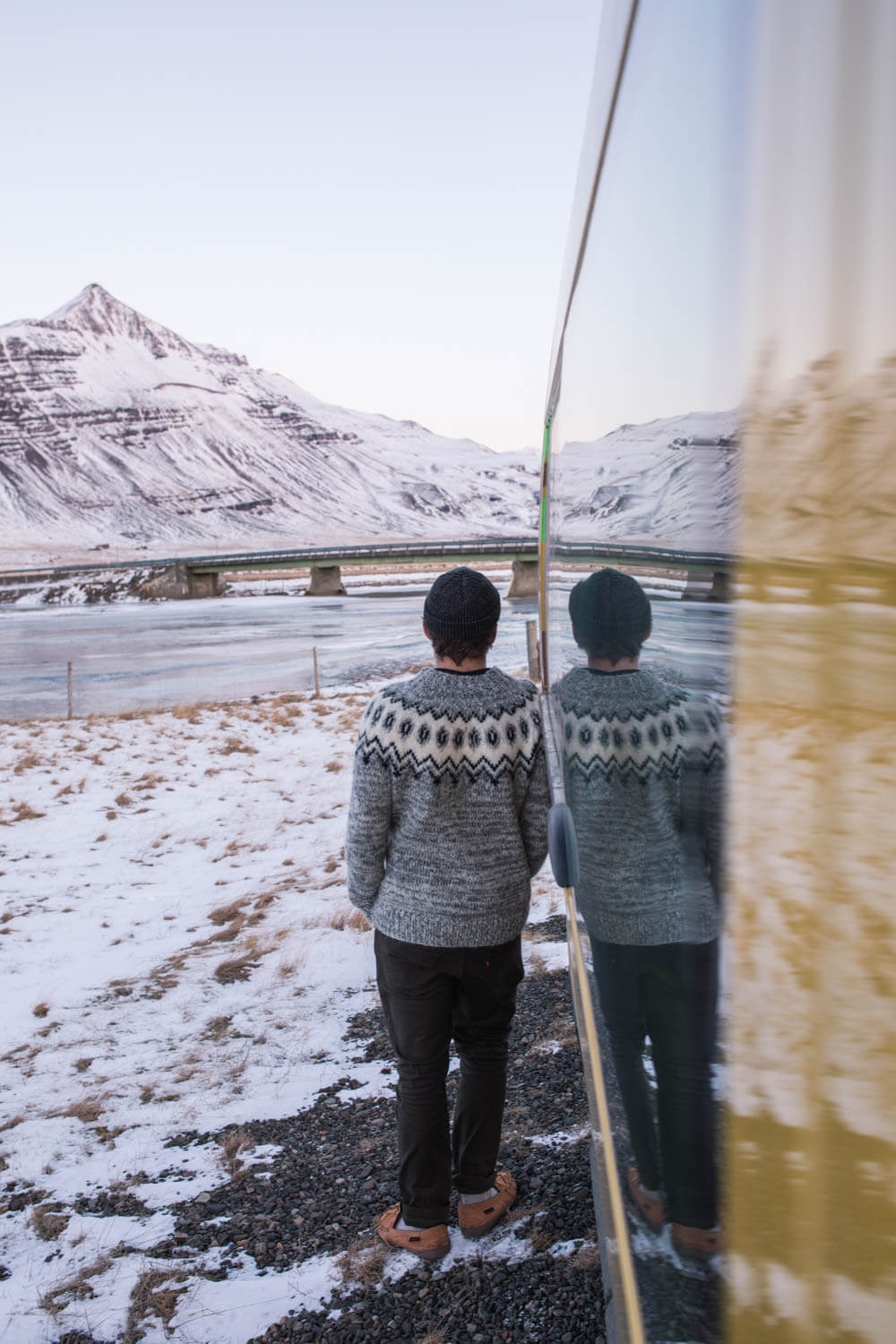 After a very early start (a snowstorm the night before had caused zero visibility and meant we couldn't make it up to sleep near the Glacier Lagoon car park the night before, and instead had to get up to drive the remaining distance at 4am) and an insanely beautiful 3-hour drive through Vatnajökull National Park with Siggi, we all crashed in the car park for an hour or two.
I have to say, waking up and peeking through the van curtains to see a view of the glaciers was a pretty mind blowing moment.
Possibly the most beautiful place I've woken up in.
Once we had filled up our large water tank at the car park cafe and tucked into a few roadside snacks, we headed north one last time to check out some hot springs in Hoffen (I have pinned the location on the map). Of course these aren't anywhere near as big as the famous Blue Lagoon, but it also means there aren't as many people. In fact we had it to ourselves for most of the time!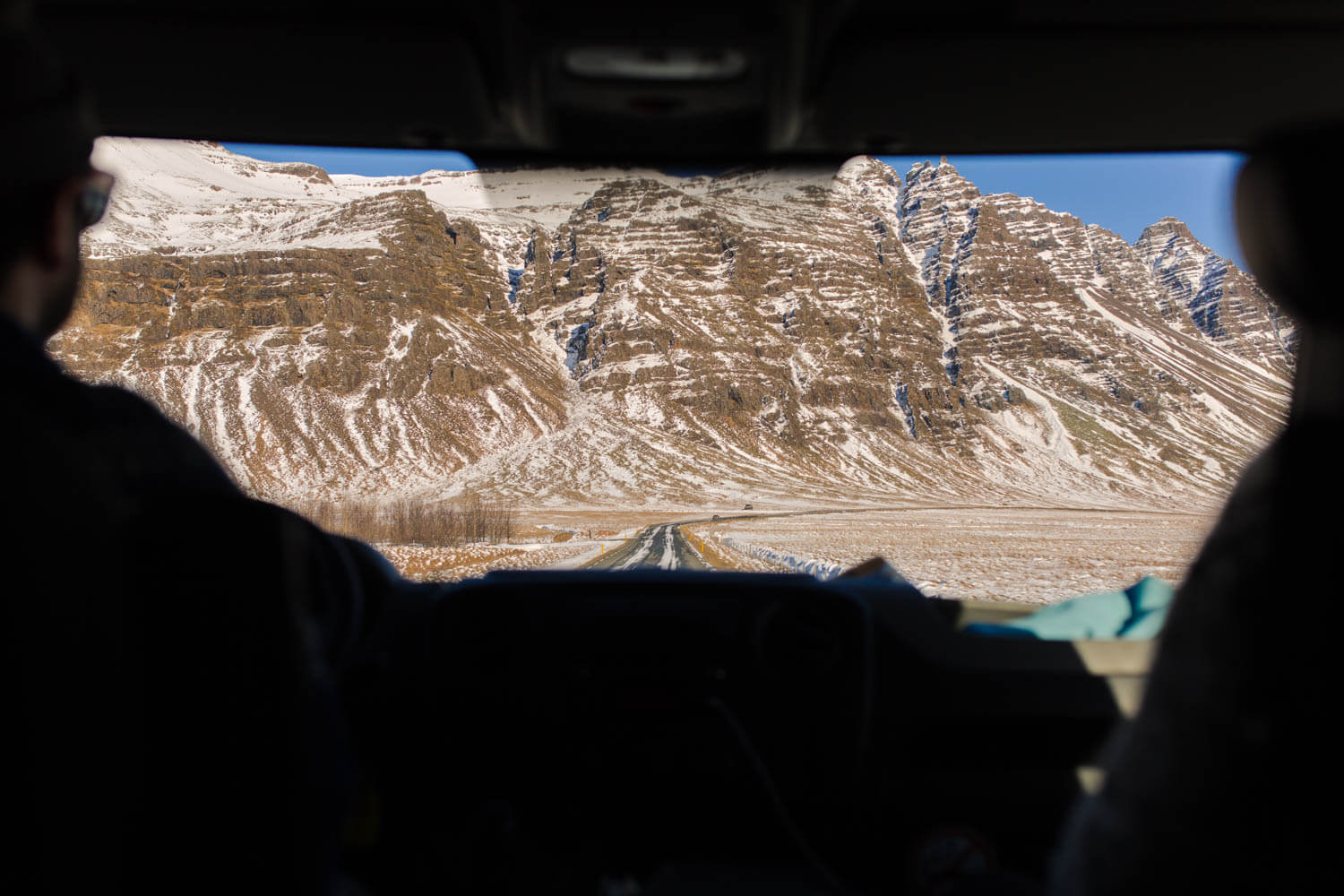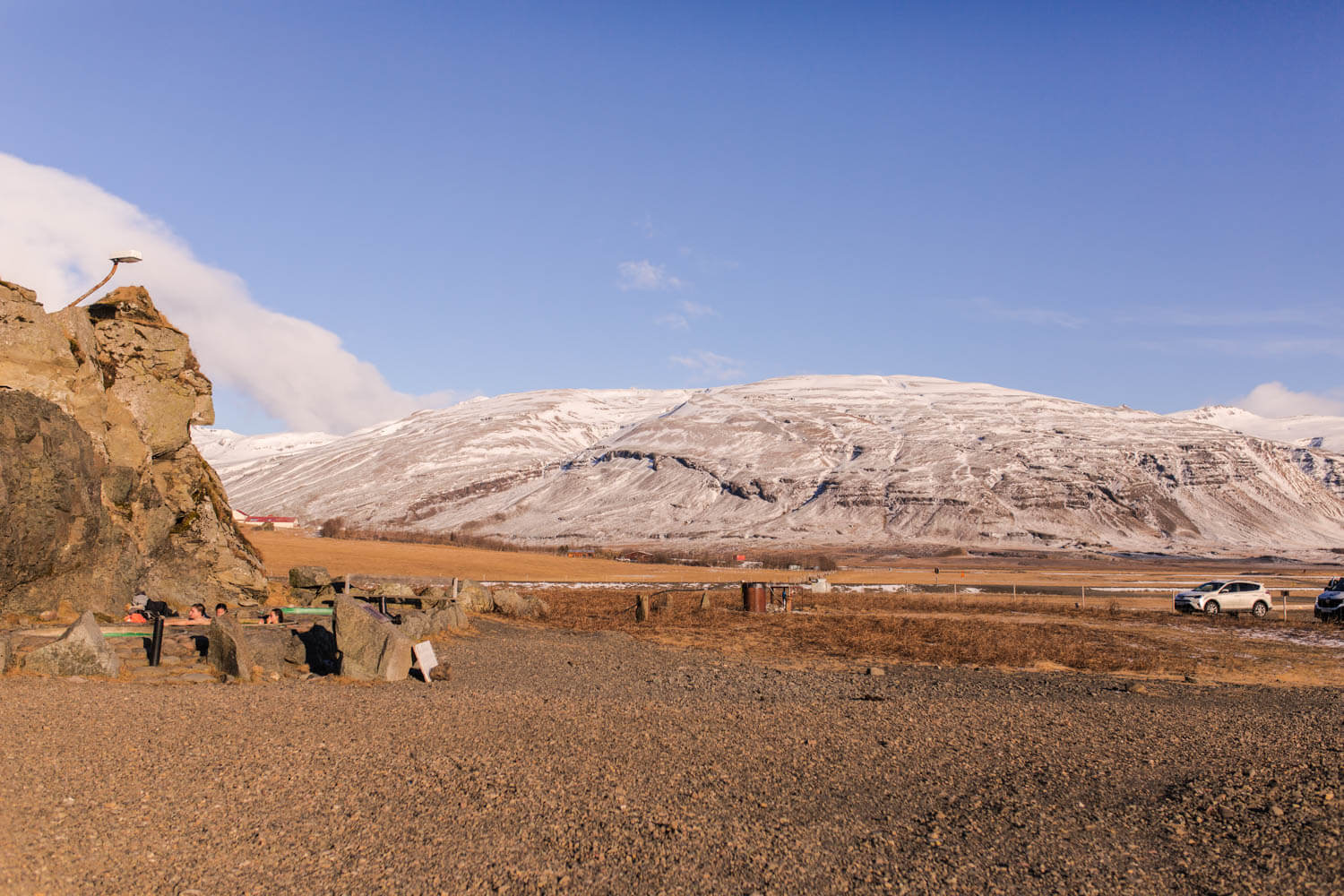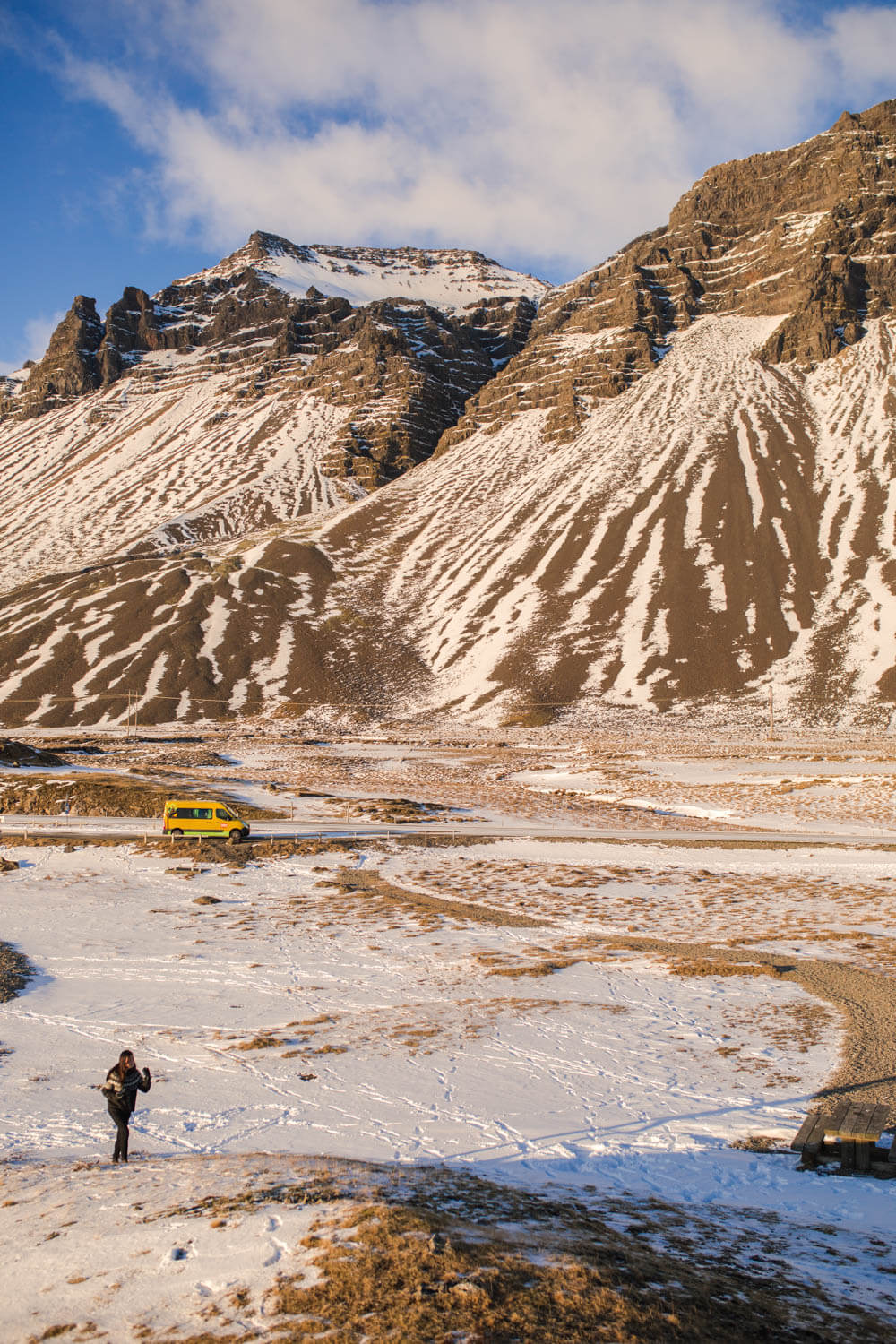 As we drove back down the coast, stopping as we desired, we came to realise there was no liquor store left open in sight. Even so, we all fancied toasting to an incredible day. In true Icelandic nature, we drove until we found lights (which is always a while) and we came across a gorgeous, very luxurious hotel: Foss Hotel.
With no other option, more to their dismay, we rolled into the bar in our snow shoes and hoodies (looking like we'd stepped off an adolescent camping trip) and ordered some drinks.
It's 1000-1300ISK for a glass of wine or for 0.5L beer, 1200ISK.
Day 4 of our Iceland road trip itinerary
On the morning of day 4 we headed to Skaftafell visitor centre, where you can embark on one of the waterfall hikes or glacier tours.
Optional morning adventure: 2km hike to Svartifoss waterfall.
Obviously we were on maximum chill mode and opted for a lie in instead. Not even sorry.
Following our morning shower we continued down the coast pulling up whenever we were tempted visually, and spent some time at Kirkjufjara lookout with sweeping views over Reynisfjara beach.
After lunch we took on the hike up to Skogafoss waterfall…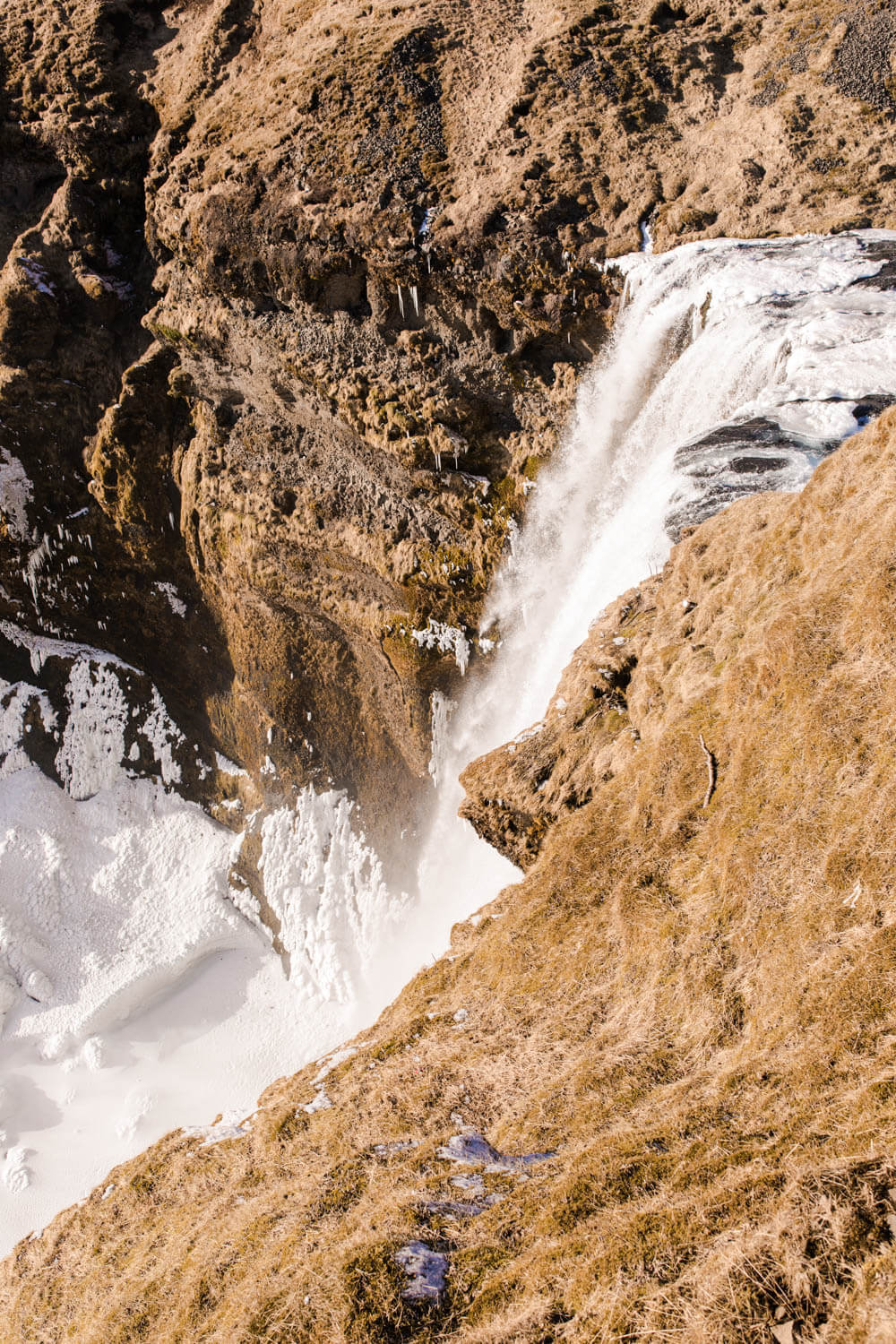 Interactive afternoons at The Lava Museum learning about Iceland's formation and ongoing evolution…
Hlemmur food hall for our last dinner…
The perfect place to pick up some dinner without totally breaking the bank. There are 8-10 different vendors selling an array of cuisines with communal seating to enjoy your food with friends!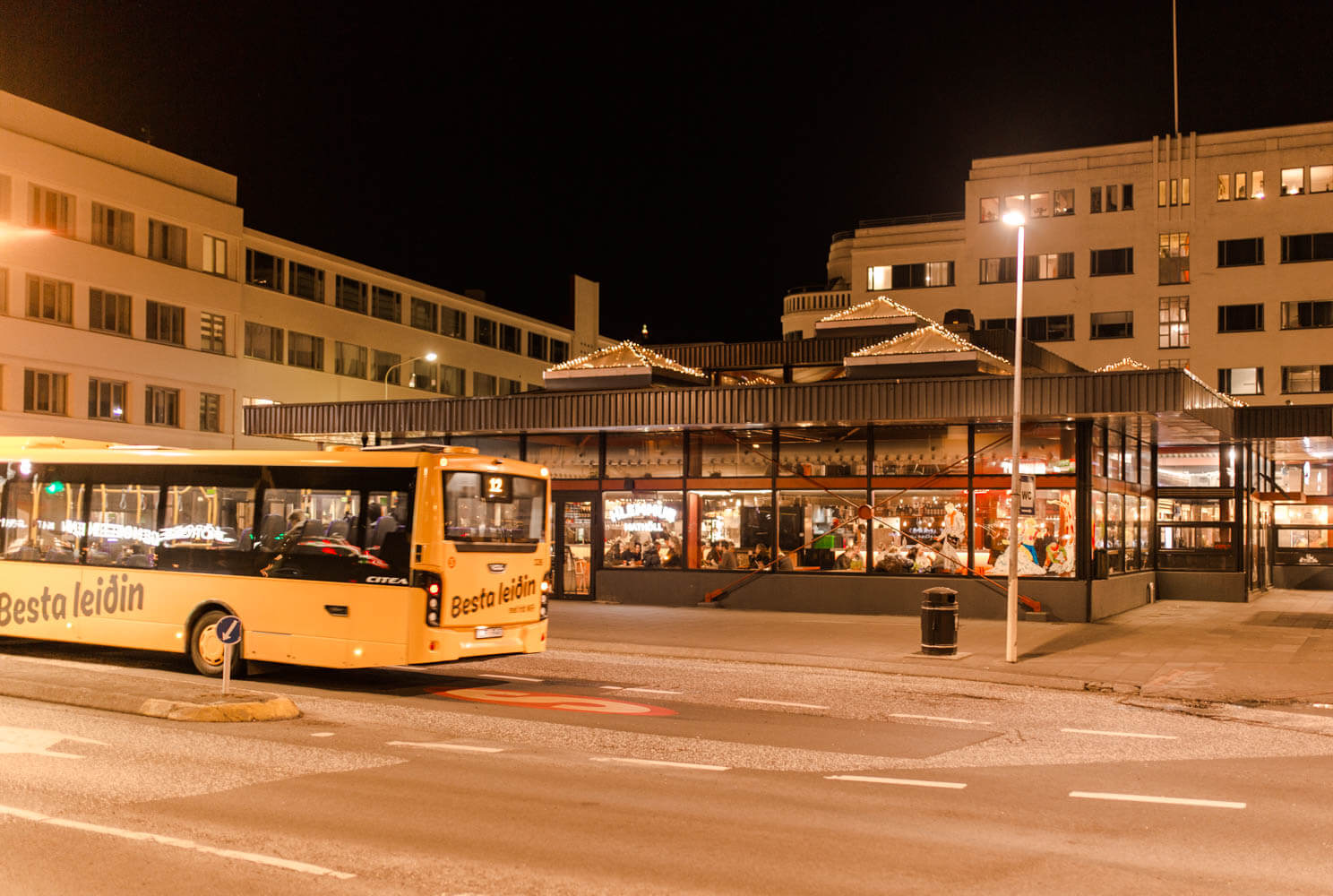 Day 5 of our Iceland road trip itinerary
On our final morning before dropping the camper back and heading to the airport we ate a scrummy breakfast at Jacobsen loftid in Reykjavik city centre. Think Australian breakfasts, the best coffee I had whilst on the island and cute little streets around to explore. Reykjavik is a gentle ease back into civilisation. This hot spot was the perfect place to fuel up for the journey home!
Events in Iceland that you may want to pop in your diary:
First weekend of July – Lobster festival in Höfn.
First weekend of August – Vestmannaeyjar Island.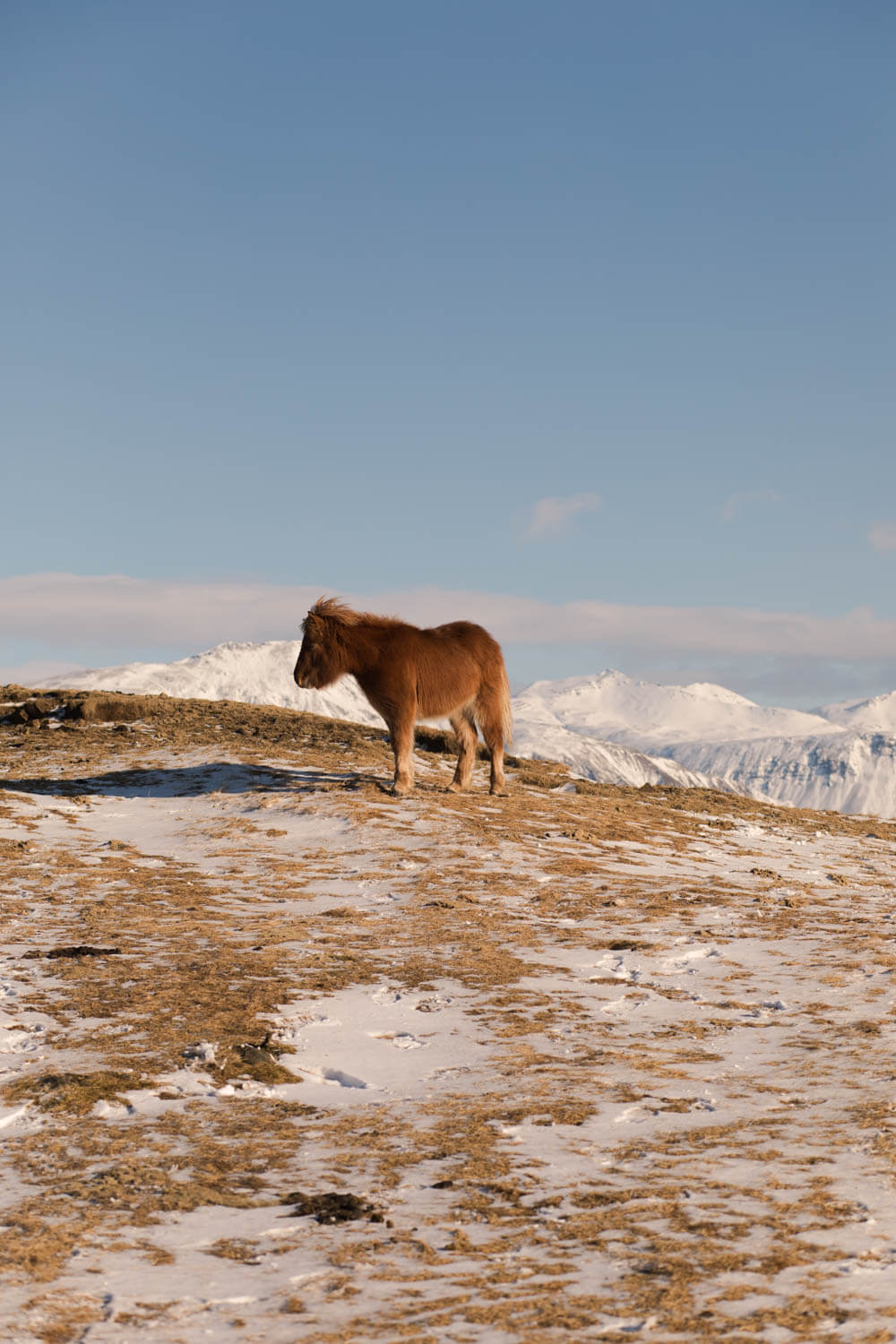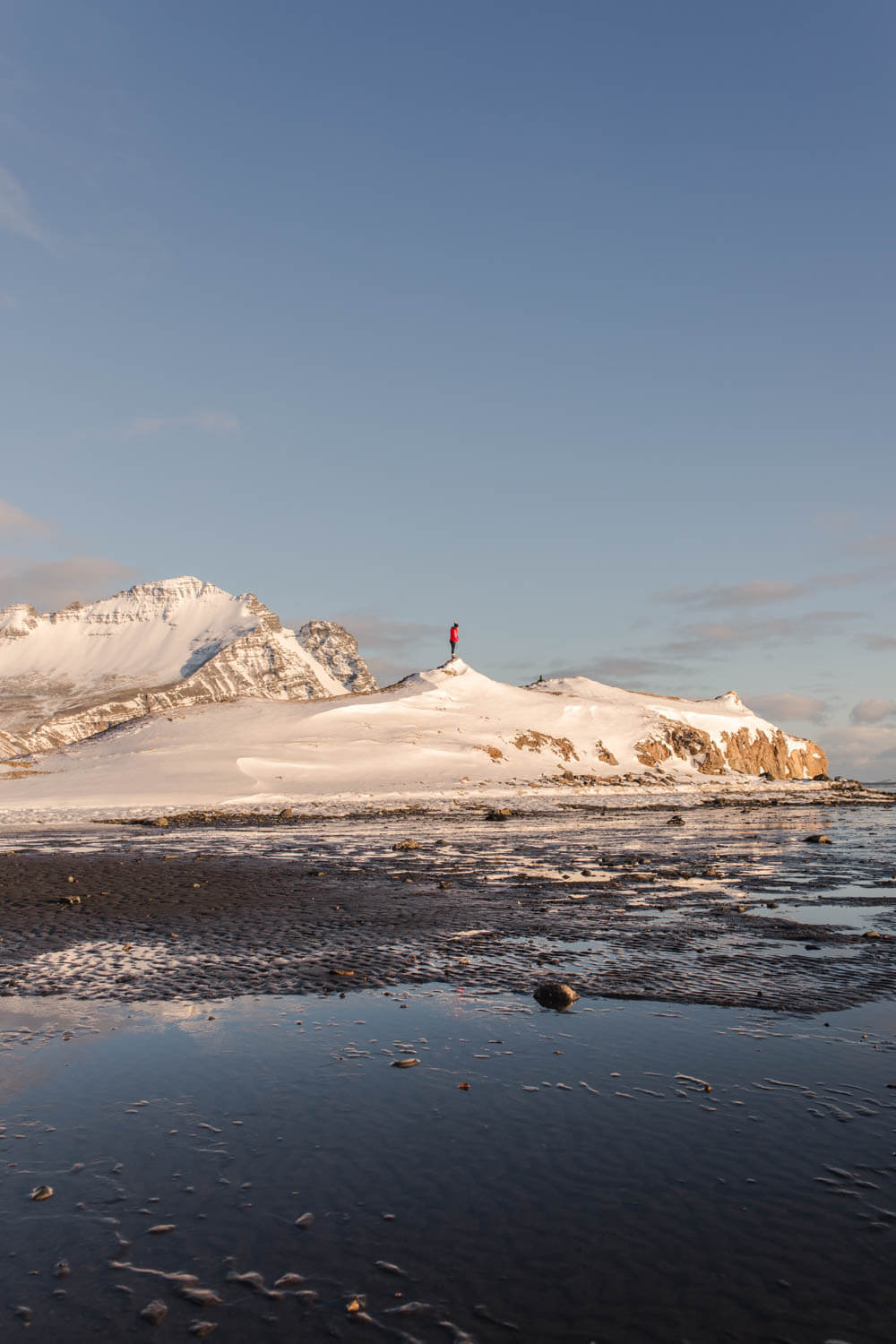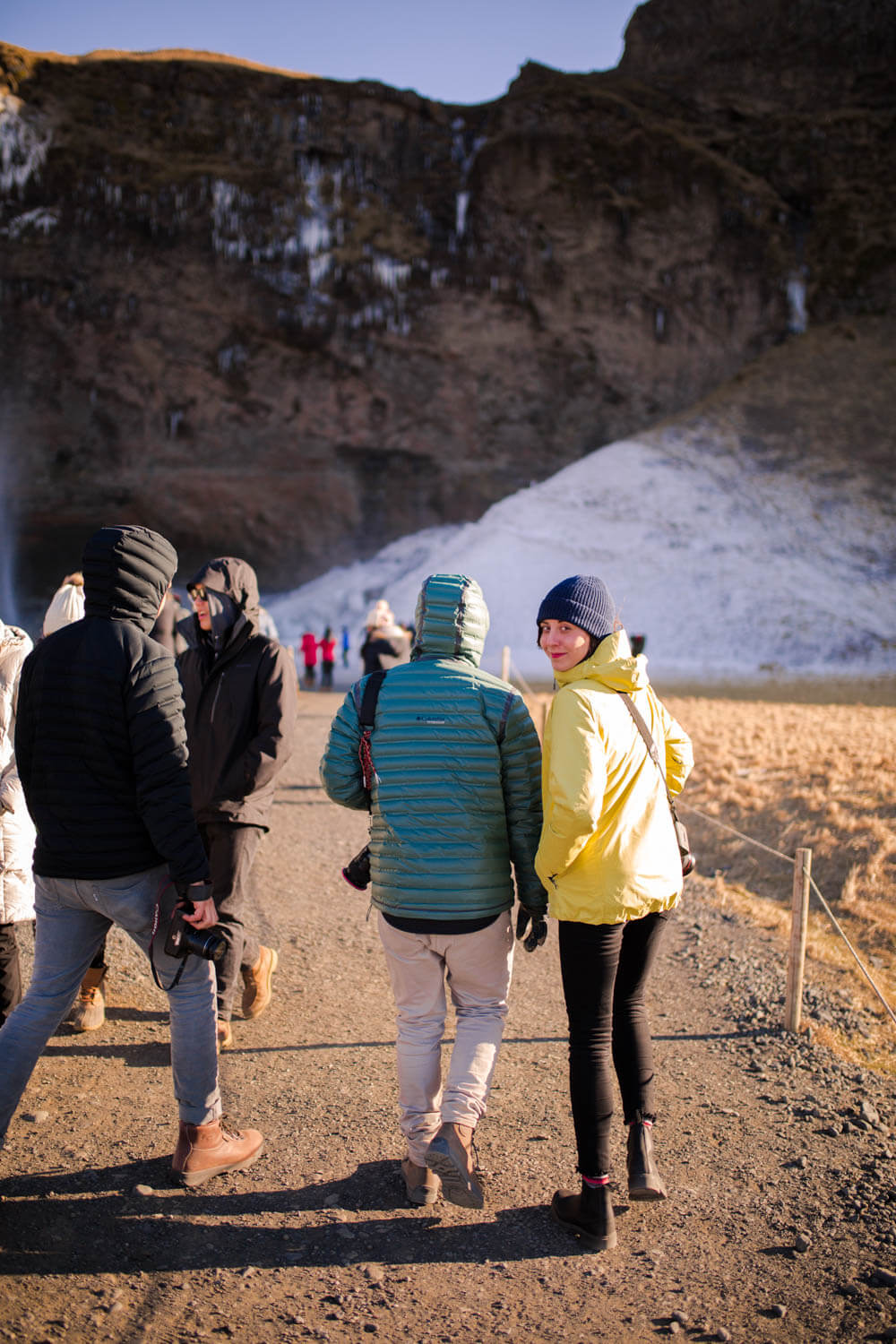 Watch my Iceland road trip come to life…
Have you been on an Iceland road trip?
What were your favourite spots? I'd love to know!
Love as always + happy adventuring,
Did you find this post helpful? I'd love you to share it for me.
I can't do this without you.
Pin and save this blog post for later…