Norway, a country of outstanding natural beauty and raw sublime power, with dramatic waterfalls, crystal clear fjords, majestic mountains, and spectacular glaciers. If that hasn't convinced you to pack your bags and plan a Norway road trip, hopefully, this blog post can offer up some inspiration on what you can expect from one of the most beautiful countries in the world and one of the best places to visit in Europe.
If you're planning a Norway road trip and are wondering how you can possibly experience all of the best adventures this beautiful country has to offer, all within 2 weeks, you're in the right place.
In this blog post, I'm going to share a 2-week Norway road trip itinerary with you, featuring my top places to visit in Norway, top things to do in Norway and tips from my very own trip.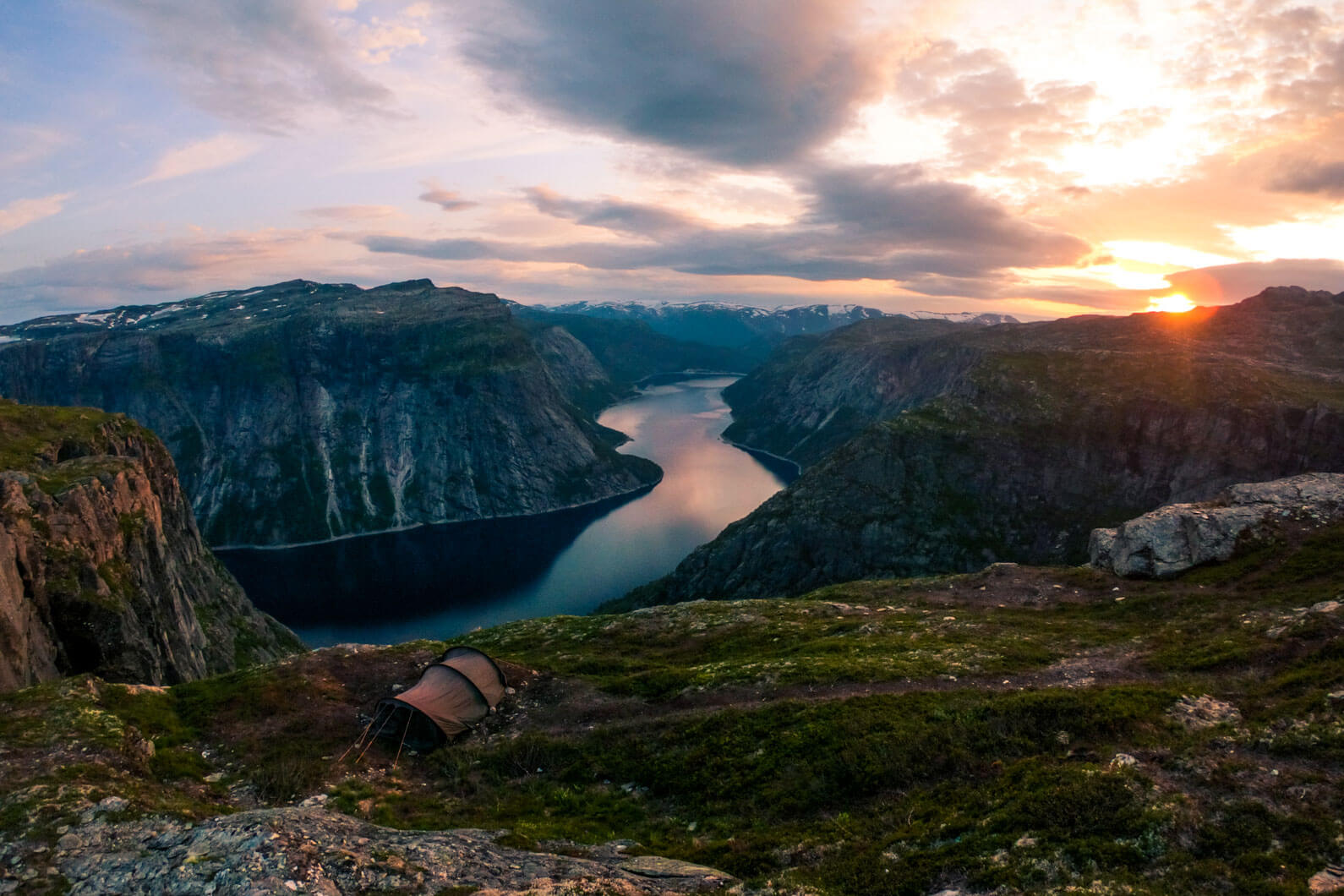 Norway is all about experiencing nature, with respect for animals and plants coming first. So this trip will probably suit those adventurers who are active and don't mind sleeping under the stars.
Fortunately, the right to roam or "allemannsretten" makes this very easy, it ensures that everybody can experience nature, even in larger privately owned areas. So, you won't be aimlessly driving around in the dark looking for somewhere discrete to camp (If you know, you know). Just be sure to be considerate and thoughtful, making sure you pick up rubbish and show respect for nature and locals – leave the landscape as you would want to find it.
Find out more about responsible van life here.
Of course, this itinerary can be adapted for the less adventurous type, with 26 affordable hostels spread around the country, along with Airbnb always saving you if the weather takes a turn.


A 2-week road trip itinerary for Norway...
This Norway road trip begins in Oslo, the capital of Norway, and finishes in the western city of Stavanger covering some 2050 miles (3300km) along the way. Optionally you could fly to Lofoten if you have fewer days, but I wanted to actually see the country, rather than fly over it, and you know… flying isn't exactly great for the planet.
Get more sustainable travel tips here.
Now, this wouldn't be much of a road trip without a car, however, I decided to get two trains to cover the 700 miles from Oslo to Bodø rather than drive. But, if you have more time and do have your own vehicle or want to hire from Oslo, that's fine, the route is fairly similar. However, the one thing you will learn about Norway pretty quickly is how expensive it is (the second most expensive country in the world). So I only hired a car in Trondheim for the second week, for the drive down the west coast to Stavanger. Taking a car up to Lofoten can add some serious costs with tolls, ferries and fuel, and I don't think you necessarily need one to experience the Islands. So, I guess this is a backpacking road trip hybrid!


I arrived in Oslo the night before my Norway road trip started and spent the night in the Anker Hostel, which is a good place to meet fellow travellers from around the world. It is also a cheap option (£20 per night). See my top tips for travelling on a budget here.
I was itching to head north, and as I'm not much of a city person, I didn't spend too much time in Oslo, but there is plenty to do here should you want to stay and explore.
I jumped on my first train from Oslo to Trondheim. This takes about 6 hours and costs roughly 619 NOK (£50). This is an amazing journey, with plenty of time to sit back and relax, take in the mountain views as the train weaves its way through valleys and tunnels.
Once in Trondheim, I had enough time to grab some food and then I mentally prepared myself for the overnight train from Trondheim to Bodø which takes 10-11 hours and costs approximately 1269 NOK (£102) return (You can pay more for a cabin). This turned out to be the best train I've ever taken (despite it being an overnight one), and takes you through some truly remote wilderness and into the Arctic Circle. You probably won't get much sleep, and if the midnight sun doesn't keep you awake, the view out the window will certainly keep you going.


Day 2: Bodø - Moskenes, Lofoten
If you did get some sleep, then you will wake up on day 2 of this Norway road trip travelling alongside the mighty Skjerstad Fiord, which boasts some great views of the mountains of Svartisen and Rago National Park. The train ends in Bodø, and is opposite the ferry terminal where you can pick up foot passenger tickets for the ferry to Moskenes, Lofoten. The 3-hour ferry offers another great opportunity to sit back and take in the views of the mountains and abundance of sea life.
Once I arrived in Moskenes, I hitched (buses also available) a lift to the Lofoten Hostel Å, located in the cozy small fishing village of Å, right at the end of the Lofoten Islands. The hostel is amazing and sits on the waterfront with several room types, some being 100-year old fisherman cabins. I opted for this as my base for the next few days as it is one of the best places to visit in Norway, a perfect starting point for hikes, and only costs £20-30 per night for a shared room (although I ended up with one to myself).
Fun Fact: The old fishing towns in this area largely exist due to Stockfish exports from Lofoten, which is dried and matured Arctic cod. You will see (and smell) a mass of drying racks scattered around the islands.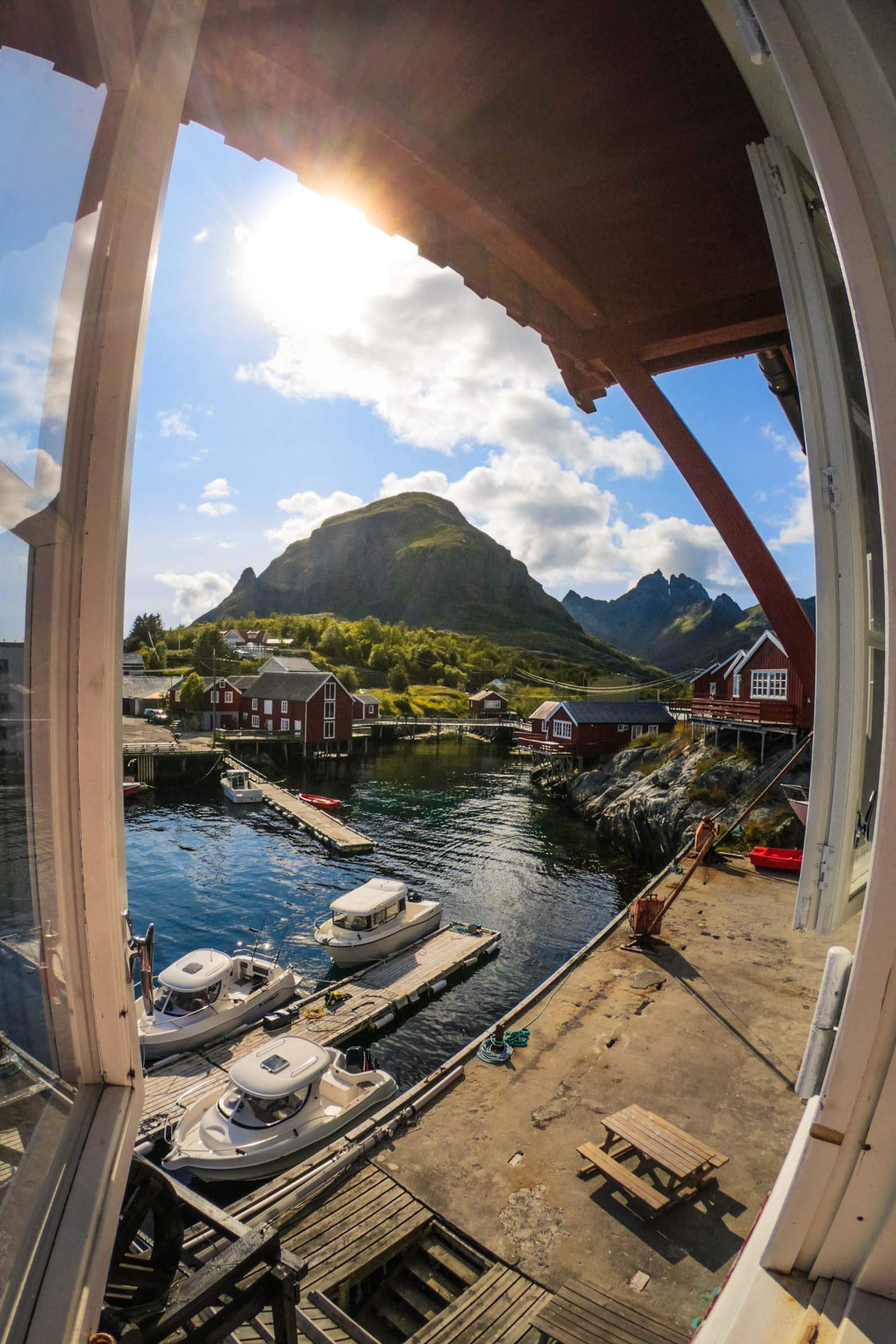 Days 3-5: Å, Reinebringen, Munken, Bunes and Kvalvika Beaches
Sunsets & cinnamon rolls...
Å
My morning routine in Å without fail involved a visit to the bakery (Gammelgården – the Old House) which was built in 1844 and bakes fresh bread and cinnamon rolls everyday. It's a stone's throw away from the hostel and I can tell you now, the cinnamon rolls will change your life and you will find yourself with some serious withdrawal symptoms upon leaving, so make the most of it.
I spent the next few days exploring and climbing many of the surrounding peaks, which are some of the best places to visit in Norway. You can catch a bus easily with contactless or hitchhike to many of the fishing villages along the islands. It's up to you how far you explore here. I wanted to save some exploring for my Long Crossing Hike of Lofoten on my Norway road trip, so didn't venture too far off Moskenesøya.
A few spots to add to your Norway bucket list for the surrounding area are:
Reine and Hamnøy
Munken
Reinebringen
Bunes Beach
Kvalvika Beach
Arctic Surfing or Kayaking
Reinebringen
One of the main reasons to visit the Arctic Circle in the summer is to experience the midnight sun, so make sure at least one (if not all) of your evenings is spent up high watching the phenomenon. It's a photographer's dream, with 6-8 hours of golden hour, so snap away. This is one of the best things to do in Norway, so make sure you don't miss it!
At a modest 448 meters high, Reinebringen has one of the most iconic views of Lofoten and the midnight sun from the summit. It's quite a steep path and I would aim to walk this around 9pm to avoid many of the crowds. Once at the top, if you are comfortable with exposed ridgelines, I highly recommend carrying on to the summit, almost everyone takes photos part way up and I had the summit entirely to myself all evening.
Top tip: Midnight sun in Norway
If you want to see the midnight sun in Lofoten, aim to visit between June 1 and July 10. Naturally, the closer you are to June 21, the better your chances of getting the sun in the sky for 24 hours.The longest days last around 40-50 days in Lofoten, alternatively visiting in winter months offers a high probability of seeing the northern lights.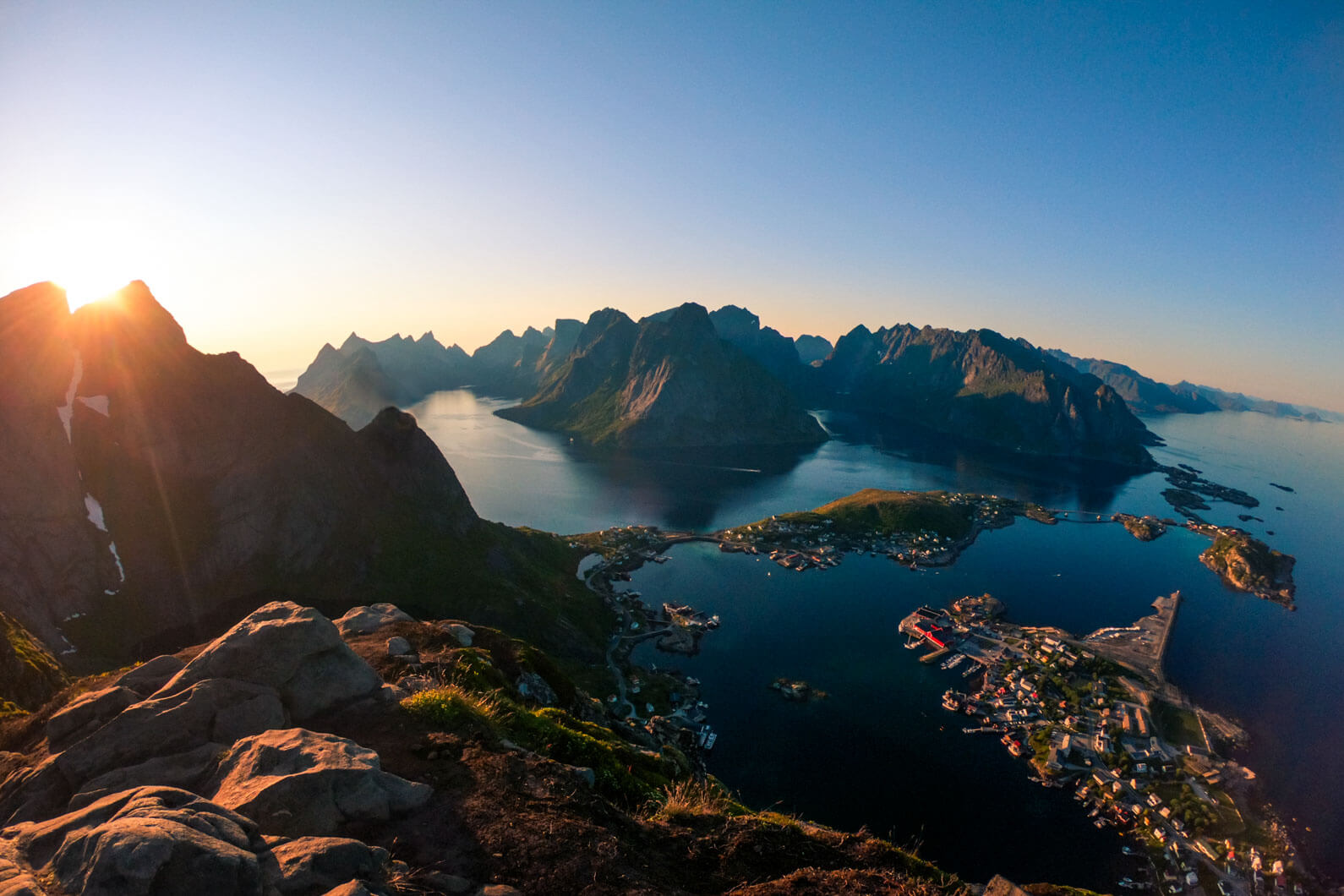 Munken
This was one of my favourite hikes on the islands and at 797m, it offers 360° views of surrounding peaks and the many lakes and fjords scattered around it. Check out 68north for good trail maps and guides for this area. The main trail to Munken is located in the village of Sørvågen on Moskenesøy, a walkable distance from Å. You can also book to stay in the bothy near the summit, or camp anywhere along the trail should you be feeling extra adventurous.
Bunes and Kvalvika Beaches
You can take day trips to either of these stunning beaches, both require either a short boat ride or bus from Reine, followed by an approximately 1 hour hike. The sand is beautifully white and the turquoise sea is very inviting on a sunny day. Just brace yourself for that Arctic water; let's just say I was in and out decidedly quick.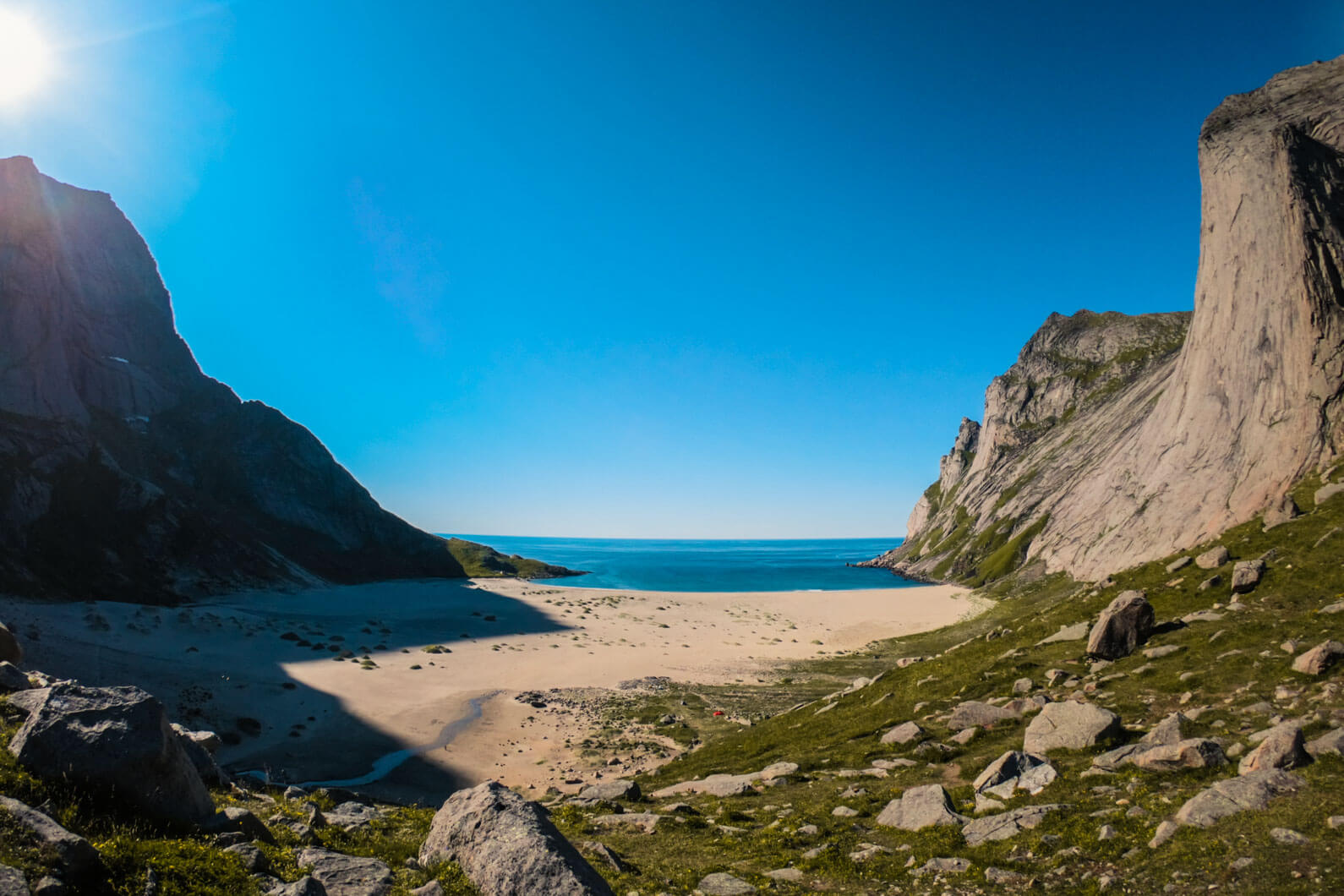 Day 6: Moskenes to Trondheim
I'm not crying, you're crying...
After one emotional visit to the bakery, and a last hike up a small 490m peak called Tindstind in the morning, it was back onto the ferry from Moskenes to Bodø in the afternoon. A bit of time to grab some food and explore Bodø before heading onto the overnight train back to Trondheim. This time I was treated to a particularly good sunset and even saw a moose*.
*Sunsets and moose not guaranteed.


An Englishman, an American and a German walked into a bar…
Upon arrival from Bodø, I decided to spend the rest of this day in my Norway road trip itinerary in Trondheim to recharge my batteries (literally) and booked into the hostel, which turned out to be a dorm where I met some great people from all over the world. One particularly nice old man had even walked all the way from Spain on pilgrimage.
Considering I'm not much of a city person, Trondheim is actually a beautiful place, with cobbled streets, a beautiful old town and a great Cathedral.
Things to see in Trondheim:
Visit the beautiful Nidaros Cathedral
Check out the Beautiful "Old Bridge" and take pictures
Wander around the Old Town
Visit the Kristiansten Fortress for amazing views (it's free)
The day ended with some food and drinks with some hostel friends, then to bed, ready to pick up the car first thing in the morning. It's time to switch from backpacking to a road trip in Norway!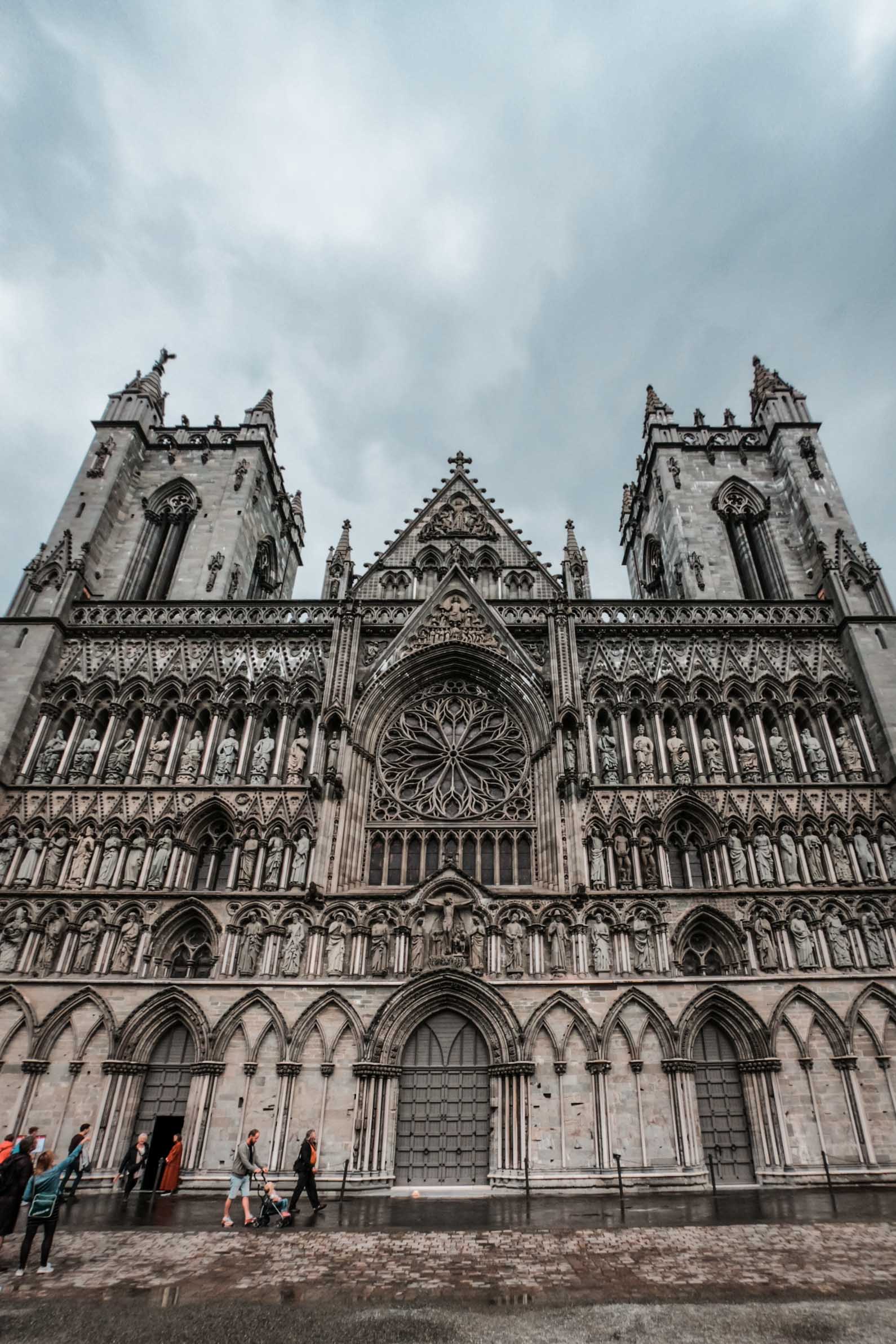 Day 8: Trondheim to Trollstigen via The Atlantic Road
After navigating out of Trondheim, I headed west on the E39 to The Atlantic Road, also known as "Atlanterhavsvegen" or "The Road in the Ocean". This is a part of a 36km National Tourist Route between the towns of Kristiansund and Molde and is considered one of the best road trips in the world by many. With seven bridges that allow the road to follow the islands and sea like a snake, here you can experience both nature and architecture in great interaction.
Some of the best places to visit in Norway are on this stretch of our Norway road trip. Be sure to stop along the way and check out:
Storseisundbrua: The longest bridge on the Atlantic Road and the symbol of the road.
Eldhusøya: Hiking path and nice, easy round trip with a Café (open during the summer season).
Kjeksa: Magnificent view point near the fishing village Bud.
Geitøya: Short walks to hilltops and down to the water.
Askevågen: View point.
One of the best ways to take photos of this area is with a drone. See more of my travel photography top tips here.
Top tip: Driving in Norway
In Norway, the roads are great, however a lot of ferry's, roads and tunnels are unavoidable and you will be automatically charged when you drive on them or you can pay using contactless. The Atlantic Road is a toll, so you will have to pay a small fee.
Trollstigen
Coming off The Atlantic Road, I continued on the Fv64 aiming for Trollstigen, one of the best roads on this Norway road trip. Trollstigen, or "The Trolls Road", snakes its way up the Romsdalen valley beneath Europe's tallest vertical mountain wall, The Troll Wall and the Trolltindene massif. This road is only open from June to November and is a must do, although if you don't have a good head for heights perhaps you should let someone else drive!
There is plenty to do in Trollstigen, with a nice visitor centre and viewpoint at the top and many hikes should you want a little leg stretcher. I chose to camp up here so came up the road late in the afternoon when most of the tourists had gone. After some food I hiked up to a lake called Bispevatnet, then went to the main viewpoint where me and a few other hardcore campers took in the view for the rest of the evening.
Check out more bucket list road trips in Europe in this blog post.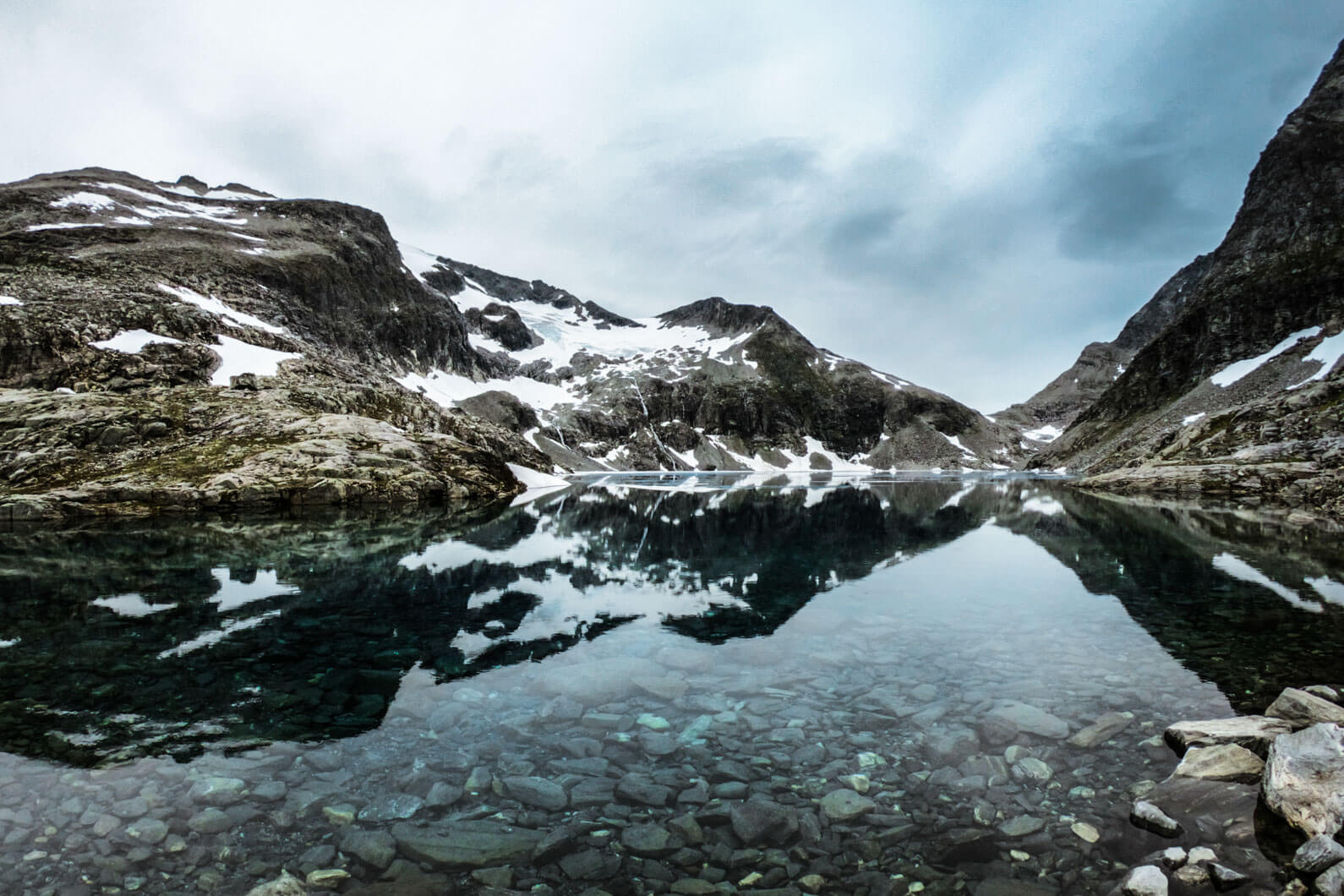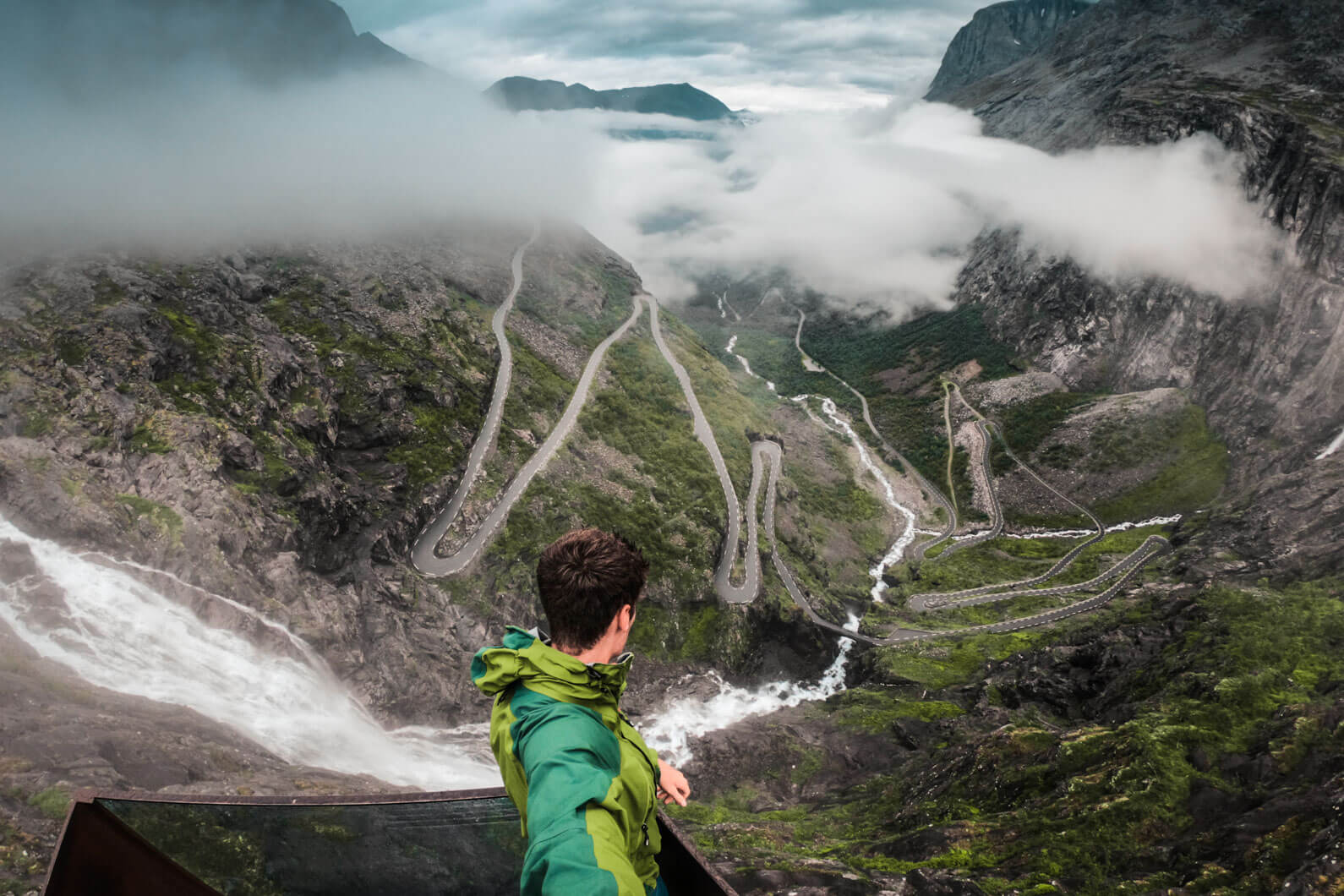 Day 9: Trollstigen to Geiranger
Destination Geirangerfjord
As it turns out, the fun driving is only just beginning and in the morning I continued along the Fv63, which takes you along some truly stunning mountain passes to a nice short ferry across Storfjorden.
Once off the ferry, it's over another mountain pass before descending down the winding road into Geirangerfjord. Be sure to stop at the Ørnesvingen viewpoint and take a walk along the mountainside to get some EPIC views of the fiord and numerous waterfalls cascading off the steep cliffs. This has got to be one of the prettiest drives on this Norway road trip.
The deep blue UNESCO-protected Geirangerfjord is surrounded by huge mountain peaks, waterfalls and lush, green vegetation. The famous falls De syv søstrene ("The Seven Sisters"), Friaren ("The Suitor") and Brudesløret ("The Bridal Veil") are the main waterfalls that tease the cliffs, producing a mist whose mission is to create a never‐ending display of changing rainbows to fill you with delight and wonder.
You can experience the fjords and the waterfalls a few different ways once in Geiranger. Either from one of the many available sightseeing boating trips, the abundance of hikes, or from a kayak. I highly recommend taking out a kayak here, which is one of the best things to do in Norway, and not too expensive if you go solo rather than a guided tour. Group tours and double kayaks were also available if it's something you've never done before. It's probably about a 3-hour round trip to the waterfalls.
Should you prefer to hike, the best viewpoint of the Seven Sisters is from Skageflå. You can hike here from Geiranger and it takes 2-4 hours depending on fitness, but the views are definitely worth it.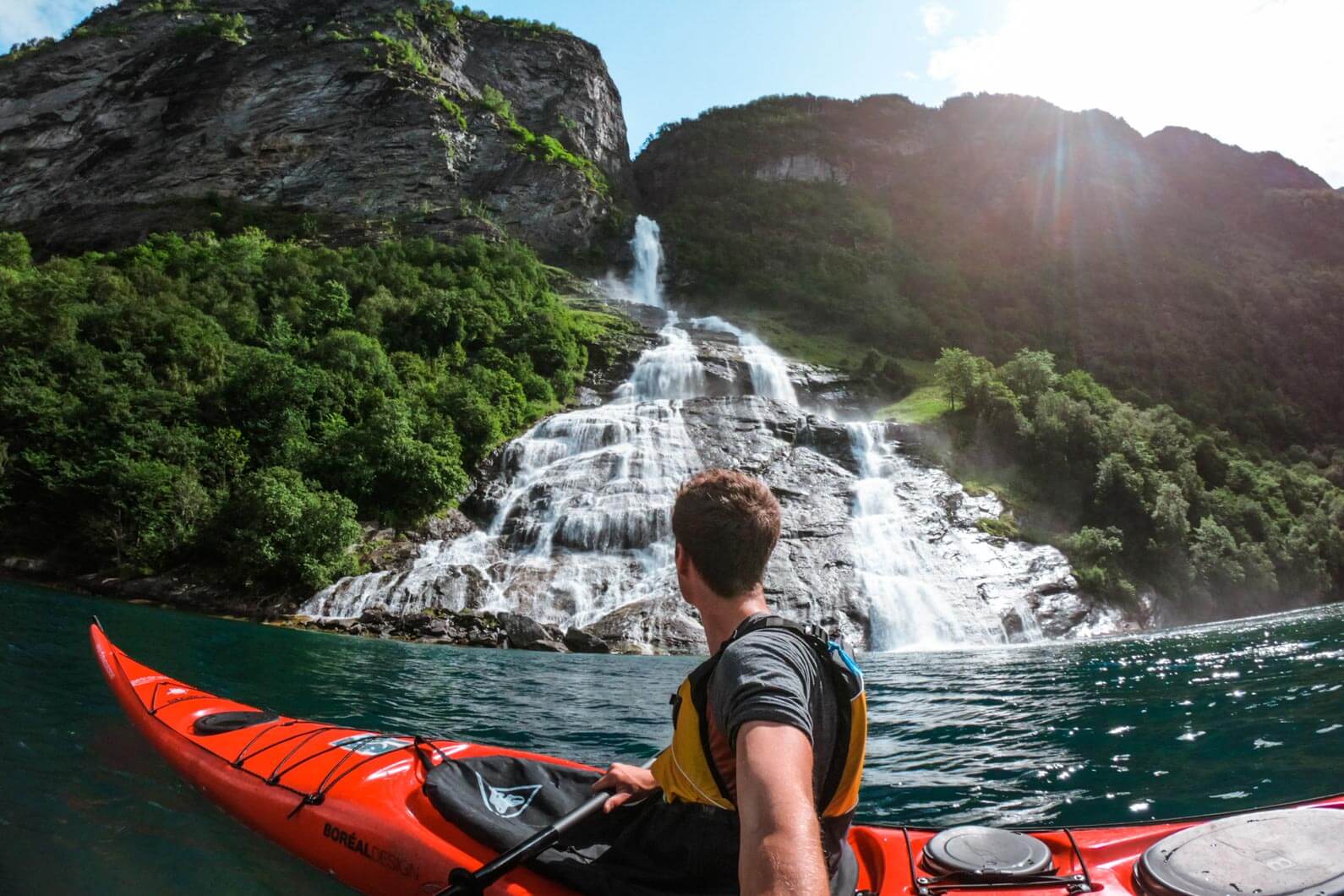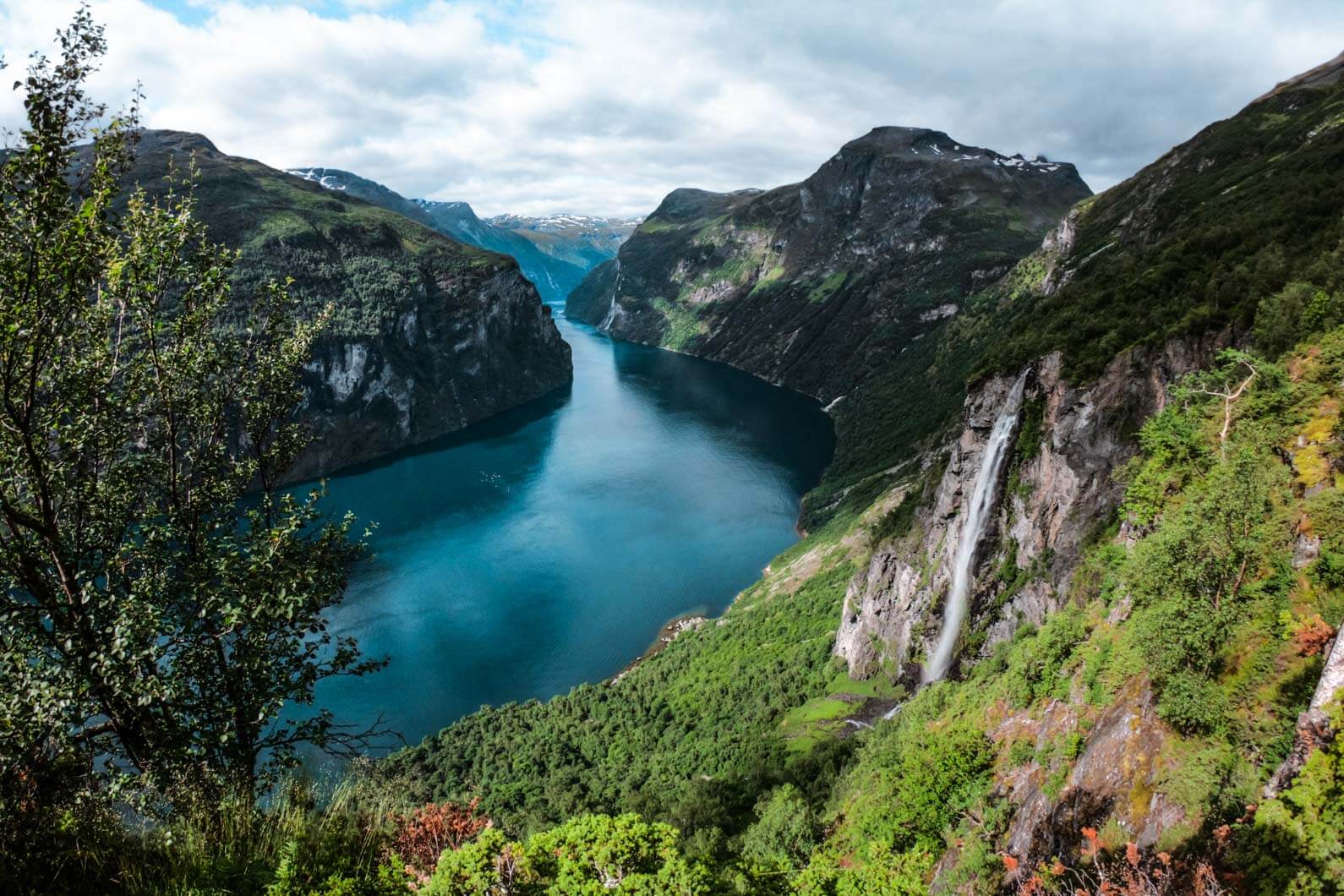 Day 10: Geiranger to Flåm via Jostedalsbreen National Park
Hitchhikers and hot coffee
The ultimate goal of day 10 on this Norway road trip itinerary is to end up in Flåm, taking the route that passes through Byrkjelo and navigates through Jostedalsbreen National Park. It takes roughly 5 hours and has at least one short ferry, not including all the stops along the way for the views.
It's up to you what you do along the way. I managed to get a few quick hikes in and picked up a hitchhiker who joined me for a few hours which made the drive even more enjoyable… always good to hear a fellow traveller's stories.
Jostedalsbreen National Park is one of the best places to visit in Norway and not to be missed. It covers 1315 square kilometres, nestled between two of the world's longest fjords, Sognefjorden and Nordfjord. The Jostedal Glacier in the National Park has a total area of 487 square kilometres and is the largest glacier on the European mainland. You can see glimpses of this throughout this whole drive.
Things to see along the way:
Take the Loen Skylift to get some amazing views of the area. See my via ferrata experience in Loen here.
The village of Olden.
Hike in the beautiful Bødalsbreen area.
Nigardsbreen – Glacier arm of the large Jostedalsbreen glacier.
Stegastein viewpoint
I rocked into Flåm in the evening and headed up a small mountain road to a small lake called Bjønnøyane where I spent the night watching a mass of water topple over the surrounding cliffside.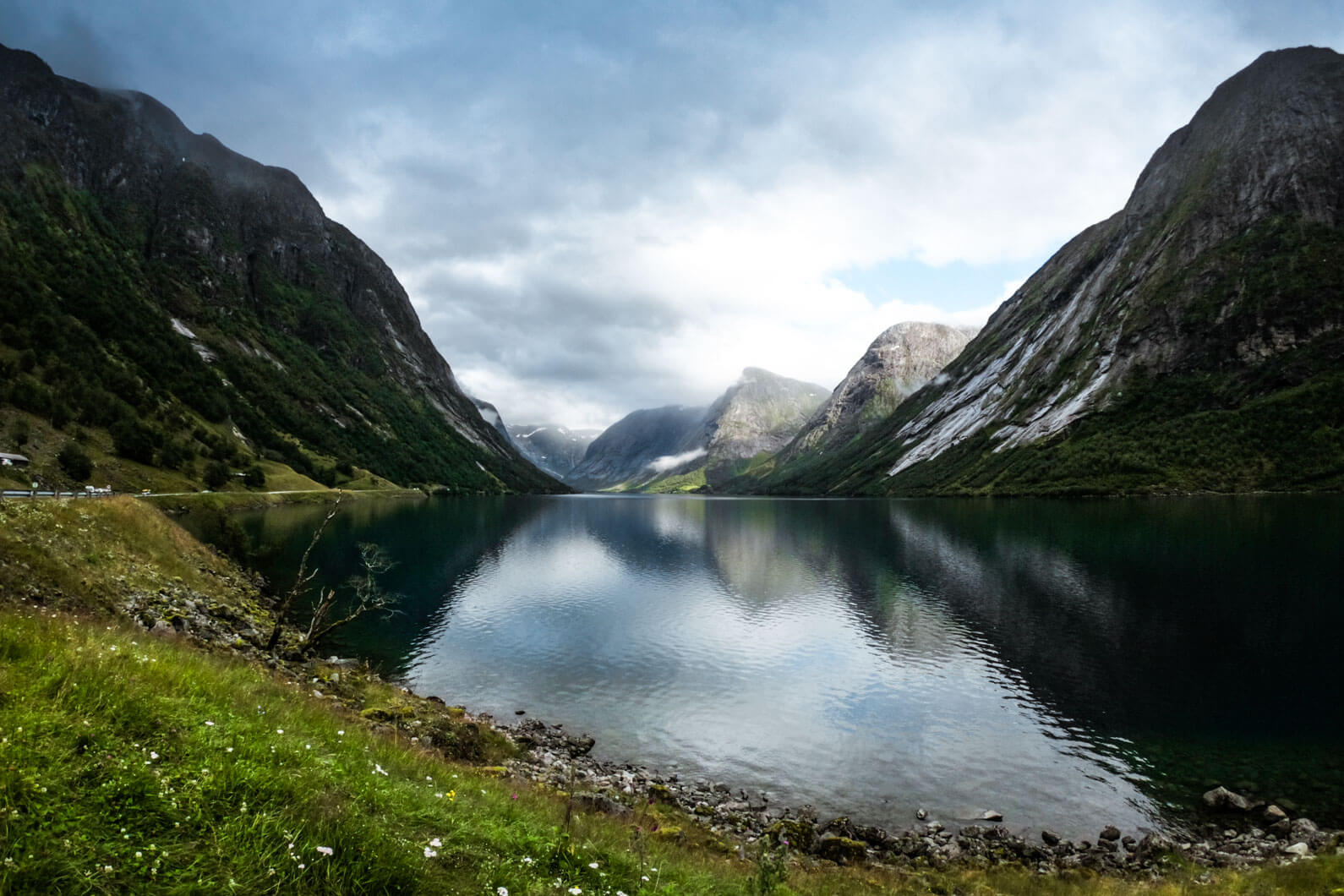 Day 11: Flåm, Gudvangen & Trolltunga)
Flåm
In Western Norway, at the innermost point of the Aurlandsfjord, you'll find the small village of Flåm. This little town is a popular spot with the cruise ships in peak season and one of the best places to visit in Norway, so it can get pretty busy, but for good reason… it's absolutely beautiful. I spent a good few hours here in the morning, but didn't opt in for the main tourist attractions as it was too busy.
Things to do in Flåm:
Take the famous Flåm railway (Flåmsbana) up to the Myrdal station at 867m and bike back down the valley back into Flåm.
See Kjosfossen Falls at the Myrdal station.
Get an adrenaline rush from the longest zipline in the Nordic countries, at 1381m!
If you have time on your road trip in Norway, it's probably worth spending an extra day in this area if you have one.
Gudvangen
After Flåm it's a quick drive through a tunnel before reemerging in Gudvangen, which lies at the bottom of the UNESCO World Heritage Naeroyfjord, the most beautiful and wildest arm of the Sognefjord. This place was truly breathtaking, and I just had to stop and take it all in. Look around and you will see the most insane set of waterfalls cascading down the mountainside. I had some food here, soaked up the sun and admired the view by the fjord before getting on the road again. If you have extra time in your Norway road trip itinerary, spend it here! It's easily one of the most beautiful places to visit in Norway.
Things to do in Gudvangen:
See the Viking village, Njardarheimr.
Take a relaxing fjord cruise onboard the award-winning, electric catamaran Legacy of The Fjords in Nærøyfjord. You can also take this from Flåm.
Take a Kayak onto Nærøyfjord.
Trolltunga
I was aiming to sleep at Trolltunga that night, so it was back in the car and a quick 2-hour drive from Gudvangen down to Tyssedal in the afternoon.
Trolltunga is one of the most scenic and spectacular cliffs in Norway, sitting some 700 metres above Ringedalsvatnet lake. It had been on my Norway bucket list for years, so I wanted to savour this one, avoiding the crowds if possible, so I decided to spend the night up there.
From the main trailhead at P2 in Skjeggedal, the round-trip hike is 27km with an ascent of almost 800 metres. The estimated hiking time is 4-6 hours each way, however you can boss this in 3 if you are a keen hiker. Trolltunga has become insanely popular due to social media and I couldn't believe the amount of people I passed coming back from here at 6pm. If you want to day trip this, expect a huge queue of people waiting to take photos when you get there – it's one of the most popular places to visit in Norway.
However, if you camp, expect only a few other campers and a much better vibe. We all took photos of one another on the "Troll Tongue", sat back to watch the sun setting over the distant glacier and then joined in with celebrations after watching a Trolltunga proposal!
Dreamy…
Tips for Trolltunga:
It's £64 for one night's parking in Skjeggedal, where the trail begins (a daylight robbery). I would recommend either hiking the additional 7km from Tyssedal, catching a bus, or hitching up the valley.
I don't think it's worth going here for one day, avoid the crowds and camp.
You will need to be properly equipped and in good shape.
Best trail conditions are between June 1st and September 30th.
Weather can change fast in the mountains, always be prepared.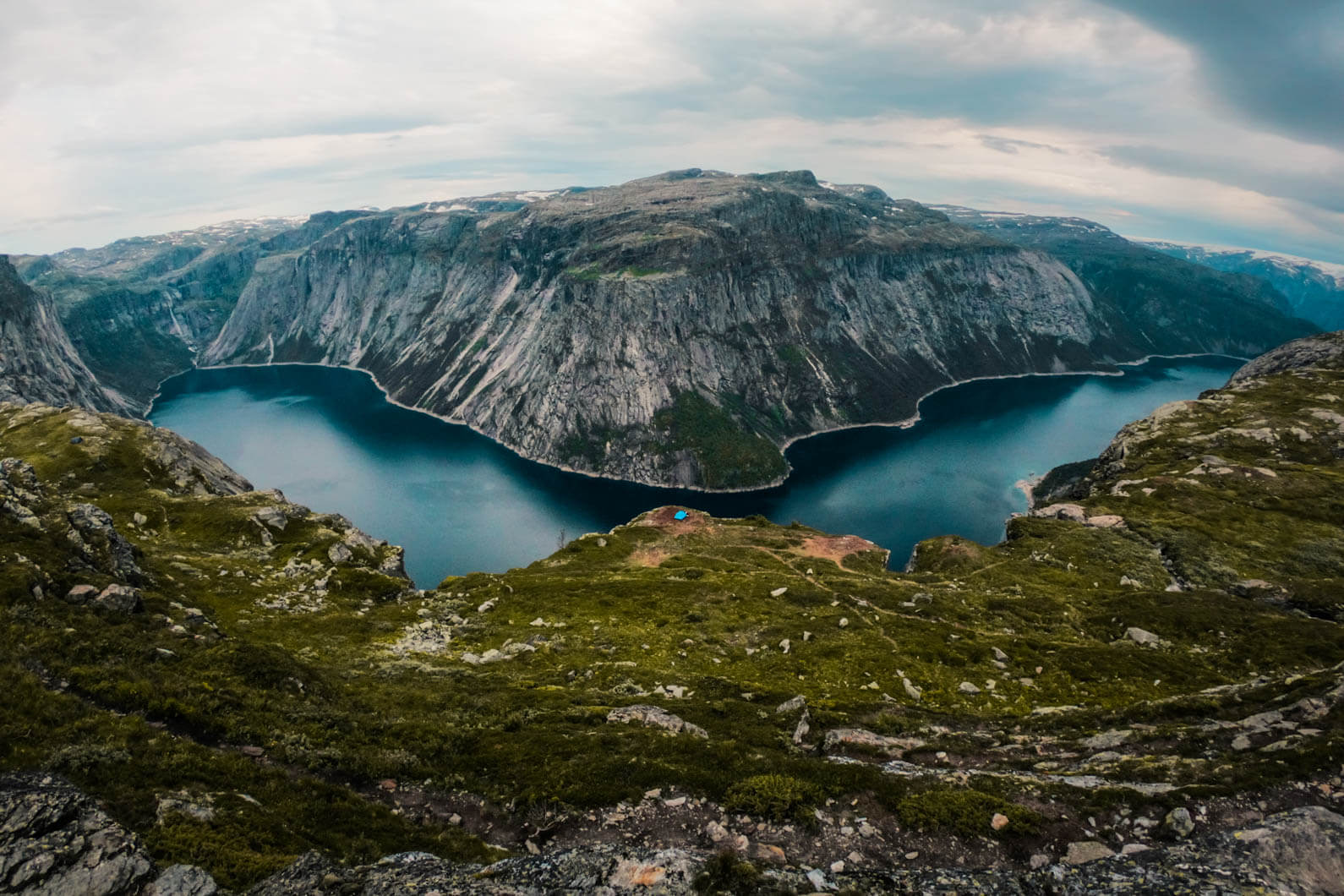 Day 12: Vidfossen, Låtefossen and Langfoss Waterfalls & Preikestolen
Norway's worst kept secret
I woke up with the sun rising over the distant peaks, and had a few chilled hours taking it all in, appreciating where I was. After a few hours of passing a steady stream of people heading up for the day, it was back down to Tyssedal to reunite with my car (and food).
From Tyssedal it's roughly a 4 hour drive to the next destination on this road trip in Norway, Preikestolen. Again, I was aiming to sleep above Preikestolen to avoid the crowds, so there was no rush and plenty of time to explore along the way.
Vidfossen, Låtefossen and Langfoss Waterfalls
The drive from Tyssedal is very scenic and you will travel through some beautiful canyons and over some inspiring mountain passes. Firstly, from the Rv13 you will see both Vidfossen and Låtefossen falls. Låtefossen is particularly spectacular as you get a perfect view right from the car as it passes under the bridge.
A slight detour along the E134 takes you to Åkrafjorden, where you will find Langfoss waterfall. It is impossible to miss this, and you will probably hear the almighty roar of water running down the steep mountain next to you before laying eyes on it. With a total drop of 612 metres, Langfoss is the fifth highest waterfall in Norway and has been voted the world's most beautiful waterfall multiple times. There is parking here and you can hike up to the top if you want. This is one of the best things to do in Norway!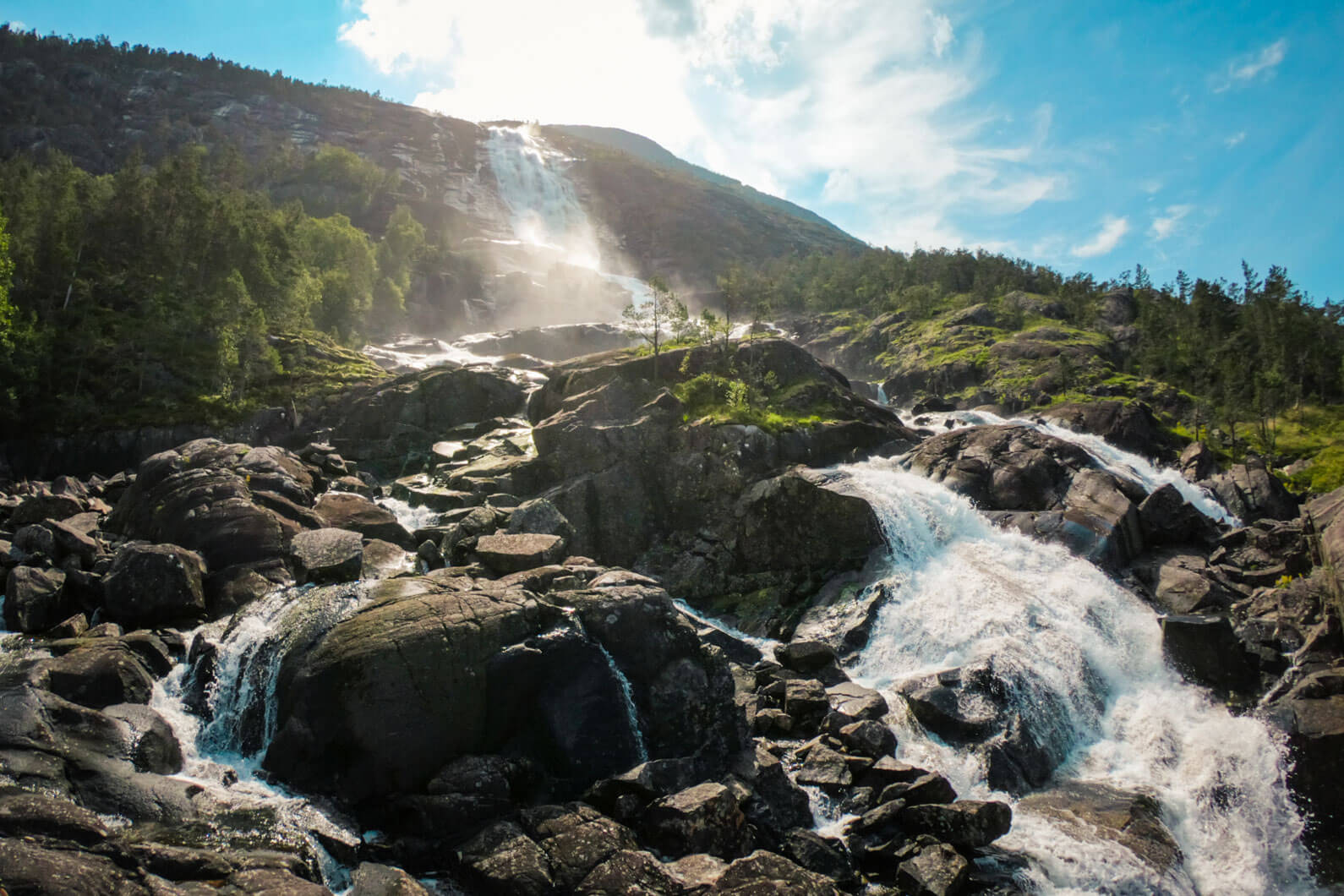 Preikestolen
After an awesome drive, I arrived at the Preikestolen Mountain Lodge car park late in the afternoon. Preikestolen, which was formed more than 10000 years ago, is the most iconic natural landmark in Norway. From the top of the 604m cliff, you will find the most dramatic views of the outstanding Lysefjord and surrounding area. As Preikestolen is fairly close to Stavanger, it is an extremely popular place to visit in Norway for tourists from cruise ships or day trippers from Stavanger. In my opinion, go in the evening to avoid some of the crowds!
It's a moderate 4km hike each way with a 500m ascent, but well worth the effort and was one of my favourite things to do in Norway. When I arrived at roughly 7pm, there were still a few people around, but they slowly disappeared to leave the few of us to enjoy a peaceful evening. After some photos, I slept at the summit of Neverdalsfjell, which has an amazing panorama of Stavanger and surrounding fjords.


Day 13: One decidedly sketchy rock (Kjerag)
After watching a pleasant sunrise from my bed, I hiked back down the 4km trail to the car park. Next up on my road trip in Norway, I was aiming for Kjerag, which was a 2-3 hour drive and a quick ferry away. Once again, this is the next camp spot to avoid any potential crowds, so there is no need to rush this drive. The hike starts from the parking (reasonable overnight fee) at Øygardstøl south of the Lysefjord by Lysevegen above Lysebotn. Located here is a service facility with toilets, cafe and tourist information.
Rising 1,084m above the Lysefjord, Kjerag is the tallest peak of them all and is home to Kjeragbolten, a round rock wedged in a mountain crevice. Kjerag has also become a popular attraction for mountain climbers and base jumpers, so if you are lucky, you will get to witness a few adrenaline junkies happily throwing themselves off the huge cliffs. The hike takes around 5-6 hours return trip and is around 10km long. The demanding trail will take you up and down hilly mountaintops, with roughly 570m elevation gain.
Once at Kjeragbolten, you can step out and try your hardest not to fall off the decidedly sketchy rock wedged above a 984m deep abyss. It definitely gets the heart going, just make sure you are sure footed before committing to this, it's a long way down!
Things you should know before hiking Kjerag:
The trail is not obvious the whole way, so make sure you check a trail map.
I wouldn't recommend this hike in poor weather as rock slabs will become slick.
A general good physical fitness and proper equipment is necessary.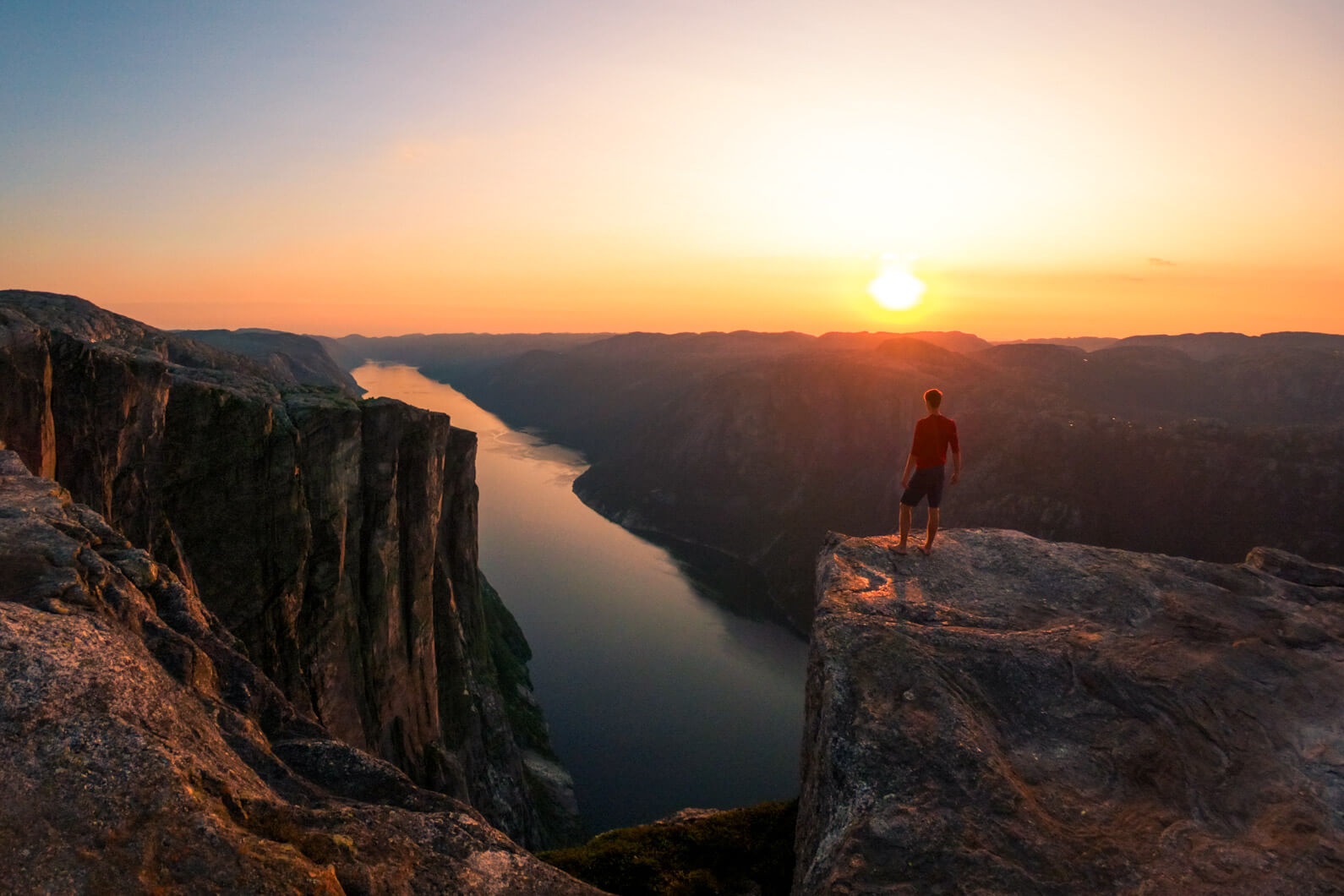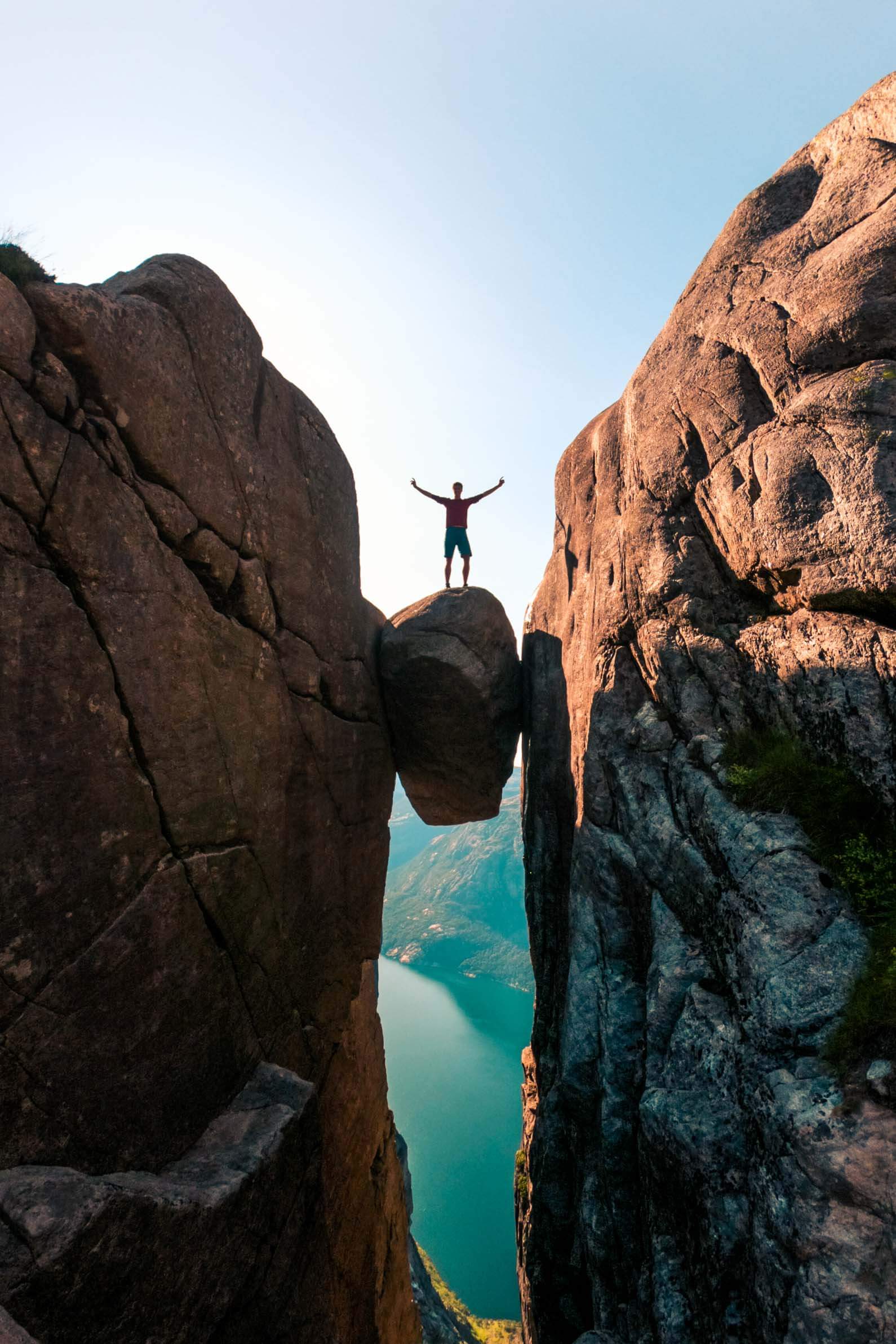 All good things come to an end
If you've made it this far, the final day of this road trip in Norway is upon us and it's time to head to Stavanger where we will end this epic journey.
Once you have made the return hike from Kjeragbolten, the cafe at Øygardstøl is a good place to grab some breakfast and get some epic views of Lysefjord.
It doesn't really matter which road you take to Stavanger, but I would recommend taking the Fv503 which will take you past Gloppedalsura. Here, thousands of years ago, there was a huge landslide from the high cliffs on the south side of the valley at Gloppedal. Blocks as large as houses fell off the steep cliff and made a huge pile of scree which filled the valley. The road weaves its way through this and has some great views of the lakes and mountains.
I returned the car in Stavanger (you can pay a little extra when hiring a car to drop it off somewhere else). Stavanger is worth a look and is a nice place to eat some decent food and relax after a few weeks roughing it on the road.
Things to do in Stavanger:
Visit Old Stavanger to walk the streets of the 18th century old town.
Take in the fresh air in the harbour by the historic wharf houses of Stavanger (Sjøhusrekken).
The colourful Øvre Holmegate is lined with lovely cafés and galleries.
Explore some of the amazing street art around the city.
Visit the Swords in Rock at Hafrsfjord.
Take a dip in the ocean at some of the beautiful beaches.
And that's it, a 2-week Norway road trip itinerary. Thanks for reading and I hope this post has inspired you to plan your very own Norway road trip!


Have you been on a Norway road trip?
Where are your favourite things to do in Norway? Anything you'd add?
Love as always and happy adventuring,


Did you find this post helpful? I'd love you to share it for me.
Pin and save this blog post for later…