Sustainable van life is a way of travelling that I cannot wait to throw myself more into this summer in @wheresmolliesvan. Now that my van is complete and I have been able to enjoy it in parts of Europe such as France and Portugal, I can't wait to see more of Europe in my van and try a few more European road trips as part of my eco-friendly van life adventures.
It's safe to say #vanlife has taken off in the past few years, snowballing even more so as a result of the pandemic restrictions worldwide. Many are still hesitant about travelling further afield and with international travelling making a very slow comeback, domestic travel and travel nearer to home are more popular than ever.
#vanlife give you the opportunity to choose your location spontaneously, every day. It gives you the freedom we are all craving after over 12 months of restrictions (here in England anyway) and whilst #vanlife is an increasingly desired lifestyle, it's important to note that it comes with responsibilities too.
Whilst I was road tripping through Portugal in summer 2020, I witnessed so many disrespectful vanlifers, leaving trash, waste deposits and making uninhibited amounts of noise in public areas. It's no surprise that Portugal has enforced a ban on wild camping / vanlife now.
In order to continue to enjoy the world we live in, through the eyes of these beautiful vans, let's talk about responsible and sustainable van life.
Is van life eco friendly?
Is living in a van eco friendly?
How sustainable is van life?
Is van life good for the environment?
Is van life sustainable?
I think that if you are mindful, eco-friendly van life is possible!
In this blog post, I want to share with you my tips for sustainable van life, tricks for eco-friendly van life, and everything you need to know about making responsible choices that are good for the environment.
Sustainable van life isn't about being perfect, but it's about making sure you make every effort possible to respect the land you are staying on and the community you are travelling in or through. We've only got one planet, and van life is the perfect way to see so many places around the world, but only if we do this in an eco-friendly manner.
Other blog posts you might like...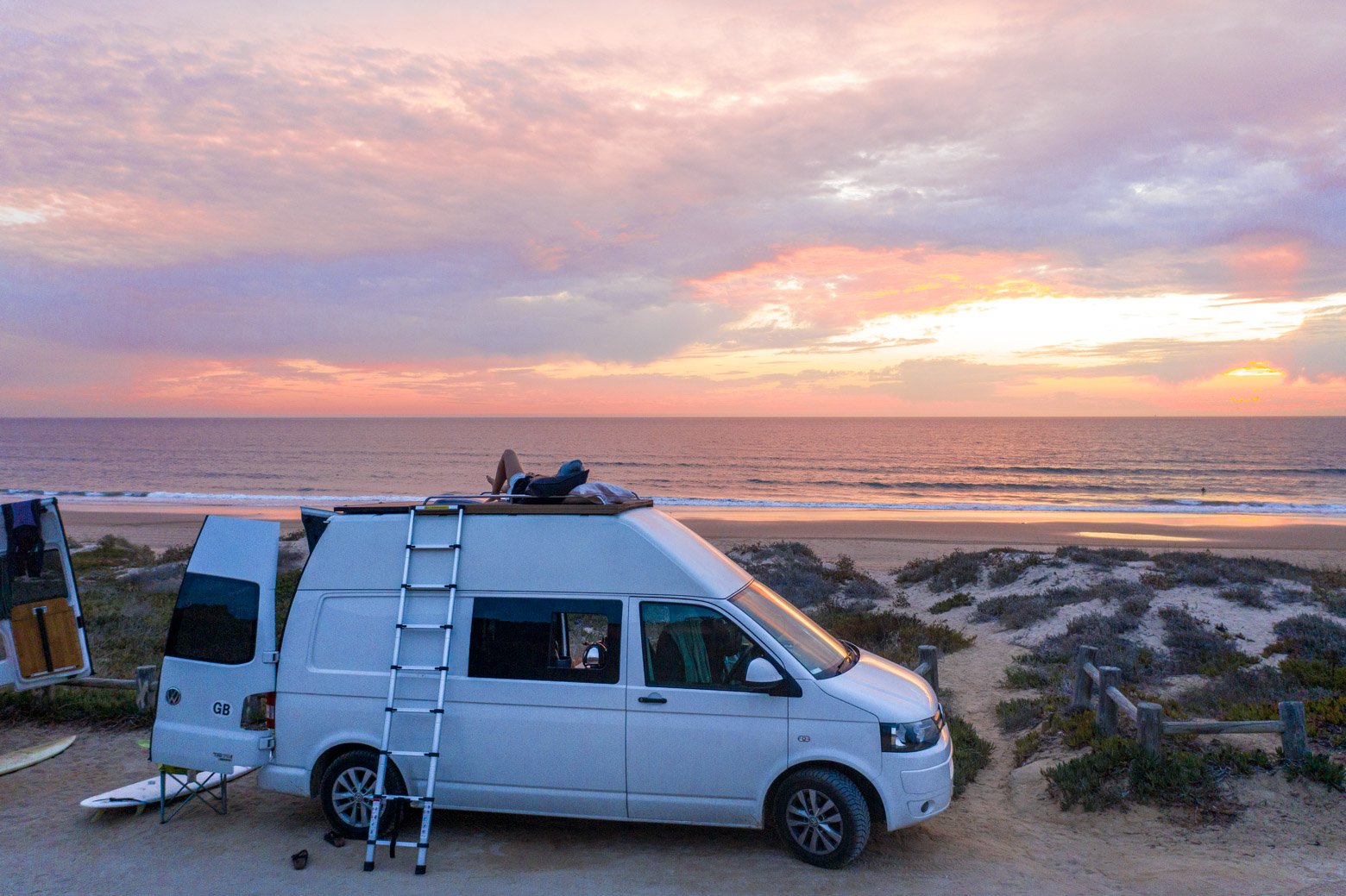 10 top tips for sustainable van life...
'Leave no trace' is one of the core values of van life and of utmost importance when we are talking about sustainable and eco-friendly van life. It's really important to respect the environment and make responsible choices every day, but especially when we are out with our vans.
Don't leave rubbish behind, don't dump your water into natural water sources, respect the wildlife… ideally, when you leave the campsite, it should be impossible to know you were there in the first place!
Oh and PLEASE, if we are wild weeing, please pick up your bog roll. The scenes I've seen on the road are just not good enough. Let's ensure we have nature to enjoy for years to come and respect the land we enjoy!
Take it another step further and get yourself a fold-up litter pick to tuck away in your van, that way you can help pick up after those less conscious than you too.
2. Be mindful of where you park your van.
Before you head out on your sustainable van life adventure, be sure to check parking is allowed.
Not everywhere allows for wild camping Albania and Switzerland allow wild camping and freestanding in certain parts.
In the UK, you need to check with the private landowner before you park up off of a campsite. Part of responsible van life is respecting the rules!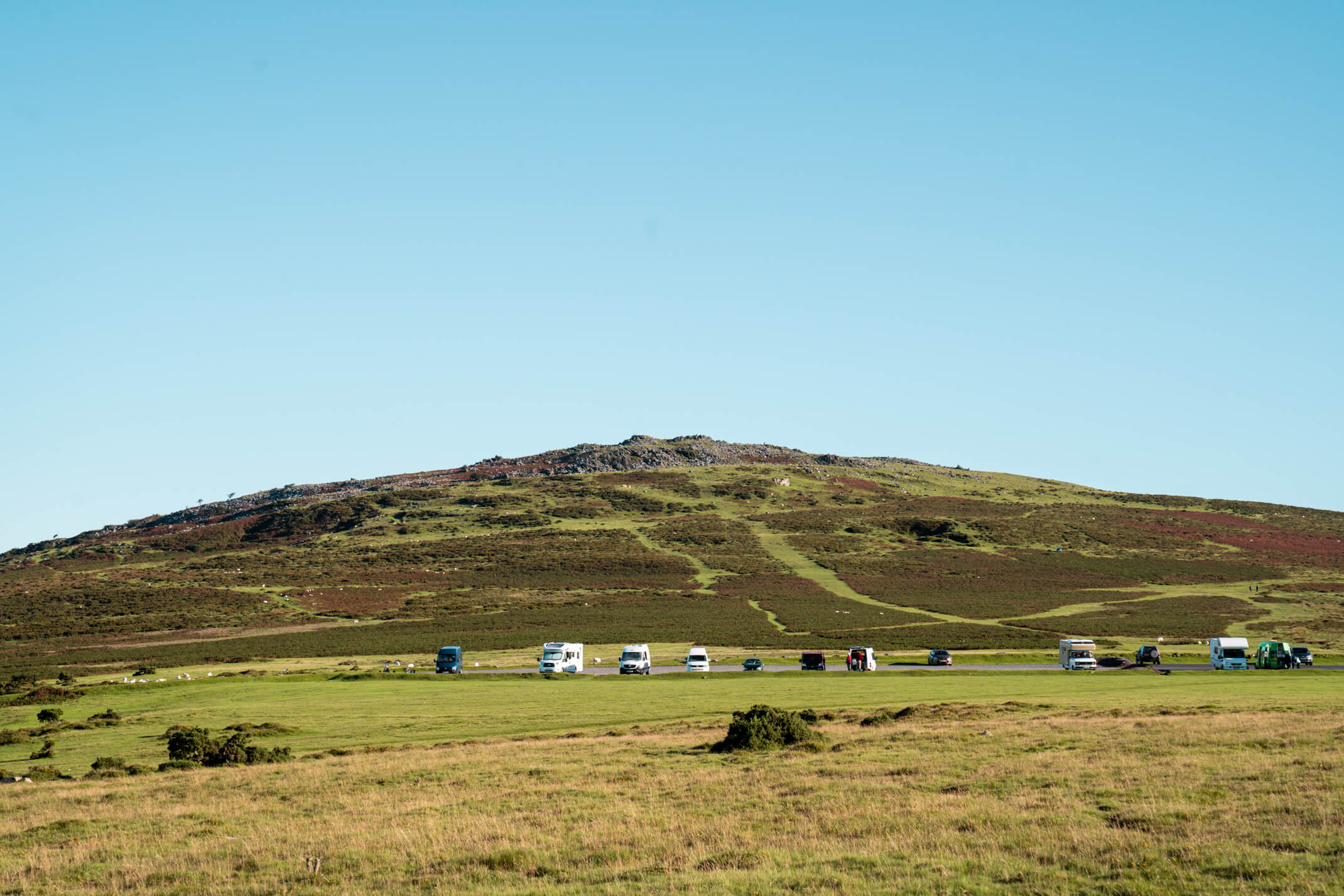 3. Drive less and travel slower.
If you're heading out on an eco-friendly van adventure, remember that the amount and way in which you drive directly affects your impact environmentally.
You don't need to rush from place to place to cram everything in like people often do when they are backpacking. Take your time! Keep to the speed limits (for legal reasons too) and drive slower where you can, enjoy the ride!
Driving more economically will not only help the environment but allow you time to take all of the landscapes in as you drive.
4. Embrace a low waste lifestyle.
Minimising waste should be a priority in any lifestyle, but it's particularly important for sustainable van life. It helps maximise space and reduces what we send to landfill.
Minimising single-use plastic and paper is a big step towards becoming low-waste or zero-waste. Try and avoid buying anything with unnecessary packaging. Many stores nowadays allow you to put things like legumes and grains in your own tupperware, so you can reduce the plastic on that.
Carry a handful of reusable bags with you
Get yourself some fruit and vegetable bags (instead of using the plastic ones instore)
Look out for places to fill up with water to avoid plastic bottles!
Also, try and reduce your food waste. So much food gets wasted because we buy too much! In van life, you don't have a lot of space to do big bulk shops (even if this does save packaging) but make sure you only buy an amount of fresh food that you can store and keep before it goes off. Only buy what you need; be a conscious consumer.
We can also become more low waste during van life with other things, such as water and energy consumption. Turn off the tap when you're brushing your teeth; wash up in a basin rather than with the tap running. Don't forget to turn things off in the van and unplug charging technology when it's finished to save energy.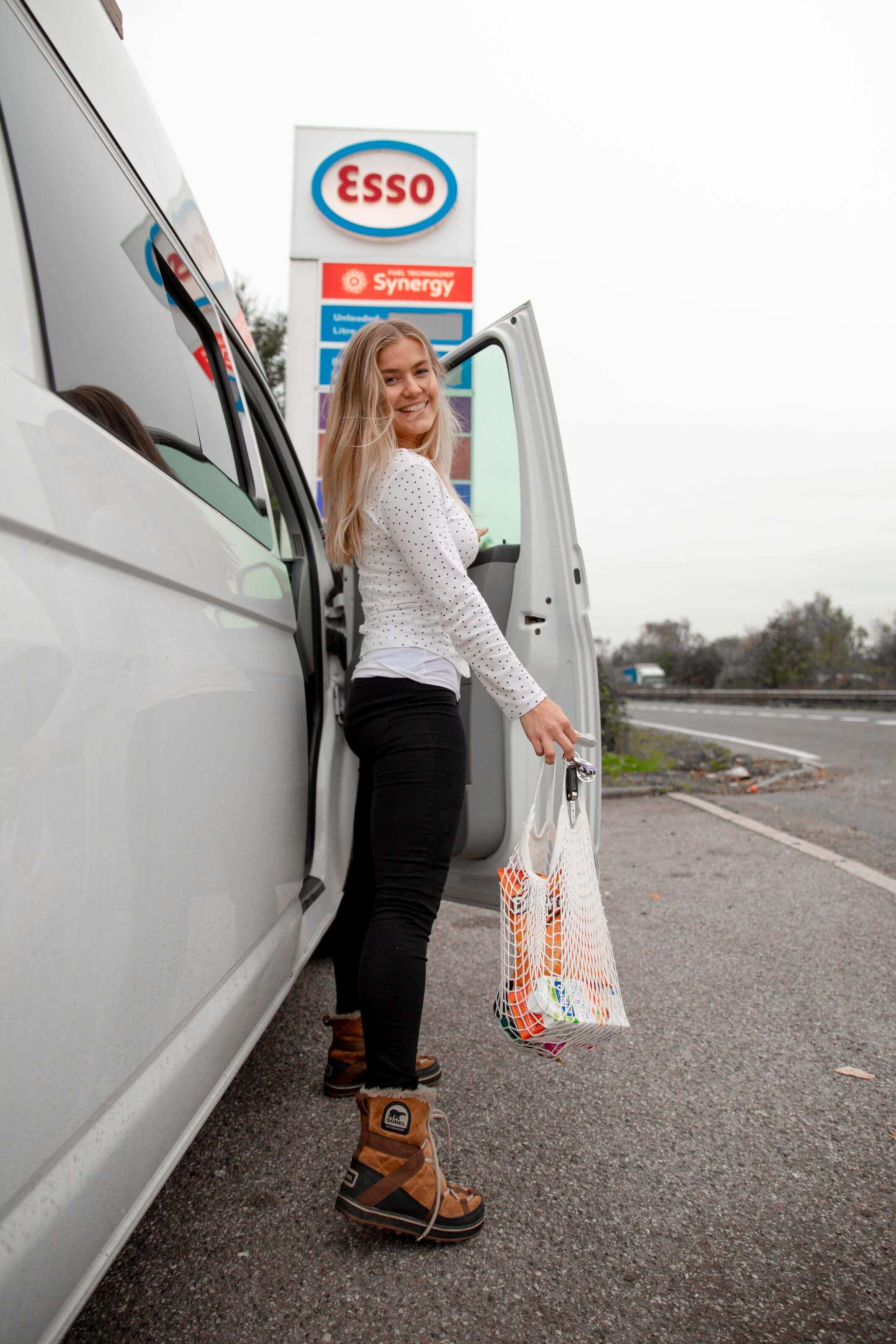 5. Recycle as much as possible & dispose of waste responsibly.
Recycling has become such an important part of our daily lives and it is just as important during eco-friendly van life too.
Even the most environmentally conscious of us will create a little waste when adopting a low waste lifestyle, so be sure to make sure everything is recycled and disposed of appropriately, including composting food waste.
Look out for recycling bins and options in your area when travelling!
Be particularly mindful when disposing of water and toilet waste from your van!
6. Make sustainable swaps & use natural toiletries.
There are so many single-use products that we can replace with a reusable version:
coffee cups
shopping bags
water bottles
cotton pads
bamboo cutlery for takeaway you have!
menstrual cups (ladies)
…there really is no excuse anymore! Make sure that you have your van kitted out with all the reusables you need for the ultimate eco-friendly van adventure. Check out more of my sustainable travel swaps here.
Something I've been doing more of recently is swapping out my usual toiletries for more eco-friendly alternatives. Say goodbye to the single-use plastic of a shower gel and get a nice bar of natural soap. You can even get environmentally friendly sun cream and mosquito spray. Just be careful about using any products if you're about to go into the water (e.g. swimming or bathing) – you shouldn't use any products for bathing in e.g. a lake or river.
A great brand for biodegradable, multi-purpose and vanlife friendly products is Dr. Bronners!
Check out my eco friendly gift guide here – maybe you could treat your new sustainable van life friend to something for their adventure!
You don't always have to buy everything brand new!
Second-hand can be just as good, saves products ending up in landfill and can save you a lot of money!
Places that offer second-hand products include Amazon, eBay, Facebook Marketplace, Depop, GumTree, and charity shops, just to name a few! This applies to things that you might need on the road (e.g. clothes and books), as well as things for the van.
Soak up the sun and put the energy to good use. If you're building a van or at the stages of deciding what type of van you'd like, I'd HIGHLY recommend solar powered!
Not only is it free, renewable energy, it means you can camp off the grid and top up those battery levels on the go.
Solar panels on your van might seem like a huge initial cost (it totally depends on how many you install, its not as bad as you think), but you will save money on charging up your van (campsites) and will help the environment too.
Harness the power of the sun and store it for later use!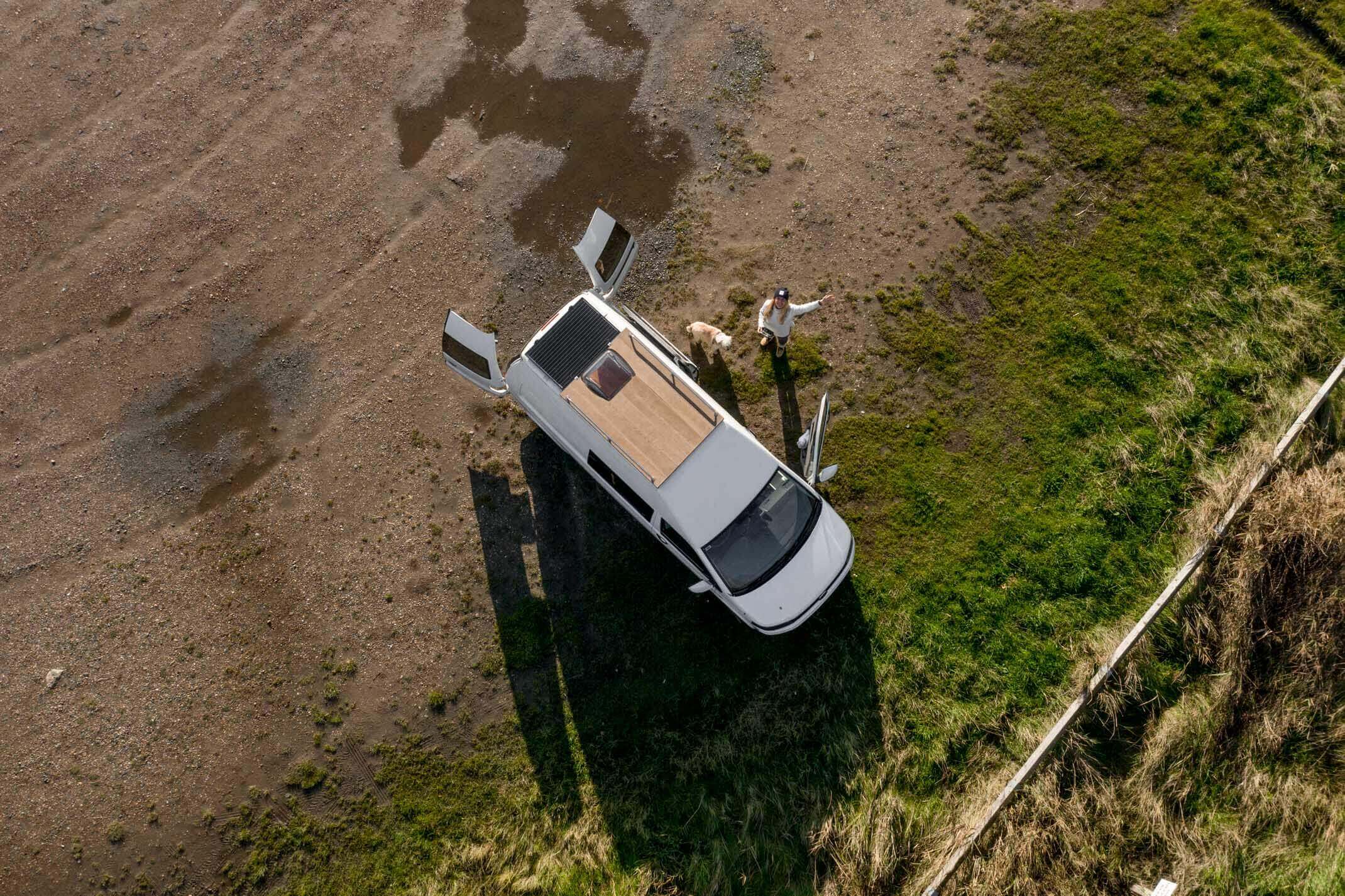 9. Maintain your vehicle.
Other than obviously being safer to drive and putting your mind at ease, maintaining your vehicle and getting it checked regularly makes for more eco friendly van life because you will reduce your van's emissions.
Tyre pressure, oil changes, fluid levels, air filter changes and a clean engine all contribute to sustainable van life.
Maintenance can be expensive, and boring when all you want to do is go out and adventure, but it's a really important part of van life for your safety and for the environment. Your van will last longer, and you'll feel better for it.
See the vehicle checks you should do before your next road trip in this blog post.
10. Get involved with the local community.
There's so much you can do to give back to the local community on your sustainable van life adventure.
From shopping local at smaller, independent shops rather than big chains, to grabbing coffee (with your reusable cup!) from an independent cafe rather than a big brand to volunteering and learning about the local history and culture.
Check out van life communities on Facebook and Instagram for more van life tips and tricks. They've helped me so much along the way on my vanlife journey!
Oh and come say hello on @wheresmolliesvan. See you on the road!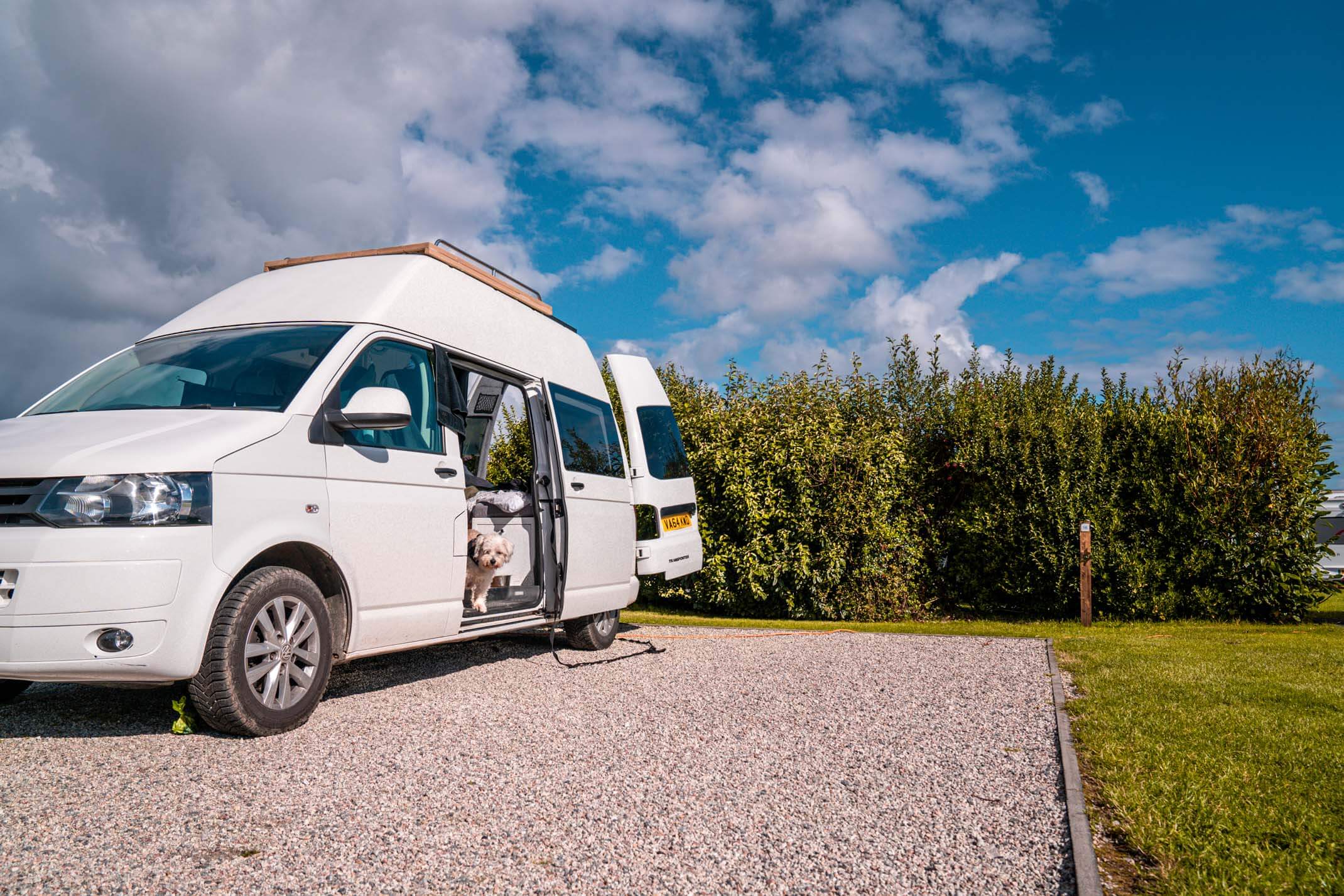 What are your top tips for sustainable van life?
How do you sustain eco friendly van life? Anything you'd add?
Love as always and happy adventuring,


Did you find this post helpful? I'd love you to share it for me.
Pin and save this blog post for later…