If you're planning a trip to Scotland and are wondering what your Scotland road trip could look like or what you should do with your time there, you've arrived at the right blog post. In this blog post, I am going to share a 2-week Scotland road trip itinerary with you, jam-packed with all the best adventure on offer in this beautiful country.
I will be taking adventures from my best places to visit in Scotland blog post and plotting them on a route that will take you on an epic Scotland road trip. It will encompass all of the adventures I've been on in Scotland and more: visiting the Isle of Skye, spending time in Loch Lomond National Park and Cairngorms National Park, spending a day in both Edinburgh and Glasgow, and obviously I couldn't forget the famous NC500 road trip.
Of course, this Scotland road trip itinerary is going to assume you have a car with you. I'm not sure it would be of any use for me to write an itinerary for you whilst staying at your hotel lol. However, if you have booked to stay in one place during your time in Scotland, you may want to use this post to inspire a day trip in Scotland or to add an extension to your existing booking.
If like me, you are planning to drive from England to begin your road trip, you can check out my top tips for your Scotland road trip and my Scotland road trip planning guide.
After all, road trips are the best!
Other blog posts you might find useful…


A 2-week road trip itinerary for Scotland...
I'm going to begin this Scotland in Glasgow, and end this road trip itinerary in the capital of Scotland, Edinburgh. However, if you're flying into Scotland then you're likely to be flying into Edinburgh, which is only 1 hour from Glasgow, so you can turn this into a loop road trip easily.
This is a 2-week road trip itinerary for Scotland, but there's no reason why you can't adapt it to be a 1-week itinerary, or take your time and spend 3 or 4 weeks completing this route! I did this route in 4 weeks so if you're looking to spend a bit more time and make some more stops, or if you're looking for the best wild camping spots in Scotland, be sure to check out my Scotland Google Map Legend.


Day 1: Arrive in Glasgow, get supplies and explore
It's Day 1 of this Scotland road trip itinerary and I hope you're raring to go! We're starting this Scotland road trip in Glasgow, the largest city in Scotland. Once you've got all the supplies ready for your road trip (check out my UK road trip checklist and my top tips for road trips in Scotland to make sure you don't miss anything!), explore the city for a while. If you're looking for things to do in Glasgow before you head out for dinner, I'd recommend visiting Glasgow Cathedral and Necropolis, Glasgow Women's Library, Glasgow Botanic Gardens or taking a walking tour around Glasgow.


Day 2: Loch Lomond & The Trossachs National Park (Conic Hill & Falls of Falloch)
Honestly, I wish we had more time to spend in Loch Lomond and the Trossachs National Park, because it's absolutely beautiful. If you're extending this Scotland road trip itinerary, this is a good place to spend some extra time! I've chosen two of my favourite parts for this Scotland road trip.
In the morning, walk up Conic Hill and take in the views across Loch Lomond. Afterwards, go to Milarrochy Bay for a cold swim and to freshen up – you'll need it if it's a sunny day! If you'd rather go for coffee to relax, opposite the car park for Conic Hill there's a great coffee shop and restaurant to fuel up.
When you're ready to set off again, it's time to drive to the Falls of Falloch. As you drive up towards Falls of Falloch, you drive on a road that hugs Loch Lomond. There are so many beautiful spots to pull up and enjoy lunch, or even cook if you're in a van! (I've pinned some spots for you in my Scotland Google Map Legend). As you drive this road you also pass the place where, if you want to, you can jump on a river cruise and enjoy the views from the water.
It won't be long until you'll see the signposts for the Falls of Falloch, some of the most beautiful waterfalls in Scotland. Note: While the Falls of Falloch car park is free and only a short walk from the falls, it is small. Don't forget to take your swimwear with you down to the falls as it's a really cool place to swim!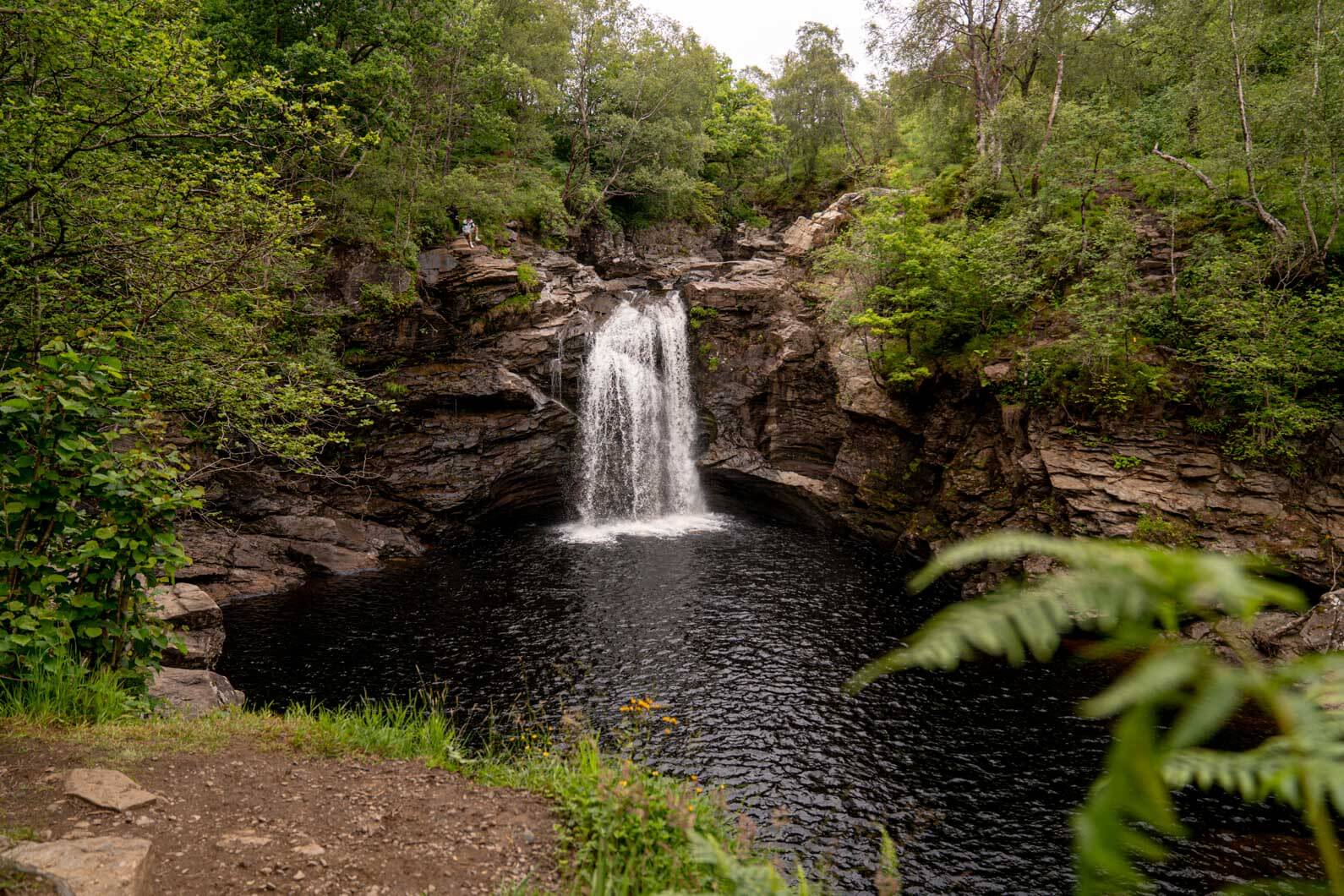 The Glen Etive road is one of the most beautiful drives in Scotland, and personally one of my top 3 drives. There's one main road that weaves through the mountains and you can break off at Kingshouse and drive down Glen Etive road down to Glen Etive Loch for some of the most exquisite scenery Scotland has to offer. And listen, even James Bond agrees with me (this area was used as a film set for Skyfall). It's only a 12-mile drive, but there are lots of places to stop and go walking in the Scottish Highlands, places to stop for lunch, and lots of epic wild camping spots if you have an off the grid set up!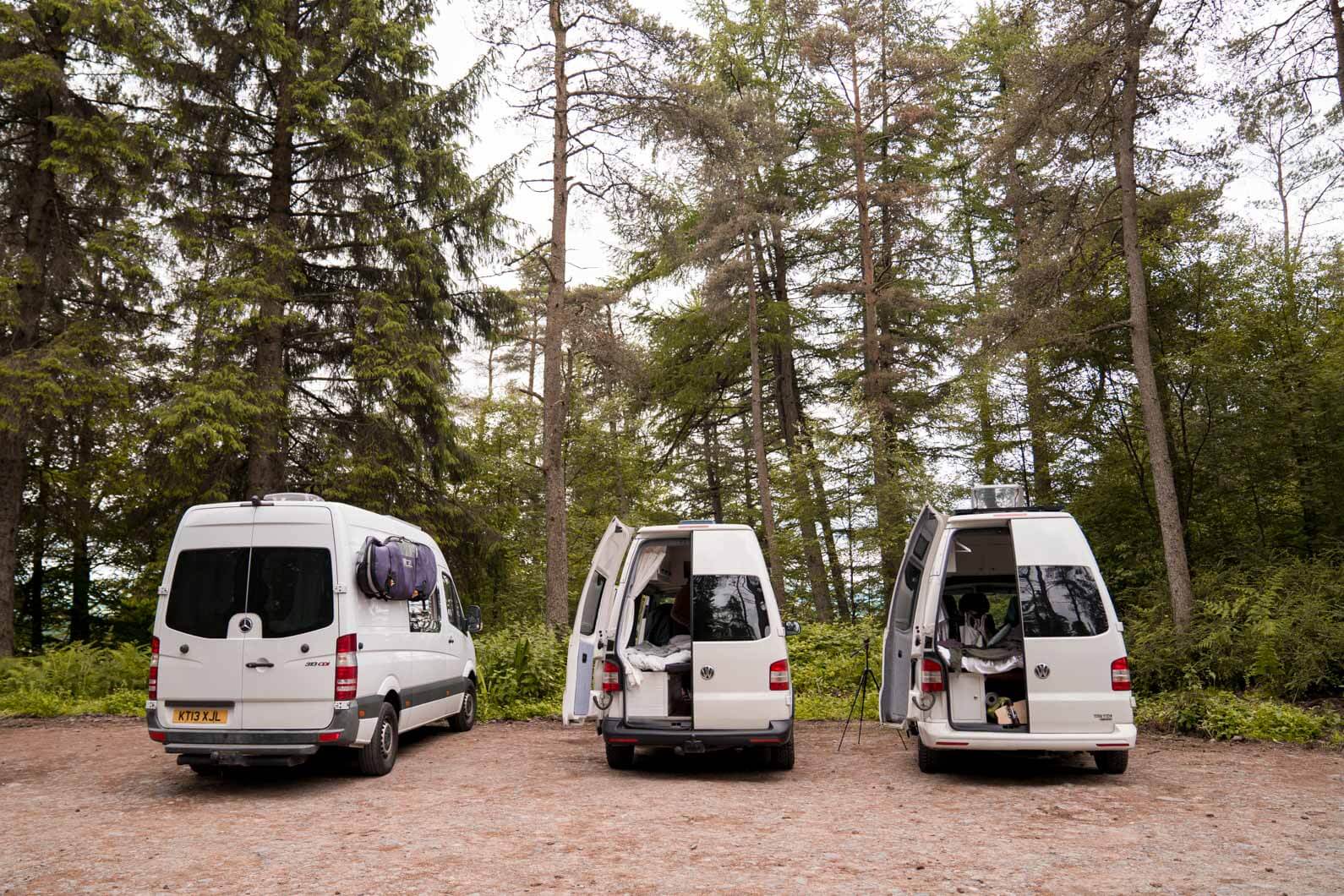 Day 4: Fort William, Ben Nevis & Steall Waterfall
Drive up to Fort William (another place with your big super markets, shops, places to fill your car and stock up). This is where the epic train ride starts from across Glenfinnan Viaduct… don't worry, we're heading to the viewpoint tomorrow!
In Fort William you can go to the Ben Nevis visitor centre. Ben Nevis is Scotland's highest mountain, and one of the 3 National Peaks (the others being Scafell Pike and Snowdon). There are lots of trails here, so whether you want a gentle walk or you want to tick summiting Ben Nevis off your Scotland bucket list during this road trip, now's the time! If you want to do this and squeeze in all the other adventures on this itinerary, I'd recommend adding a day here! If you're looking for places to stay near Ben Nevis, Glen Nevis campsite is a great one but gets booked up quickly.
If you don't fancy Ben Nevis, then also in this area are the Steal Waterfalls, which are absolutely epic, and I'd definitely try and visit here if you have time.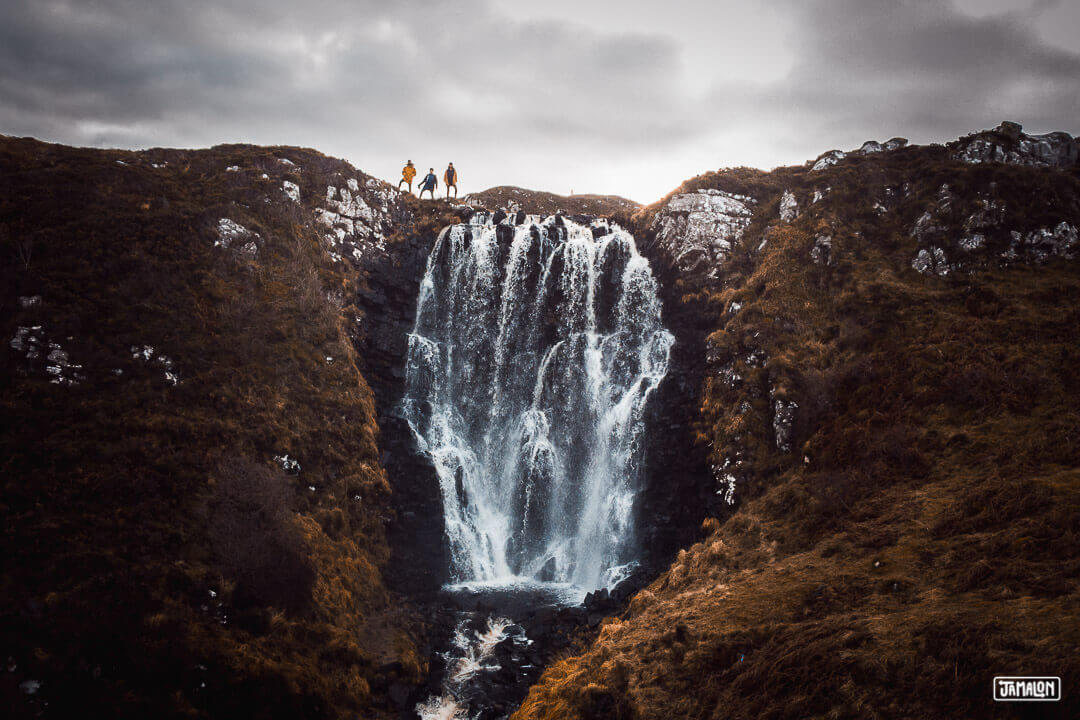 Day 5: Glenfinnan Viaduct & Traigh Beach, Arisaig
It's Day 5 on our Scotland road trip itinerary and it's time to drive to Glenfinnan Viaduct car park, to then take a 20-minute walk to the Glenfinnan Viaduct view point to see one of the most iconic views in Scotland. After you've taken your photos, drive to Arisaig to soak up the sun on Traigh Beach. With the stunning views over Rum and Eigg and the turquoise blue water, it was very easy to forget that I was in Scotland here. Get your swimsuit on, kick back, and relax!
If you prefer freshwater, Loch Morar is also in the area and another great place to go swimming in Scotland!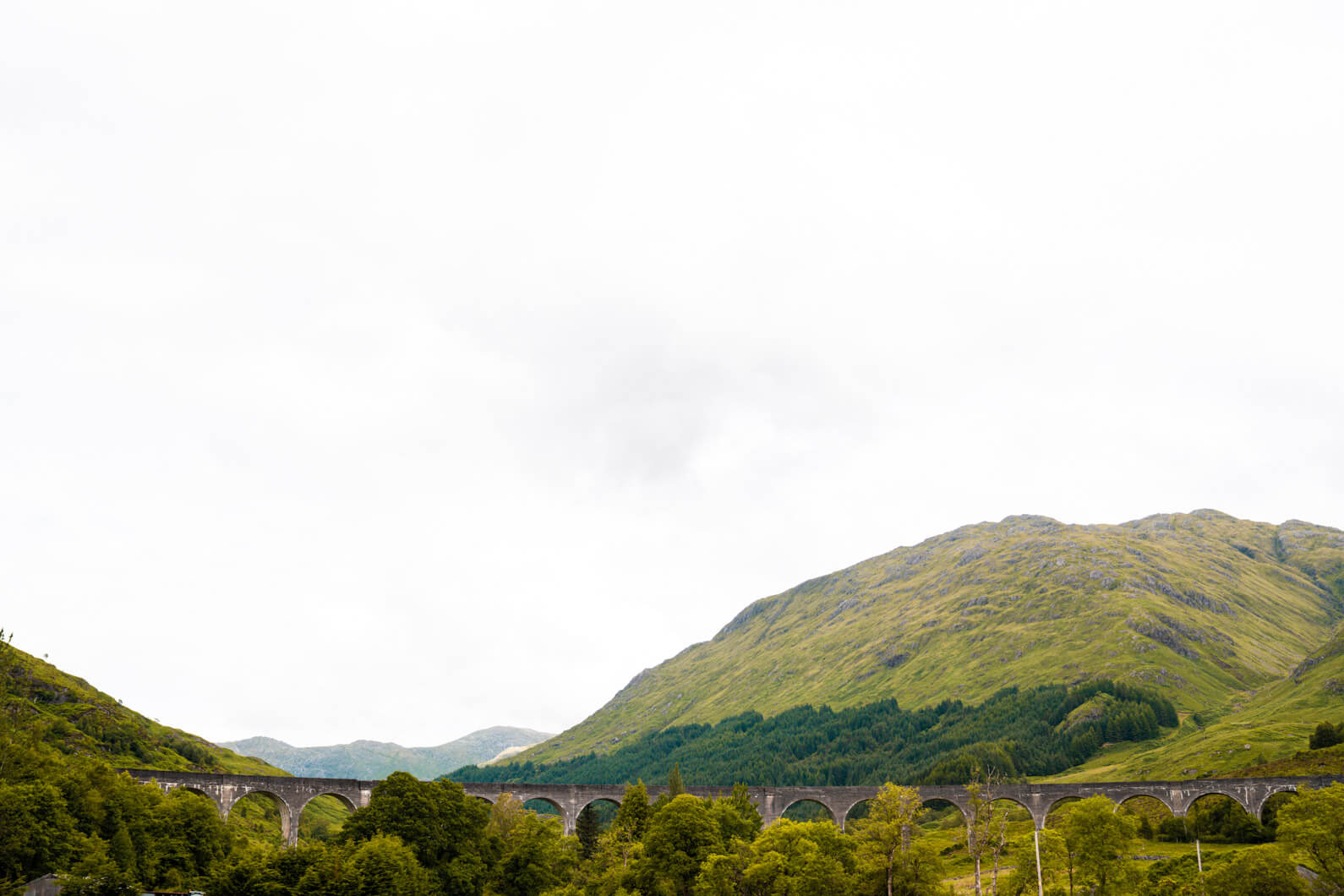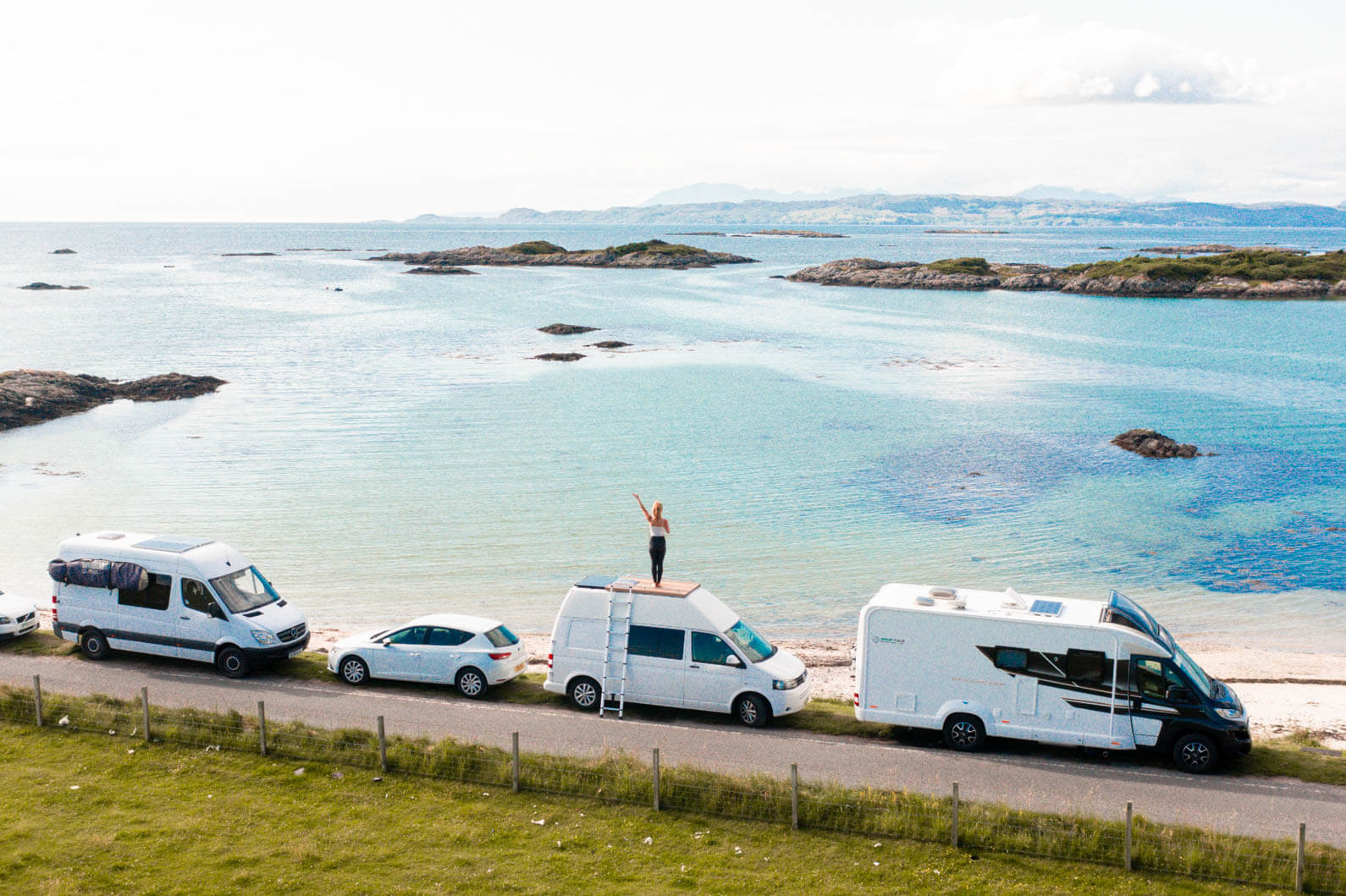 Days 6 and 7 of this 2-week itinrary for Scotland are going to be spent off the mainland, on the Isle of Skye. If you're extending this Scotland road trip itinerary, this is a good place to spend some extra time!
Catch the ferry to Skye from Mallaigon the mainland. Once you're there, you have two full days to explore! Make sure you do the Old Man of Storr hike one morning – the views were absolutely awesome. I'd also recommend swimming in the fairy pools, enjoying lunch in Portree, and heading to Neist Point Lighthouse at sunset.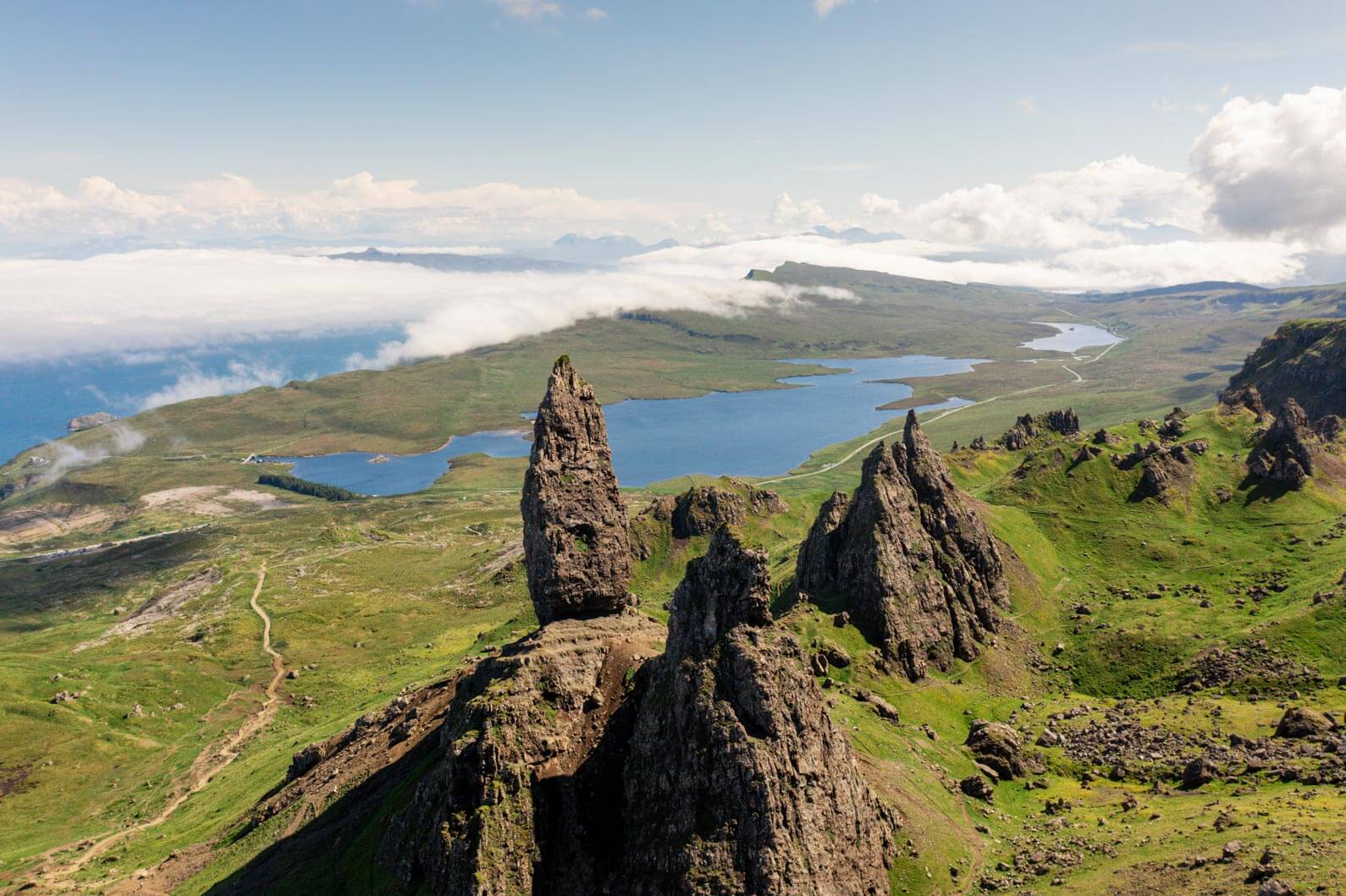 Day 8: Drive to Applecross, mainland Scotland
Coming back from the Isle of Skye, drive across the land route for more epic scenery in Scotland. Once you've touched down on the mainland, drive up to Bealach na Ba viewpoint, which was one of my favourites in all of Scotland. Be careful on this drive – it's a twisty, single-track road. This is the part of this Scotland road trip itinerary where we have our NC500 road trip!
You'll be hungry once you get to Applecross, so head for lunch at the Walled Garden. In the afternoon, take a walk along one of the many trails in the area or go for a swim at Applecross Bay.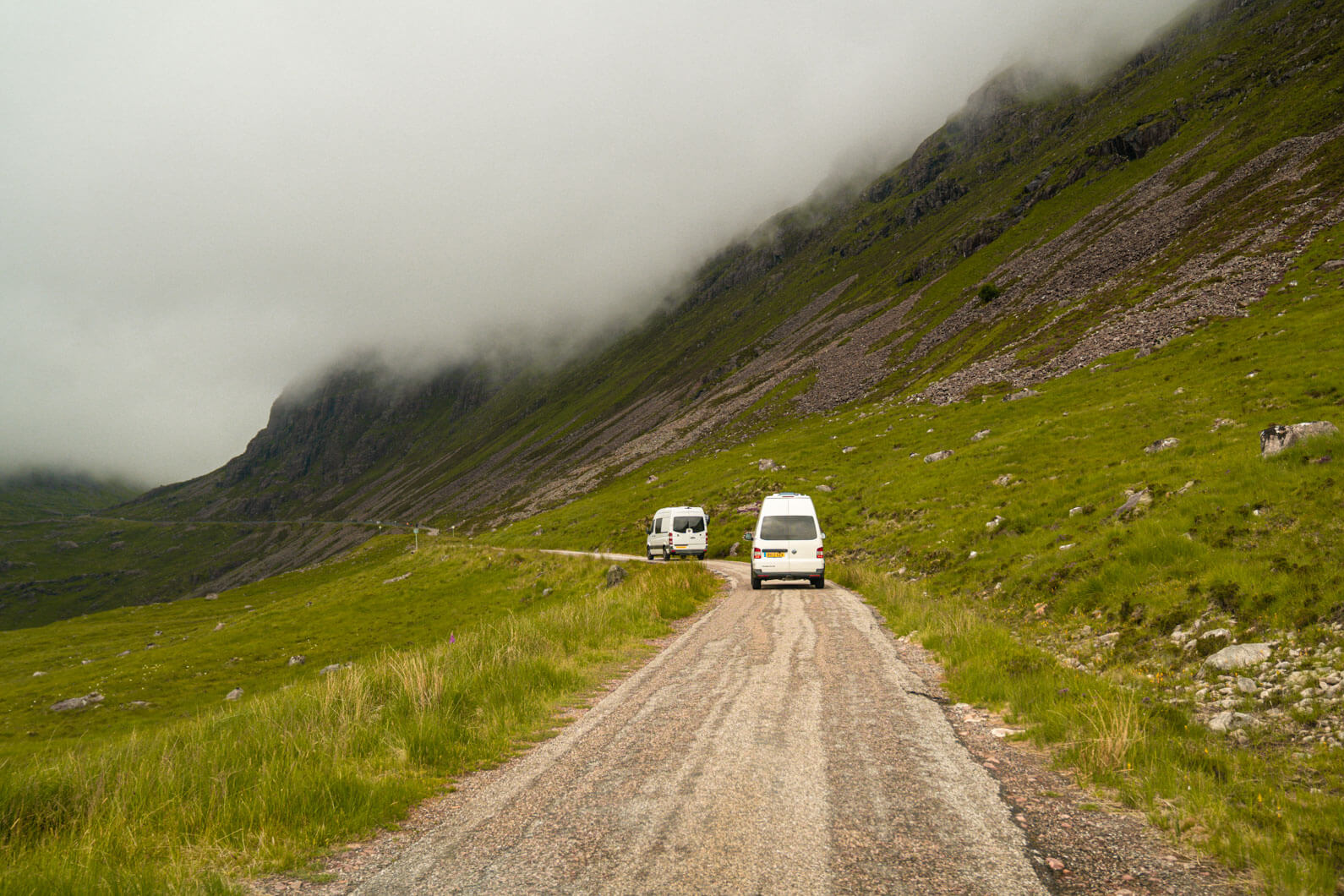 Calling all you active adventurers, this could be your favourite part of this Scotland road trip itinerary. Torridon Hills are part of the NC500 and are famous for the stunning walking trails with dramatic landscapes. Some even say that the views and trails here are better than Ben Nevis, which is more of a tourist spot! Spend a day here hiking and taking in the views.


Days 10-12: NC500 (Torridon to Inverness)
So the NC500 is huge… honestly, you could easily create a 2-week Scotland road trip itinerary just from this route! However, time is of the essence in this itinerary, so we are going to squeeze what we can into 3 days. Luckily we've got a head start, as we are starting from Torridon rather than doing the full loop. If you're extending this Scotland road trip itinerary, this is a good place to spend some extra time!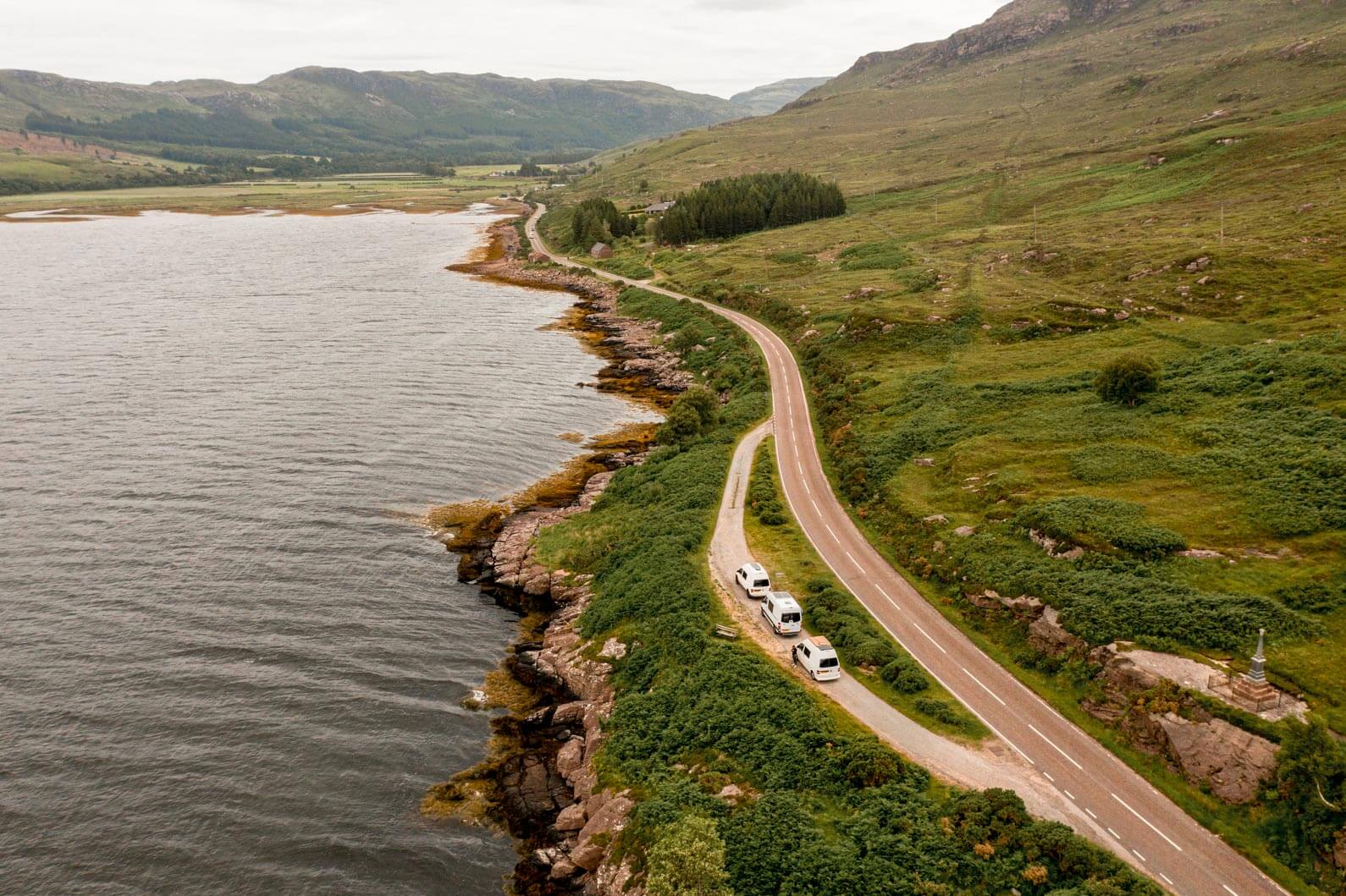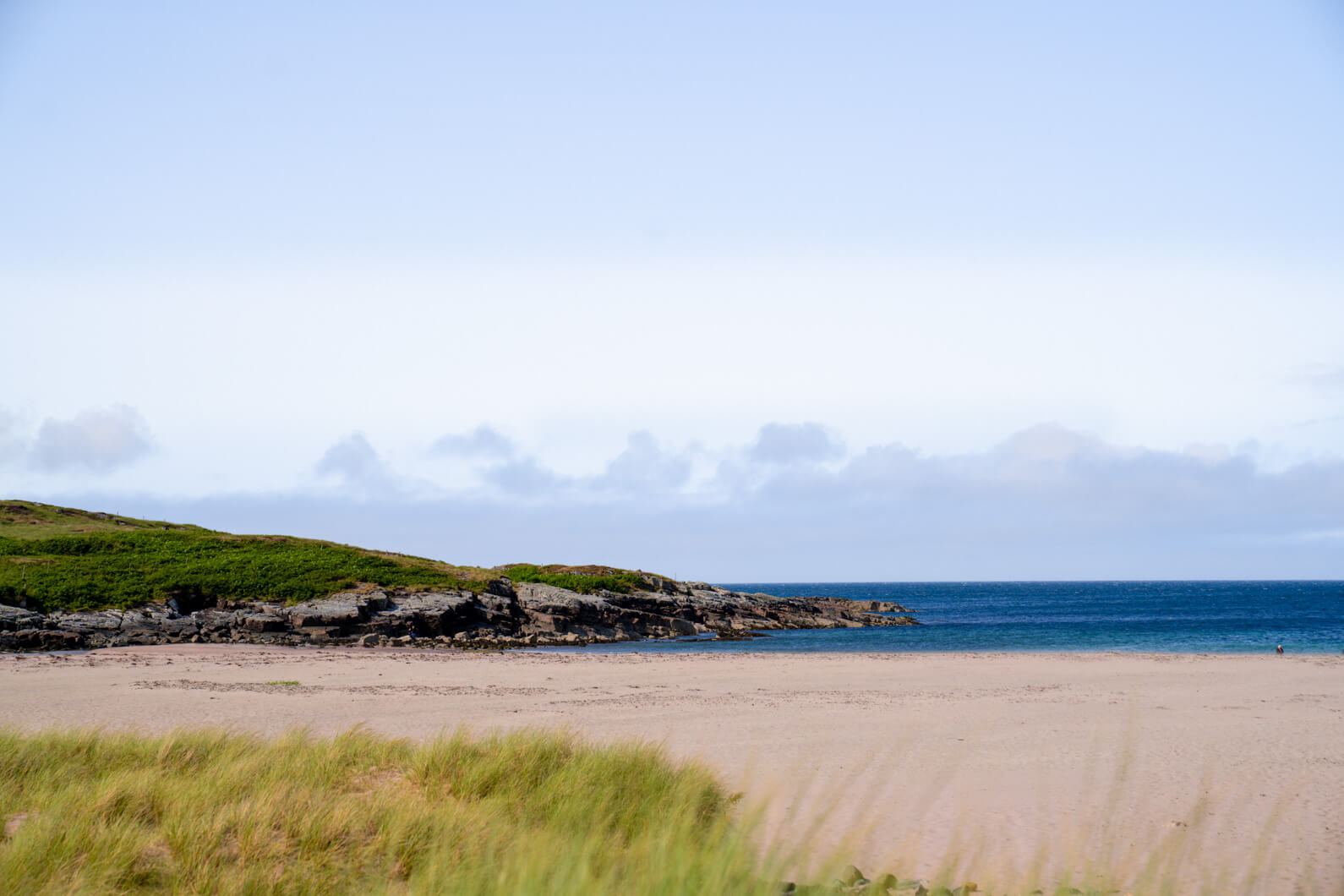 Day 13: Aviemore, Cairngorms National Park
I'll be honest… Aviemore took me by complete surprise. What I thought was going to be a quick trip and explroe turned out to be one of my favourite places in Scotland. If you're extending this Scotland road trip itinerary, this is a good place to spend some extra time!
Aviemore is located in Cairngorms National Park. The whole National Park is stunning but most of the activities are centred around this town. After you've arrived, go for a walk around the Rothiemurchus Forest, have lunch at The Barn and then reward yourself with a swim in Loch an Eilein. I'd recommend a loch-side picnic from The Happy Haggis for dinner!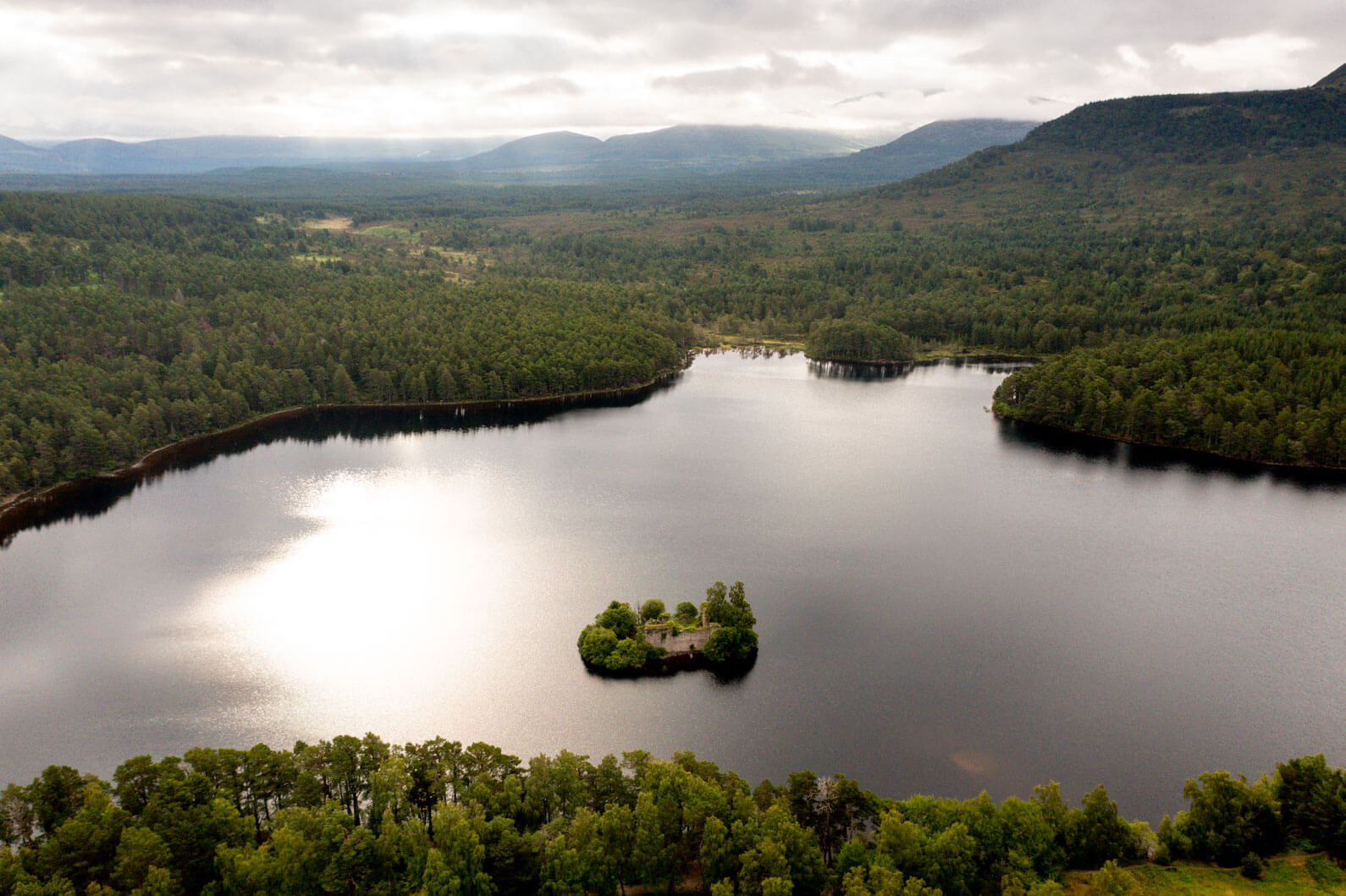 Would you believe it's been 14 days already?! For the final stop on our Scotland road trip itinerary we are heading to the capital of Scotland. After you've driven from Aviemore to Edinburgh, spend some time relaxing in the city centre, exploring Edinburgh, marvelling at Edinburgh Castle and enjoying a nice meal and a cocktail!
If you can extend your stay by a day and stay overnight in Edinburgh, I fully recommend getting up the next morning to hike Arthur's Seat before you head home. Check out more things to do in Edinburgh here.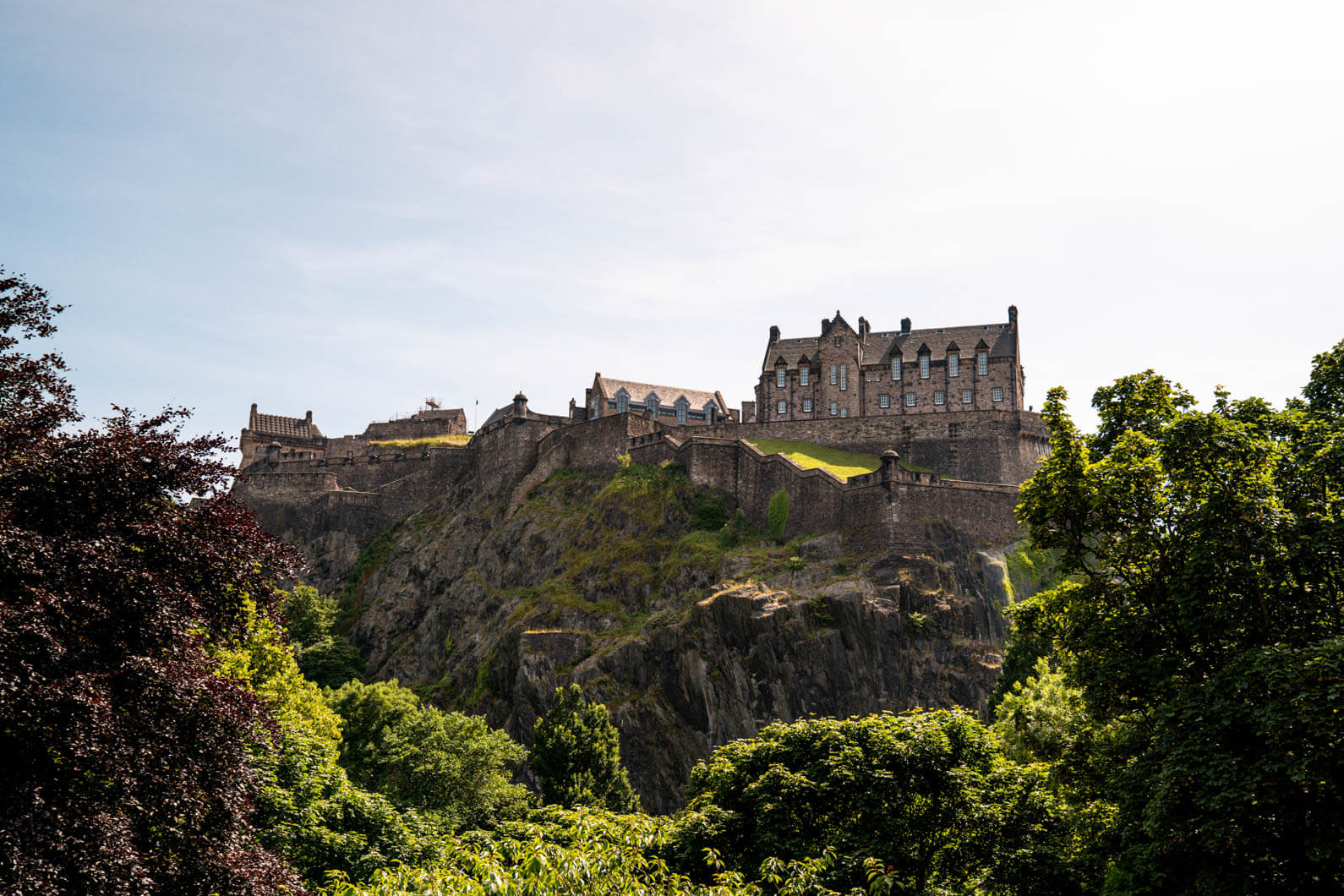 Have you been on a Scotland road trip?
Where are your favourite things to do in Scotland? Anything you'd add?
Love as always and happy adventuring,


Did you find this post helpful? I'd love you to share it for me.
Pin and save this blog post for later…