Scotland has to be one of the best places in the UK if not Europe to road trip through.
Particularly if you're someone that's drawn to the mountains but also loves the ocean. Scotland has it all.
Add in Scotland's abundance of Lochs that you can engage in all kinds of watersports on and you've got a diverse set of adventures to choose from. I feel like the Scottish have kept their cards close to their chests with the beauty that's on their doorstep but to be honest, it's exactly what makes a road trip in Scotland so special.
That and the fact that wild camping is tolerated here so, as long as you're not parking up on private land (or parking like an idiot) you can enjoy an up-close and personal experience with Mother Nature here in Scotland.
We drove over 2000 miles around the whole of the country and it felt most of the time like we had Scotland all to ourselves. The beauty runs for miles and there's enough for everyone to enjoy.
Saying that though, popular routes like the NC500 can get pretty busy during the summer, peak months. If you're still at the stage of looking at routes, you can check out my best Scotland road trip routes here.
Choose which ones you fancy and then if you're going for a popular route like the NC500 just know that booking up will be a good idea to secure campsites etc (if that's your plan of action).
I've just got back from a 4-week road trip through Scotland in my van and in this blog post I am going to share all of my top tips, things I wish I'd have been told beforehand and my travel hacks for making the most out of your adventures. In this blog post I will focus on road trip tips specific for travelling in Scotland but if you're looking for destination-focused recommendations, tips and guides… you're in luck.
You can get inspired by all my Scotland travel guides below…
Other blog posts you might be interested in…


Top tips for road tripping in Scotland
1. Get my Scotland google map!
Okay, so this is going to be your best resource for road tripping in Scotland. Why? Because it's tried and tested (July 2021). I just did 4 weeks and on this map, I have pinned all of the places I stayed, ate, filled up with water, cold dipped and would recommend stopping off at. Plus so much more.
When you purchase this Google Map you will be able to open it up on your laptop/phone and access all of my recommendations at your convenience. When you're planning you can use my points as a reference to map your route and when you're on the road, you can open the map and check out what's good around you. You can click on a hot spot and direct yourself right there!
2. Good wild camp spots often require you to turn up early
If you're going to road trip Scotland during peak season (July – September) and you plan to soak up as many wild camping spots as possible you may want to bear in mind that, even if you have a spot in mind, it's first come first serve. Part of the fun of wild camping is finding your spot right. If you could book it, it would be booked up. If you turn up and the wild spot is taken, chances are you'll find another wild spot nearby that takes you by surprise. Wild camping is wild. It's beautiful. It requires spontaneity and a willingness to adapt.
If you want to minimise being disappointed and want to head to some of the epic wild spots I've popped on the Google Map legend, what I'd suggest is making the most of your mornings and days and then heading early afternoon to the wild camping spot of your choice. If you get there early, you're more likely to secure it and you can enjoy a relaxed evening cooking and sitting around the fire.
3. Use the park4night app to get wild camp spot ideas
Most road trippers have heard of Park4Night but if you haven't… Download it.
It's a user led app where people on the road will share their favourite spots and rate them. It gives you some great ideas and direction for both places to park larger vehicles and motorhomes and also wild camping spots.
4. Book campsites in advance if you can
Just like with wild camping spots, if you're going on a road trip to Scotland during peak season (July – September) I would suggest booking up your camping spots. Campsites, particularly along the likes of the famous NC500, book up in advance and so if you're dependant on campsites, get them booked sooner rather than later.
We travelled for the whole of July and never booked campsites in advance. We actually only stayed on 2 for the whole month. The first was on the Isle of Skye and we grabbed the last 3 pitches on the day and the second was in Ullapool where we turned up on the day. I'm not sure if we were just before the peak season but we did manage to secure campsites last minute when we needed them.
I've spoken to others who weren't so lucky. I think it's okay if you can do off the grid too as we could. If we, for example, weren't able to secure the campsite we'd have been happy to just drive off. It's a bit more stressful if you NEED a campsite.
5. Do some wild swimming! But do your research first.
There are SO many places to wild swim in Scotland. It's heaven if you enjoy open water swimming, cold dips or even a paddle in the shallows. What's beautiful about Scotland is that you don't need to travel far for a morning dip. You're either near the ocean or near a loch.
What I will say though is that you should check out the Wild Swimming Website in Scotland for tips and recommended locations. Whilst Wild Swimming is an epic outdoor activity, it also comes with its dangers. If you're a beginner or haven't exposed yourself to cold water before. Please do your research, swim near the shore and make sure someone is watching over you.
Aside from that, get in the water! Soak it all up! One of my favourite dips was at Loch An Eilein in Aviemore!
6. Download the AllTrails app if you love hiking
This is a great way to be abundantly inspired by the hiking and walking opportunities around you during your time in Scotland. There are just so many mapped out on this app for all abilities. From big day hikes to afternoon stroll and everything in between.
Or you can check out my best hikes in Scotland here.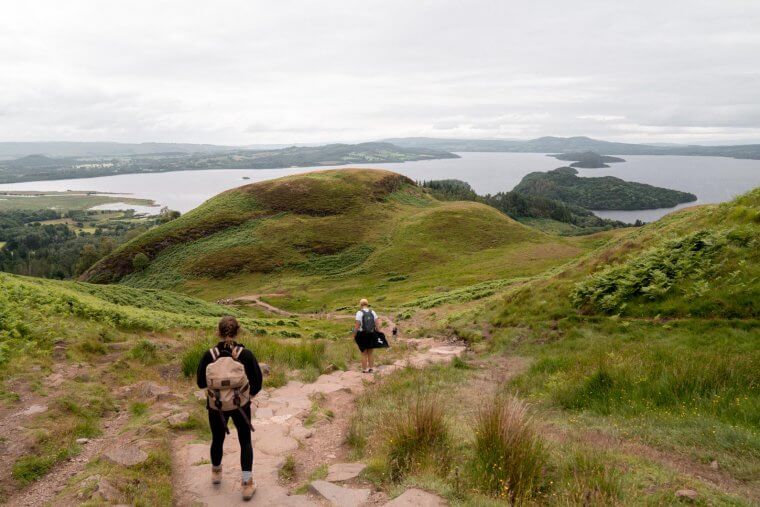 7. For car parks you often need change or the Ringgo App
I found myself using the RingGo app a lot when parking for waterfalls and hikes. It seems it's a popular installation across Scotland. In many places there were the options for cash and card too but a top tip for road tripping Scotland would be to download this app prior to visiting, it can save you time and hassle.
Let's face it, who carries cash / change these days.
8. Respect the locals, respect the land
If you are driving your vehicle around Scotland and parking it up to enjoy the abundance of the land, it comes with a responsibility. And that responsibility is that of respect. For the land and the people that reside there.
As you can imagine, there are many people that take the p***. And naturally, this angers and frustrates the locals. We received some of the back ends of that energy from locals, even though we were respectful and left no trace. It appears some have been left with a sour taste in their mouths. Let's rebuild that connection. If you go, let's show the locals we aren't here to exploit the lands and leave our toilet paper, rubbish and vans where we shouldn't.
Let's keep Scotland beautiful.
9. Be prepared for midges
This is a controversial one for sure. When I put out an IG story ahead of my July trip I was bombarded with passionate responses from all ends of the spectrum. Some said the midges were unbearable, some said they didn't notice them. Some said do not go, change the dates of the trip. Some said they were there now and it's fine.
In my opinion, after spending 4 weeks road trip in Scotland, I would say the interference of midges depended on a few things:
Location (on the west coast they are more apparent than on the east)
Weather (they appear when there's no wind when there's wind, there are no midges)
Activity (if you're sat around they'll land, if you're moving they aren't so bad)
Climate (they like the warm, moist and still environments)
The person (I got no bites but my friend on the same trip got bitten lots)
Basically, it depends on so many factors. I would say out of our 4 weeks on the road, we retreated 2/3 nights early into our vans because they were a bit too much. Just annoying and in your face when you're outside on the camp chairs trying to enjoy your dinner.
So they definitely exist, it is just so dependant on your route, time of year and where you stay!
10. Get some Avon Skin so soft repellant
This was recommended by just about everyone prior to my trip. I didn't know if it was just an extreme case of word of mouth but it appeared that even in all the shops and mountain stores, they stock it.
I never really used repellant whilst I was up there (I don't usually get bitten) but this is the one to get if you do / if you want to wear it.
11. You can indeed recycle
I started recycling on this road trip for the first time. I like to minimise my impact on the environment when I'm on the road and so I got another bin to collect recyclables and I managed to drop it off in public / sometimes other people's recycling every time.
I'm not suggesting you abuse one person's recycling bin, I assume the locals wouldn't be very enthusiastic about that but what I'm saying is, just because you're on the road it doesn't mean you can't be smart with your rubbish and recycle.
12. Carry biodegradable soaps and cleaning liquids with you
One of the beautiful things about road tripping in Scotland is that, particularly if you're wild camping, you can freshen up and revive your soul in the lochs and waters that surround you. If you're going to have a wash / use the waters as a way to freshen up, make sure you are carrying biodegradable soaps with you to make sure you are remaining environmentally friendly. Again it comes down to respect.
I use Dr. Bronner's products. They are useable for 15 different things including, shampoo, body wash, dishwashing, clothes washing etc!
They come in all scents and sizes and are a perfect companion for your road trip!
13. Plan ahead for amenities and supplies
There were a couple of times that we needed some supplies but found ourselves in pretty remote places with very minimal choice/stock. You're never far from somewhere to get your basics but if you're after particular things, I'd suggest planning ahead and making sure you're stocking up in places like Glasgow, Ullapool, Inverness.
Some places looked also as if tourism was running down their stocks so even the choice they would usually have was limited. The same goes for petrol. Don't let your tank run low as Scotland has many wild roads where petrol stations may be out of your reach if you're playing the risky game with your fuel tank!
14. Carry enough water if you're off the grid
Particularly in this time where Covid measures are pretty tight, there weren't an abundant amount of places to fill up your freshwater tanks on the road. Usually, I'd pull up to a campsite, even if I wasn't staying the night, and ask them to use their freshwater (sometimes in return for payment). However, neither campsite I asked on this road trip granted us access.
We did manage to find a few freshwater taps dotted around (some are located on my Google Map Legend) but I would say make sure you have enough on you. I carry 40L under my van and then I took another 10L handheld container as a backup.
I really don't like to head to supermarkets to buy water. It's such a heavy amount of plastic which can be avoided with a little preparation and planning!
Have you got any top tips for road tripping Scotland?
Love as always and happy adventuring,


Did you find this post helpful? I'd love you to share it for me.
Pin and save this blog post for later…